Do you have a little one who's obsessed with all things dinosaurs? In that case, why not throw them a dinosaur themed party for their birthday this year? Much like Stacey Solomon's dinosaur party that she organised for her three-year-old son, Rex, you may want to take some of these dinosaur party ideas as inspiration for your own.
So, if you're looking to throw a roarsome birthday bash that'll never be forgotten, you're in luck. At Mother&Baby, we've got you covered. We've put together a guide to throwing your own party with the best decorations, food, games and more...
Not only that, but we've also included some DIY tutorials just in case you're a crafty parent, as well as some popular dinosaur party ideas as seen on Pinterest for even more inspiration. Here's how to throw your very own dinosaur party that won't be forgotten any time soon.
The best dinosaur party ideas
Throwing a kids' birthday party can take some work, but it doesn't have to be stressful. As long as you prepare plenty of time in advance, the process can actually be part of the fun. Not to mention, it'll definitely be worth it when you see the look on your little one's face.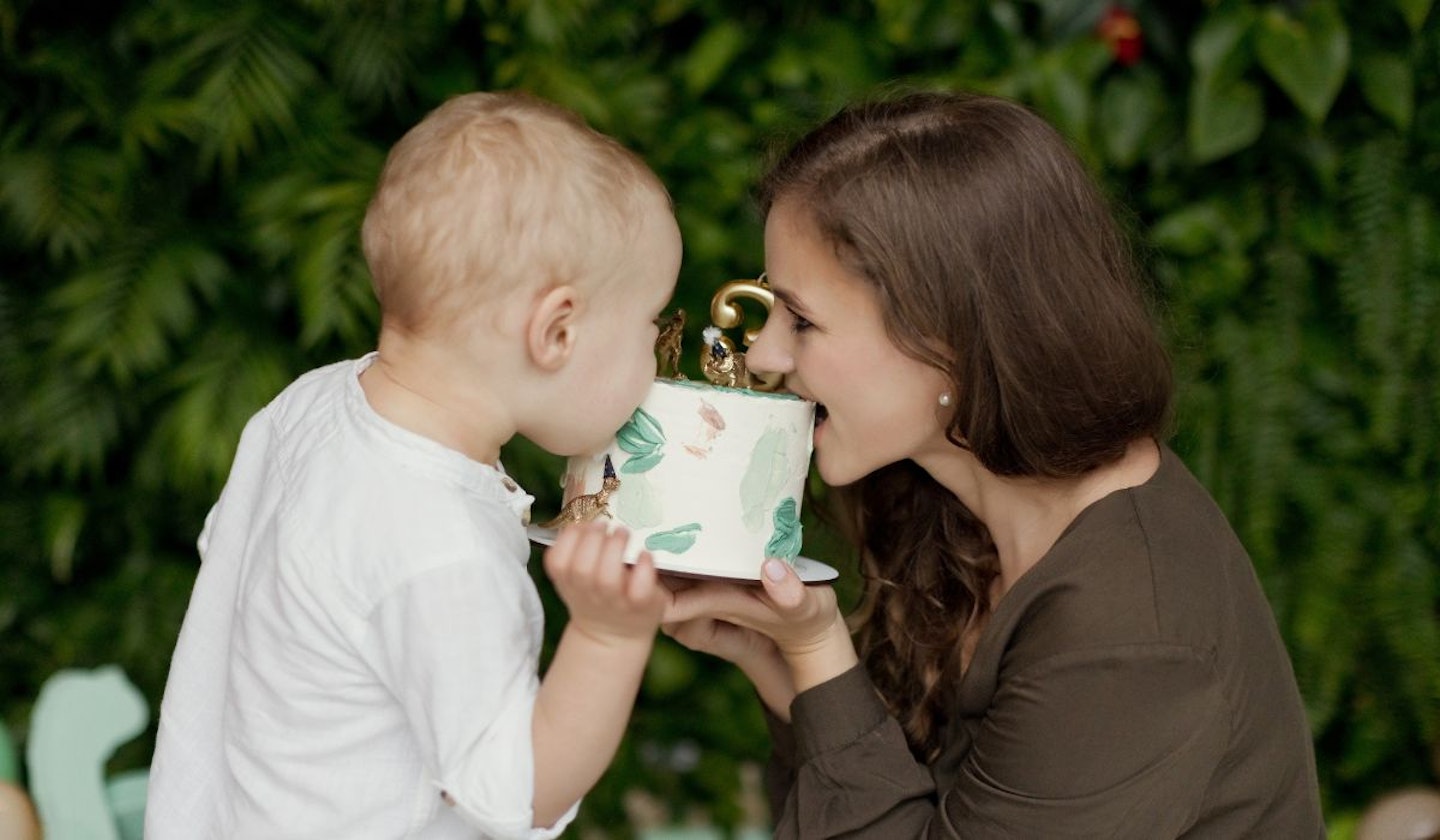 • Invitations and guest list
Obviously, be sure to account for how many guests there will be, along with how much food and drink to provide. Additionally, make sure there are enough seats for guests to rest or dine.
To set the theme off just right, dinosaur invitations are a must. On your invitation, you should include: the name of your child; the child that they're inviting; who will be attending with the child; whether they have any dietary requirements; the date, time and location of the party; the intention behind the party; and your contact information.
• Decorations and table settings
A great touch would be to add some decoration for a bit of atmosphere. Backdrops, inflatables, banners, balloons and foliage will help to decorate the space. Sometimes, these can come in bundles to save you money. When it comes to the table, you can often buy dinosaur party supplies in packs. Napkins, plates, tablecloths and even party hats are usually included. You may even want to add your own finishing touches with confetti or centrepieces.
• Food and drink
To really impress your little guests, on theme food will go down a treat. If you're short on ideas, take a look at the video tutorial in our FAQ section. There, you'll find plenty of easy-to-follow recipes to get you started. Why not include dinosaur eggs, dino shaped sandwiches or a volcanic erupting cake on the menu to make it special?
Just don't forget to account for any allergies, intolerances or diet choices.
• Games and activities
If the weather is warm enough for them to play in the garden, you may want to involve a sandpit for them to excavate fossils in the sand. If it's during the colder months, pin the tail on the dinosaur can easily be moved indoors, too. Keep the weather in mind and plan accordingly for your space.
After the party, you may want to give your little guests a goodie bag to take away with them as a 'thank you' for attending. But, what should go into a party bag? Think dinosaur stationery, dinosaur treats or even dinosaur toys.
SHOP: The best dinosaur party ideas
Best dinosaur party invitations
Description
These adorable handmade invites are the perfect invitation for your guests. Featuring a smiling
Description
This template is provided so you can easily edit the invitation and customise the information
Description
Another template that can be instantly downloaded, these ones can also be customised to your
Best dinosaur party decorations
Description
Get kitted out with this assortment of dino decorations. From balloon arches to banners, cake
Description
Truly a party in a box, this pack features tableware and decorations, so you're sure to have
Description
There's plenty to select from with this list of party supplies on Etsy. Whether it's tableware or
Description
These super cute party supplies will go down a treat, especially with younger audiences thanks to
Description
Another complete set of supplies, this Etsy seller has everything you'll need on their dino day.
Description
A great one for older kids who are dino fans, this set features ferocious dinosaurs and a vibrant
Best dinosaur party food
Description
A delicious selection of decorated cupcakes, these feature a variety of dino designs like a nest
Description
This fun dinosaur design from Waitrose can be personalised for free with your own heartfelt
Description
Wanting to make your own cakes, jellies or chocolates for the day? This mould means you'll be able
Best dinosaur party activities
Description
If you're brave enough, you could put together a dinosaur painting activity for your guests,
Description
Sure to be a hit at any party, why not involve a dinosaur pinata as a fun activity for the kids?
Description
The classic game 'pin the tail on the donkey' has had a makeover, and instead, kids can pin the
Best dinosaur party bags
Description
A creative way to present your guests with a goody bag, these Tyrannosaurus Rex party bags are
Description
In a vibrant dinosaur print, these party bags will go down a treat with little guests. Made from
Description
These fossilised dinosaurs are ready to party, making these bags the perfect goody bag for kids to
FAQs:
How to make DIY dinosaur party decorations?
If you're particularly crafty, you may want to save money on decorations by making your own. You'd be amazed at what you can create with some green-coloured card and a bit of string. Here are some DIY dinosaur decoration ideas for you to replicate.
How to make DIY dinosaur party food?
While you can buy shop-bought or premade food for your party, you may want to have a go at doing it yourself. So, here are some perfect recipes to really impress the guests. These are perfectly on theme, and some are surprisingly easy to make provided you have the right equipment.
Best dinosaur party idea inspiration
If you're looking for inspiration, there's plenty to be found online on Instagram or Pinterest. Here are just a few pins we've found that we think any dino-mad tot would be thrilled to see at their party: