We know there is nothing better than going for a dip in the pool with your little one on a hot day and a baby swim seat is a fantastic way to ensure your little one's safety in the water. This swimming aid would allow you to use your hands whilst keeping your eyes firmly set on your little one.
The aim of an infant swim seat is to help your bubba build water confidence. They are usually made of plastic and are designed with easy-to-inflate air chambers. Smaller children can sit back and relax in the water, whilst older children can use their seats as an aid to practice their swimming techniques.
The Best Baby Swim Seats at a Glance:
•Best swim seat for newborns: Bestway Inflatable Baby Boat Float
•Best baby seat with a canopy: Parner Baby Swimming Float
Swim seats are safe when used in shallow water with a responsible adult. Children should never be left unsupervised in any swim seat or swimming ring. Your child should always be within arm's reach whilst using any swimming aid. To ensure the safety of the product, always follow the manufacturer's guidelines and ensure all valves are shut.
We have rounded up the best baby swim seats for newborns and older babies.
Best baby swim seats
Best swim seat for newborns
Description
This baby boat float will keep your baby stable and upright whilst allowing them to get used to
Pros
Easy to inflate and deflate
Comfortable and supportive
Cons
Not suitable for children over one-year-old
Best baby seat with canopy
Description
Available in two sizes: small and large, The back has a suspended buoyancy ball to protect baby's
Pros
Removable SPF 50+ Sun Canopy
Can be used for front and backstroke
Has safety straps
Cons
Only available in one colour
Best swim seat for babies who can sit independently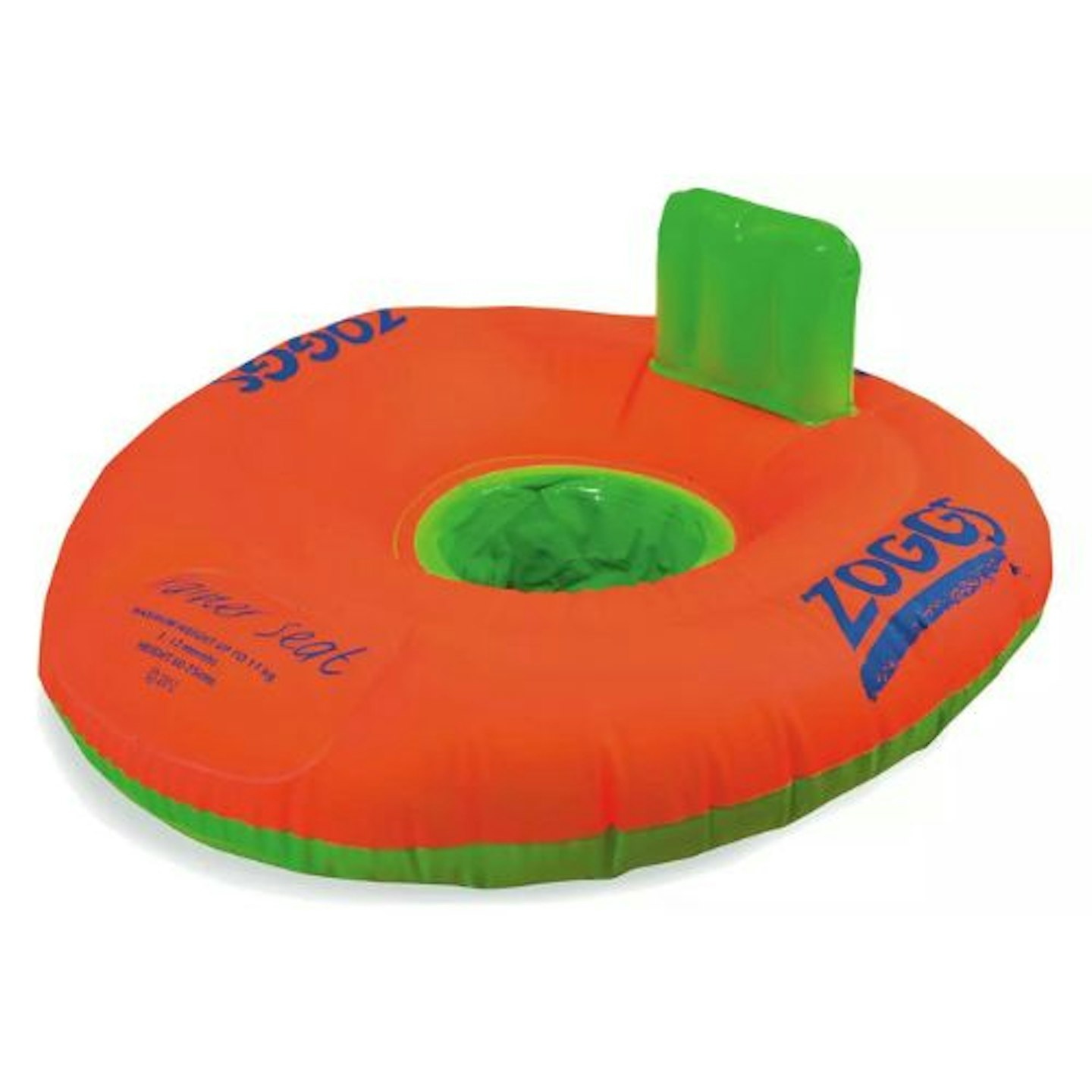 Argos
Description
The Zoggs Baby Swim Seats are available in two sizes - 3-12 months and 12-18 months. The
Pros
Has a pillow for added comfort
Has four air chambers
Cons
Can be difficult to deflate
Best swim seat with a seatbelt
Description
If you are looking for a swim seat which will also encourage your little one to use their legs and
Pros
Anti flip design
Comes with seatbelt
Cons
Can be tricky to get your baby into
Best swim seat with handles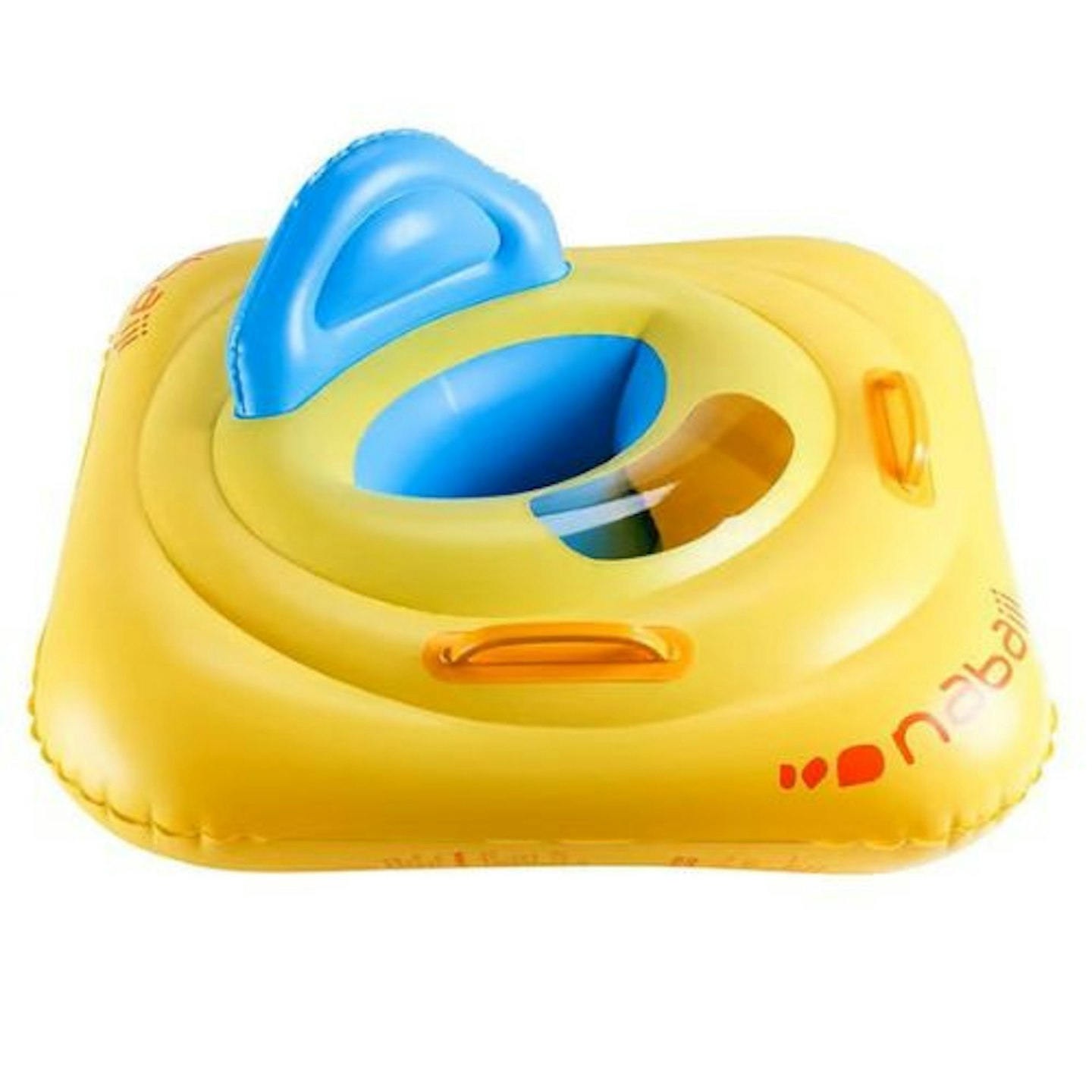 Decathlon
Description
Guide your little one in the water with ease using the handles on this inflatable swim seat buoy.
Pros
Has a window for curious kids to look underwater
Smooth inner seams
Cons
A little bulky if packed in a swim bag
Best swim seat for toddlers
Description
This super sweet inflatable seat from iNszkoos is great for little ones who love cars. Your bubba
Pros
Unique, novelty design
Will grow with your child until they are five
Cons
Not suitable for children under one-year-old
Best swim seat for travel
Description
Made of thick and durable PVC with a double safety valve, your little one will look like a
Pros
Exciting mermaid design
Double safety valve
Cons
The pump doesn't work very well
Best adjustable baby swim seat
Description
Perfect for warm weather, this swim seat from EDWEKIN® not only keeps your child safe in the water
Pros
Can be adjusted
Transparent window for baby to look through
Baby swim seat – all you need to know
Choosing the right swim seat for your baby
When looking for a baby swim seat for your youngster, you'll want to consider a few things.
Size: You can buy baby swim seats in a range of sizes as they are made for babies of all ages. Many can grow with your child, which will save you from needing to buy another one once baby has outgrown it. Check the product specification to ensure you choose the most suitable for your child.
Age: The age of baby swim seats in our list ranges from birth to five years. The official NHS advice states that you can take a baby swimming at any age, although some parents prefer to wait until their children have had their first set of immunisations. However, this is not medically necessary. It is important to wait until you feel confident and comfortable taking your baby into the water. We've got lots of swimming tips for babies to help you out.
Safety: Naturally, keeping your little one safe at all times is your priority, and when shopping for your baby swim seat, you should look out for safety features such as seat straps and safety valves. BS EN 13138-3:2021 is the number of the British standard for swim seats you should look for when shopping. This specifies safety requirements for the design, sizing, materials, strength, and in-water performance for swim seats.
Your child should be supervised at all times when using their swim seat as there is always the risk that they can tip over or the child may wriggle out of them.
What your baby should wear for swimming or when spending time in the water will differ depending on where they are doing it.
Importance of swim seats and other aids for teaching children to swim
It's a daunting experience for you and your child when introducing them to water, and it's understandable that you may both be a bit nervous. A baby swim seat helps by giving your youngster confidence as they spend time in and get used to the water. Once your child is more comfortable in the water and if you wish to start helping them learn to swim, you may wish to move on to other swimming aids, such as baby swim vests.
Hannah James is a Parenting and Lifestyle Writer working across Mother&Baby, Yours and Grazia.As a mother of three, Hannah lives, breathes and consumes all things family orientated. When she's not tapping away at a desk, Hannah is diving for dummies, fixing toy fire trucks or attempting to make a healthy family dinner.