If your toddler is your little shadow who wants to copy everything you do, it may be worth investing in a toddler tower. Inspired by Montessori ways of teaching, a tower is like a stool, although it has rails to make it safer. It will allow them to get them involved in everyday tasks. From chopping up vegetables with special kitchen knives and making cakes to cleaning the dishes and wiping down the worktops, they are brilliant for the kitchen, as well as over rooms in the house.
A toddler tower also encourages independence as they will be able to do more things for themselves (and not just pretend to copy you in their play kitchen, for example), like wash their own hands, brush their teeth and reach for things unassisted, which should help their confidence to flourish and prepare them for that big step to nursery or school.
Editor's Choice:
•Best wooden toddler tower: Stepup Baby Toddler Tower - Buy now from Amazon
•Best adjustable toddler tower: COSYLAND Kitchen Kids Standing Tower - Buy now from Amazon
•Best foldable toddler tower: MEOWBABY Learning Tower - Buy now from Amazon
•Best plastic toddler tower: HOMCOM Kids Standing Platform - Buy now from Robert Dyas
Many learning towers can be adjusted in height as your tot grows, so they will be able to get plenty of use out of it well into early and mid-childhood. Plus, a few of them even fold down compactly, which makes them a lot easier to store.
To help you to decide which option to go for, we've put together this selection of towers for toddlers, as well as a handy guide of what to look for. Check it out below.
The best toddler towers 2023
Best wooden toddler tower
Description
With an adjustable step and three height options, the Stepup Baby tower is absolutely worth the
Pros
Round edges and rails
Non-toxic paint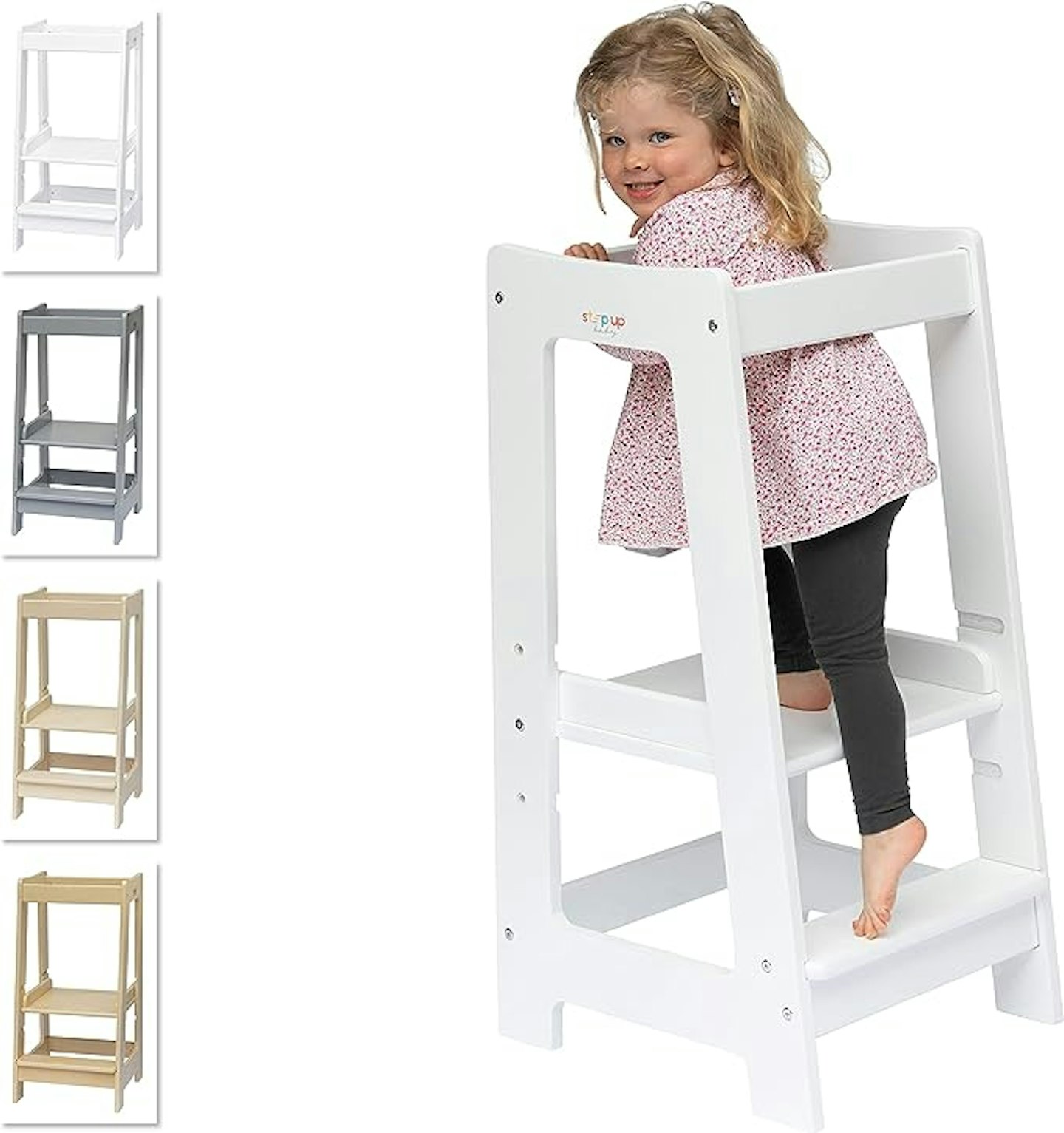 Best adjustable toddler tower
Description
Cosyland's tower can be adapted as your little one grows; you can remove the four-sided safety
Pros
Arch-corner deisgn
Can be adapted into a stool or side table
Cons
A couple of users wish it was heavier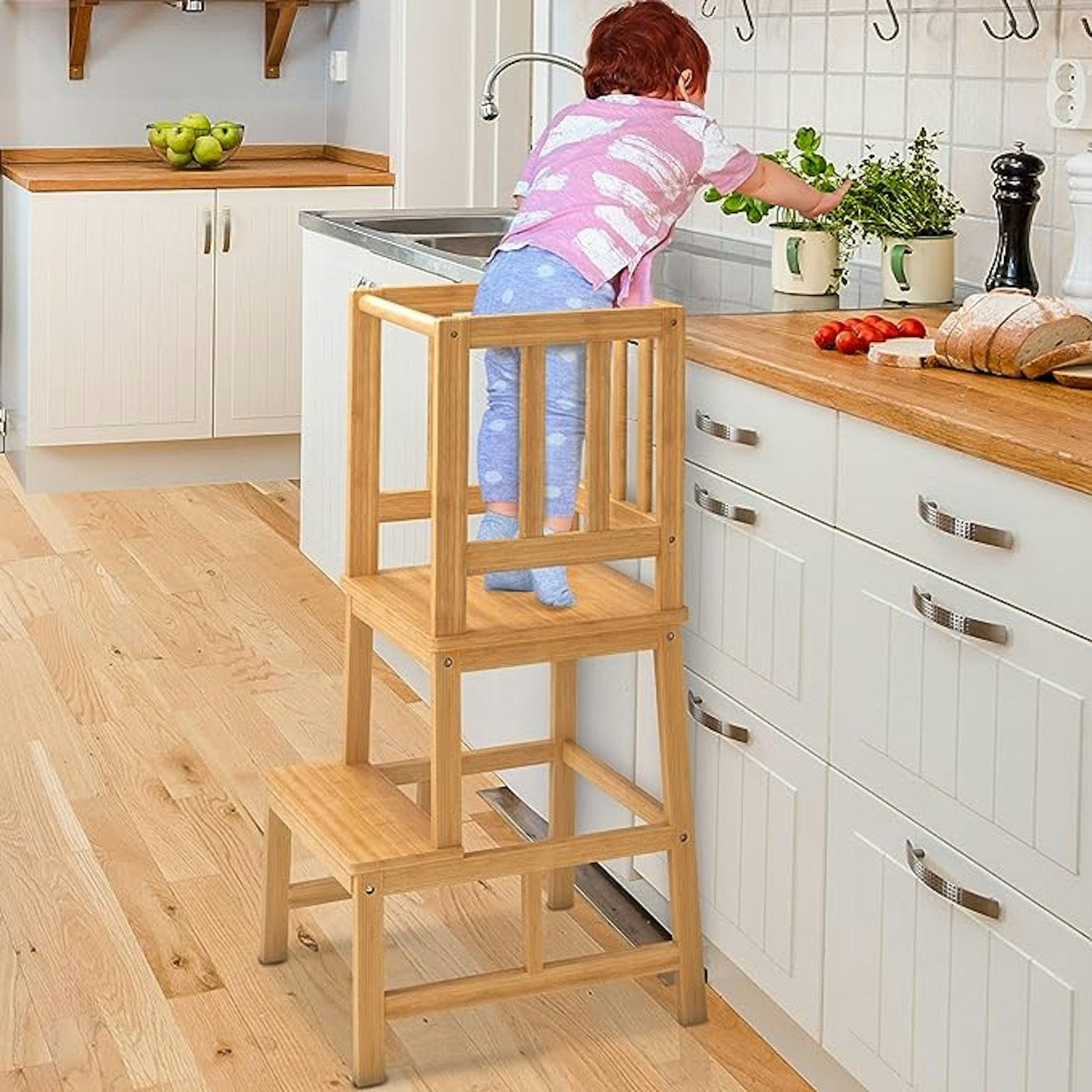 Best foldable toddler tower
Description
Available in multiple colours, you can a MEOWBABY learning tower to suit your personal sense of
Pros
Sturdy design
Wipe clean material
Best plastic toddler tower
Description
If you're after a plastic learning tower, this HOMCOM option is the one to go for. It has a
Pros
Easy to assemble

Wipe clean surface
Cons
May not fit all countertops perfectly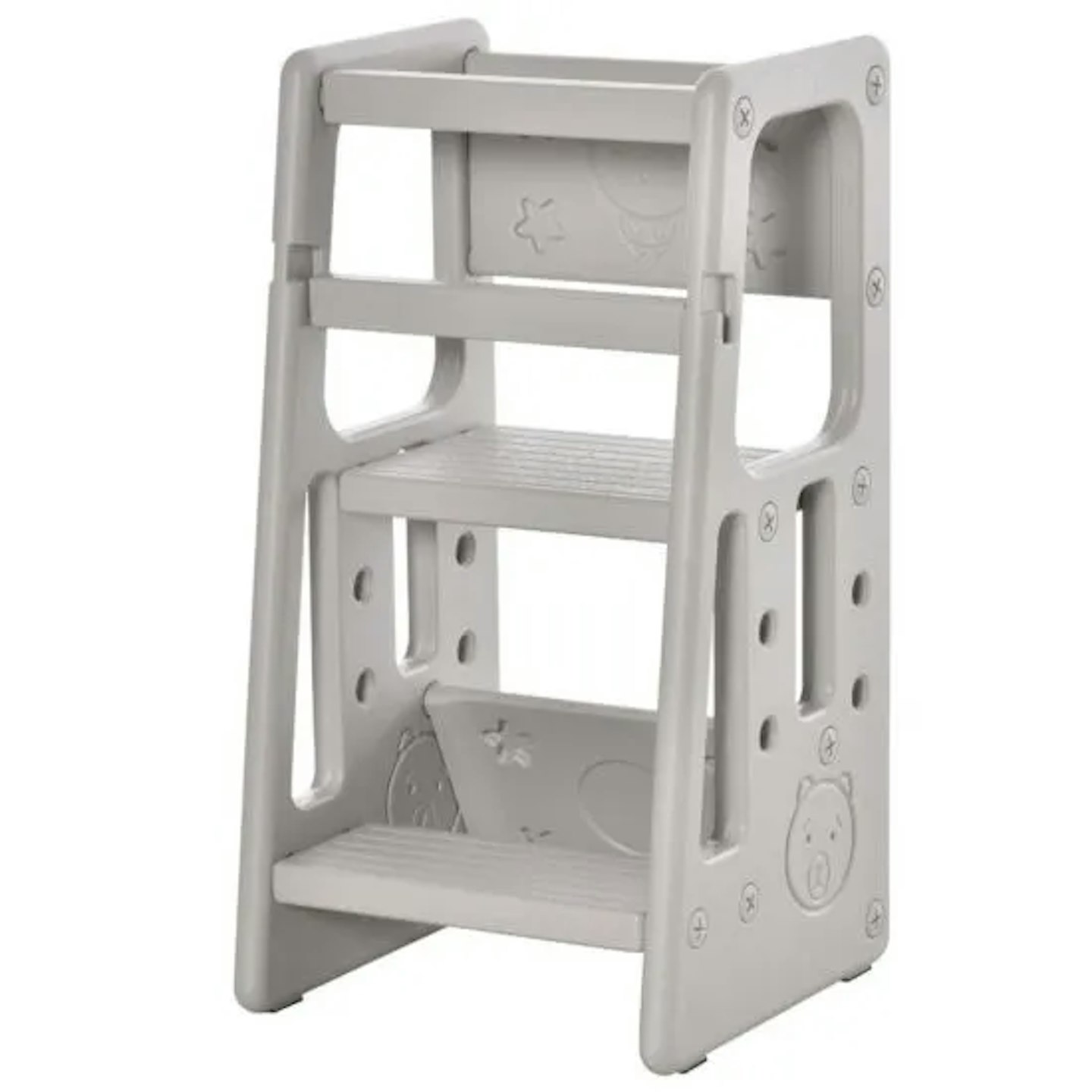 Best adjustable height toddler tower
Description
Made from wood, the KiddyMoon Kitchen Helper ranks high on durability. It's got long fins on the
Pros
Lightweight and easy to manoeuvre
Durable fastenings
Best toddler kitchen tower
Description
For fun, messy play or educational activities in the kitchen, you can rely on this pod by Little
Pros
Multiple colour options
Anti-tip
Cons
Heavier than other towers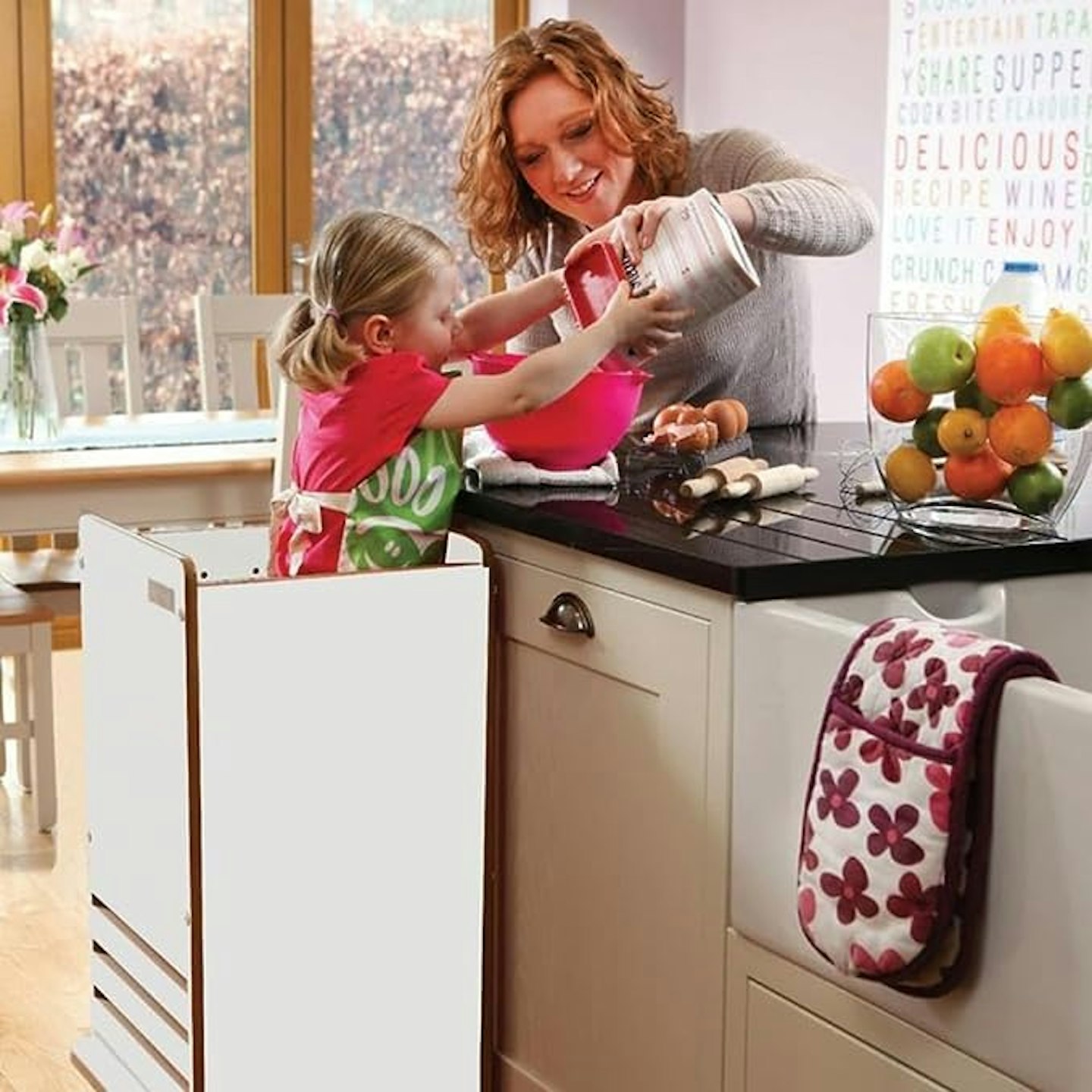 Things to consider when buying a toddler tower
Size - When choosing a tower for toddlers, it's important to consider the sizing, as every child grows at a different rate, so some designs may be too big or small (depending on the child). Also think about what room it will mostly be used in, and whether it will fit comfortably in there - you don't want to have to move it out of the way every two seconds.
Weight - The weight is easy to overlook but if you're going to be moving the tower regularly, you'll want it to be lightweight but still sturdy, of course!
Accessibility - Will your little one be able to use the learning tower with ease? Will they be able to climb in and out of it or move it without assistance? Don't forget to double-check the age ratings! If you don't want your little one too close to the oven yet, you can still get them involved with the process with their very own cooking set.
Features - Foldable learning towers are great if you have little space (as they're easy to store) or if you're worried about your little one using it unattended in places they shouldn't (like near the oven, for example). Adjustable designs are brilliant too, as they will take longer for your child to outgrow.
Structure - There are trapezoid and A-shaped towers, as well as ones which are built like normal steps. Like the sizing, it all comes down to the style of your kitchen and what shape would fit in it best.
Material - Materials that can be easily wiped clean would be perfect for a kitchen, as it could get messy pretty quickly, what with food and drinks likely to be spilt.
Style - Whilst your child is still young, the tower is likely to be a permanent fixture in your home, so it's important that you like the design. Lots of brands have multiple colour options, so you could find one that matches your home décor.
Are toddler towers safe?
Most toddler towers come with plenty of features including rails and bannisters, which often make them safer than stools and steps for children at this age, as it lowers the risk of falling or slipping. However, you should never leave your child unattended when using one if they're very young, as they could cause harm to themselves or others (especially near an oven or running water).
Many toddler towers are recommended for use with kids aged 18 months and up, as babies may not be able to support themselves enough yet to stand up unaided in the tower. Of course, parents know their child's capabilities best, but stick to the age ratings that the manufacturer recommends.
If your toddler ends up regularly using the tower when you're not in the room, it may be worth putting a stair gate across so they can't get in and use it alone.
Arabella Horspool is a Commercial Content Writer for Mother&Baby at Bauer Media. She's a bookworm who enjoys cooking and spending time with her many pets.