It's a big milestone when your (not so little) baby reaches that time when they're ready for a more grown up room. They're done with the cute cot mobile and Peter Rabbit decorations, and need something that they can grow with so you'll need some kids bedroom ideas for this next step in their life.
While we're sure you've already got a Pinterest board full of brilliant nursery decor ideas, you might want to swap these out for some more grown up kid or toddler room ideas. We've also got plenty of storage and decluttering tips and tricks.
Kids bedroom ideas
Kids bedroom ideas and inspiration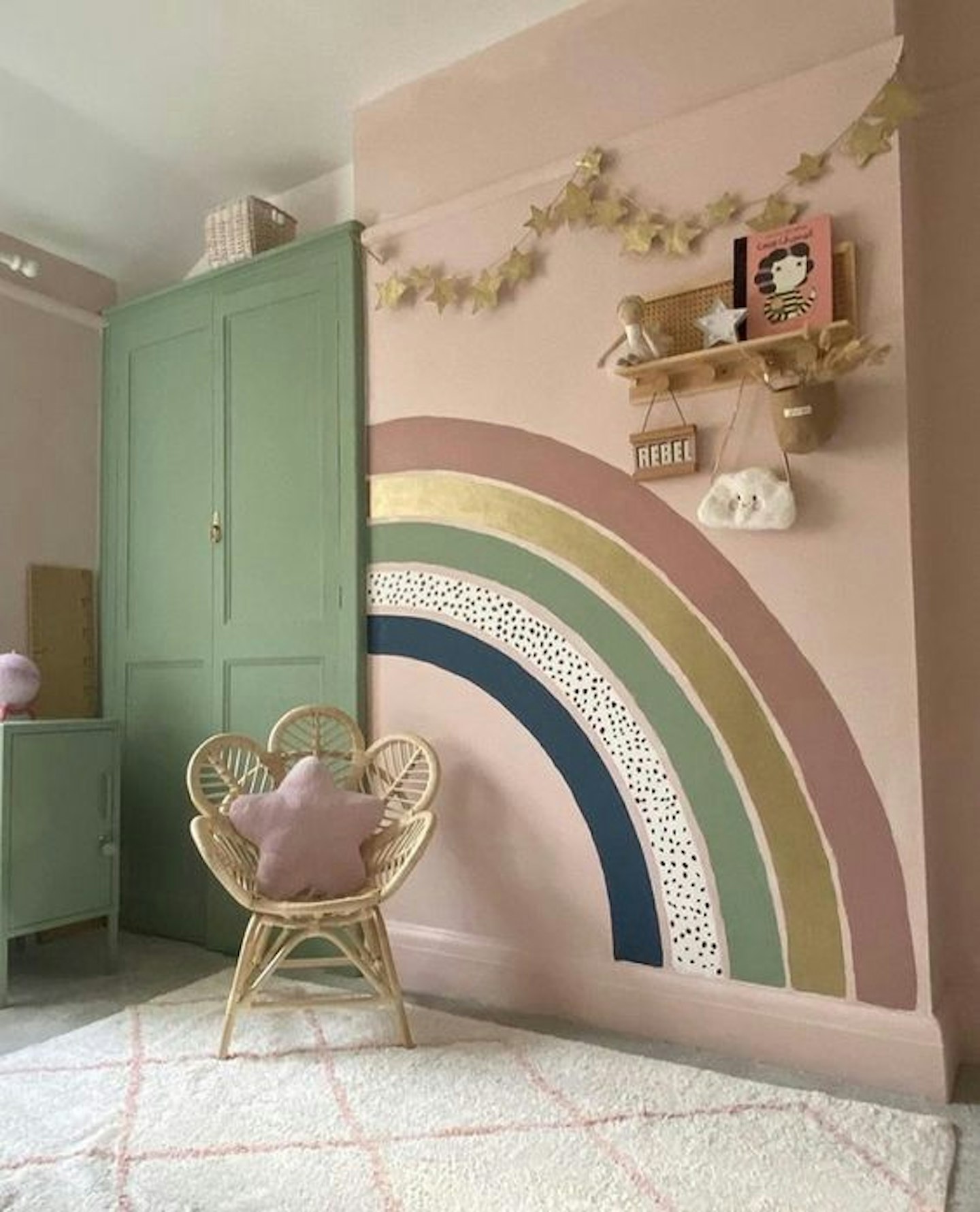 1 of 14
CREDIT: KiDs InTeRiOrS pinterest
Rainbow room
We're a sucker for a rainbow themed room, and while some of them can be a little bright and bold for a relaxing space, this muted colour rainbow is perfect. We love the added detail of a spotty row too to add something extra. With such an eye catching focal point in the room, you'll want to go subtle with the rest of the furniture and decor so think plenty of rattan and muted coloured furniture.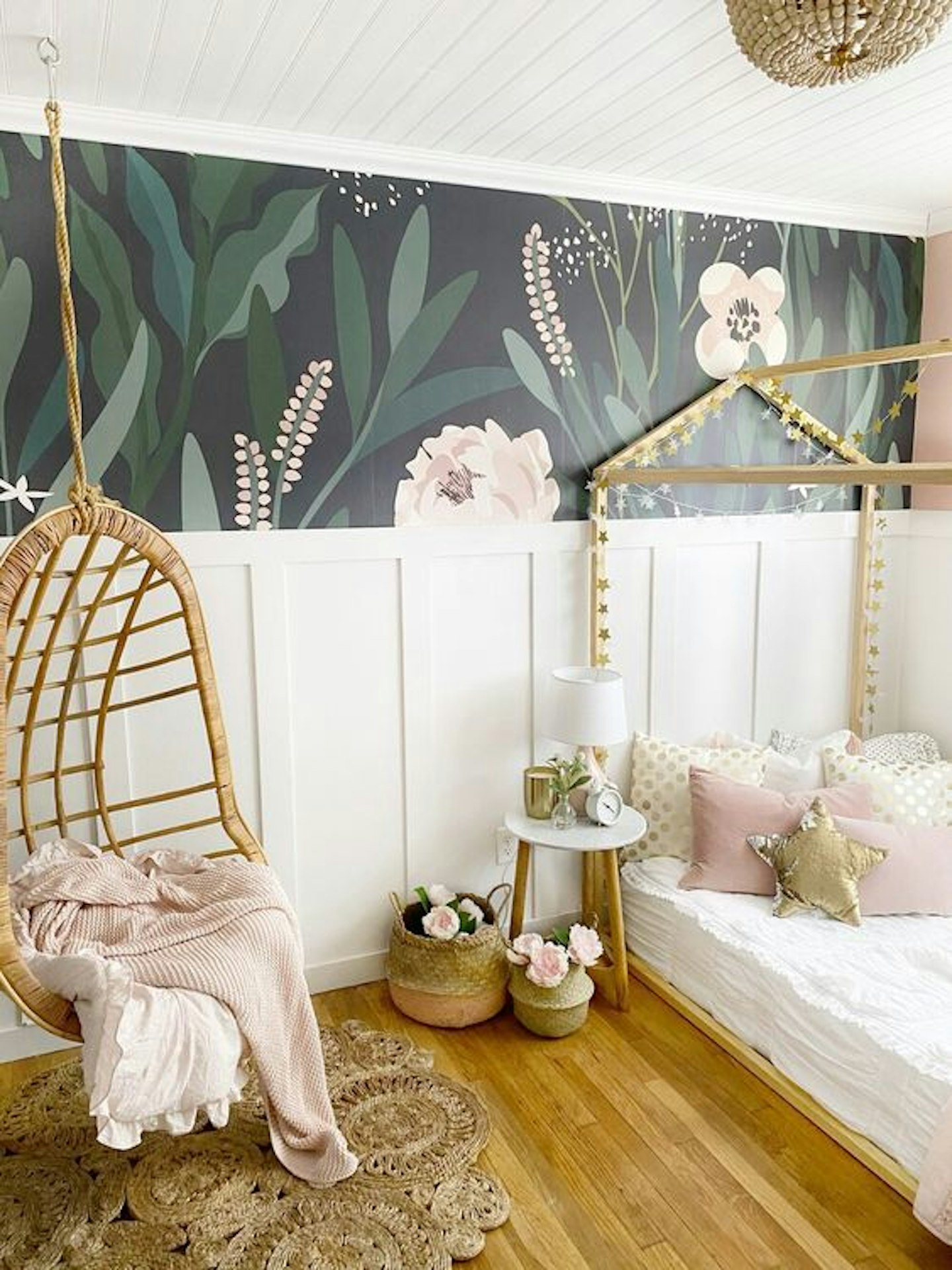 2 of 14
CREDIT: dreaming of homemaking pinterest
Bedframe room
This pretty and rather feminine looking room will really grow with your child (we'd love this one ourselves if we're honest!). The panelling trend isn't going anywhere this year, and it works beautifully in a child's room too, especially if you're wanting to go for a bold wallpaper without it taking over the room. This sweet bed frame is great for wrapping round fairy lights, bunting or decorations to add a seasonal feel to the room year round.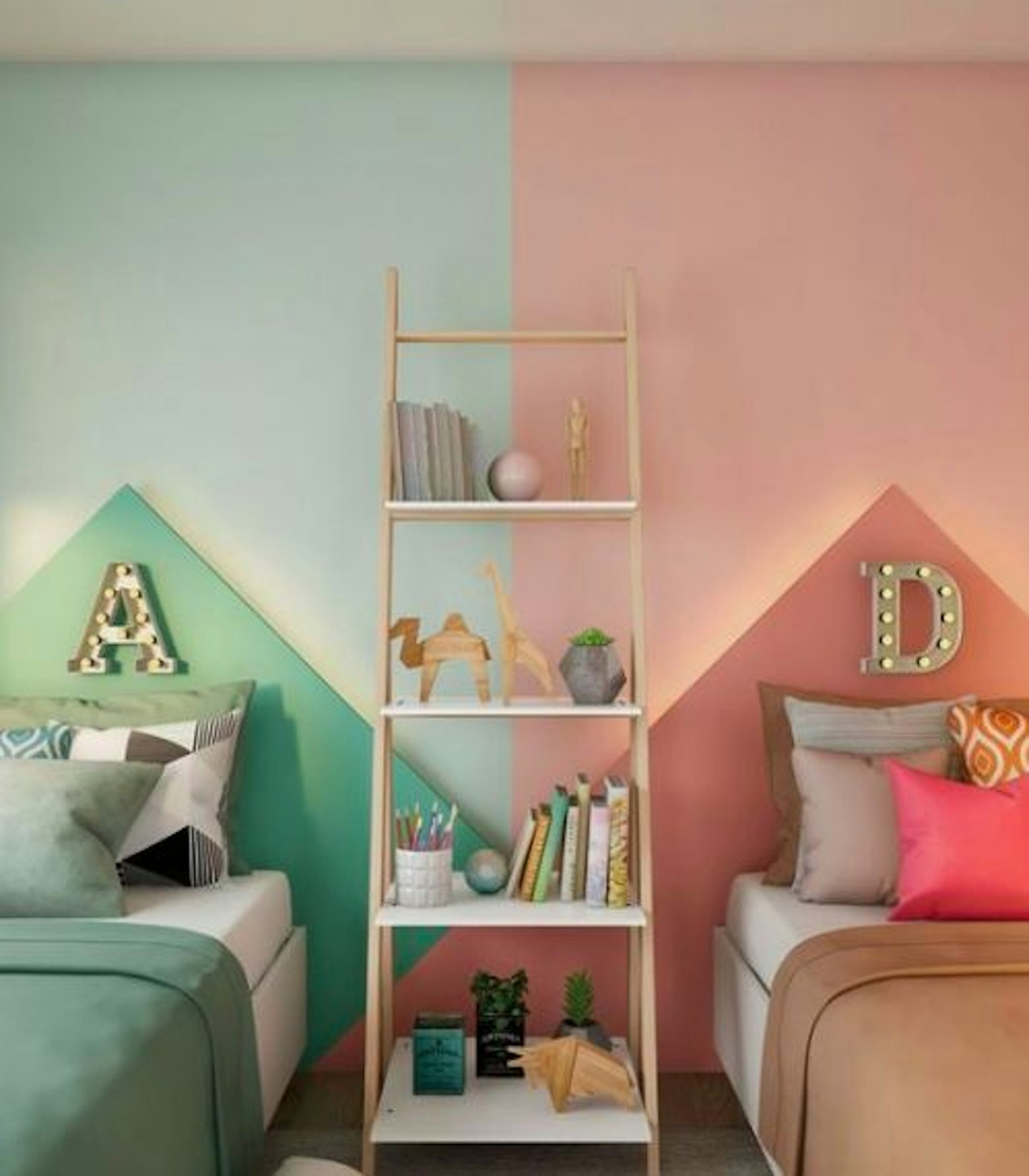 3 of 14
CREDIT: Style Curator | Gina Ciancio pinterest
Twin room idea
If your tots are sharing a room but they want their own space, then we love this divided kids bedroom idea. Simply ask them to pick a colour (ideally they should be contrasting shades) to effectively make it feel like two separate rooms. We also love the addition of the light up letters to add another personal touch.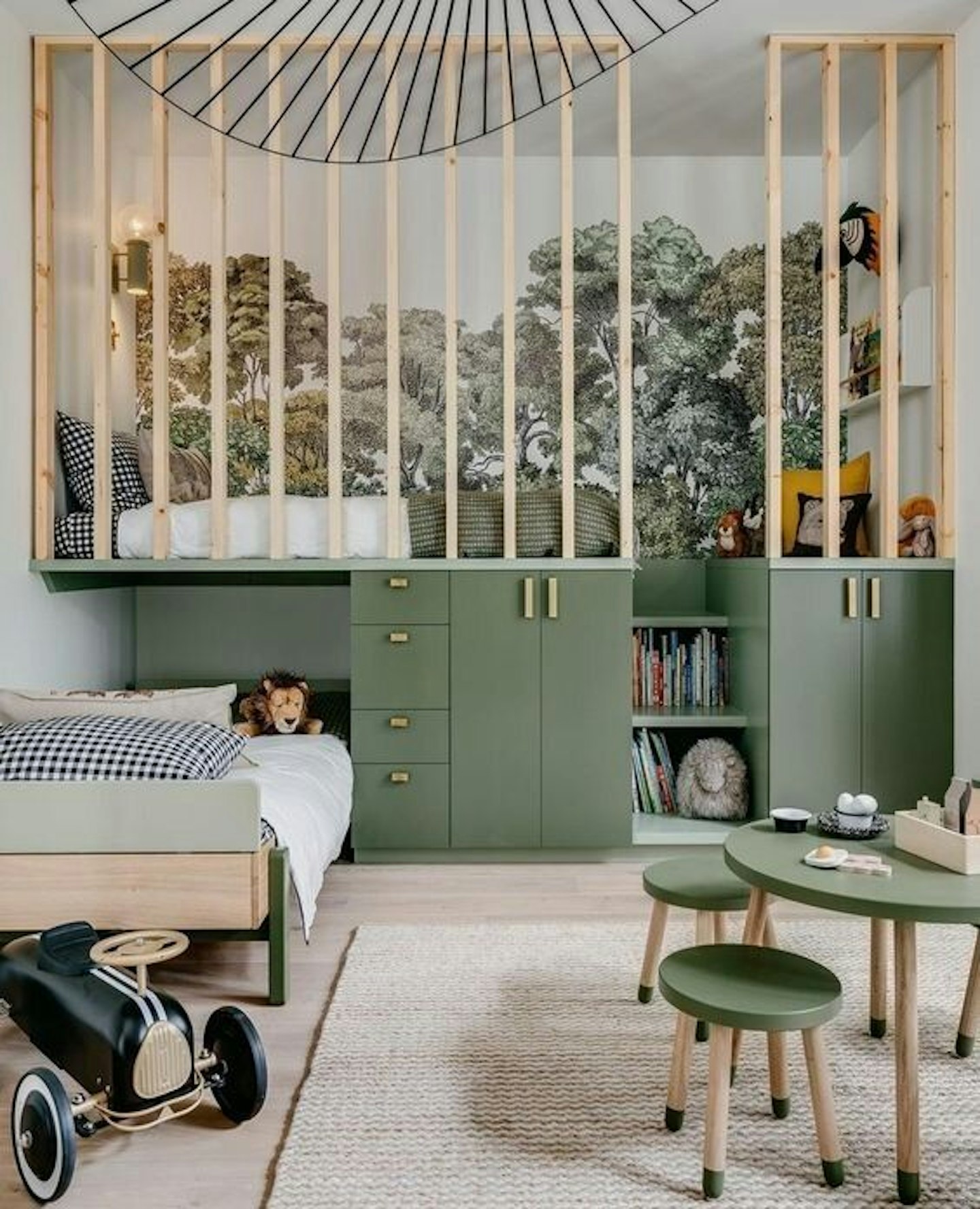 4 of 14
CREDIT: Melanie Lissack Interiors on Pinterest
Bedroom for sharing siblings
Another idea for siblings sharing in this gorgeous green shade. This one will take quite a bit of work, but your kids are guaranteed to love the space. It also works if you want to keep the spare bed tucked away most of the time and only use it for sleepovers. It's also great for storage which is a huge added bonus.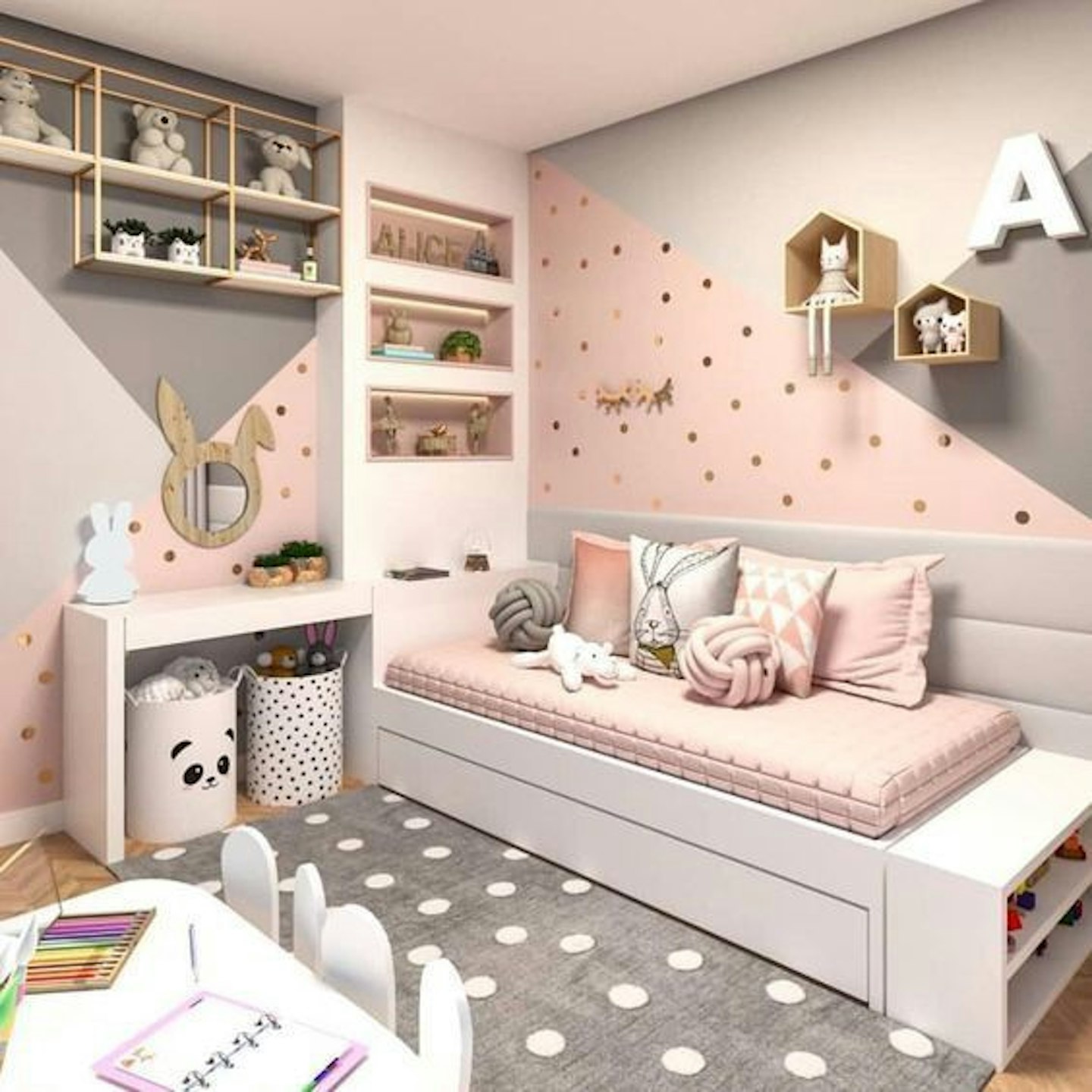 5 of 14
CREDIT: Janny Mariaa on Pinterest
Pull out bed
We love this super girly room that has a pull out double bed. This is ideal if you think your little one will soon get to the point where they want a double bed but they're not quite there yet. It also comes with a dressing space and desk area which is great for homework they might start getting soon.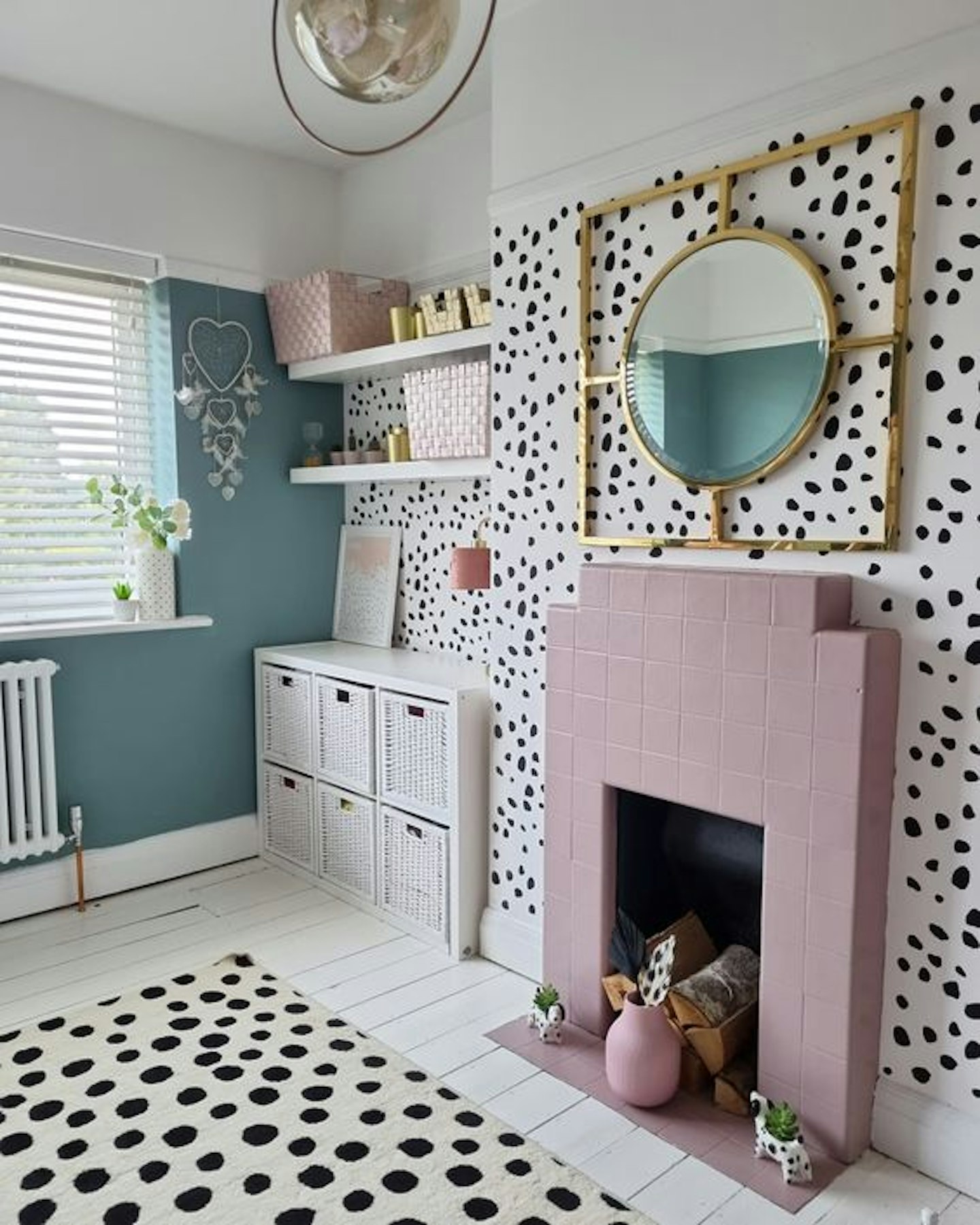 6 of 14
CREDIT: athomewiththejohnsons dotty design on Pinterest
Fireplace room
A spotty print is always a winner in our eyes and it always looks fabulous alongside rich colours like the pink and blue in this room as well as the gold accents. We also love the idea of keeping the original fireplace feature in the bedroom. Of course it won't be used but we think it makes a lovely focus point of the room.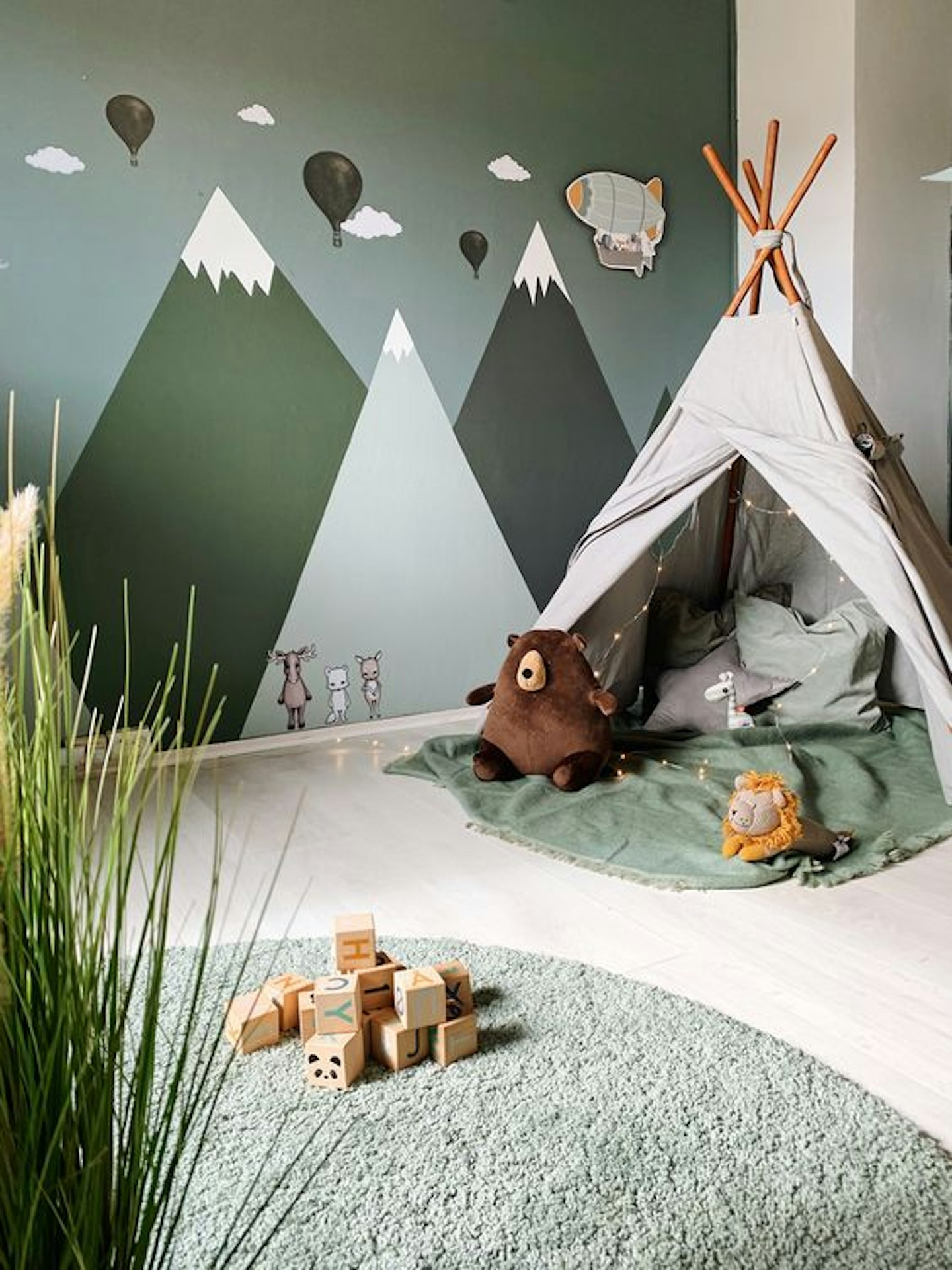 7 of 14
CREDIT: KiDs InTeRiOrS pinterest
Mountain theme
The outdoors trend isn't going anywhere this year, and we love this mountain inspired wall mural. This little teepee in the corner of the room makes for a lovely reading corner for your tot and this particular room has plenty of floor space for playing. Green is also a relaxing colour for your tots bedroom as it also makes us feel closer to nature.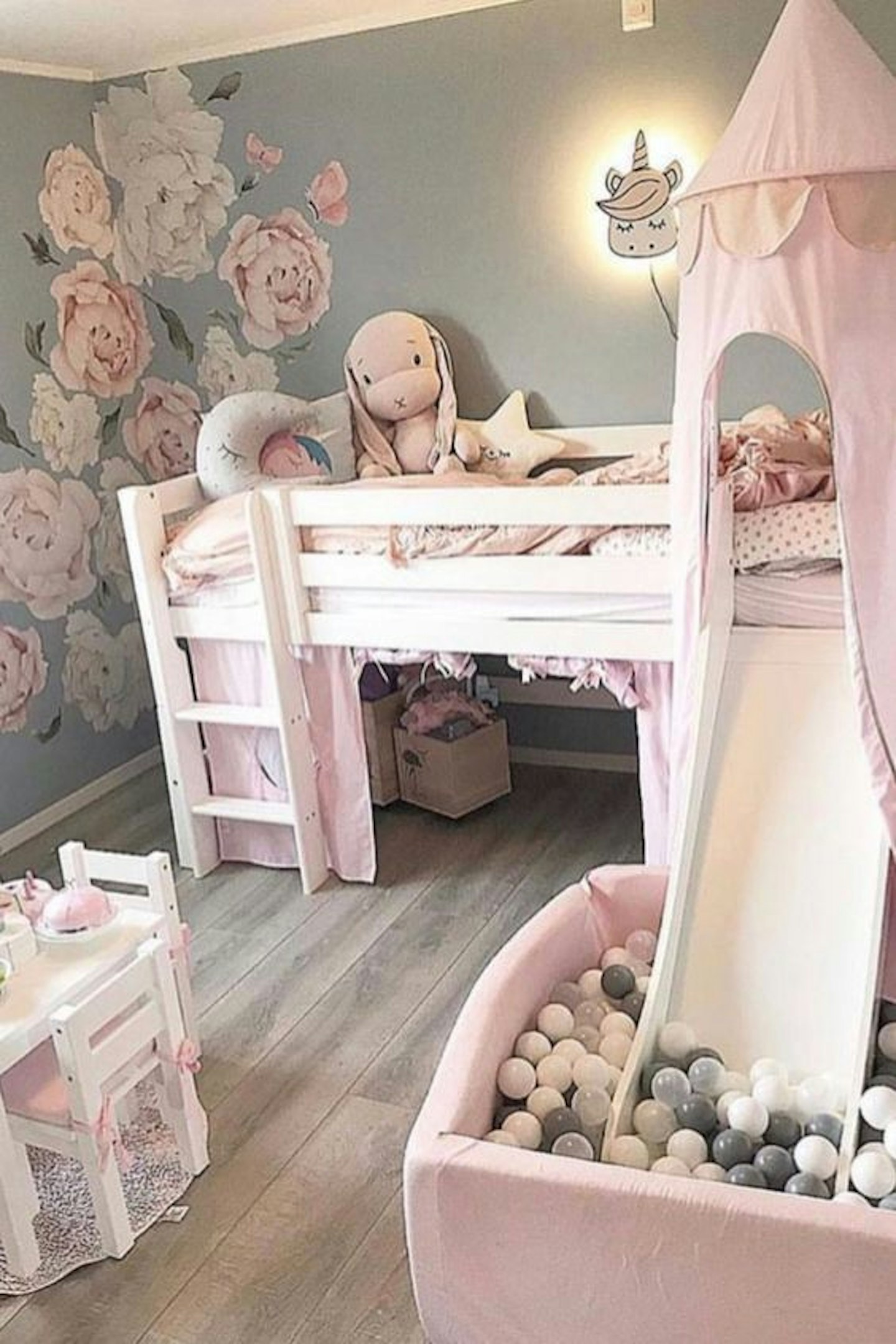 8 of 14
CREDIT: Kat Viana on Pinterest
Bed with slide
There's nothing much more exciting than having a slide and ball pit in your bedroom when you're little. We love this bedroom and fun play space in one. It's ideal if you're keen to create a playroom for your child but you don't have room. With plenty of storage under the bed, this room certainly ticks all their boxes and all of ours.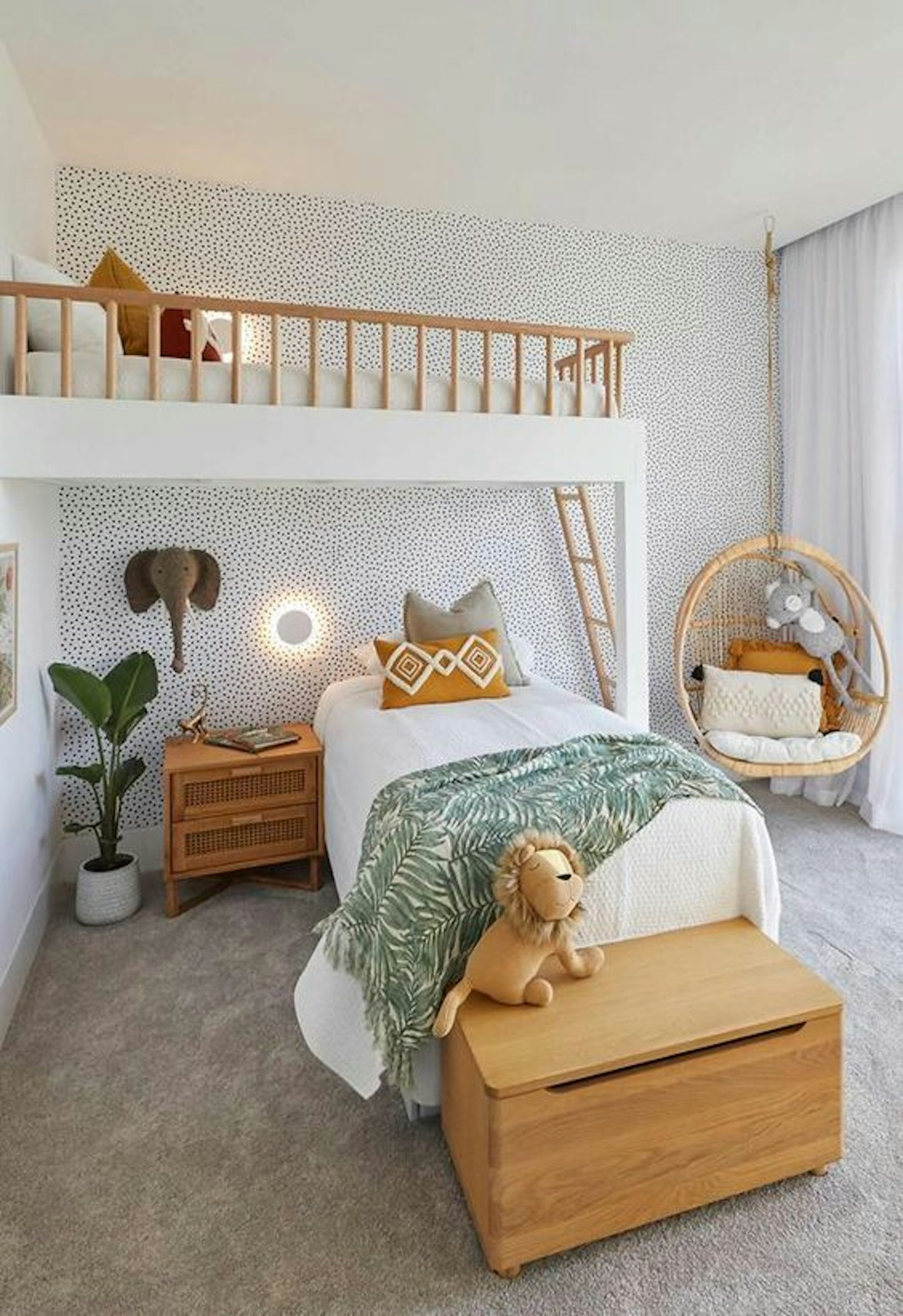 9 of 14
CREDIT: Homes To Love AU on pinterest
Single beds
While the idea of bunk beds might not be ideal, we love this cool alternative to them. Ideal for sharing siblings who want to feel like they have some of their own space, we love how gender neutral this room feels too with a safari animal theme.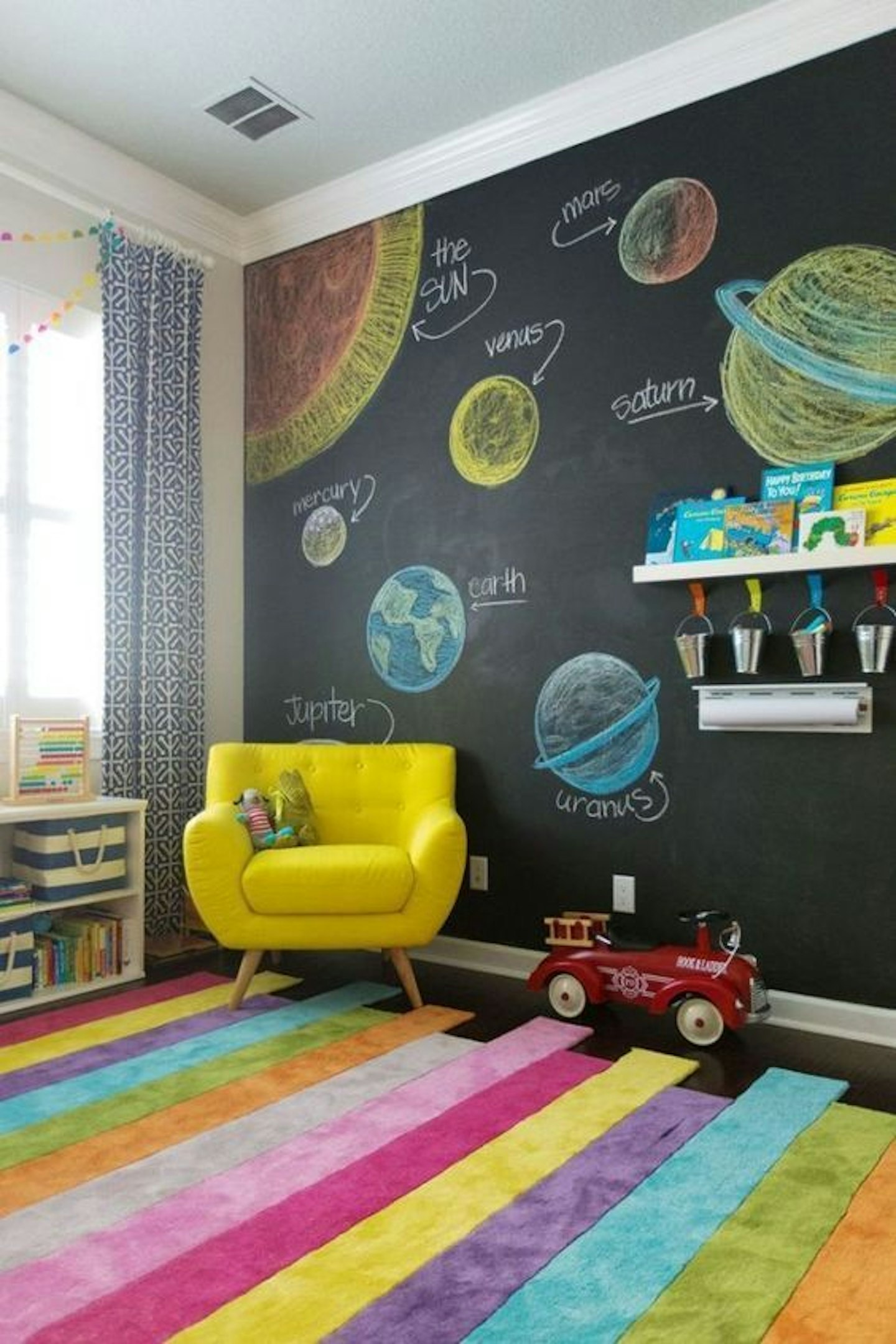 10 of 14
CREDIT: Doris Leslie Blau on Pinterest
Fun chalk wall bedroom
Adding a chalk board to your child's room is a great idea to get their creative juices flowing. Chalk walls are fairly easy to paint on and they allow both you and your child to add some personal touches to their walls without permanently ruining anything. Simply add a little chalk station with all their colours and a cloth for wiping.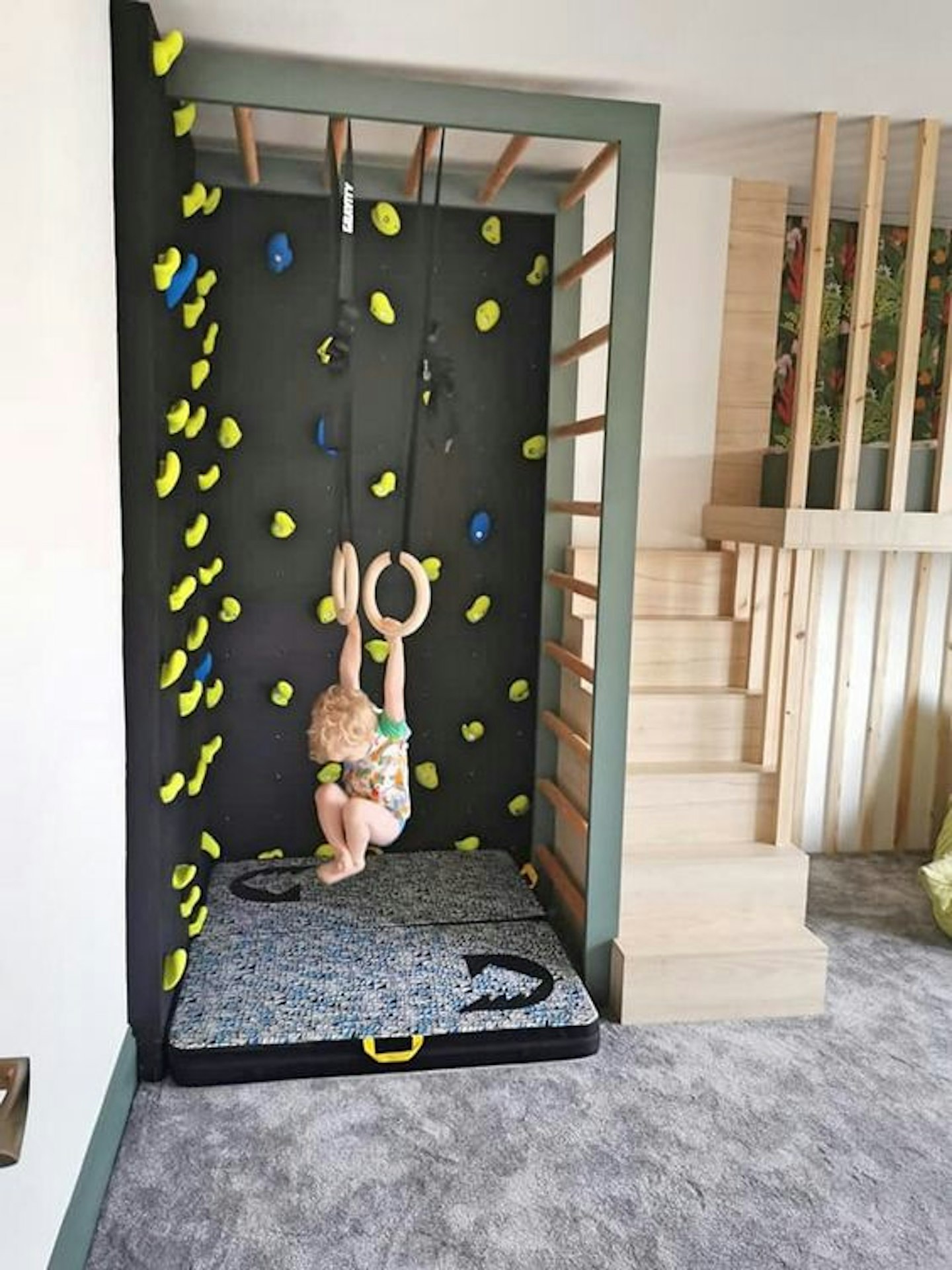 11 of 14
CREDIT: IKEAhackers on Pinterest
Climbing corner
Have you got a little adventurer on your hands? While it's most suitable for older kids, this mini climbing corner with monkey bars is a dream for kids with lots of energy to burn. Just keep in mind that accidents can happen so you may want to add a cushioned floor here.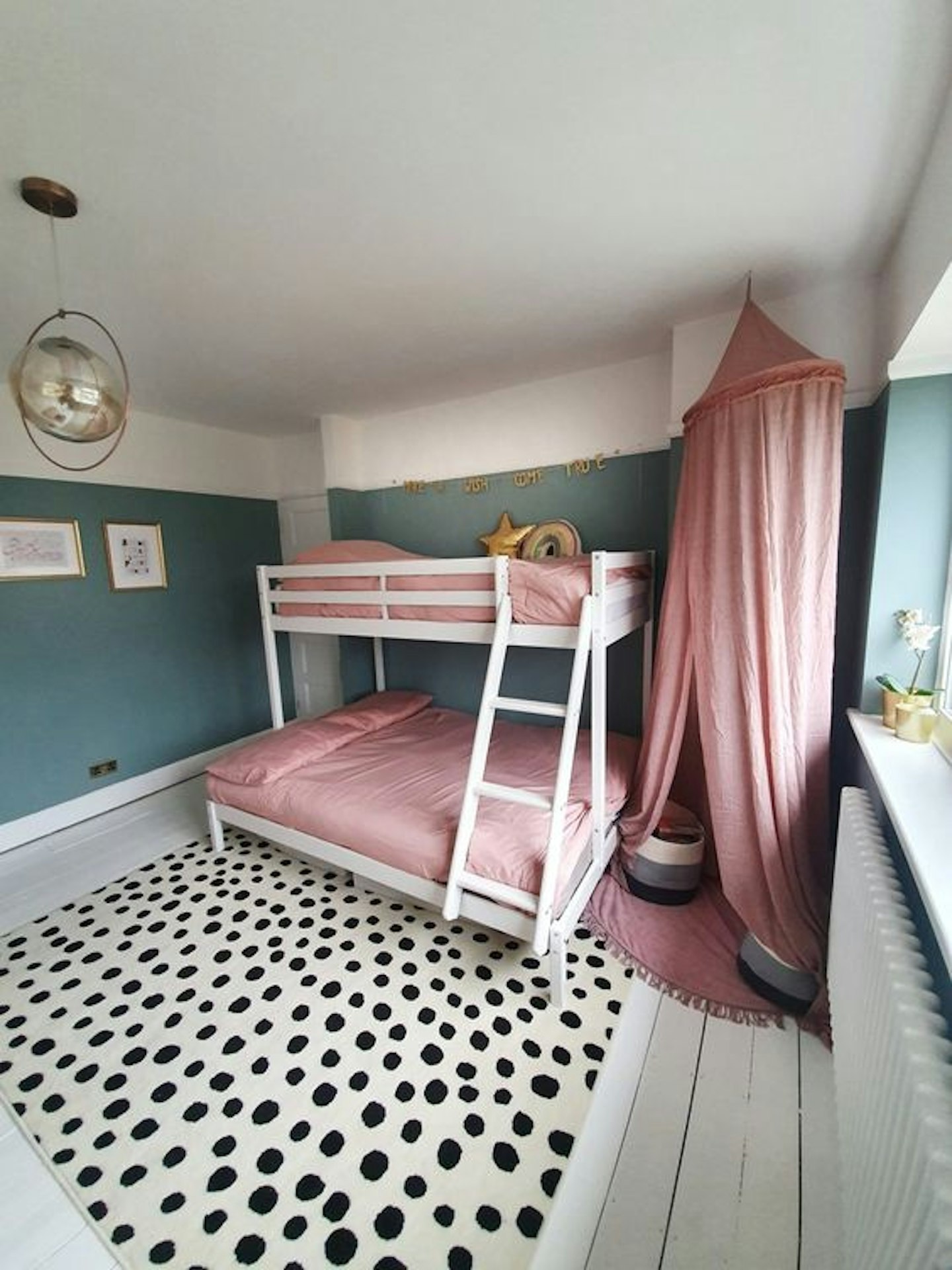 12 of 14
CREDIT: athomewiththejohnsons on Pinterest
Bunkbeds with reading corner
We love this bunk bed idea with a double bed on the bottom for an older sibling and single bed for the younger sibling on top. There's also an adorable reading corner in this room and quite mature decor which will grow with your little ones.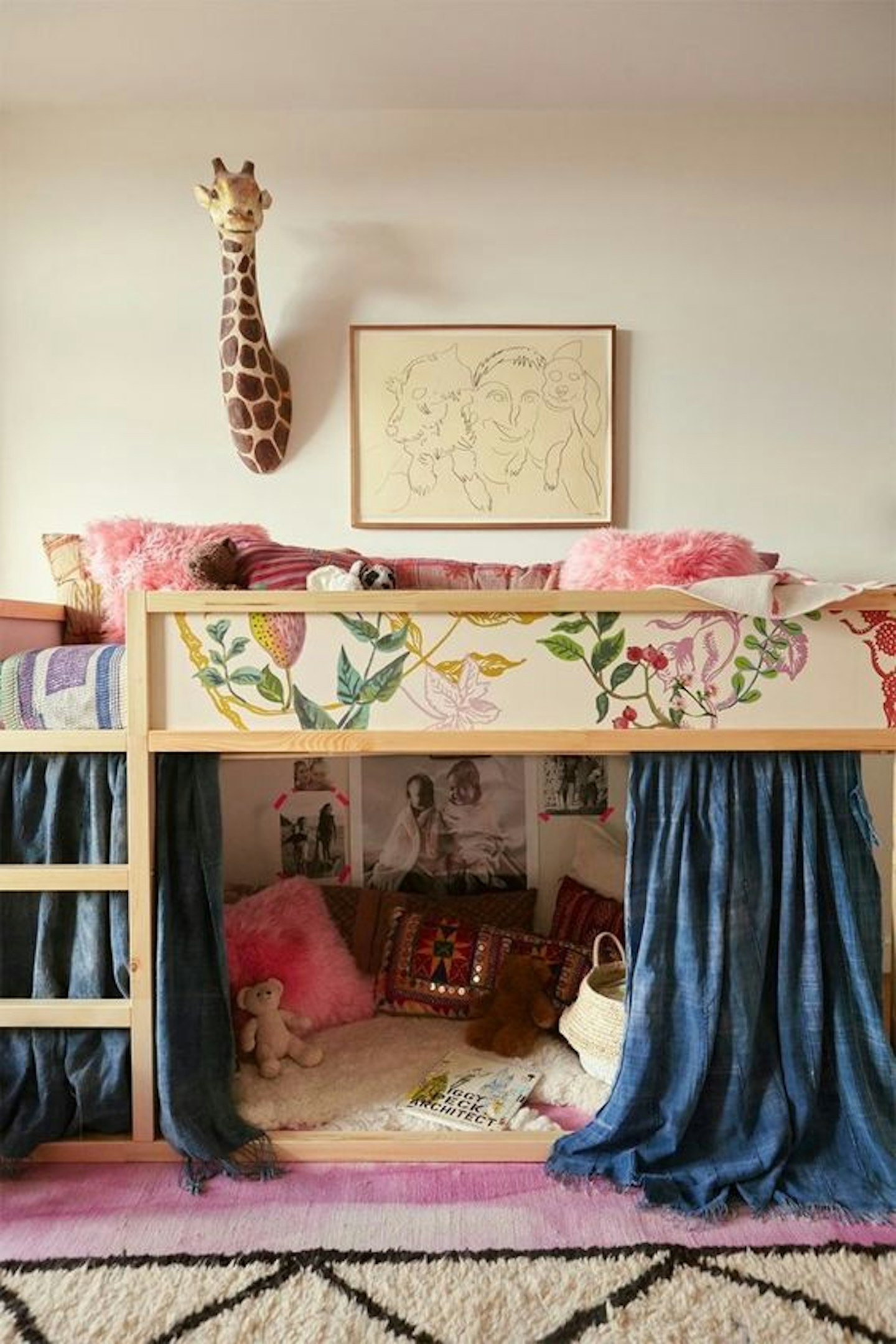 13 of 14
CREDIT: domino magazine on Pinterest
Animal themed den bed
If colour is your thing, then we love this fun theme that uses a mixture of colours, textures and patterns to achieve a truly unique feel. We love the cosy reading space under the bed and we love the personal touches of the photographs and art, not to mention the giraffe!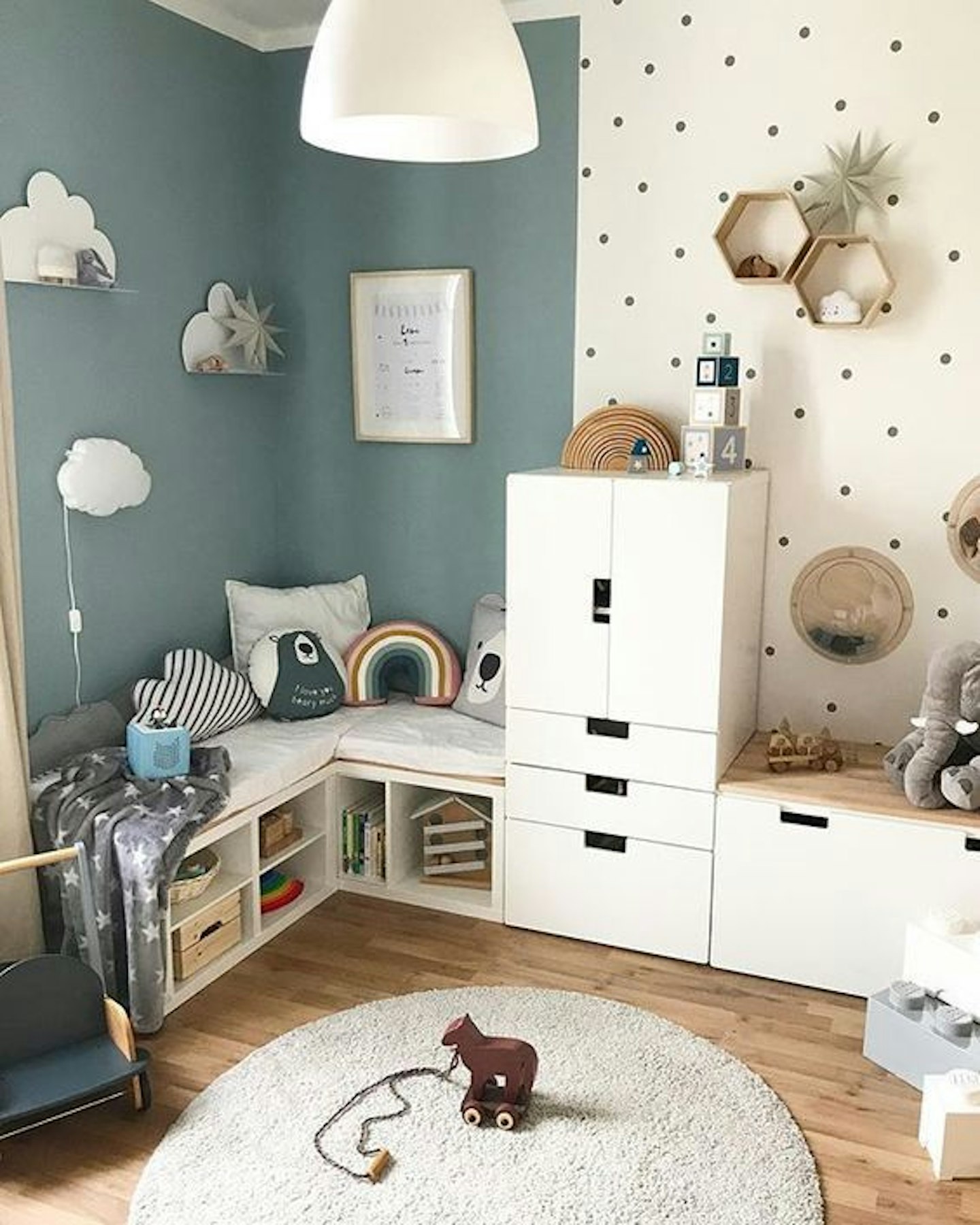 14 of 14
CREDIT: Peinture Abstraite on Pinterest
Cloud and spot bedroom
If you're not so sure about wallpaper but want to add some design to the room, then why not try splitting the colours like this and adding dots to one half of the room or just on a feature wall. We love the blue tone of this particular room mixed with the grey, white and beige accents. Not only does this little corner make for a great reading corner but there's also plenty of storage.
<meta charset="utf-8">Kids bedroom storage solution ideas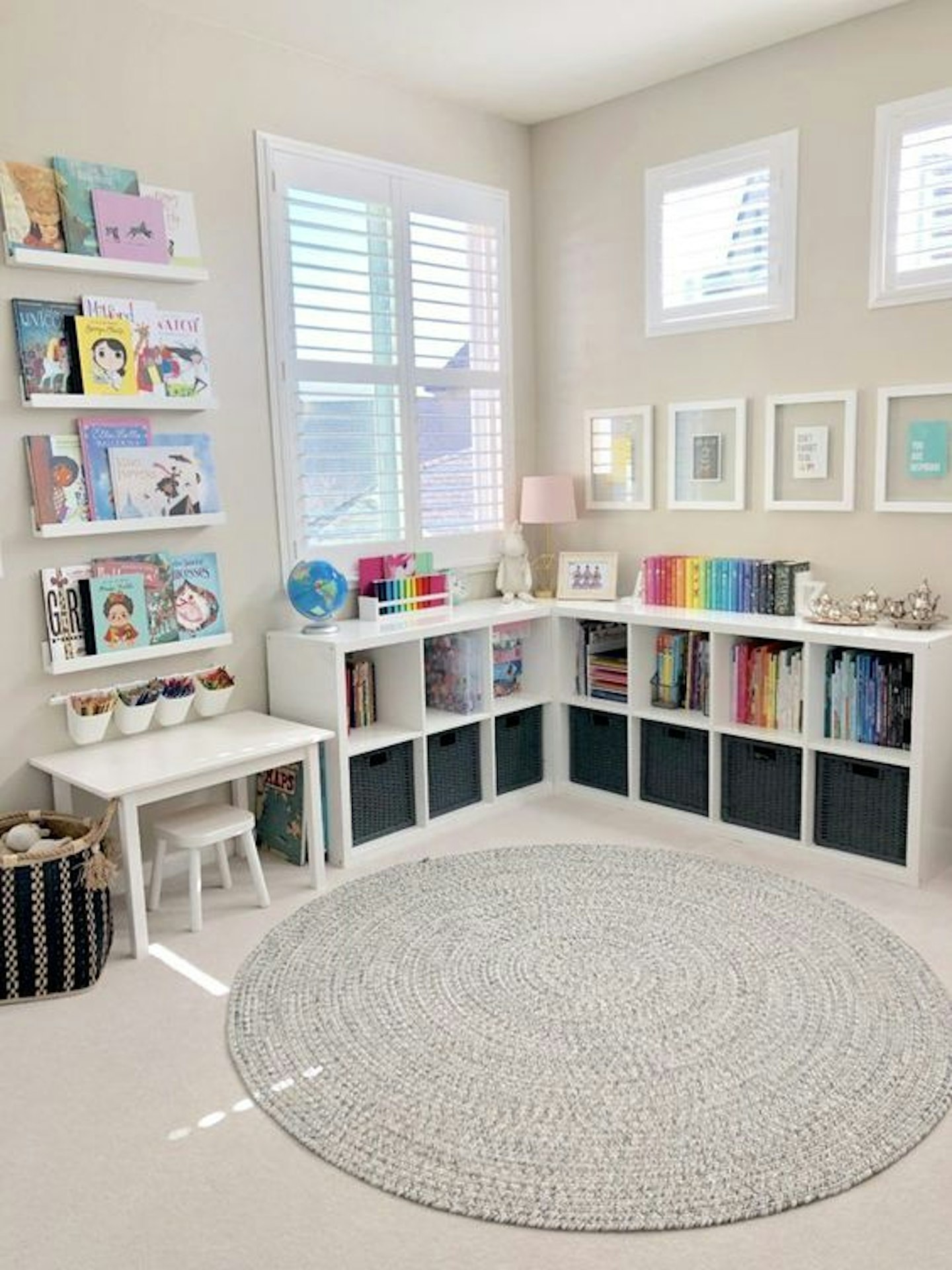 1 of 11
CREDIT: project nursery pinterest
Creative storage space
These cube shaped storage units are ideal for kids rooms or play rooms. With some square boxes, you can easily store away any kind of toy in a quick and organised way. They slot nicely into corners and you can customise them how you like.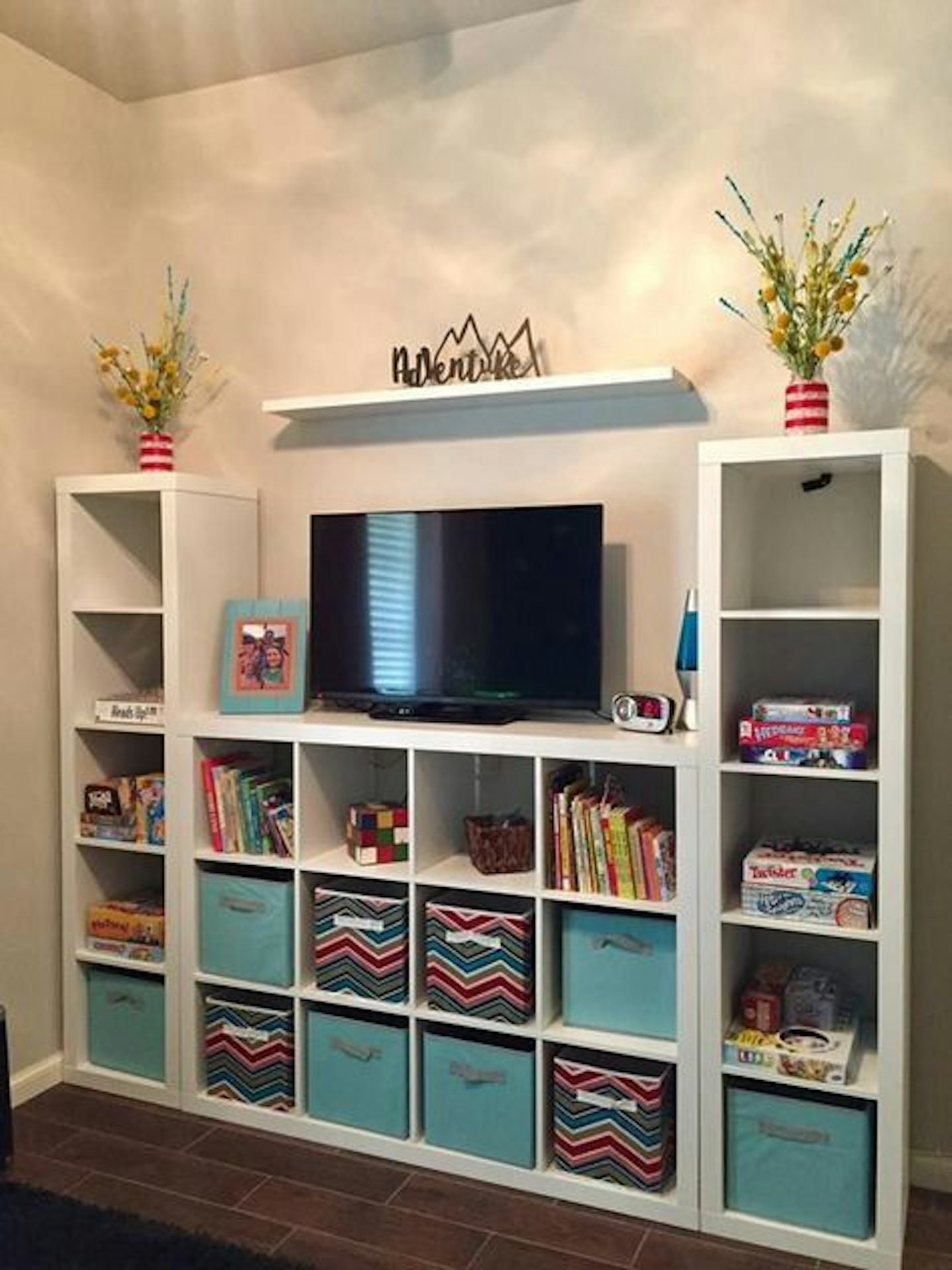 2 of 11
CREDIT: Griya Barokah pinterest
TV storage space
Utilise the space around the TV with shelving for a real entertainment space. You can add different drawers, a space for board games, photographs, books and trinkets.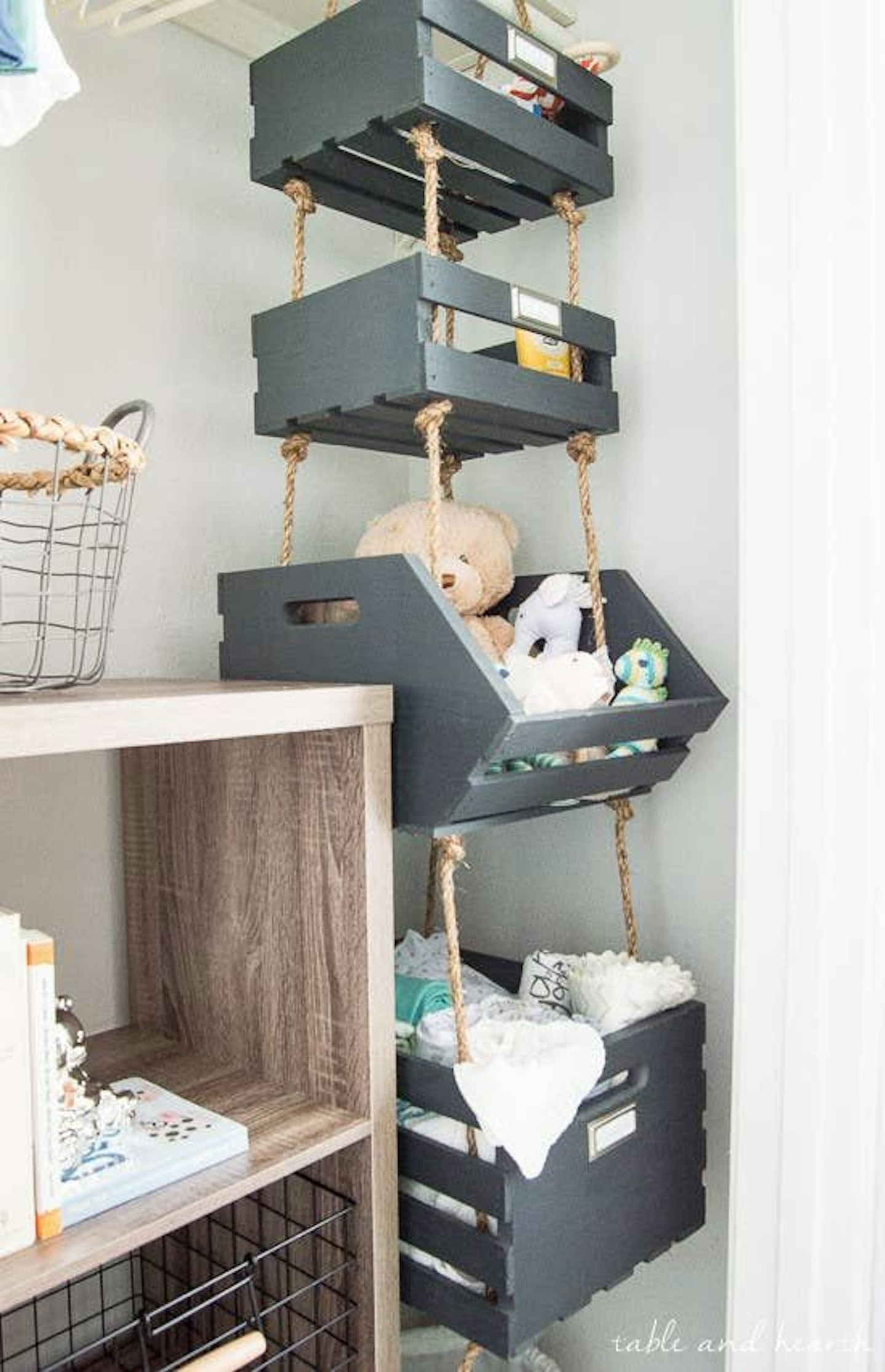 3 of 11
CREDIT: BuzzFeed pinterest
Hanging toy storage
We love a hanging storage unit for cuddly toys. While these boxes might not be able to take the weight of heavier toys, they're ideal for storing away cuddly toys and blankets before bed.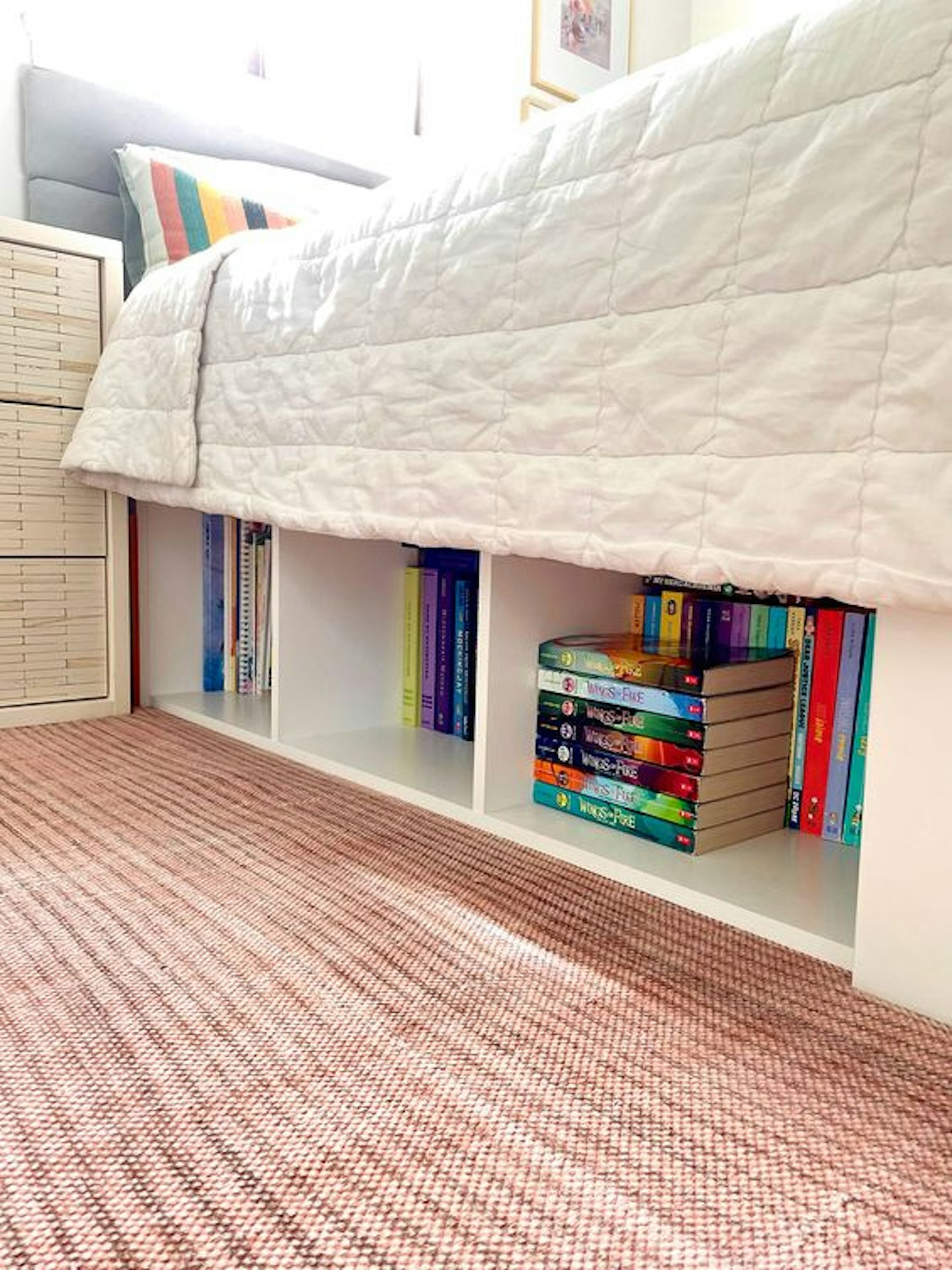 4 of 11
CREDIT: Young House Love - DIY & Decor pinterest
Under bed storage
Under the bed storage is a god-send for parents looking to store things away neatly. When buying your child's first proper bed, consider purchasing a bed that has a storage solution built in where you can store books, toys, notepads and other supplies.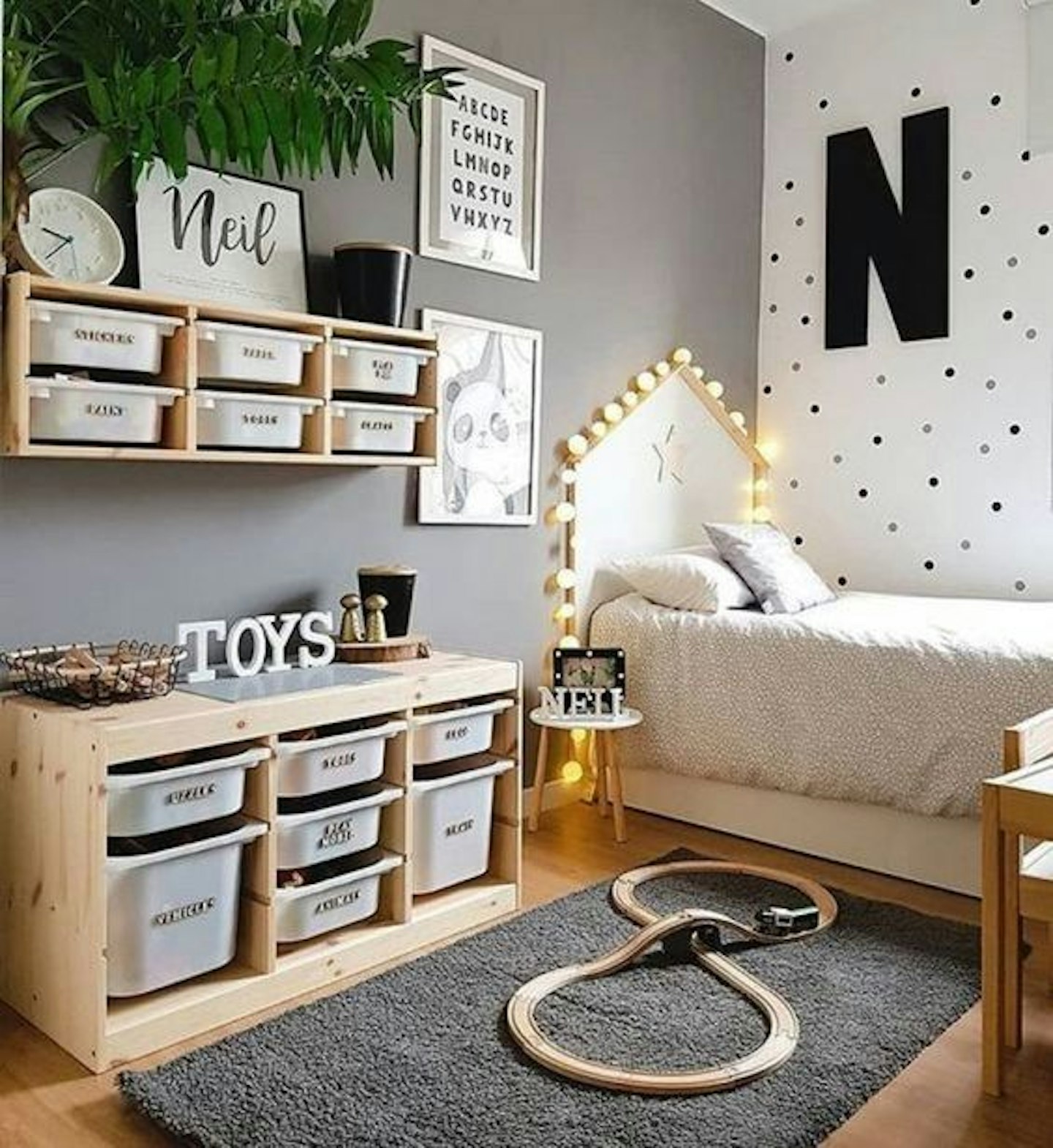 5 of 11
CREDIT: Kristy Bauch
Drawer storage
Tray storage solutions are perfect for accessing toys easily. Again, these trays can often be customised for your needs with smaller trays and larger trays to pick from. Labelling these trays is also a must for easy organisation and to help your child get into a good habit of putting things back in the right place.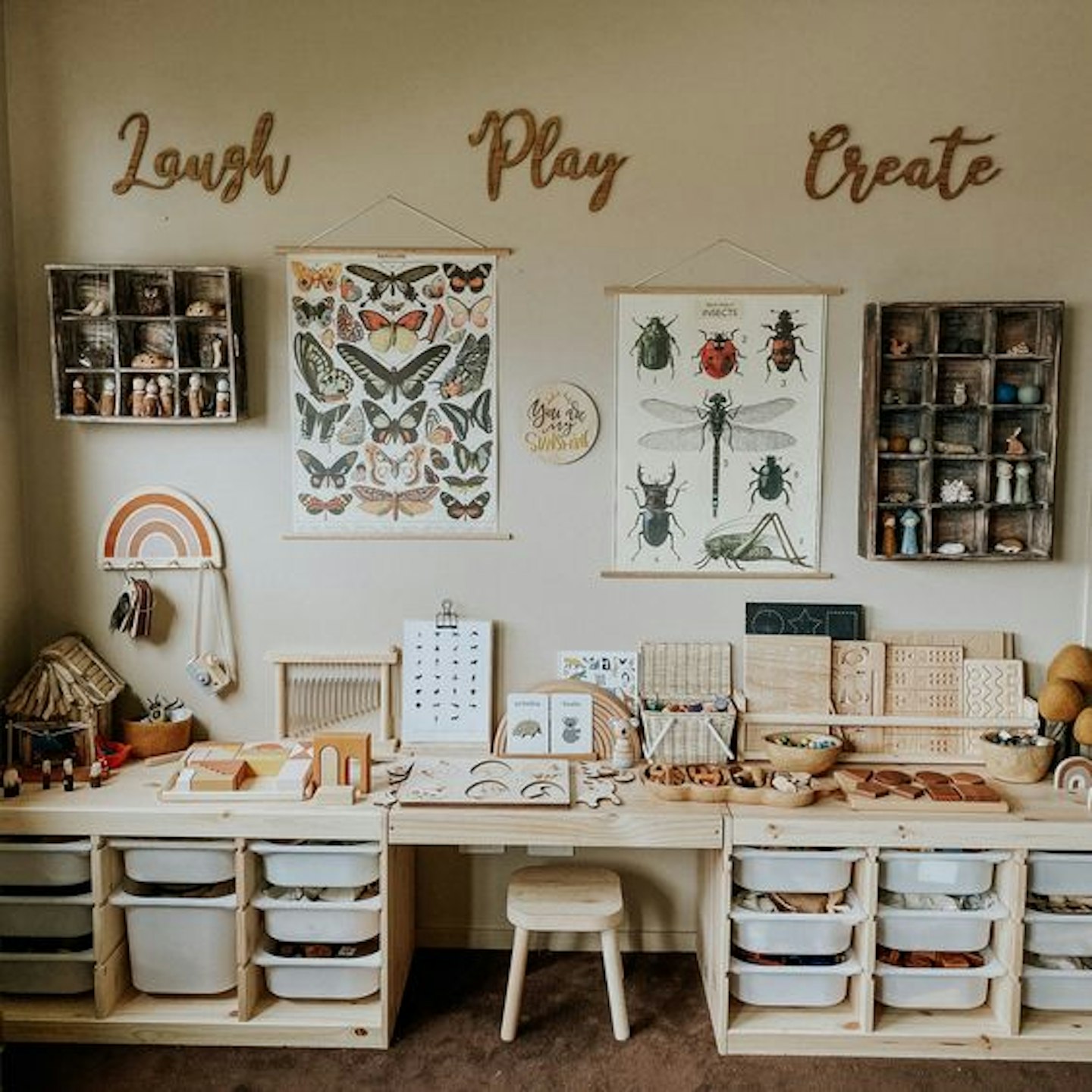 6 of 11
CREDIT: pinterest
Play storage space
If you've got a creative tot on your hands, having a space where they can make and create with all their craft and art supplies within easy access is a great idea. Something like this only takes up one wall and there's plenty of space to store everything in one place.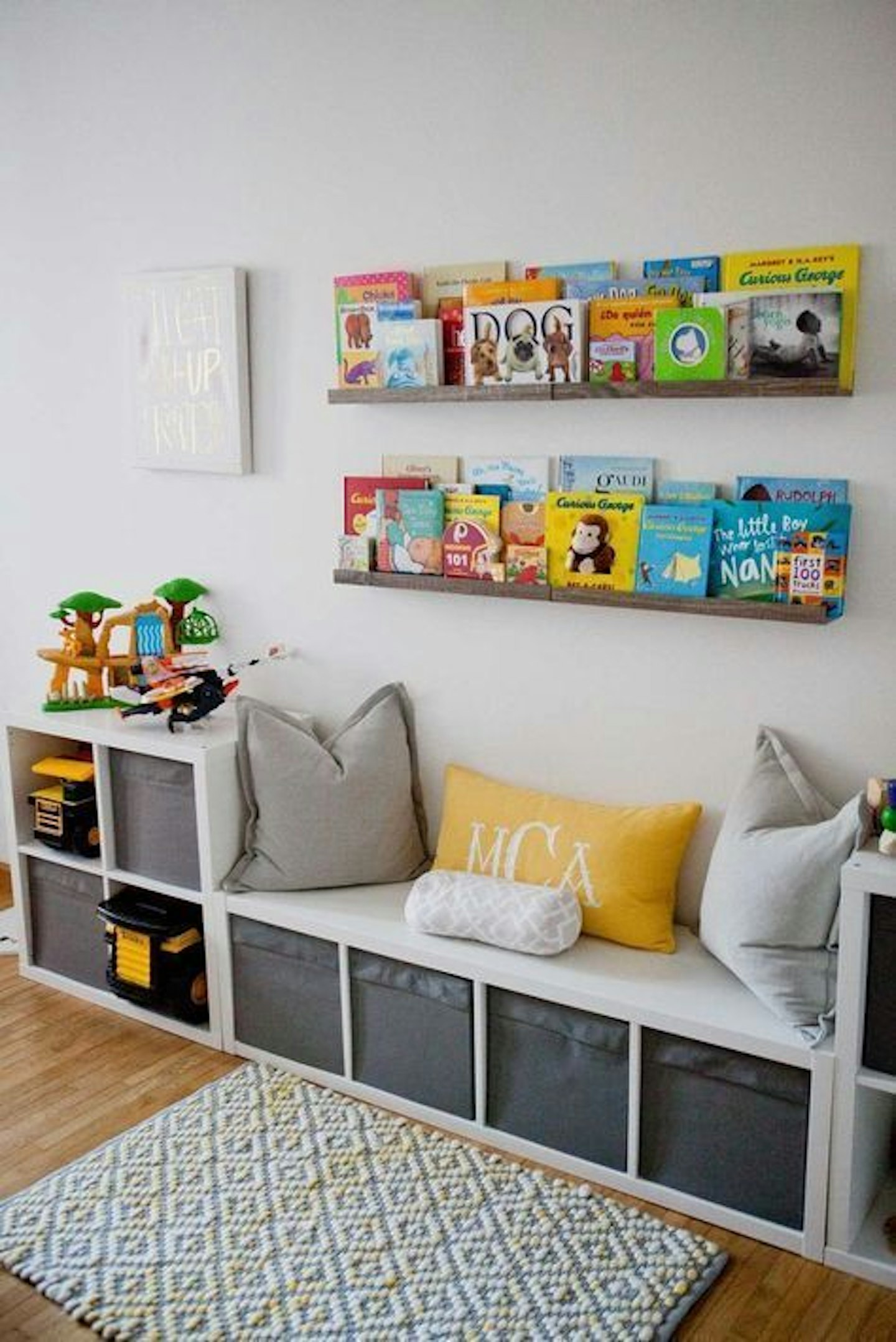 7 of 11
CREDIT: Medialiefde Mamaliefde Reis-liefde Kerstliefde
Reading storage space
Storage benches are a great idea if you're wanting somewhere you can relax and read while also having some storage space. They're ideal for a bedroom where you might want to keep soft furnishings like cushions and throws while incorporating some storage space.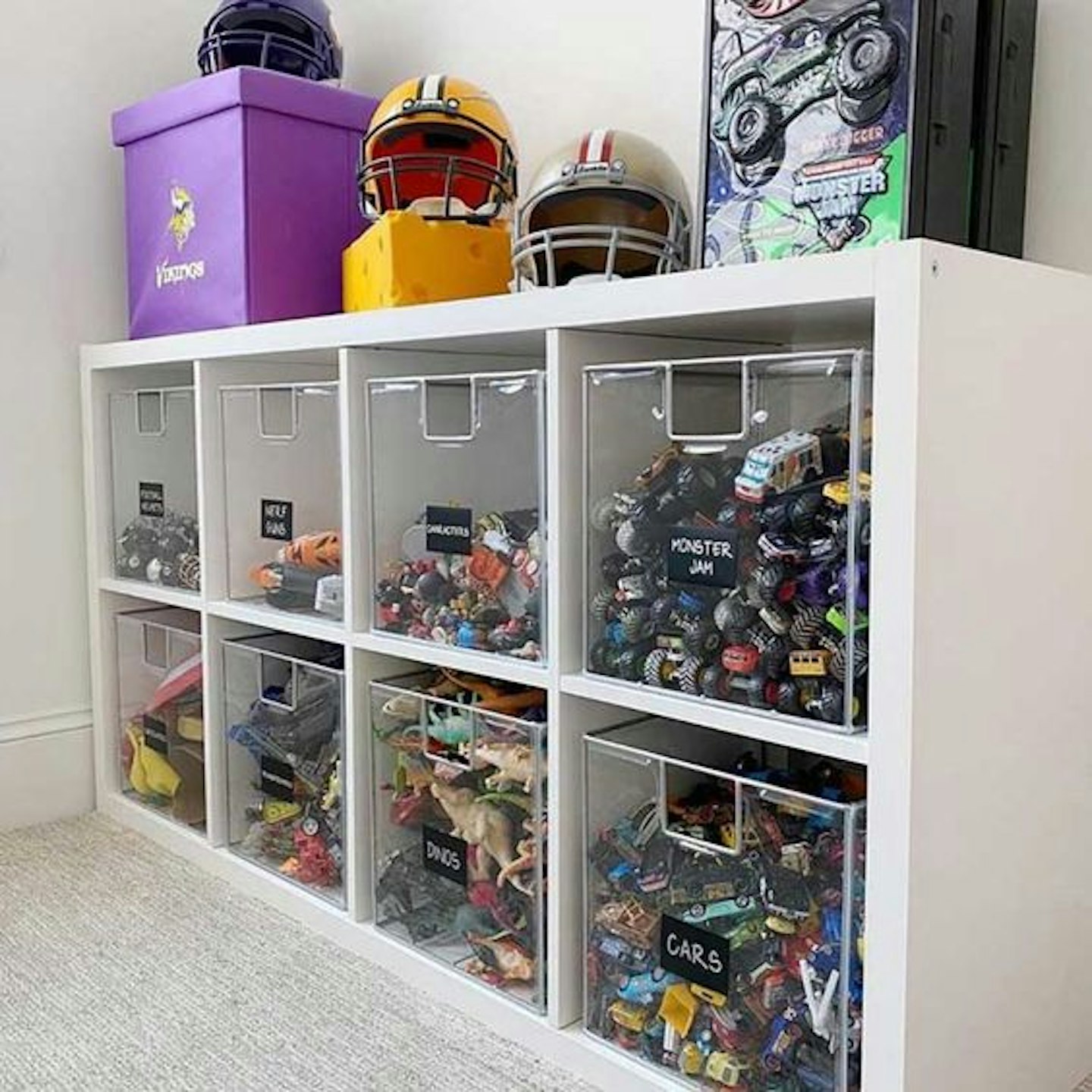 8 of 11
CREDIT: Style Curator | Gina Ciancio pinterest
Small toy storage
If you're forever tripping over tiny cars or pieces of lego, then you'll need somewhere to easily store away those tiny toys that can get so easily lost. Having transparent boxes makes all their little toys much easier to find so they don't have to pour the box out onto the floor every time.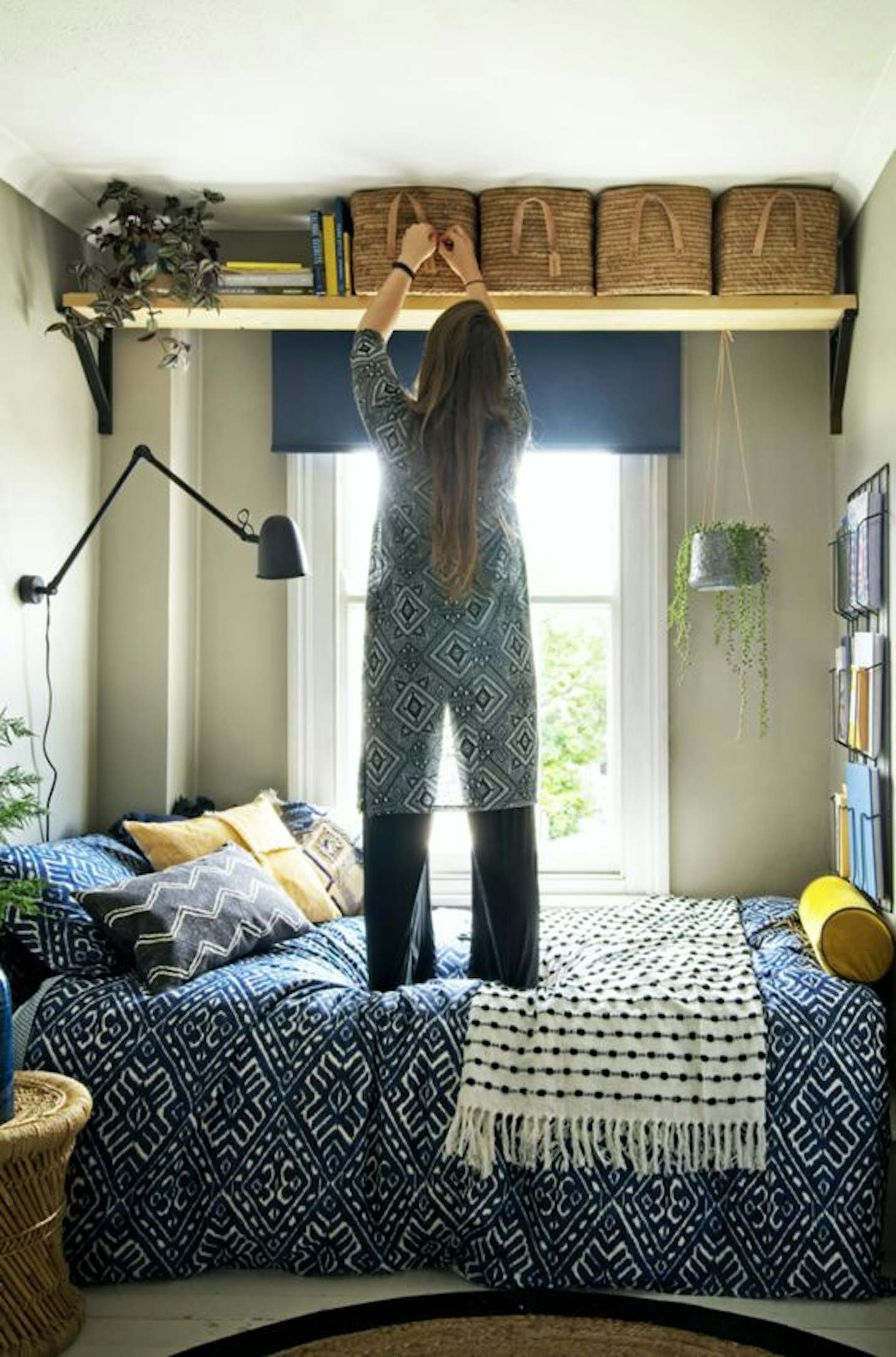 9 of 11
CREDIT: thatssogemma pinterest
Above bed storage
If under-bed storage isn't an option, why not consider over the bed storage options? Having a shelf high up in their room is a great way to utilise the ceiling space if floor space is minimal. It also means they won't be able to reach toys when play time is over. Just make sure things can't fall off easily and that the shelf is extremely secure.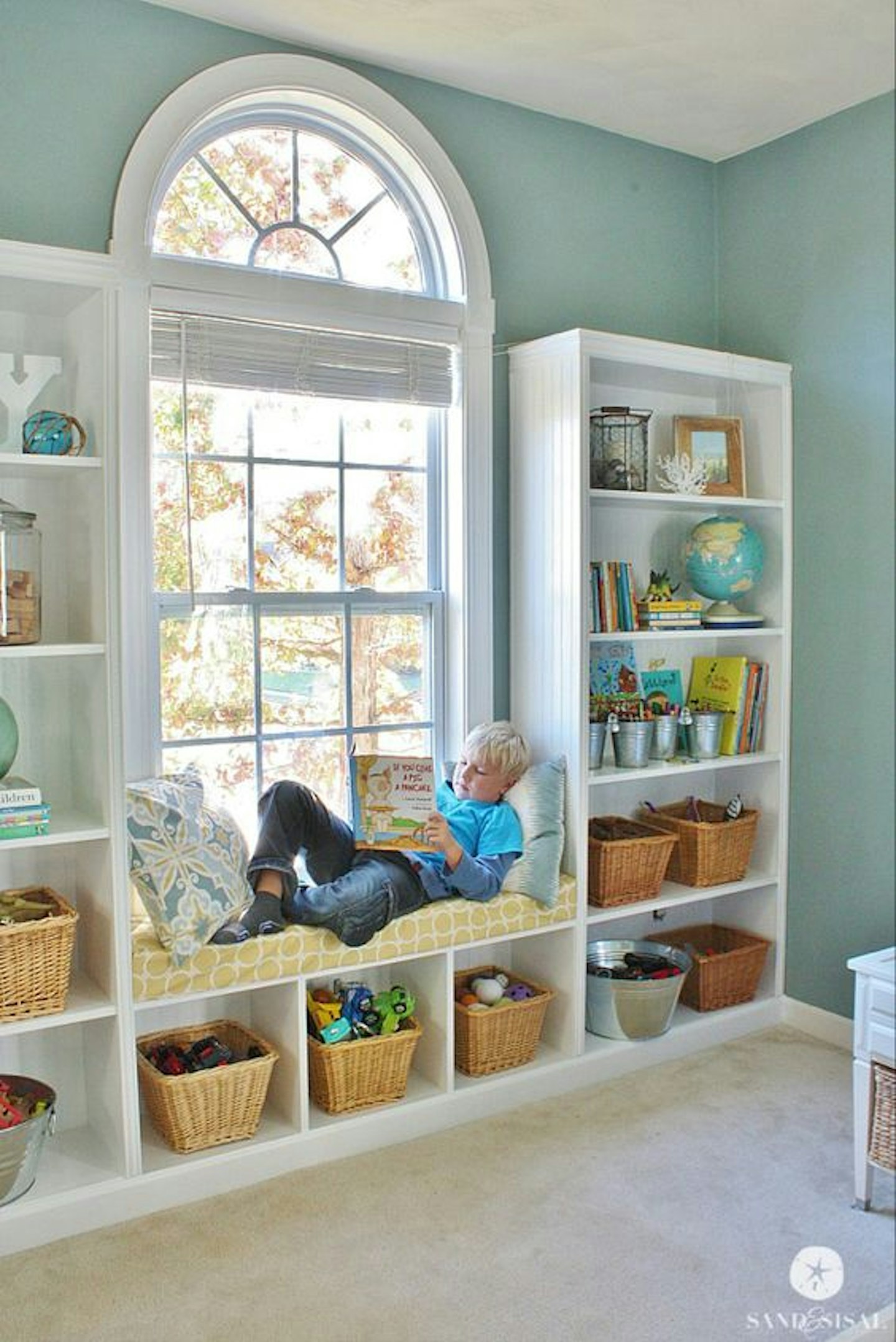 10 of 11
CREDIT: Sand and Sisal pinterest
Shelving storage
Building some storage space around a window is a brilliant way of adding a fun feature wall to any room. It also makes sure the play space is around the brightest part of the room and we love the addition of a reading nook on this one.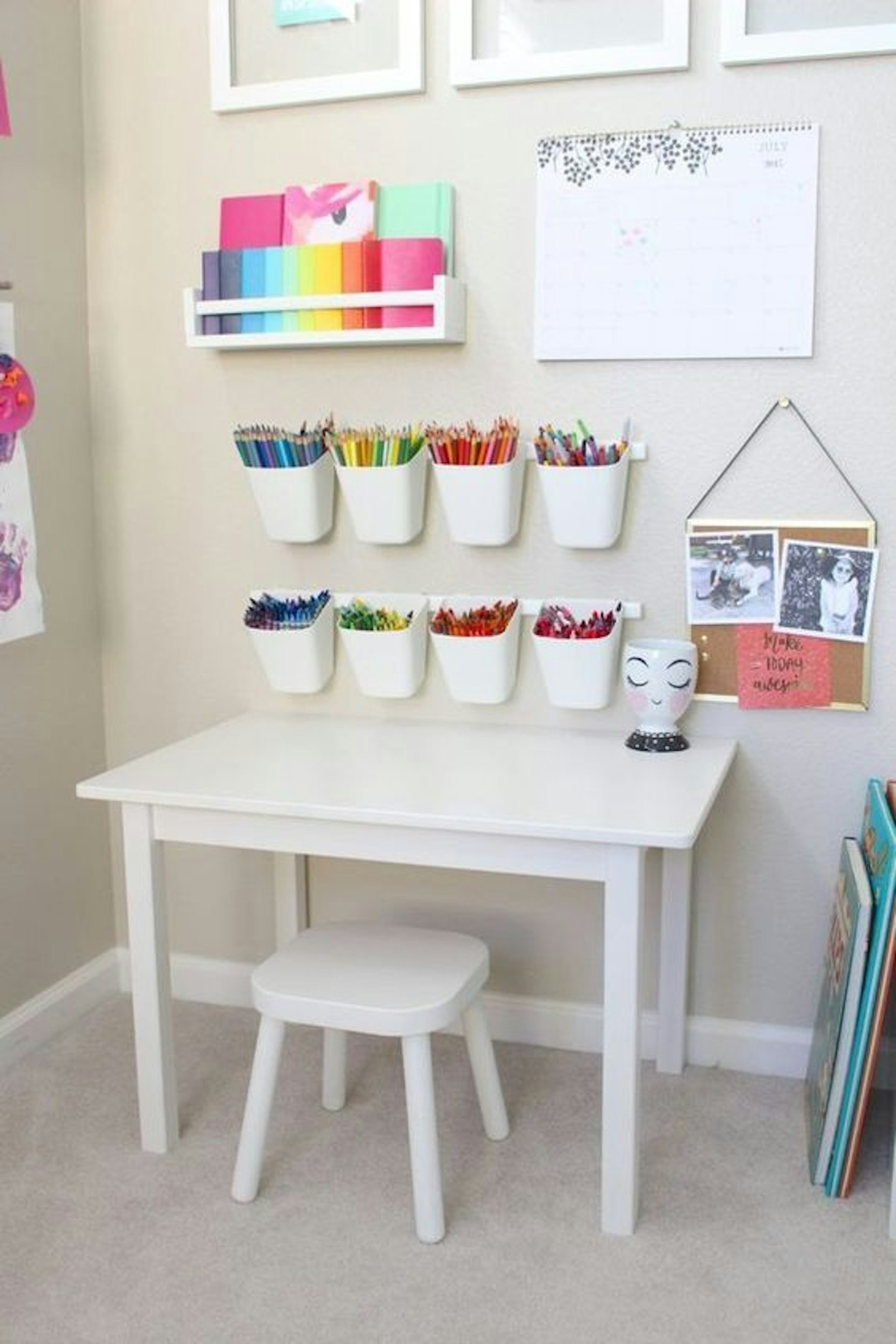 11 of 11
CREDIT: Empatika pinterest
Art storage
If your little one is mad about arts and crafts then creating a storage space for art supplies is a great idea. All they need is a little table, chair, somewhere for all their paper and notebooks plus an organised storage solution for crayons, pens and pencils.