The BT Smart monitor allows you to watch your baby wherever you are with HD video and talkback straight from your phone. The monitor will be there to help you even when your hands are full. This device can pair with your Amazon Echo or Google Home and calm your baby when you command a lullaby to send them to sleep. Find out what our real mum testers thought below...
Read more about the best baby monitors according to our mum testers.
Why do you think this product is so different to anything else on the market?
Holly: I think this is a great product. I'm not sure it's unique to the global market, however, it is the first UK voice-controlled smart baby monitor. It's very easy to set up and use and works with modern technology. It comes already paired so you literally just have to plug the camera and monitor in. The live video stream that can be watched from your smartphone is of great quality, with no issues with connection via WiFi or cellular. The free app was easy to download, I used it on my iPhone and found it worked perfectly. The camera can be tilted and the quality of the night vision is spot on.
Vashti: If I'm honest, I haven't tried any other baby monitors other than their previous model the bt video baby monitor 5000. In comparison to that this is vastly improved. The camera unit is slightly heavier so it's less easy to knock over and more stable up high with the cable pulling on it. Having a larger screen (I have the 5") is nice but also impractical as I keep it in my pocket when I'm running errands about the house or in the garden. The biggest selling point is by far the smart element, whereby it connects to the internet and an app on your phone from where you are anywhere in the world. It's really lovely for my partner when he goes away.
Jennifer: This product is superior quality to others we have tried, its battery life is good, which is something important to me so I can bring it around the house as I go about my work, and on top of this the free app to check in on your little on is a fantastic add on! The picture quality is great and it is a sturdy unit - I have dropped both the camera and parent unit many times with no damage caused! It also has a fantastic range which is a bonus when in larger houses or sitting out in the garden during the summer months. The sound sensors are really great, meaning I can leave the monitor on standby and save battery life.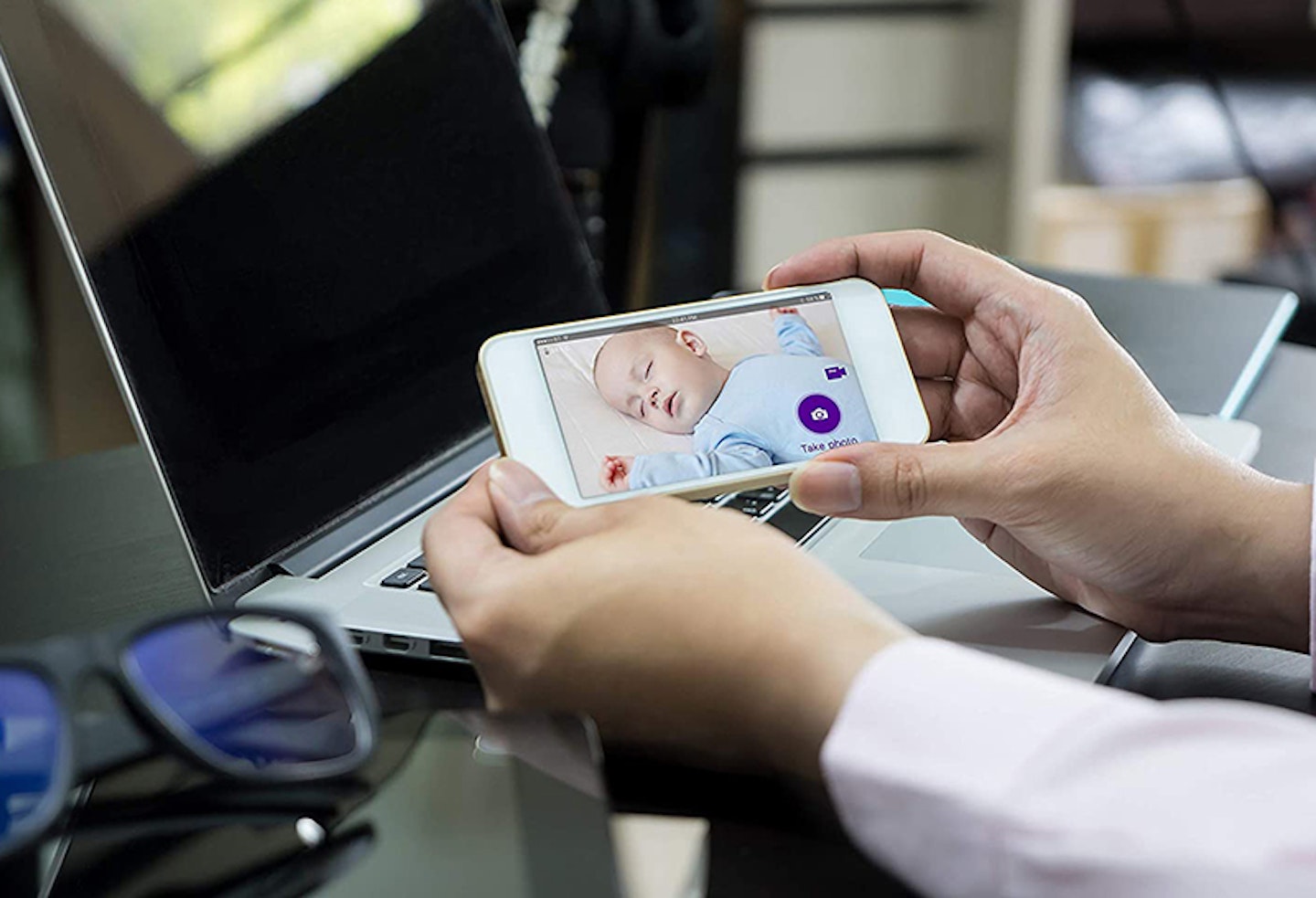 How did it change your life with your baby?
Holly: This is the third baby monitor I have used and it is the best. It is simple to use whilst being advanced, working with modern technology to enhance the product and user experience. I did not use it with Alexa or Google as I don't currently use either but that aside I have loved the simplicity of the product. The quality of the picture and sound is exactly what you need as a busy parent, plus you have the ability to zoom. The feature I value most is that I love being able to see my daughter when I am not at home. I tested it out whilst out one evening using a babysitter. It gave me great reassurance to be able to see my daughter when I wanted to and it also helped the babysitter as she could ask me to check the monitor if my baby was unsettled and give advice. The 2-way speaker and temperature monitor is also useful and the screen is a great size. My daughter is too young (5.5 months) to understand the 2-way speaker but once she can it will be great to allow her dad to talk to her at bedtime if he's still at work.
Vashti: It allows me peace of mind, it is highly sensitive to sound - so much so that a door closing elsewhere in the house can set it off! But I prefer that, knowing that it would definitely pick her up crying in her sleep. Also it allows a greater connection for us when we're away for work etc, it means we can check in any time which just eases the anxiety of leaving so much. The thermometer is incredibly useful during these hot summer days, and whilst I don't tend to use the lullabies personally (because I'm apparently a complete technophobe) being able to talk back to her to tell her I'm on her way is great if I'm 'indisposed' or in the garden.
Jennifer: It allows me to feel secure that I can check in on him on my phone, I can carry the unit around the house without constantly going back to charge it or checking on him at the socket and the quality is so good I don't need to "double-check" they're ok by going into the bedroom and disturbing their sleep! It makes nap and bedtime more enjoyable for me knowing how easily I can see them and hear them and the visual cry alert means I know I won't miss them waking. It also allows me to pan the room which is amazing for times where I have accidentally moved the camera at bedtime, I can just move it back to its correct position to see my little one. It can also be tilted to allow me to easily get the right angle with multiple options for where to place it in the room as well as wall-mounting it. The push-to-talk system is great too as I can often shush my little one back to sleep by using this without having to go back into the room. The soft amber light on the unit is also great as I've been able to use it as a 'night light' of sorts!
What excites you about this product?
Holly: The live streaming for me is the winning feature. I feel more comfortable leaving my daughter with someone else in the evening knowing I can see her at any time. I am yet to use the product with Alexa or Google voice control but imagine it would enhance the product and the user's experience and it has now made me consider using one of the products in conjunction with the baby monitor. Without using this unique feature I still think this is a great product and of the baby monitors I have used, I would definitely recommend it.
Vashti: Definitely using the app to log in. I was sceptical about having 'smart' products in the house, but it has been pretty amazing to check in when I'm at the gym or record footage of her laughing in her sleep and send it to the grandparents, they love it! My internet and wifi is actually rubbish so having the normal connection function too is a relief so we're not depending on it. That said, we also have thick walls and when we're at the far end of the house if the wifi's working well it's also a relief to be able to connect that way too!
Jennifer: I was always wary about using a monitor via an app in case it was not secure but the BT app is entirely secure and is paired to your own camera via a series of steps. I love that I can check in on my baby no matter where I am. The parent unit is also very sturdy and with a toddler running about too I'm not scared it will be knocked over and broken. The wonderful screen also excites me about this product - so lovely to get such clear images and an added bonus that I can capture all the cuteness with the app!
What one thing would you change about this product?
Holly: Although the design is simple and very easy to use I think the menu function feels a little dated in comparison to the other advanced features of the product. I think the product could be improved with perhaps a touchscreen menu although I appreciate as it is a monitor screen that might be difficult to do. It is however easy to use as a busy and tired parent.
Vashti: I would make the base of the camera heavier still, not so much that if it fell it would concuss my toddler but just so it's not so easy to knock with the curtains or by the cat. I would also have it able to tilt up and down more to correct the view when it has been knocked like this; quite often I can't see her at all because it's been pushed the wrong way by a furry tail. I would also improve the lullabies, they're pretty harsh and I haven't ever attempted to use them to soothe my daughter, more as entertainment.
Jennifer: It is so disappointing that you can't just buy another camera to pair with the unit without buying the parent unit too as I would love to link up another camera for my toddler to save us using two separate monitors. Having researched other reviews on this product it seems to be a common letdown! Otherwise, I wouldn't change anything about the product and how it actually functions and looks.
Product Information
HD app streaming

Take snapshots and videos from anywhere

Temperature display

Remote pan, tilt and zoom

Two way talkback

5 lullabies

Night vision