Your baby should sleep in a cot or crib in the same room as you for the first six months of their life, however, if you don't have the space for a big cot in your room, the best Moses baskets are a great alternative.
Designed to be smaller than your standard baby beds, Moses baskets are practical beds that don't take up much room in your home and can be used in your bedroom or in the living room for daytime naps. They're also suitable baby beds to travel with if you need to.
Best Moses baskets at a glance:
• Best overall Moses basket: Tommee Tippee Sleepee Moses basket - buy here on Amazon UK.
• Best innovative Moses basket: SnuzBaskit Dark Grey Moses Basket And Dove Stand - buy here from SNUZ.
• Best for additional features: John Lewis ANYDAY Moses Basket - buy here from John Lewis.
Moses baskets are designed for use from birth until around six months, after which your baby can move into a cot in a room of their own. Some people also like to have a Moses basket in the living room, so that they don't have to keep taking baby to their room for a nap, or have to move their bedside crib around the house.
Best overall Moses basket
Description
Pros
Portable
Easy to clean
Static and rocking options
Cons
Stand is difficult to build
Best natural knitted Moses basket
Description
Won silver at our Mother&Baby Awards 2020 for Best Cot, Crib or Moses Basket.
The Little
Pros
Strong and durable material
Lightweight
Organic quilted liner
Best modern Moses basket
Description
Shortlisted in the 2018 Mother&Baby Best Cot, Crib or Moses Basket category.
Made from
Pros
Looks modern
Longer lasting
Cons
The rocking mode is low down
Best handwoven Moses basket
Description
Made with elephant grass, this beautiful handwoven Moses basket features ethically sourced leather
Pros
Thick hypoallergenic foam fitted mattress
Handwoven
Best innovative Moses basket
Description
With dual mesh windows for better visibility and breathability, this SnuzBaskit Moses Basket &
Pros
Comes with a stand
Made with sustainable material
Larger than standard Moses baskets
Cons
Machine washable liner not included
Best value Moses basket
Description
Sturdy and lightweight, the beautiful Moses has integrated handles to make it easier to move when
Pros
Good value
Sturdy
Breathable
Cons
Stand and mattress sold separately
Best Moses basket for additional features
Description
With three detachable toys to entertain your baby, a nightlight and lullaby attachment, this Moses
Pros
Lightweight
Easy to store
Includes nightlight and three toys
Cons
Basket not detachable from stand
Best neutral Moses basket
Description
The John Lewis ANYDAY Moses basket comes with a mattress, padded liner and fitted sheet, so you
Pros
Comes with a cellular blanket
Portable
Cons
Some mentioned their baby outgrew it quickly
Best contemporary Moses basket
Description
This Mamas & Papas Moses basket is simply beautiful, and the liner is made from high-quality
Pros
Contemporary design
Internals made with soft bamboo cotton
Best accessorised Moses basket
Description
This starter Moses basket is the perfect statement piece for any room, with a free-standing drape
Pros
Free-standing drape
Adjustable height
Moses baskets: All you need to know
Do you need a Moses basket?
Some mums prefer their babies to sleep in a cot from day one, as it means not having to make the transition from a bedside crib to a cot later on. Others think their tiny newborn might feel rather lost in the vastness of a cot and prefer a cosier cocoon for the first few months. If that's you, or if you can't fit a cot in your bedroom, then a Moses basket is the answer.
Would a bedside crib be better?
The main advantage of a Moses basket over a bedside crib or baby cot bed is portability – a Moses basket has handles on either side of the bassinet, so you can easily carry it with you from room to room when your baby is napping. If you'd rather your baby always nap in your bedroom, then a bedside crib may be a better choice. Moses baskets are generally a more affordable option too.
When do babies outgrow Moses baskets?
Moses baskets are usually suited to babies from newborn up to the age of four months old. However, it's worth noting the weight limit of your Moses basket, as some babies can exceed the limit before, and some are also suited to babies up to six months old.
Another thing to note is that if your baby can sit up or pull themselves up on their own, then it's time to transition your baby to a cot.
Can you use a Moses basket overnight?
A baby can sleep in a Moses basket during the night, and ensure the basket is free from covers, teddies and any pillows. For safe sleep the Lullaby trust recommend your baby must be in the same room as you for the first six months.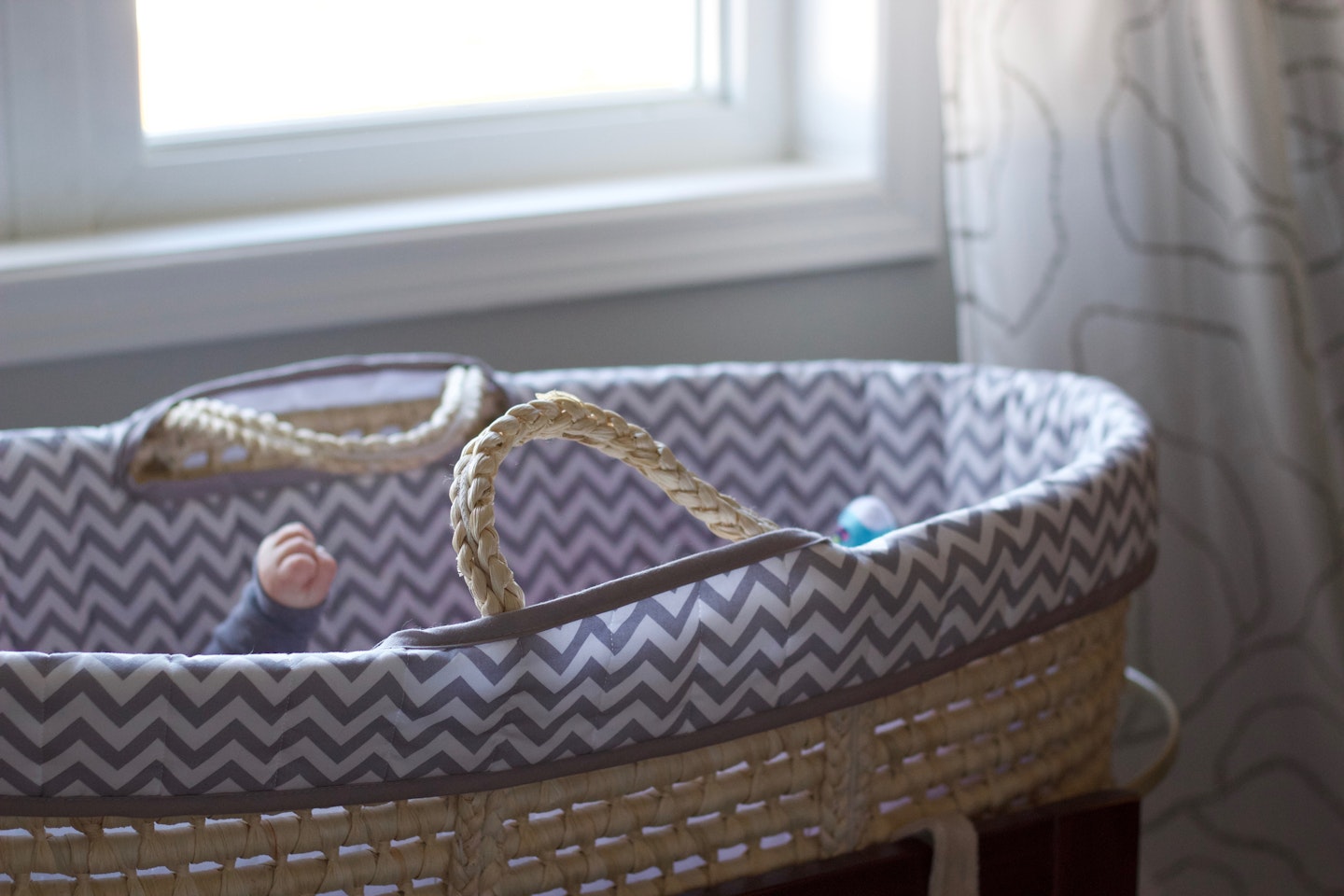 How much storage space have you got?
You won't use a Moses basket for long, but this piece of baby kit will have huge sentimental value. You might want to keep it for another baby or as a little basket for teddy bears. Some designs fold neatly away for easy storage once outgrown.
Moses baskets can be pretty versatile. You can have one for your baby in your bedroom or even for the room you spend the most time in during the day. Most Moses baskets also come with handles so that they can be easily moved too.
Will you take it away overnight?
A Moses basket isn't specifically designed for travel use, but when you're popping in to visit the grandparents overnight, taking it with you is easier than packing a travel cot. Plus, your baby is likely to sleep better in the familiarity of their usual bed.
Samantha Ball is a Product & Lifestyle Writer for Mother&Baby and freelanced for the website for two years before joining the team full time. She's a mum of two and loves browsing for the best products and cute outfits.