The Christmas period is truly magical when you've got little ones (if you cut out the overtiredness and occasional tantrum), and if you're celebrating with a new baby in tow, a first Christmas bauble will make the perfect decoration for your home.
Whether you prefer glass, acrylic or resin, there's such a wide range of ornaments and first Christmas baubles to discover, including gorgeous personalised baubles to add to your collection. Many options also come with the choice to personalise the ornament with your child's name and the year they were born.
**Editor's choice:
**•Best for a budget: howson london Personalised Bauble Baby's First Christmas - View offer on Amazon
•Best for a personalised first Christmas bauble: First Christmas Customisable Rabbit Bauble - View offer on Amazon
•Best for a glass bauble: LoveLumiLtd Rudolph Baby's 1st Christmas Glass Bauble - View offer on Etsy
•Best for a ceramic bauble: Happy Potter Ceramics Babies First Christmas Bauble - View offer on Not On The High Street
We've searched the Internet high and low to bring you a selection of baby's first Christmas keepsakes and decorations to add some nostalgia to your Christmas tree; check them out below.
The best first Christmas baubles 2023:
Best for a budget
Description
Available in different shapes, this acrylic bauble will look lovely on any tree. Your choice of
Pros
Affordable price
Clear acrylic, so you can see the lights or tree through it
Cons
Some say that their text was off-centre
Best for a personalised first Christmas bauble
Description
How adorable is this Peter Rabbit ornament? It comes from a small business and you can ask the
Pros
Affordable price
Includes a hole and red ribbon
Cons
Some reviewers say that it's smaller than expected
Best for a glass bauble
Description
LoveLumiLtd create gorgeous glass first Christmas baubles by hand, using a UV printer instead of
Pros
Silver glitter twinkles against lights
Flat, so potentially easier to hang on your tree
Cons
Design isn't on both sides
Best for a ceramic bauble
Description
Looking for something traditional to mark a very special occasion? Happy Potter Ceramics paint,
Pros
Non-toxic materials
Glazed to make it watertight
Cons
May chip if not stored properly
Best for a snowman bauble
Description
This snowman in a stocking really reminds us of Christmas decorations from our own childhoods. You
Pros
Available in pink or blue
Lightweight polyresin
Best our first Christmas bauble
Description
Whether you're having your first baby or you're expanding your brood, this bauble will mark the
Pros
Handmade to your specifications
Comes with a Kraft gift box and satin ribbon
Cons
If you don't add a year, the current one will be added
Best Disney first Christmas bauble
Description
If you love Disney, take a look at this blue Mickey Mouse bauble. It features the famous mouse and
Pros
Mixture of plastic and resin, so as heavy as glass
Comes with pre-tied matching blue ribbon
Cons
Some reviewers say Mickey may become detached
How to make your own Christmas tree decorations?
Getting crafty and making your own baubles is a fun way to pass the time and if your nifty enough, save money on decorations! You can get the kids to help you and if any come out looking worse for wear, you can always hide them at the back of the tree (it's having fun that counts, after all).
When making Christmas tree decorations, you must first decide on a design. We love these pom-pom pinecone decorations as they only require a few steps.
How to make pom-pom pinecone trees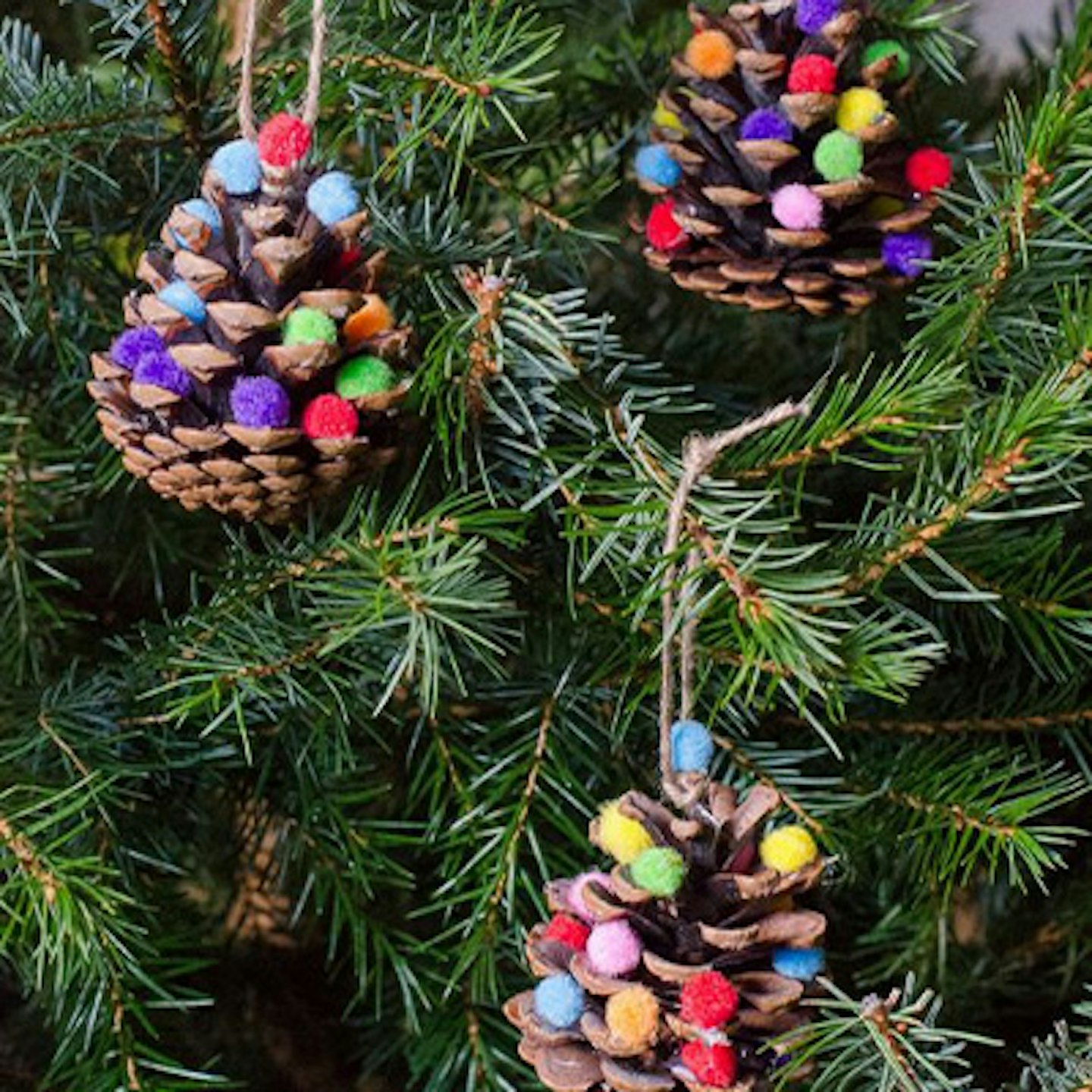 Equipment:
•Pine cones
•PVA glue
•Paintbrushes
•Mini pom-poms
•Natural string
Instructions:
Use your paintbrush to add dabs of glue to your pine cone where you want the pom-poms to be.
Once your glue is in position, add your mini pom poms. Push each one gently into the glue, to give it a good chance of sticking. The shape of the pine cone should help to hold them in.
Once the glue has dried, cut a length of string and tie it around the top of each pine cone. Aim to have the top of the pine cone in the middle of the length of string. Then tie both ends together to make a large loop.
What do you get a baby for their first Christmas?
When buying Christmas gifts for babies, it's better to think about the parent, as the little one won't remember the occasion or have much interest in opening the gift if they are newborn or very young. Try asking them what they need for the baby, or what would make their lives easier as carers to a tiny human.
You could purchase toys, clothes, blankets or other keepsakes such as Christmas decorations or jewellery which can be put aside and kept away until they're old enough to wear them.
Arabella Horspool is a Commercial Content Writer for Mother&Baby and Yours at Bauer Media. She's a bookworm who enjoys cooking and spending time with her many pets.