Let's be honest, dressing your baby in teeny tiny clothes is one of the parts of parenthood we all look forward to. But why stop there? Baby girl hair accessories come in lots of different styles and colours and add an adorable final touch - not that your little one needs it of course!
Hair accessories can be really handy to keep your child's hair out of their face, especially if you don't want to cut it just yet.You might just choose them just for special occasions such as parties or weddings or you might use them every day, in which case it's worth stocking up so you have lots of choices.
Of course, these hair accessories don't just have to be for girls, your little boy might fancy them too!
Apart from soft bows and baby turbans which can usually be worn right from birth, we recommend waiting until your baby has enough hair before selecting any other accessories so they can be clipped or attached on without scraping your child's delicate scalp.
Please note: Hair accessories are not toys, they contain small parts and may present a choking hazard to small children and pets. They are not intended for unsupervised children or pets. All hair accessories should be removed when unsupervised and when your child is sleeping.
Baby girl hair accessories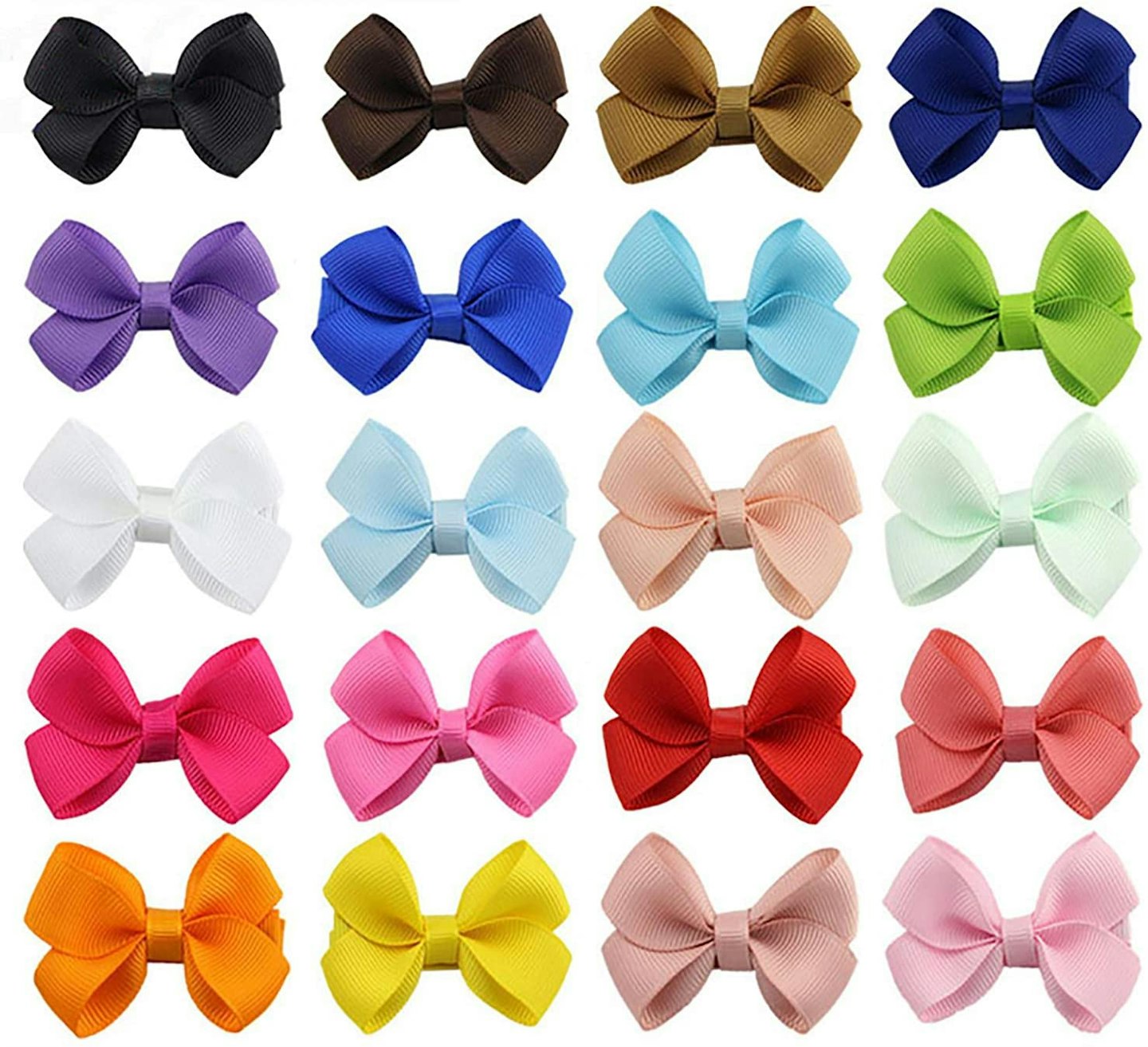 1 of 10
Boutique Mini Baby Hair Clips Hair Bow
This rainbow assortment of clip-in bows are fully covered so they won't scratch your little one. With 20 different colours to pick from, they'll match all your baby's outfits.
Review: "These are seriously cute!! My daughters too young to use them yet but I love how the ribbon coats the entire metal clip so it won't scratch her. The colours are great, literally every outfit will have a matching bow and they're really well made."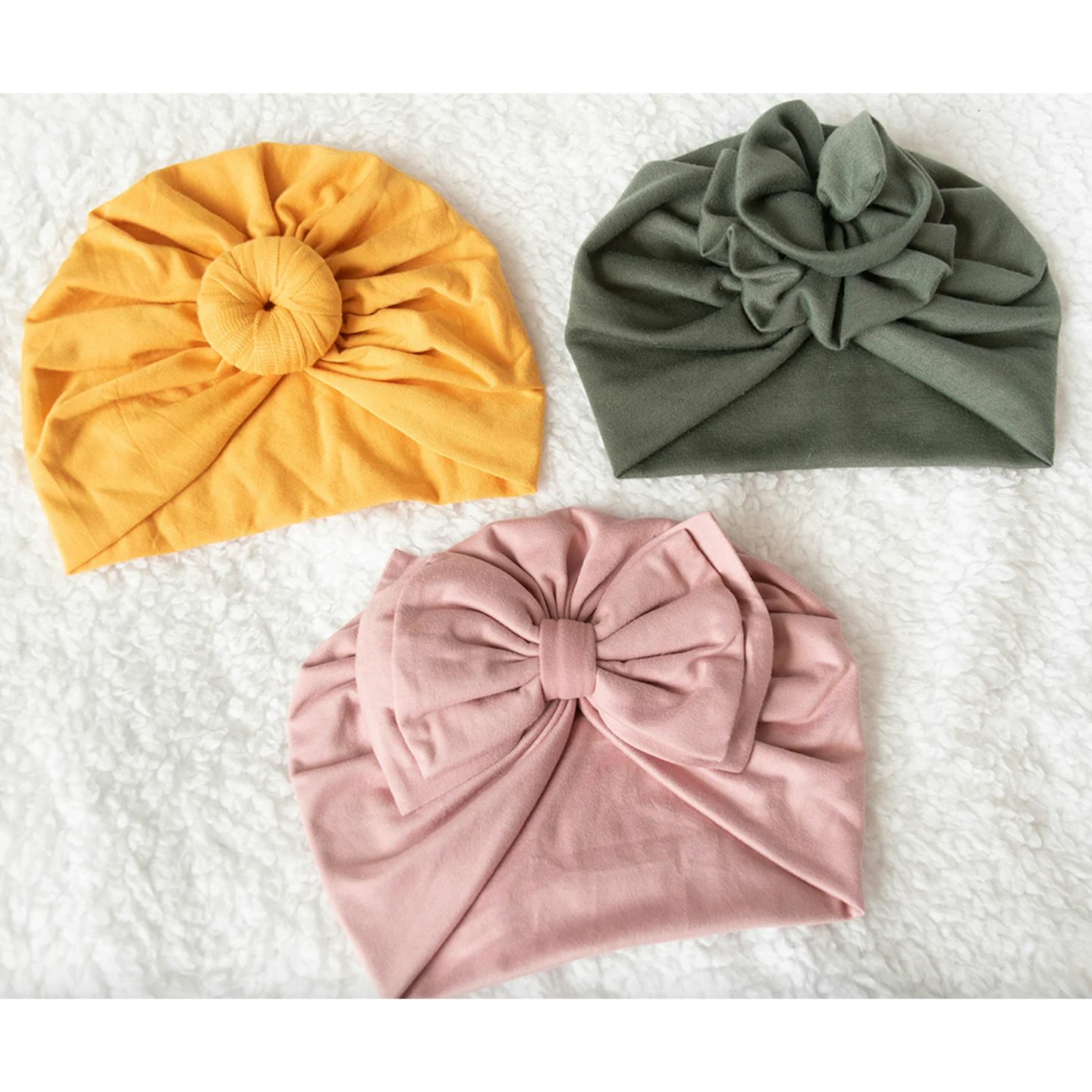 2 of 10
Baby hair Turban
Choose between a pink, yellow or green turban, all available in different sizes to ensure the perfect fit.
Suitable from: birth to 5 years
Review: "I bought this turban as a gift and they loved it! The material's quality is really good. It felt nice and soft, and it fit perfectly on the baby!"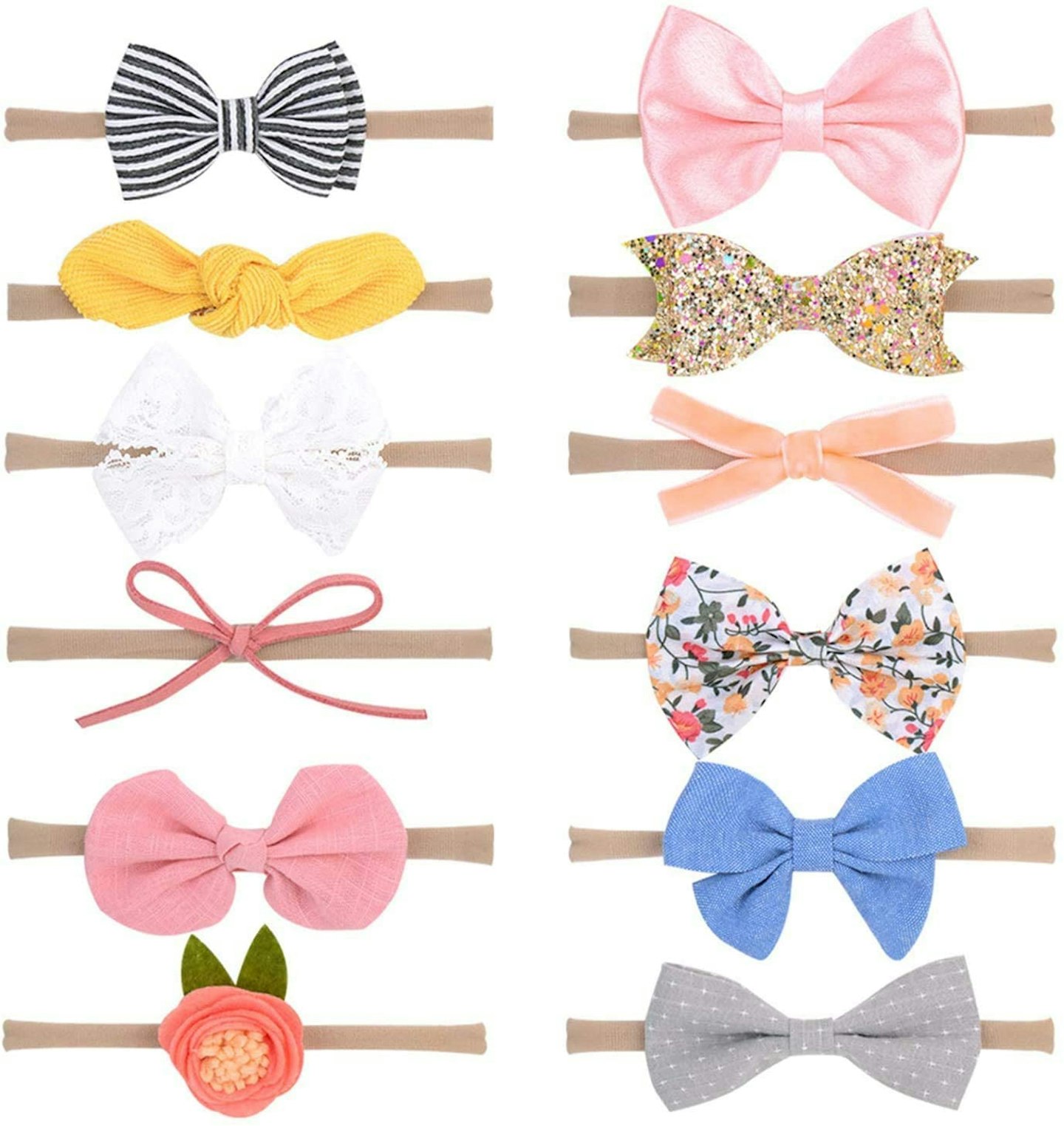 3 of 10
SPOKKI 12 PCS Baby Girls Hair kit
For a different style of bows, this 12 piece set with a variety of different styles has a seamless design that won't leave a mark.
Suitable from: birth - 3 years
Review: "These are so cute and a fraction of the price of ones you can buy elsewhere. Gorgeous and fit newborn to 5/6 or maybe older as the band is stretchy and does not stay stretched out/it will go back to its original shape."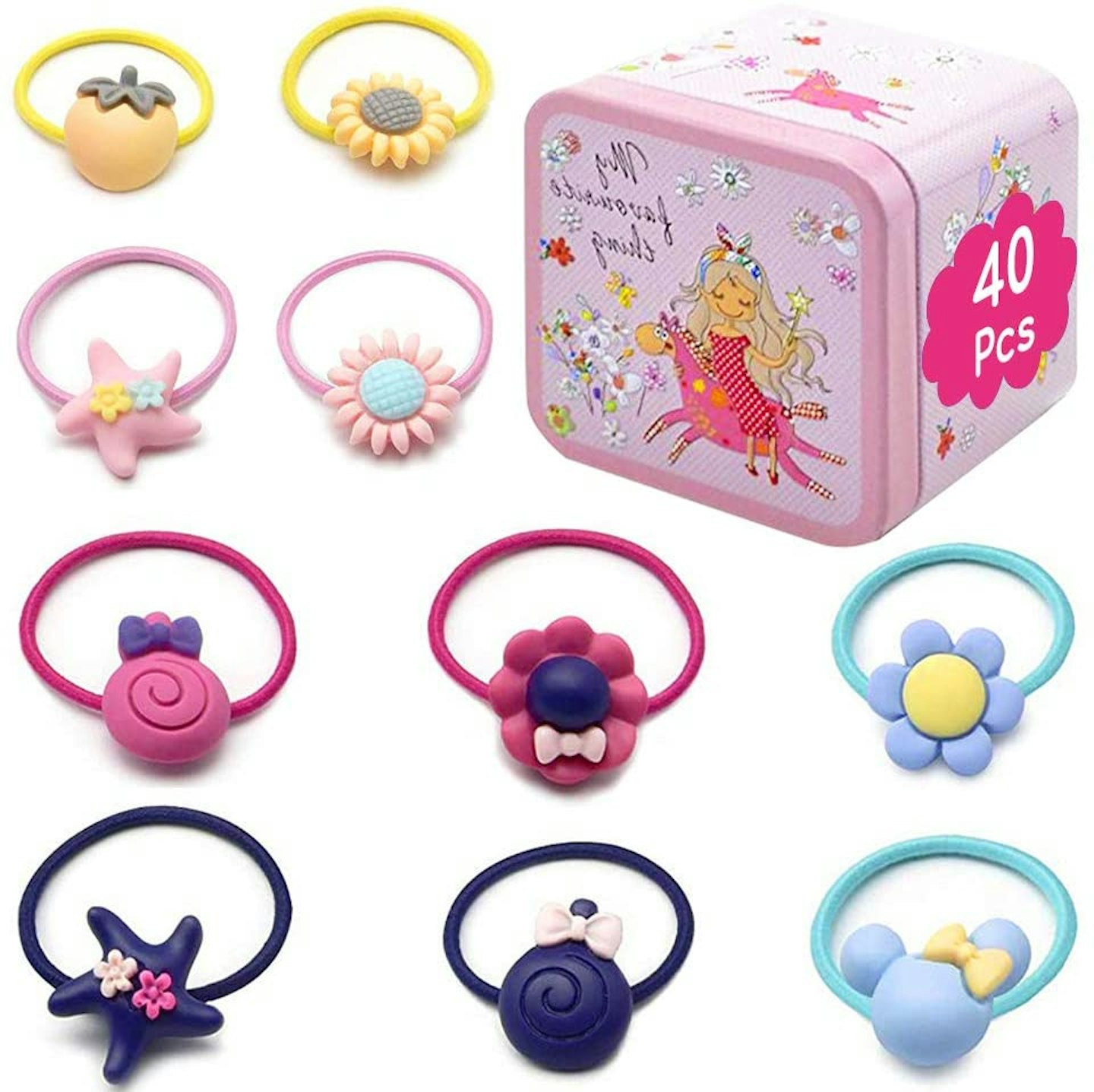 4 of 10
40 Pcs Toddler Girls Hair Accessories
For babies whose hair can be tied up, these pretty hairbands will do just the trick. Soft and stretchable, the hairbands offer different designs and colours. They also come with a metal tin to keep them stored in.
Review: "My little one loved theses hairbands and the tin was very helpful to store them in."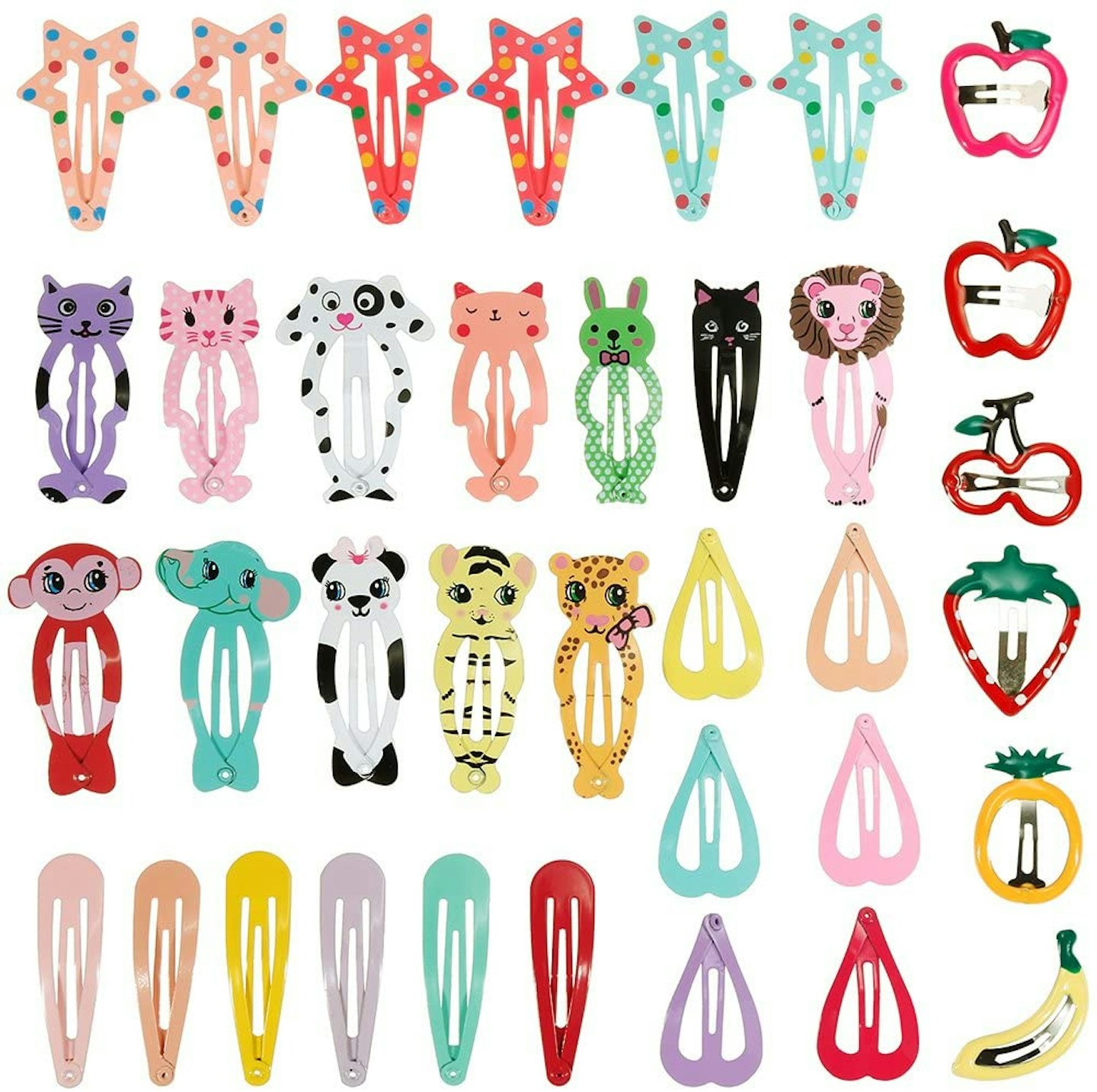 5 of 10
36pcs Cartoon Clips
Clips are best for older children with more hair as they won't graze their scalp. These ones feature cute cartoon designs that your youngster will adore including animals and food.
Review: "So my 3 year old daughter picked these herself, I wasn't sure what they'd be like but was pleasantly surprised. They arrived well packaged, the different groups of designs being in individual cellophane packets and clipped to card. They were more than presentable to give as a gift. The quality looks very good, the colour and print is clear. I particularly like the fruit clips which have a thicker style paint on them, making them look three dimensional and very glossy."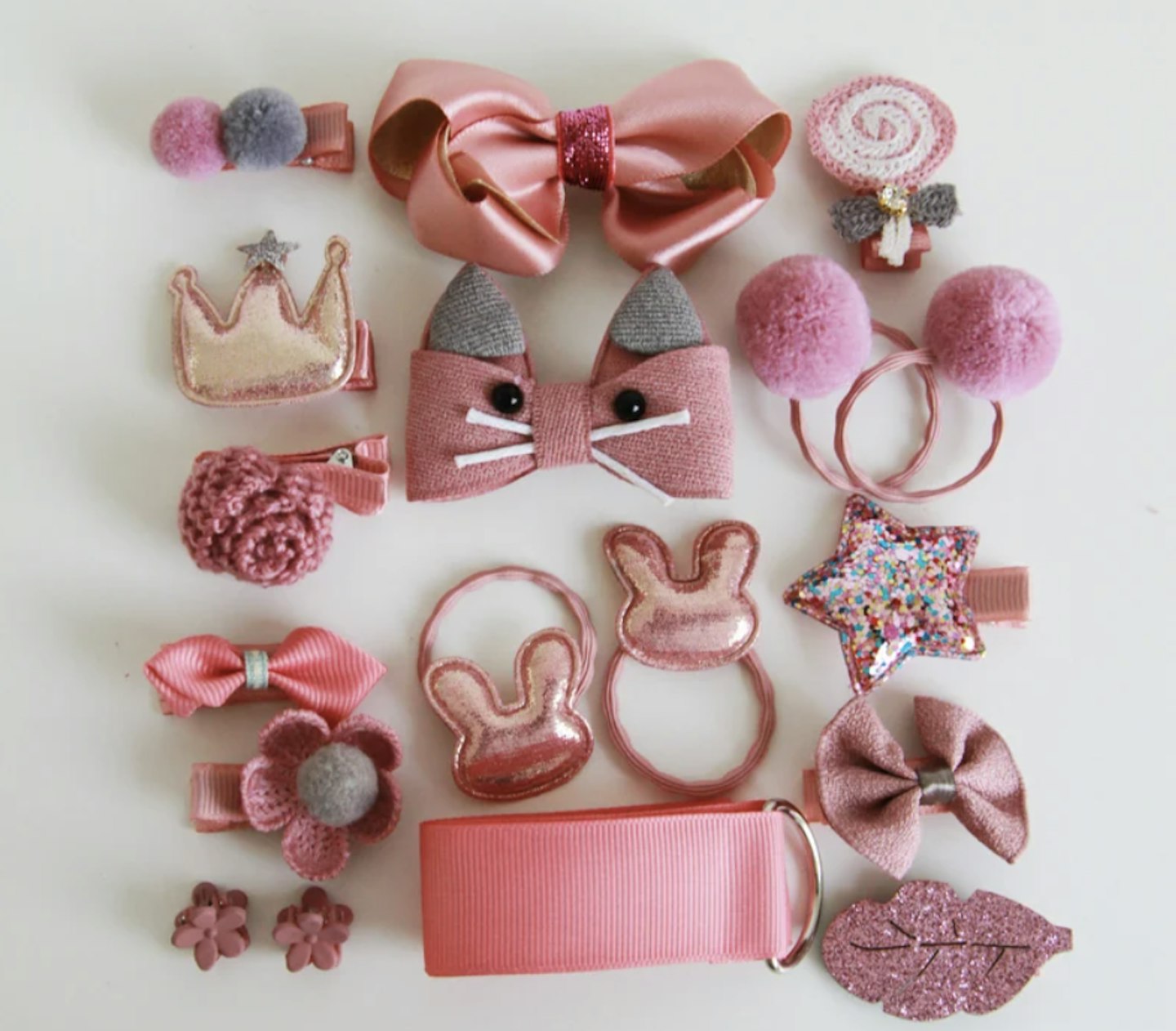 6 of 10
8Pcs Hair Accessories for Girls
Available in several different colours, we love the mixed options available in this sweet hair accessories set which includes 12 hair clips, two small claw clips, four hairbands plus one display ribbon.
Review: "Beautifully packaged. A really good selection of hair accessories, reasonably priced. My daughter loves them! And the ribbon to store them on is a great idea and hanging in her room."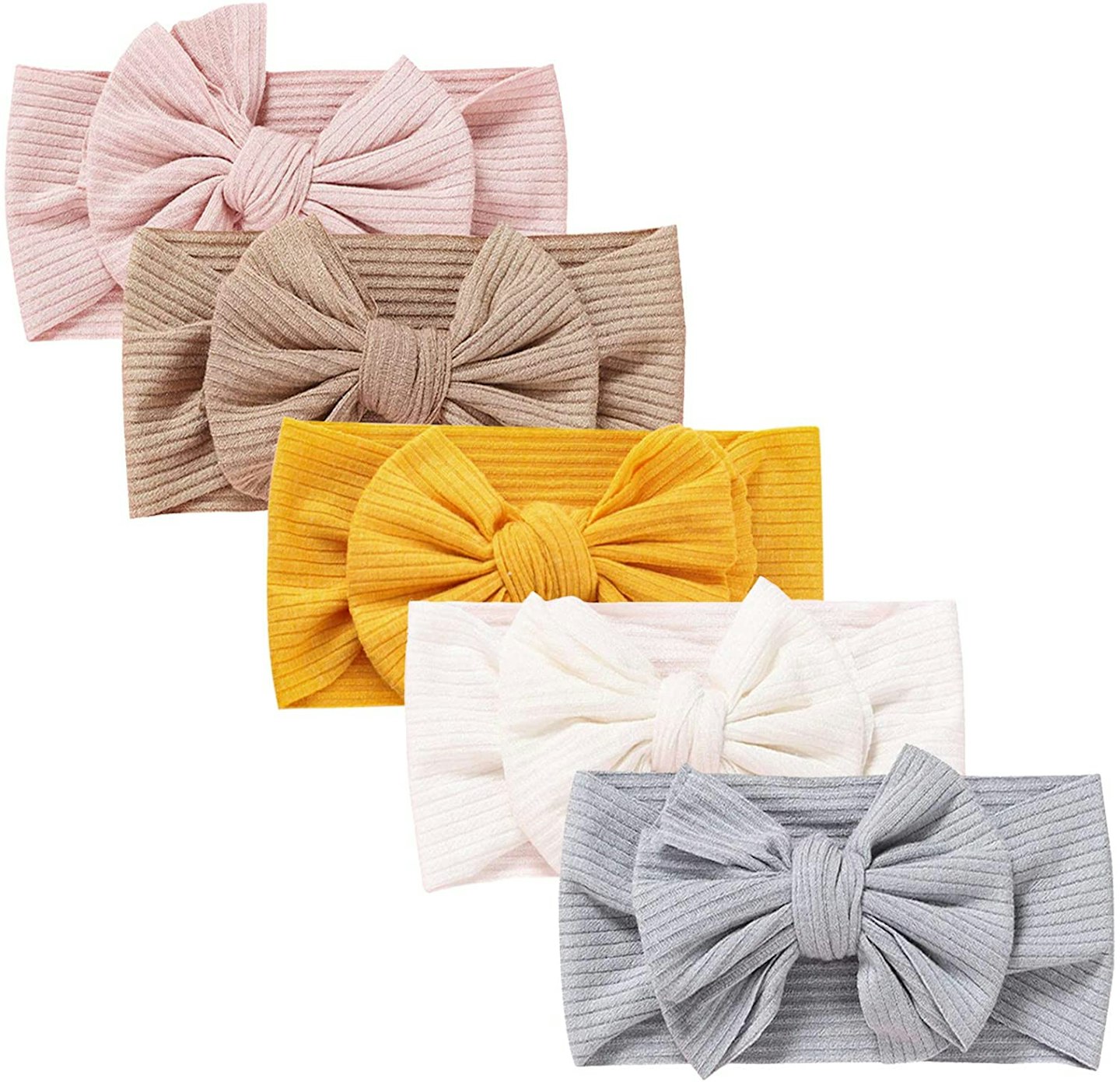 7 of 10
Baby Girl Nylon Headbands
Made from soft and stretchy lightweight nylon that won't mark your child's head, these hand-sewn headbands are finished with an oversized bow.
Suitable from: 3 months - 6 years
Review: "I bought these bows for a tiny newborn and they fit perfectly, and have plenty of stretch to continue fitting as she grows up! The fabric is incredibly soft and great quality, colours are true to image description."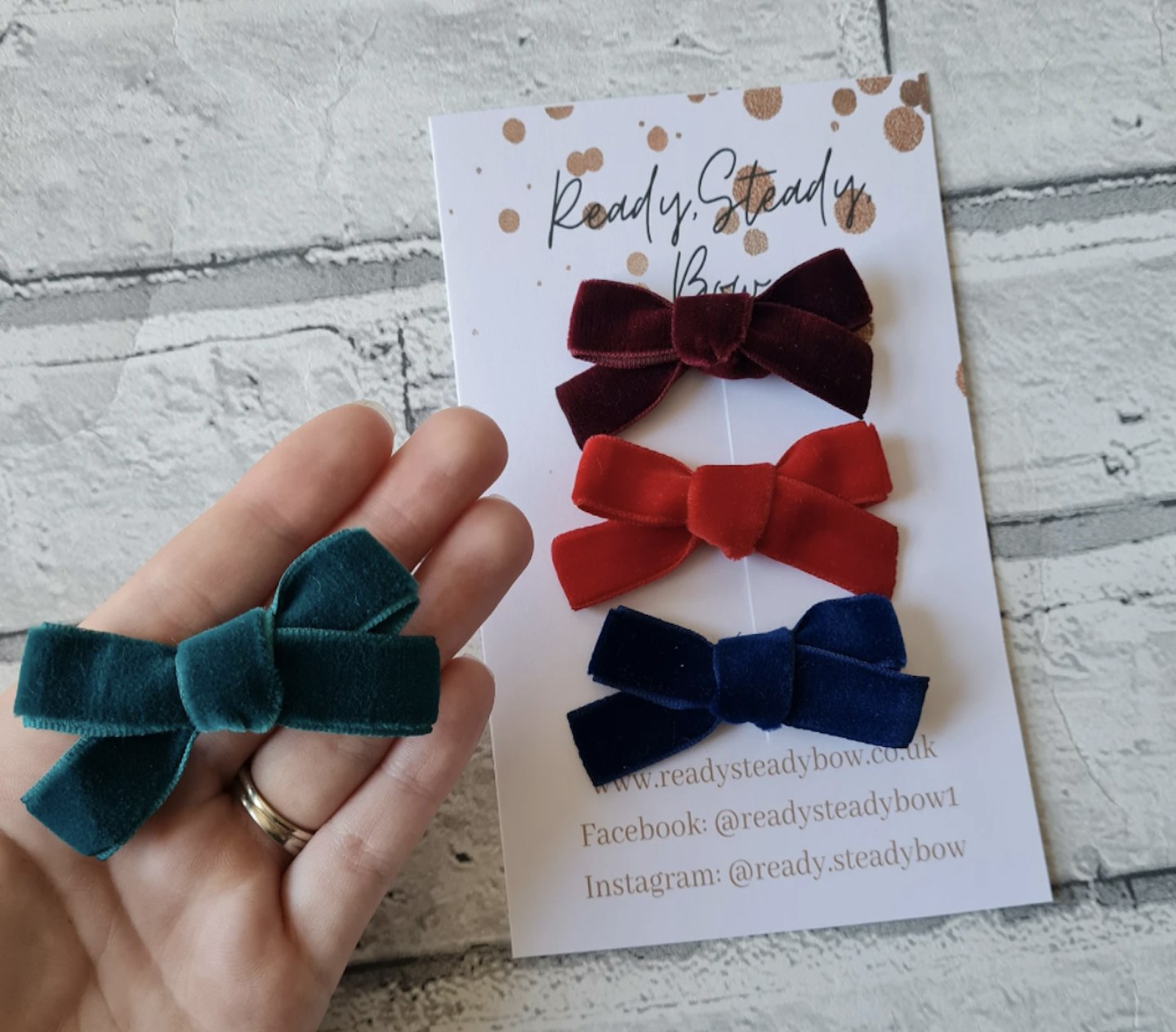 8 of 10
Christmas Velvet Baby Bow
If you're after some baby girl hair accessories for Christmas, this velvet hand-tied mini Grace bow is an adorable option. It can also be made on an alligator clip, hair bobble or a stretchy nylon baby headband.
Review: "Beautiful bows!! Absolutely love them."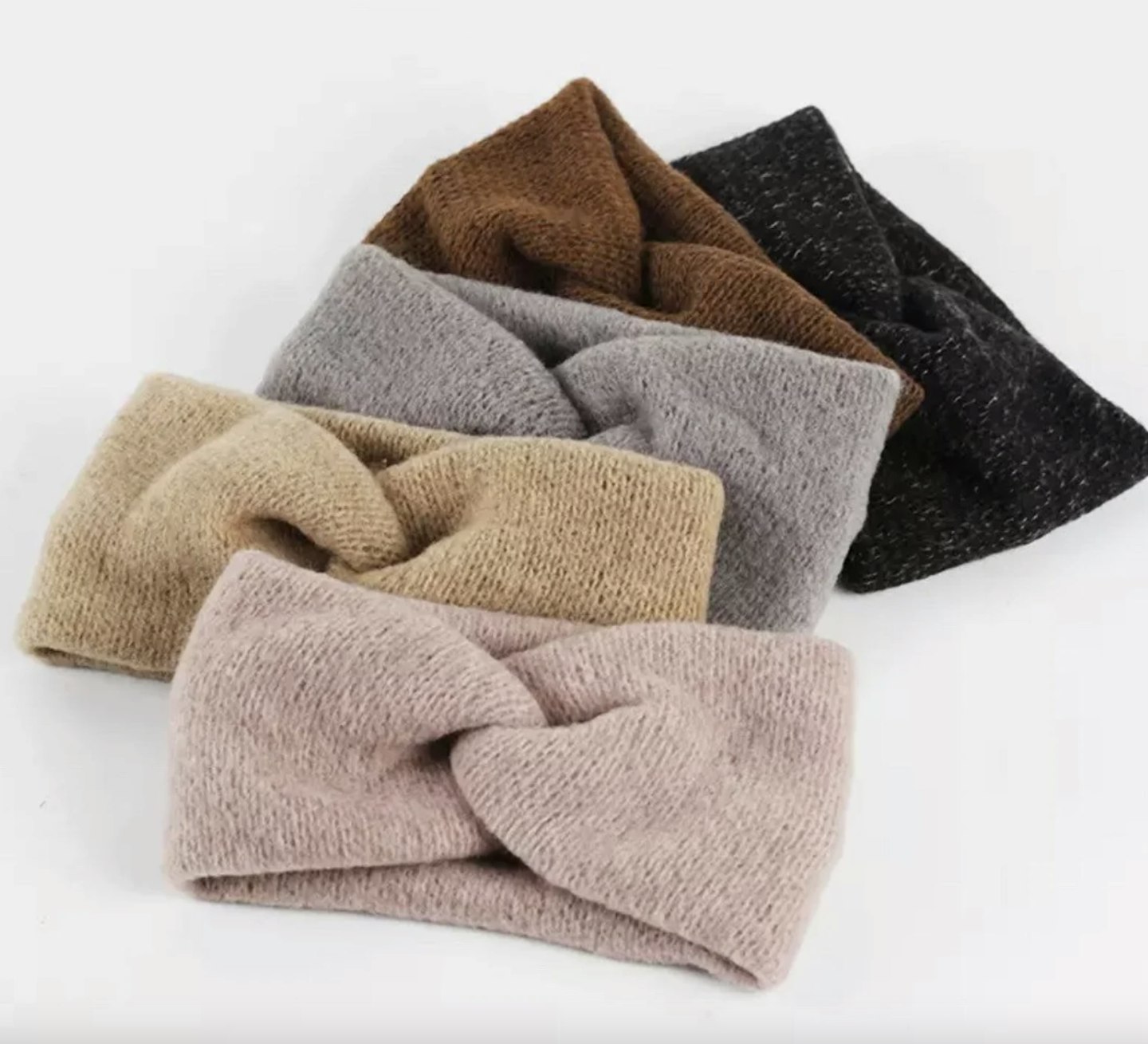 9 of 10
Baby Winter Headband
How snuggly do these headbands look? Available in both baby and adult sizes so you can even match, the soft headbands comes in multiple colours.
Suitable for: birth - 24 months
Review: "Beautifully packaged and great quality head band, can't wait to gift this item at Christmas."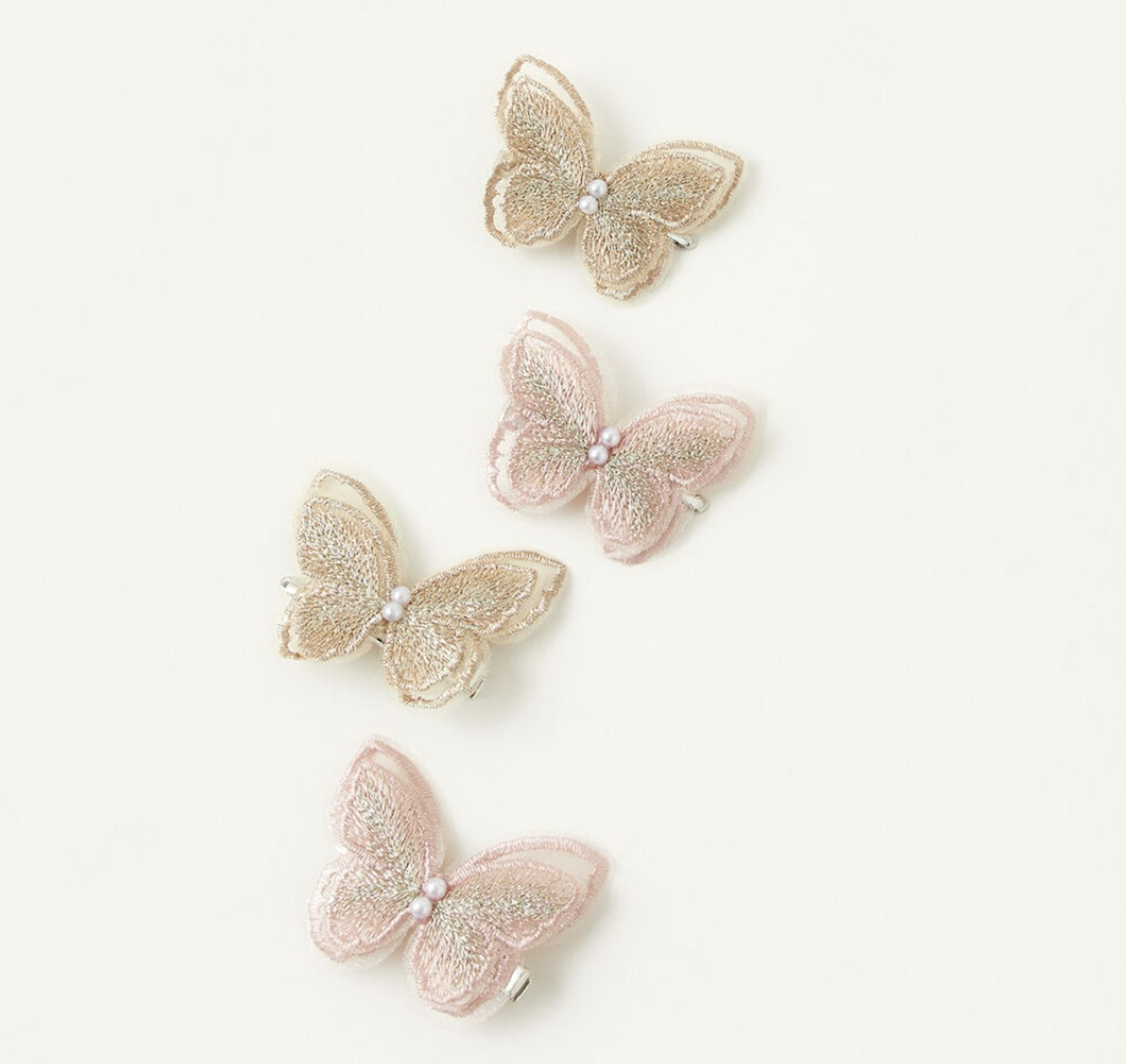 10 of 10
Lacey Butterfly Hair Clip Multipack
These neutral-tone butterfly hair clips will go with any outfit or hairstyle your child is sporting. The rustic, woven fabric is adorned with sparkly thread, making them party appropriate as well.
Popular articles to read next