Buying a cot bed for your baby is a convenient choice for parents as it means that once your little one is old enough, you can simply convert the cot into a toddler-sized bed. While you're probably already familiar with Snuz thanks to their best-selling bedside crib the SnuzPod, the brand has now added the SnuzFino Cot Bed to their popular range of baby and parenting products.
The SnuzFino is a sleek, well-designed and constructed cot bed which is designed to grow with your baby from newborn through to four years old, thanks to the adjustable mattress height and (available separately) toddler kit which creates a den-like space complete with canopy.
Available in a choice of four colours so you can match it perfectly with your nursery, our tester combined their review with the pocket-sprung dual-sided SnuzSurface Duo mattress (available separately), also suitable from birth to four years.
SnuzFino overview
Pros
Smart, contemporary design
Easy to build
Solid construction
Reconfigurable for maximum lifespan
Toddler kit provides cosy sleep environment
Cons
External fixings, although polished, somewhat compromise the sleek design.
Mattress sold separately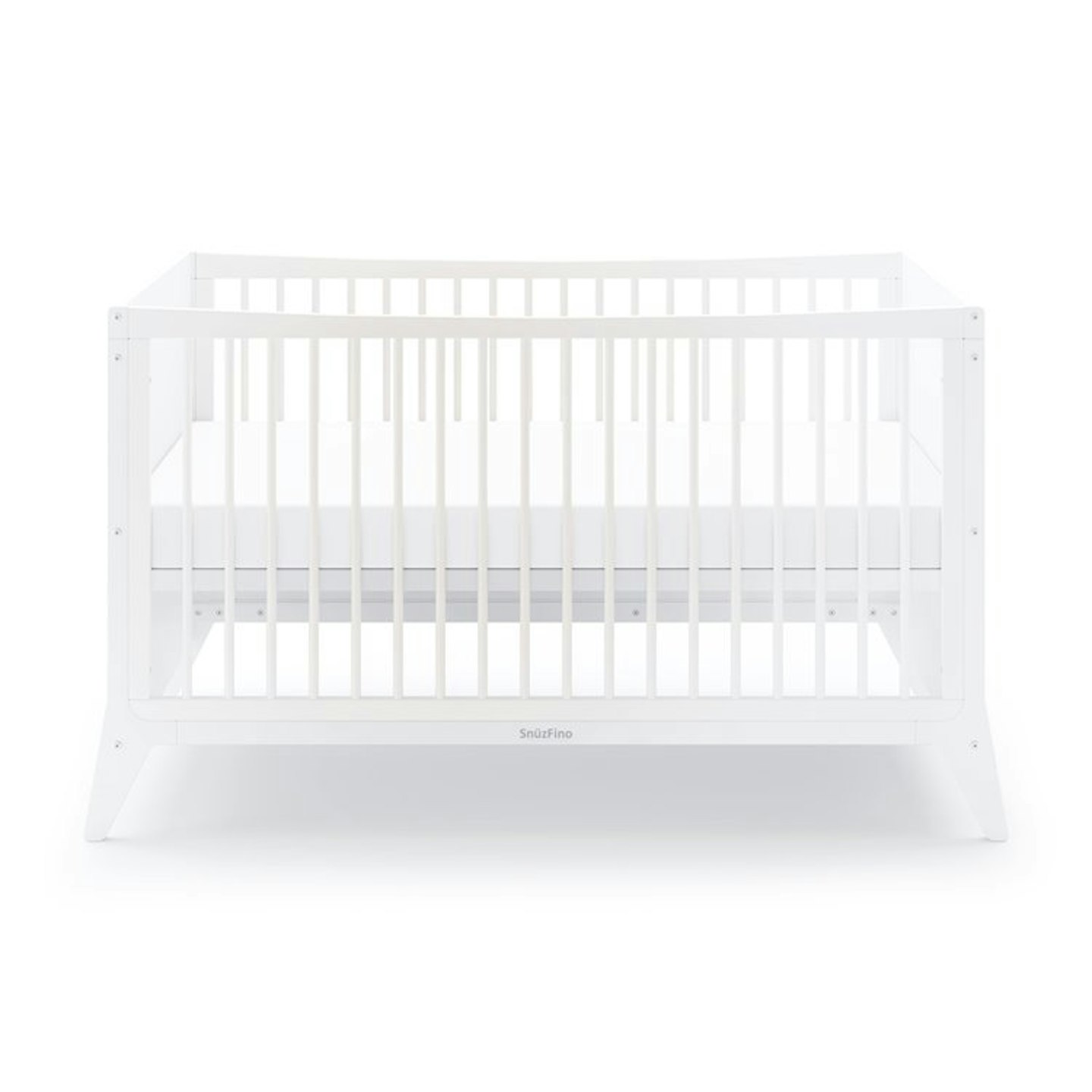 Testing the SnuzFino Cot Bed
I'm a motoring journalist, classic car enthusiast, and writer for M&B's sister Practical Classics Magazine. I'm a first-time dad to a baby daughter who was born in January 2023 and who, at the time of writing, has just turned six months old and is ready to move out of the excellent Chicco Next To Me PopUp which she has been in since birth, into a larger cot in her own room.
As a practical person, I was keen to see how simple the instructions were to follow for the cot's construction, as well as assess the build quality and ruggedness of the design. As this is a cot which is designed to be taken apart and reconfigured over several years of your baby's life, I was keen to assess how this was considered in the design in terms of fixings and materials used.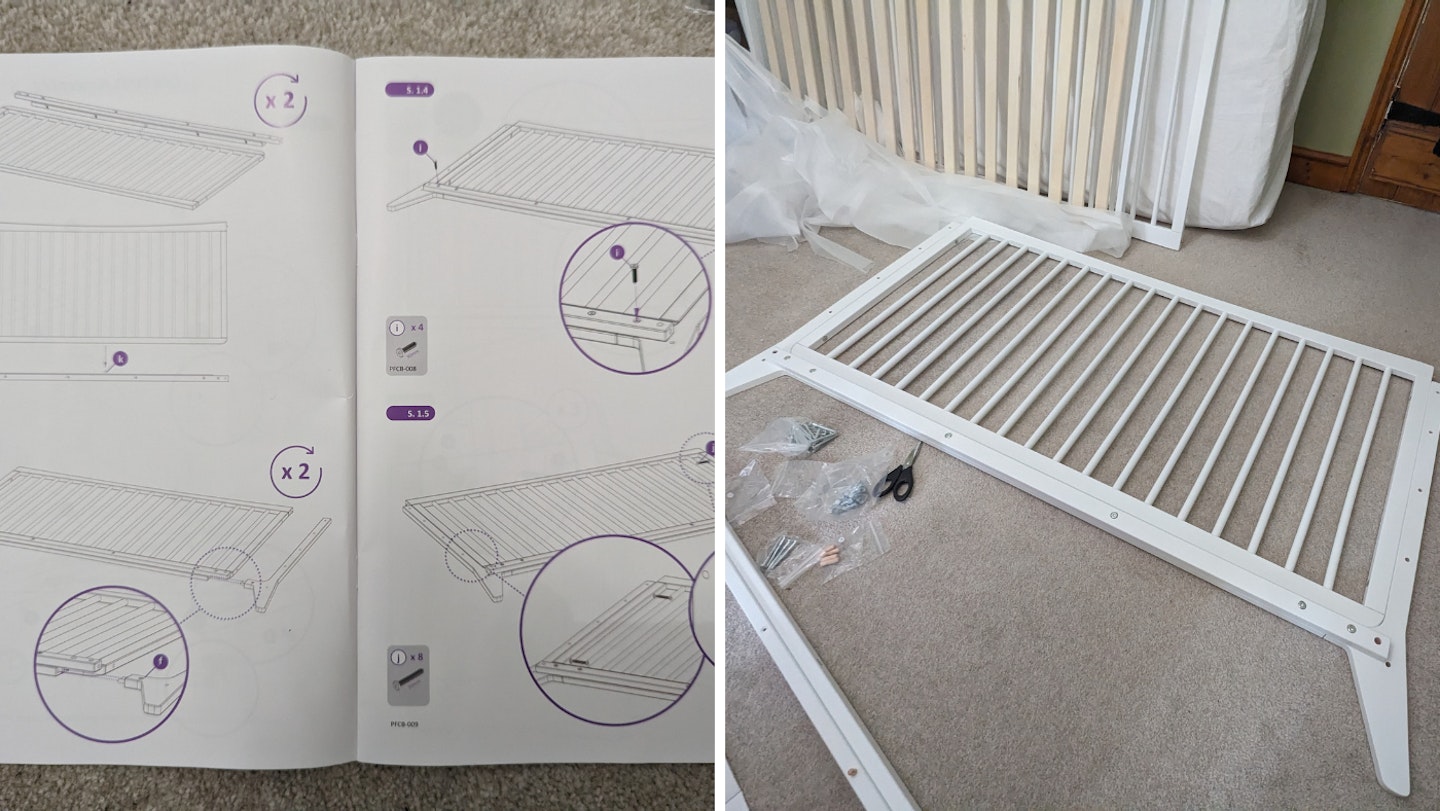 The SnuzFino cot and toddler pack both arrived beautifully packaged in four large boxes and in perfect condition. Once unboxed, the instructions were perfectly clear and easy to follow, mostly using diagrams with corresponding numbers and letters to parts and fixings. The instructions specify that this is a two-person build and should take one hour, however my wife and I found that the only time when the second pair of hands was required was to help lift and turn the cot frame before installing the mattress base (it is initially constructed upside down), so it's more than possible to build this as a couple while one parent has their hands full with baby for the most part!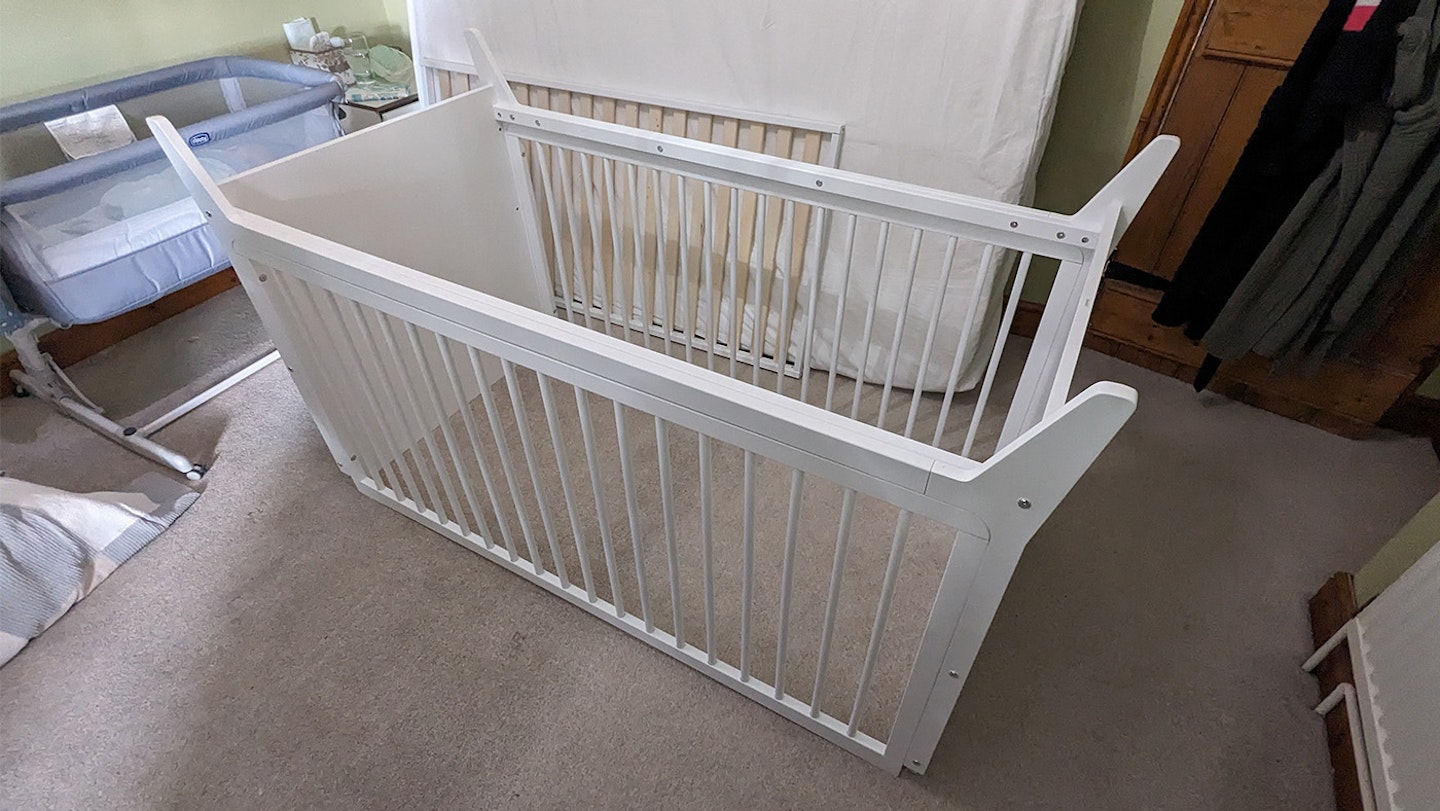 After assembling in the first configuration, with the mattress in the elevated position, it was a quick and simple task requiring two people to unscrew four bolts and drop the mattress base to the lower position, essential when your child gets a bit older to prevent them climbing out!
We then opened the toddler pack and followed the instructions to reconfigure the bed into this cosy configuration with a fabric canopy, which allows the bed to be used by your child until they are around four years old. One tip for both construction and reconfiguration: do leave all fixings finger tight only until all parts are in position before tightening fully to ensure all corners line up neatly.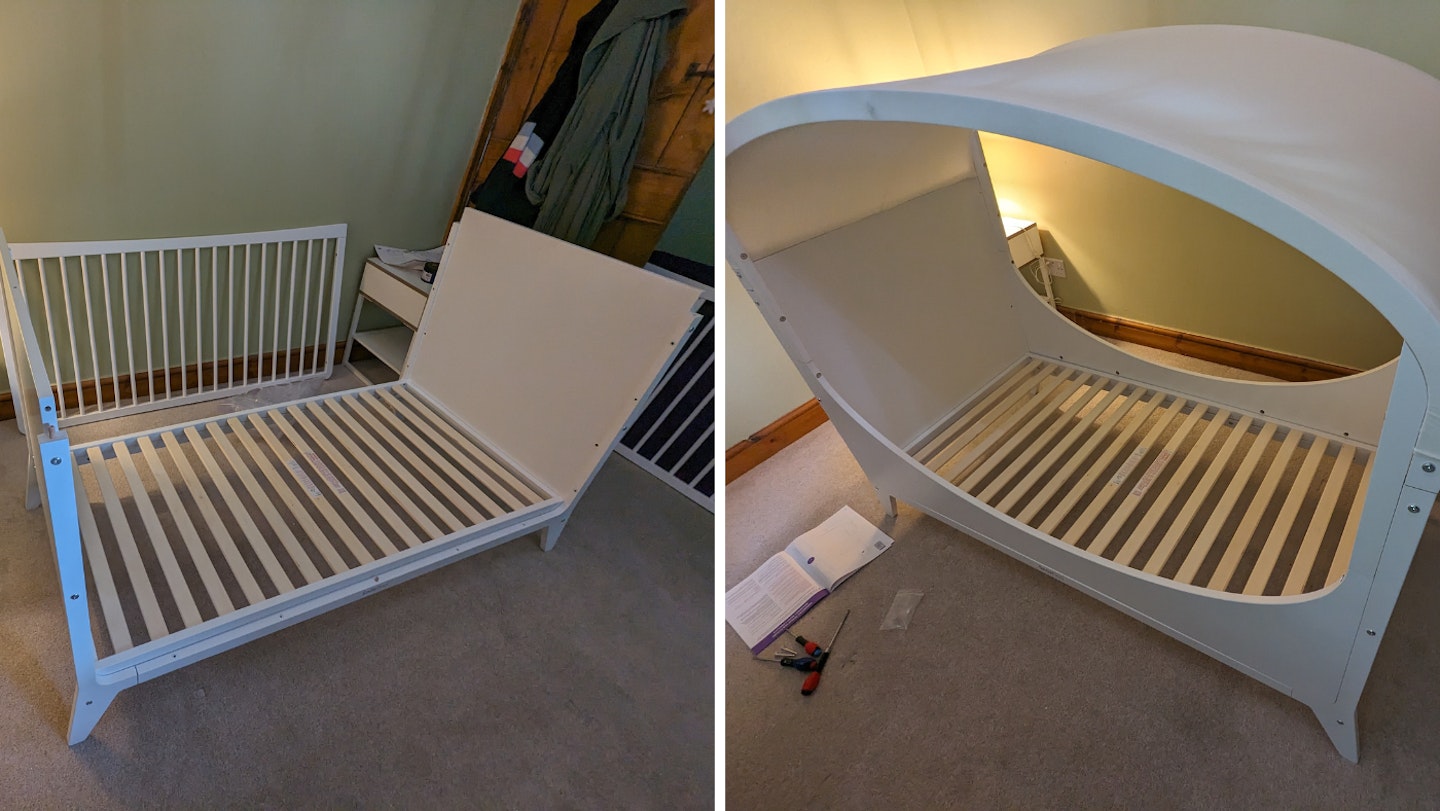 Back once more to cot configuration, we were impressed at the sturdiness of the construction of the cot bed, with great thought clearly having been put into the cot's longevity when being reconfigured. Steel thread inserts and bolts are used, for example, where lesser cots may have used self-tapping screws directly into the wooden frame. Thought too has also been given to ensure that no fixings are within the child's sleeping area, preventing risks to little fingers, while the polished bolt heads are nice enough not to need to be hidden, and form part of the cot's design.
The 140x70cm Snuz Surface Mattress offers a choice of firmness depending on orientation, like the cot, allowing it to be adapted to your child's needs. The firmer side is designed for infants up to one year old, the softer side should be perfect for up to four years old. Impressively, the mattress also comes with its own removable, waterproof and machine-washable cover, although we still use a mattress protector under the readily available fitted sheets.
Our six-month-old daughter naps happily in the cot as well as soundly overnight (when she feels like it!). The mattress feels comfortable, more so than the next-to-me crib, and she has ample space to move around, stretch out and, when she's not sleeping, play and explore her limits of balance safely. The SnuzFino is sleek and stylish, and thanks to its solid construction should stay as such throughout its lifespan. The toddler kit is a nice touch, with the fabric canopy offering a really cosy feel.
Final verdict
Offering good value for money due to the flexibility of the design and ability for it to be used from 0-4 years old, the SnuzFino Cot Bed with toddler kit offers a contemporary design alongside durable construction, while the Snuz Surface Mattress offers a comfortable and suitable sleep surface for your child for the same time period thanks to its clever dual-sided design.
The cot was easy to construct and reconfigure thanks to clear-to-follow instructions and well-labelled parts, while we were also impressed at how comprehensively protected all components were for delivery, ensuring they arrived in immaculate condition. Our six-month-old sleeps well in the cot, and we look forward to her eventually graduating into the toddler bed!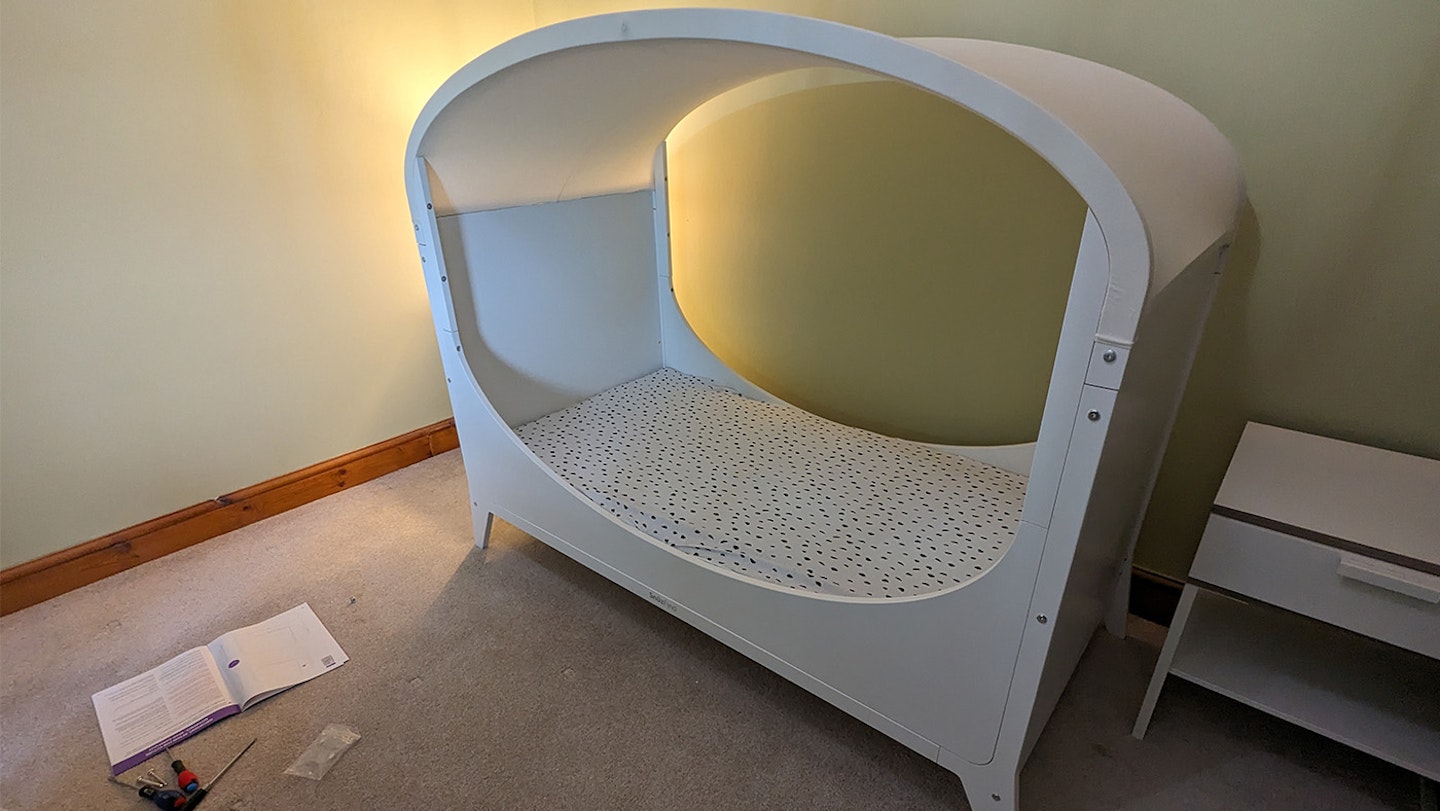 SnuzFino FAQ
Do I need to buy the SnuzFino toddler kit?
No, you don't. You can buy the SnuzFino cot bed on its own but then you won't be able to convert the bed into a toddler bed to get more use out of it, so in our opinion, it's worth the extra cost!
How many mattress heights does the SnuzFino have?
The SnuzFino has two different mattress heights to last your baby for their first 18 months.
What mattress can I use with the SnuzFino?
You can use any toddler mattress that fits the correct cot dimensions: 70 x 140cm. Snuz sells its own range of mattresses which includes the Mother&Baby award-winning SnuzSurface Duo.