Little fans of Disney's Encanto are sure to love the chance to dress up as their favourite characters to not only feel as heroic as Mirabel or as strong as Luisa but also feel absolutely magical dressed in the beautiful outfits from the film. Rich with colour, Columbian culture, and florals, they can use their fancy dress and imagination to embark on their own enchanting adventure, talk to animals like Antonio, or conjure gorgeous flowers like Isabela.
Read next: Disney Encanto merch for the most enchanted little fans
As popular as Encanto is, there aren't many fancy dress costumes available in the UK. However, we've found the best available and how to create a character fancy dress costume for your child using options from the high street.
Disney Encanto fancy dress
Mirabel fancy dress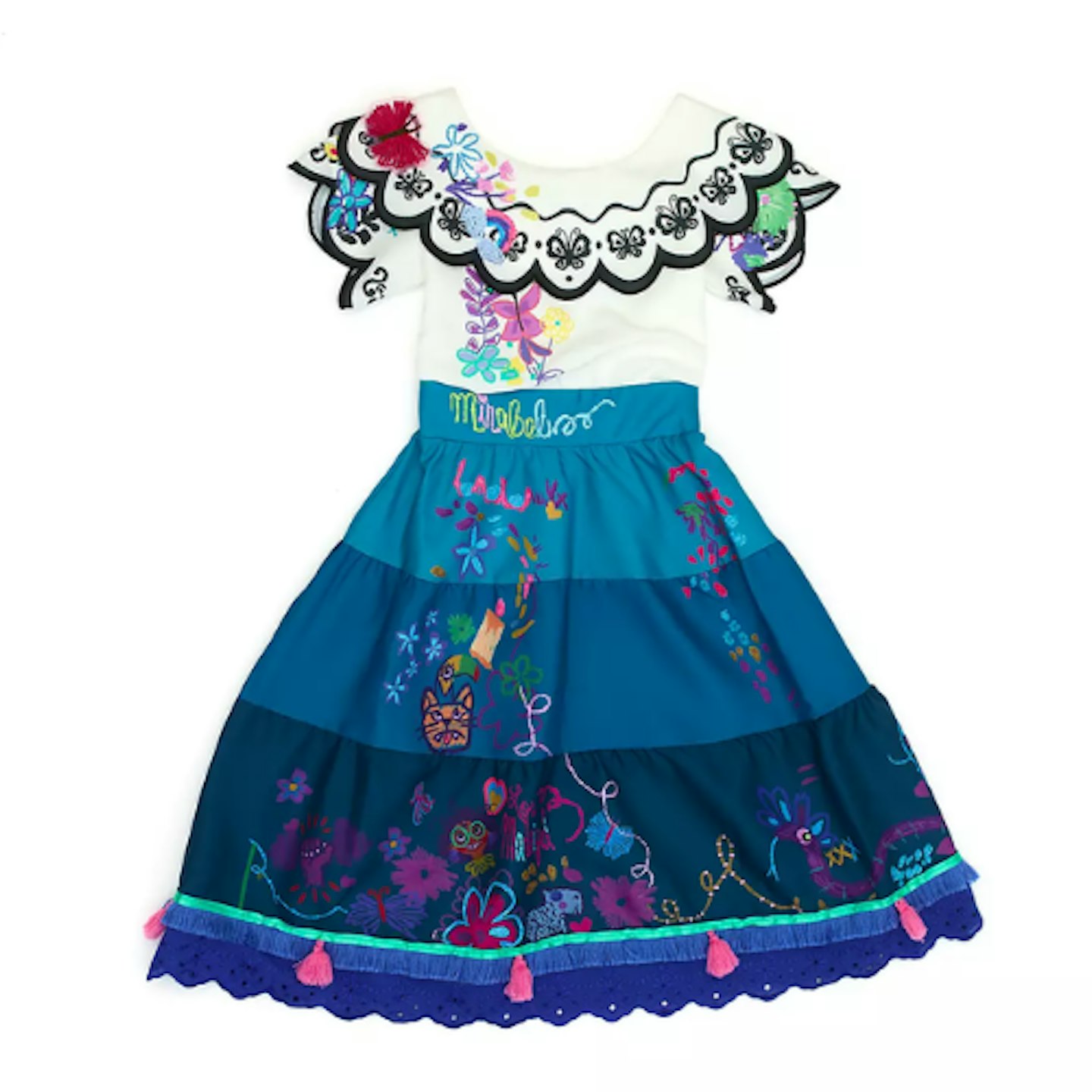 1 of 4
Disney Store Mirabel Costume For Kids
This is the official Mirabel costume from the Disney Store but it's so popular, you'll need to keep watch for when it's not sold out!
True to the film, the wonderfully vibrant dress features a tiered skirt and appliqués, embroidered details, tassels and lace trims.
Sizes: 3 years to 11-12 years
Review: "My daughter got this for Christmas. The dress is amazing quality and is so beautiful. She absolutely loves it."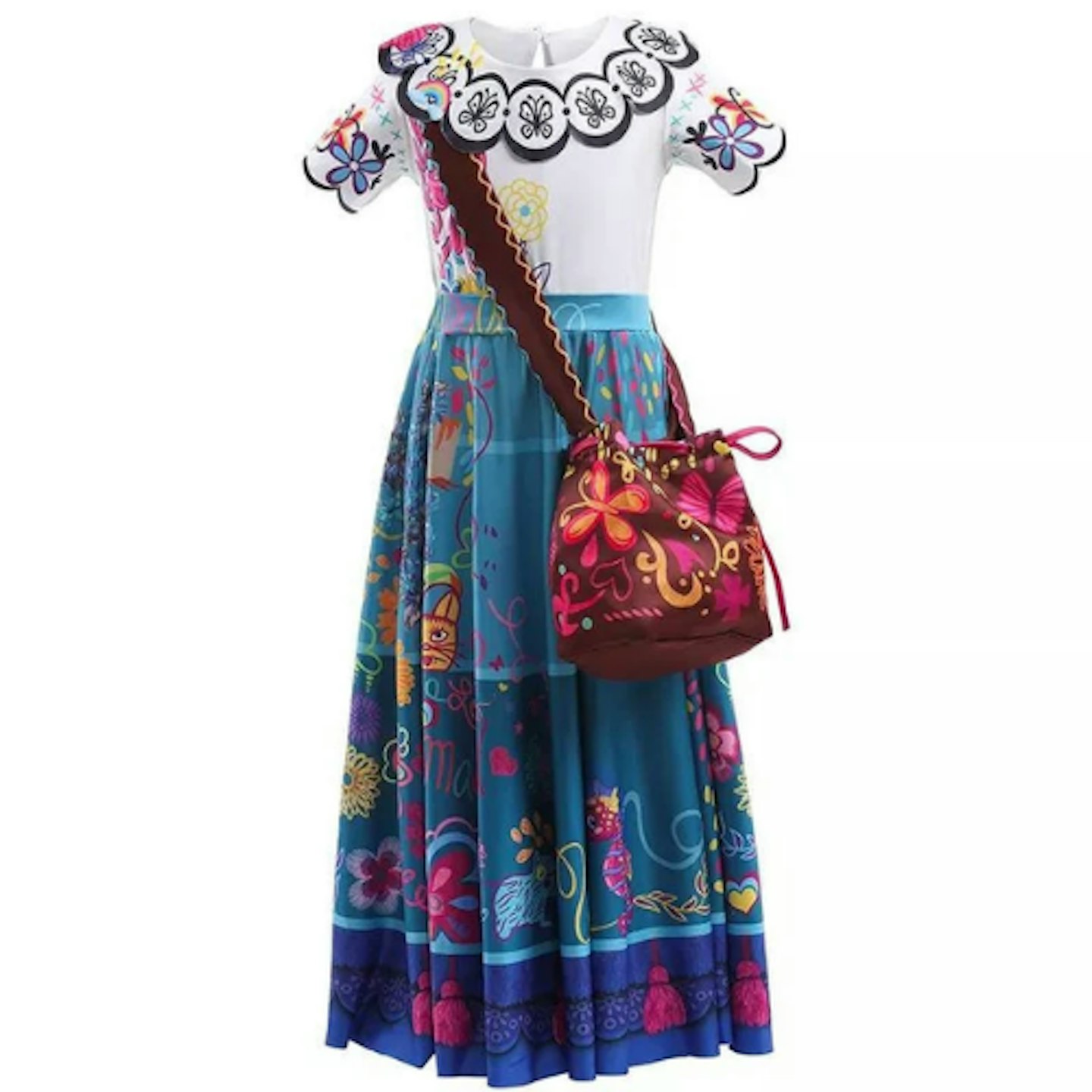 2 of 4
Girls Magical Film Inspired Dress - Mirabel
MiniAvenueBoutique on Etsy make some fantastic Disney-inspired costumes, including this Mirabel fancy dress costume. This handmade fancy dress is even complete with added details including the bag, glasses and clip on earrings.
Sizes: 2-3 years to 9-10 years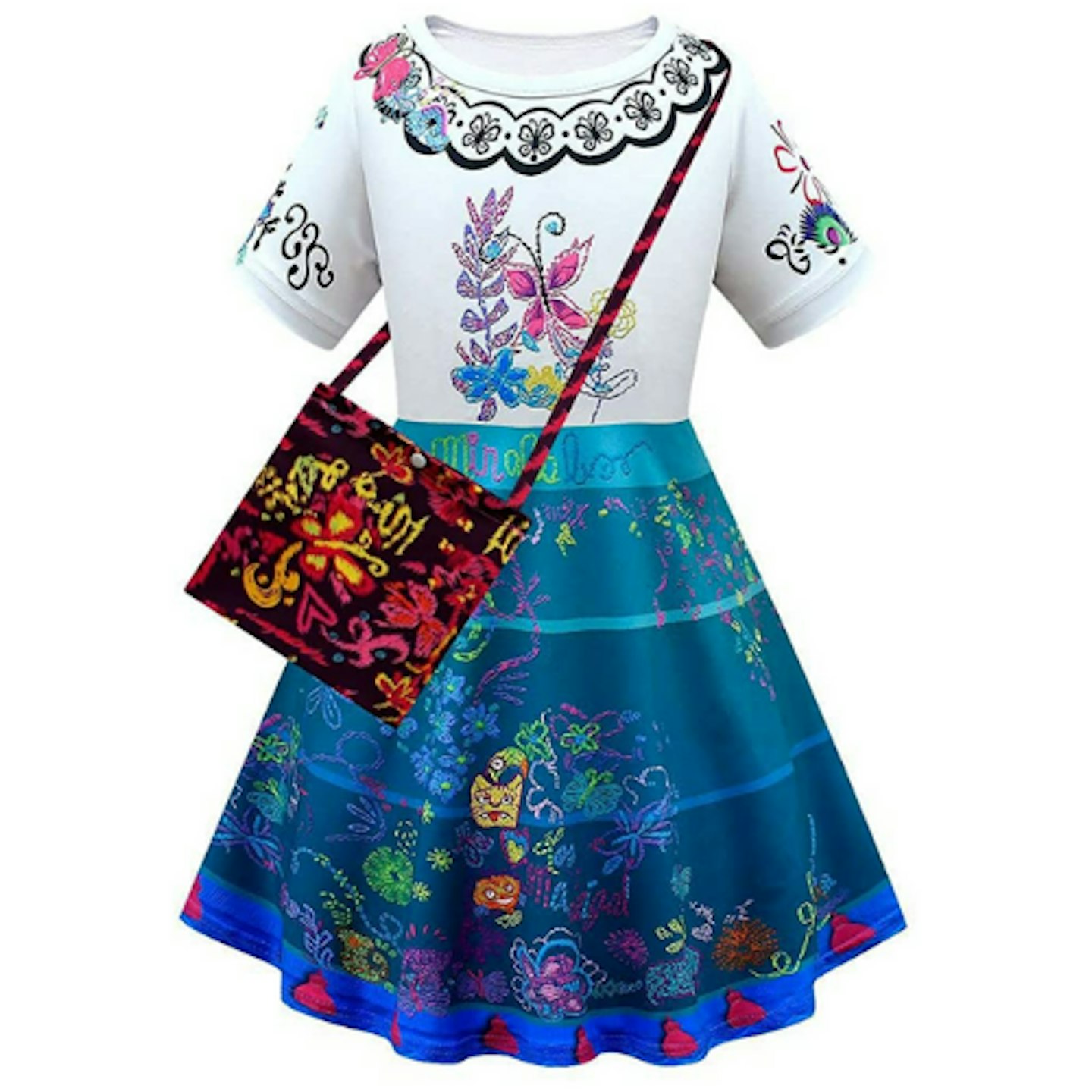 3 of 4
Mirabel Dress for Girls 2
This Mirabel fancy dress is a little simpler in design, shaped as a skater dress with printed details and the bag included. With no fastenings, this dress is comfortable, soft, perfect for little ones with tactile sensitivity.
Sizes: 3-4 years to 11-12 years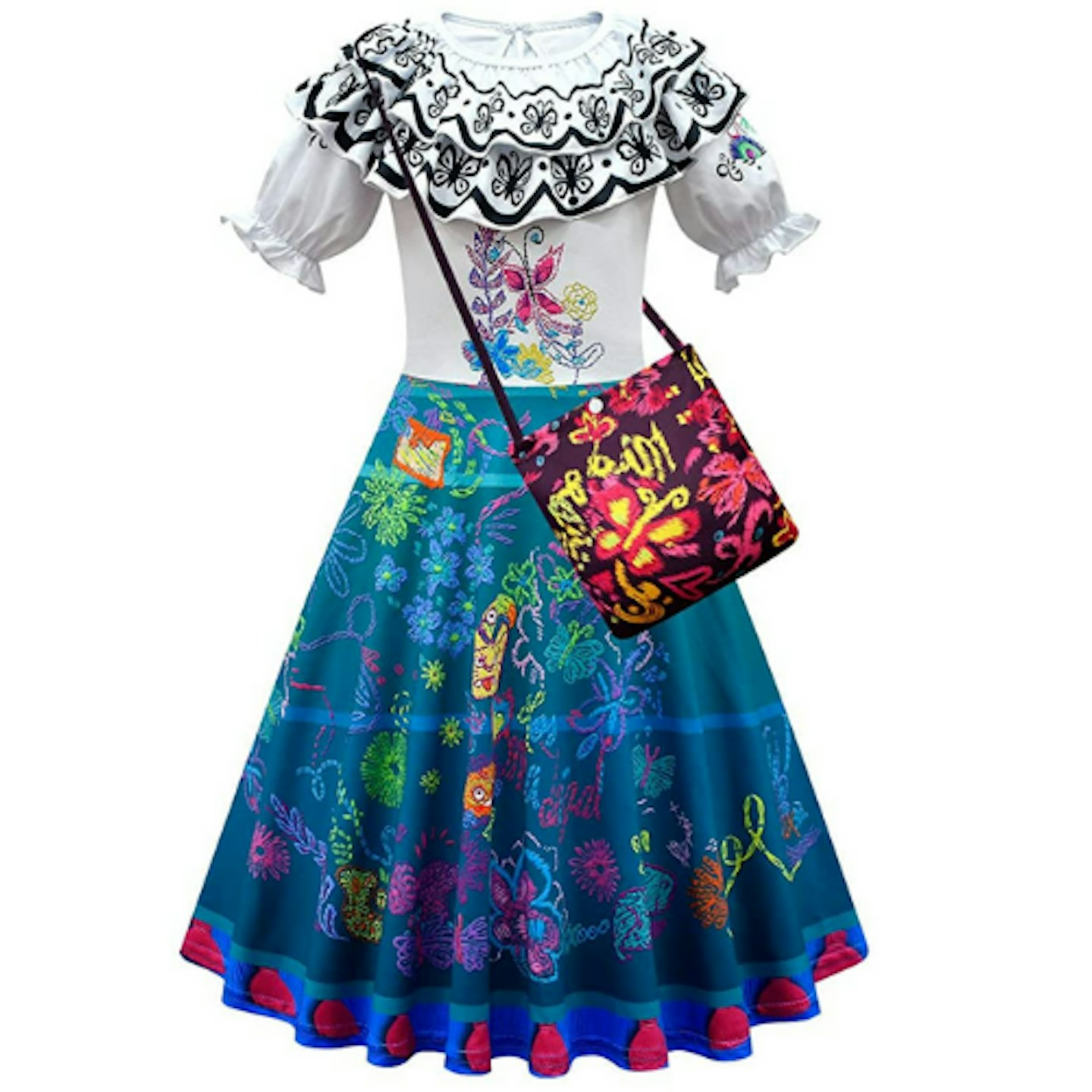 4 of 4
Mirabel Dress for Girls 7
In a slightly different style, this dress also has no fastenings but the dress here is designed to have a fuller skirt, frilled collar, and puff sleeves to closer resemble Mirabel's outfit in the film. The quality doesn't quite match that of the official Disney fancy dress, but it makes a great alternative if you're looking for a more affordable option or one that's in stock.
Sizes: 3-4 years to 11-12 years
Mirabel high street inspiration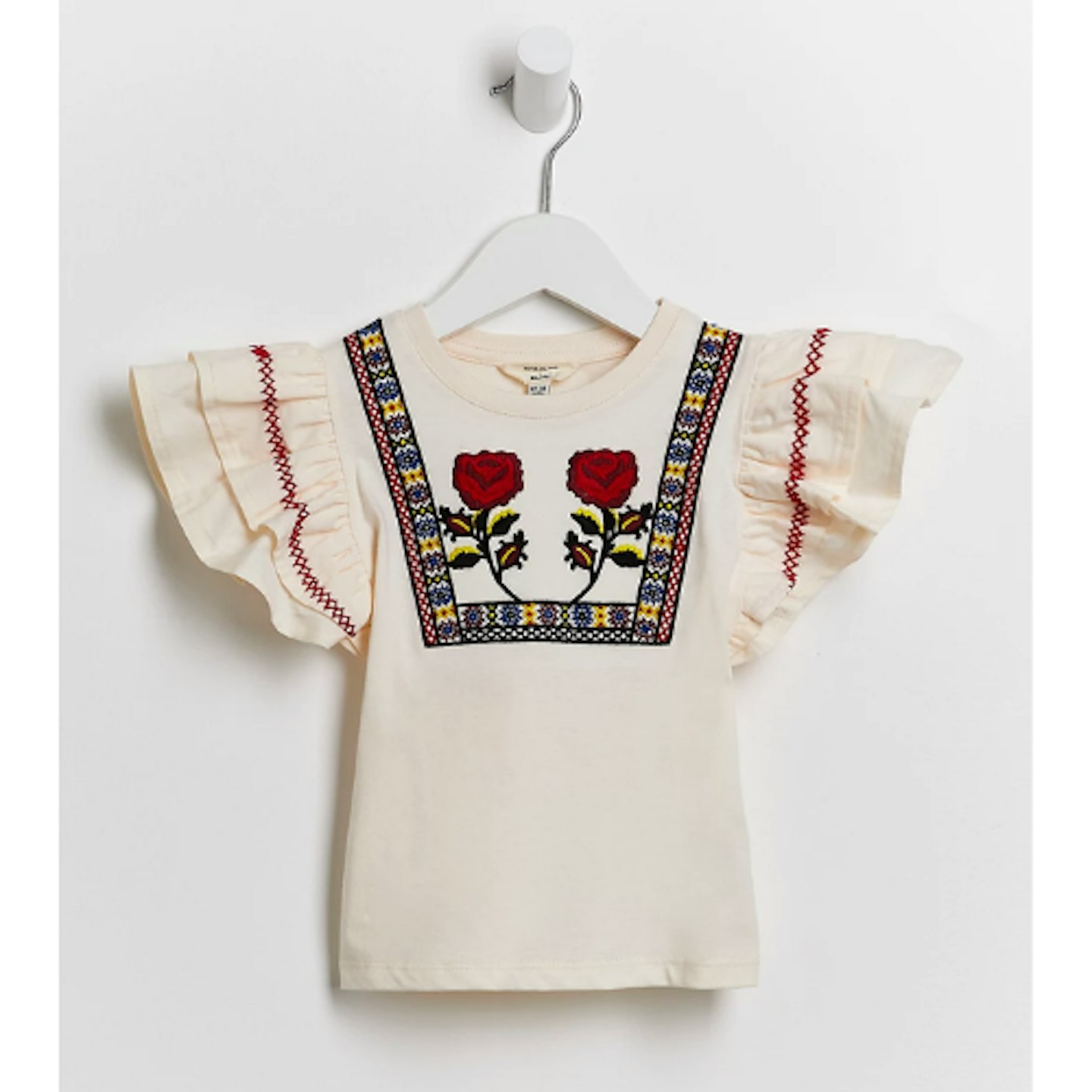 1 of 4
River Island Mini Girls White Frill Embroidered T-Shirt
If you want to create an outfit inspired by Encanto, or just want to try to save some money and make your own fancy dress, we've picked out some clothes from the high street that we think hit the mark.
This beautifully embroidered top features florals and frills that mirror the top that Mirabel wears. You could also buy a scalloped edge top and customise it by adding colourful details and frills of your own.
Sizes: 6-9 months to 4-5 years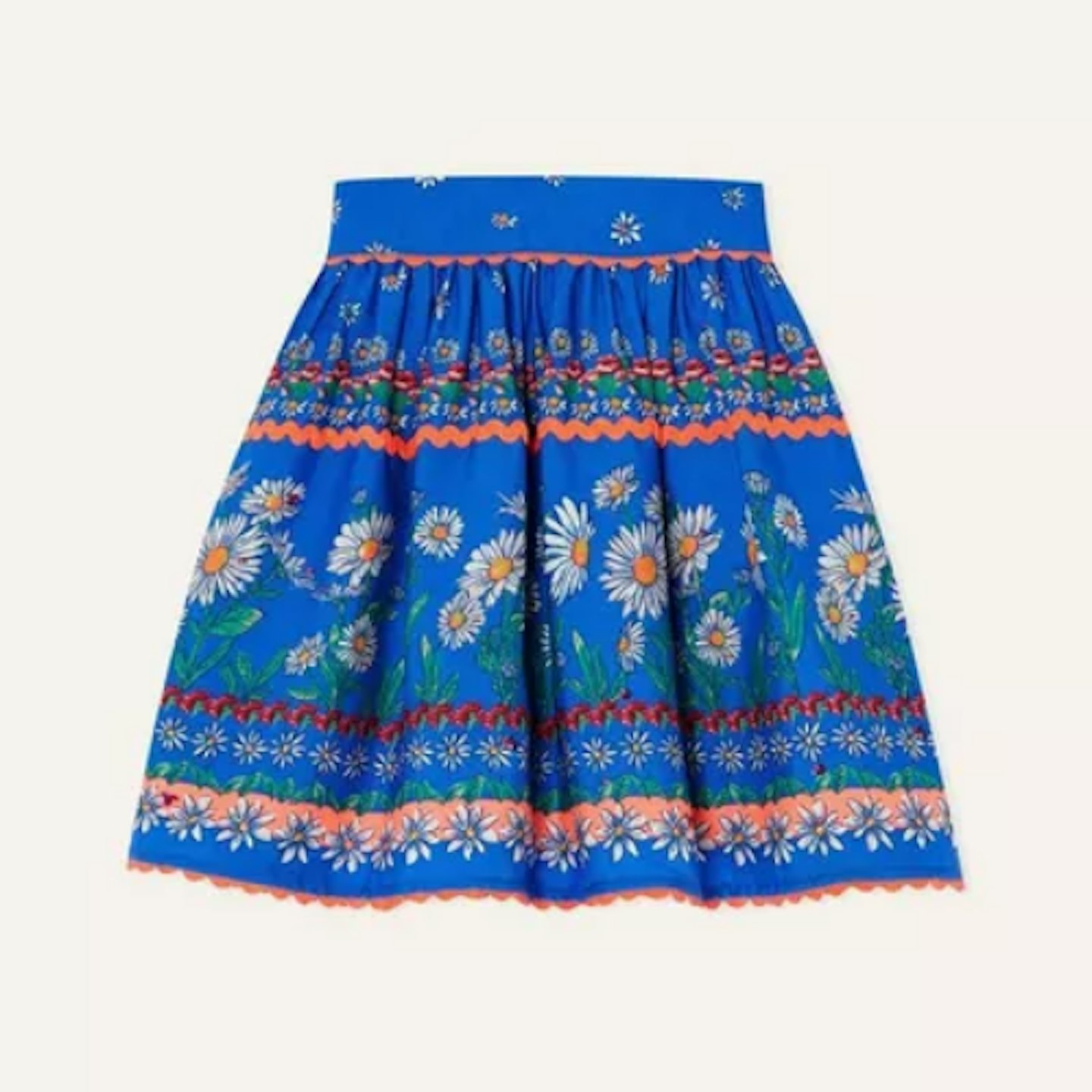 2 of 4
Monsoon Daisy Print Skirt
Bright blue and floral, this skirt is extra comfortable with an elasticated waist and loose flowing fit. We can imagine out kids twirling and singing "Waiting On A Miracle" in this.
Sizes: 3-4 years to 12-13 years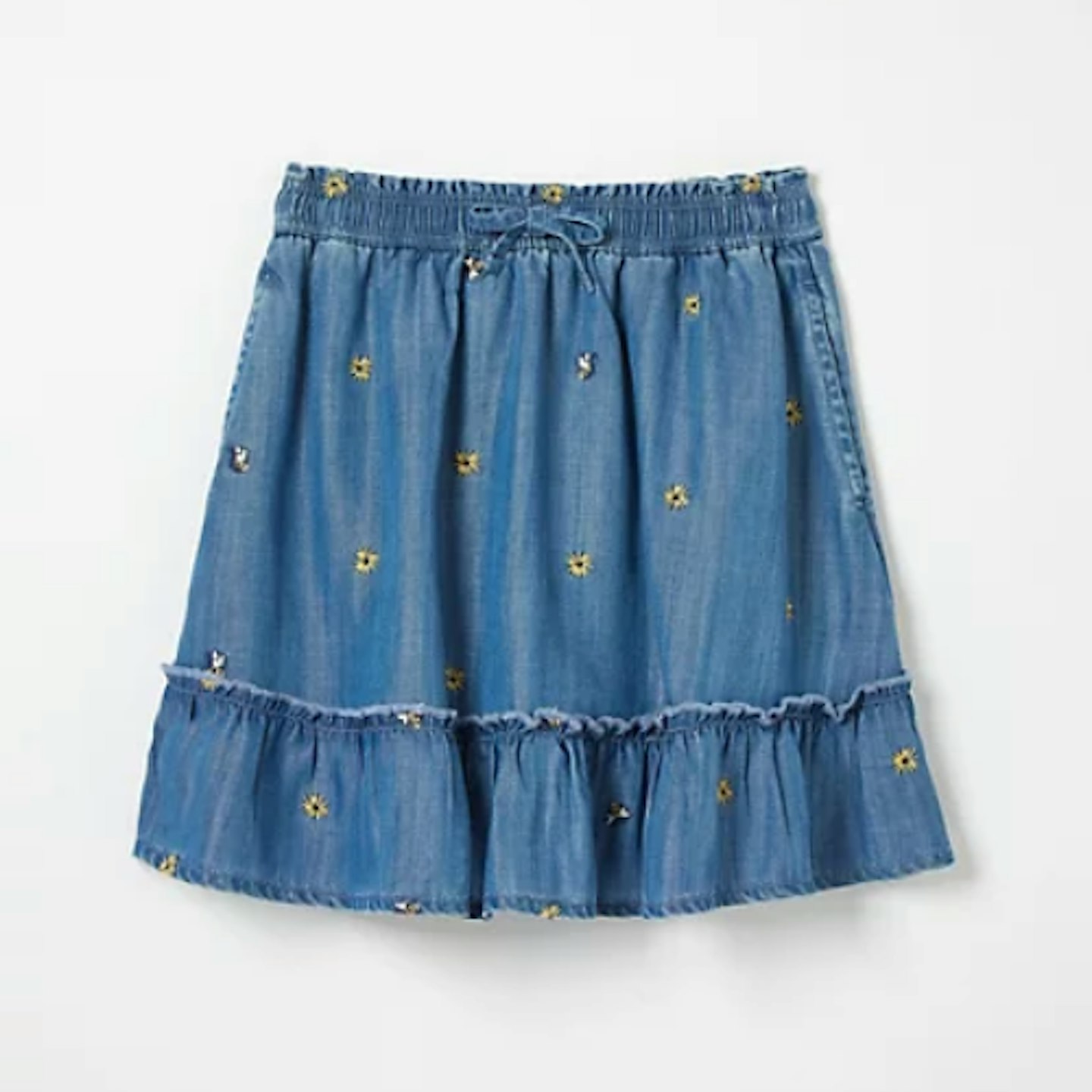 3 of 4
FatFace Mini Pure Cotton Sunflower Skirt
A slightly more subtle number, this pure cotton mini skirt from FatFace is made from a soft blue denim-look chambray fabric with embroidered sunflowers and bees. We also love the tiered hem that matches Mirabel's style well.
Sizes: 3-4 years to 12-13 years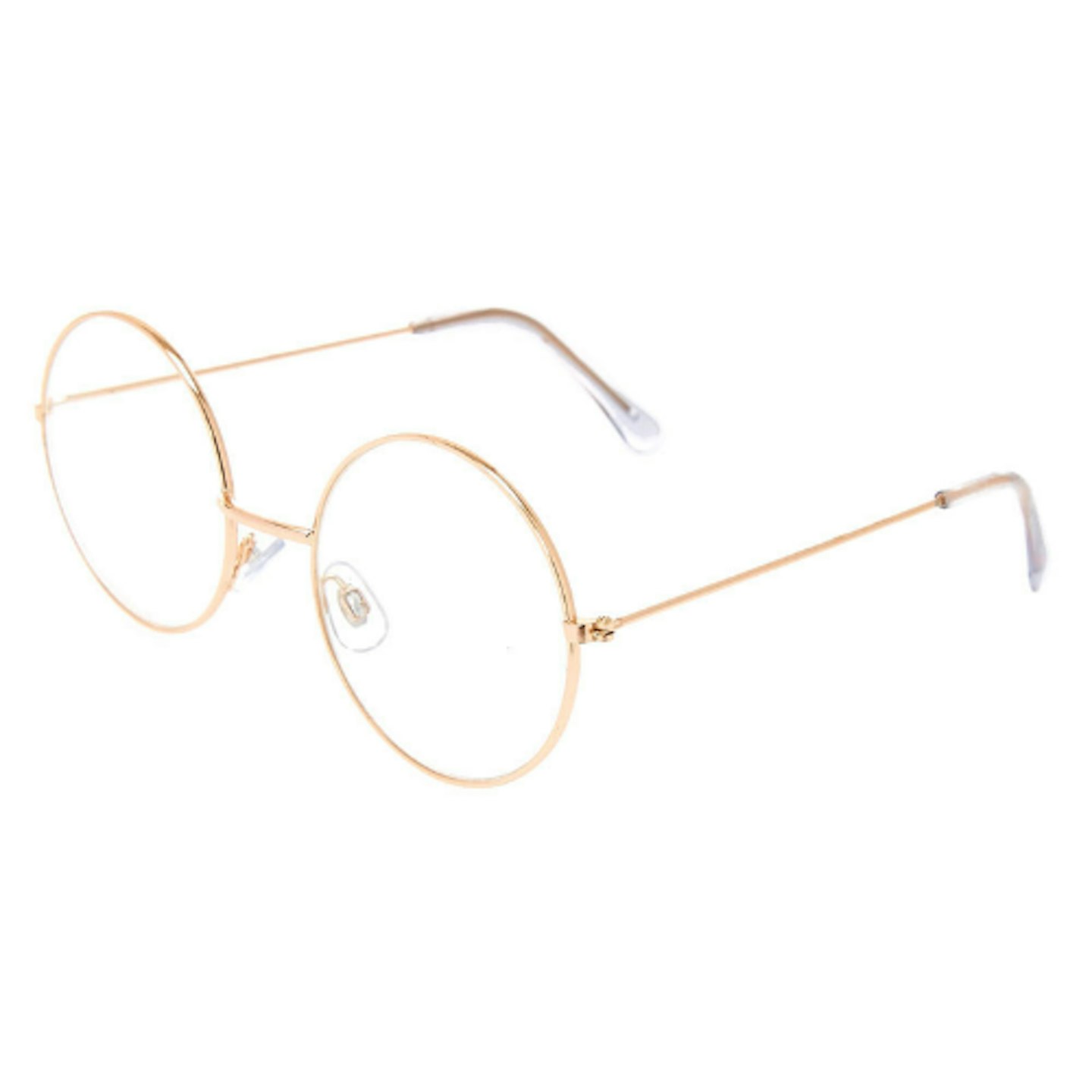 4 of 4
Gold Round Clear Lens Frames
You can't forget Mirabel's signature glasses! These might not be green but they're super affordable and have the iconic circular frame. And don't worry, these have non-prescription clear lenses so your little one can still see where they're going.
Isabela fancy dress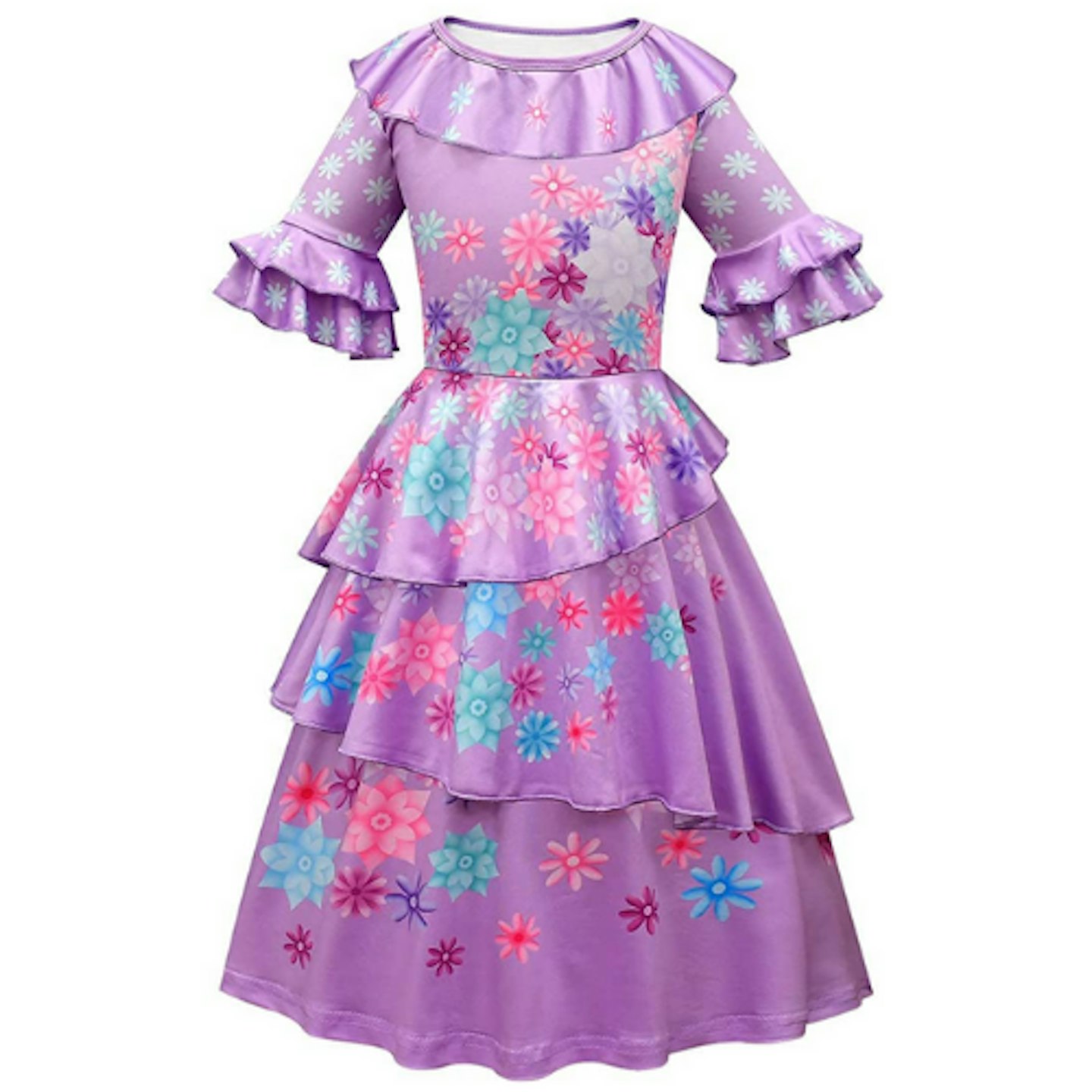 1 of 1
Isabela Dress for Girls
The Disney Store only does Mirabel's dress officially, but you can still find Isabela's beautiful purple dress elsewhere. Full-length with the pattern printed onto the fabric, this dress has all the frills and a suitably floral design.
Sizes: 3-4 years to 11-12 years
Isabela high street inspiration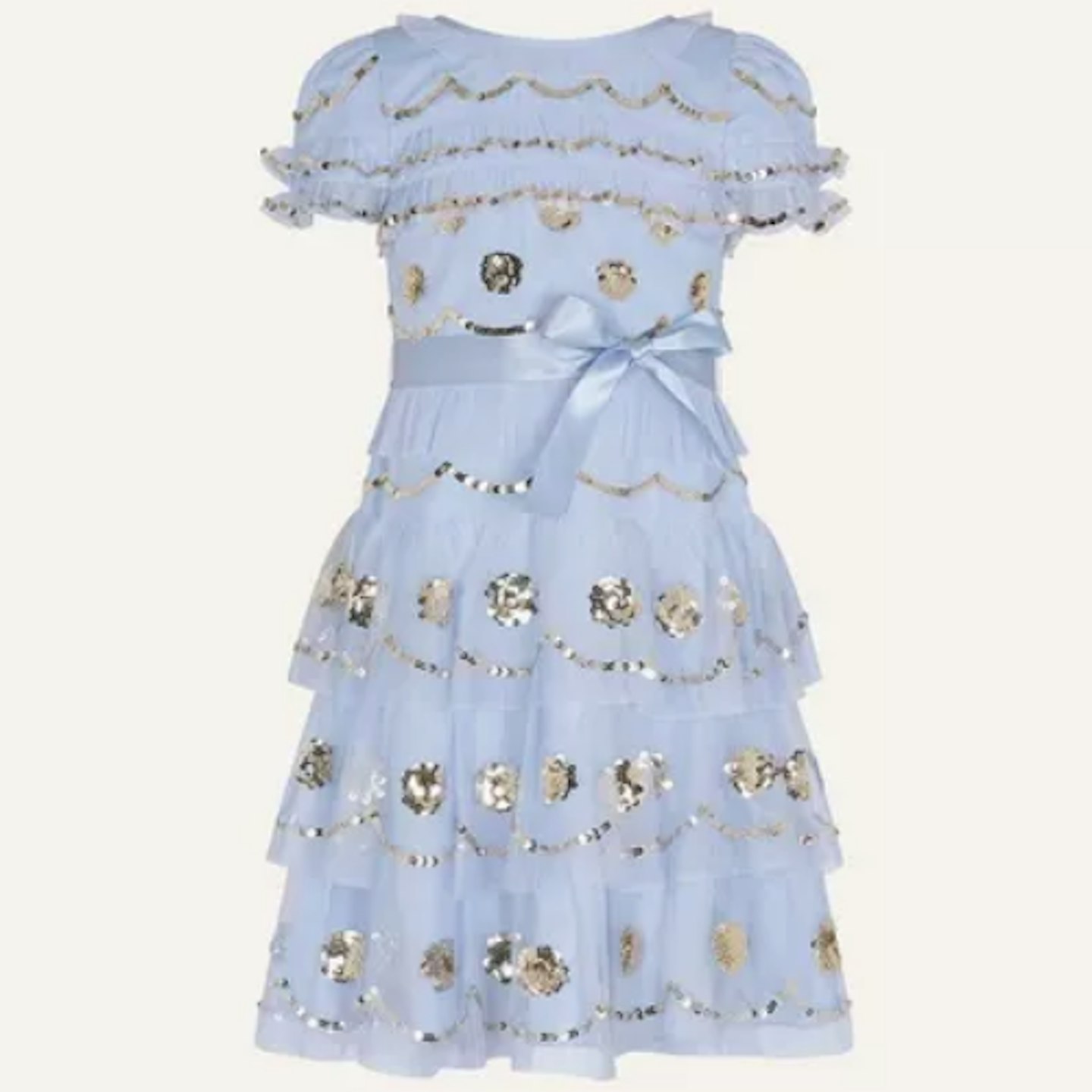 1 of 3
Monsoon 'Lara' Sequin Embellished Dress
With ruffle detailing and tiered frills, this is a quintessential party dress that's pretty and beautifully embellished for their Isabela fancy-dress up. We're sure she'd have something like this in her wardrobe.
Ages: 3 years to 12-13 years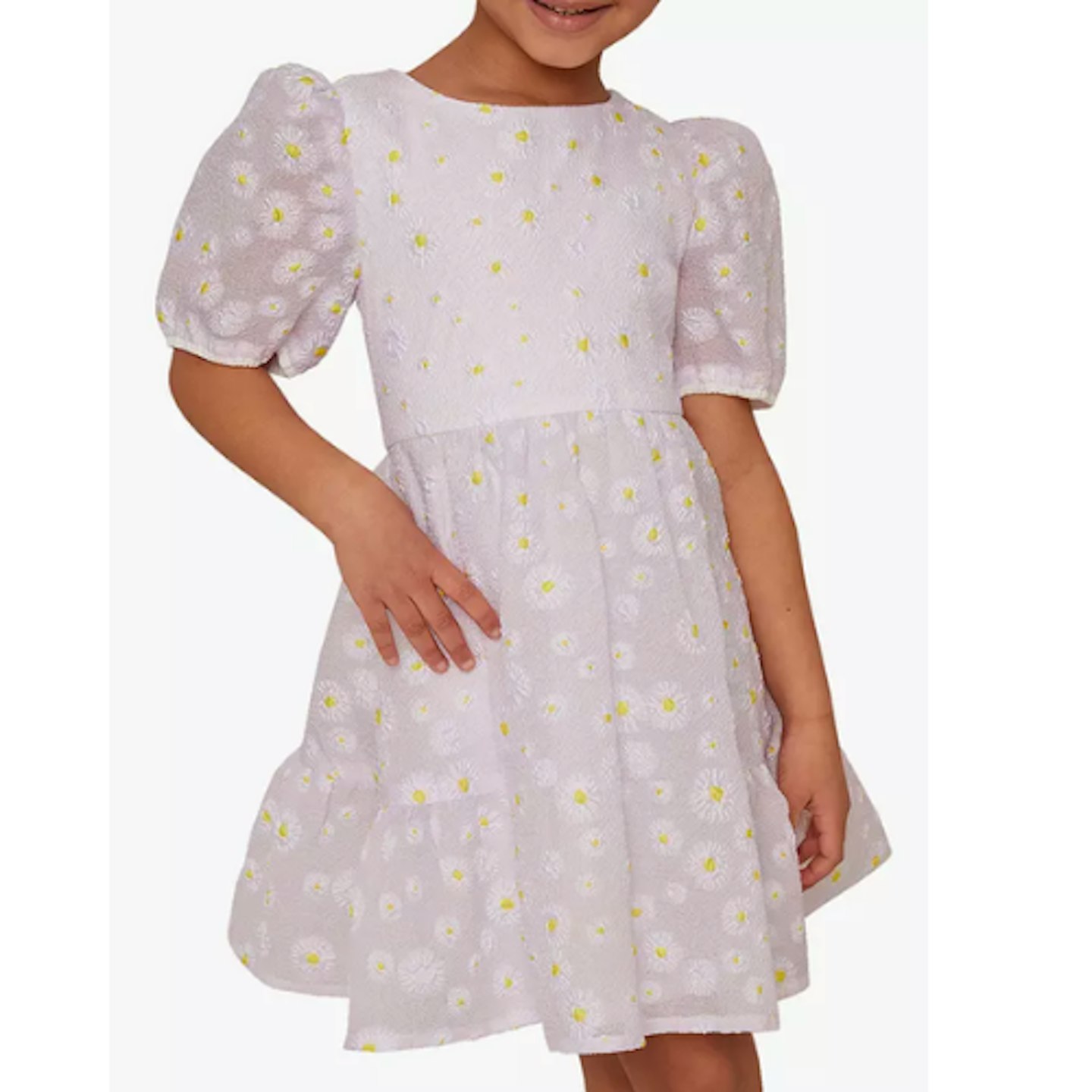 2 of 3
Chi Chi London Kids' Daisy Puff Sleeve Dress
In a playful floral daisy print, this purple puff-sleeve dress is midi in length with a tiered skater skirt, perfect for dancing around in.
Sizes: 3 years to 16 years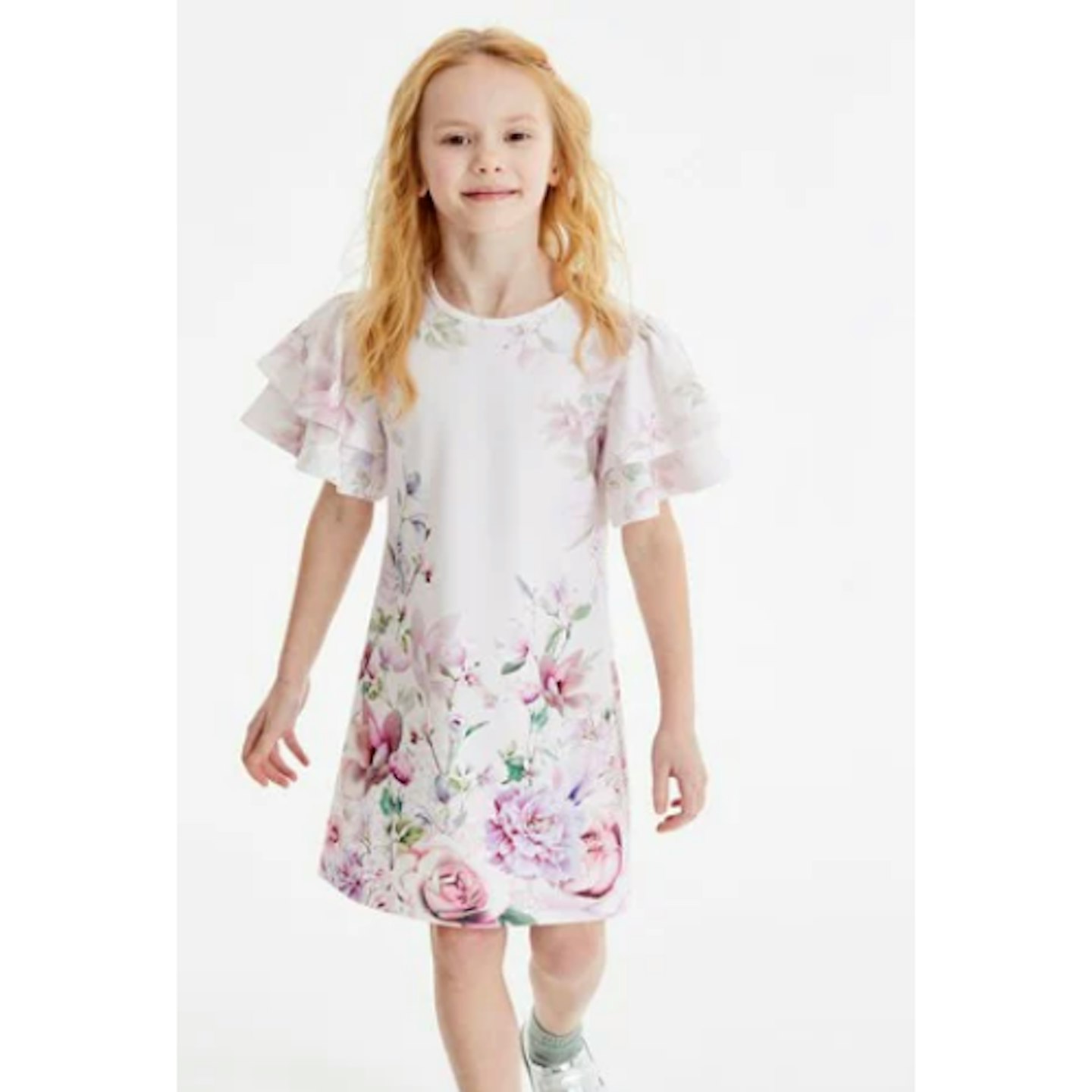 3 of 3
Next Occasion Dress
The pretty occasion dress from Next features some wonderfully flamboyant ruffle sleeves and a light pink flower design. Customers have praised it for both the style and quality, another great party pick - fancy dress or not!
Sizes: 3 years to 16 years
Luisa fancy dress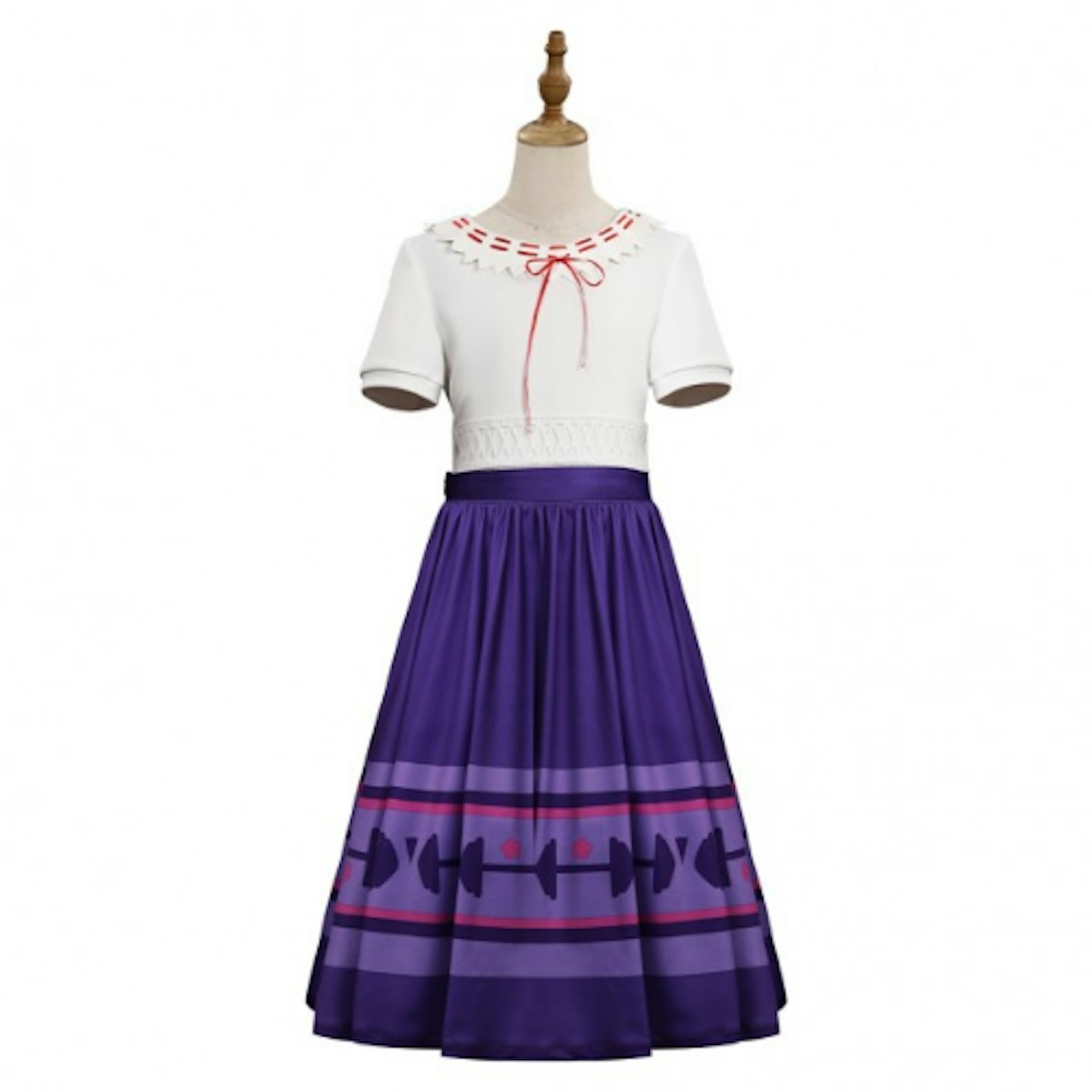 1 of 1
Luisa Madrigal Encanto Kids Dress
There aren't any Luisa fancy dress costumes available to buy from within the UK, but this one is available to buy from Sky Costumes with really promising reviews. One reviewer said, "How beautiful it is. I bought it for my younger sister. It fits here perfectly and arrived quickly. Its quality is ok. My sister is very happy with this one. Thanks a lot!"
Sizes: Kids sizes XS to XL
Luisa high street inspiration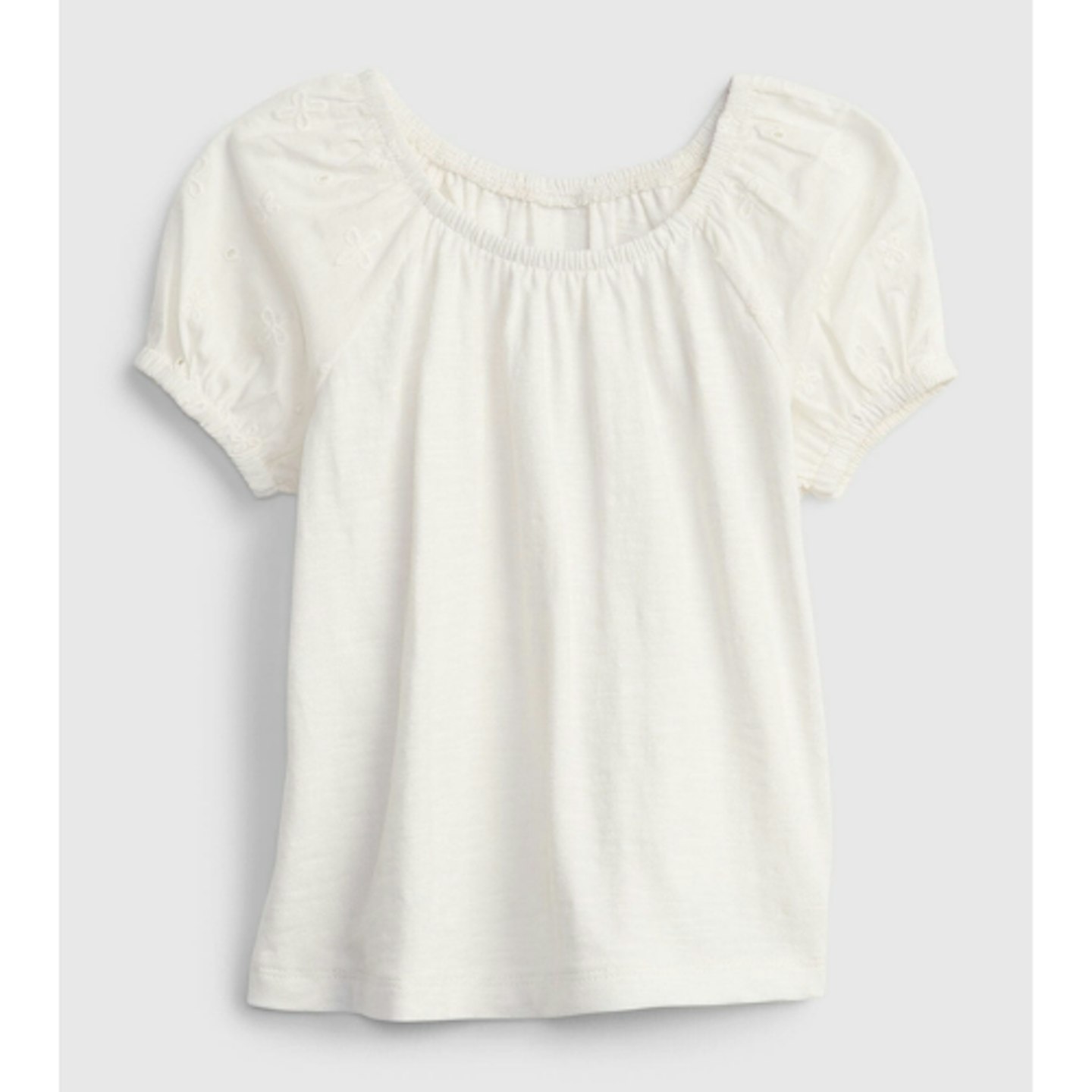 1 of 4
GAP Toddler Puff-Sleeve Top
This top passes perfectly as Luisa's top - all you need it some red ribbon detailing and you're half way there to the full fancy dress! This top has shirring at the neckline, puff sleeves with and elasticised trim, and is made from 100 per cent cotton for comfort.
Sizes: 12-18 months to 5 years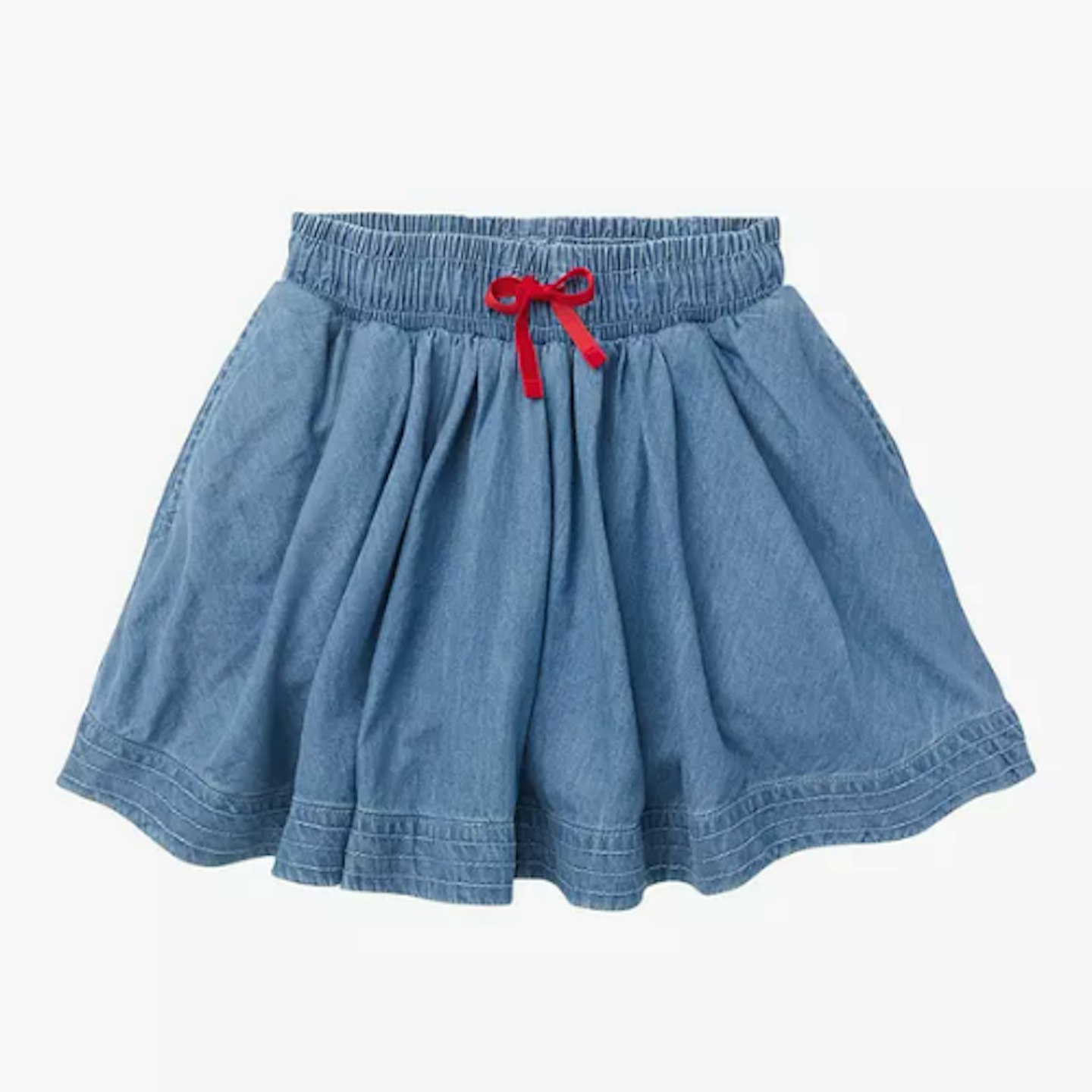 2 of 4
Mini Boden Girls' Woven Twirly Skirt
The red bow in this skirt gives a nice little nod to the red weave in Luisa's top. Made from 100 per cent cotton, this super-soft corduroy skirt from Mini Boden is nicely elasticated for easy movement and, just like Luisa, strong-woman lifting!
Sizes: 2-3 years to 11-12 years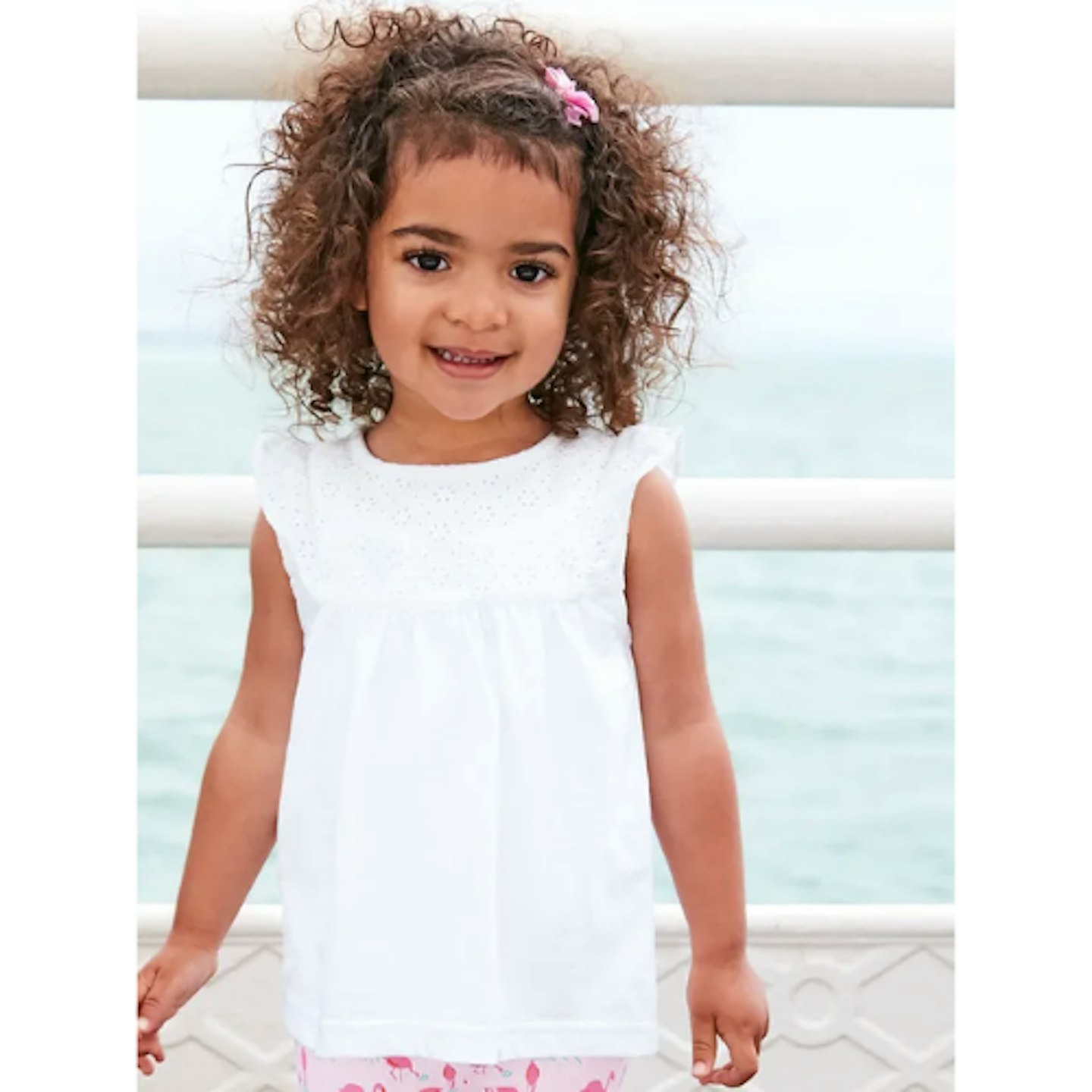 3 of 4
JoJo Maman Bebe Girls' Pretty Embroidered Top
The pretty embroidered top from JoJo Maman Bebe can be easily transitioned from everyday wardrobe to fancy dress. Simply team with a long blue skirt and they'll still be able to channel Luisa's strength.
Sizes: 6-12 months to 5-6 years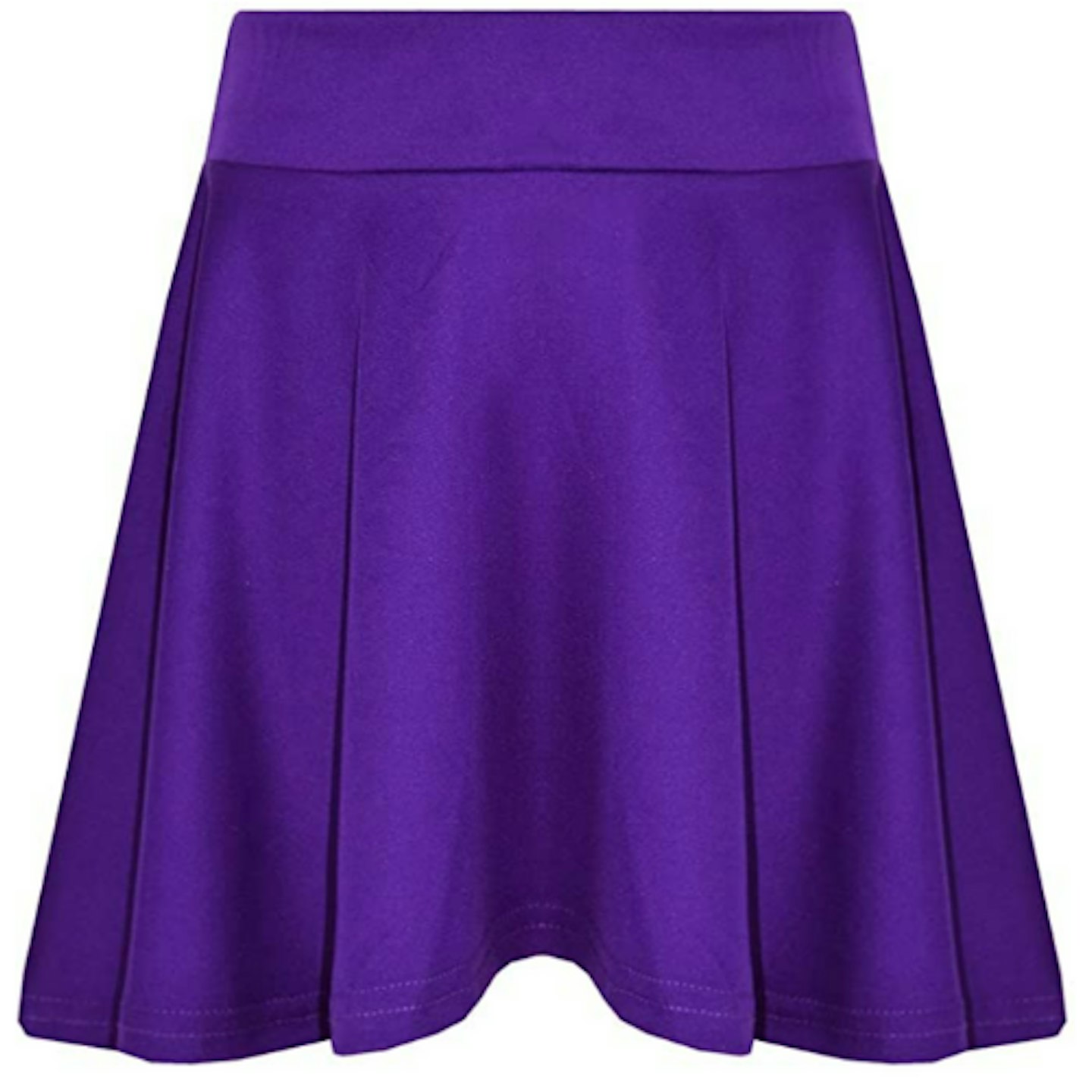 4 of 4
A2Z 4 Kids® Girls Skirts
In a skater skirt design and a rich purple, this cheap skirt suits the top of Luisa's skirt well. If you're feeling creative, you could look to buy some blue and purple fabric to add to the end to elongate the skirt and create a similar striped pattern.
Sizes: 2-3 years to 13 years
Antonio fancy dress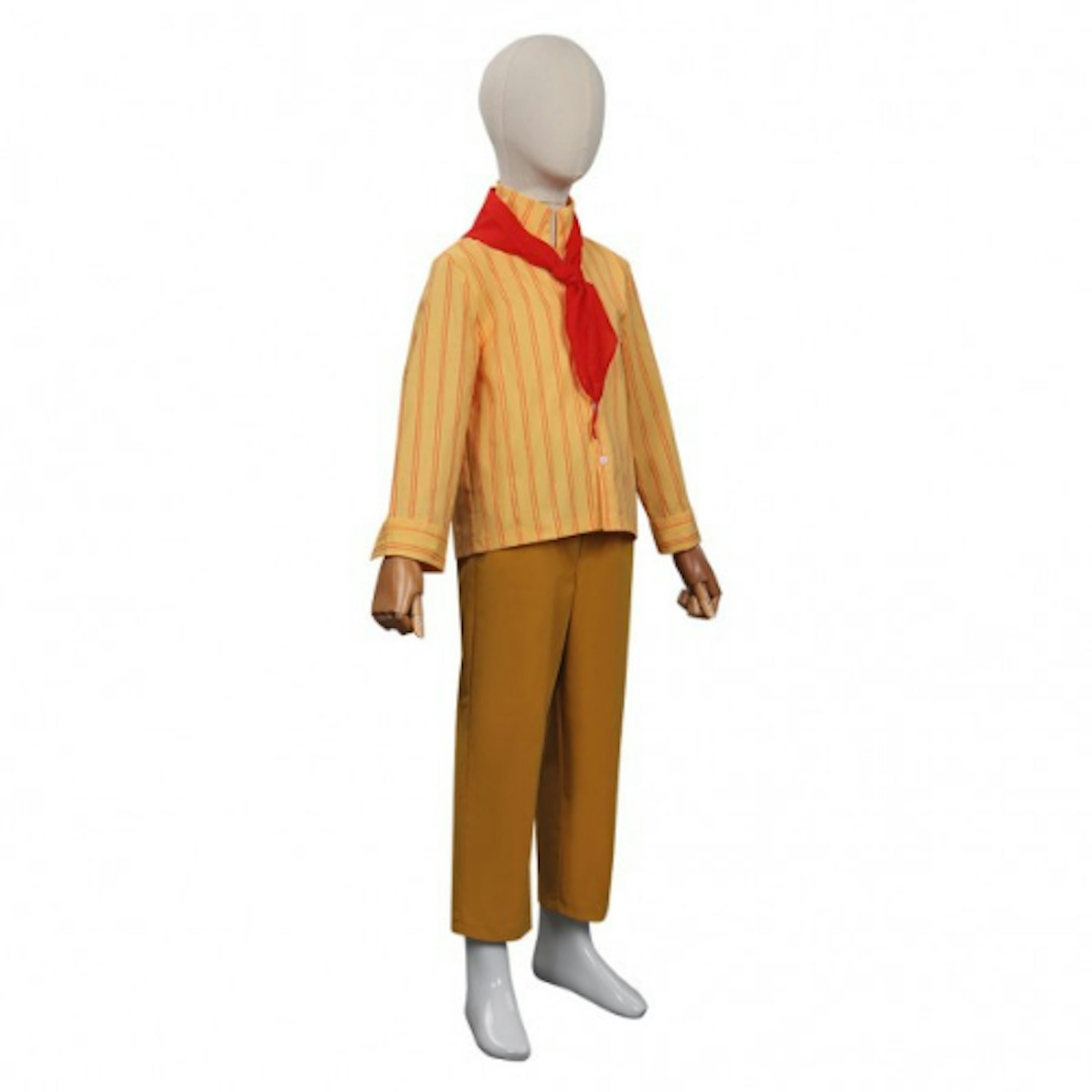 1 of 1
Antonio Madrigal Encanto Kids Outfits
Another one from Sky Costume, this Antonio fancy dress has been praised again and resembles Antonio's outfit from the film really well. Perfect for fans who want to be an animal-magnet too.
One reviewer said, "My son is very happy to get this one. The costume looks better than in the pictures and arrived quickly. Its fabric is average, but well made. Thank you for your provide."
Sizes: Kids sizes S-XXL
Antonio high street inspiration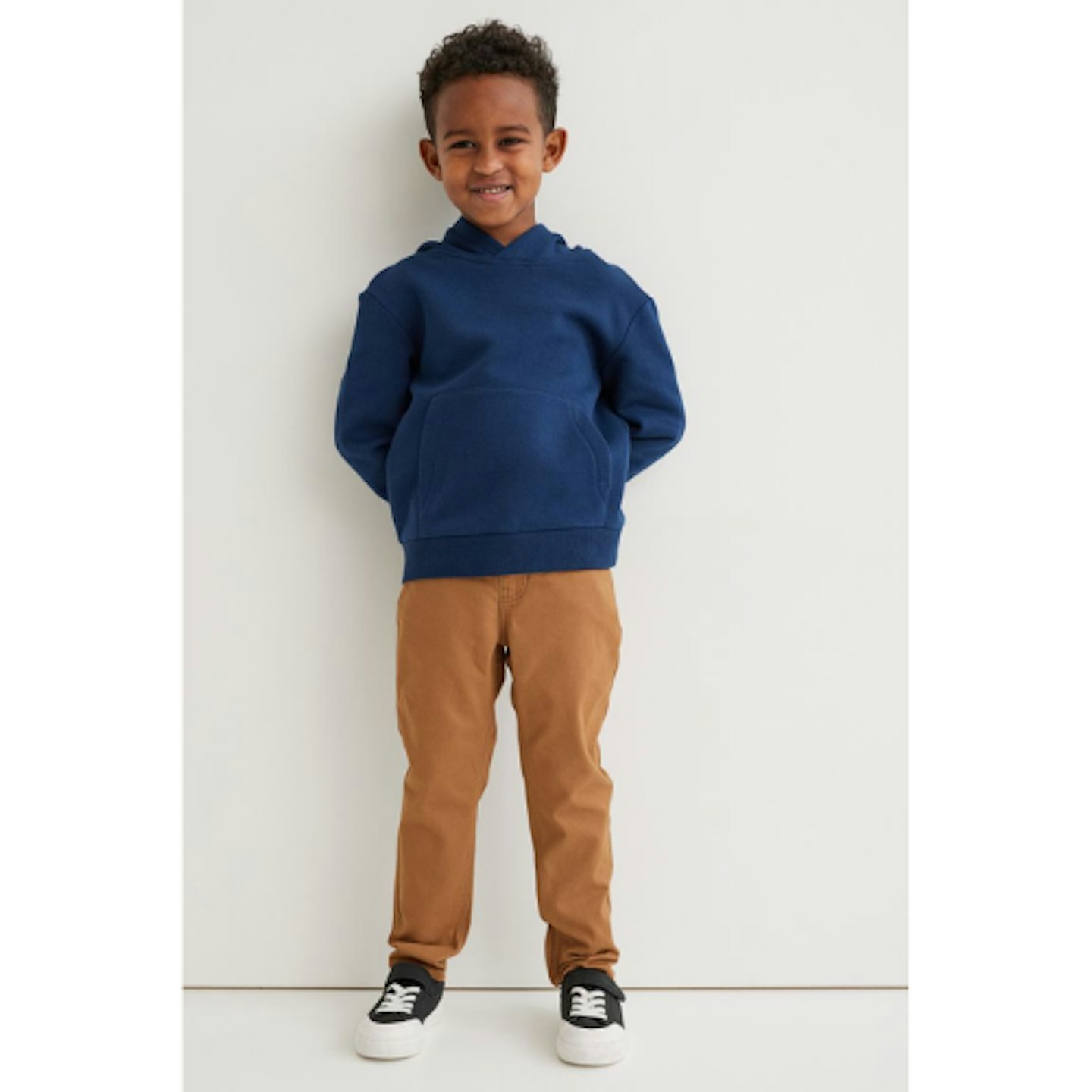 1 of 3
H&M 2-Pack Slim Fit Twill Trousers
In this twin pack of twill trousers, the brown pair suit Antonio's character outfit so well. The slim-fit trousers are made from a cotton twill with an adjustable, elasticated waist and zip fly and press-stud.
Sizes: 1.5-2 years to 9-10 years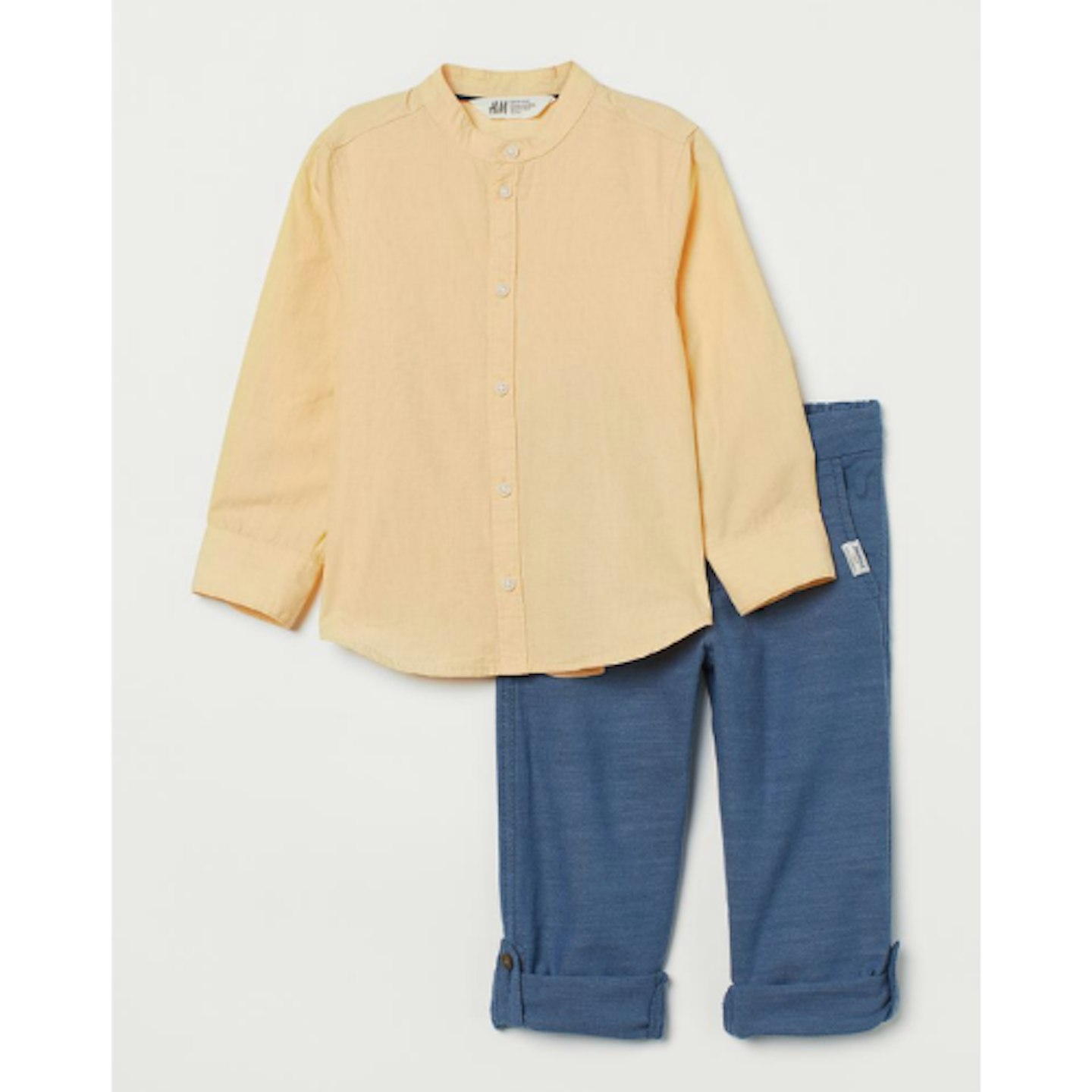 2 of 3
H&M 2-Piece Cotton Set
Another two-piece set, but as outfits that can work for fancy dress and everyday wear, we're certainly getting our money's worth. The top of this set is a light yellow shirt with a grandad collar and button front that matches Antonio's shirt style.
Sizes: 1.5-2 years to 9-10 years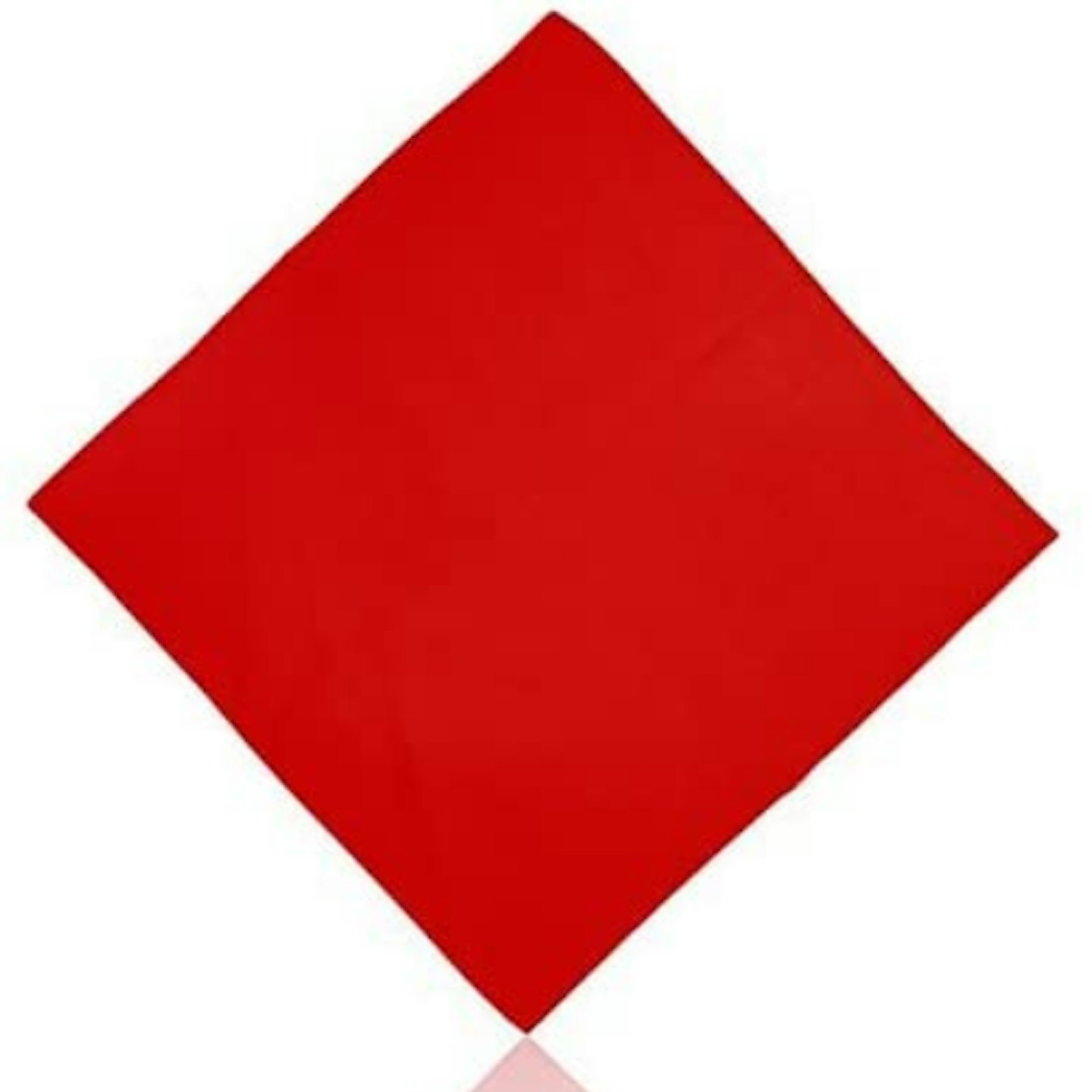 3 of 3
Plain Cotton Bandanas by Lizzy
And to complete the look, you can't forget Antonio's red neckerchief. This plain cotton bandana will do just the trick.
Sizes: 21 x 21 inches
Popular articles to read next: