Hunting for the best baby changing bag can prove tricky as there's so much choice. You'll want to consider the style you want, who is going to be using it, the materials and of course, how much room there is for all that baby paraphernalia. For a modern and unisex option, the Tiba + Marl Elwood Twin Changing Backpack is a popular choice if you're looking for a bag that's hands-free and will be loved equally by both parents.
Scroll down to find out how Reviews Editor Emily Gilbert got on with the Elwood Twing Backpack.
Pros
Stylish, unisex design
Lots of pockets
Comes with a padded changing mat and cross-body bag
Made from recycled materials
Cons
Buggy clips need to be purchased separately
Testing the Elwood Twin Changing Backpack
When searching for a baby changing bag, I was after something that both my husband and I would love and would be happy to wear. Because we knew it would be something we carted around with us a lot over the next few years, it was also important that it looked relatively stylish and modern and were keen to stay away from anything garish or overtly feminine.
Tiba + Marl have been on my radar for a while now and their website was the first place I headed when I started thinking about which changing bag we might want. I'd already decided a rucksack-style changing bag was a must and thankfully, Tiba + Marl had lots of choice. Although technically aimed at twins, with its many pockets the Elwood Twin Changing Backpack really appealed to both me and my husband.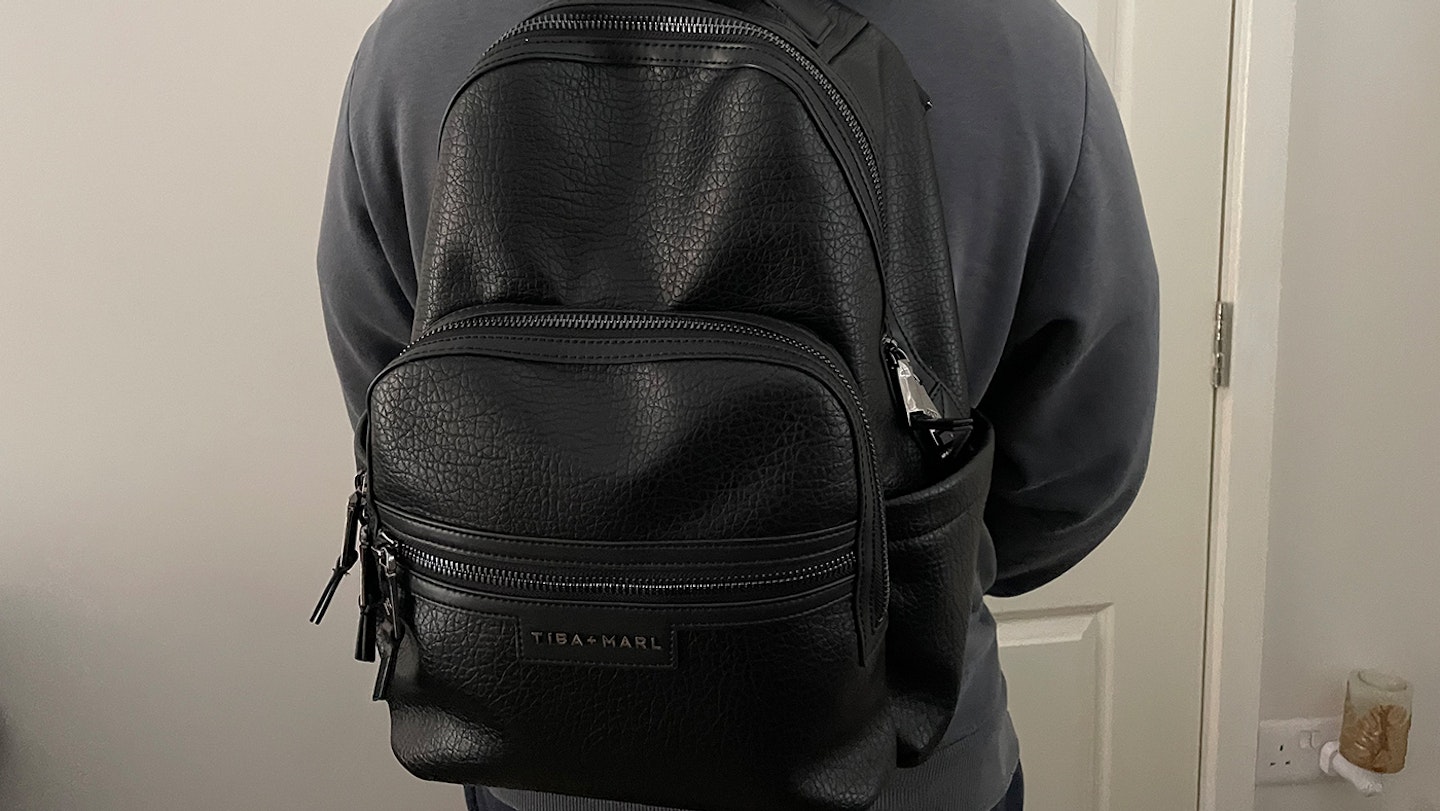 When it arrived, the Elwood was packaged nicely in a dust bag which added a really luxurious touch to the product and made it even more exciting to unwrap. It was much larger than I'd imagined although very light despite this and seriously stylish - if it wasn't attached to a buggy with a bottle poking out or you didn't know the brand, I don't think you'd necessarily know it was a baby changing bag. The Elwood Twin Back is available with either black or gold zips, we opted for black. Thankfully, my husband was just as impressed as I was with the overall look of the Elwood Backpack and immediately went to try it on.
How comfortable the changing back was to wear was a huge priority and thankfully it's one Tiba + Marl exceeded in. Both my husband and I found the Elwood comfy to wear, especially with the padded lower back panel and shoulder straps. The straps can be adjusted to suit the wearer.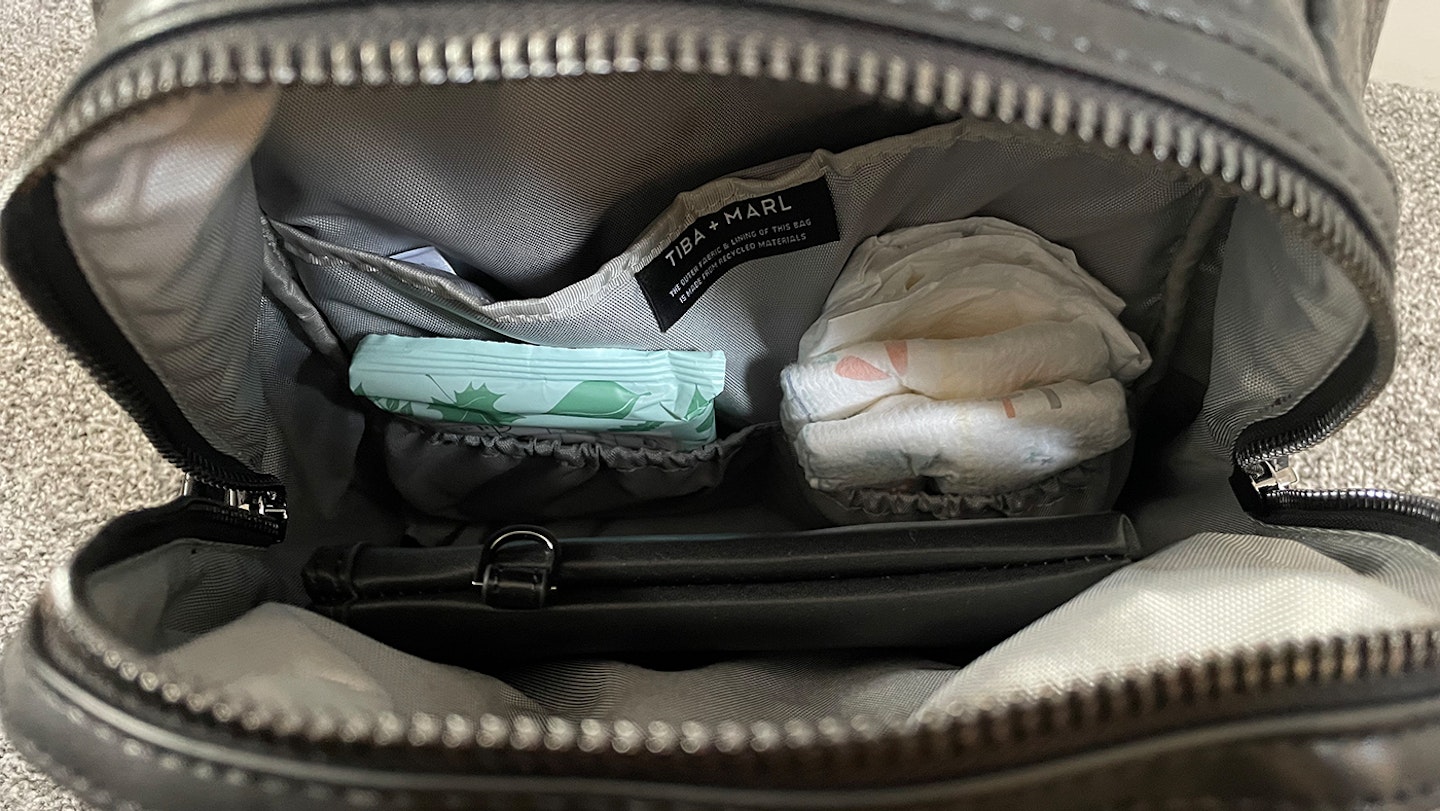 I was impressed to find out that to make the Elwood, Tiba + Marl uses recycled materials made from post-consumer plastic waste and recycled yarn. It also easily wipes clean which will no doubt be particularly useful when the bag gets mucky from all its outings.
You're spoilt for choice when it comes to pockets as the Elwood Twin has two exterior side slip pockets, an internal laptop sleeve, two large internal elasticated pockets, two insulated bottle holders to keep drinks cool or hot for up to four hours and a front zip pocket. As mentioned, the Elwood is aimed at twins but parents of a single child will easily fill the pockets regardless. We were able to fit everything we could want for an outing into the Elwood but with plenty of space leftover for anything else we picked up and room to root about as well.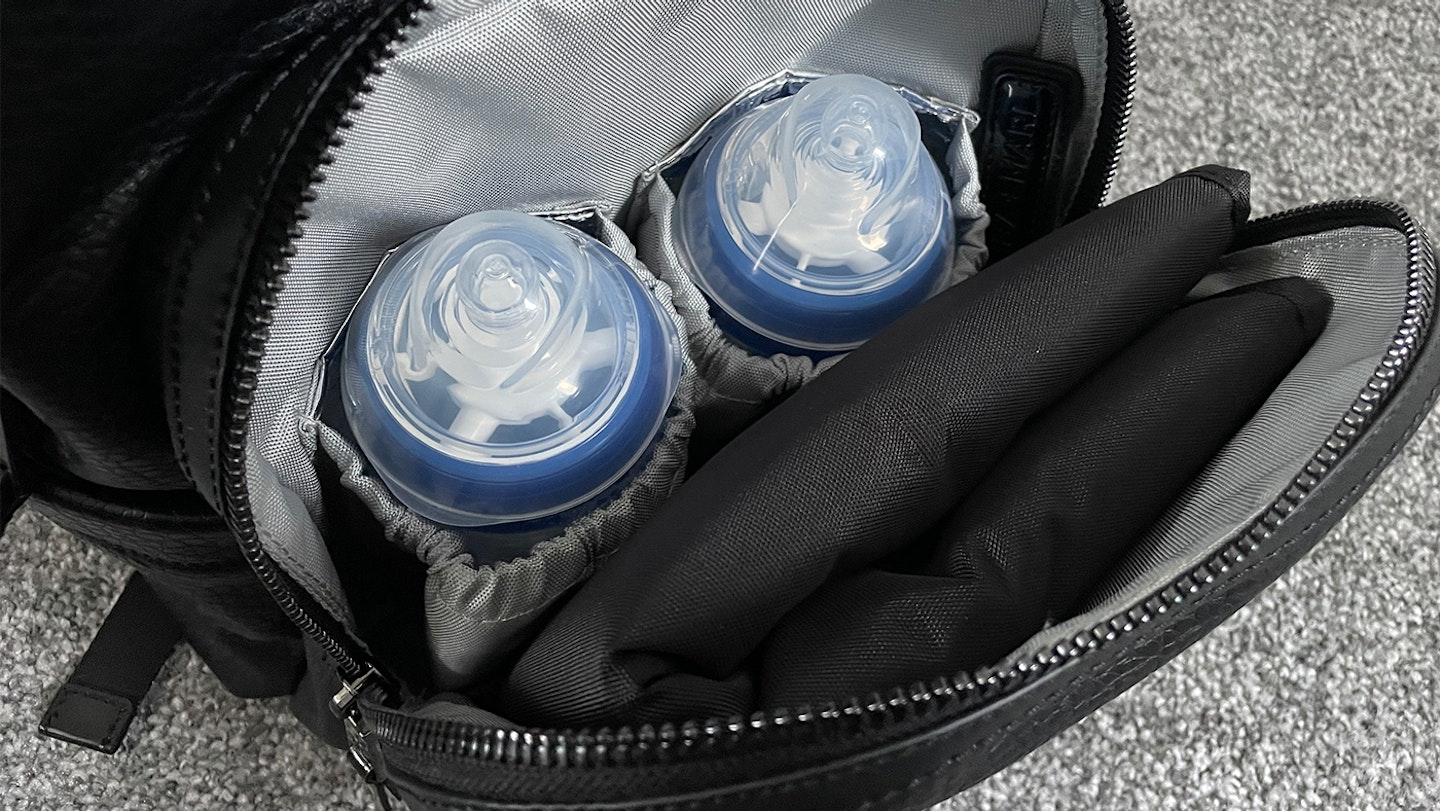 I was pleased to find the Elwood Twin backpack came complete with a luxury padded changing mat as well as a removable wet clutch/cross-body bag, both of which fit neatly within the bag itself. While it's pretty common for changing bags to come with changing mats, the removable cross-body bag is a lovely addition. I currently use it for keeping my phone and keys in.
I really appreciate the little touches Tiba + Marl have thought about such as the grab-top handle, D-rings to attach to stroller clips and the metal feet to keep the bag slightly raised off the ground when you pop it down.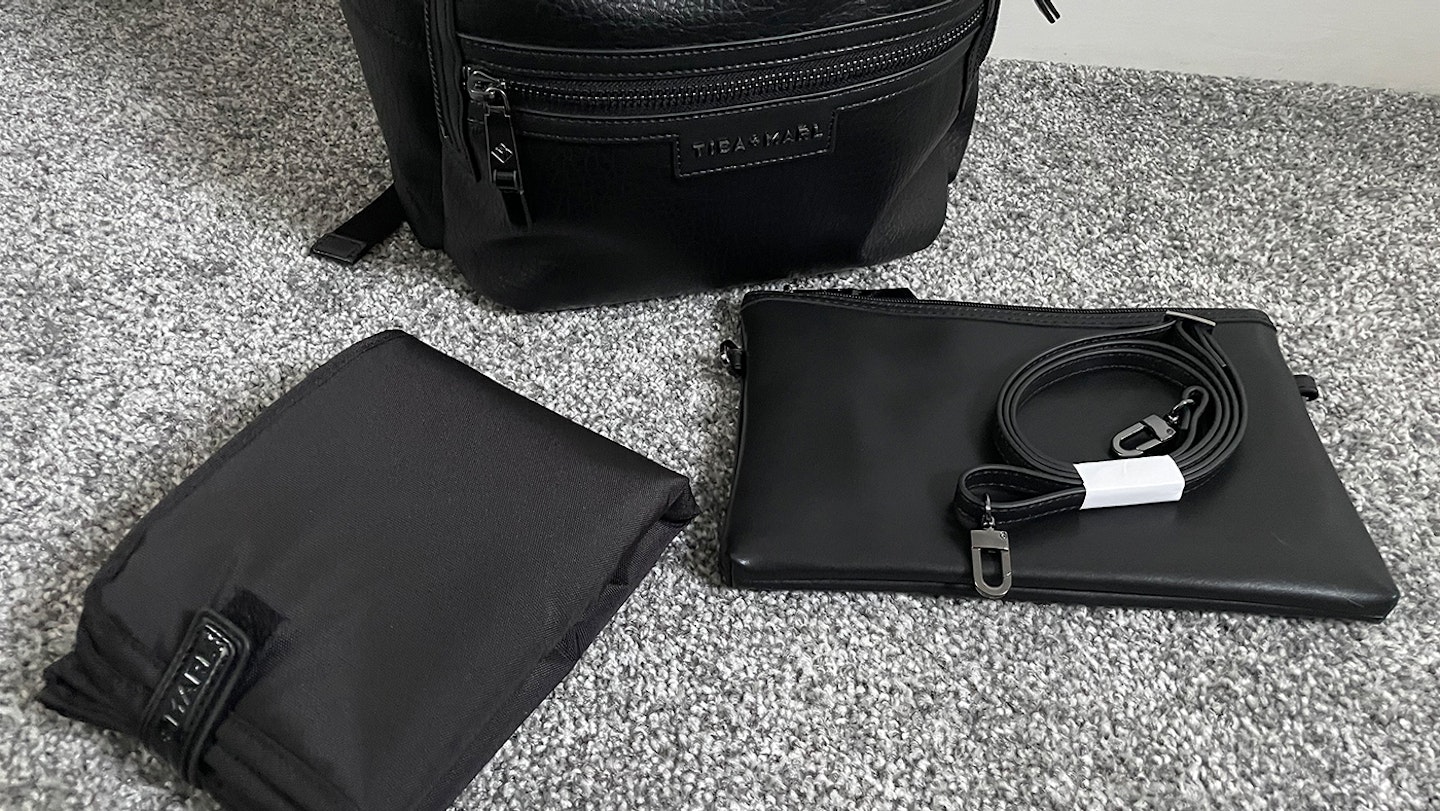 Final verdict
There's nothing not to like with the Tiba + Marl Elwood Twin Changing Backpack. Yes, it's on the pricier end of the market when it comes to changing bags but for the quality you're getting - and yes admittedly the style - makes it worth every penny. I know that once I've finished using it as a changing bag, I'll happily be able to continue to use it as a regular back and I know that it's going to last for years.
The Elwood has been really thoughtfully designed and it doesn't just look good but it's incredibly comfortable to wear as well as being spacious and lightweight too. I wouldn't hesitate to recommend it to a friend.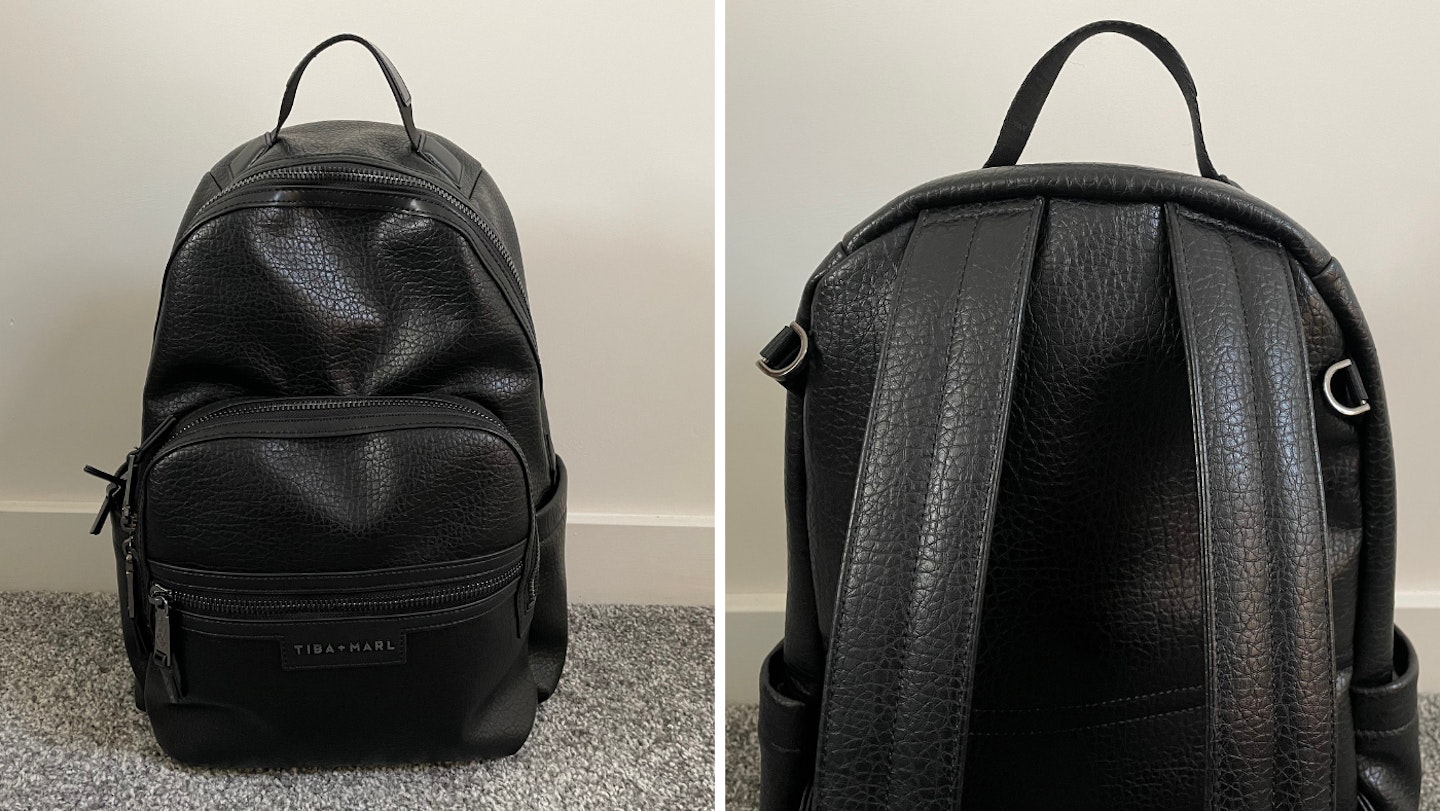 Tiba + Marl Elwood Twin Changing Backpack FAQs
What is the best way to clean the Elwood?
You can spot-clean both the exterior and internal compartments of the Elwood with a damp cloth. The padded changing mat can also be spot-cleaned or hand-washed.
Using the Elwood with a stroller
The easiest way to use the Elwood with a stroller is by using the Tiba + Marl stroller clips which can be bought separately. Alternatively, check out these other pram clip options.
Emily Gilbert is the Features & Reviews Editor for Mother&Baby and has written for the website and previously the magazine for six years. Specialising in product reviews, Emily is the first to know about all the exciting new releases in the parenting industry.