Launched in March 2023 and offering a simply ingenious solution to a very real problem, the Pipa urbn from Nuna has been designed with quick transfers between different cars in mind. The baseless newborn car seat has ISOFIX connectors built-in, making it perfect for taxis, fly-drive holidays or trips in hire or grandparent's cars without the need for a separate base to benefit from the convenience and safety of the ISOFIX system.
The seat is lightweight (just 3.3kg) and features a one-handed vehicle/pushchair release for ease of transfer, especially useful if hopping in and out of taxis around town. It is equipped with a three-point harness and Side Impact Protection (SIP) plus a Merino wool headrest and body insert that support growing babies. Nuna's signature Dream drape™ pulls out from the car seat's canopy to provide baby with ultimate privacy and a full-coverage UPF 50+ canopy also features a flip-out eyeshade and XL peek-a-boo window.
This product has also won a 2024 Mother&Baby Award.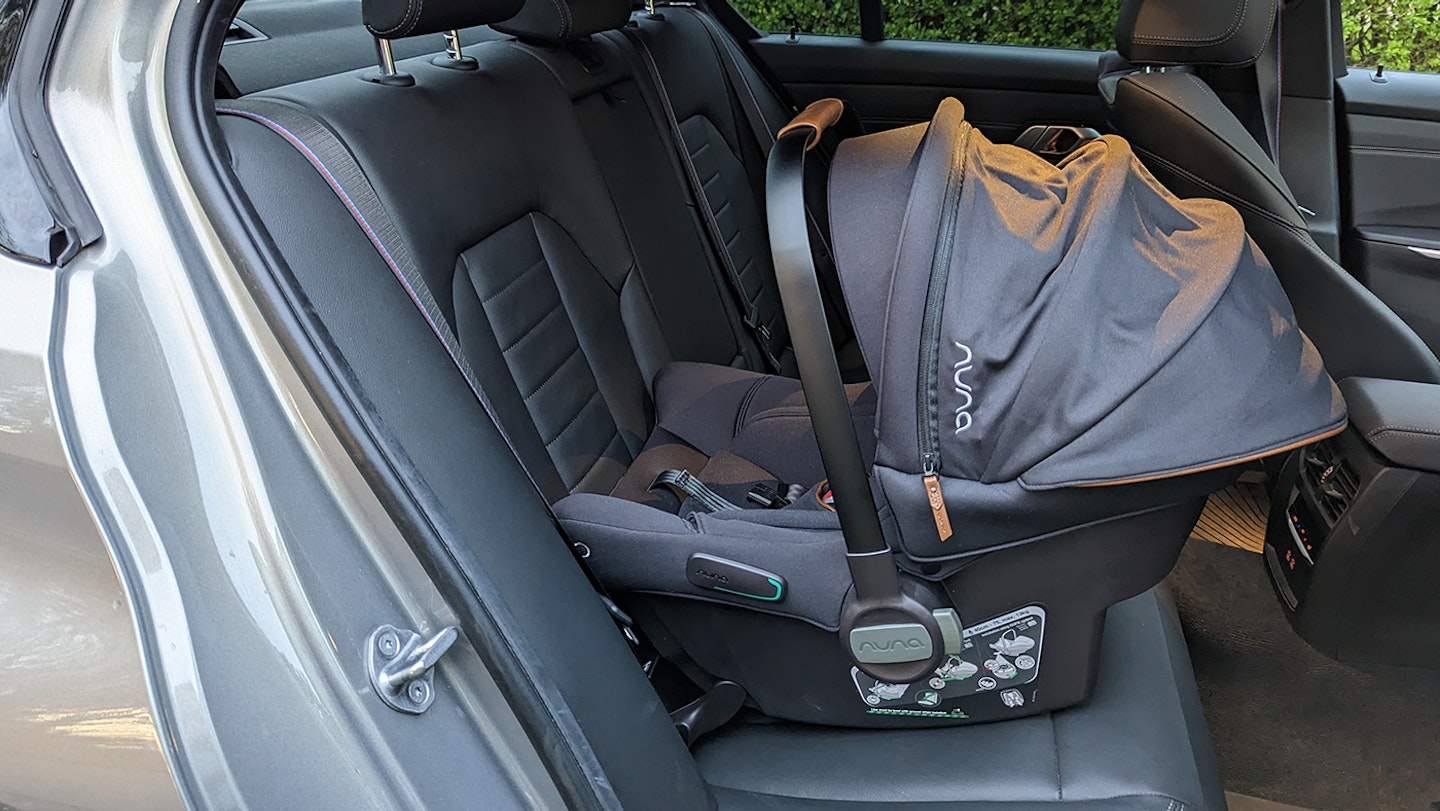 Safety features include Aeroflex™ foam, a lightweight, resilient material that minimizes force transferred to baby by absorbing and diffusing energy, as well as an auto-reclining foot that aids in proper installations in vehicles. Its fabrics are GREENGUARD Gold Certified, meeting some of the world's most rigorous third-party chemical emission standards, and are naturally flame resistant, containing no added harmful chemicals.
Here's how dad-of-one Matt got on when he put the Nuna PIPA urbn to the test...
Pros
Super lightweight (3.3 kg)Machine washable seat fabrics and inserts
Easy to transfer between cars using the in-built ISOFIX connectors
Supplied pair of ISOFIX plastic guides speed up fitting where ISOFIX connectors are less easily accessed
Perfect for holidays/hire cars, taxis, grandparents' cars etc
In-built sun shade (UPF 50+) with flip-out eyeshade and peek-a-boo window
One-handed vehicle and pushchair release (with Nuna pushchairs, check compatibility for other makes).
Cons
Lightweight materials mean the seat lacks the quality feel of other seats on the market, although this is based only on feel rather than any durability testing
Lacks the third support/leg of a traditional base-type ISOFIX unit
Price point of £350 makes this the higher end of the car seat market
Key features
Integrated ISOFIX connectors
A game changer for those parents who use multiple vehicles or travel frequently, the PIPA urbn comes with a built-in ISOFIX system which is integrated into the car seat so there's no requirement for a base.
Premium design
The PIPA urbn comes with a stylish leatherette carry handle to ensure more secure gripping and features Nuna's signature Dream drape™ which seamlessly pulls out from the car seat's canopy to provide baby with privacy during quieter moments. The full-coverage UPF 50+ canopy also features a flip-out eyeshade and XL peek-a-boo window.
Safety first
Equipped with a three-point harness and Side Impact Protection (SIP), the car seat is made with Aeroflex™ foam, a lightweight, resilient material that minimizes force transferred to baby by absorbing and diffusing energy. It also has an auto-reclining foot that ensures proper installation in any vehicle.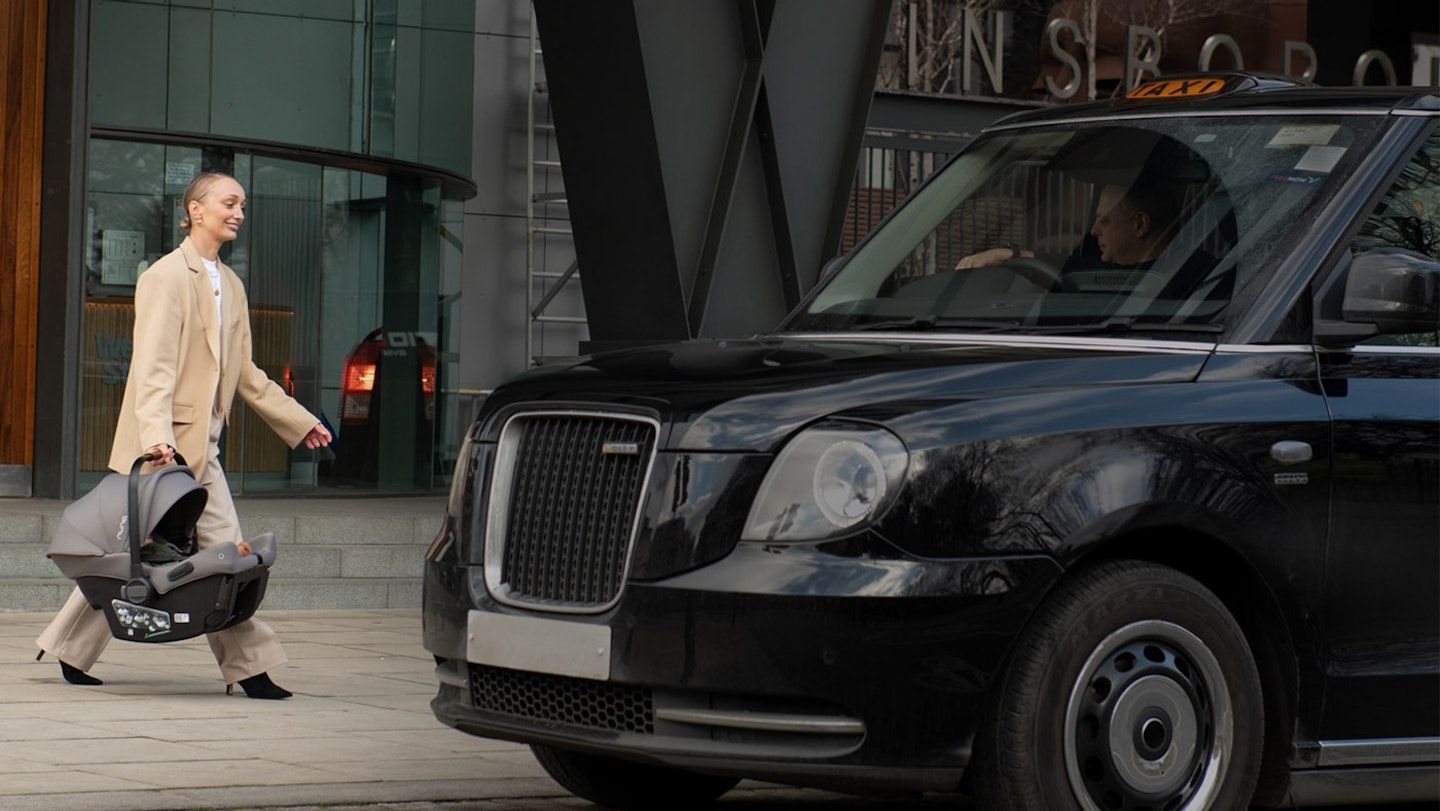 Testing the Nuna PIPA urbn
How was the test carried out?
We tested the ease of installation of the seat in three different vehicles – one with easily accessible ISOFIX points, one where these were 'buried' deep between the seat base and back and finally an older car which does not have ISOFIX points fitted. We then bundled our 12-week-old daughter into the seat to check for infant comfort and finally repeated the installation tests with her on board.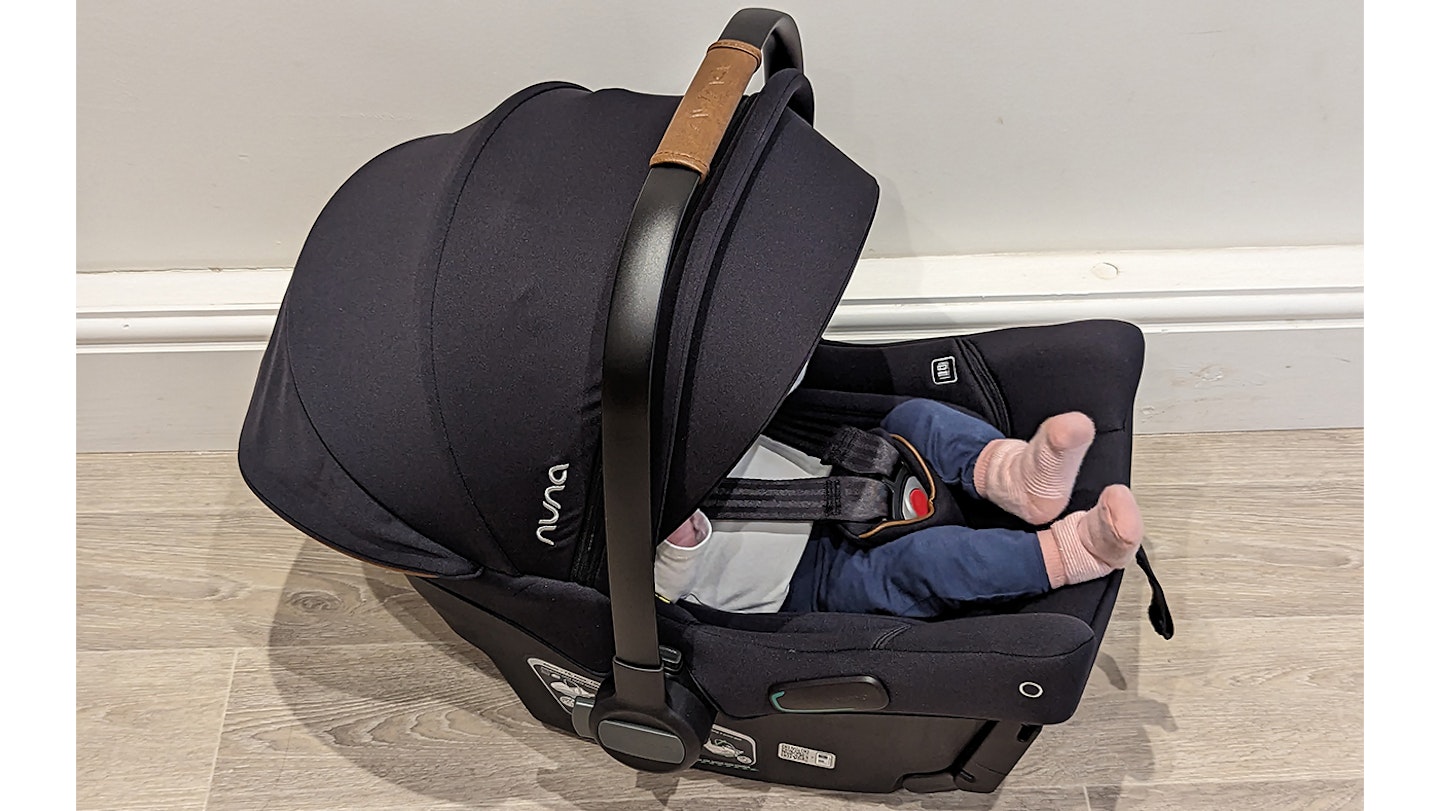 Build
The seat itself, when lifted from its faux leather handle feels pretty light duty, but that's because it has been designed to be lightweight (3.3kg without insert or canopy) for maximum portability. Importantly, the ISOFIX connectors clicked into the two equipped cars we tested the seat in with a positive clunk and the integrated green/red safety indicators were a useful visual cue to ensure that the installation had been successful.
The integrated 'Dream Drape' canopy unpacks and folds away neatly and the zips feel positive and of a decent quality. Speaking of the Dream Drape, integrated magnets which allow the cover to be neatly secured by baby's feet are a neat touch.
Performance
On the first attempt at swinging the seat into the rear of a car, it was latched on the ISOFIX connectors with its level line set parallel to the floor within just three seconds – a truly remarkable and, I must confess, unexpected feat.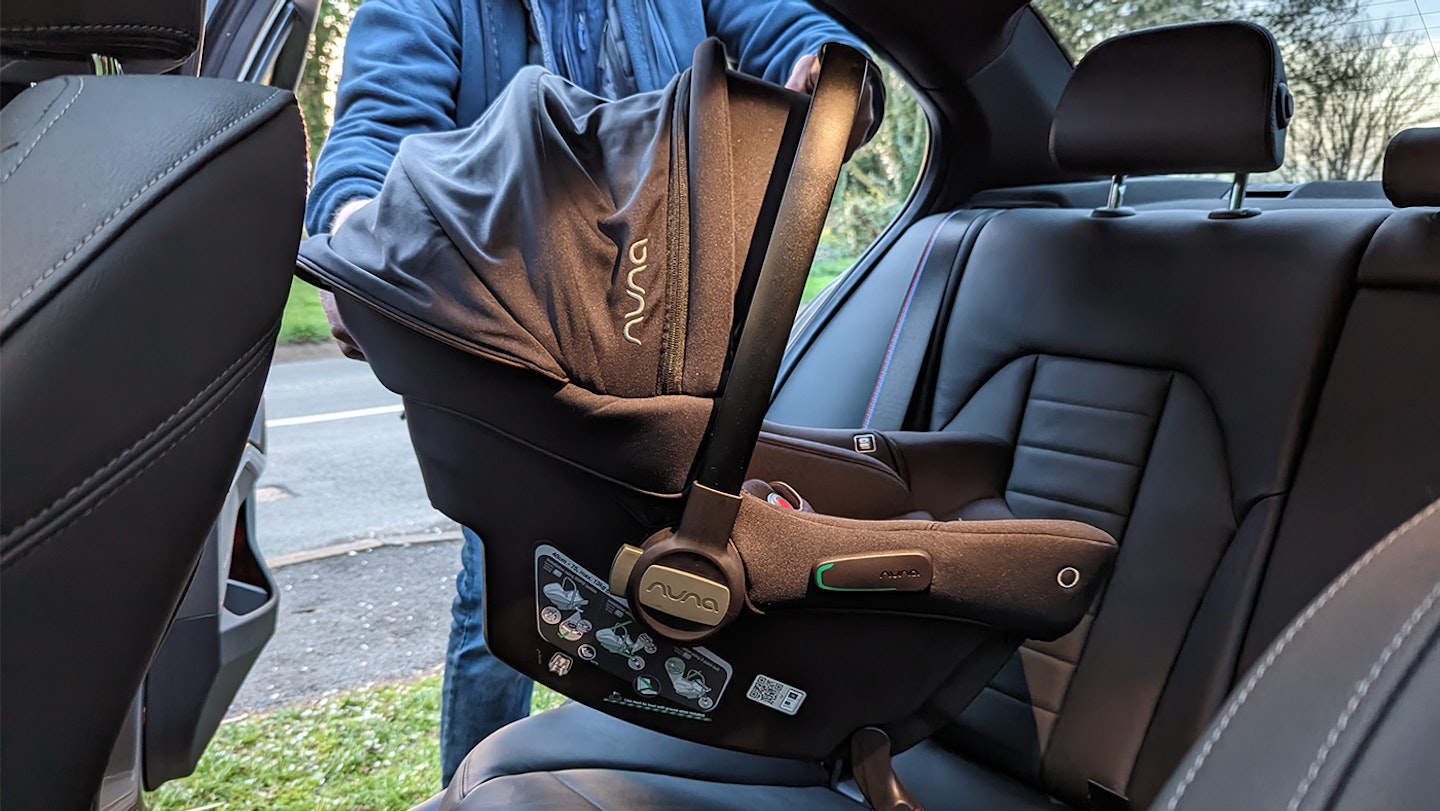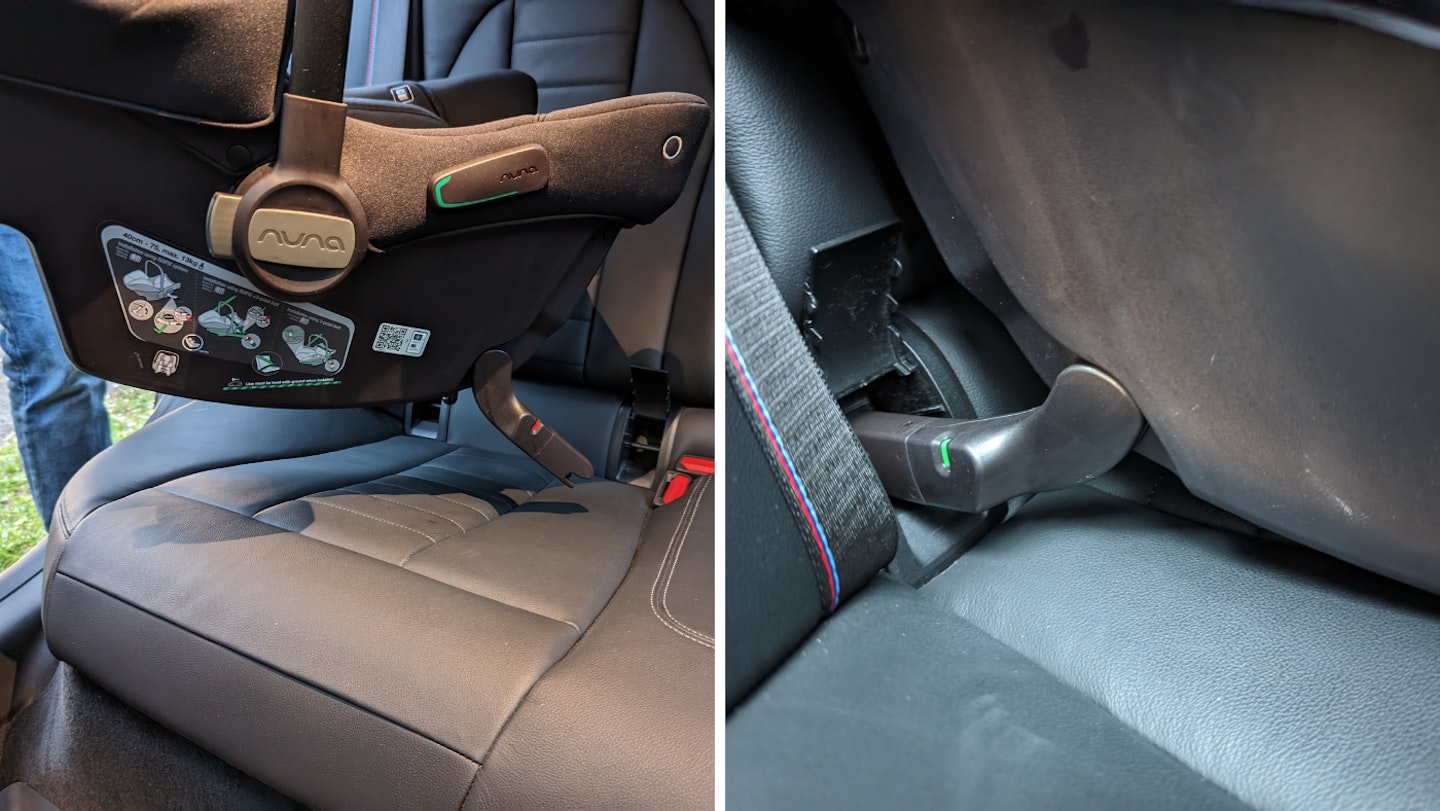 Where ISOFIX connectors are less accessible than the 2022 BMW we first tested the seat in, Nuna provide a set of yellow plastic guides which opened up the gap between the seat squab and back of the 2015 Vauxhall Astra we next tested the seat in for a similarly quick and straightforward installation. With these guides removed, it was still possible to install the seat, but much more fiddly, so it's worthwhile fitting them to a car in which the seat will be commonly used.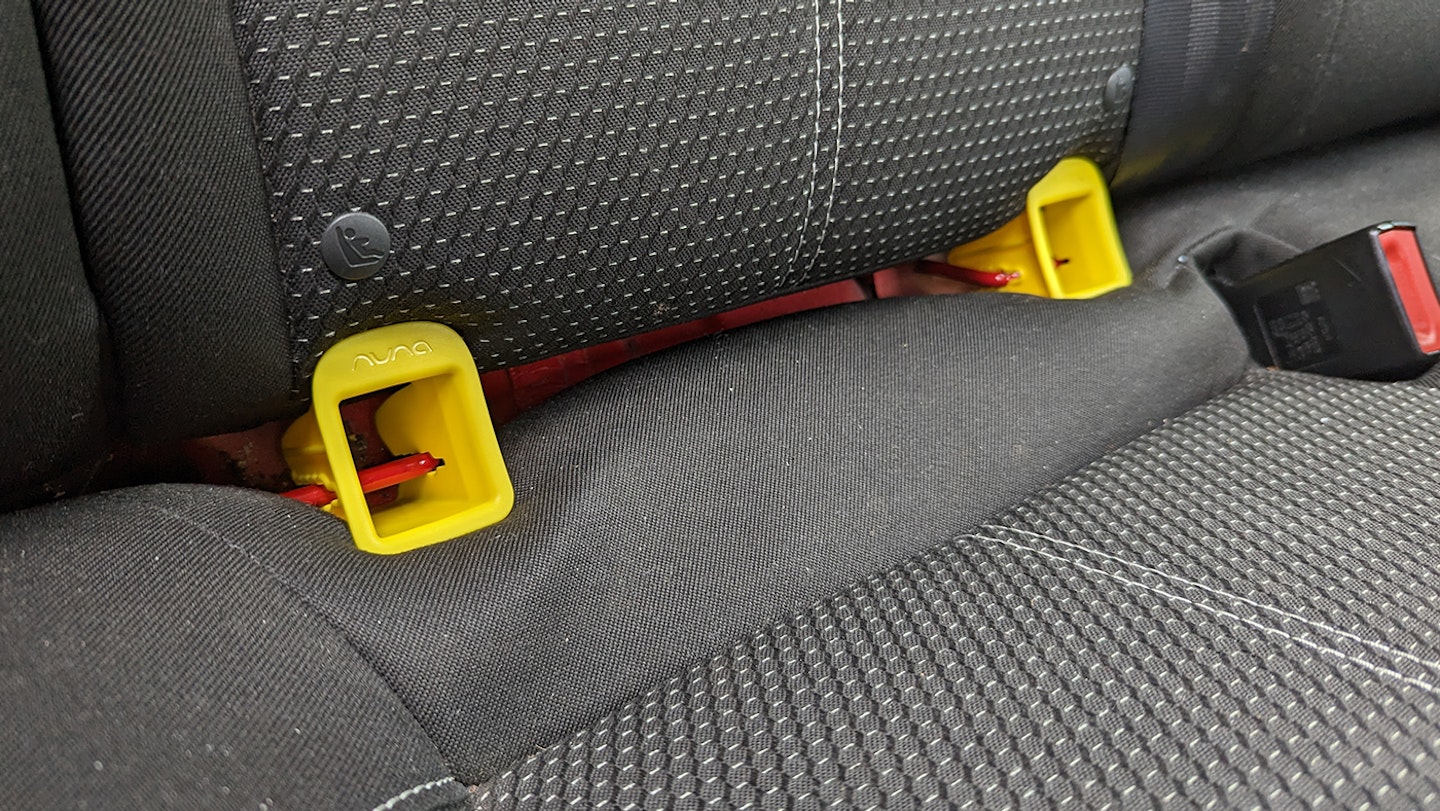 It is also possible to strap the seat into a car using a three-point seat belt using the integrated belt guides, which ensures it can be safely strapped into older vehicles which do not benefit from the integration of ISOFIX connectors, although this is a more time-consuming process (but no more so than any other seat on the market).
Our 12-week-old daughter seemed perfectly comfortable and content in the seat, although the seating position seems more 'folded', i.e. a harsher angle between her legs and torso, than the Cybex seat she is used to.
Usability
As well as using the integrated ISOFIX connectors, the car seat can also be strapped using the standard car seat belt if the car you're travelling in pre-dates ISOFIX standardisation, making the seat super versatile. Being a baseless seat, it is not possible to benefit from the ergonomic advantages of a swivel base, however, the seat is aimed at a market who do not regularly travel in the same car, hence the ISOFIX integration.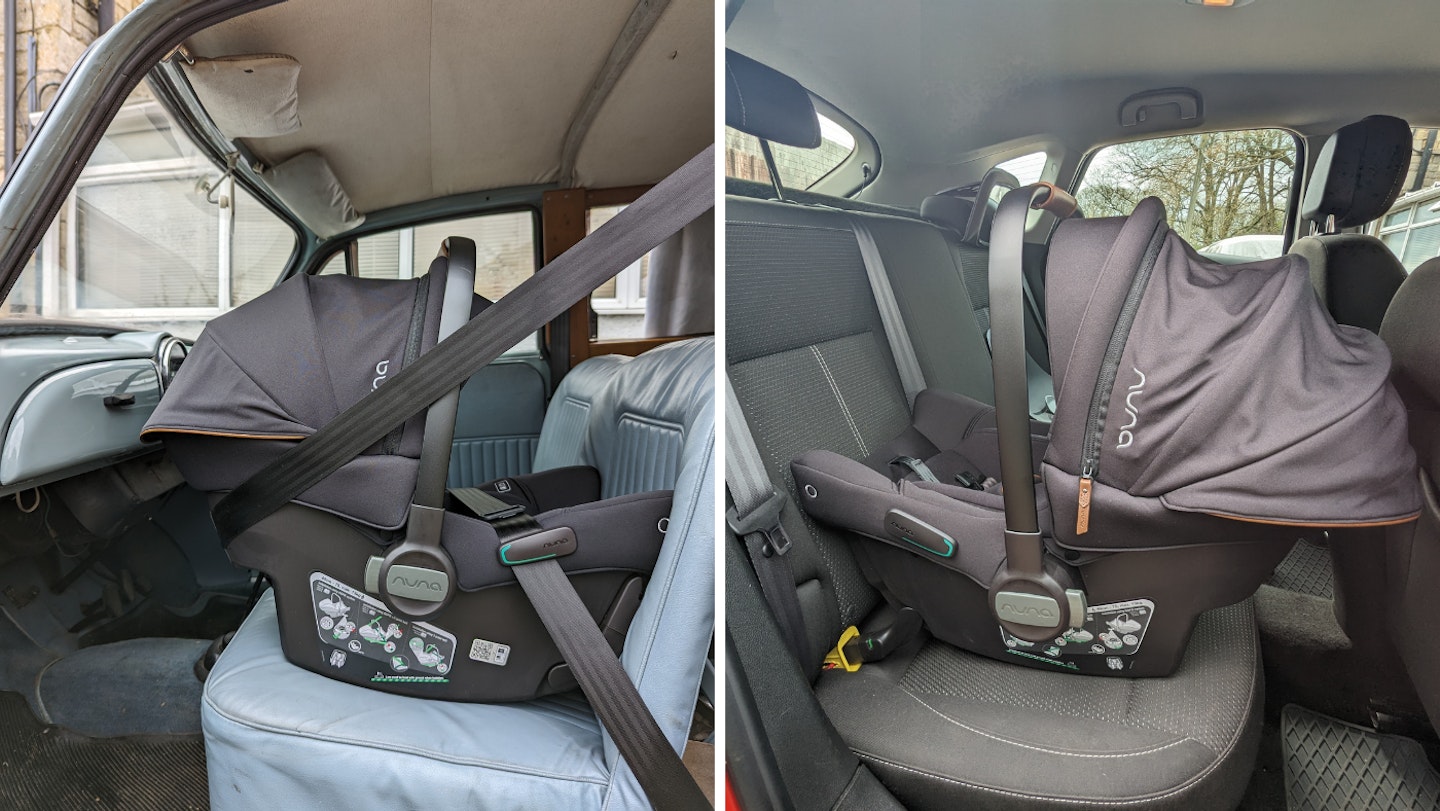 Note that although the seat will grow with a child to some extent thanks to removable foam inserts, the maximum height of 75cm is less than many other seats on the market.
A final advantage of this base-less system to note is that the car itself becomes more useable for rear seat passengers when the car seat is not in place – without the need to remove a cumbersome base between family outings and business trips etc.
Final thoughts
A seriously clever car seat which is aimed at a parent with a busy cosmopolitan lifestyle but one which would be equally useful where a child will need to be safely transported in multiple vehicles whether for nursery drop-offs, holidays or taxis across town. The ability to strap the seat using a conventional three-point seat belt is handy, while the integrated ISOFIX connectors and one-handed release make transfers between vehicles using this system astonishingly quick and easy.
The seat's lightweight construction is handy from the point of view of manoeuvrability however this does somehow compromise the feel of the materials used. The Dream Drape sunshade is an incredibly useful addition for summer, as well as for keeping baby cosy and allowing uninterrupted nap times all year round, which is neatly incorporated into the canopy.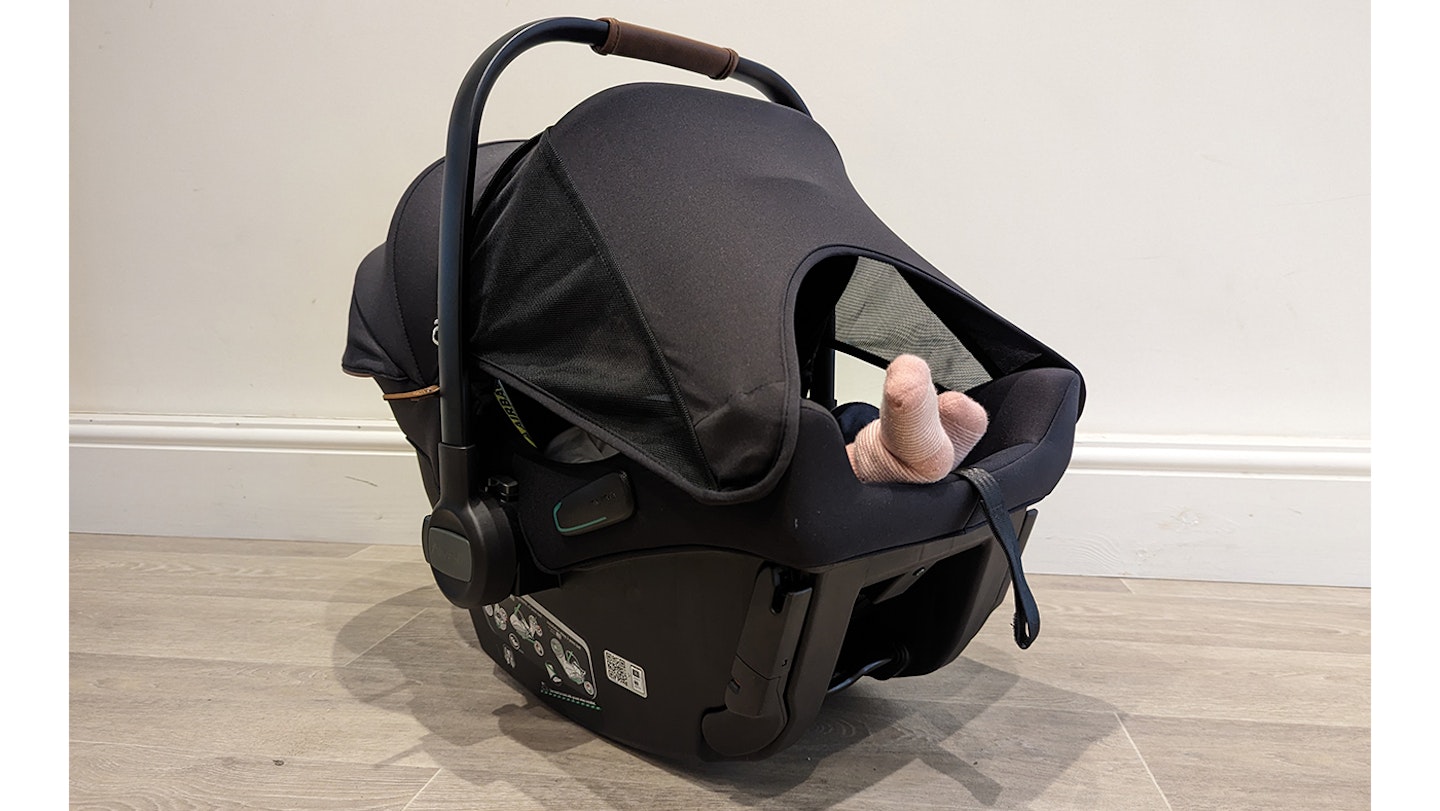 Overall, a super primary car seat if your lifestyle is one of jumping in and out of taxis or perhaps the perfect secondary seat for parents who love the advantages of a swivel base for day-to-day use but need the additional flexibility of the Nuna urbn at weekends, for holidays, or to allow nursery collections by multiple people in multiple cars without the need to have multiple cumbersome bases.
Nuna PIPA urbn FAQ
How long can my baby use the PIPA urbn?
Suitable from birth with an infant head support with a soft surround for smaller babies, your little one can use the baseless infant carrier until they weigh up to 13kg.
What pushchairs can the PIPA urbn be used with?
The PiPA urbn is compatible with all Nuna travel systems. This includes the Nuna TRIV and the Nuna Demi Grow. It can also be used with a range of other brands including the Bugaboo Fox 3 and Donkey 5 plus the Mama & Papa's Ocarro and Strada. You can find more compatible models below.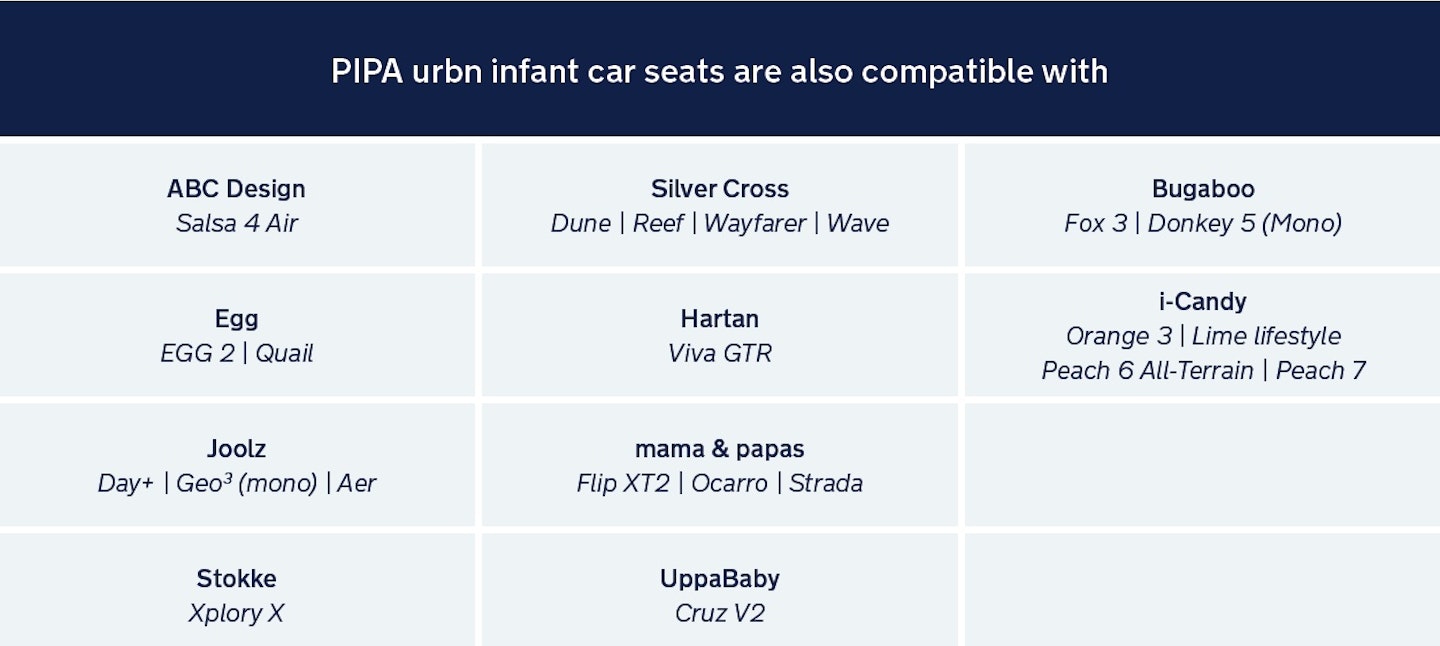 First time dad Matt Tomkins is a motoring journalist and classic car enthusiast who writes for Practical Classics Magazine. His baby daughter was born in January 2023.