A fantastic group 0+/1 Isofix car seat that smoothly rotates 360° at an exceptional price with no compromise on safety or quality safety features, the Graco Turn2Me 360° is brilliant for babies. An intuitive rearward/forward-facing locking system means easy and instant installation with the reassurance of an integrated colour-coded indicator.
As far as cheap car seats go, this is one of the best thanks to its numerous features. A 12-position load-leg ensures the best fit for the car. Side impact protection ensures powerful head/body protection at each stage. The no re-thread harness guarantees a proper fit as your child grows.
The Graco Turn2Me 360 has also won a bronze award for Best Baby/Toddler Car Seat (Stage 1/2) at the 2024 Mother&Baby Awards.
We spoke to these real parent testers to get their review...
Pros
10 overall recline positions (5 rearward and 5 forward-facing)
ISOFIX
360 turn
Built-in side ventilation
Testing the Graco Turn2Me 360°
Katie: This is a fab Graco Turn2Me 360° car seat that is incredibly practical and easy to use. It's easy to fit into the car with the Isofix attachments so takes seconds making it easy to swap between cars if needed. The spin function means it's easy to get the baby in and out without having to reach over at awkward angles. It also means an older child can forward face or rear face with ease.
I really liked the ease of fitting the car seat and also adjusting it to meet the size of the baby as they grow. It has a recline function for naps/younger children and my baby seemed really comfy in it. The car seat covers are easy to clean which is always a bonus. I found it easy to use and liked the ability to lift my baby into the seat without having to reach around at an awkward angle.
Hollie: The Graco Turn2Me 360° car seat is fantastic because it turns out towards the road making it really easy to get a wriggly one-year-old in and out. It's particularly helpful now that I can no longer lift my child in his travel system car seat for long because he is heavy. The Isofix being attached to the seat also makes it easier to move between our two family cars. It's also fantastic that it is suitable for up to 4-year-olds, I was able to test it with my 3-year-old nephew as well as my 1-year-old old and he loved it.
I would recommend this car seat to a fellow mum because of the rotating seat and the fixed Isofix which was straightforward to install (when you know how). Fastening my baby into the car seat is also really straightforward and there are lots of different options to make the seat suitable for your little one e.g. booster cushion, newborn insert etc.
Leah: The turning function makes it so much easier to get baby in and out of the car and get them strapped in well. It definitely made the process quicker and easier for me. I also love how this seat can be used as a rear or forward-facing for when baby is a bit older. It was pretty easy to install in the car also.
I would recommend the product for its ease of use and quality. It feels really sturdy although maybe a little bulky but I feel that my baby is safe in it. I also think it is priced competitively compared to other similar products on the market. As it's not the type of car seat that is to be taken out of the car regularly the turn function really makes it easier to get the baby in.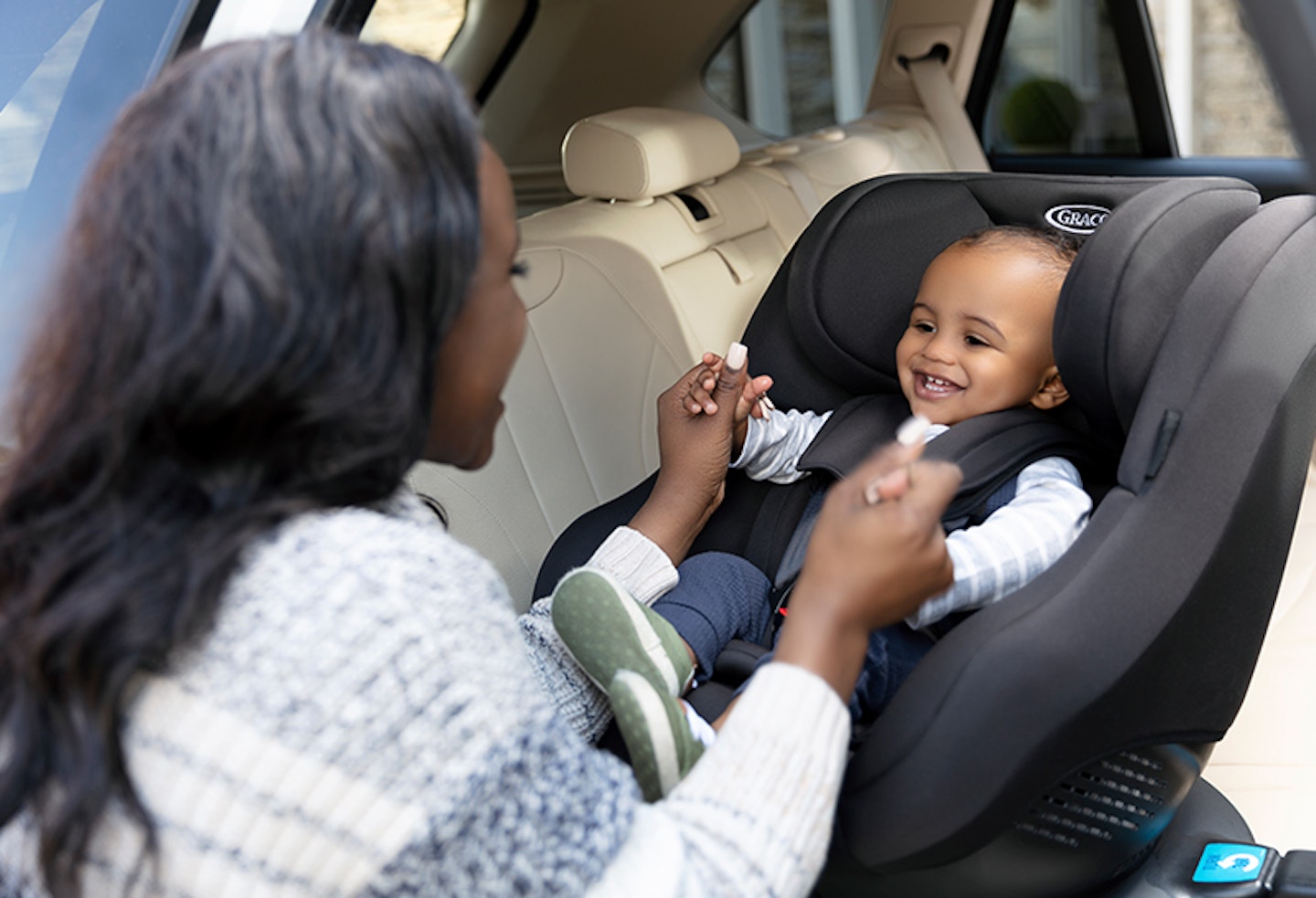 Final thoughts
Leah: I would definitely choose to product to win and I have in fact since purchased this car seat. Compared to similar products this one is really well priced and I really liked the product when I tested it. I like that it has recline options for if the baby falls asleep in the car and it feels very safe with the Isofix fitting and support leg.
One thing I would maybe change, or rather add, would be a little hood to either keep the sun off the baby or go pull over when they fall asleep. I found with my first car seat that the hood was really handy before I got sun visors and to help the baby fall asleep by making it a little darker. Otherwise, there's nothing really I would change.
Madelaine: I think this is an excellent car seat and gives real value for money. It is very similar to the Joie 360 i-Spin however the Graco seat is a fair amount cheaper. My little one appeared to love this seat and looked comfortable whenever we were out in the car. The seat has little hooks on either side to hold each strap out of the way when they are not in use. Only a very small feature but it really does make it easier when you aren't trying to hold the straps out of the way whilst putting baby in the seat. The Isofix fittings make this seat so easy to install and the overall shape and design of the seat look and feel safe and sturdy.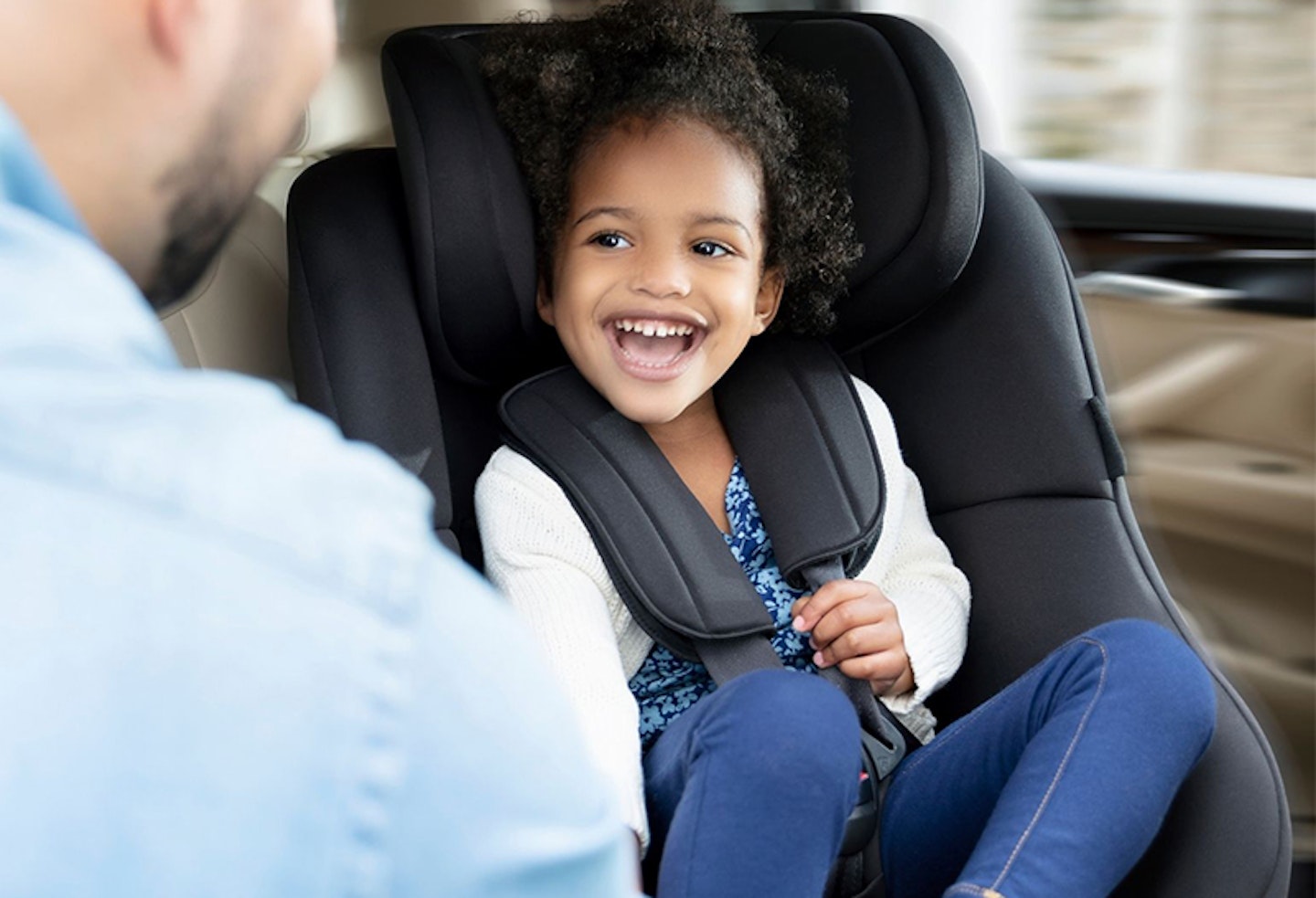 Lucie: This car seat should win, for quality, value, and design it just hits top marks from me for all and it's an item if I had another child I would actually purchase myself. Easy to fit in the car, Isofix fixings, rear and forward facing and the littlest was really comfy in it too, making longer journeys a little easier.
There's absolutely nothing I would change with this car seat, I'm not bothered about different colours etc just give me a seat at a great price point, which tests safety well, is a known brand and is as easy to fit and use as this one and I'll be happy! This seat ticks all those boxes and most importantly, my children were comfortable and safe in it.
Katie: I'm really pleased with the car seat and definitely think a rotating seat is worth the money. This one is slightly cheaper than others on the market, making it a good choice. I found the recline button and the rotation button to be a bit difficult to reach when rear-facing and as they are so close to each other it's possible to get them confused, but once I'd familiarised myself with them, we've not found it to be a problem.
Emily Gilbert is the Features & Reviews Editor for Mother&Baby and has written for the website and previously the magazine for six years. Specialising in product reviews, Emily is the first to know about all the exciting new releases in the parenting industry.