Finding the best car seat for a 3-year-old can be tricky. At the age of three, your child will have likely outgrown their baby car seat and now need the very best car seat that will be suitable for their weight and height as well as being safe and secure enough to harness a wriggling three-year-old.
While car seats for 3-year-olds will not come as part of a complete travel system like your infant carrier may have, they're still packed with handy features such as multiple recline options and easy adjustability. There are now even rear-facing toddler car seats that go up to age four, which you may prefer.
The best car seats for 3-year-olds at a glance:
• Best car seat for 360 spin: Silver Cross Motion All Size 360 Car Seat - View offer on Silver Cross Baby
• Best car seat for for longevity: Joie Bold Group 1/2/3 Car Seat - View offer on Halfords
• Best car seat for durability: Cybex Gold Pallas G i-Size Child's Car Seat - View offer on Amazon
• Best forward-facing car seat: Cosatto Zoomi Car Seat - View offer on Amazon UK
In the UK, it's a legal requirement for children to use a car seat until the age of 12 or 135cm in height, so a car seat for your three-year-old is a must. We've compiled a list of the very best car seats for your 3 year old; check them out below.
The best car seats for 3-year-olds
Best car seat for 360 spin
Description
Winning Gold for Best Multi Stage Car Seat at the 2022 Mother&Baby Awards, this Silver Cross
Pros
Side protection system
Sturdy and secure
360-degree rotating seat unit
Cons
Car seat depth is very deep
Best car seat for long journeys
Description
Our Silver winner for Best Multi Stage Car Seat in the 2021 Mother&Baby Awards, the Joie Bold
Pros
Side impact protection
Converts from a 3-point harness seat into a high-back booster
Includes cup holder
Best convertible car seat
Description
The long-lasting Maxi-Cosi Titan Plus Car Seat has an extra padded inlay, seat and headrest and
Pros
Can convert into a Group 2/3 car seat
Enhanced side impact protection
Seat inserts are easy to remove
Recommended
Description
Available in six different colourways to match your car interiors or your little one's
Pros
Can be used up to 12 years
Built-in side impact protection 
Removable cover
Best forward-facing car seat
Description
If you're looking for a cute car seat for a cute three-year-old, the Cosatto Zoomi Car Seat comes
Pros
Fun designs
Side impact protection
Anti-escape system
Best car seat for adjustability
Description
Shortlisted for the Mother&Baby Awards 2022, the Nuna Todl Next Car Seat will take your child from
Pros
Side impact protection
Easy to adjust
Front-facing
Best car seat for comfort
Description
Designed for children from 15-36 kg (approx. 4 to 12 years), the assure group 2/3 high back
Pros
Safety surround side impact protection, which gives your child the ideal head and body protection
Open-loop belt guides to help ensure proper seat belt positioning
Cons
Not enough foam in car seat
Car seat FAQs
What car seat does a 3-year-old need?
Car seats for children are determined by their weight, rather than their age, under ECE R44 regulations, and so by using this measurement, you'll be able to find the best 'stage group' for your little one.
All of the below stage groups would be suitable for a three-year-old:
Group 0+/1 car seats: Suitable from birth to 18kg, approx. four-years-old.
Group 1 car seats: Suitable for children 9-18kg, approx. nine months to four years old.
Group 0+/1/2 car seats: Suitable from birth to 25kg, approx. six-years-old.
Group 1/2/3 car seats: Suitable for children 9-36kg, approx. nine months to 12 years.
Group 2/3 car seats: Suitable for children 15-36kg, approx. three to 12 years old.
Laws and safety for car seats
Children must use a child car seat until they're 12 years old or 135 centimetres tall, depending on which comes first. You can choose a suitable car seat based on your child's height or weight.
Known as i-Size seats, height-based seats must be used rear-facing until your little one is over 15 months old, from which point you can switch to a forward-facing car seat.
As explained in our guide above, weight-based seats depend on the weight of your child and on most occasions, you can choose from more than one type of seat in the group for your child's weight.
You should only use a children's car seat if your car's seat belt has a diagonal strap, unless the seat is either fitted using ISOFIX anchor points or designed specifically for use with a lap seat belt.
Be sure to double-check that your chosen car seat is suitable for the model of your car before purchasing.
Choosing the right car seat for you
If you're buying a new car seat for a growing three-year-old, we would recommend choosing stage Group 1/2/3 and up.
The lower group stages will only be able to be used for a limited amount of time at this age before you need to buy a new car seat. So you wouldn't be getting the best value for money.
Group 1/2/3 are classed as multi-stage car seats, they're designed to carry your child from birth to the booster-seat stage, adapting to each stage with the necessary safety features. They are initially more expensive compared to other car seats on the market, but they can be used until your child is too old – talk about futureproofing!
A five-point car seat safety harness come with adequate padding and most of these seats will fit children up to 18 or 25kg.
If your child is already over 15kg, we would recommend choosing a Group 2/3 car seat instead. This seat will lift your child up to use the vehicle seat belt and comes with a high back and side padding for safety and impact protection. Depending on the age of your child, you may also want to look into the best car seats for 4 year olds.
The exception to the weight-based rule lies with i-Size car seats. Using a height-based system instead and expected to be adopted across new car seats in the future, i-Size was introduced in 2013 and under safety regulation - ECE R129, uses rigorous testing through state-of-the-art Q dummies impact trials.
Using height as a measurement instead, it takes the guesswork out of choosing the right fit for your child and provides better protection from side impacts. These car seats are also highly recommended.
As well as the safety elements, you should consider the features that are important to you in a car seat. For example:
• 360 spin: This function is top of the list for many parents as it makes getting squirming children into their seat much easier without needing to break your back in the process.
• Extended rear-facing: A rear-facing car seat is a legal requirement until 15 months but a lot of parents are now on the hunt for a car seat that can be used rear-facing for longer.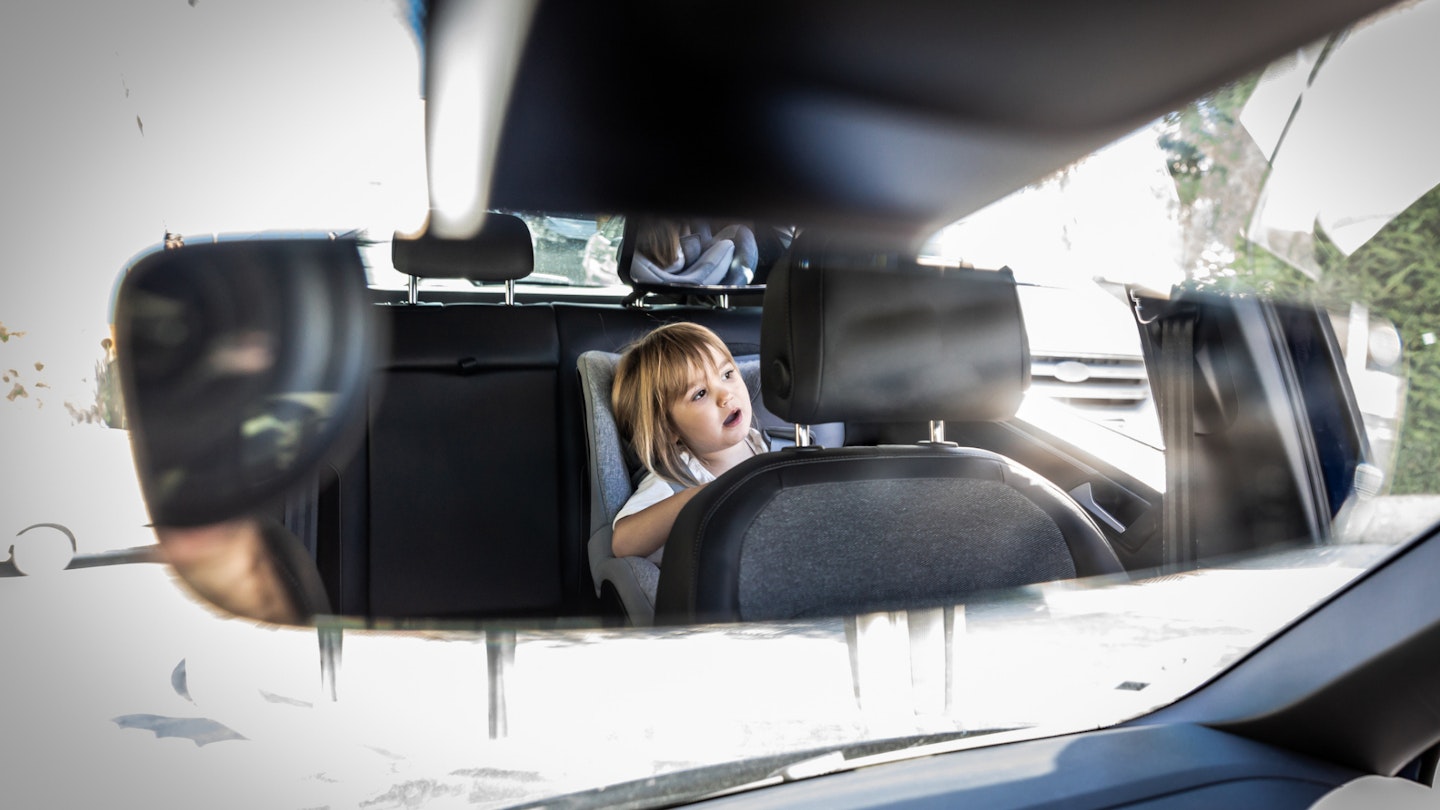 Can a 3-year-old sit in a booster seat?
This completely depends on your child's weight and height.
Based on new safety regulations launched in 2017, Group 3 car seats i.e. new booster seats on the market, are limited to children who are taller than 125cm, weighing more than 22kg.
The average height and weight of a three-year-old in the UK fall below these requirements, so it's likely they would not be able to use a booster seat.
It's recommended that you should keep your child in the lowest stage group possible as these provide the best safety features.
What is ISOFIX?
ISOFIX-compatible car seats have two arms that lock onto small metal bars located in the seat of your vehicle to anchor the car seat into place.
Great for seamless installation with no seat belt threading necessary, they also come accompanied with install indicators, so you can be sure it's correctly connected.
Most new cars since 2013 have a pair of ISOFIX anchor points, but it's something worth checking if this is the case with your own car if you want to make the most of it.
How we tested the best car seats for 3-year-olds
Every year, our panel of real mums tests and reviews parenting products such as car seats for the annual Mother&Baby Awards.
Our list of the best car seats for 3-year-olds comes recommended by like-minded parents – who have experienced these car seats personally.
A number of the car seats in our list are also previous Mother&Baby Awards shortlisters and winners.
Eleanor Weaver is the Deputy Homes & Garden Product Editor and has been a writer for titles such as Mother&Baby and Yours. In her role, she has researched and recommended the best products for parents, from breast pumps to toys, nursery décor to car seats. She's also kept a keen eye on celeb mums and influencers to share what they've been using to help make parenting that little bit easier.