The Totter + Tumble Playmat is no ordinary baby play mat, these mats ooze luxury, while remaining functional and stylish. Each play mat is made of soft 1.3cm thick memory foam, and doubles up as a modern rug that can be wiped clean.
When the brand first started out they launched with the Standard and Compact sizes in designs such as the Totter + Tumble Scout Playmat. Each design becoming popular for it's comfortable, safe features and reversible design options. There is a pattern to suit any home interior and keep your little ones safe. More designs include, The Totter + Tumble Mariner Playmat and the Totter + Tumble The Rambler Playmat. The brand then went on to offer more sizes including The Round, The Play Runner and adding more designs, plus some fun collaborations - one being with Morris & Co. introducing The Strawberry Thief Playmat.
As the brand grows and new for 2023, founder Susie Stubbs and the brand's in-house designer, Kayleigh Flatter-Taft, introduced two new designs across two playmats, The Totter + Tumble The Tali + The Odissi and The Kasuri + The Atlas. Speaking about her new collection Susie says, "This collection is heavily inspired by ancient textures. We were drawn to Ikat textiles - a weaving technique that is popular in many countries and from this we created our first Ikat motifs. Intricate while still being simple in effect, we paired with timeless tones to create a versatile, textural offering."
We have reviewed several Totter + Tumble Playmats over the years. Find out why we love using the functional, safe and stylish playmats in our review below.
Pros
Durable and lasts for years
Easy to clean
Variety of colour/design options and sizes
Reversible designs
Safe for newborns
Stylish and fits in with household decor
Recyclable
Swatch service available
Cons
Due to the foam, furniture can leave dents in the mat which take a while to pop out
Testing the Totter + Tumble Playmat
Is it possible to be in love with a playmat? As a mum-of-two I'm grateful to have a play mat that doesn't have a million pieces to it. Roll out the Totter + Tumble playmat straight out of the box and we're good to go.
My children and I feel comfortable and supported every time we use the Totter + Tumble Playmat. From playing, drawing, crafting, to rolling around and indoor picnics on these mats, I'm 100 per cent reassured that my little ones are comfortable. I can change nappies without reaching for a change mat, the play mat fits in with my home decor, and friends can't believe it's a playmat when they visit. A versatile play mat that is worth every penny. I love so many of the designs and in my time I've used the Tali / Odissi and The Keeper Totter + Tumble Playmats.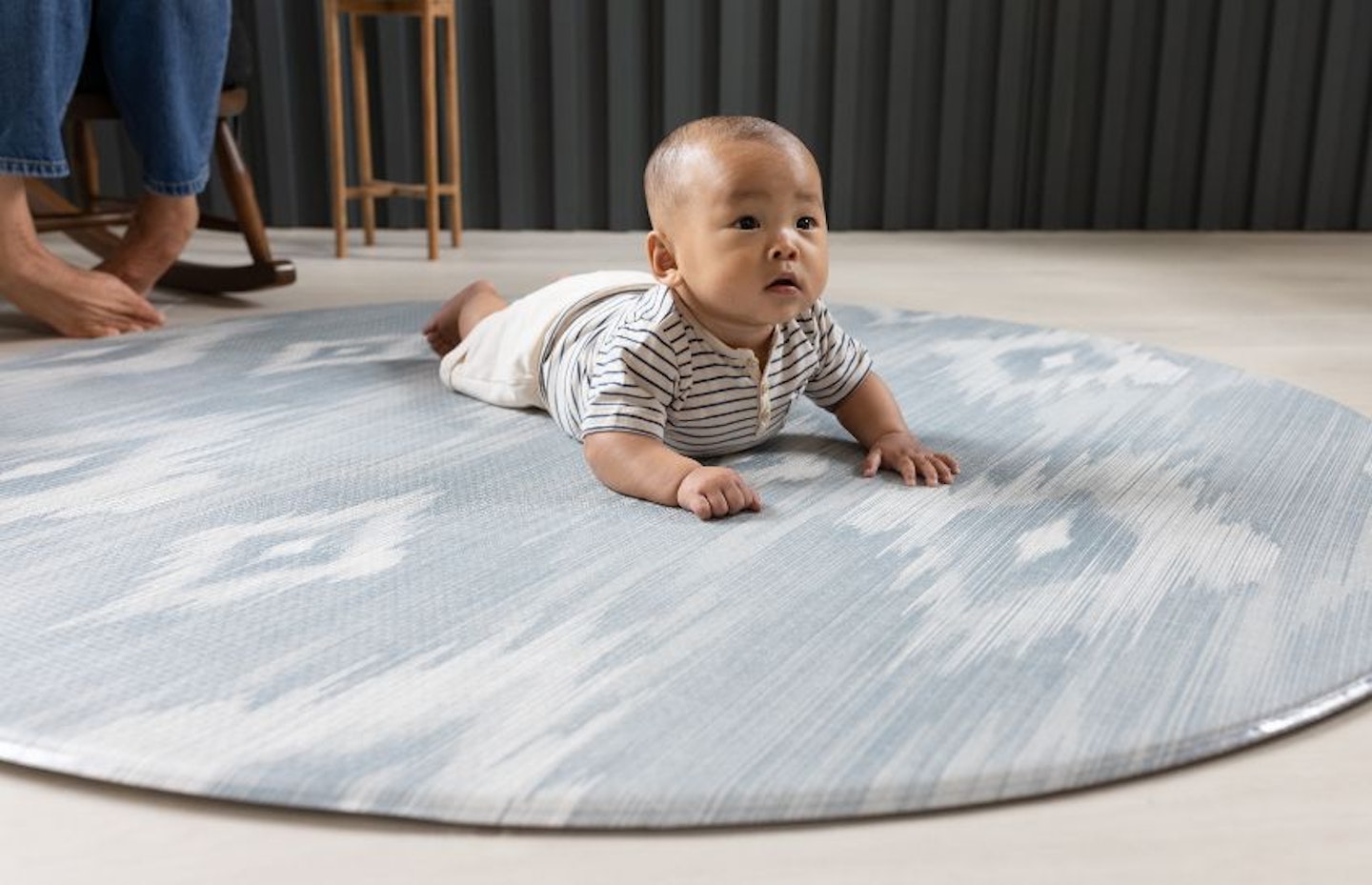 It's a very comfortable mat that my toddler enjoys playing/rolling/jumping/driving/painting on, it's saved him from the odd head conk too. The T+T playmat also doubles up as an exercise mat for me. If I ever wanted to become a YouTuber this would be front row in all my videos and make me look uber cool. However, for my home workouts these are perfect, comfortable and the right size without squirming over the edges of a yoga mat.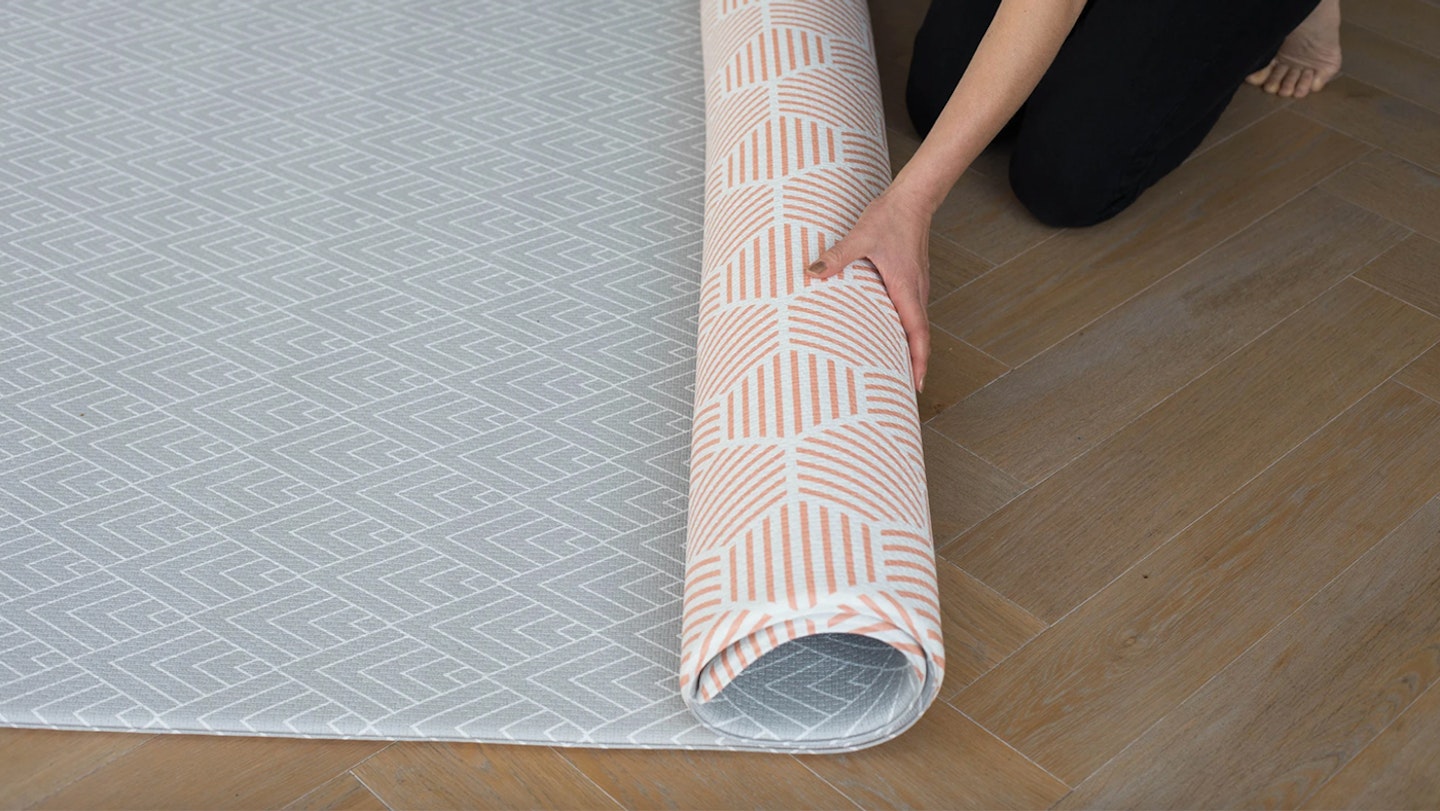 The T+T mat is by far one of the best additions to our family life. Its multi-functional layers have made me and my children happier. It's got us off the sofa and playing altogether on the floor. It even keeps my bottom or knees cushioned, so I'm reassured it's keeping my little ones safe.
It comes with a reversible design, and I love that there can be more playful colours, with an option to flip over for a more sophisticated option. This mat isn't just for the kids, it sparks joy in adults too. Honestly, I don't mind having toys about the place, I love seeing my kids be kids, but when they're sleeping at night and the living room is mine again for a couple of hours, it's nice to have some serenity without being cocooned in baby stuff.
Some Totter + Tumble features
The soft memory foam is well made, sturdy and I can place my toddler down safely without fear her head will get knocked.
The mat keeps its shape and even if you place furniture over it, the memory foam bounces back. Granted, it takes a good few days for the mat to pop back into shape from the odd coffee table leg dent, but it does go back to normal.
I will bang on about this all day, you can wipe it clean! Puke, poo, snacks, nothing fazes it. Totter + Tumble's playmat has a smooth surface so no need to dig the morning's Weetabix out.
Totter + Tumble also offer a swatch service if you're unsure of what style you'd like or if you just want to see the quality.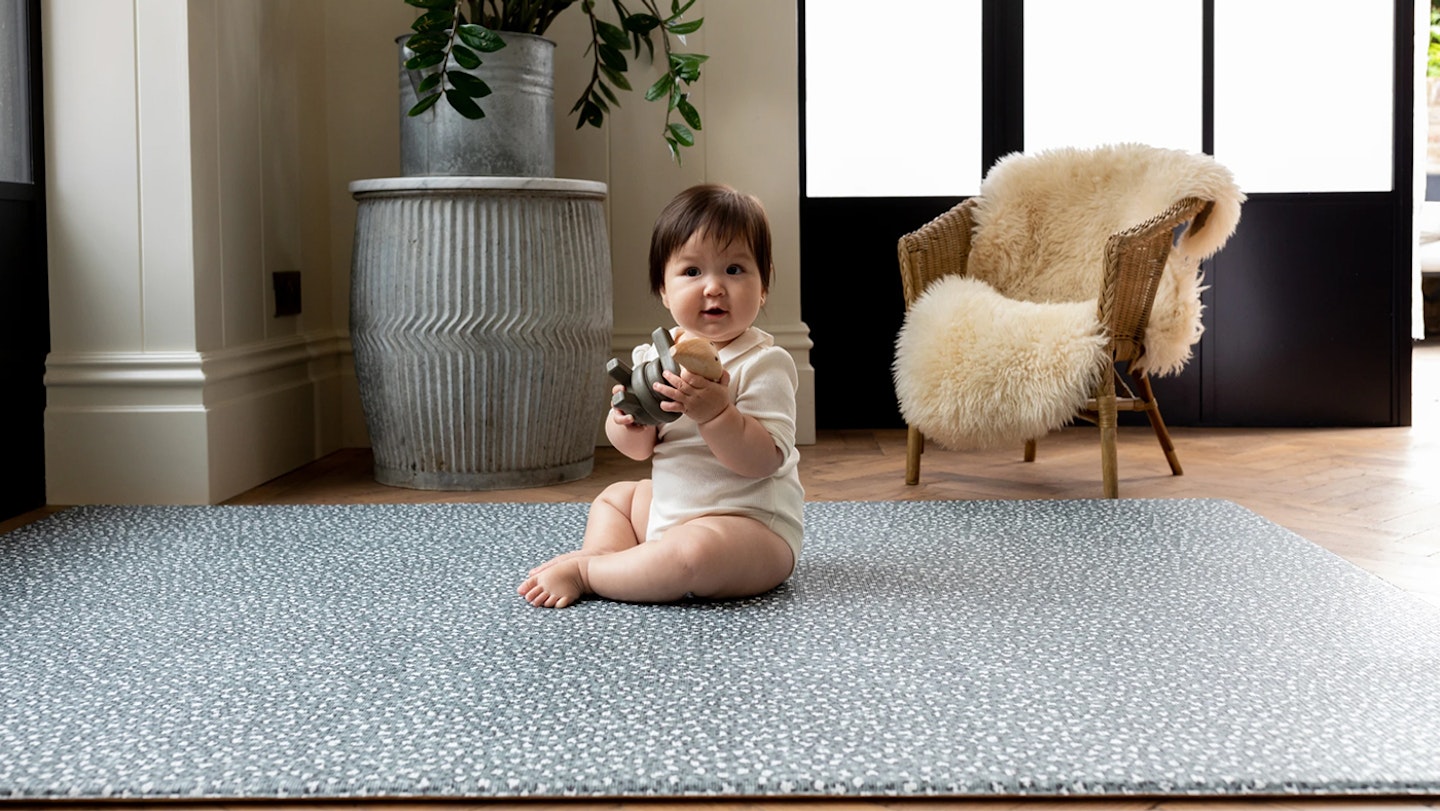 Final thoughts
My children are 4 and 2 years old and I can say I haven't seen a one-piece play mat like this anywhere in the UK. There are a few similar options out there on the market, however Totter + Tumble definitely offer a unique option. Tiled play mats were never my thing so to have a one-piece, saves me one less thing to clean up and shove to the side.
The quality of the Totter + Tumble Playmat stands out. It's 1.3cm thick and supports both my children's needs. The play mat feels robust, and will literally last you for years! It doesn't lose its shape and ticks all the boxes.
I guess it depends on what you're looking for. For my family, we don't have space for a nursery room and I like the ease of having a play mat that fits in with the décor of our living room. I've had the numbered tiled play mats and while they're fun and colourful, they're nowhere near as stylish and supportive as Totter + Tumbles. Plus, you can end up spending £50-£70 for one of those tiled mats and the won't last. I'd recommend the T+T one every single time.
Totter + Tumble Playmat FAQs
What sizes are Totter + Tumble Playmats?
Made from non-toxic PVC memory foam, the Totter + Tumble play mats come in a few different sizes, The Standard (210cm x 140cm), The Compact (185cm x 125cm), The Round (138cm diameter) and The Play Runner (180cm x 65cm).
Is the Totter + Tumble Playmat worth it?
If you're looking for a multi-functional mat which looks stylish in your home, is one-piece, and will keep your children safe then, yes this is worth it. It lasts for years, it's extremely durable, it's wipe clean and will protect you and your little ones. You can also use it as an exercise mat should you choose to.
Maria Martin is Digital Group Editor for Yours.co.uk and Motherandbaby.com. She is a mum-of-two with a passion for helping women from all walks of life – from supporting breastfeeding mothers with expert advice to encouraging conversations about mental health. In her professional role, she has over 10 years' experience in the digital world, including editing articles, focussing on SEO, social media engagement, picture researching and video editing.