Many parents choose to purchase a baby carrier for their infant. Not only is it a lovely way to bond but it's also incredibly convenient when you need both hands or want to leave the pushchair behind.
The Original Volume 2 Baby Carrier is a product by the Swedish brand Najell. You may have seen their popularity increase on social media with all of their baby carriers having lovely designs without looking clunky and full of buckles like other carriers. The Original Volume 2 has a more modern yet very practical feel to a classic product. Better yet, it's currently on offer for Black Friday with over £30 off.
Here's how new mum Ria got on when using the Najell Original Volume 2 baby carrier with her baby.
Pros
Comfy and stylish
Only one carrier is needed as takes you from newborn to 3 years
Versatile
Friendly for postpartum bodies
Washable up to 40 degrees
Environmentally friendly as it's made using recycled fabrics
Magnetic clips mean putting baby in is quick and easy
Extra pouch for carrying essentials
Cons
Not as compact for travel
On the heavier side of baby carriers 950g in weight
Testing the Najell Original Volume 2 baby carrier
"My husband and I have been testing the Najell Original Volume 2 with our newborn for the past few weeks. As first time parents, juggling all the new experiences that come with a newborn, it was really important to us to have a baby carrier that we could use for our newborn and beyond.
The colour and fabric of the baby carrier are lovely too, so soft and not scratchy at all. In my opinion, it is definitely one of the most aesthetic baby carriers on the market and the colourways are also very on-trend - it was actually really hard to decide which colourway to get!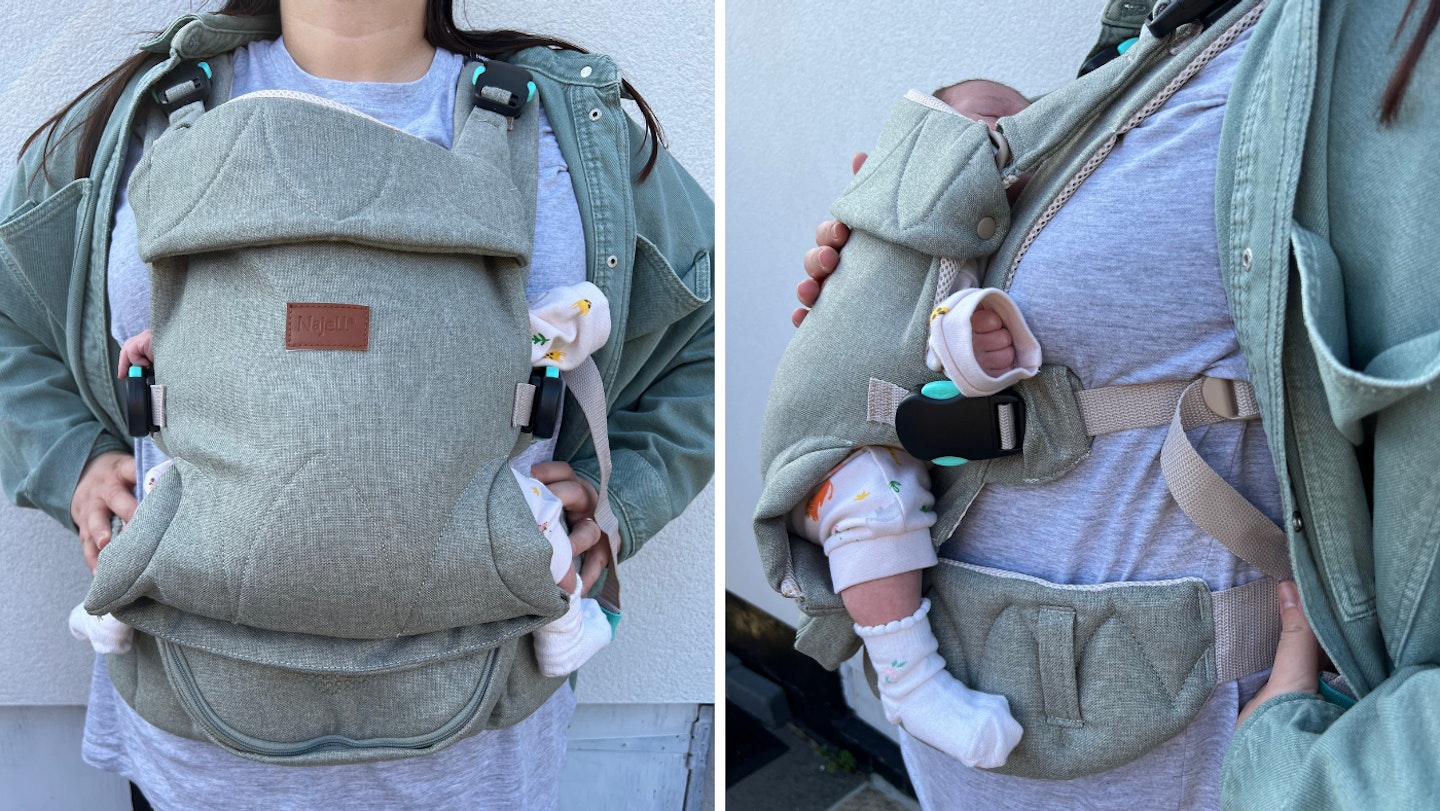 There's a manual in the box that explains all the different uses and how to use them correctly which is definitely helpful for a first-time parent. We've been very impressed with how versatile it is and that we won't need more than one baby carrier to see us through the next three years in just one product.
I'm really excited to try the other ways of wearing the Najell baby carrier as she gets older. I think the hip seat, sitting position and being able to carry her on the back will ensure it can last us a long time, just as it says on the box.
The carrier has a padded waistband and shoulder straps that make it very comfy to wear (even with a post-partum belly and c-section scar) and I imagine this will be particularly helpful as she gets bigger and we are carrying that little bit more weight. It's also really easy to adjust the size between my husband and I, so we can both get use out of the carrier.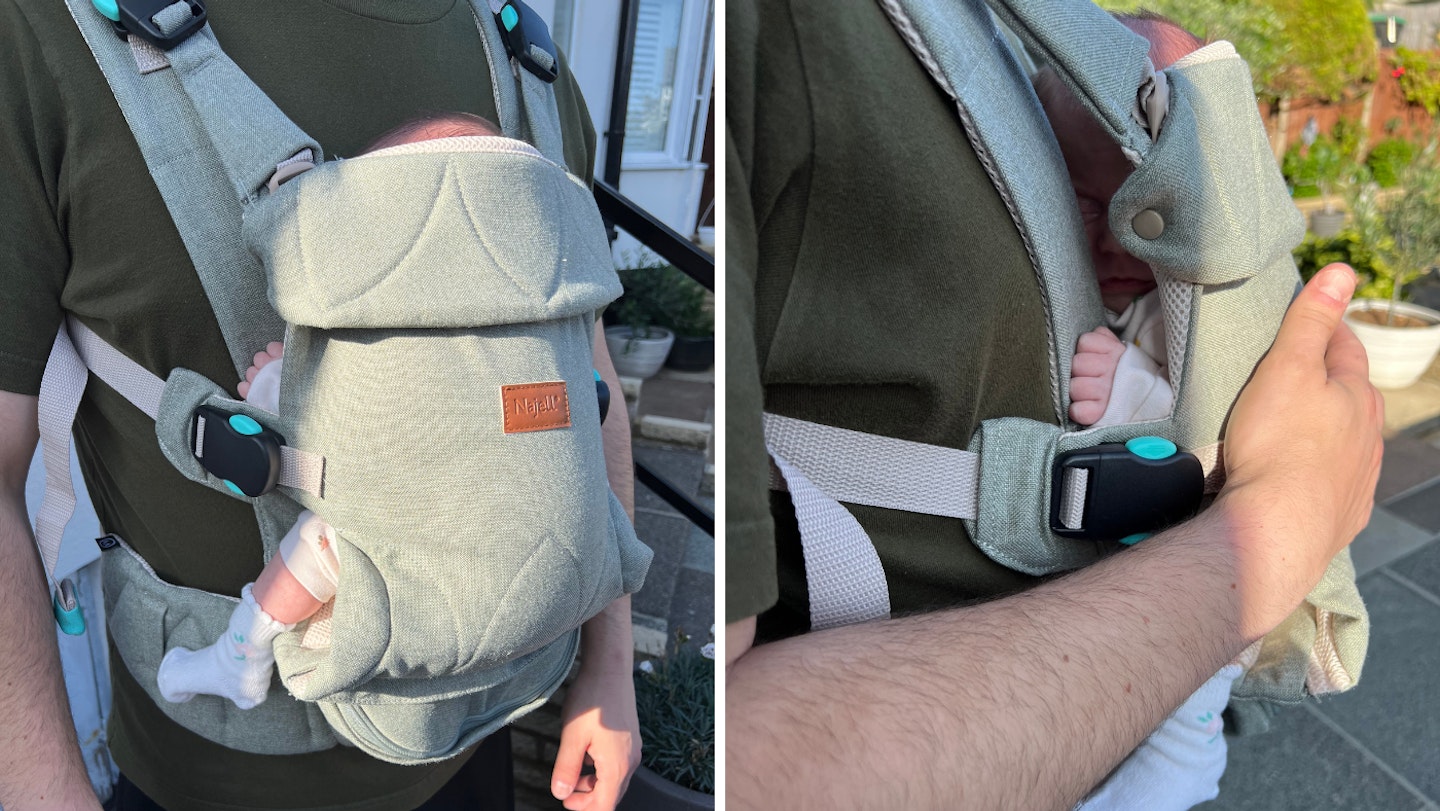 The magnetic clip system is so quick and secure that it means I can put our little one in without assistance. It takes a matter of seconds to strap in our little one and we've actually ditched the pram for small dog walks and use the Najell baby carrier as it's so easy to put her in. It takes the same amount of time to put our dog on the lead and we're out the door. There is no need to lift a pram out with the bassinet saving so much precious time. We've also used it in the supermarket on a quick run to get formula but allowing us to carry shopping and our little girl to be settled and close to us.
The Najell Original Volume 2 baby carrier has a little zipped pouch that allows me to fit basics such as money, cards, phone etc in so there is no need to also think about how to put my backpack or handbag around me when I'm going out quickly.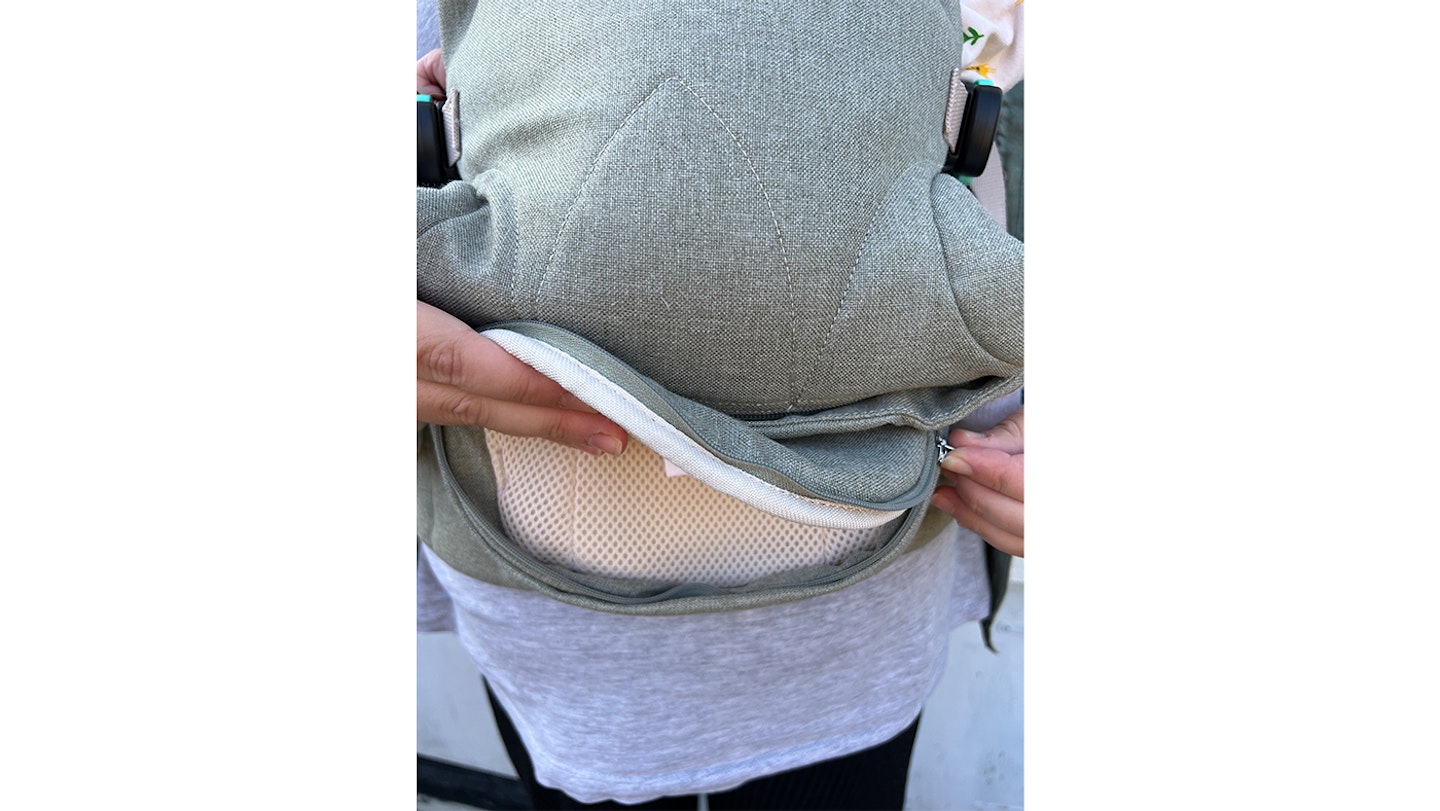 A big bonus is that it's machine washable meaning that I don't have to worry about any milk dribble or reflux that might get on the carrier.
We have been able to use our Najell baby carrier in the house to keep our hands free whilst our little one sleeps, meaning we are still able to get around and do what needs to be done in the house (such as all that washing!) and have our baby settle with us instead of worrying about relying on the baby monitor and picking her up every time she cries. She always settles really well when in the carrier and vitally, I have really enjoyed the closeness we've been able to have in the first few weeks with such a comfy carrier."
Final verdict
"Overall I would genuinely recommend this baby carrier to my friends and family and I am excited to continue to use it as our baby grows and switch between all its functions. It's already had so much use in the house and outside and it's so comfy to have on."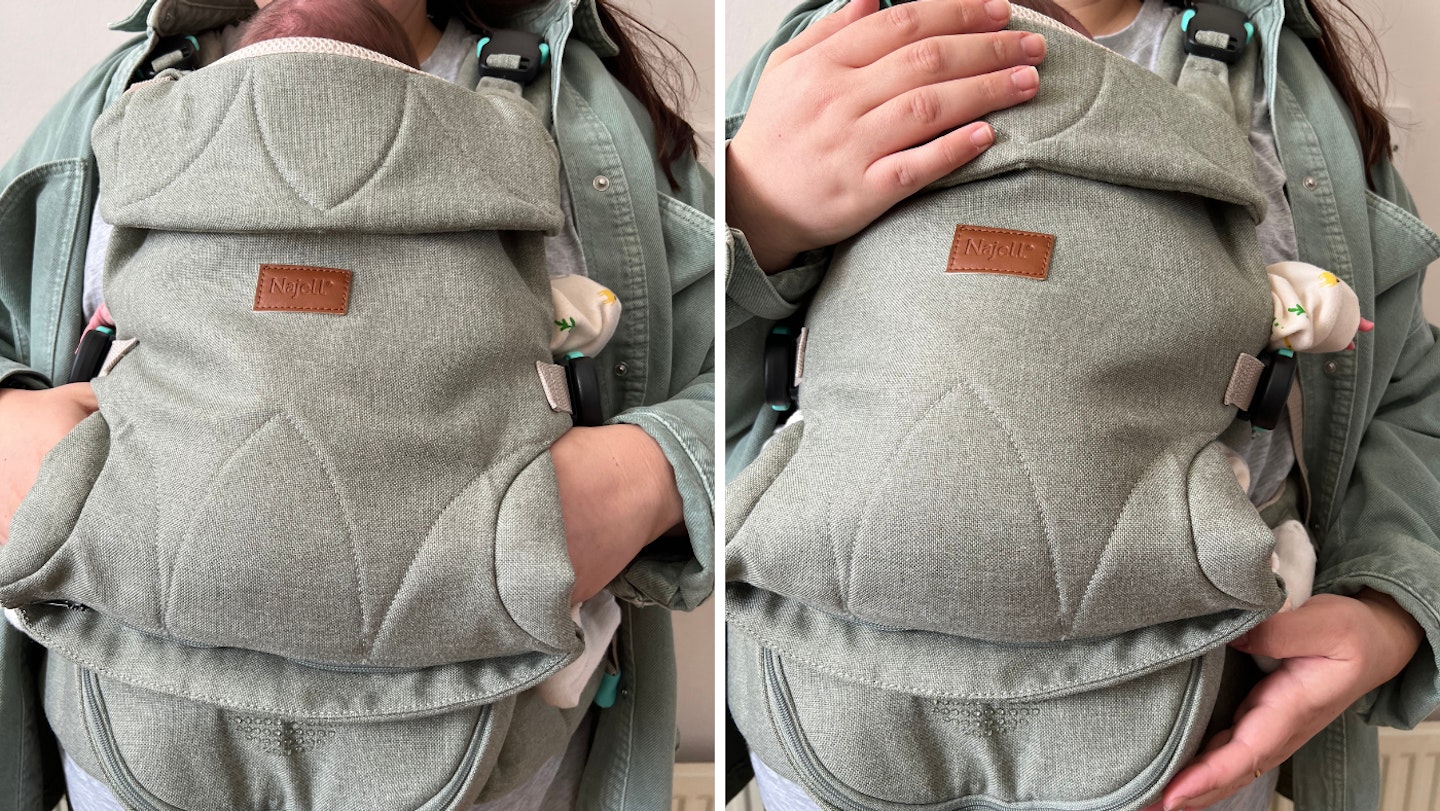 Najell Original Volume 2 baby carrier FAQs
Is the Najell Original Volume 2 baby carrier good when you've had a c-section?
Yes! You can remove the waist belt of the carrier which will then remove the pressure that is put on your lower belly.
How can I use the Najell Original Volume 2 baby carrier as a hip seat?
Just by removing the upper section of the baby carrier, you can transform it into a pure Hip Seat, ideal for speedy up and downs when your youngster wants to be in to be in your arms.
Is the Najell Original Volume 2 baby carrier hip healthy?
Yep, every single one of Najell's baby carriers are recommended as hip-healthy carriers by the International Hip Dysplasia Institute.
Emily Gilbert is the Features & Reviews Editor for Mother&Baby and has written for the website and previously the magazine for six years. Specialising in product reviews, Emily is the first to know about all the exciting new releases in the parenting industry.