Baby monitors are an essential for any parent who wants reassurance and peace of mind when it comes to their baby sleeping. The Angelcare Ac327 Baby Monitor does just that, and helps to provide reassurance to parents, knowing that their baby is safe and sleeping comfortably.
With an automatic connection from camera to monitor, it has day and night vision so that you can constantly monitor your baby without having to turn on any lights and disturb them.
Angelcare as a brand pride themselves on "giving parents the confidence to take a deep breath, relax and savour every moment of their new life" and as a parent, having that peace of mind is important.
Pros
Automatically connects
Two-way talk back
Easy to mount to wall
Cons
No phone-app
Limited range on camera
Key Features
The Angelcare Ac327 monitor has a variety of different features to help make it as practical and beneficial for parents as possible.
Wireless Sens-Asure movement pad and alarm: it helps to monitor the movement of your baby without actually touching them. Through a battery operated pad that's placed beneath the mattress, it will trigger an alert to the monitor if it doesn't detect movement for 20 seconds.
Portable parent unit: allows you to carry the baby monitor around the home with you, without having to keep it plugged in to work. It also has up to five hours battery life when fully charged, and up to eight hours when night mode is turned on.
Live and night vision: the 4.3 inch display screen allows for seeing baby sleep clearly at any time of day or night and without any video delays.
Voice activated sound transmission: the monitor blocks out white noise and will play sound when it detects crying or a voice
Testing the Angelcare Ac327 baby monitor
Performance
The Angelcare Ac327 has plenty of positives that make it a good choice for a baby monitor. It helped to relieve some of the fears that come with the transition of putting my baby to sleep in a separate room, such as the voice activated sound transmission, night vision and the Sens-Asure movement pad.
By having night vision and night mode, it was easier to see my daughter without having to leave a light on or leaving a night light on in her room.
The settings can also be adjusted so that the sound on the monitor is muted during the night, as well as the display turning off. The monitor will then turn back on when it senses continuous noise or movement, and will still alert from the Sens-Asure pad if it needs to. Night mode also prolongs battery life too.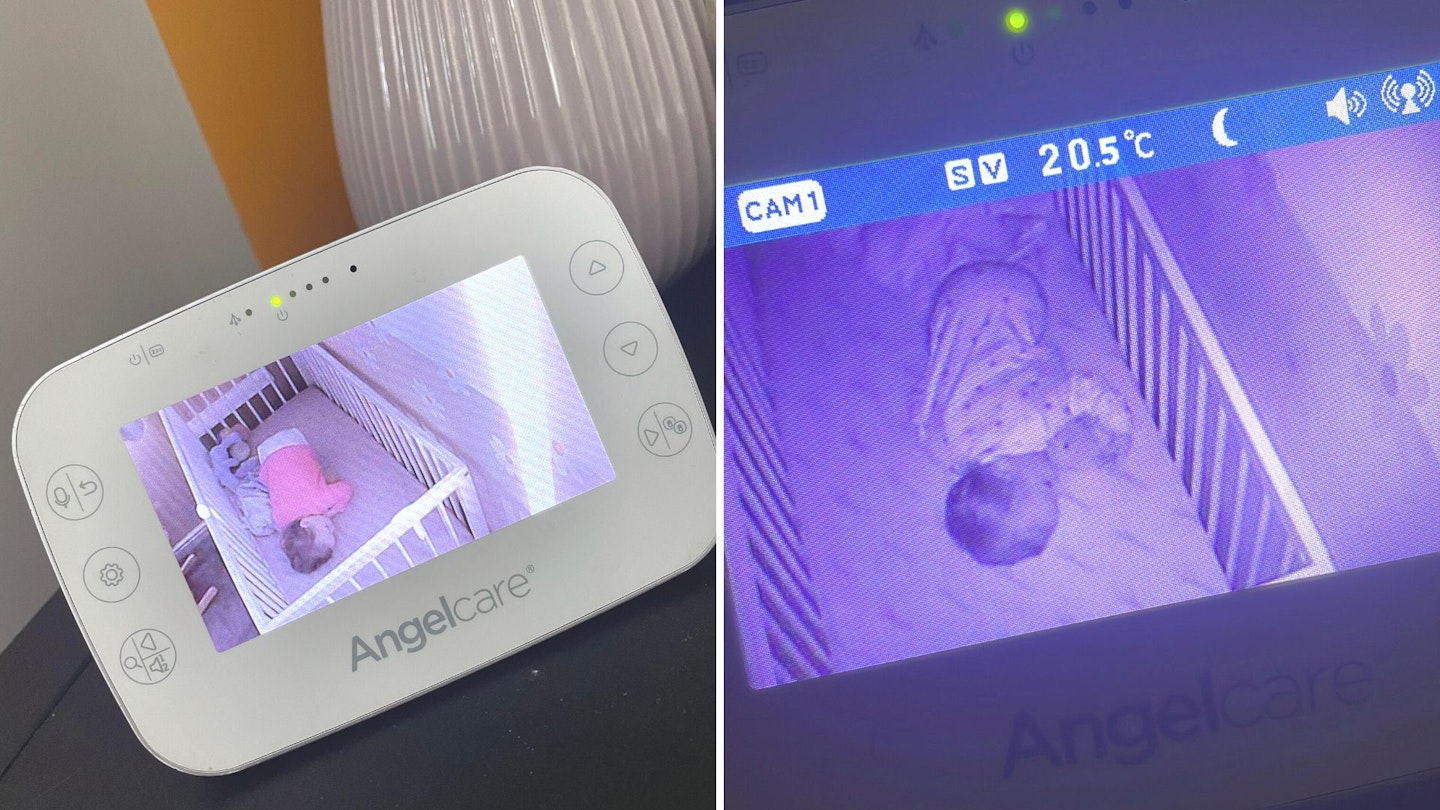 Another feature I loved was that it mutes white noise. While with some baby monitors you can hear a muffled humming sound or it constantly plays live sound, this monitor mutes the white noise so that it is completely silent, until it detects sound from the same room as the camera is.
This meant that during the night and for nap times, we weren't constantly listening to humming noises or being disturbed by our daughter wiggling around in her sleep.
Usability
I found the monitor really easy to set up. The Sens-Asure movement pad, baby monitor and camera are all automatically connected, you just have to turn them on to activate them. This makes setting up a lot quicker, as you don't have to try and sync each device.
The camera can also stand alone or be mounted to the wall, and because of my daughters location I had to secure it on the wall. This was incredibly easy to do as it already came with two screws and wall plugs to ensure it was fastened safe and securely.
Having the two-way speaker made was great to be able to hear our daughter talking or crying through the monitor so we weren't constantly standing outside her room to check if she was babbling, but also we were able to talk to her.
I did find when using the talk-back feature that she sat up to find me in her room, so I only used this feature when she woke from her naps. I did also find that it was great for her dad and I to communicate without either of us having to shout out of her room.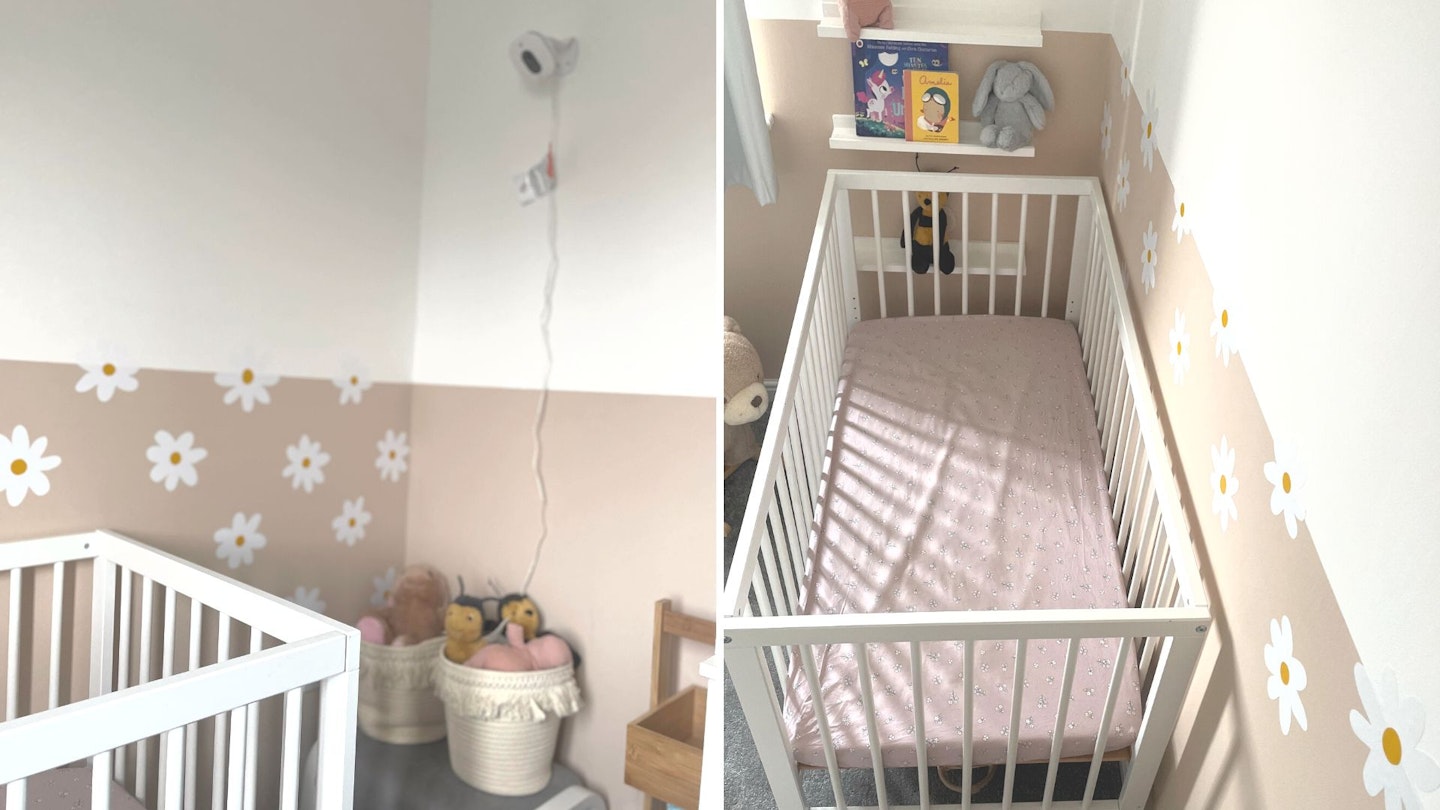 Build
By not having a smart-phone app integration, it does mean you have to carry the monitor around the house if you're moving from different rooms for long periods of time.
While the monitor is a sleek design that's able to be propped up with the attached stand, it is too big to fit in a pocket which would be more convenient. I also found that the connection to the monitor would cut out on the garden, so in warmer months it wouldn't be ideal for being able to keep an eye on your baby outside.
When it came to setting up the camera, I found that as it has to be plugged in, it limits where you can set up the camera. I found one location to plug in too far away so had to plug it in closer to my daughters cot. I also found the wire a bit of an eyesore in my daughters room, and also a potential hazard. It would be worth investing in a secure wire cover to cover and fasten in to the wall.
Final verdict
Before the Angelcare Ac327 Baby Monitor, I was hesitant to put my daughter in her own room and also found myself constantly running up and down the stairs at naptime and in the evening to make sure that she was okay.
With this baby monitor, I was able to relax more, knowing that I could see my baby clearly and also be alerted to when she starts crying straight away.
I did find carrying the monitor around a bit of an inconvenience at times and quite often found myself thinking it would be great to have the camera connected to an app on my phone.
Although this would be an extra step when setting up the camera, it would definitely be more practical and would also save having to charge the baby monitor.
Overall, I absolutely loved the monitor. It was incredibly easy to set up and didn't require any form of DIY skills to secure the monitor to the wall. The two-way talk back feature was clear and easy to use, and I loved that the monitor muted white noise, so it was completely silent (until baby starts to cry!)
It has all the features that a baby monitor should have, plus the bonus that it is easy to use.
FAQs
How do you connect the Angelcare Ac327 Baby Monitor?
The monitor arrives already connected to the Angelcare camera and sensor pad, so you don't have to worry about syncing them together.
You can easily turn off the connection to the sensor pad in the monitor settings too, if you do not want to use this feature.