You may remember these kicking around the house from your own childhood, but the '80s ankle weight is back. Popularised again by celeb mums including Kayla Itsines, Jessica Alba, and Kate Hudson, these wearable weighted 'sandbags' can be attached to your ankles or wrists with Velcro straps, and add a little extra challenge to your movement.
Not only can you reap the benefits of adding a wrist weight or ankle weight to your kitchen floor workouts, but they're also hands-free too, perfect if your tot is up and running and you want to stay ready to pounce on any child-related incidents. And, taking up practically no space whatsoever, you don't need to worry about adding to the build-up of home clutter and forgotten fitness equipment with a set of these.
We've broken down exactly what these weights can do for you, and the best to buy.
Are ankle and wrist weights effective?
Wearing wrist and ankle weights can effectively add resistance to your workouts or daily movement to up the intensity just that little extra. The low-impact weight training achieved through the wearable weights makes your muscles work that bit harder and can help improve your overall strength, muscle tone (with the right exercises), endurance, and boost calorie burn.
These weights are generally recommended for use during your workouts rather than when you're running around after kids or going on a daily walk, but it's also worth keeping in mind that applies to some, but not all, exercises. They're not ideal for more high-impact, vigorous aerobic exercises such as running but make a great addition to static, muscle-targeting exercises such as lunges, leg lifts, bicep curls, and rows.
It's also not wise to wear them all day, every day. You need to give your muscles the chance to recover, no matter how small the weight, with excessive use posing the risk of putting stress on your joints.
How heavy should ankle and wrist weights be?
According to the American Council on Exercise, it's best to limit ankle and wrist weights to one to three pounds each with this weight range still increasing "heart rate by five to 10 beats per minute and oxygen consumption (as well as caloric expenditure) by about 5 to 15 per cent compared to performing the same activity without weights." If you do plan to wear yours on the move while walking around at home or out and about, the lightest weight possible is best to use to help reduce muscle imbalance where possible.
The best wrist and ankle weights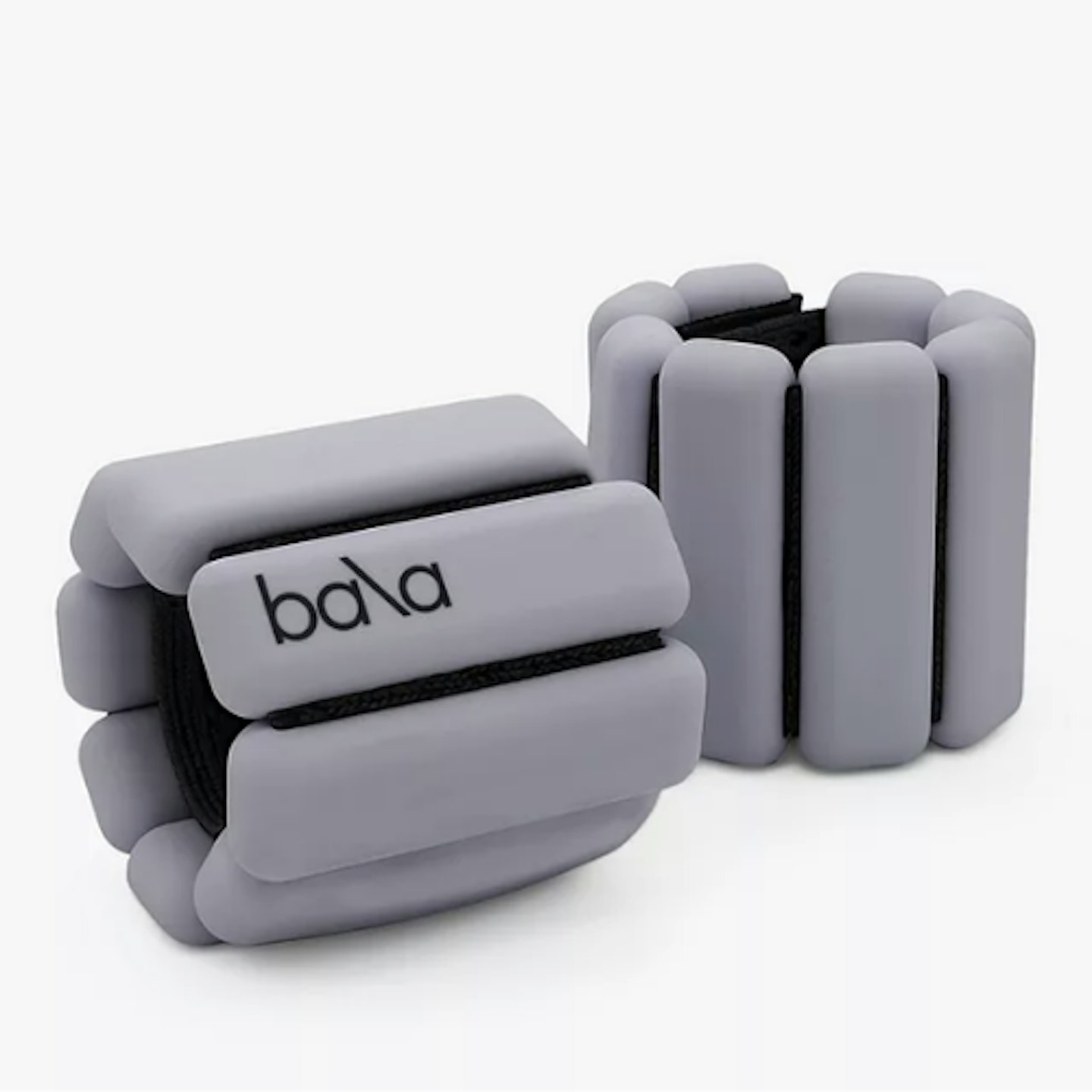 1 of 7
Bala Bangles 0.45kg/1lb Wrist and Ankle Weights
The trendy wrist and ankle weights that helped boost the resurgence, Bala Bangles are available in a a bunch of cool colours that you can coordinate with your favourite workout outfit. Weighing 1lb each, they're comfortable to wear, super versatile, and come with a nifty mesh carrying case.
Promising review: "Whilst they may not be the heaviest, they are perfect for toning when doing general exercise. Feel good quality! Already purchased another set!"
2 of 7
Opti Wrist and Ankle Weights - 2 x 1kg
These two 1kg weights from Opti are comfy to wear with customers rating them 5 out of 5 stars for comfort. With adjustable straps to find the best fit for you, they're good quality, value for money, and has a soft, snug, finish. They're also available in 1.5kg weights and 2kg weights.
Promising review: "So glad I bought these. Ones I had from another brand ripped and the metal dug in. These are the perfect weight and are comfortable on ankles and wrists. No metal to tighten, all Velcro, which is a massive plus."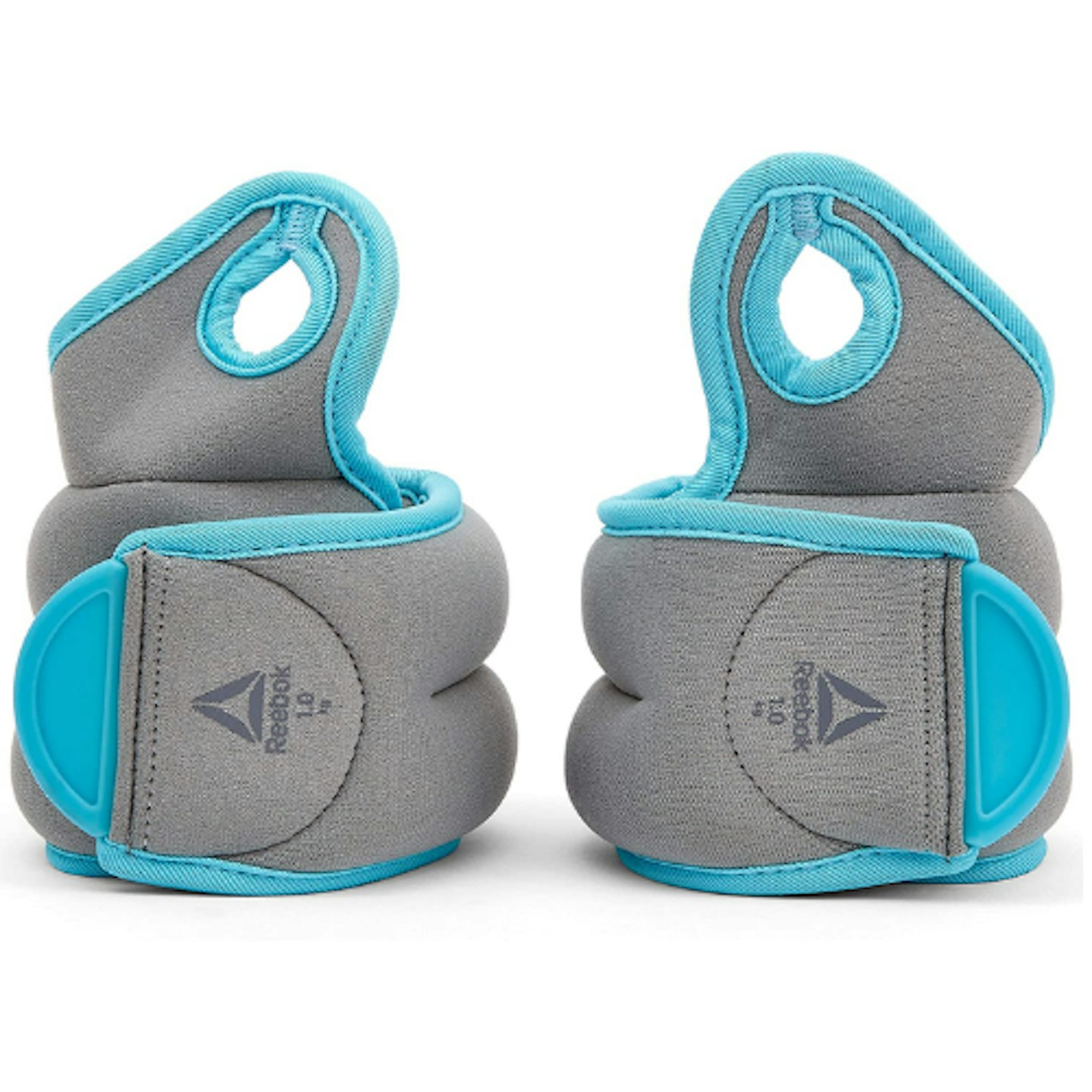 3 of 7
Reebok Women's Wrist Weights - 1kg
This pair of 1kg grey and blue wrist weights from the Reebok Women's Training range come with a comfortable thumb sleeve for extra security during your workouts. A great alternative to dumbbells if you find them difficult to hold, especially with sweaty palms, the Velcro and thumb holes help to minimise movement so you can focus on the exercise at hand - literally.
Promising review: "I use these when working out and when doing the housework. I have small wrists but these fit well with the adjustable strap. Certainly noticed a difference with my arm muscles!"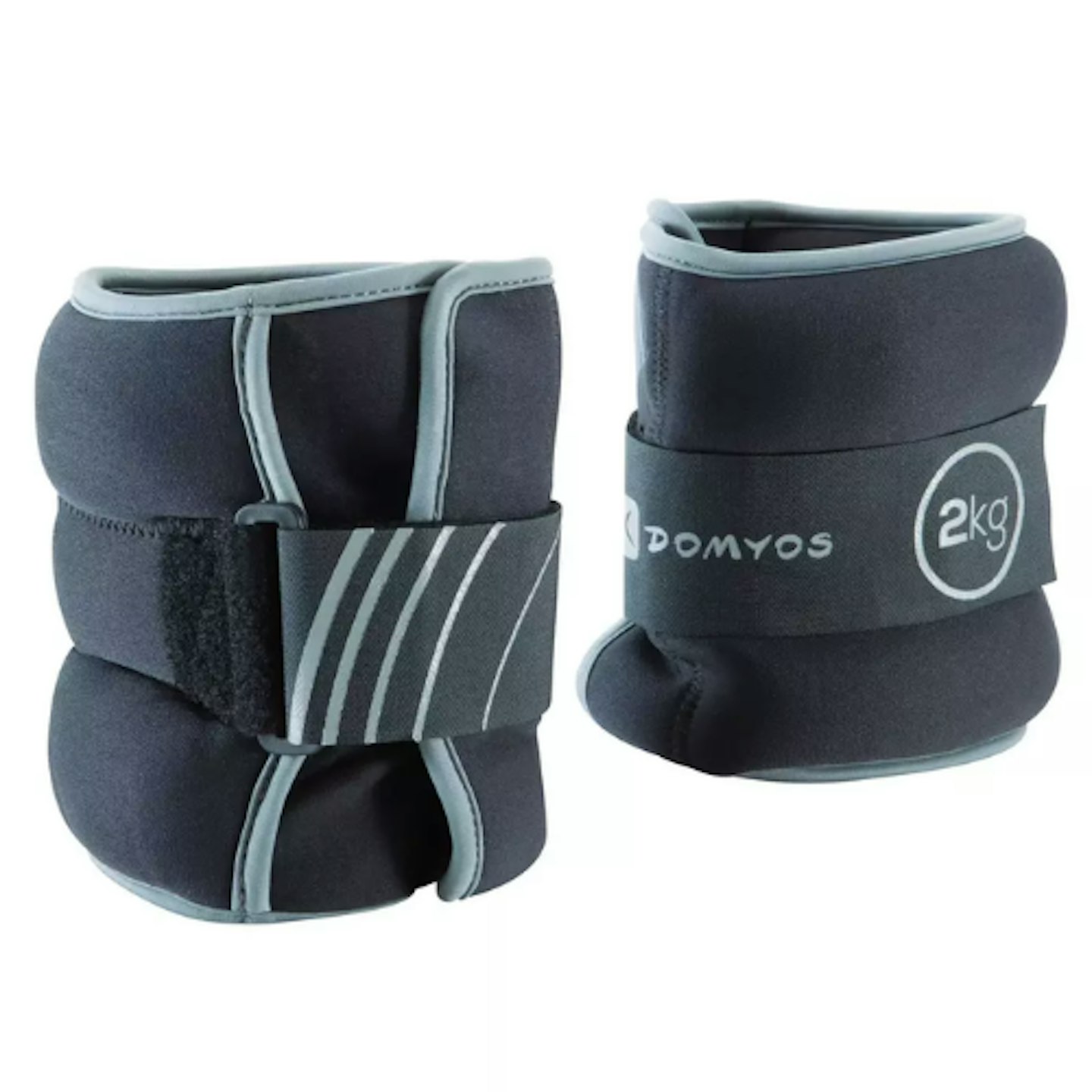 4 of 7
Nyamba Fitness Soft Dumbbells 2kg Twin-Pack
Weighing 2kg each, these wrist and ankle weights are sure to level up your leg raises, squats and other exercises. Ideal for helping to strengthen your leg muscles in particular, the adjustable Velcro rip-tabs give you a perfect fit every time.
Promising review: "Amazing for hamstring, thighs, butt, calf and overall leg workout at home."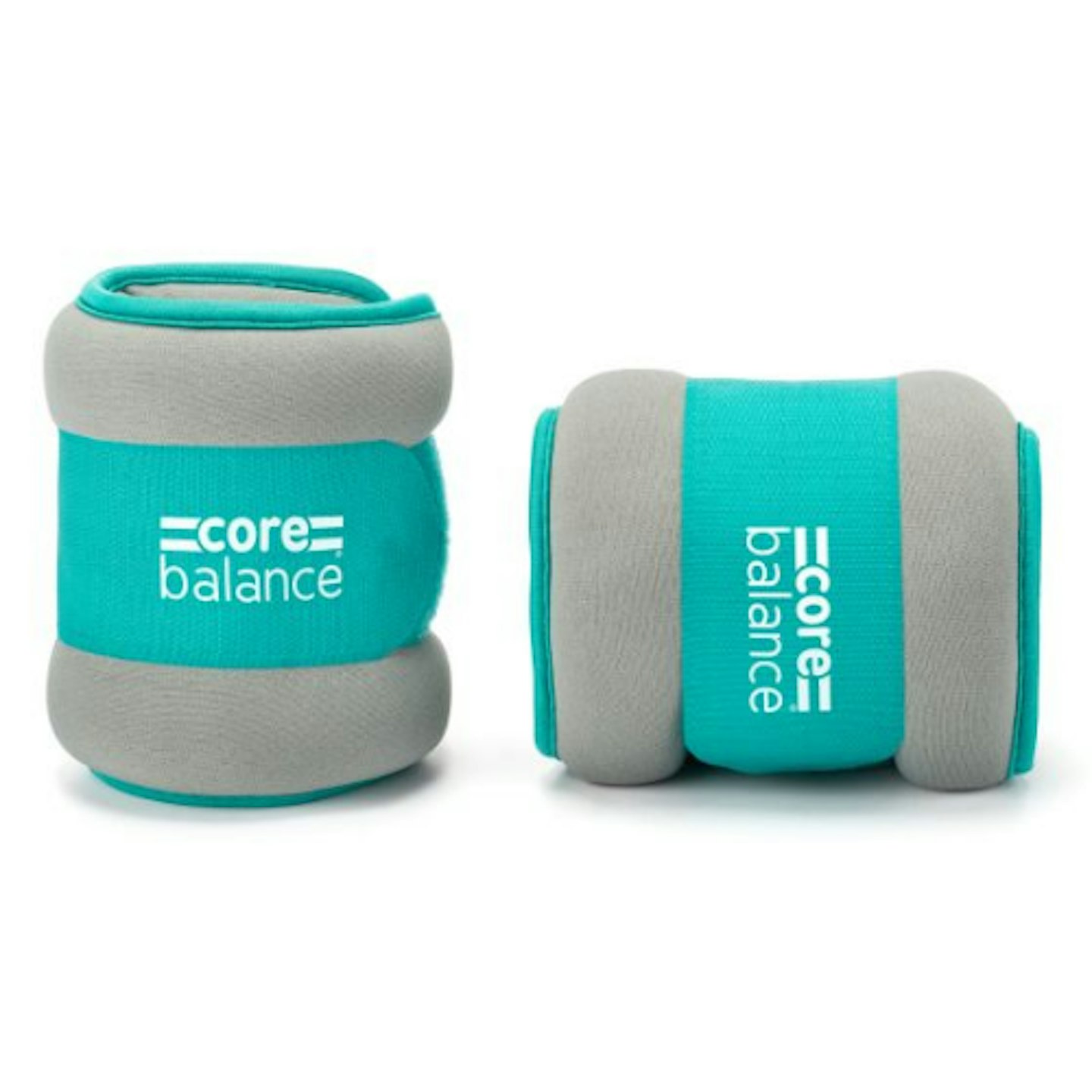 5 of 7
Core Balance Fitness Ankle and Wrist Weights
The Core Balance ankle and wrist weights are super affordable if you're looking to try out the strap-on weights for the first time. Made of premium quality Neoprene for durability and softness on the skin, you can choose between 0.5kg to 2kg per weight.
Promising review: "I really like them. First impression is good. They are comfortable and strong. I chose the black/grey colour which looks very nice. Price is also very good compared to other ankle weights. Very happy with this purchase."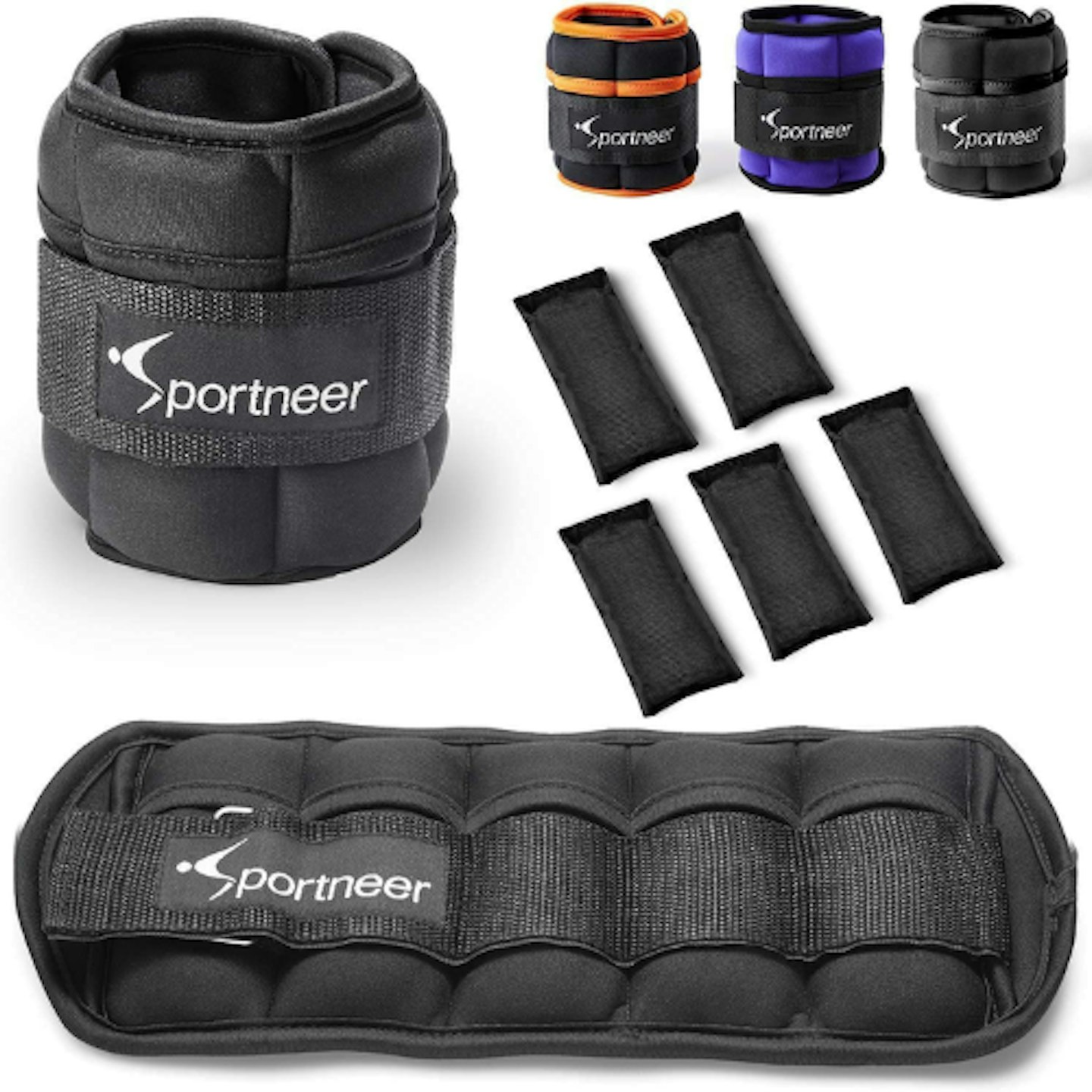 6 of 7
Sportneer Adjustable Ankle Weights Set
Available in a choice of colours, the Sportneer strap-on weights add comfortable yet effective resistance that you can adjust between 0.23 to 1.6kg per weight. Simply remove or add individual sand bags to up the intensity to your preferred level.
Promising review: "I have been using these as ankle weights for a couple of months with all the weights in position. They have been very useful in strengthening the muscles in my hips such that I no longer have any discomfort in my joints at night. They are comfortable to wear and stay in position. I am very pleased with them."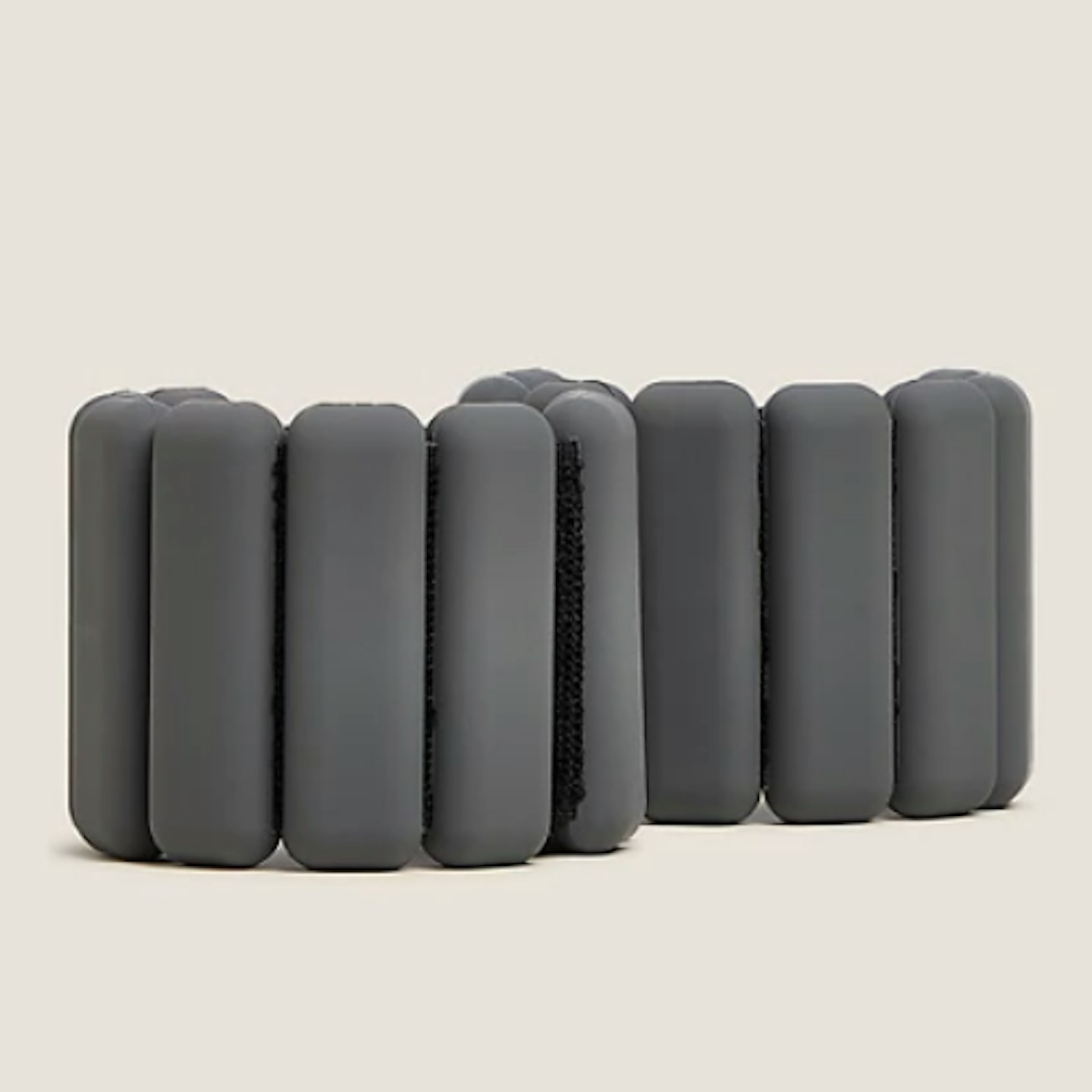 7 of 7
M&S Goodmove Wrist & Ankle Weights
If you love the aesthetic of the Bala Bangles but don't want to spend the money, M&S Goodmove have wrist and ankle weights with a similar design at almost half the price. The two 0.47kg/ 1lb weights are one size fits all and will help to enhance your home workout.
Promising review: "Just perfect and great value when compared with Bala Bangles. I wasn't really looking forward to collecting these as I read reviews after ordering. However they are really fab. Feel quite heavy and they shouldn't be any heavier as it's about resistance not weight-lifting. I wholly recommend to people who understand the concept of wrist-weights."
Wrist and ankle weight exercises to try at home
Incorporating wrist and ankle weights into your home workout can target muscle groups to tone and build strength. Using the weights on your wrists can provide the same benefits as dumbbells with the weights targeting biceps, triceps, and shoulders depending on the exercise. Ankle weights, on the other hand, can work the muscles in your quads, hamstrings, calves, and glutes.
If you're not sure where to start or how to incorporate your wrist and ankle weights, these popular home workout videos will help you get your sweat on!
What to read next: