If you're often travelling by foot or public transport with your baby, or plan to go on trips to the park come rain or shine, you're going to need a rain cover for your pram to keep your little one protected from the elements.
Here in the UK, the weather seems to be particularly temperamental with blue skies turning grey and gloomy in what feels like a matter of moments. If you haven't invested in an umbrella stroller just yet, having a rain cover on standby will prove to be worth its weight in gold to keep your baby dry and warm whilst you take the brunt of the wind and rain.
We've found the best rain covers available to buy and broken down everything you need to know so you know exactly what you're looking for. Our experts have also spotted rain covers for double buggies for babies and toddlers. If you're looking to further maintain the quality of your stroller, we also suggest looking into the best pram linersto keep your pushchair clean.
Do prams come with rain covers?
A rain cover for your pram is a must-have, so it's no surprise that most pushchairs come with a rain cover built-in. However, you may find yours doesn't or find that the rain cover provided doesn't give the coverage you think you'll need or has begun to suffer from wear and tear. In these instances, you'll want to buy this pram accessory yourself.
What to look for in your pram rain cover
Material
It goes without saying but first and foremost, your rain cover needs to be waterproof, and watertight. You should look for rain covers made of non-toxic, BPA-free plastic such as polyurethane or EVA that are lightweight, waterproof, and breathable.
Safety
The Lullaby Trust has warned that covering your pram with blankets, cloths, and covers can prevent air circulation which could lead to overheating. Whilst the best materials are breathable and many rain covers come with air holes to help with air circulation, the cover will still provide extra warmth. You'll need to make sure your little one isn't overdressed beneath the rain cover to prevent them from getting too hot.
Size
You'll need to make sure your rain cover fits your pram, and there are different styles of rain cover to fit different pram shapes and sizes but the most common is the universal rain cover which is designed to fit most single pushchairs, buggies, and prams. You can also find double buggie rain covers for larger prams, and sometimes specific rain covers for different pushchair brands.
Design
Most rain covers come with a clear viewing window and air holes, but you might find some have some extra handy features such as built-in pockets and storage bags. It's also worth keeping in mind that the more fastening points on the rain cover, the more watertight your pram will be. You'll also want these to be easy to install on your pushchair with fastenings such as Velcro or popper buttons – there's nothing worse than faffing with a rain cover in the pouring rain!
Best rain covers for pushchairs
Universal rain covers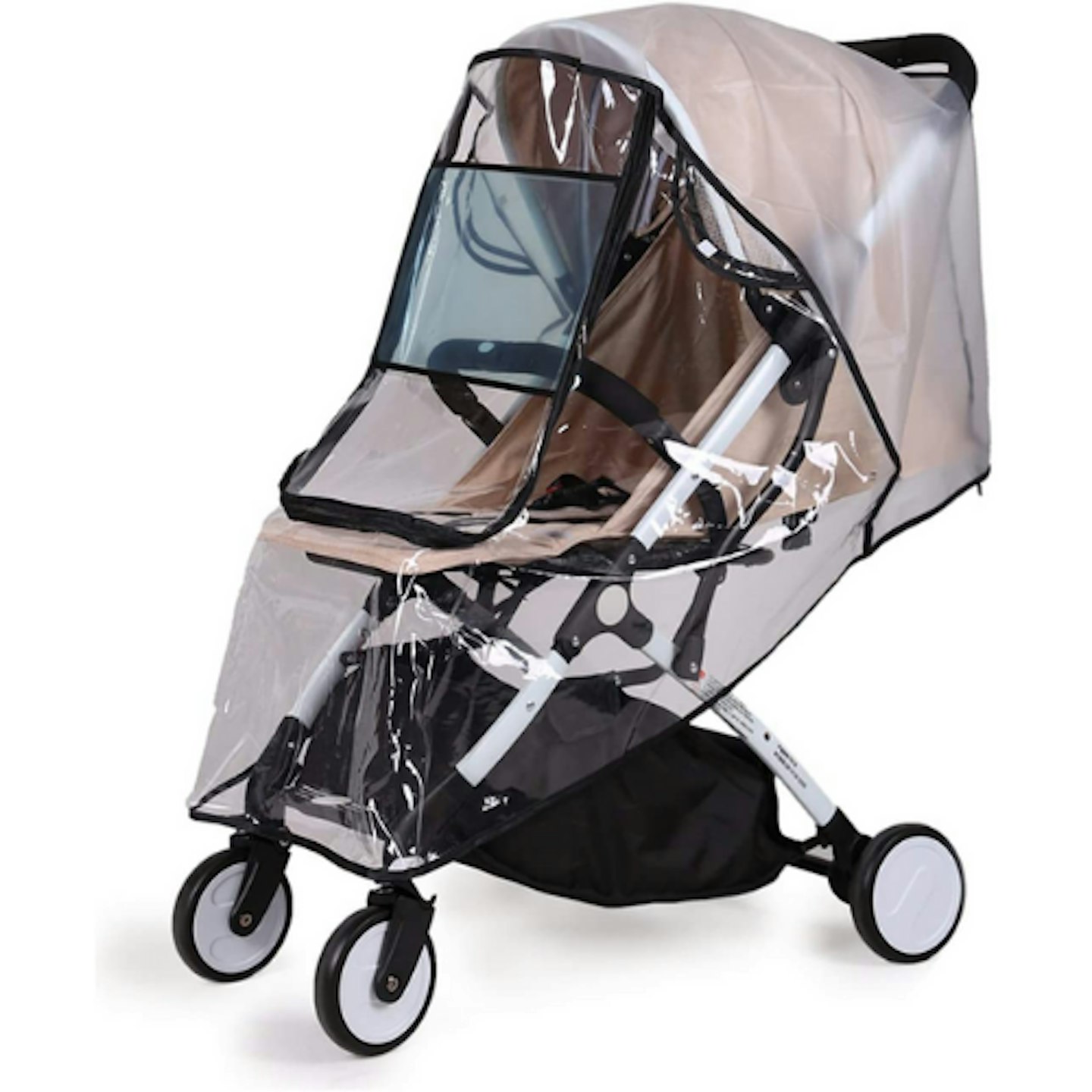 1 of 4
Bemece Universal Rain Cover for Pushchair
Designed to fit most pushchairs, buggies, and prams, the Bemece Universal Rain Cover will provide your child with year-round protection from the elements with a waterproof zipper keeping the rain firmly at bay. It comes with air holes for breathability and a large viewing window so you can check up on your little one and they can enjoy the great outdoors.
Review: "Loved this rain cover. I don't review things a lot but I wanted to make time to review this particular one because it surprised me. For a universal cover it fit really well. It started to rain when I was already out so I quickly took it out of its pouch thinking I'd be pulling straps here and there to make it fit right but that was not the case at all. It was easy to put on and it has a Velcro strip to secure it at the back. When I took it off I thought it'd be hard to fold it back but it took me seconds to get it back into its pouch. So easy to use! Good material and came really quickly. Highly recommend!"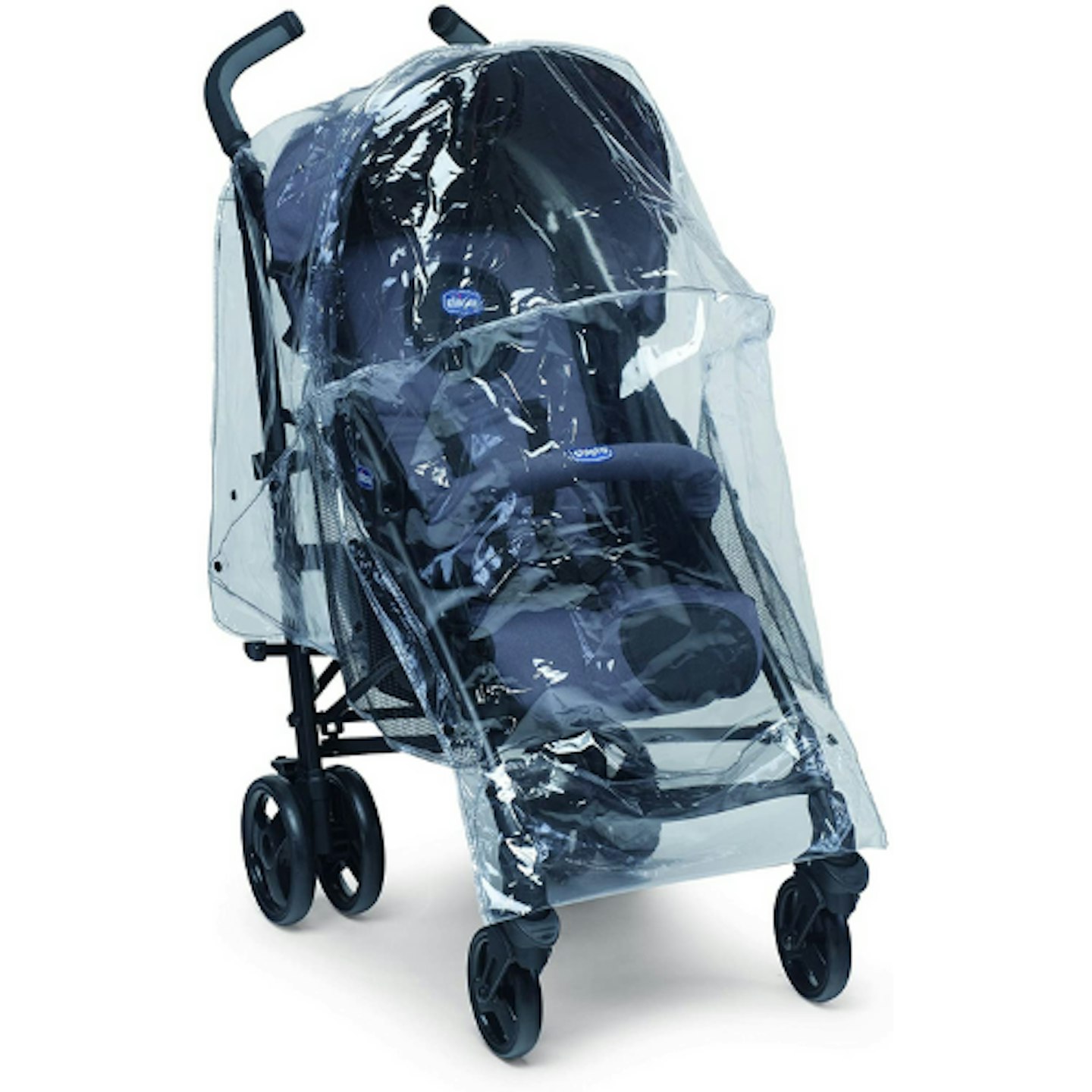 2 of 4
Chicco Universal Deluxe Rain Cover for Stroller
This fully see-through option from Chicco will give you full visibility of your tot, even as you push! Compatible with most strollers, it'll provide all the protection from the rain and even comes with a storage pocket so you can neatly store it away when the sun comes back out to play. It also has perforated areas on the sides for ventilation and a handy waterproof pocket on the back.
Review: "The cover fits easily over my grandson's buggy, and provides good weather protection. It's a bit stiff to stash away, but probably a good compromise between strength and flexibility."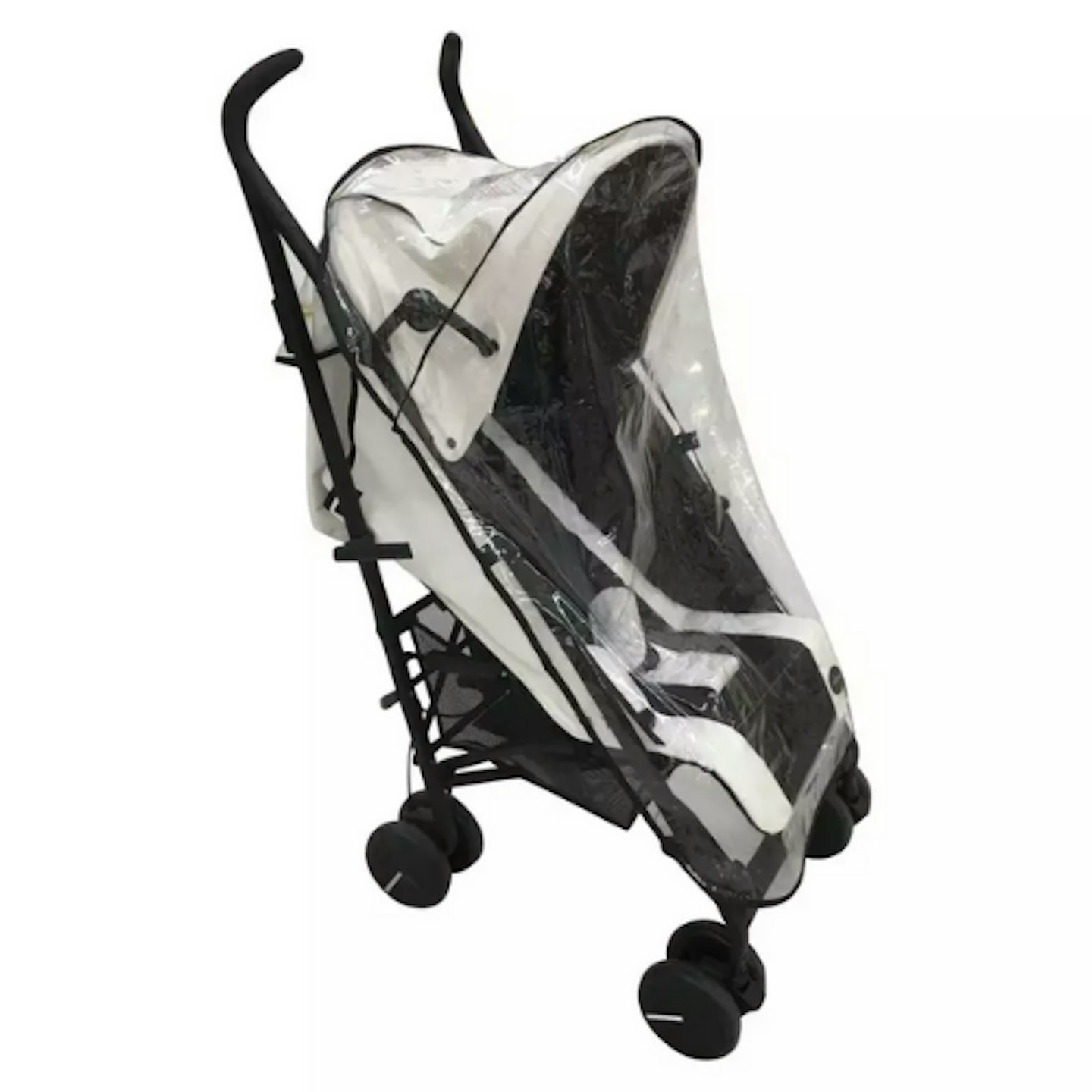 3 of 4
Cuggl Stroller Rain Cover
Designed to fit most small hood strollers, this rain cover made from high-quality PVC will keep the worst of the weather off your baby. It's sturdy, yet flexible, for strength and durability, and can still compact fold for easy storage.
Review: "It's quite cheap but surprisingly durable. We left our usual rain cover at home while on a trip away and popped into Argos and got this. A bit dubious that it might be quite flimsy but actually it withstood the northern wind and rain without being too overwhelming for our little one!"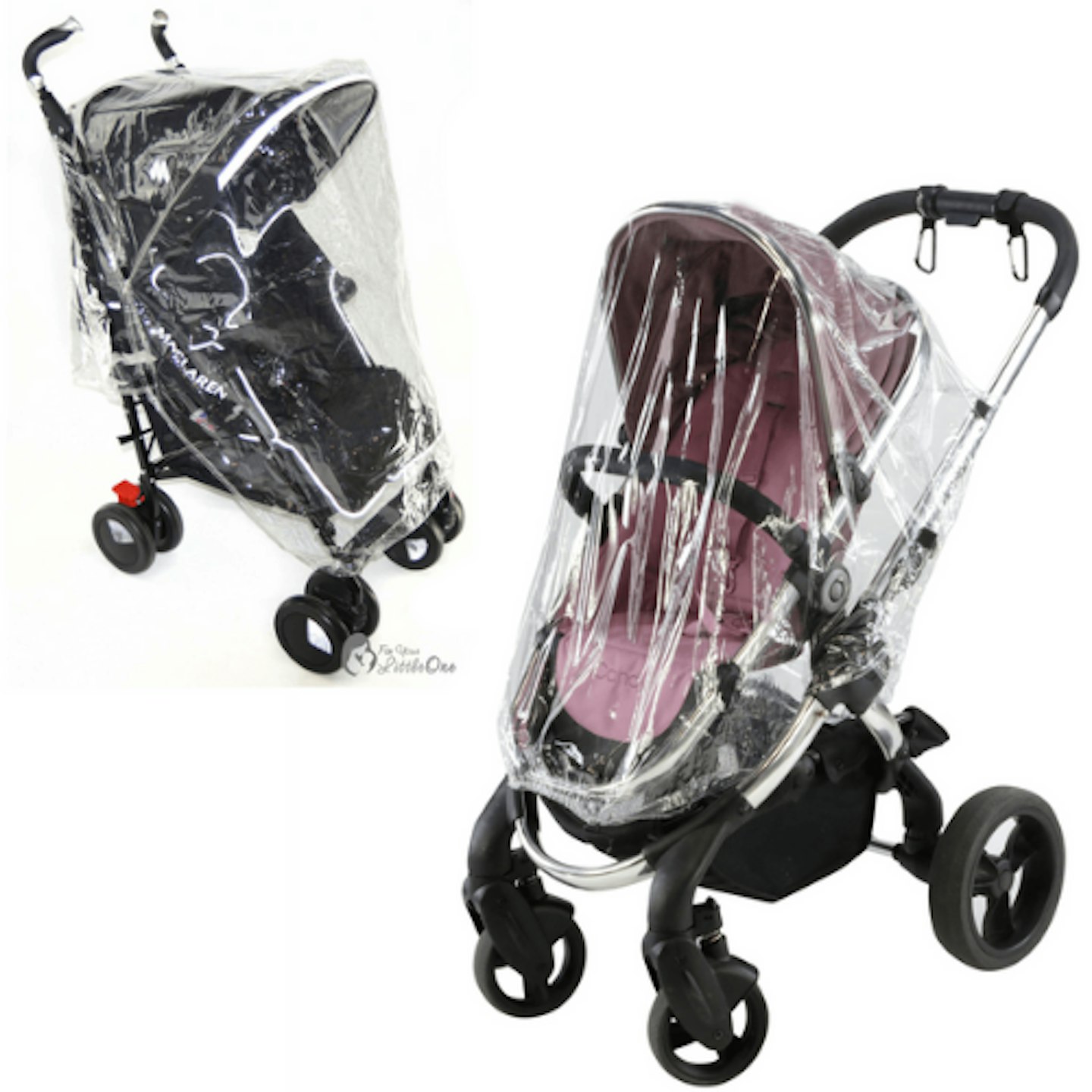 4 of 4
Universal Rain Cover for Pushchair
This 250-micron PVC waterproof rain cover is extra durable and even crack-resistant should the cold cause freezing in the winter. It has excellent ventilation and visibility that allows you to keep an eye on your child and is quick and easy to attach or remove.
Review: "Great quality, nice thick plastic. Generous size, recommend as brilliant price for such good quality."
Double stroller rain covers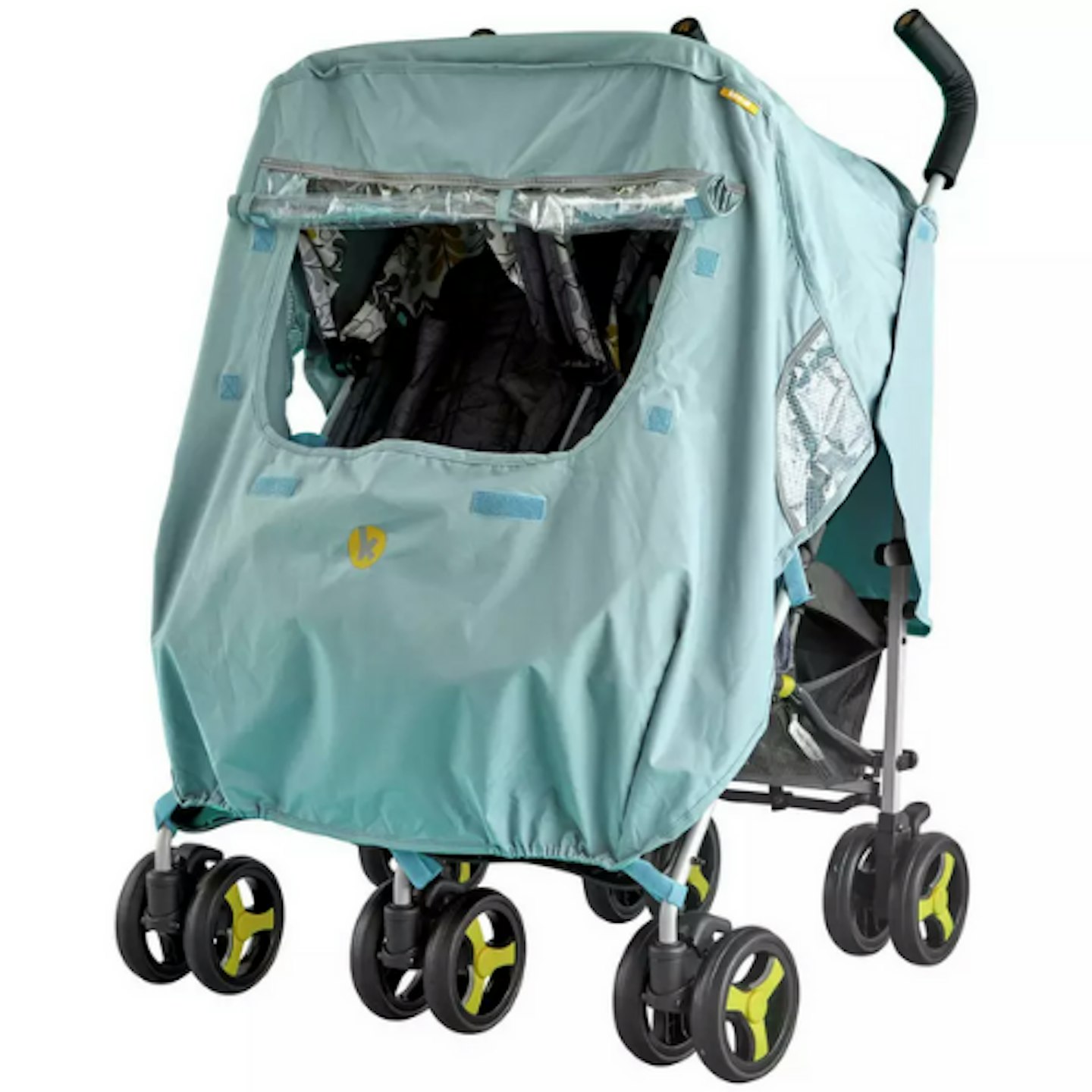 1 of 3
Koo-di Splish Splosh Double Stroller Rain Cover
Providing a quick and easy fit to most strollers, pushchairs and three wheelers, the Splish Splosh Stroller Rain Cover has a soft, shower proof fabric with a roll-up, airflow window for extra ventilation and easy access. The fabric feels more premium with less PVC, but it does provide less visibility for keeping an eye on your child.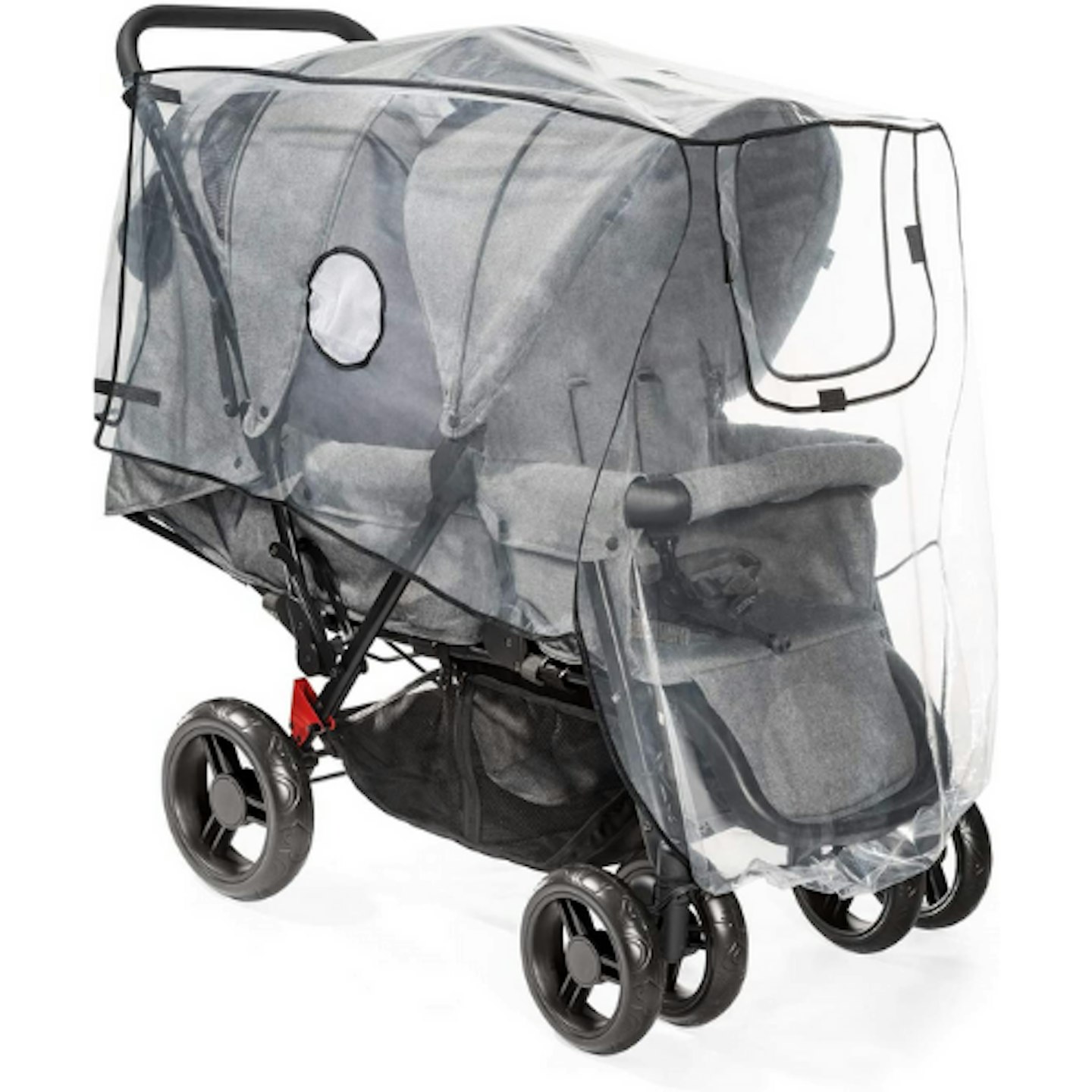 2 of 3
Reer Rain Cover for Double Stroller
The ideal pick for a sibling, tandem pram, this rain cover is super easy to attach with Velcro fastenings and additional hooks to withstand strong winds - no one wants to go chasing after a rogue rain cover in stormy weather! It has side ventilation holes, an extra large viewing window, and is made of PEVA making it free of PVC, BPA, and plasticisers.
Review: "Bought as a cover for my Graco tandem stroller I brought to Germany with us from the US. I was nervous that it wouldn't fit because the stroller is huge! However, the cover is very adaptable and works very well. It is made out of thicker plastic than I expected and has so far held up well against snow, rain, and wind. I like the side air vents, and my older daughter (3) gets a kick out of the "window" she can open at the front. Great purchase for a mom of two who has to walk everywhere with kids in tow."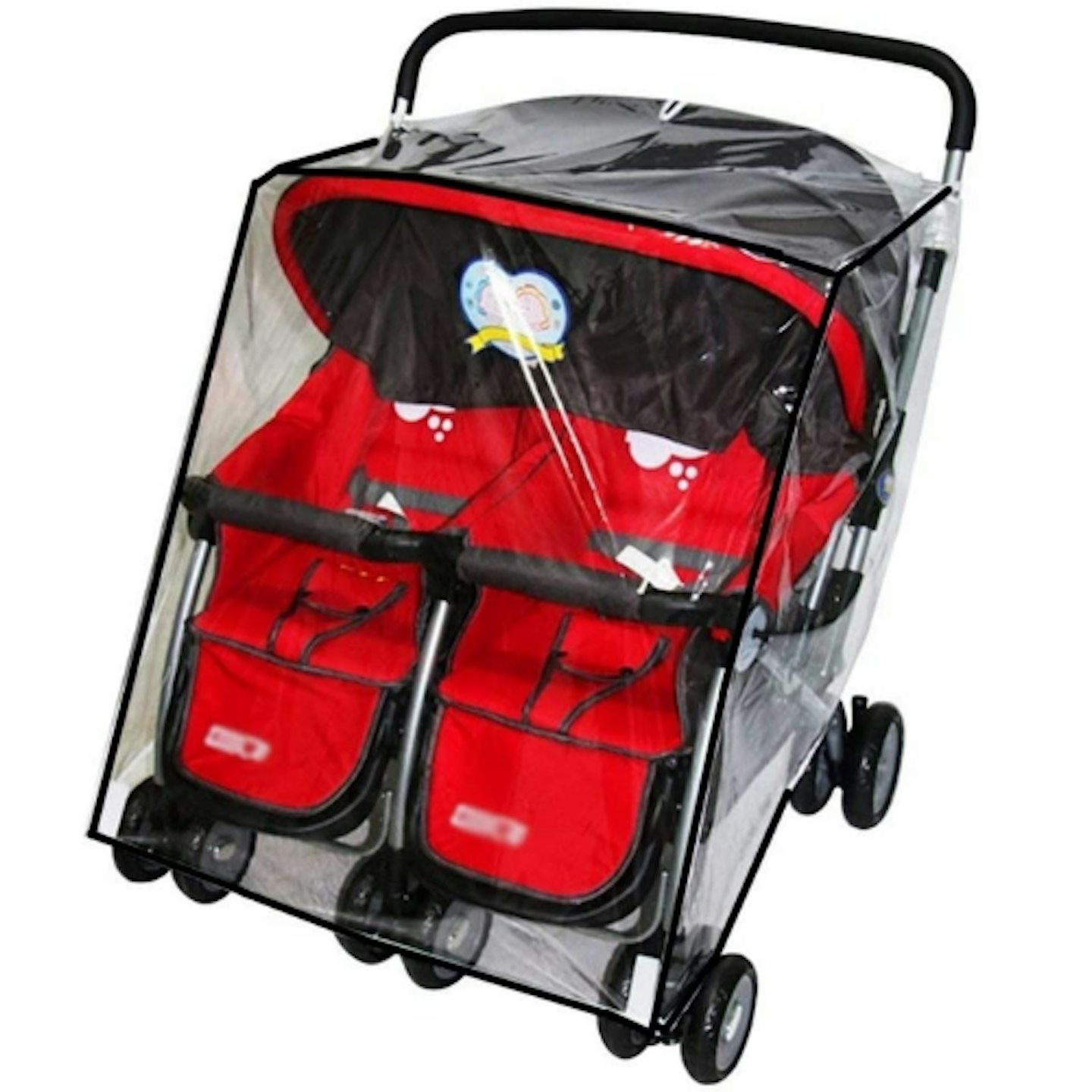 3 of 3
Universal Waterproof Twins Baby Stroller
This side-by-side twin buggy rain cover will protect your little ones from rain, wind, and snow while still giving them a clear view of their surroundings, Easy to attach, remove, and fold to store away, we love the extra large window at the front which means your babies can be lifted in and out without having to remove the whole cover first.
Review: "This universal rain cover fit our buggy perfectly, almost as if it was custom designed to fit the the make and model (15 years old: from our first child). The addition of the zipped front, for quick and easy access is a huge bonus. I was a little hesitant with the purchase with the buggy being so old but I'm glad I took the chance. It has been better than the one it replaced and was well needed during 'The Beast from the East'. Recommended for anyone that is needing a rain cover for their pushchair or buggy."