If you're looking for a fun family day out, you should definitely consider visiting a water park. Now, we know that being in the UK means that the weather can be temperamental, which is why it's worth knowing the best indoor water parks in the UK as well as outdoor ones for when the sun is shining.
Indoor water parks are a great way to get active with your little one. Unlike theme parks for toddlers, you can visit them no matter the weather as they're inside and with many cool features, including water slides and wave machines, tots (and adults) are guaranteed to be entertained for the whole day.
So, if you're keen to get your cossie or trunks on, keep on reading, as we've narrowed down the best indoor water parks and outdoor water parks in the UK for a fun day out.
Best indoor water parks
Sandcastle Waterpark, Blackpool
Best for: The thrill seekers. If your tot is looking for a little more adventure, the 18 slides, indoor roller coaster and wave machine will have them thrilled all day.
This is the UK's largest indoor water park located on Blackpool's famous promenade, with over 18 waterslides and attractions. Kids can enjoy jumping through the waves from the wave machine, shooting down the Master Blaster, the world's longest indoor roller coaster water slide which is 250 metres long, or having a splash in one of the fun pools. The swimming park also has plenty of play structures for little ones too, a restaurant and even a spa, so you can really make a whole day of it.
Verified customer review: "Great place to visit, especially when the weather's not so good. Some really fun slides, and seems clean and well run. The food in the cafe was pretty good too!"
Best for: A tropical swimming experience. If you're looking to warm up and escape the cold, then Waterworld will leave you feeling like you've escaped the UK to more tropical climes.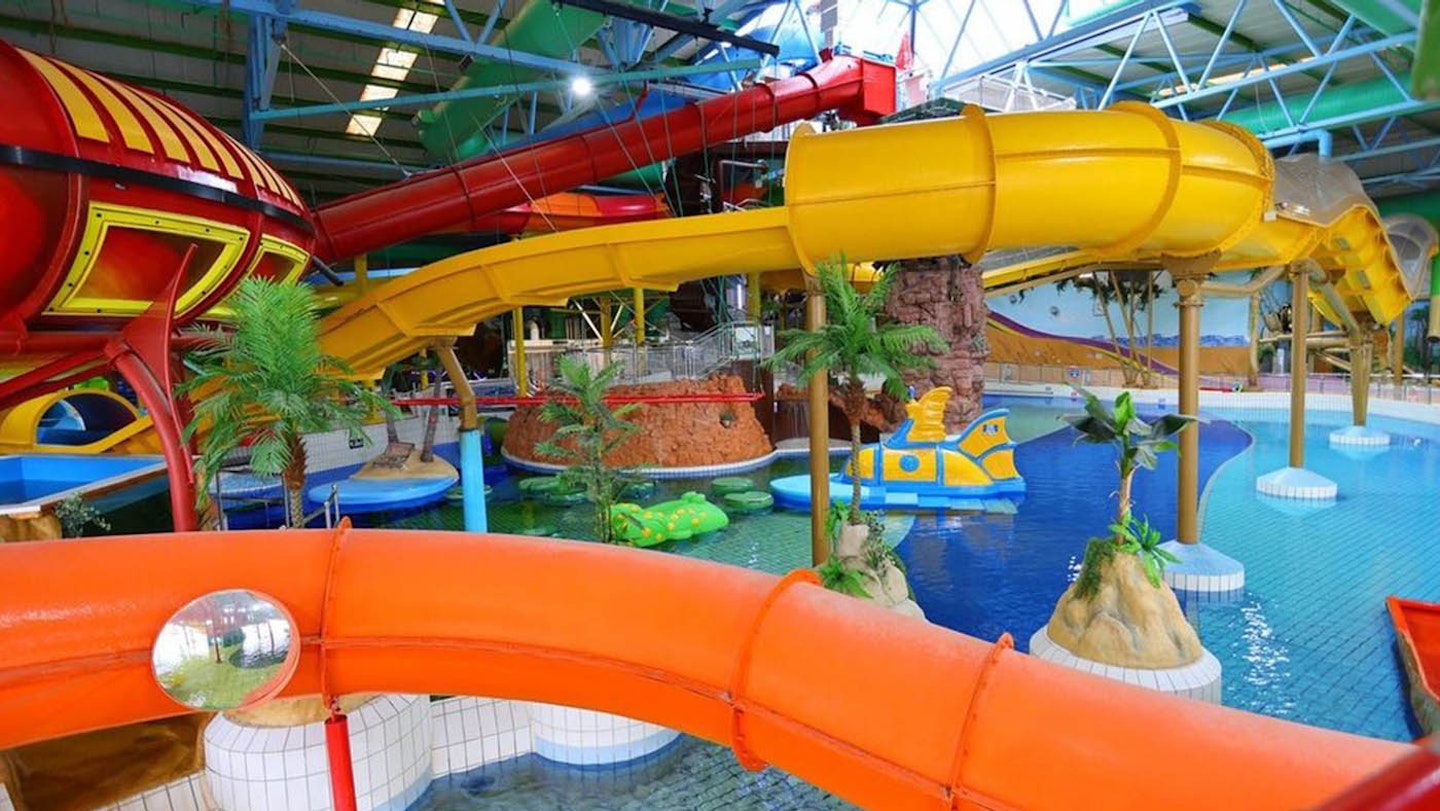 This tropical indoor water park has over 30 rides and attractions for non-stop fun, including Thunderbolt, the famous first trapdoor drop water slide where you're enclosed in a tube before being dropped into a 25mph water flume. It's also got your classic wave pool, rapids, flumes and a lazy river ride too. If the weather's good you can even venture outside to the outdoor pool.
You must book your tickets beforehand. Ticket prices and opening hours can be found here.
Verified customer review: "Great indoor pool fun. Kids love it as well as grown-ups going down the slides"
Splashdown Poole, Dorset
Best for: Slide lovers. If it's big slides you're after, then Splashdown is the place to go. If you want to see what's in store, their handy online colour coded slide guide has you covered.
Splashdown is great for families with youngsters. As well as 13 exciting indoor and outdoor waterslides, there are three splash zones for children under five, so everyone can join in the fun. Personally, we love the ride 'Infinity' where you slide around a big bowl with music and funky lasers, before being plunged into the pool below. There's also a cafe and sun terrace too, just in case you want to top up your tan if the weather's on your side.
Verified customer review: "Great fun for all ages. We had a five-year-old and we ourselves are retirees, I am over 70 and even went on the Infinity flume, haha. Superb session!"
The LC Swansea, Glamorgan & Cardiff
Best for: Learning to surf. If your tots fancy having a go at surfing for the first time, then this is a great place to have a go at riding the waves as there's a surf simulator.
At this water park, families can enjoy the famous wave pool, slipping down one of the slides or floating around the lazy river. It's a great indoor water park for toddlers too, as little ones can enjoy the day in volcano bay, which still has mini slides and interactive areas to keep them entertained.
Verified customer review: "Used the pool twice. The kids love it here. Always plenty to do. With a 1-year-old and a 7-year-old, it's not always easy to entertain them both at the same time, but this pool does the lot. There are different areas for differing swimming abilities and the wave machine always gets a good laugh! Will be back soon!"
Alton Towers Water Park, Staffordshire
Best for: An extended trip. If you're looking to incorporate a water park into your staycation then a trip to the Alton Towers Water Park is ideal as you can spend one day in the water park and another in the theme park or CBeebies Land.
You can pretend you're abroad at this cool Caribbean-themed indoor water park, located at the Splashing Landings Hotel at Alton Towers. Inside the tropical indoor area kids can zip down the super speedy 'Master Blaster' water coaster, splash in the waterfall in Lagoona Bay or go wild in the Wacky Waterworks, which has water wheels and cannons. The Little Leak area has shallow water and plenty of fun and games for smaller children too.
Entry to the theme park isn't included in the ticket price, however you can pay a little extra to add this on. Ticket prices and opening hours can be found here.
Verified customer review: "What a fantastic water park! We never thought we would be in there for a couple of hours but ended up staying all day! Great slides, nice food and a very safe environment."
The Wave, Coventry
Best for: Young adventurers. There's some fun little slides for smaller tots who might not yet be big enough for the larger slides.
This award-winning indoor water park is home to the largest wave pool in the UK, holding 20 million litres of water! The Reef is great for younger splash seekers, with mini slides and jets, while bigger kids have the choice of six slides, a wave pool and The Lazy River for when they need to wind down. Afterwards, you can pop along to Cofa's Cafe, which offers a range of hot and cold snacks and drinks. Whether you're a thrill or chill seeker, The Wave has something for everyone.
Verified customer review: "What an amazing place. We had great fun as a family. We had a 12-year-old boy who thought this place was the best. Another great point is the multi-story car park is next door and it's a 2-minute walk. Also after the fun is over there is a great little restaurant and it's reasonably cheap, they do a great chip and curry sauce. I would recommend this place to anyone that loves water. Well done, The Wave."
Calypso Cove Waterpark, Barnsley
Best for: Safe swimming. With its beach-like shallow end, it's great for getting little ones used to the water or babies who are learning to swim in a safe environment where their imaginations can run wild.
Let your little one hunt for buried treasure at this pirate-themed indoor water park, which features a massive skull and huge pirate ship. Kids can walk the plank, zip down one of the many slides or flumes, or relax in the Still Waters Pool, the Hideout or Sunken Galleon.
You must book your tickets beforehand. Ticket prices and opening hours can be found here.
Verified customer review: "This is a really fun place to go with children aged 2+. There is a toddler pool for the youngest through to water slides, a wave machine, a pirate ship with slides and a bigger pool for the oldest. On the day I visited there was an official photographer who took photos, on request, and you can purchase them on the way out (£12 per photo, £24 for 3 photos etc). Lots of fun and activities for everyone regardless of swimming ability."
Lagan Valley Leisure Pool, Lisburn
Best for: Kids who love inflatables. On the water you'll find an inflatable assault course which is great for big and little adrenaline seekers.
Lagan Valley is a lot smaller compared to your traditional swimming parks, but we had to include it as it's great for small children. There are waterslides to splash down, a lazy river and lots of little waterfalls. If you have older children with you, why not pay a little extra for them to have a go on 'Mission Inflatable', an assault course featuring demolition balls, slides and rollers? There'll be smiles all round all day.
Verified customer review: "Great day out for children and adults. Plenty of parking spaces at the complex. Very clean and well-kept. Lots of fun on all the waterslides and the lazy river. Highly recommend."
Coral Reef Water Park, Bracknell
Best for: A personalised experience. Little ones have the option to choose their own adventure on the slides including the lights and sound effects.
Another pirate-themed water park is Coral Reef. It's one of the largest water worlds in the UK, so you and your tot can expect to have an amazing aqua adventure. There are some brilliant features such as the big pirate ship that squirts water and lots of water slides. There's also the little coral children's area and, don't worry adults, there's also a spa area too for a little relaxation.
Outdoor water parks in the UK
Splashdown Quaywest, Devon
Best for: Outdoor swimming. If you're swimming in the summer, you might want an outdoor water park experience and Splashdown is one of the best.
Yep, that's right - there are two Splashdowns! This Splashdown water park in Devon is right next to the gorgeous Goodrington beach and is the UK's biggest outdoor waterpark, so well worth a trip. While reviewers commented there isn't anywhere to swim, there are plenty of rides. Thrill seekers will love Wild Kamikaze and Devil's Drop which are rated 'severe' while there are also milder rides for younger ones plus a toddler splash pool.
Verified customer review: "We had an amazing time, both kids aged 10 and 11 really enjoyed themselves and said it was the best part of our holiday visiting here. We would definitely recommend and if we return to Devon would definitely visit here again!"
Let's Go Hydro, Belfast
Best for: A water playground. If your tots tend to get bored quickly, then you'll want to tire them out on this outdoor floating assault course.
Although it's more suited to older children aged seven and above, Let's Go Hydro promises 60 fun-filled minutes with a large tower, floating trampoline, wiggle disks, climbing wall and seven-foot-high slides. You can even stay the night at the resort if you fancy, sleeping in a glamping pod, houseboat or Viking hut!
Verified customer review: "Absolutely fantastic day from start to finish, everyone of us enjoyed the inflatable water park experience, staff were very helpful as it was our first visit, they explained everything we needed to know and were on hand about the park if we needed them. We hired a BBQ pod and it was a fantastic 2 hour hire for £40, definitely recommend. There's so much to do we will definitely be back again."
Alpamare, Scarborough
Best for: Seaside fun. If the beach isn't for you, or if it's a bit too cold, you can still have fun splashing around in this fun water park.
There may only be four slides at Alpamare Water Park but with the fast and furious SnowStorm and the breathtaking double-tube Olympic Run, you certainly won't be bored! There's also an enormous wave pool that erupts every 30 minutes and an outdoor infinity pool.
Verified customer review: "Best swimming pool we've been to! My 7 year old loves swimming as do I.
Took him here while on holiday and was very impressed. Warm spacious changing area, warm swimming pools, wave machine, poolside seating and loungers. The hot outside pool was fantastic!"