Us Brits are known to love a Spanish holiday, whether it's on the mainland or one of its islands like Tenerife. Sun, sea, and lots of family fun come to mind - plus, many getaways to Spain come in affordable package deals. Spain is full of great food, culture, and lovely hotels, many of those hotels or resorts being perfect for families with younger children.
From kids' clubs to pools and fun activities, many hotels in Spain are designed to be a sunny paradise for your little ones. Better yet, many hotels in Spain now include a waterpark - which is enough to make any child get excited for your next family holiday abroad.
With colourful slides, splashing sprinklers, and aquatic playgrounds to enjoy, waterparks are just what your child needs to cool off and live their best lives - and having that in your hotel's backyard makes it super convenient, giving you a chance to either join in or have some downtime by the side of the pool.
If you're looking to holiday in Spain and hoping to find a hotel with a waterpark for your family, don't worry, we're here to help. We've put together a list of the best, most splash-tastic, Spanish hotels with a waterpark down below.
The best Spanish hotels with a waterpark 2023
Location: Albir
Close to: Sierra Helada Natural Park, Parc Municipal Els Eucaliptus, Cap Blanch Beach
With a plethora of facilities, from a spa and fitness centre, to a buffet restaurant that serves a selection of international dishes, the Albir Garden Resort is a fab family-friendly hotel in the middle of a beach hotspot, plus it's close to some other fun attractions that you and your kids will love.
It has four swimming pools on site, one being a dedicated kids pool that includes a colourful water slide playground. All the outdoor pools include a pool bar and sun loungers if you're not up for taking a dip yourself.
Review: "We loved everything about Albir Garden Resort. The property is immaculately clean inside and out. The pool and slides are fantastic. The best holiday I've ever had with my kids - they had an amazing time and are begging to go back. We will be returning next summer."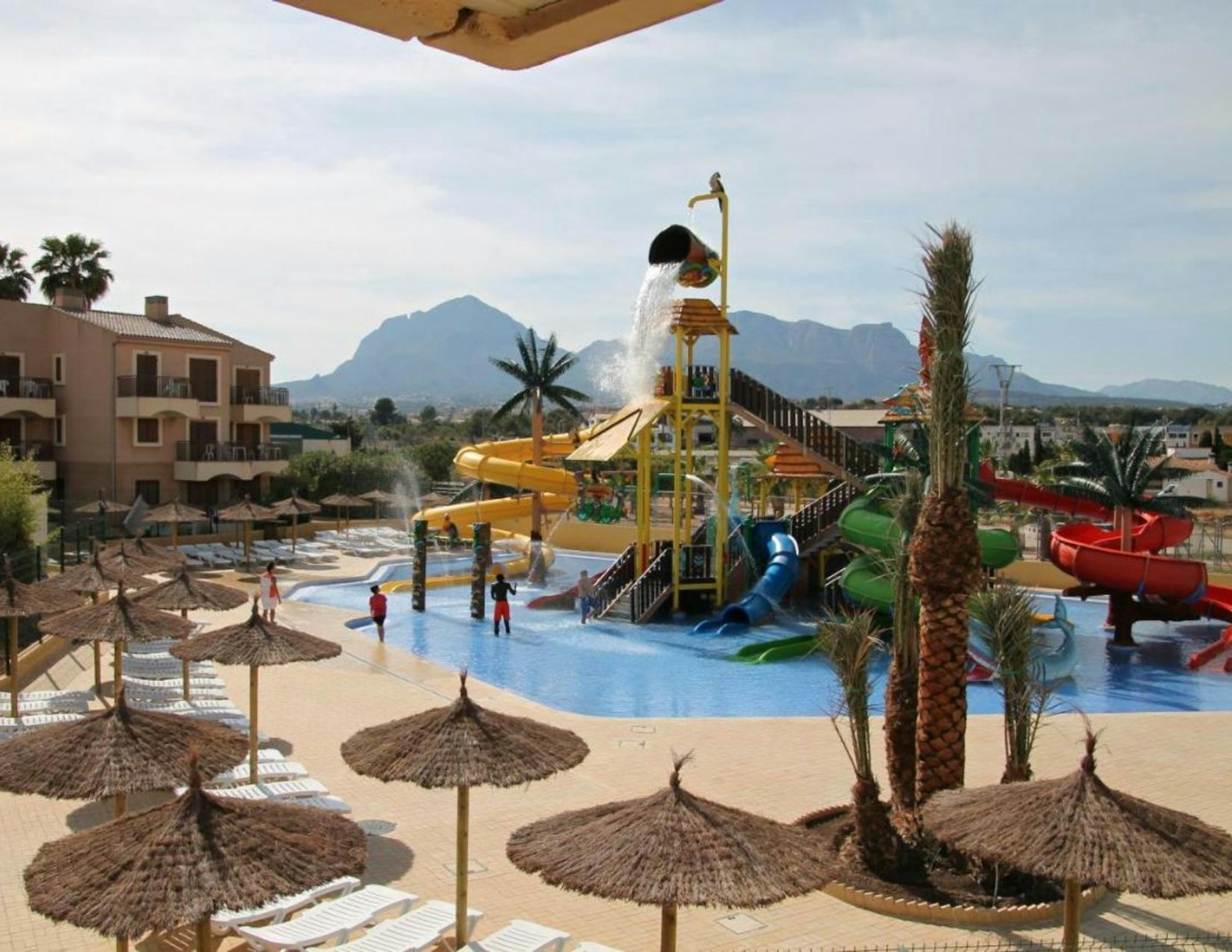 Location: Costa de Almería
Close to: Parque Mare nostrum, El Playazo, Puerto Rey Beach
The Zimbali Playa Spa Hotel Luxury is a picturesque spot, with beautiful architecture, a relaxing spa, and a beach club. There's lots to do in the surrounding area, but if you just want a chill day at your hotel, the Zimbali Playa Spa Hotel Luxury is one of the best places to do it.
The outdoor pool is large, and comes with multiple water slides for your little ones to enjoy. We love that this hotel also has a kids club and playground, perfect for keeping your children entertained throughout your holiday.
Review: "Wonderful outdoor facilities and location to beach. Rooms are superb, with excellent bathrooms. A very relaxing place to stay. A short walk to some very excellent, local restaurants."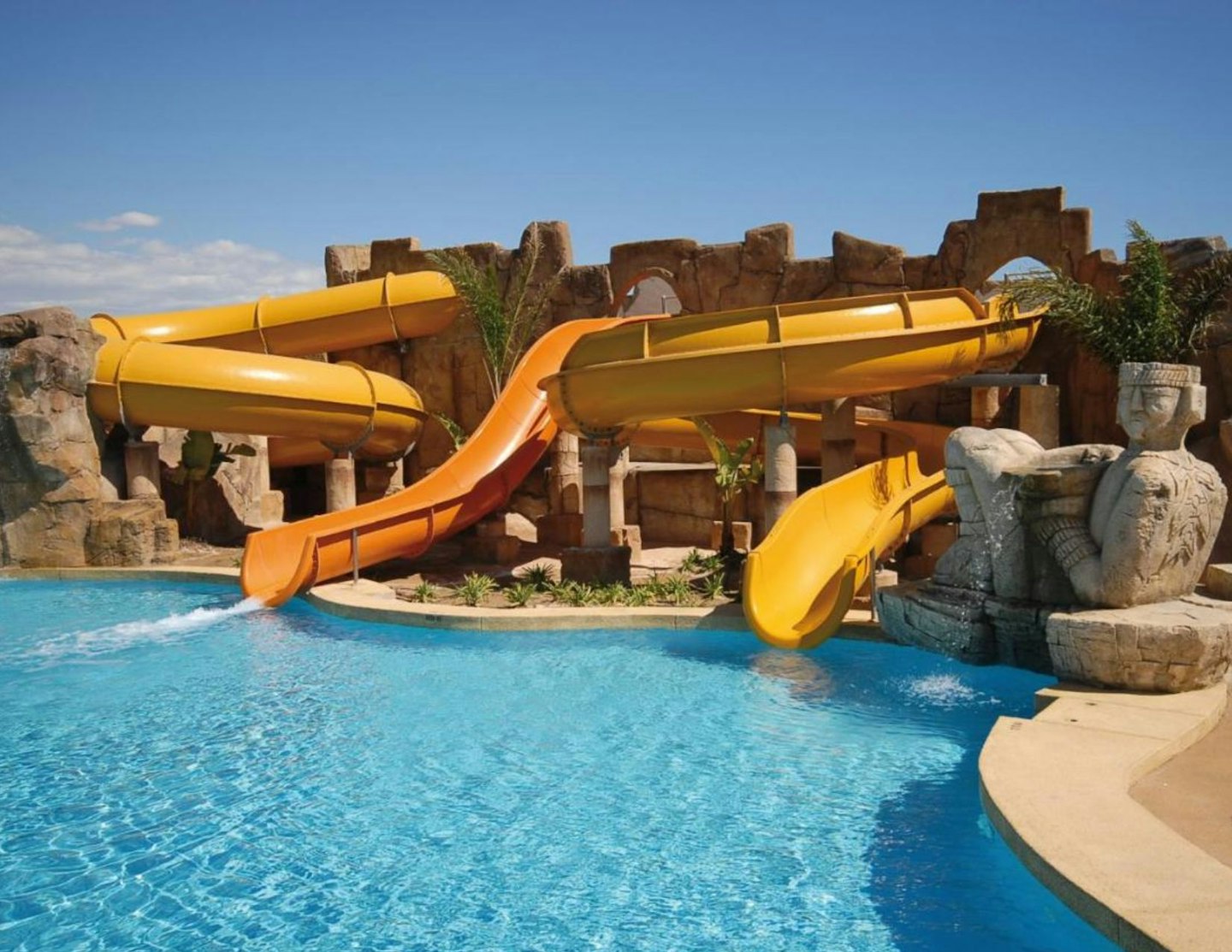 Location: Roquetas de Mar
Close to: Plaza de Veracruz, Urbanizacion Roquetas de Mar Beach, Plaza de Manila
Close to the beach and a nearby golf course, the Evenia Zoraida Garden is modern and family-friendly, with gloriously air-conditioned rooms. There's a lovely outdoor space to walk around in and a handy 24-hour front desk, so it acts as safe spot for you and your family to relax in.
There are three outdoor pools, plus a heated indoor pool next to the gym and sauna. One of the outdoor pools has a pirate ship themed water playground for kids, and another has a fantastic selection of water slides for thrill seekers. Your kids will be spoilt for choice for splashing around here.
Review: "The hotel is spectacular, the views, the rooms, the buffet, the services… A great stay!"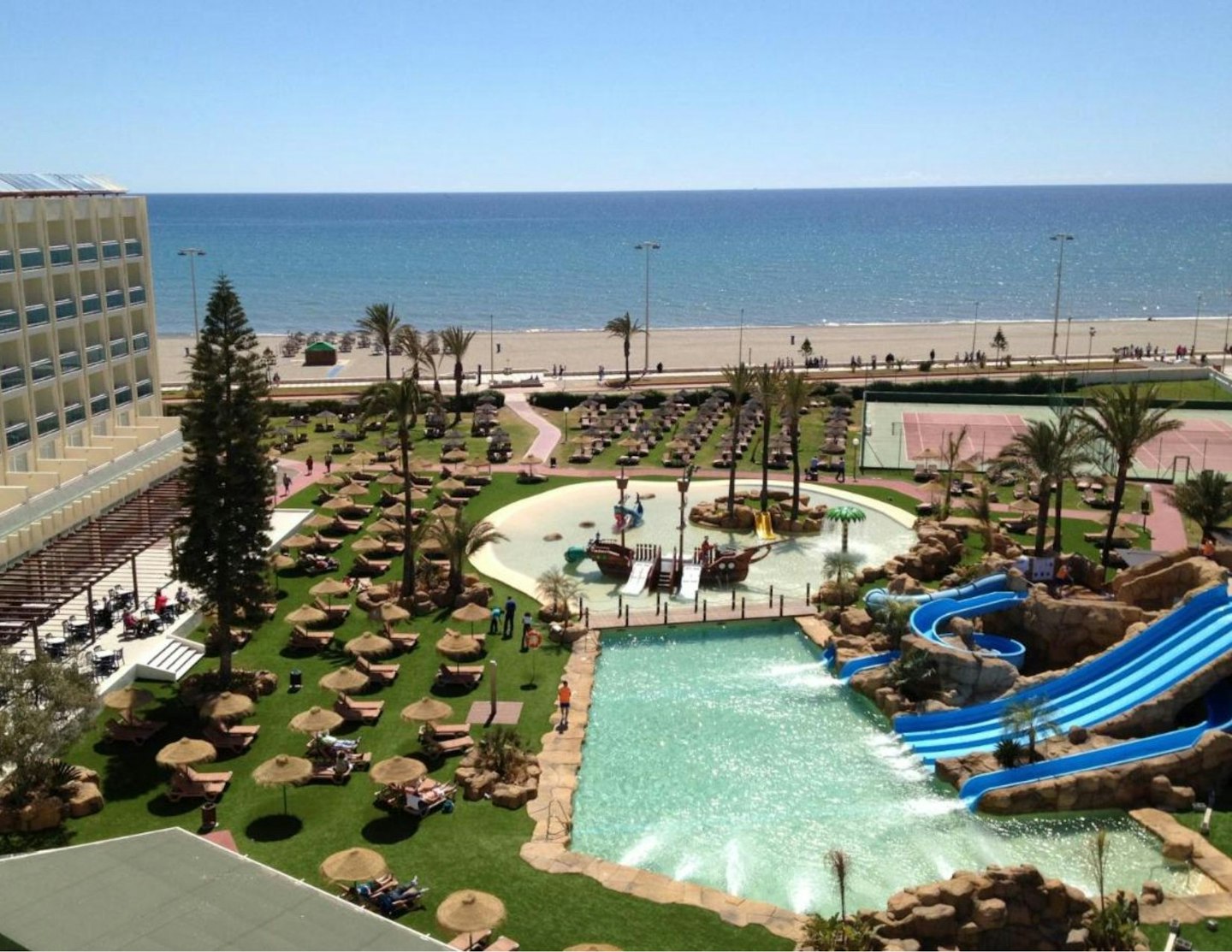 Location: Albir
Close to: Monumento ancla, Cap Blanch Beach, Plaza Mayor Square
Close to favourite holiday destination, Benidorm, the Magic Robin Hood is an all-inclusive spot that's designed for family entertainment. When you leave your on-site bungalow, you're surrounded by a medieval-themed complex that is full with games, an adventure area, and a gaming room. There's even a zip wire.
There is a spa and several bars for the grown-ups, but the stand-out feature of this complex is the huge water slides and water play areas in the outdoor pools. Kids with a lot of energy will be obsessed with this place.
Review: "Breakfast, Lunch and Dinner were amazing. The location was really nice, tranquil location, not far from the motorways and easy to get to. The entertainment for the children and adults was great."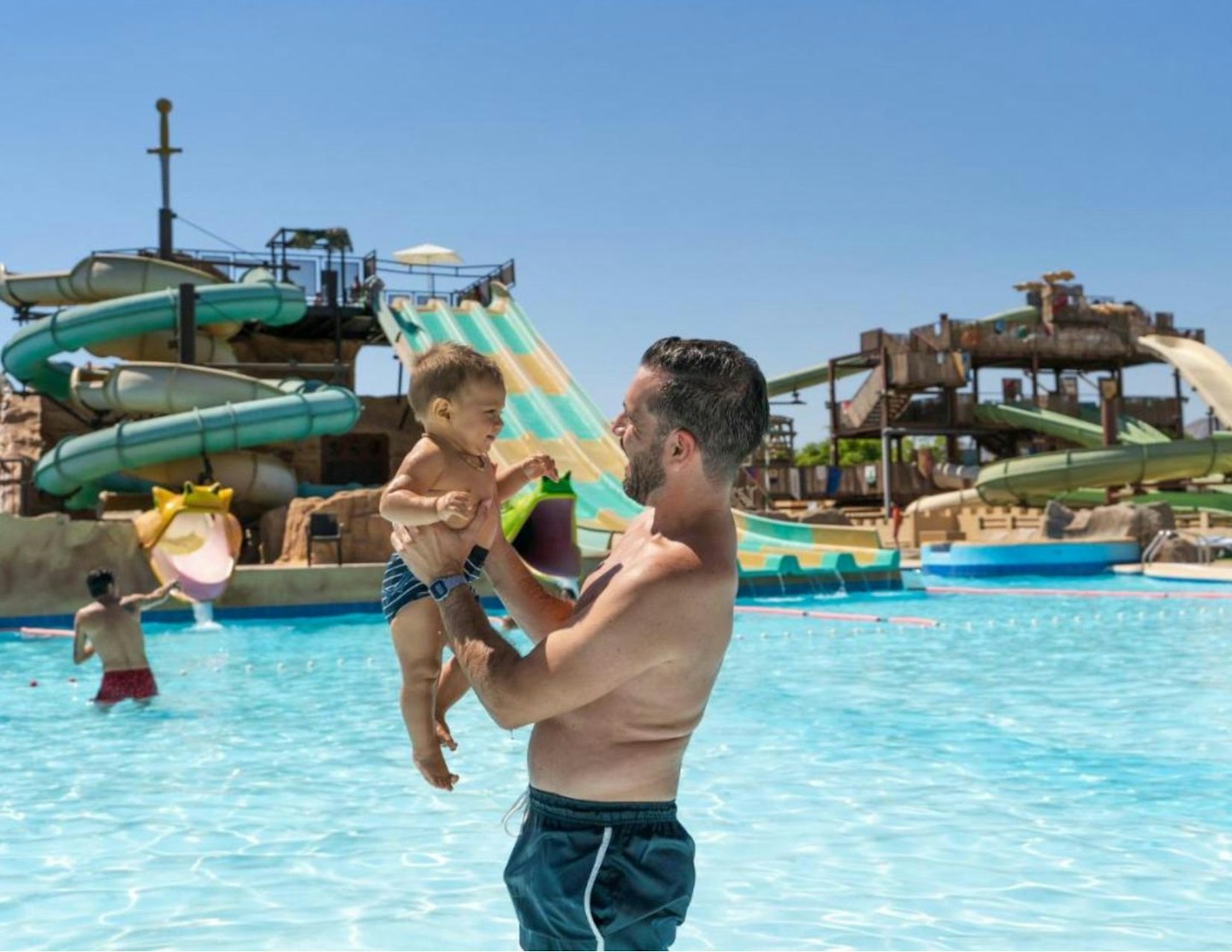 Location: Benidorm
Close to: Terra Natura, Aiguera Park, Poniente Beach
The Magic Natura Resort consists of the Magic Natura Animal and Water Park and the Polynesian Lodge Resort, combining a wonderful waterpark with a stunning hotel. You'll be getting an all-inclusive experience with a sea view, plus access to the Aqua Natura Water Park and the Terra Natura Zoo. We love how accessible and child-friendly this resort is, plus all the activities available.
There a two outdoor pools that feature sprinklers, water playgrounds and twisty water slides for kids and adults. The designs are all vibrant and colourful, so we can imagine children seeing this as a water paradise.
Review: "Love the different choice of foods and also drinks. Also the lodge was lovely and clean. Mini bar refilled very day. The zoo and water park were the added bonus. Could go in as many times as you liked during your stay. Also the snack bar in the water park gave you free food with your all-inclusive band. Sunbeds were included on the all-inclusive as well at the water park."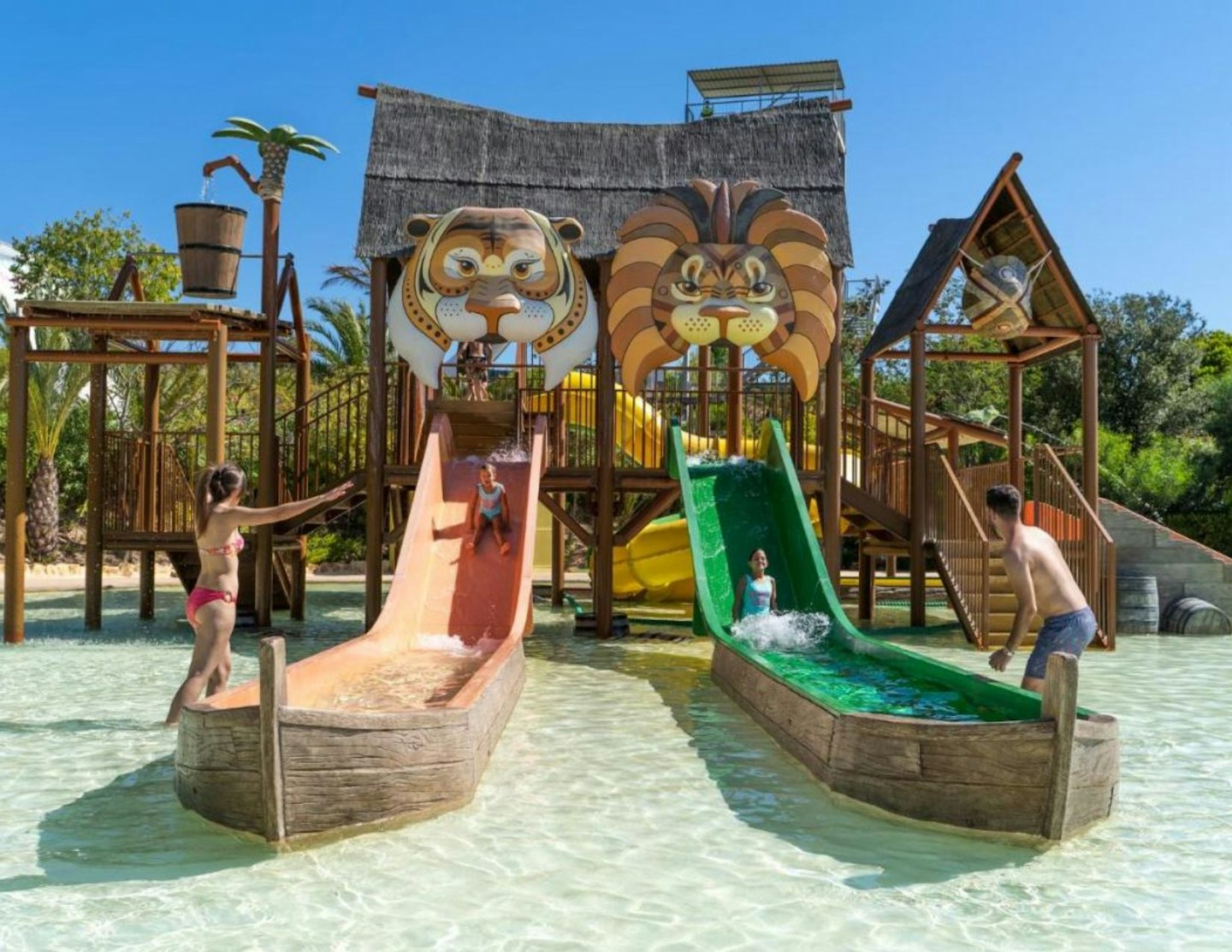 Location: Costa Ballena
Close to: Parque de Blas Infante, Ballena Beach, Castillo de Santa Catalina Cadiz
With bright décor, beachy vibes, and even mini golf, the Playaballena Aquapark and Spa Hotel has a lot to offer. The highlights are definitely the Capitan Ahab saloon bar, luxury bathrooms, and sun terrace. We also love that most of the rooms have a balcony for you to watch the sunset on each evening.
On top of the mini club for kids during kids season and the playground, this hotel also provides indoor and outdoor swimming pools. Of course, the outdoor pools are decked out with looping slides and a colourful water playground.
Review: "Exceptional - This is the second visit for us. The location close to the beach was great. The pools and slides are fantastic."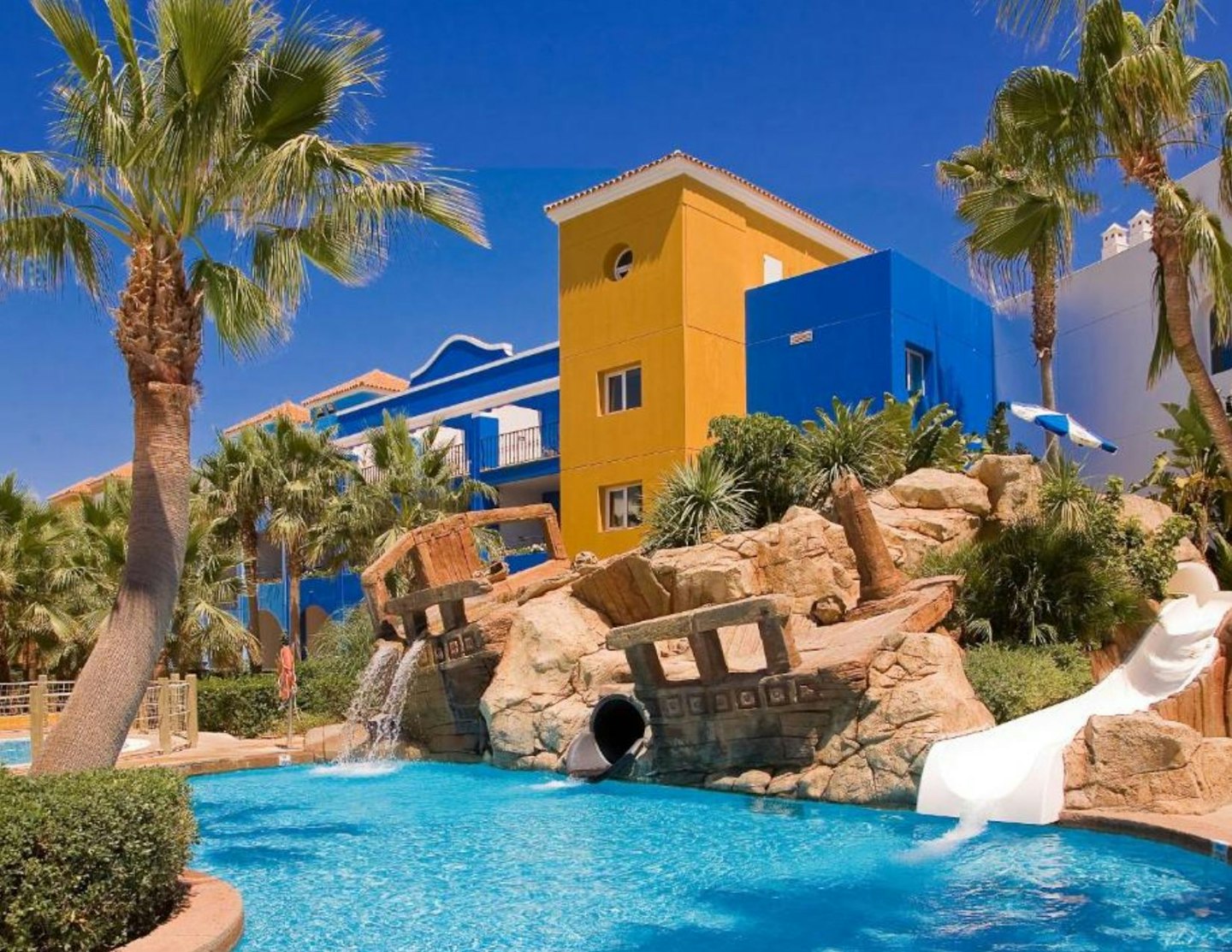 Location: Salou
Close to: Llevant Beach, PortAventura, Plaça de la Segregació de Salou
The PortAventura Hotel El Paso boasts a plethora of on-site activities as well as lovely Spanish décor and two restaurants. There's a games room, playground, and entertainment staff for the kids, plus table tennis, Billiards, and a spa for the adults. There are also two outdoor pools, one being specifically for kids.
When you stay at this hotel, you'll also have access to the PortAventura Park, a theme park with a number of water rides and rollercoasters for all ages. Mini thrill-seekers won't be able to resist.
Review: "It's a very nice hotel, with a very good location and an excellent pool. We stayed here several times and we were very happy with the comfort and the value for money it offers."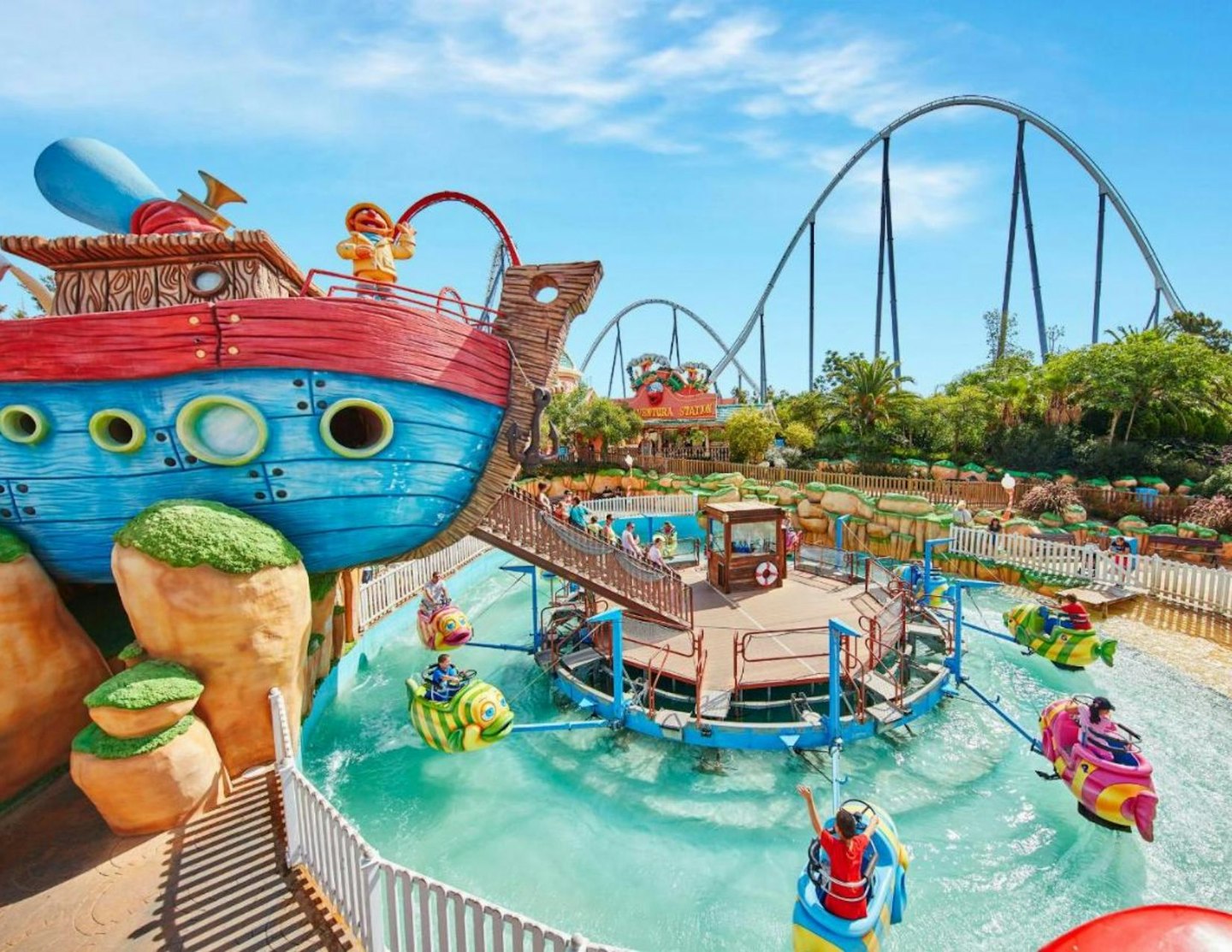 Location: Benalmádena
Close to: Plaza de Espana, Parque de la Paloma, Santa Ana Beach
In a more quiet place near the beach, the Globales Los Patos Park has spacious, air-conditioned rooms with a private balcony and beautiful gardens with palm trees. It has a playground and pirate-themed mini club for kids plus a picnic area for families to enjoy in the sun.
There is, of course, an on-site waterpark, with the kids' pool being decked out with games and water slides. The adult pool has its own slides, including a 4-track water slide. It also has a poolside bar which sounds fabulous to us.
Review: "Clean, beautiful view, and friendly staff. 15/20 minutes from the airport, close to the beach, plus a nice walk to the marina. It was very child friendly, with the pool facilities being great and the food choice is decent"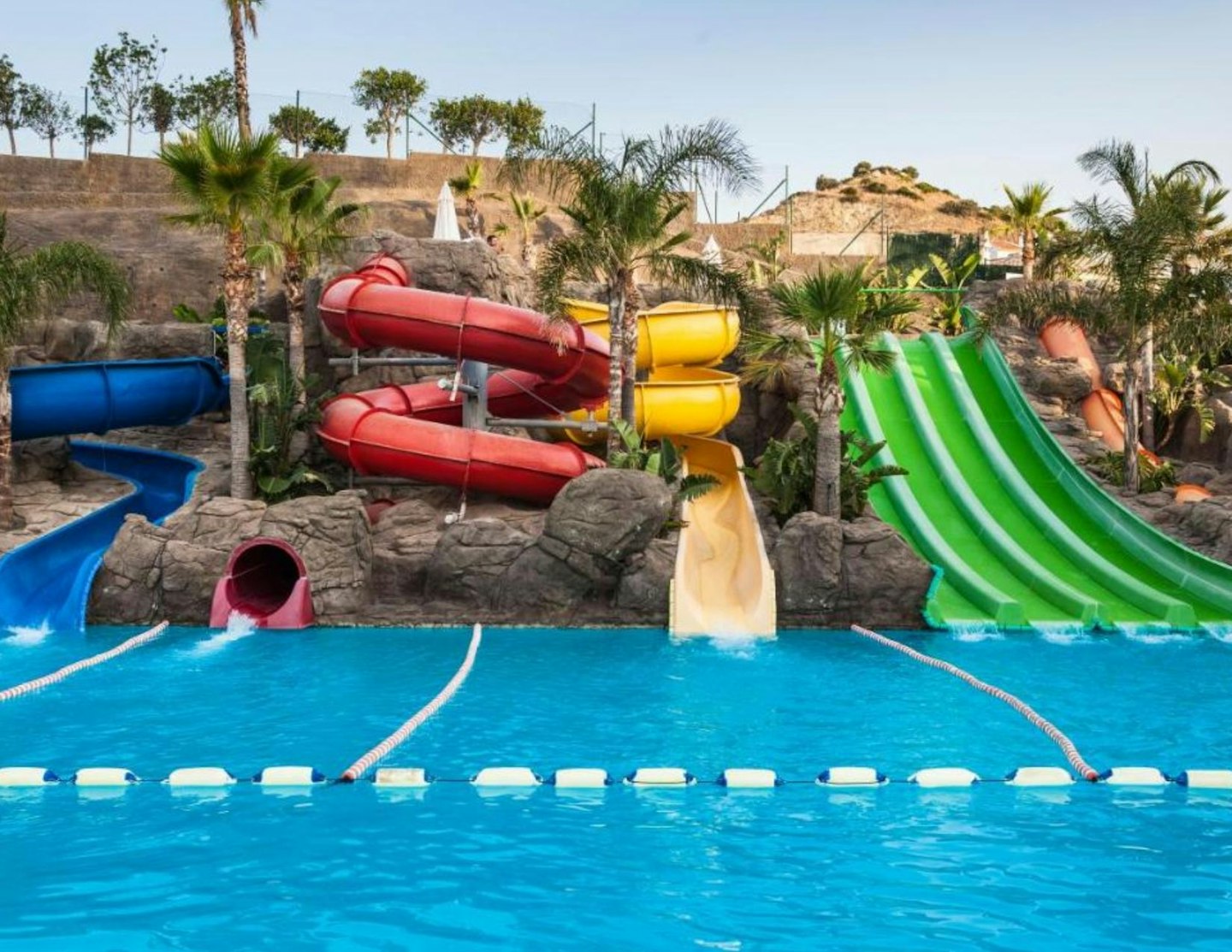 Location: Taurito
Close to: Taurito Beach, Sitio Etnológico Molino Quemado, Maspalomas Lighthouse
If you love sports, Mediterranean cuisine, and a plethora of spa treatments, you'll love the Hotel LIVVO Valle Taurito & Aquapark. On top of the multiple pools and solarium, there's also a kids club for your children to enjoy. We love the relaxing feel that this hotel has.
One of the outdoor pools is heated with a pool bar and the other has a bunch of water slides and sprinklers, plus the design is super colourful and bright which is bound to make your little ones excited to take a dip.
Review: "The food was great. The menu changed each day and it was exciting to look forward to what could be on the menu. The pool was fantastic and there were adequate snacks and drinks by the pool. The staff were really helpful and cheerful, very professional. There were shows In the evenings which were a good laugh and another thing to look forward to. There is a park which was not too crowded. There were nearby shops with reasonable prices There was a tennis court and football pitch (additional charge )among many other things to do which was great. We had a problem with our return flight and the staff on duty was particularly helpful with amending our booking. This hotel is one of several in the resort and is built on a hill. What a view! I would recommend this resort."
Location: Cala de Finestrat
Close to: Parque de los Tamarindos, Poniente Beach, Sierra Helada Natural Park
With an on-site spa and gym, plus a 3000 m² water park, the Magic Tropical Splash resort is a haven for sun-loving families in need of a relaxing holiday. Your family can stay in one of the many lovely air-conditioned apartments, that include a kitchenette, TV, and a private bathroom. Some even have a private terrace.
The waterpark includes six incredible water slides and a large pirate boat play area. The pirate theme is so much fun, encouraging your children to enjoy a wonderful and safe adventure with every dip in the pool.
Review: "The best holiday I've been on. The staff there is really friendly and helpful. The kids were kept occupied by going in the pool or the entertainment staff. There were shows going on later on at night and kept the kids very happy. The food was so good and something new was made every day. The rooms were clean when we got there and the facilities were clean too. There wasn't a problem with anything and if there was then the staff were kind enough to help. There are great waterslides and the pool is quite big also. There are chairs there to sunbathe by the pool too. There's a game experience room and a game room with a pool table and arcade games. The bartenders were really nice also and they made really nice drinks with both alcohol and alcohol-free options. I really do recommend magic tropical splash hotel and I recommend the ultra all-inclusive."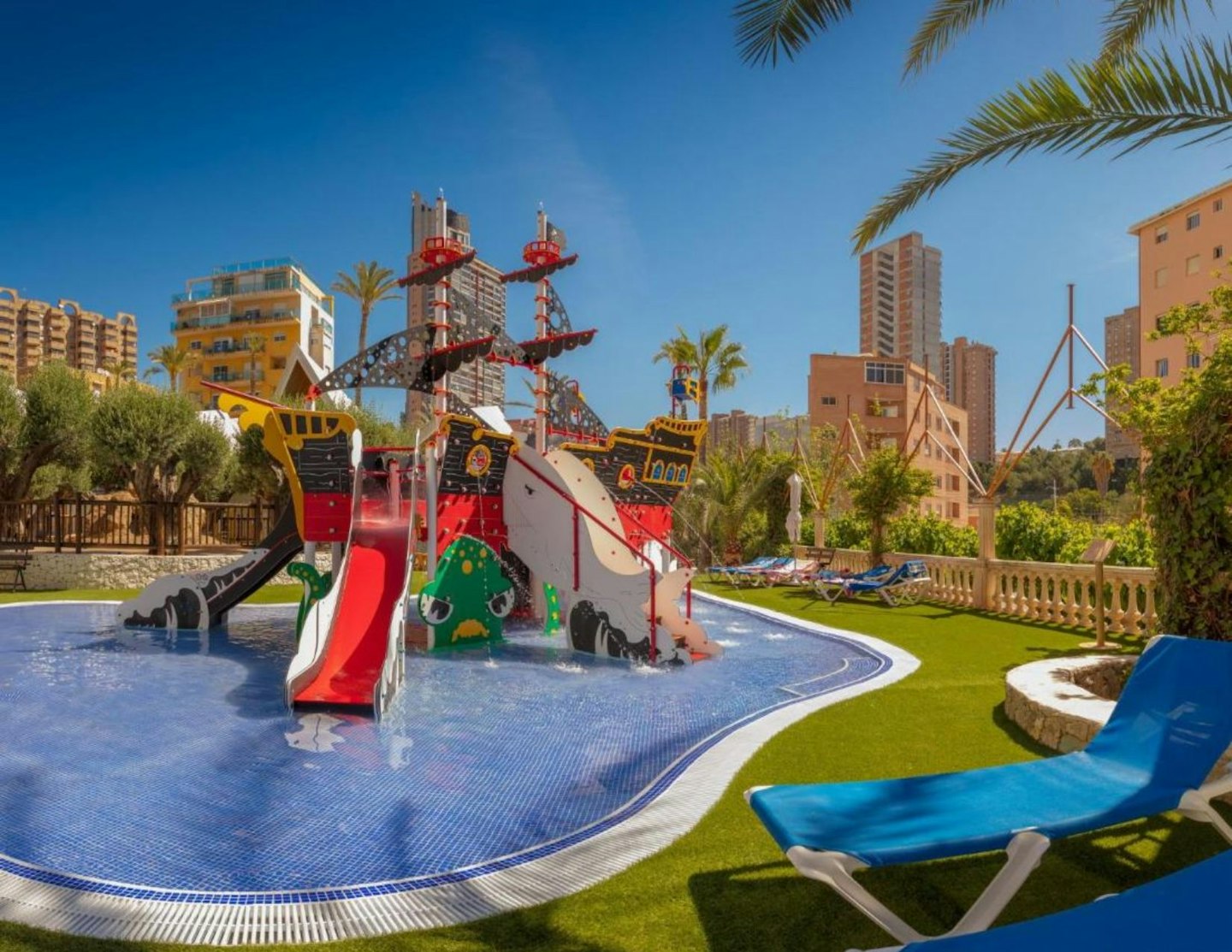 Eve Miller is a Commercial Content Writer for Mother&Baby, working for Bauer Media for over two years. She is passionate about beauty, creative writing, and women's healthcare.