As much as we love them, visiting the same old local playground can get a bit monotonous for you and your child, especially when you've got the endless school holidays to fill up with activities and a little one who declares they are "bored!" every five minutes.
Getting them outside is so important, and there's nothing like watching them having fun while keep active. Playgrounds are great for their development, but if you take that up a notch and visit an adventure playground, you're bound to score some brownie points.
If you fancy switching up your next day out with your toddler, there are many fantastic adventure playgrounds across the UK you and your family can visit, with some even offering free entry. Here are just a few of our favourites...
Best adventure playgrounds in the UK 2023
Best for: four to eleven-year-olds for some woodland fun.
Situated in Castlewellan Forest Park, 'Animal Wood' provides oodles of opportunities for playing on wild woodland animals such as a badger and its den, a red squirrel, and a giant spider. It also has a fantastic wooden play structure with a tower which includes a climbing wall, fireman's pole and rope bridge over to a hollow tree stump slide and Red Kite nest.
Tickets
£5 per car
Review: "Spent the day roaming the beautiful forest and enjoying nature. The forest is splendid in its variety and sheer size of the trees. The lake is beautiful to sit by and picnic or to use for swimming or paddle boarding. I have to say I was surprised to see they had camping on-site and a maze along with a great children's play area and beautiful gardens."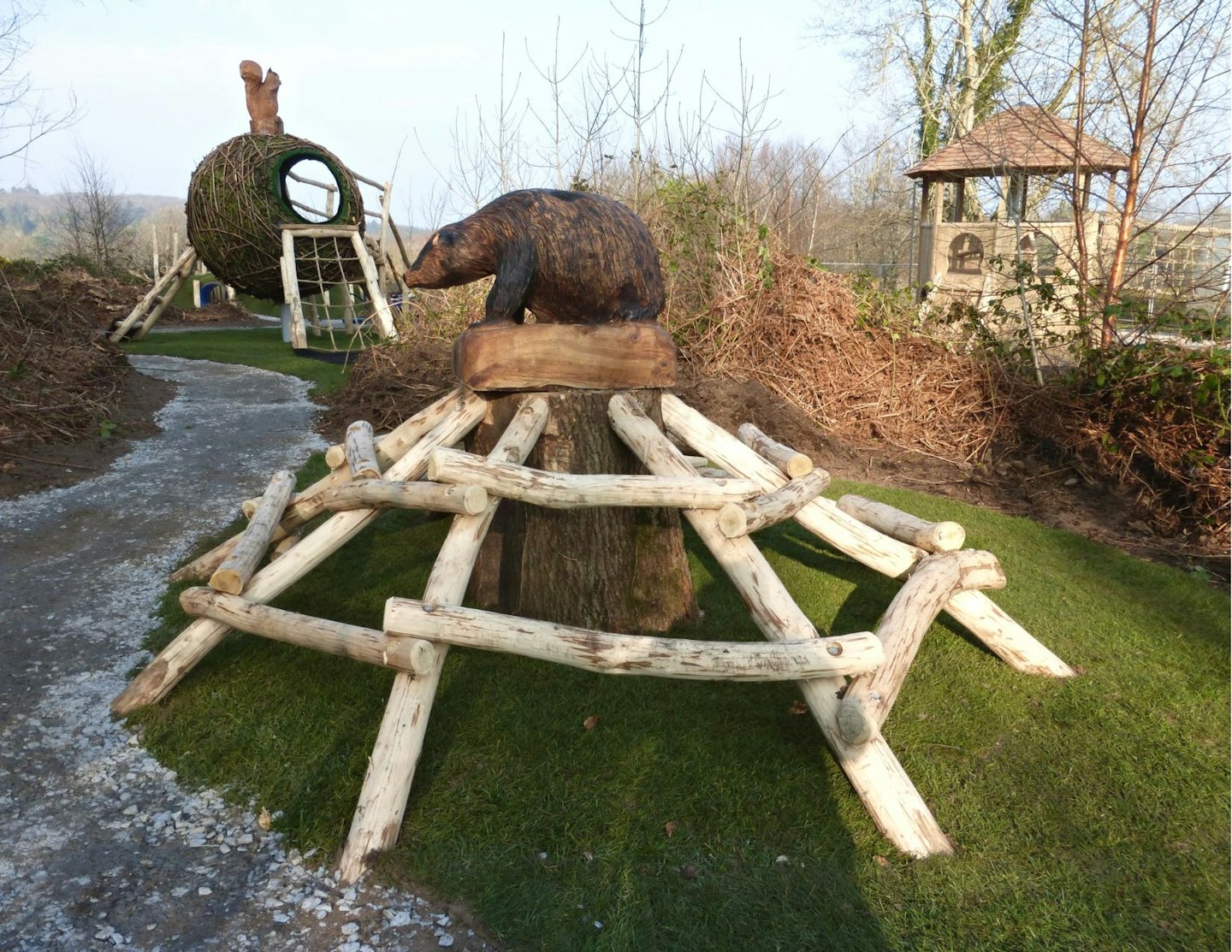 Best for: Adventurous kids and train lovers.
Weston Park's Woodland Adventure Playground is packed full of adventures from climbing walls, slides, trampolines, log swings and one of the country's longest double zip-wires. You and your family can hop on board the Miniature Railway as it steams through Temple Wood on a 12-minute journey past lakes and woodland, enjoying the wildlife at every turn.
Tickets
Adults - £8.00
Children - £4
Under 4s - Free
Review: "We walked over to the playground which is excellent, all the equipment is well looked after and some of it is quite new, my little girl loved it."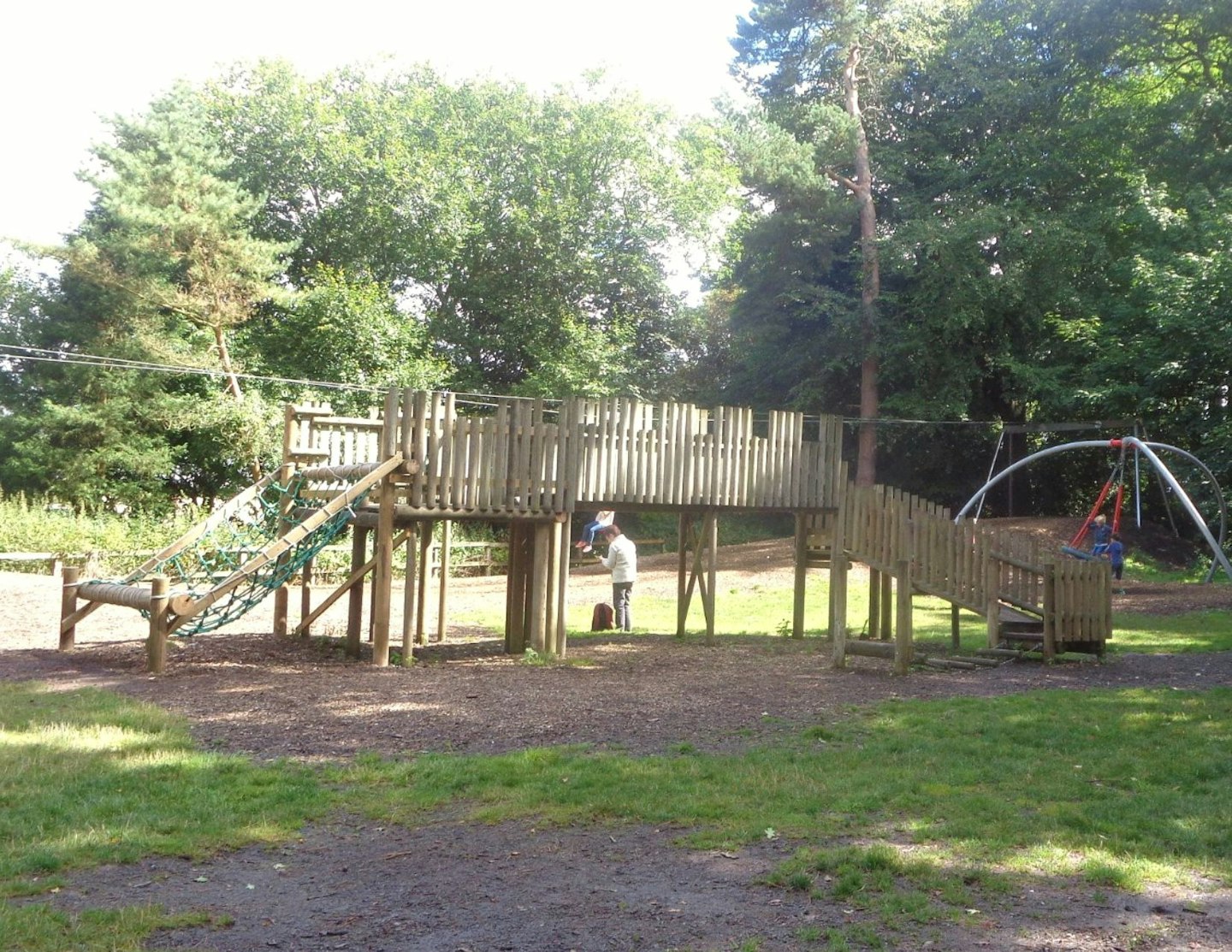 Best for: Children five years and over
We're guessing you've never seen an adventure playground like this! The Land consists of a fenced, one-acre play area with a brook running through it, with "piles of pallets, a tonne of tyres, the odd upside-down boat, wheelbarrows, ladders, fishing nets, various stray hammers...ropes and punch bags". It was even the subject of a documentary called The Land, directed by American filmmaker Erin Davis.
Tickets
Free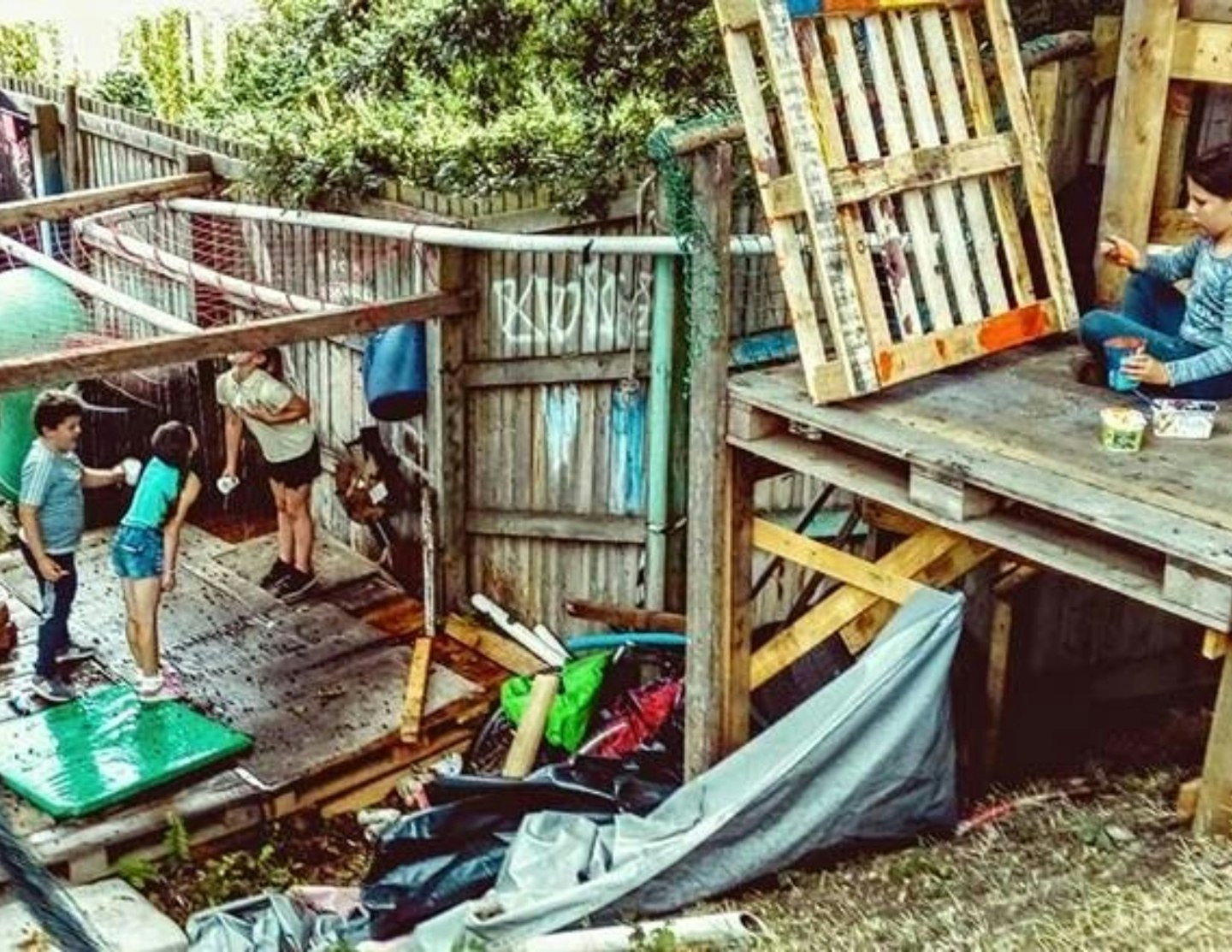 Best for: Children of all ages
Suitable for children up to twelve, Markeaton Park has a dedicated toddler area with swings, a slide, and climbing equipment plus large swings, slides, and a spider net for older children. The Adventure Galley pirate ship provides an accessible play unit suitable for disabled children. You'll also find a nine-hole Pitch and Putt course plus a paddling pool, bouncy castles, and car track.
Tickets
Free
Review: "Utterly love it here. Our kids can splash in the pool, play mini golf, go to the park, and finish it off with a walk. Perfect."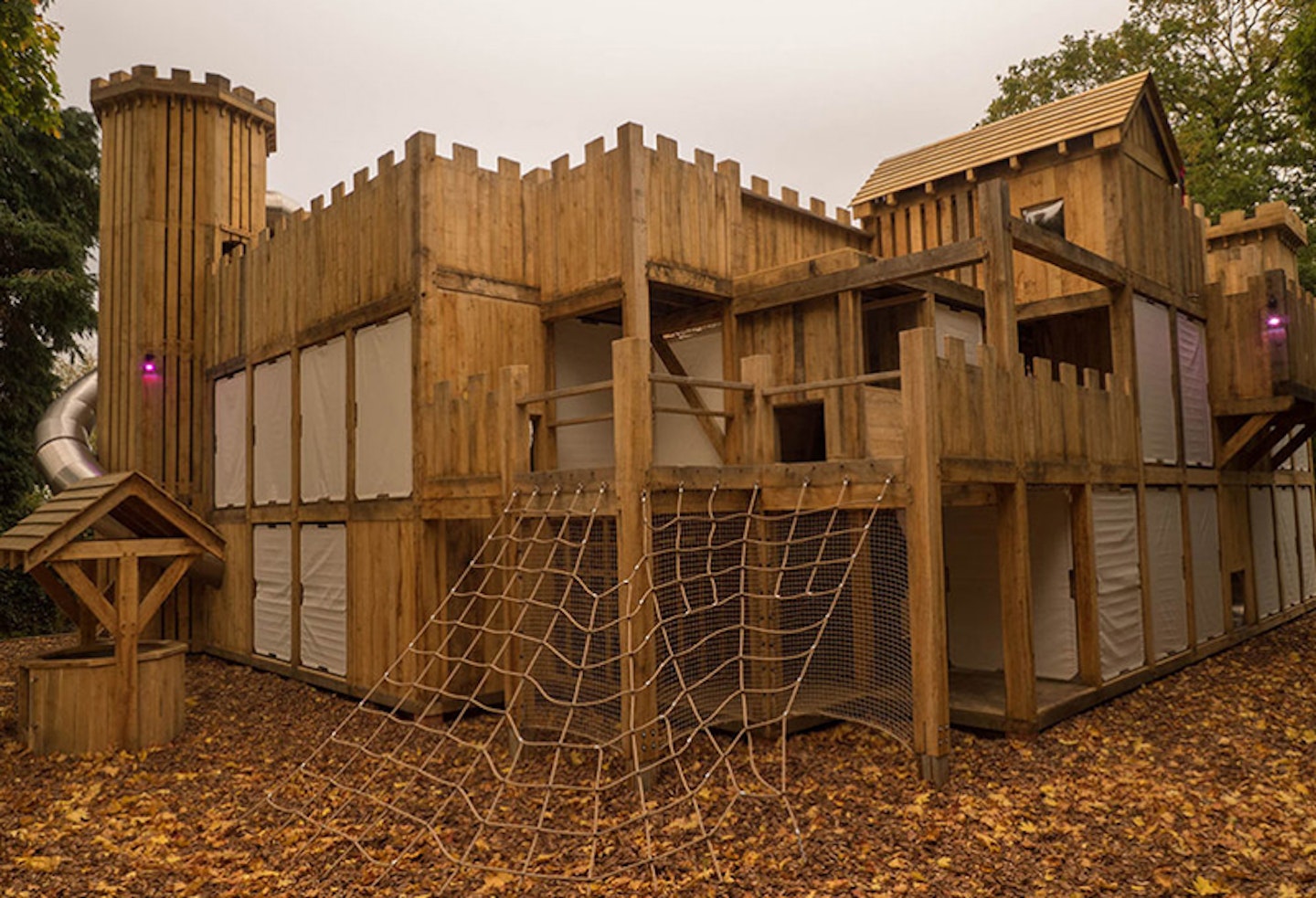 Best for: A day of magic
Although not open yet, we're expecting big things from Lilidorei at The Alnwick Garden. This magical, mysterious village is home to nine clans who worship Christmas - yep, all year round! Little ones will be able to can create their own narrative including playing on the world's largest play structure, taking part in daily activities and joining in with stories with one of a story keeper. How lovely is that?
Tickets
Adults - £12
Over 2s - £15
Under 2s - free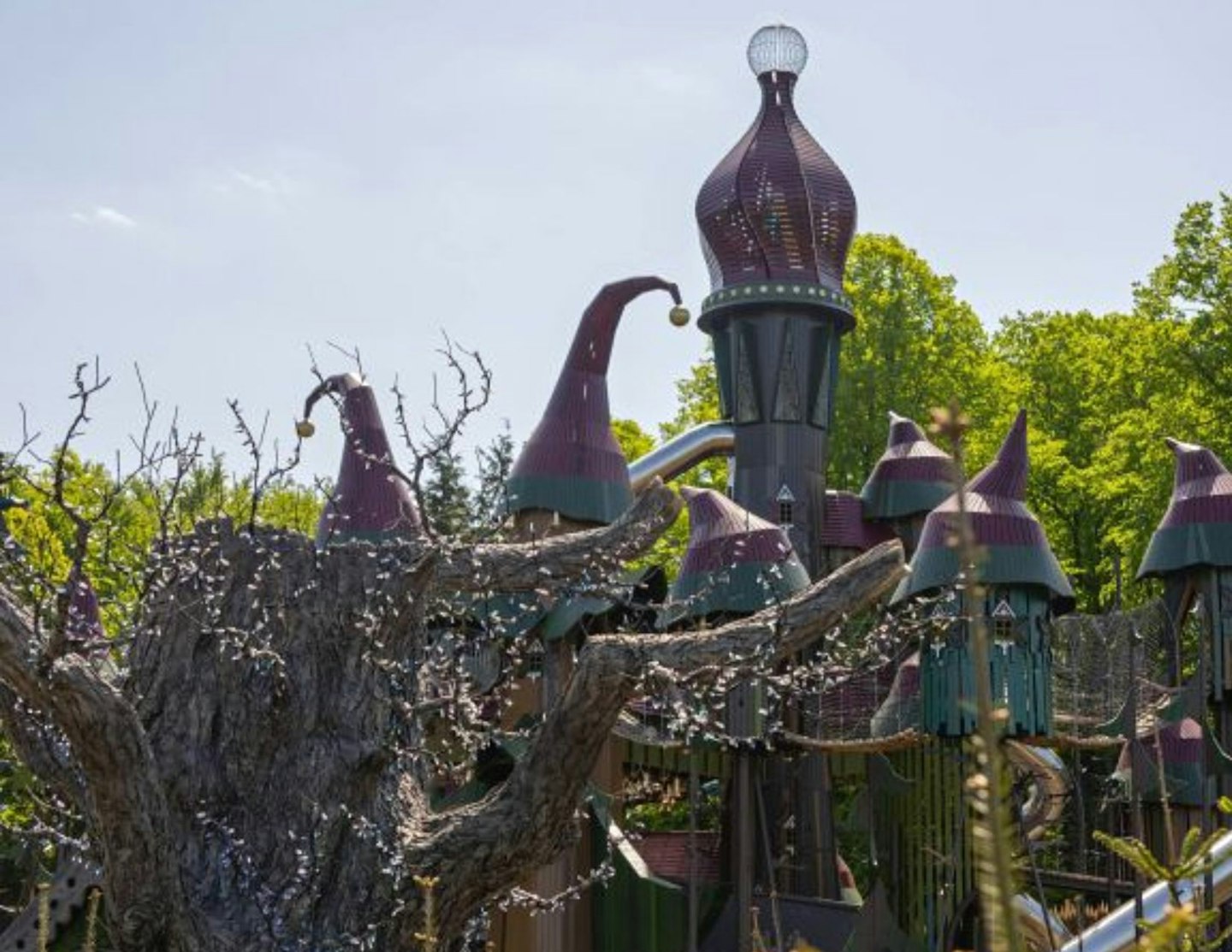 Best for: A full family day out with plenty of historical touches
Hever Castle has not one but two brilliant playgrounds! Tudor Towers Adventure Playground consists of a nine-metre tall wooden play castle, bigger than a four-bedroom house and complete with its own moat, drawbridge, and three turrets. Aimed at younger visitors, Acorn Dell features a 2-metre-high living willow structure, a giant sandpit, a grassy mound with three tunnels to clamber in, and a slide and a climbing frame. Located in the trees are two lookout platforms linked by a clatter bridge with a slide for making a quick escape.
Tickets
Adults - £15.85
Children - £9.95
Under 4s - Free
Review: "Lots of grounds to walk around. Plenty for all family to see.and do. Walk around the castle, archery, mazes, adventure playground, boats on the Lake."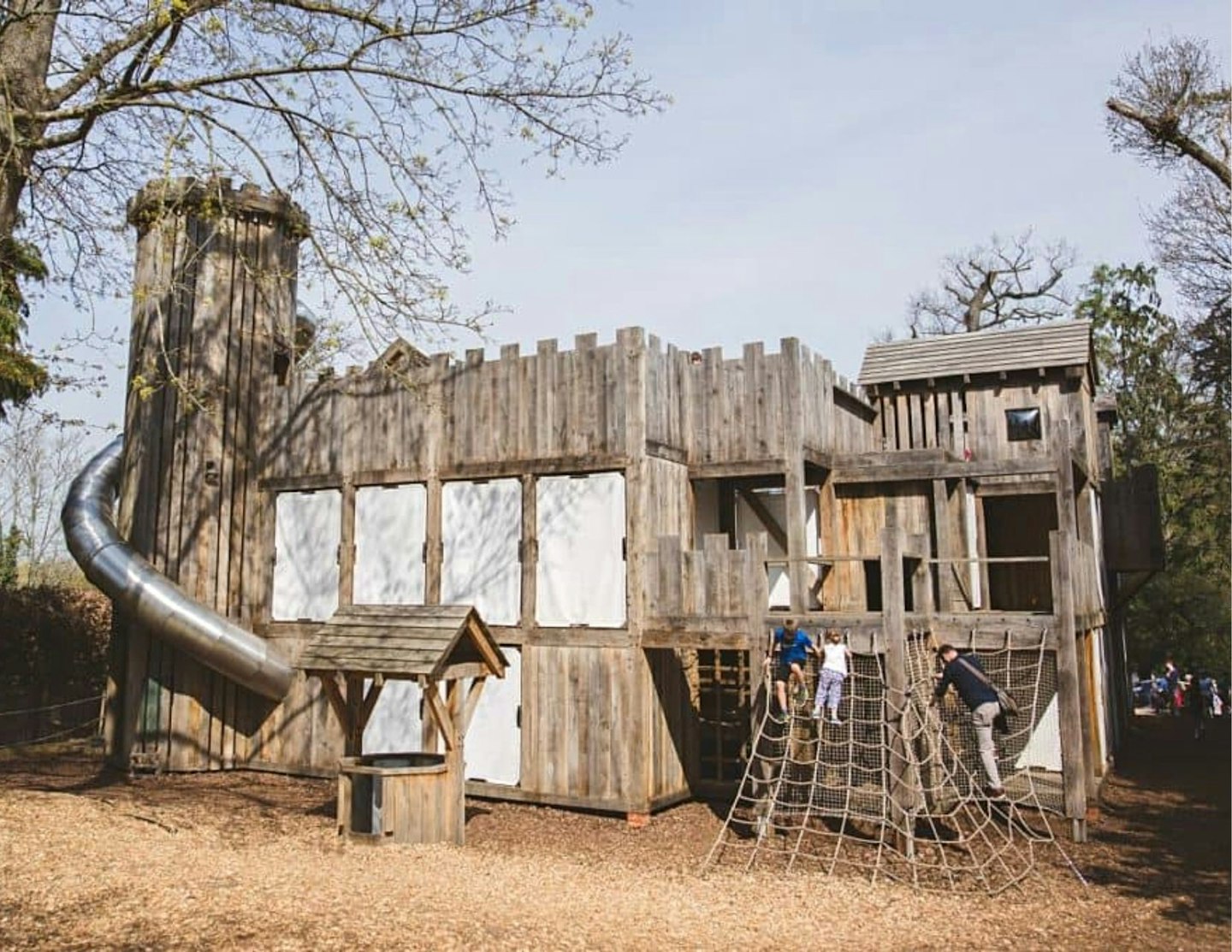 Best for: Interactive play with natural elements
Known locally as The Big Swing, Eccleshill Adventure Playground offers activities such as den building, open campfire cooking, and outdoor physical games. You'll also find a 50ft zip wire, a jumping tower, two sunken trampolines and the biggest swing in the north of England. This is a great pick for truly adventurous kids.
Tickets
Free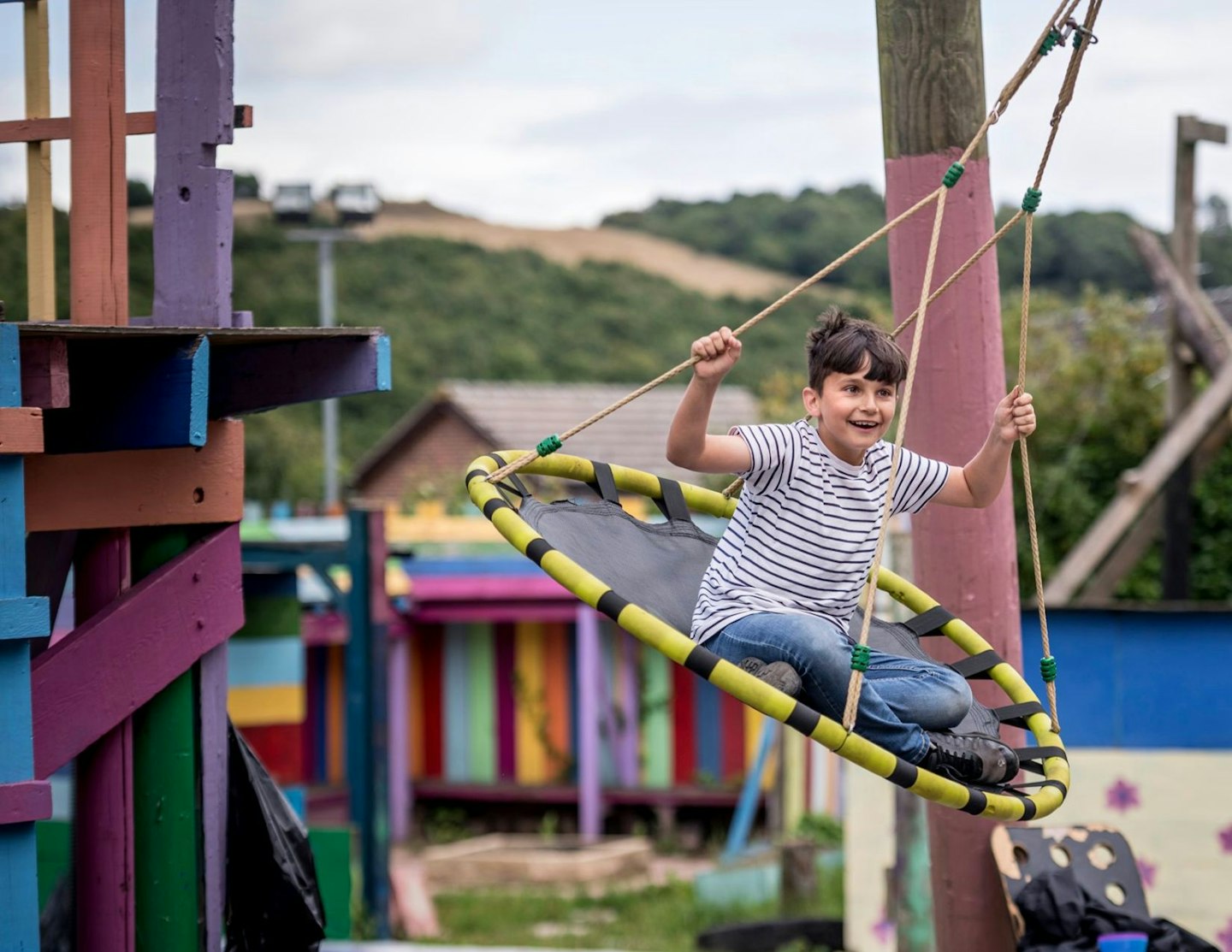 Best for: For beach and digger lovers
The Heartlands playground revels in Cornish folklore and boasts the top trumps of equipment, including a custom-made wooden climbing structure – The Giant's Trap. There are subterranean tunnels, a shipwrecked boat, funnel slides plus an inland beach-of-sorts, complete with diggers, tunnels and a sand transportation system.
Tickets
Free
Review: "We had a great time outstanding adventure playground. Great events for kids we took part in the Nerf session and the creepy crawly trail both excellent great value for money and staff very welcoming."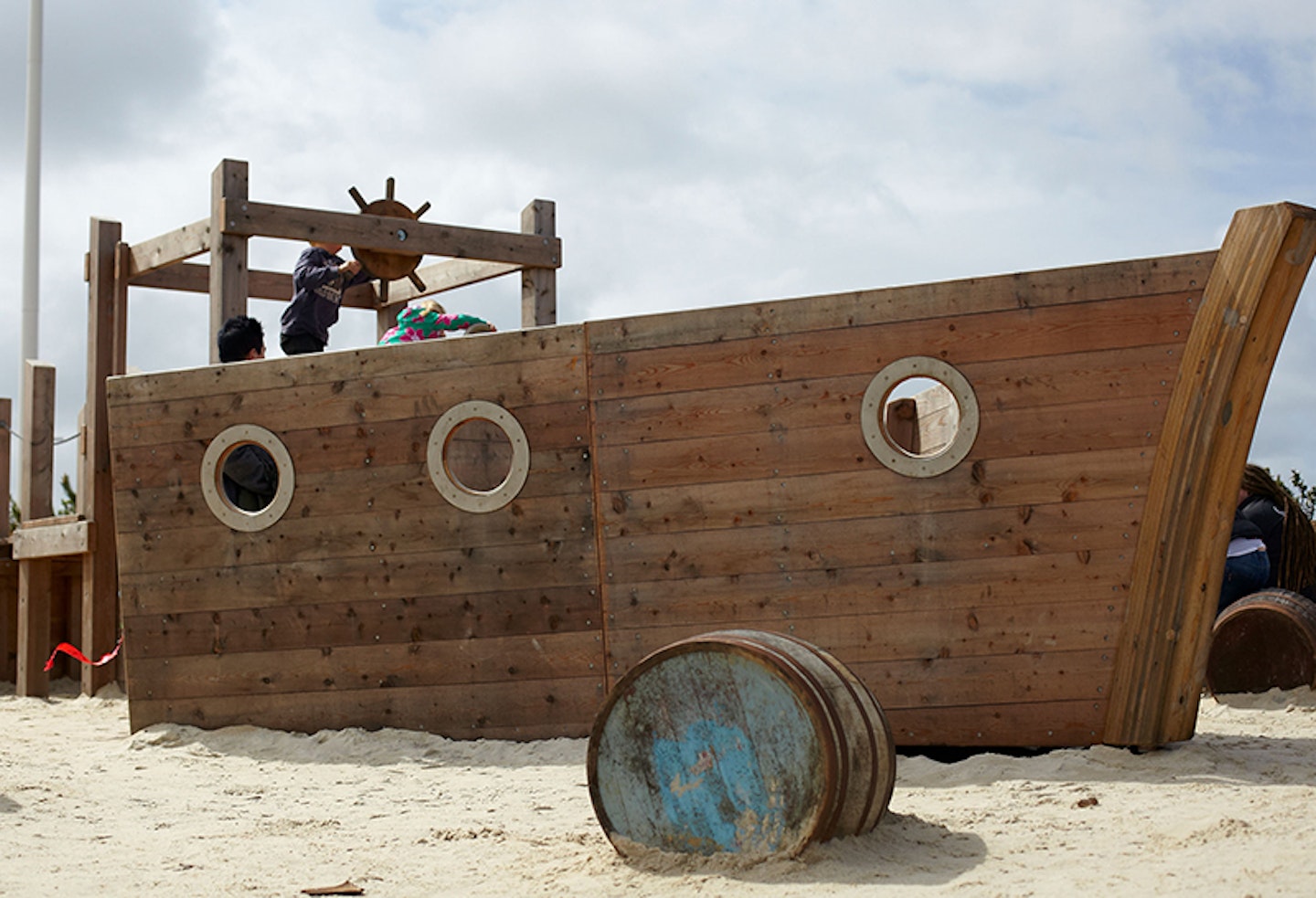 Best for: high-flying adventure
Made up of two main play areas, one suitable for toddlers and the other larger one, suitable for older children, there are swings and slides, 40m of aerial walkways, a 15m high tower and climbing nets to enjoy at Harewood House. There's also a picnic area for alfresco dining when they've finally tired themselves out.
Tickets
Adults - £12.50–16.50
Children - £7-9
Under 4s - free
Review: "Had a gorgeous afternoon exploring with my little girl (aged 2 and a half). We loved the adventure playground, the fountains on the terrace, and the cascade in the Himalayan garden. The meadow in the walled garden is lovely and the lakeside Bothy cafe is a great place for a coffee."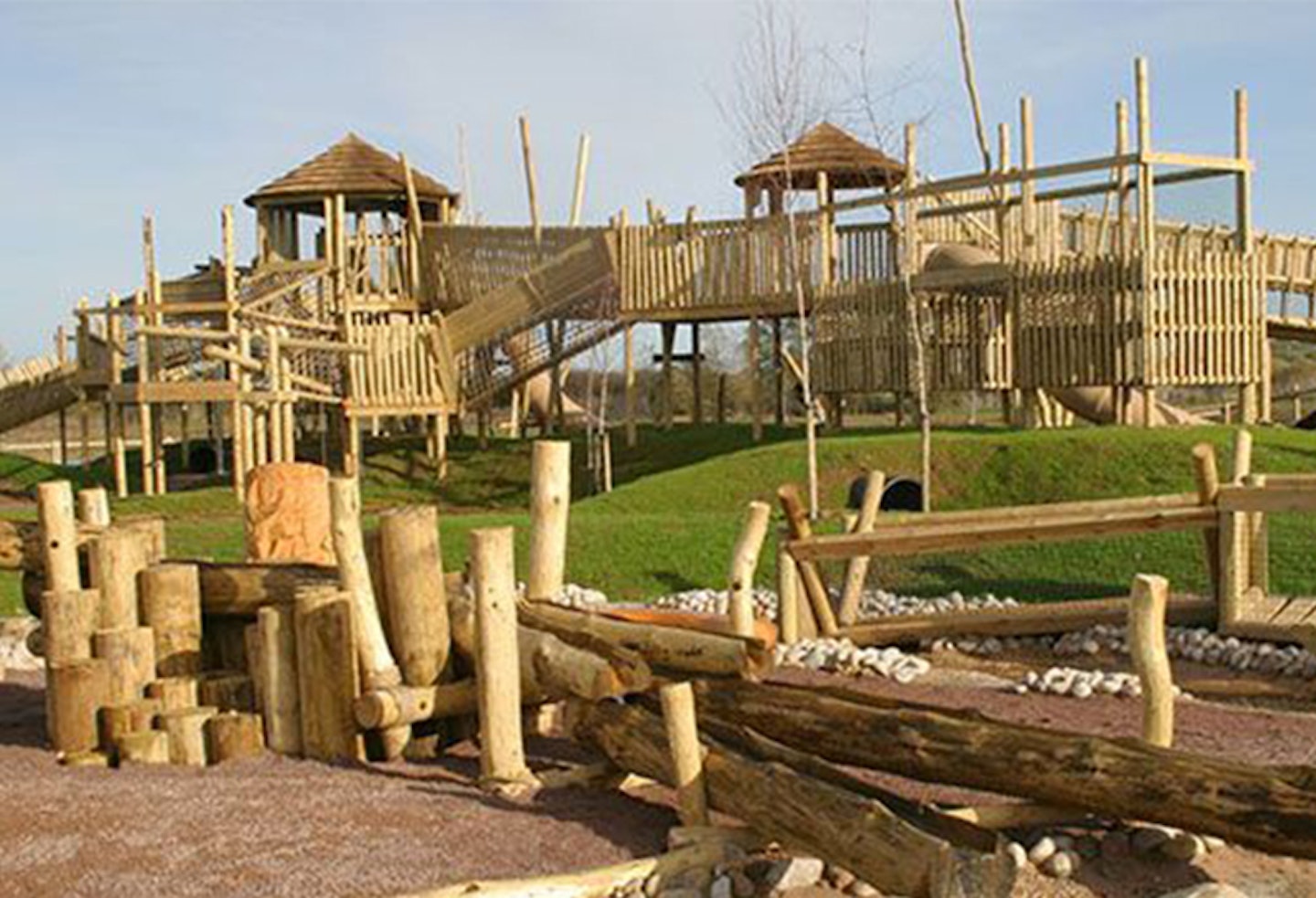 Best for: sand and water play
Built of wood and surrounded by a moat, the adventure playground at Stanwick Lakes includes water play, with a small stream and water wheels, a large sand play area, a climbing tower with a giant slide, tunnels, stepping stones, a sunken ship and much more. There are plenty of wooden sculptures and seats dotted throughout the adventure playground providing rest areas as you supervise your youngster.
Tickets
Admission is charged through variable car parking charges. The site is free to those who walk or cycle in.
Review: "What a wonderful day out. We were looking for somewhere in the middle between us and our friends and this was a wonderful find. A brilliant day out with plenty to do for our young children, it was truly fantastic. The play parks, the sand pits, the trails, all super fun."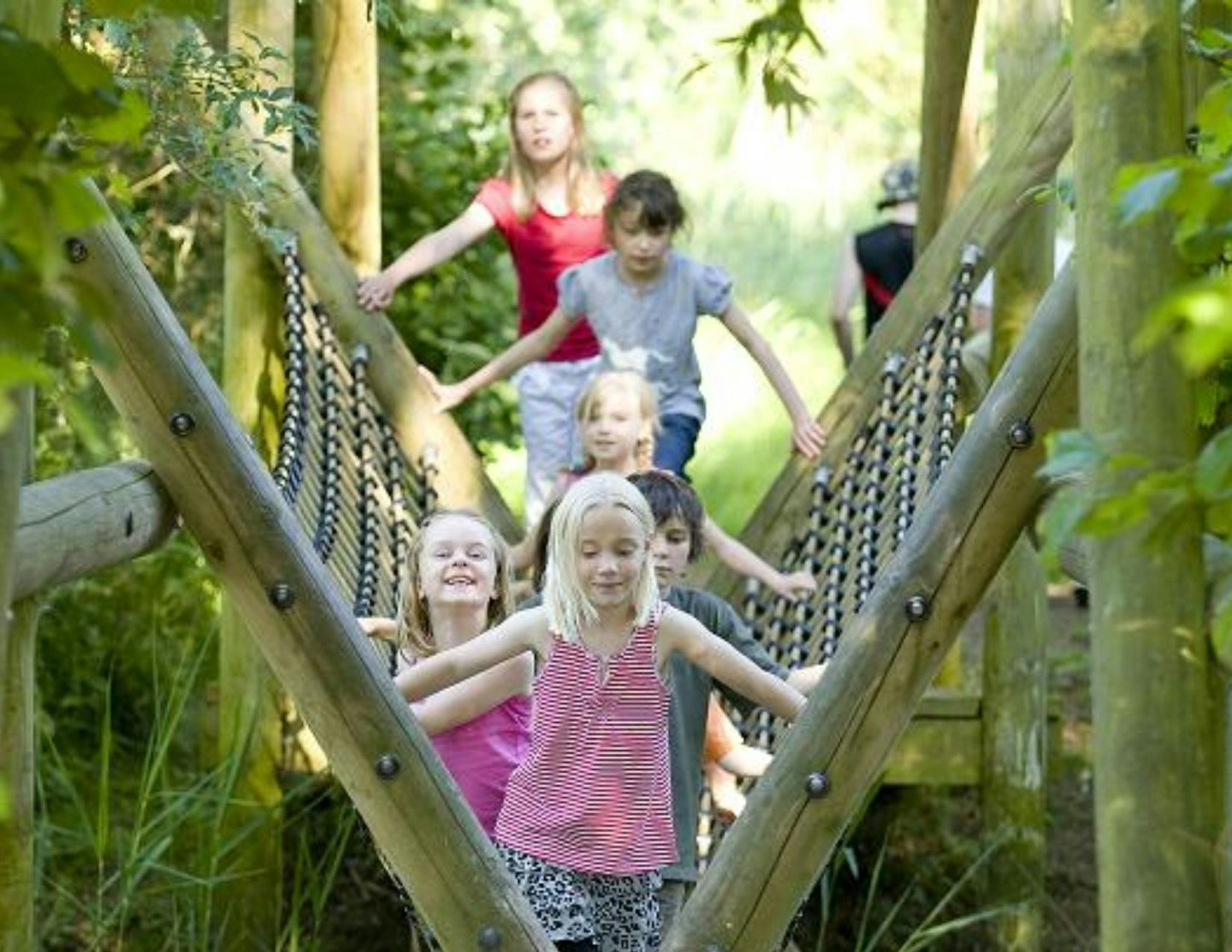 Best for: Animal encounters
The Web Adventure Park offers something for everyone including a spacious indoor play area (Creepy Crawlies), water play area, Animal zone, and of course a large outdoor adventure park. For older ones, there is a high ropes obstacle course with multiple activities and a linear course with a climbing wall, Leap of Faith, Gladiator Challenge, Jacob's Ladder and more.
Tickets
Adults - £2.50
Children (1-15 years) - £7
Under 1s - £2.50
Review: "Nice day out with the kids. Animals to pet, indoor & outdoor rides, and surprisingly good food in the indoor play café. Lots to keep your kids happy indoor (impressive & large softplay) and lots of rides & play areas outside too. What's not to like? Our nearly 3 year old loved it! We will be back, highly recommend!"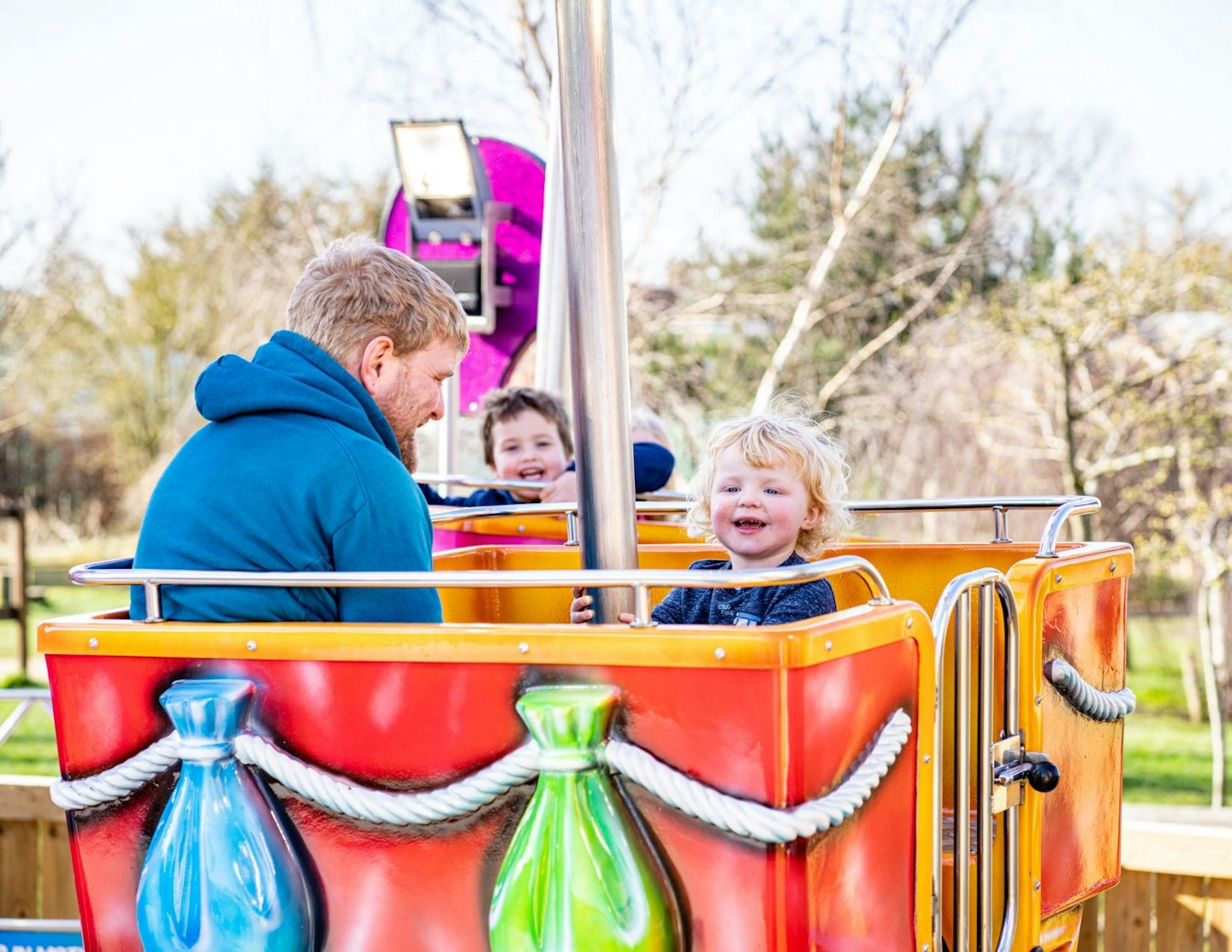 Emily Gilbert is the Features & Reviews Editor for Mother&Baby and has written for the website and previously the magazine for six years. Specialising in product reviews, Emily is the first to know about all the exciting new releases in the parenting industry.