If you are looking for an incredible deal on baby products, although the big day is over, there are still plenty of Black Friday offers to make the most of so you can grab a bargain. And to save you sifting through all the many websites, we've got you covered thanks to the best Black Friday baby deals 2023.
The best Black Friday baby deals 2023:
• There's 20% off iZi Turn at Natural Baby Shower - WAS £459.00, NOW £369.00
• Natural Baby Shower has 20% off the Haven Baby Carrier - WAS £125, NOW £100.
• There's 15% off orders over £60 at Finnson
• Save 20% on the Newborn Haven at Natural Baby Shower - WAS £99, NOW £79.20.
• Grab 31% off MAM Easy Start Colours of Nature Starter Self Sterilising Anti Colic Starter Set
• VOKSI Explorer has 15% off at Natural Baby Shower - WAS £115, NOW £97.75
• You can save £34.35 on VOKSI Adventure North at Pramworld - NOW £194.65.
• Save £120 on the Owlet baby monitor duo at Mamas & Papas - WAS £399, NOW £279
•There's 25% off Sleepytroll Sensor Controlled Baby Rocker at John Lewis - WAS £127, NOW £95
• Ingenuity AnyWay Sway Dual-Direction Portable Swing 20% off at Argos- WAS £125, NOW £100
• Save 30% off Maternity Hospital Bag bundle at Seraphine- WAS £99, Now £69.30
Shop retailer Black Friday deals 2023:
Description
With the ability to track your baby's oxygen and heart rate levels, the OWLET Smart Sock V3 Baby
Description
With 40 bedtime stories, 100 classical music tunes, lullabies and more, the Vtech V-Hush Sleep
Description
Fold and unfold the ultra-compact Butterfly at lightning speed and enjoy total freedom on your
Description
This soothing co-sleeper will keep your baby close. The thick mattress included will provide all
Description
This handy bundle gives you everything you need to use the Tripp Trapp from day one. It includes
Description
Shaped like a breast and nipple, these bottles are designed to make bottle feeding comfortable for
Description
There's everything you could need for your nursery in one go with this three piece Mia Cot Bed
Description
This handy formula maker quickly cools a fresh formula feed to the perfect temperature in just two
Description
The tonies® Toniebox is the musical story box that brings magic to family life. Simply choose a
Description
With a built-in mic and speaker, this monitor allows you to easily communicate and hear baby,
Best for bottle feeding
Description
The perfect prep machine is great to help with bottle feeding. It makes a fresh formula feed at
Best for bathtime
Description
It's not always easy holding your little one when they are wet, which is why this bath support is
Best baby gym
Description
Suitable from birth, the Gymini has 18 activities to stimulate your little one's development at
Best baby play mat
Description
There is so much for your little one to do with this play mat. It has 5 linkable toys attached to
Best black out blind
Description
Make travelling with baby easier with this portable black out blind. You can create a completely
Best soothing toy
Description
This cute otter is suitable from birth and has 11 sensory discoveries for your little one to
Best room thermometer
Description
With chilly nights, it's good to know the temperature of your little one's room to make sure they
Best travel dome
Description
Baby will feel very comfortable when away from home in this portable baby dome which features a
Best i-Size baby car seat
Description
There are so many car seats to choose from but this one has memory foam integrated in the side
Description
This cute toy automatically avoids obstacles as it moves around to entertain your baby. With
Description
This convenient safety stair gate is 73 cm tall and can be used to childproof widths from 73 to 80
Description
The CoZee Bedside Crib has been designed so you can have it by your bed, or as a standalone crib.
Description
This lovely weaning set includes 1 x trio divider plate, 1 x curved bowl, 1 x flat dish, 2 x
Description
This gorgeous looking nursery rug be perfect for your little ones bedroom. With different colours
Description
Does your little one need some soothing or maybe its nap time. This spinning and swaying seat
Description
A 4 in 1 food maker with many talents: it steams and cooks in 15 minutes, blends, defrosts and
Description
Your life is about to become so much easier, because with the Doona+ infant car seat, a fully
Description
A stylish white noise machine that can also be used as a nightlight. It has 34 sounds, 10 white
Description
The sweet Lulla Doll will help soothe baby and aid their sleep with natural breathing and
Description
A comfortable carrier for you and baby, this great carrier is perfect for longer babywearing
What is Black Friday?
Black Friday is traditionally the Friday following Thanksgiving in America, where masses of shops and online retailers have huge discounts and sales.
It's now the biggest shopping day of the year in the UK. You're guaranteed to find loads of deals on baby products, tech and electronics, fashion, homewares, and much more. Over Black Friday weekend, the discounts continue and, you'll find even more sales being released - not just on Black Friday itself.
We're really excited to find all the best Black Friday and Cyber Monday baby deals. There will be discounts on THOUSANDS of items. Naturally, we'll be covering all the necessities including highchairs, travel cots, toys, and more. What best Black Friday and Cyber Monday baby deals list would be complete without them?
When is Black Friday?
It used to be that Black Friday was just that - one Friday. But not anymore. Last year we had a month of deals to enjoy, meaning we had loads of chances to get our Christmas gift shopping done early. Black Friday 2023 is on November 24, followed by even more discounts on Cyber Monday on November 27.
Top tips for Black Friday baby deals 2023:
Here are our top tips to get the most from the madness of Black Friday.
Bookmark this page
We'll be rounding up the best deals on discount tech, baby essentials, and more. In order to stay up to date, don't forget to bookmark this page. You'll have all the best deals in one place when the time comes.
It'll save you valuable time scouring the web and give you the opportunity to pounce on the best deals before they disappear. Our shopping experts will also be bringing you the best baby and parent deals across the year.
Sign up for newsletters and updates
Another top tip is to get up close and personal with your favourite online retailers too. Sign up to their marketing emails, or download their shopping apps and enable push notifications to be the first to hear about new deals going live in the lead-up to Christmas.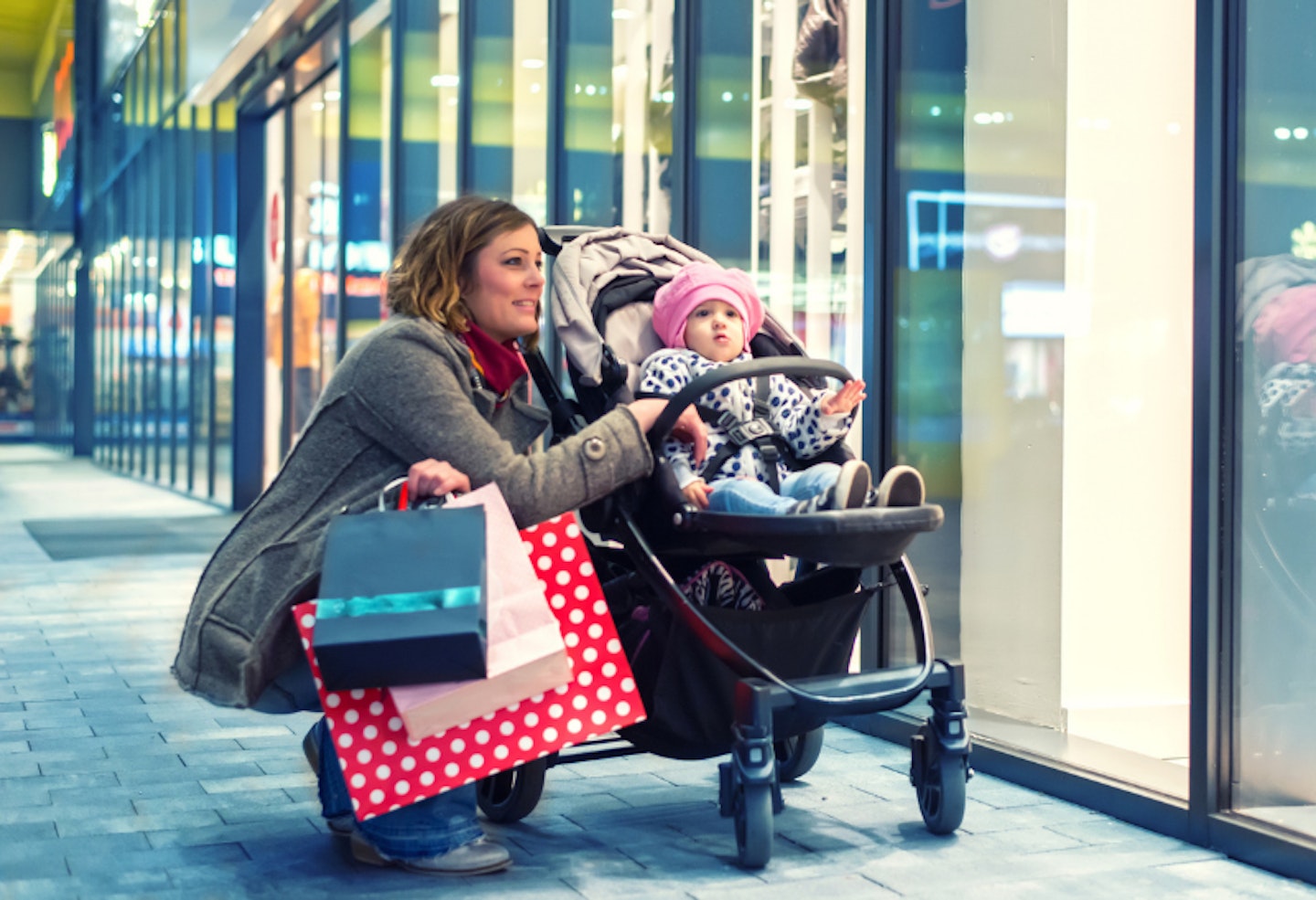 Set up an online account beforehand
The stressful part of Black Friday is normally reaching the checkout and having to go through a long process of sign-up forms, email verifications, etc. which takes up valuable time. If you're serious about shopping, make sure you set up your online account in advance – so come Black Friday, they'll have all your details already.
It's a good idea to sign up for Amazon Prime before the day itself, too - you can get a 30-day free trial and it means you'll get free next-day delivery on loads of items as well as getting exclusive deals too.
Organisation is key
It can all be a bit overwhelming, so spend the weeks beforehand deciding what's a priority for you - this will help with getting what you really need, as tempting as some deals may be, and help to keep you on budget.
If you know you'll be busy, whether that's because you're working, looking after a newborn, or doing the school run, enlist the help of your loved ones to help you out. Some of your friends and family might happily head to Tesco early or scour the John Lewis or Next sale for you, you've only got to ask.
Want to find more Black Friday baby deals 2023? Check out our article on pregnancy products, Black Friday toddler deals and Black Friday toy offers.
Emily Gilbert is the Features & Reviews Editor for Mother&Baby and has written for the website and previously the magazine for six years. Specialising in product reviews, Emily is the first to know about all the exciting new releases in the parenting industry.