Getting into the bath at the end of a long day can feel like a real luxury when you're a busy mum, so we reckon it's well worth making your time in the tub as divine as possible.
One way to do this is to pick yourself up a bath pillow. Let's be honest, leaning back against a bath isn't the most comfortable, especially if you're poor back could use some support after constantly bending down to scoop up your baby and 50 million toys...
That's why a bath pillow is so great - and a must for your bath-time ritual. As well as being pretty damn comfy and adding a touch of opulence to your bathtime (and who doesn't want that?), a bath pillow is usually designed to support both your neck and back as you sink into the bubbles.
So if we've convinced you, here are the bath pillows we reckon are well worth your cash.
The best bath pillows
Just so you know, whilst we may receive a commission or other compensation from the links on this page, we never allow this to influence product selections.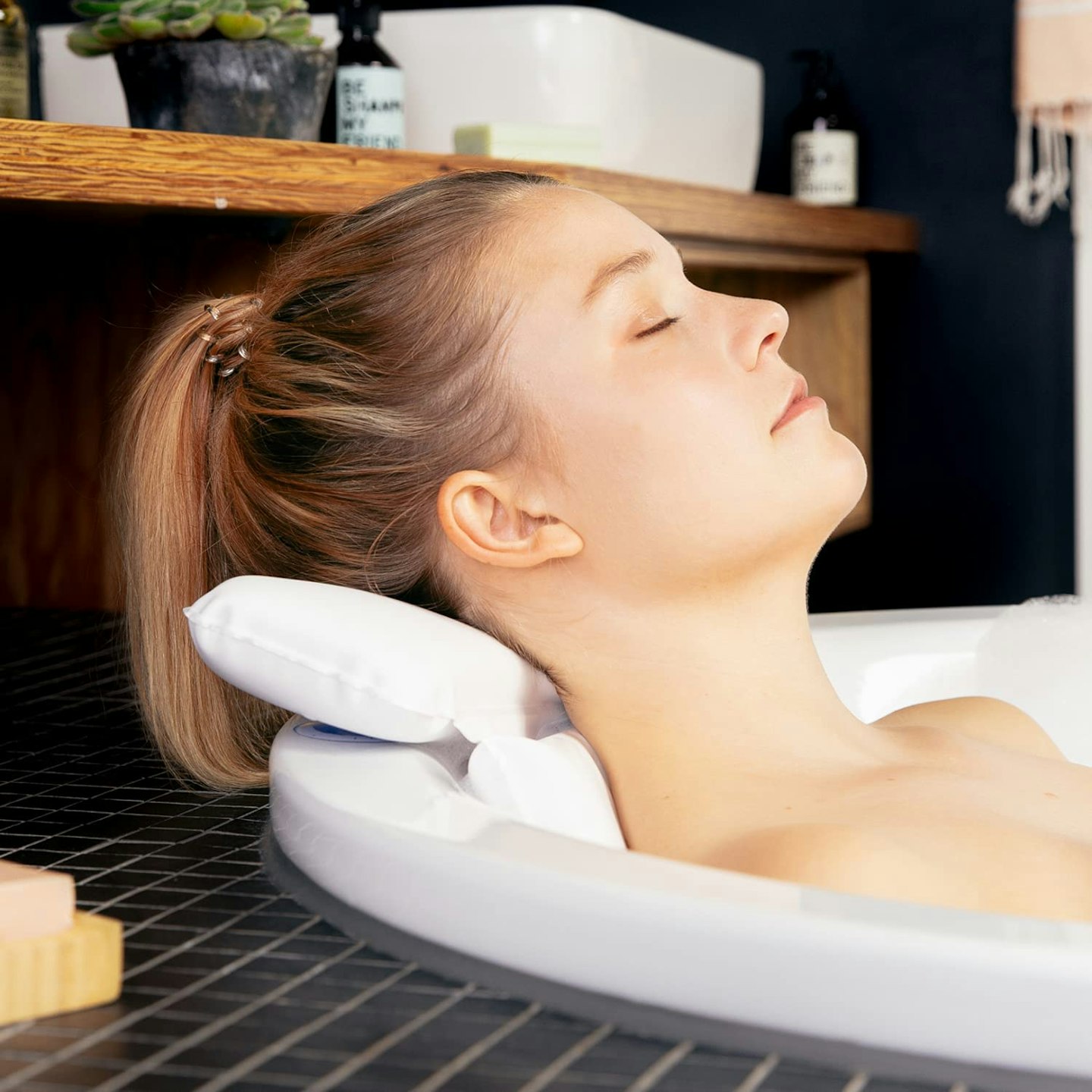 1 of 7
TranquilBeauty Bath Pillow
Ensuring that your head and neck are properly supported, this comfy white pillow has suction grips to attach to all types of bath surface including enamel and cast iron.
Review: "Excellent bath pillow. Bought one for myself, was so delighted I ordered another 2 for friends. Not just head rest, but wonderful for your back too, so relaxing to enjoy a wonderful relaxing bath. Excellent price, and beautifully packaged in lovely box to give as a gift. Comes highly recommended."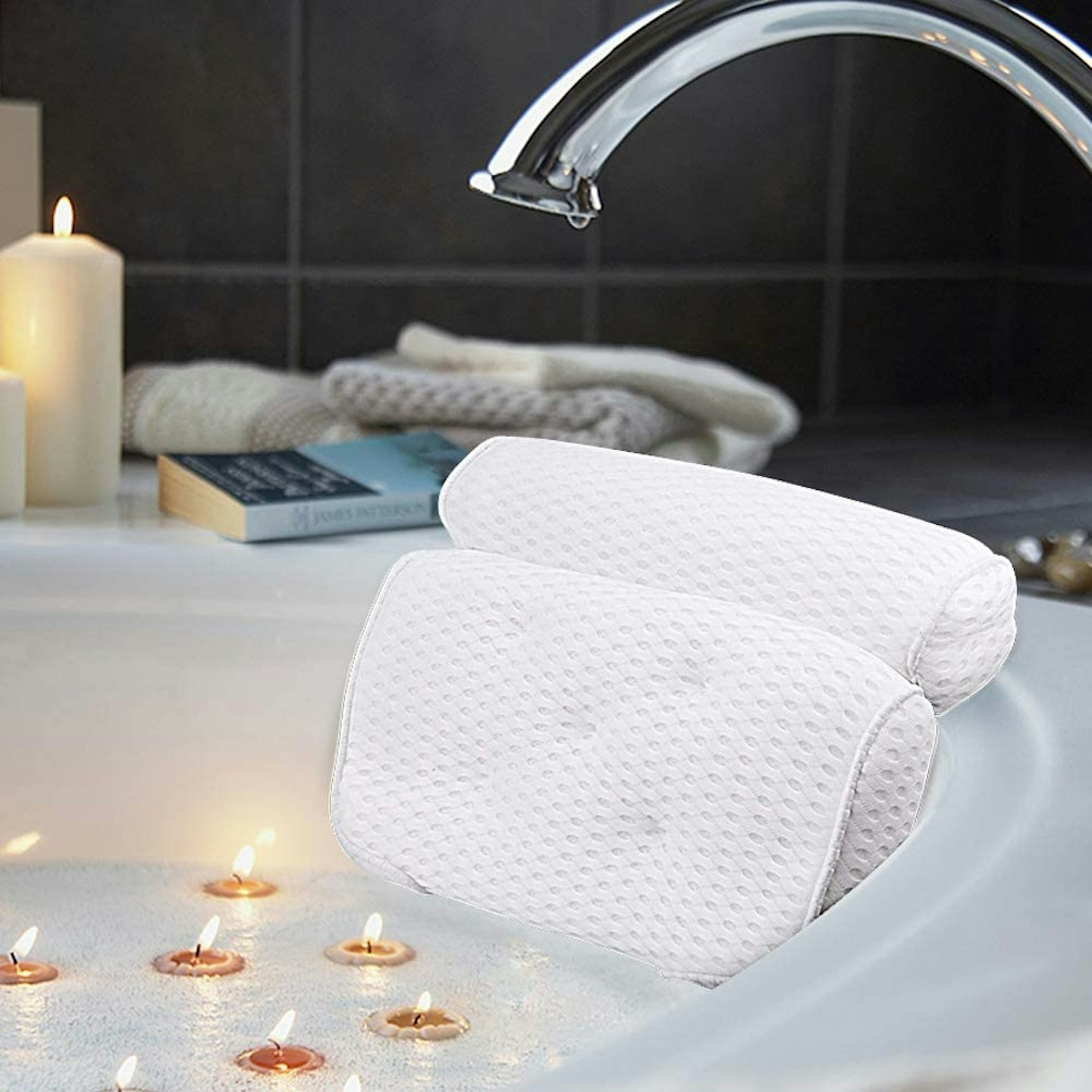 2 of 7
AmazeFan Bath Pillow
Made from 4D air mesh technology which promises a softer, breathable and more comfortable pillow, the two-panel design seamlessly contours to your head and neck. It's easy to clean too and can be washed by hand or machine.
Review: "The pillow is nice and soft while being firm enough to support your back and neck and the extra little part for the back of the head is great as it lets you really soak while not hurting the back of your head against the bath. The suction cups are excellent as well as it keeps the pillow in place so you don't have to worry about it slipping into the water. For anyone who likes to lay their head on their bath without killing the back of your head, I'd 100 per cent recommend this."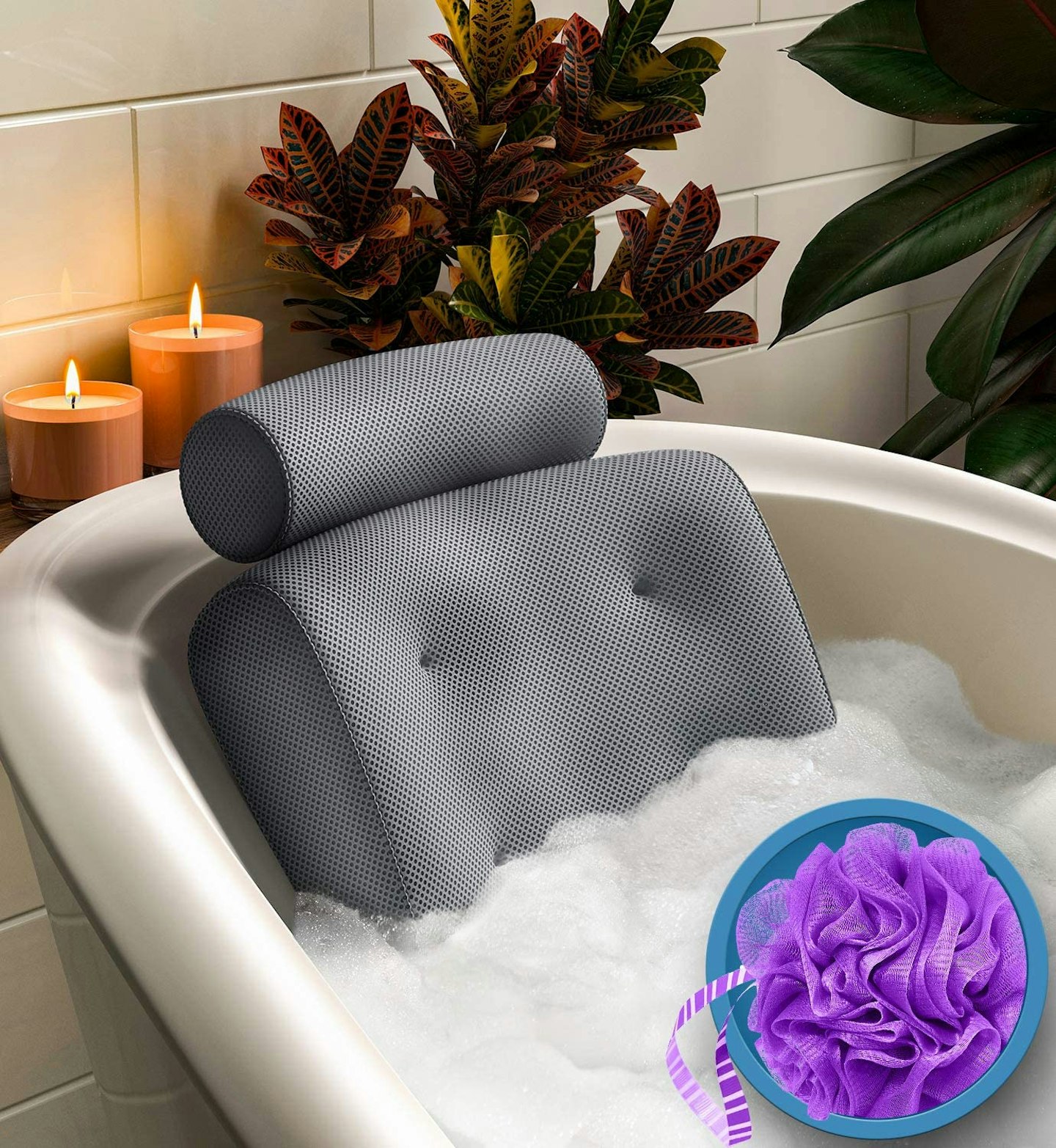 3 of 7
Everlasting Comfort Bath Pillow
This bath cushion has a breathable mesh cover that allows it to dry quickly, preventing water build-up inside. With strong suction cups on the back of the pillow to fit any type of tub, as a large side pocket to hold your tub accessories. 
Review: "This is so cosy! I have achy shoulder blades and this pillow supports them perfectly. It looks great. And sets the mood for your soak. Worth every penny."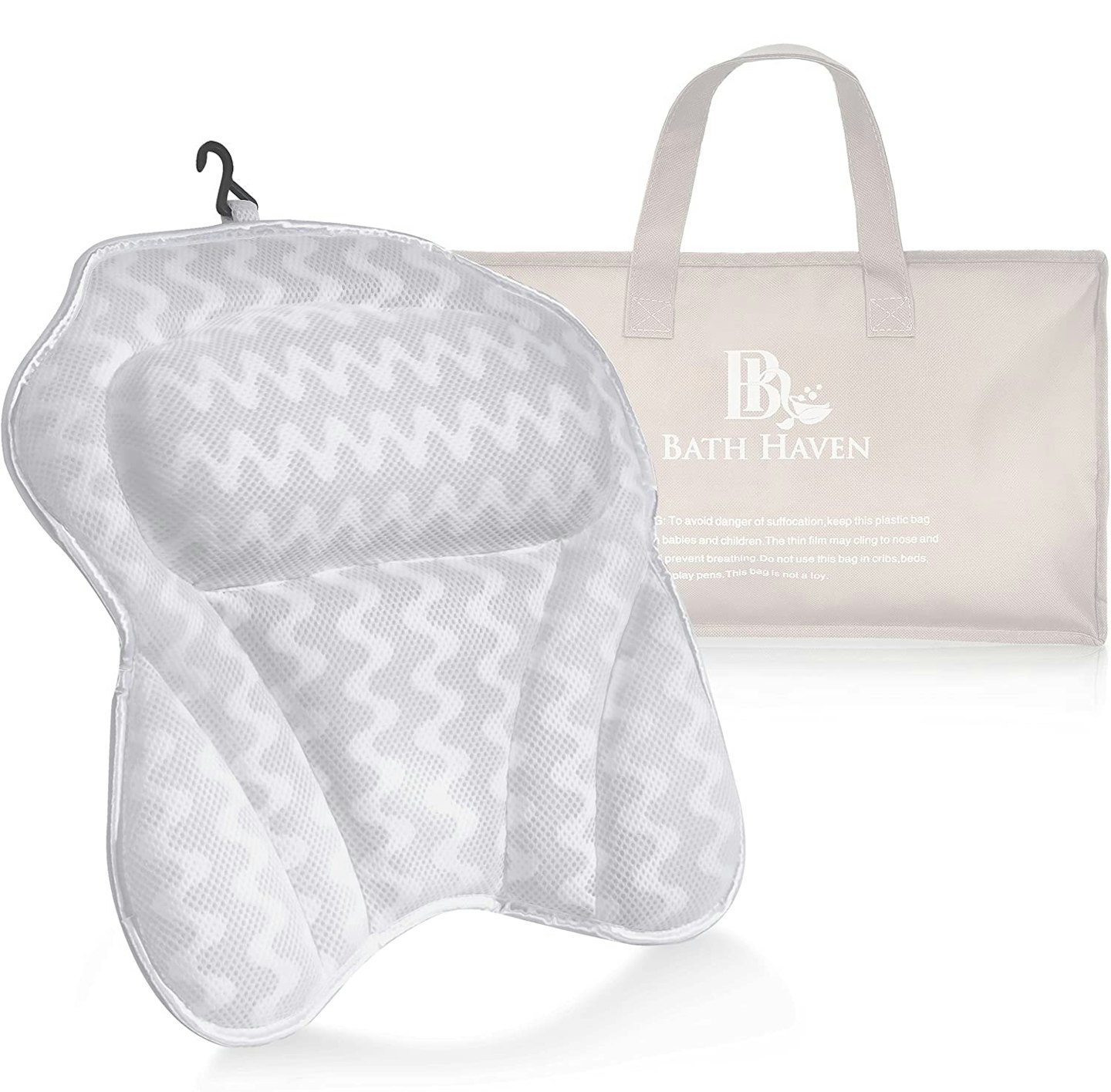 4 of 7
Bath Haven Luxurious Bath Pillow for Women & Men
This uniquely shaped bath pillow envelops your head, neck and shoulders for a luxury experience. The "wave-pattern" stitching provides strategic support for sensitive joints & muscles, helping prevent aches and soreness.
Review: "This is such a lovely bath pillow! The pillow stay in place for the whole bathing time and the design just fit my bath tub, this made my bath time more relaxing and enjoyable."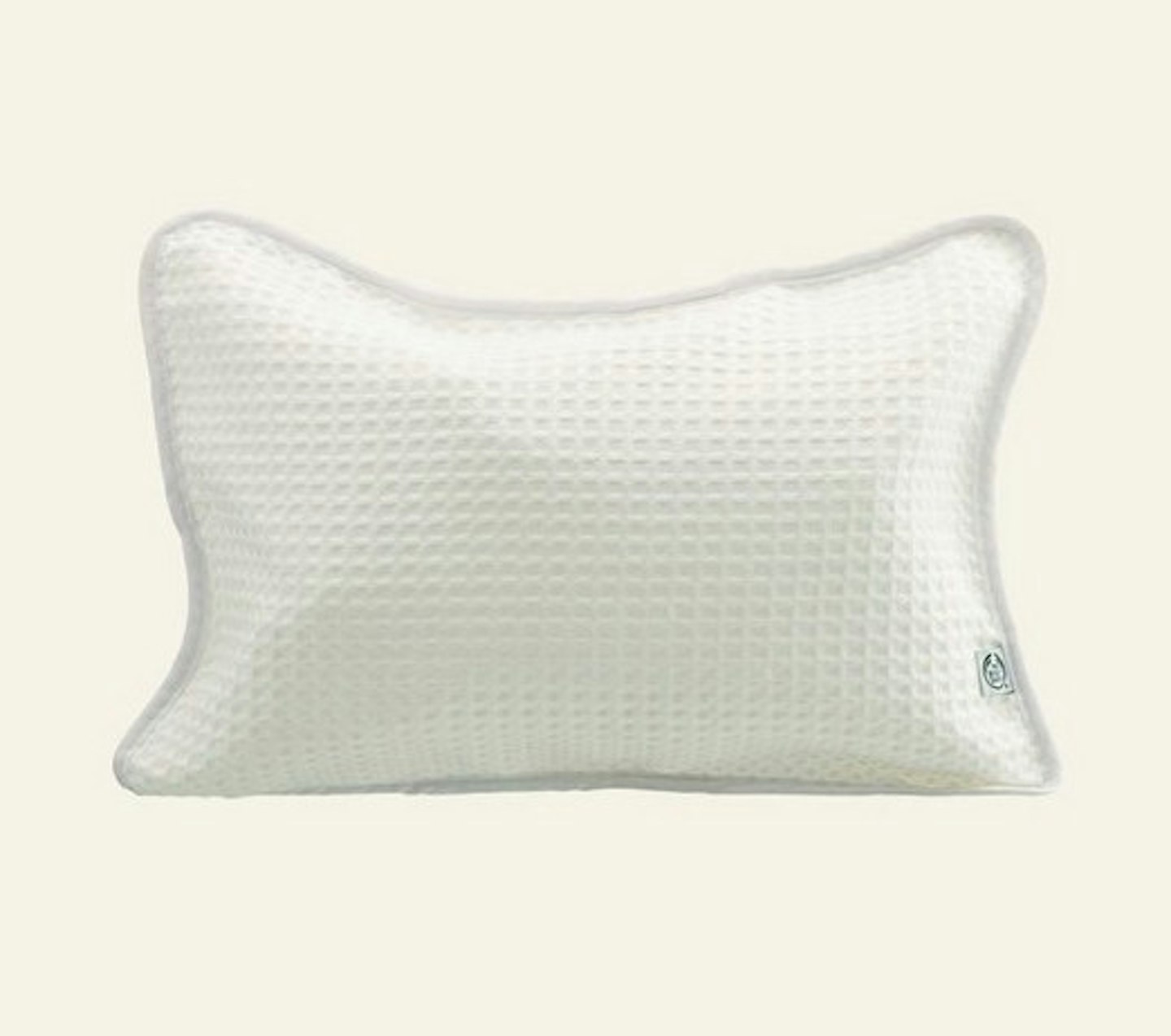 5 of 7
The Bodyshop Bath Pillow
This inflatable bath pillow comfortably supports you neck as you relax and has a washable soft terry cloth outer.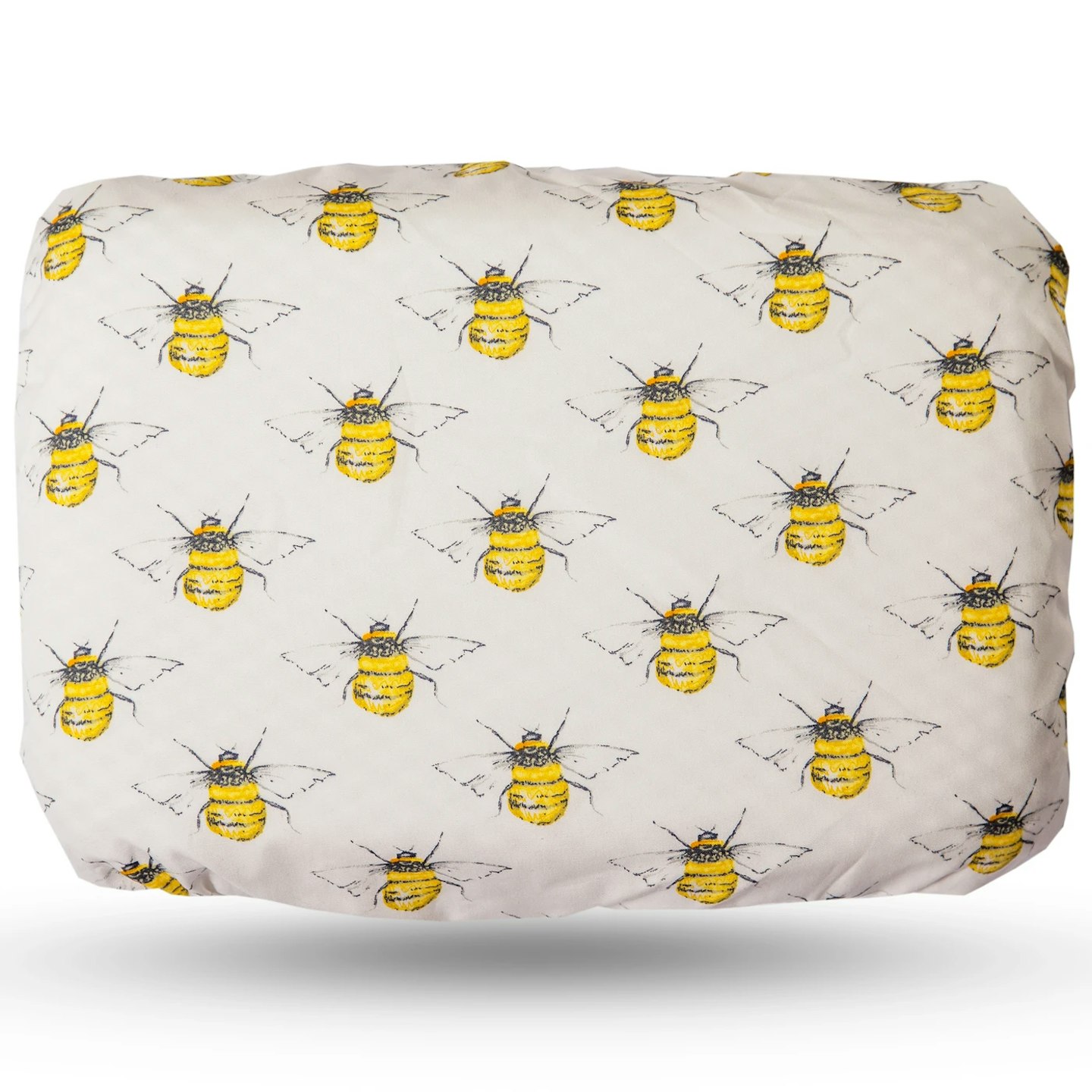 6 of 7
Bee bath pillow
We love the eye-catching design of this bath pillow. The cotton bee cover has a waterproof lining and can easily be removed for machine washing when required. There's also a handy hook to hang the pillow up after use.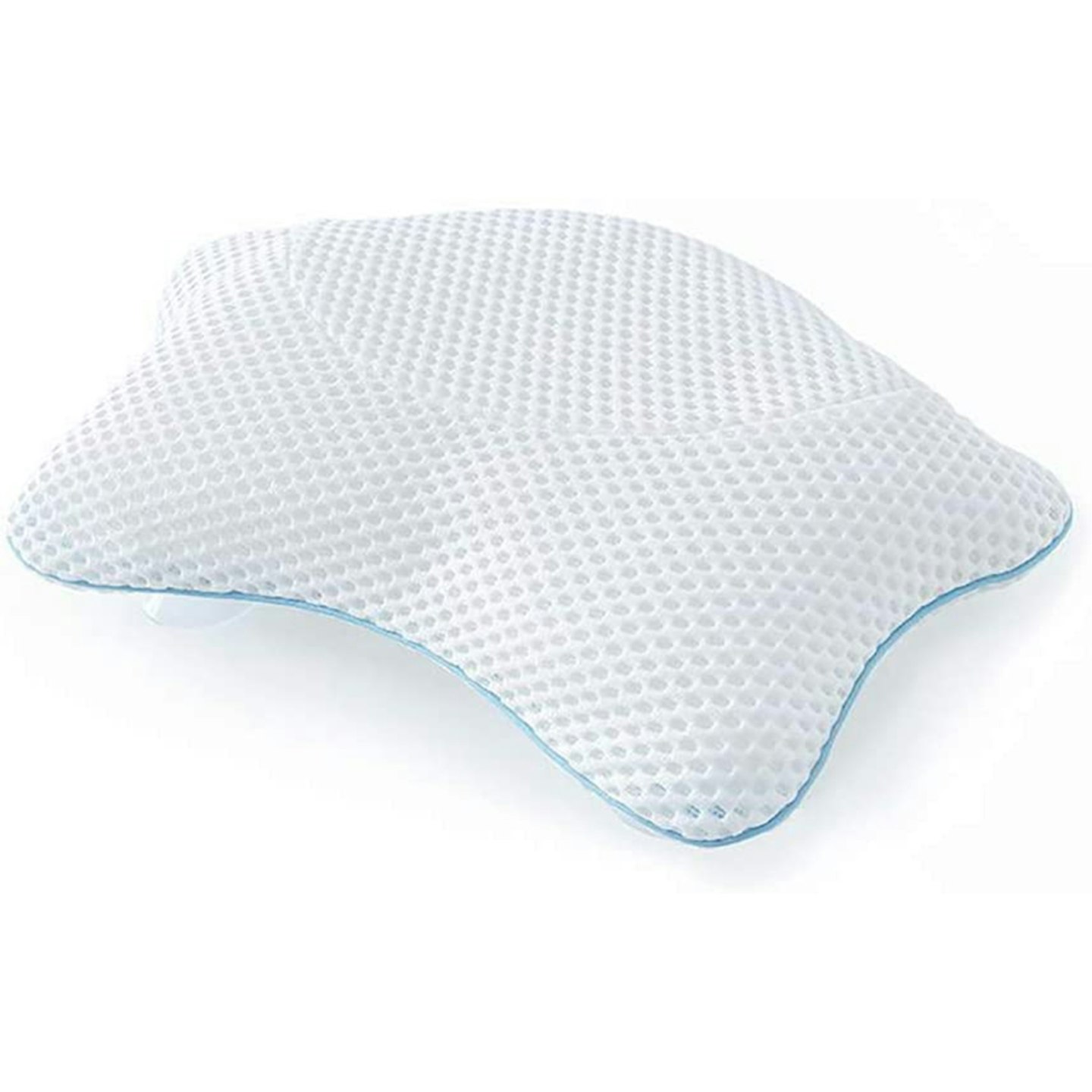 7 of 7
Idle Hippo Non Slip Bath Pillow
This bath pillow is made of high-quality quick drying 3D Air Mesh that won't tear, rip or stain. Allowing the head and neck to seamlessly contour to the surface of the pillow, it has four suctions cups that can be attached to any flat surface.
Review: "Great little pillow! Much more comfortable than the plastic ones. It's nice and soft. I love it. Made for a very comfortable bath! The suction cups work very well and the head and shoulder support is excellent."
Things to think about when buying a bath pillow
Is it waterproof? Or ventilated enough that it'll dry quickly? Nobody wants mildew building up from the confined dampness after all.
What support do you need? Many bath pillows typically offer head and neck support but others can support your shoulders too.
Can it be washed? Think about how you will keep your bath pillow clean. Can it be popped in the washing machine or is the cover removable?
Popular articles to read next