Joe Wicks is well known for his fun recipe videos, his fitness workouts (pregnancy videos included!) and his morning 'Wake Up With Joe' PE lessons during the coronavirus lockdowns but he actually gained popularity in 2015 with his first book, Lean in 15 – The Shift Plan which went on to become one of the bestselling diet books of all time.
If you're a fan of Joe and want to find out more about his books, we've rounded up the ones worth buying.
Description
Joe's first dedicated weaning book, Wean in 15 features one hundred delicious, healthy and
Description
Organised by main ingredient, making it easy to find a recipe for every occasion, Joe's 30 Minute
Description
In Joe's very first book, he reveals how to shift your body fat by eating more and exercising
Description
One for the vegetarians out there, Veggie Lean in 15 is stuffed full of flavour-packed vegetarian
Description
Easy to personalise according to your own day-to-day habits and aiming to help everyone kick start
Joe Wicks on his new cookbook: "Food is a time to connect."
We love Joe Wicks' cookbooks and his newest launch is right up our street.
Out now, Joe's Family Food celebrates the joy of sharing a home-cooked meal with loved ones and is packed full of dishes that are guaranteed to please adults and children alike. There are 100 simple, healthy and delicious recipes your whole family will love including meals for speedy suppers, fun celebrations and everything in between.
We caught up with Joe to find out more about it including his tips for involving children in the kitchen.
What made you want to release Joe's Family Food?
"I genuinely want people to be healthy and happy. And for me, there's nothing more important than getting your kids into food and learning to cook together and having mealtimes together and role modelling. It's one of the most important things, especially for children learning to eat, they learn from watching you, including their social skills. I think food is a time to connect. It's not a time to like, stick your phones on or your TVs and all eat in different rooms. I think it's wonderful if you can eat with your kids and enjoy food together."
"I think having our phones in another room when we just sit and eat and listen to nice music has a big effect on our relationship. It's a moment where we slow down and we connect and I ask Rosie how her day has been and I ask Indie how is nursery. It's just a really beautiful time, rather than it being this chaotic experience with screaming and shouting and everyone's getting stressed out."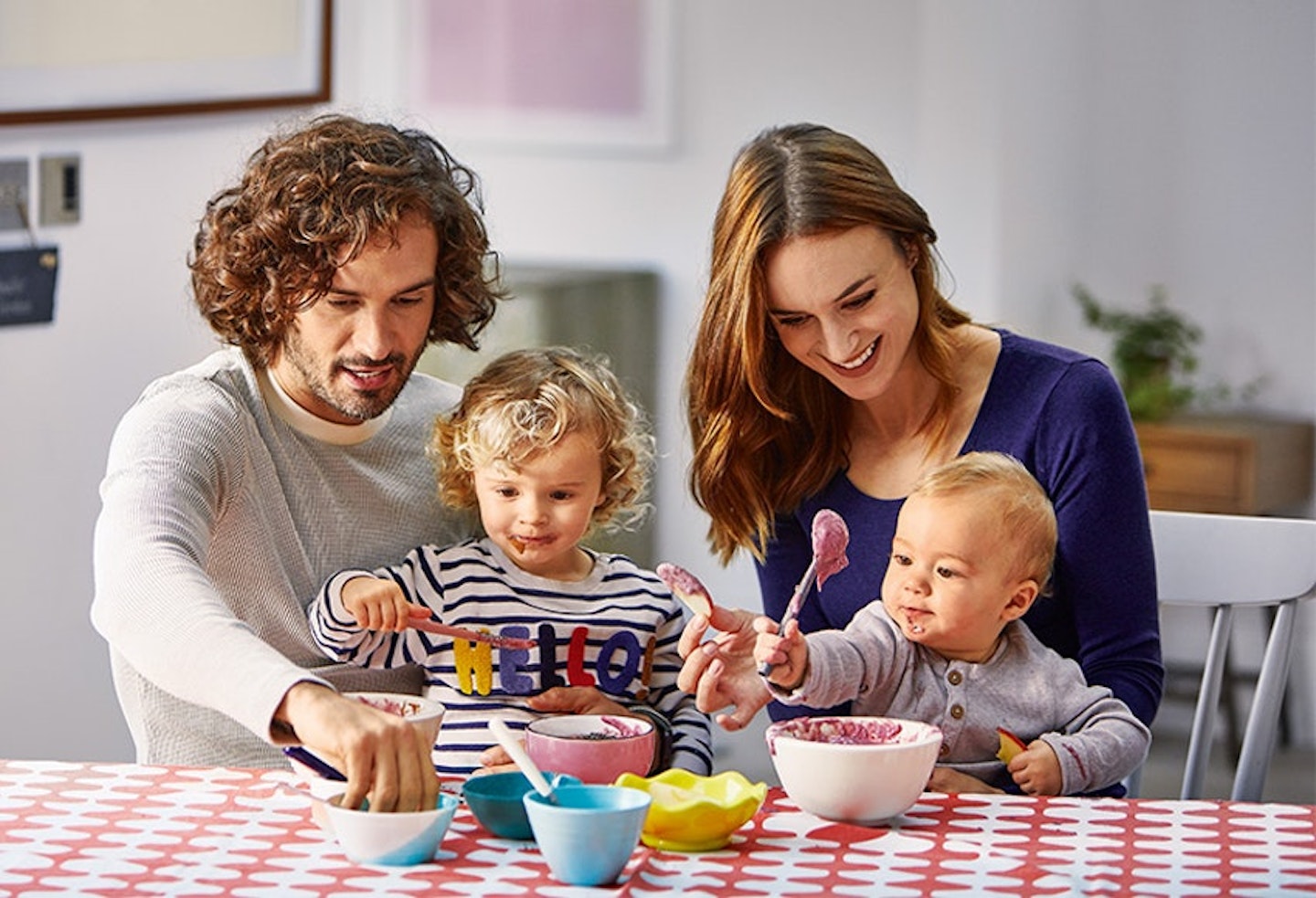 What were you considering while you were creating the recipes?
"I just thought about the kind of foods I like and what kind of foods the kids eat. There's this big misconception that kids eats kids food and parents eat separately but I just think the quicker you can get your kids to eat the same food as you, the better because then you can batch cook and do pasta bakes and nice risottos, tacos and burritos and things like that which kids love to eat."
"The faster you do that, the better because then you're all eating together, it's less stress, you don't waste as much food and it's cheaper when you're cooking together. That was really my main kind of aim, to create recipes that are quick and easy. Like with batch cooking, make it in a big pot or pan and you got a couple of days worth which is a really good win as a parent when you make a massive chilli or bolognese and then the next day, you've got some ready to wack in the microwave and the kids lunch is done."
How are your own children with food?
"I've never met anybody who's as obsessed with food as Marley and Indie. They are literally like me and Rosie because we are pigs, we're so greedy. We eat really fast and we eat loads of food and we love being full up. And they're the same. I think Marley actually sometimes eats more than Indie. He's got a big appetite."
"People always say to me, 'It's alright for you! It'll be different when they're older!' But what I realised is, as long as you're consistent, you are the chef and you put the food on the table, they will eat it, they really will. Humans do not starve themselves to death. And so I think it's when you give in and give into alternatives, and go 'Oh, I'm just going to give them a bowl of cereal' or 'I'm just gonna give them some toast and peanut butter because they'll eat that.' But there's never been an option in my house, and I think that's the most important thing - giving them a chance to actually get an appetite, to build up their hunger, and then they will eat the food."
"I'll be honest with you, I don't eat boiled broccoli and boiled spinach because it stinks! It's horrible. But when you roast cauliflower and broccoli in the oven with cayenne pepper, paprika or cumin, it tastes amazing. Things like that I've brought that into the book in terms of the traybakes where you just throw the veggies in.  I promise you, your kids will eat caramelised red onions and really wonderful crispy broccoli if it's in a pan with a little bit of soy sauce or some honey on it, it tastes amazing."
What challenges have you found?
"Recently Indie does this thing where she flips off her vegetables on the spoon. Or she'll be annoying and say she hates peas. I'm like, 'You love peas!' and she's like, 'No, I don't.' Then the next day, I'll put butter on them and she'll go 'Oh I love peas Daddy!'"
"Charlotte Stirling-Reed, who helped me with Wean in 15, drummed into me: 'Joe, be consistent, use multiple flavours, keep offering different vegetables' and writing that book made me realise how important it was. And I've just kept that going. I've been like 'Indie, this is your breakfast, this is what you're having.' And if she doesn't want it, she goes to play for an hour, comes back and I reheat that food and she eats it. We don't force-feed them, we let them eat when they're ready."
"There are times when she's not eating her veg, so we hide it and put it in her omelette or we'll chop the things up. So in a stir fry, if she sees all the veg, she might not eat as much but I chop it into really little bits, she'll eat it."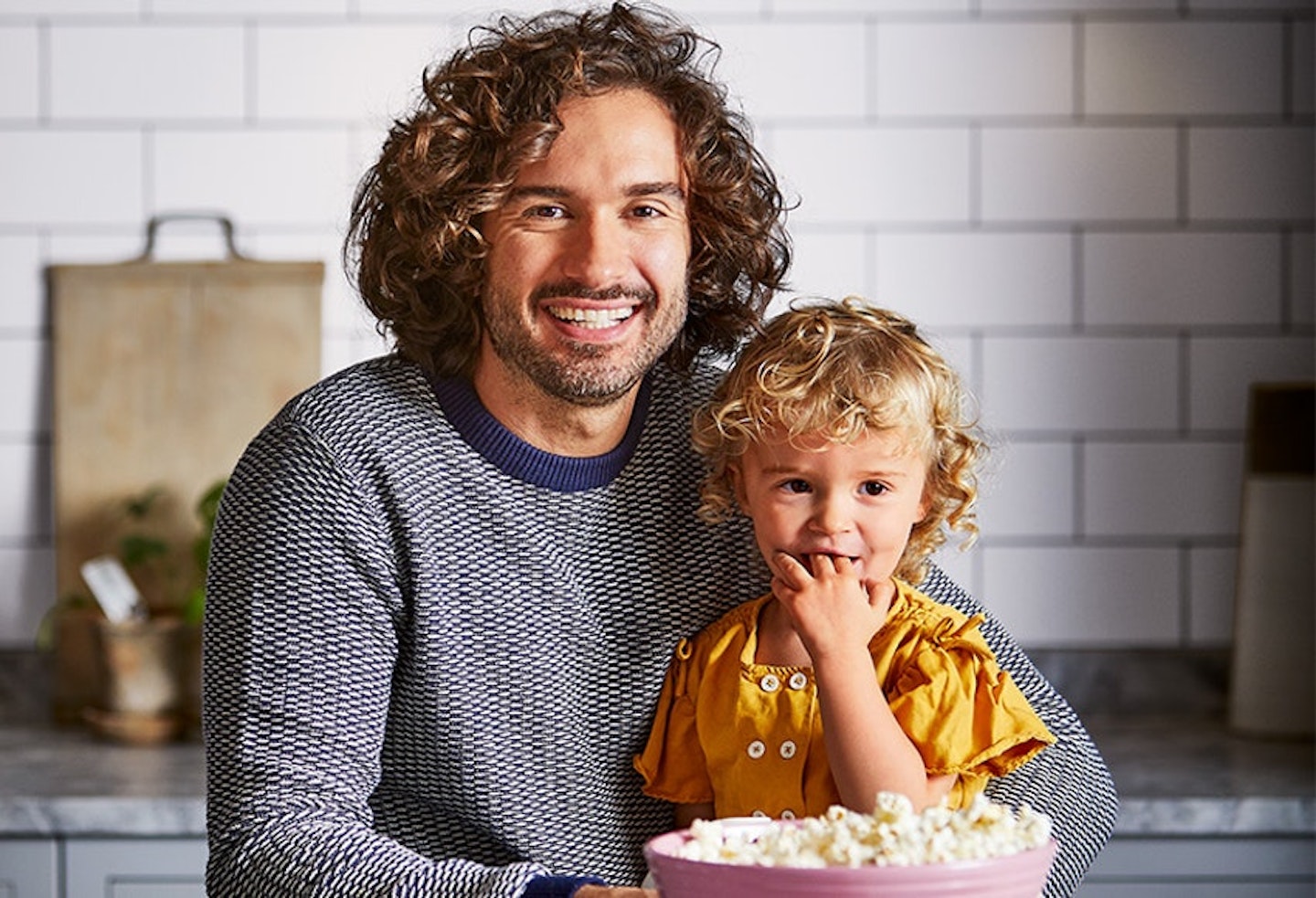 What do you like to cook for your children?
"With the kids, although it takes a bit longer, I really like having a risotto or a pasta bake. You're looking at 35 to 40 minutes probably for a good one.  I really like recipes that you bung it in the oven and you come back and it's done. And if I'm really in a rush, I just use a bag of veggie stir fry, a bag of noodles and just fry that with a bit of soy sauce, a bit of sweet chilli sauce and that's it. I know it's healthy and it's quick and it's cheap and I know the kids are going to eat it."
What are your favourite recipes from your new book?
"One that stands out is my one-pan mushroom and kale mac and cheese. It takes about 10 minutes to prep this in the oven for 30 minutes, but essentially, it's mac and cheese but with mushrooms and kale and it's sort of cheesy and burnt and crispy on top."
"Also the brussel sprout and red onion and chipolata traybake. You put a little bit of sage on top and some honey and it just goes all caramelised and it's lovely. It's a really good one. Kids love sausages, they love potatoes. So why don't make it a bit healthier and throw in some veggies too?"
What's next for you?
"I've just been filming some workouts with Hey Duggee. They reached out to say, 'Look, we'd love to do a partnership around some workout badges with the kids.' Which I thought was a great idea! PE with Joe maybe didn't talk to preschoolers, but this will and I think it's gonna be really fun and a laugh. I think kids are gonna enjoy it."
"I'm doing some children's picture books, which are going to come out later this year. It's going to include inspiring content around health and food and learning about the body with a little bit of exercise. It's basically a family of bears that I've visualised, and they're gonna have loads of cool personalities and all have their own little quirks."
"Rosie and I also want a big family. We talk about having like four or five kids. We can't wait."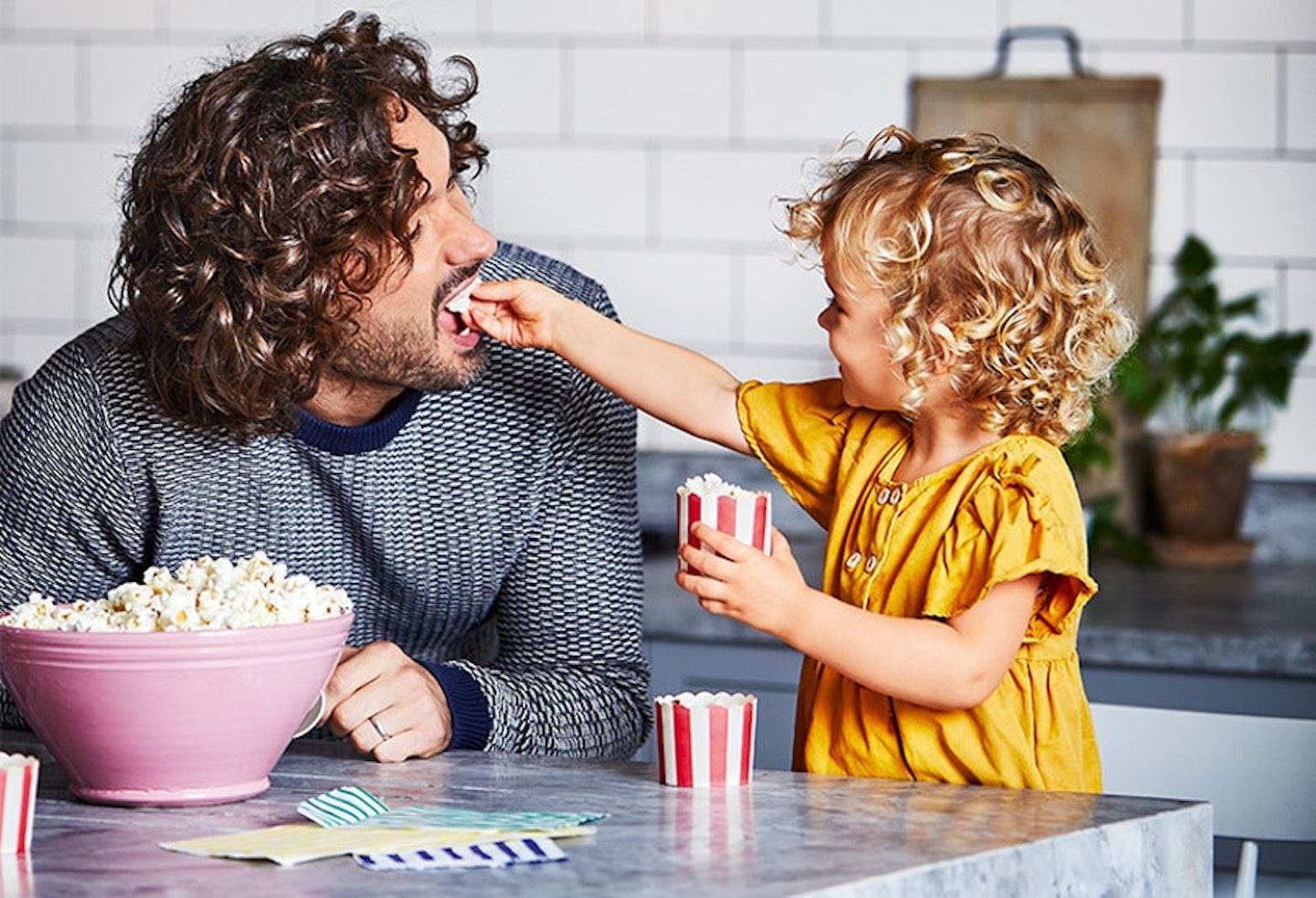 Joe's tips for involving children in food
Cook in front of your kids
"With exercise, the more you do it in front of your kids, the more they realise: "This is good, this is what we do, it's a family thing. It's good for us." And it's the same with cooking.
Don't worry about the mess
"Cooking is stressful and it can be chaotic, so just let go of the fact that it's going to be messy."
Have fun!
"Just let them have fun with it. Stirring porridge is one thing Indie started with and then she sprinkles, nuts or coconut on top, little things like that."
Involve your children where you can
"You're not going to do it seven days a week, of course you're not, but just try to incorporate them as much as you can. Like doing things on a weekend, maybe make little flapjacks or little oatcake muffins, basic things that are really simple that they really love when they make it because they feel so happy and so proud to cook it and taste it."
Most popular articles to read next