Who doesn't love Victoria and David Beckham? They always seem like the cutest and coolest couple on social media, sharing a dose of their lives with us by posting pictures of each other, their pups and their four children, Brooklyn, Romeo, Cruz and Harper.
Although the Beckham kids are far from toddlers anymore, we decided to take a look back at the timeline of when each were born and to give you a few more Beckham family facts.
Brooklyn Beckham
Posh and Becks, as they were first known shortly after they went public with their relationship in 1994, were married on 4 July 1999 and welcomed their first son Brooklyn on 4 March 1999. Brooklyn, now engaged to American actress Nicola Peltz, was born in Portland Hospital, London and weighed 7lbs. The first of the Beckham clan was born by c-section as his head wasn't engaged properly.
Contrary to popular belief, Brooklyn did not receive his name because he was conceived in Brooklyn, New York, oh no! Victoria initially liked the name Brooke and the fact she was pregnant while the couple were in Brooklyn was pure coincidence.
"It was when we were in Marbella that we came up with the name Brooklyn. We already knew he was a boy and so I knew he could end up a footballer, so it had to be a name that was a bit blokey. I had always liked the name Brooke and then we suddenly thought about Brooklyn. I'd always like it as a place – it's very multi-cultural, very grounded. And it was only afterwards that I realized how appropriate it was because it was in New York that I found out I was pregnant and where David came after the World Cup," Victoria wrote in her autobiography Learning to Fly.
In the first year since Brooklyn was born, there was a boom in the rise of families naming their child the same - or a similar variation - with over 4,000 registered baby girls to be specific, being called Brooklynn, Brooklynne, Brooklin etc.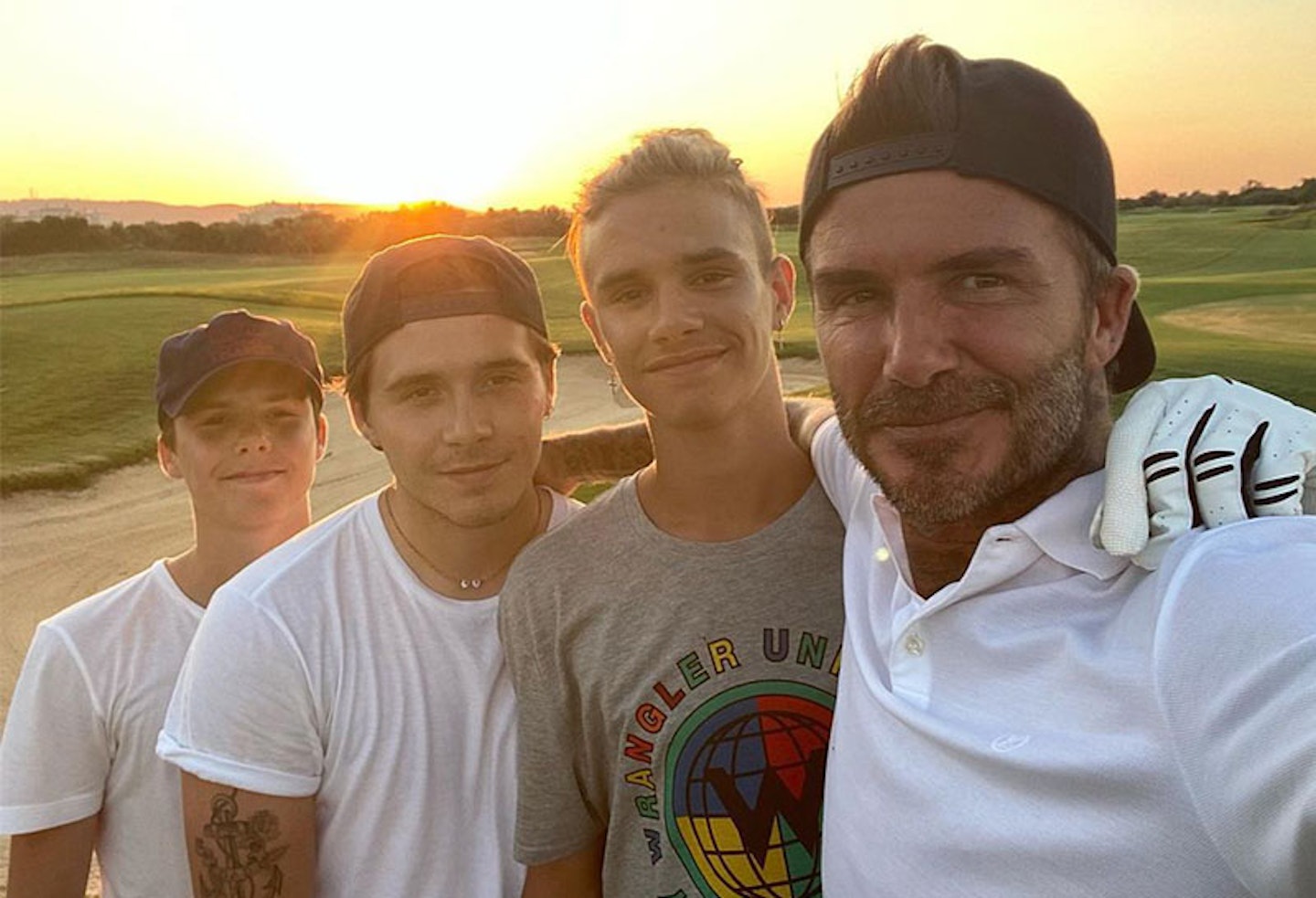 Romeo James Beckham
The second child of the famous Beckham couple was Romeo, born on 1 September 2002. Weighing 7lbs 4ozs, also born at Portland Hospital by c-section.
When Victoria found out she was pregnant with Romeo, it was Brooklyn who was the first to find out. At the time the former Spice Girl said, "Brooklyn was the first person I broke the news to after my doctor confirmed I was pregnant. Then I sent him over to David to tell him the secret.
"I was in tears as he toddled over to his daddy and said 'Mummy is going to have a baby'. I hoped it would make him feel he is involved with the new baby."
Speaking soon after his second son's birth, David told reporters, "We've had a little boy called Romeo. It's always nervous having children but it's the most beautiful thing in the world."
Explaining the name choice David added: "It's a name we love." David, who was playing for Manchester United FC at the time, was also heard saying that another three children could be on the cards in the future to make a Beckham five-a-side team.
Now not so little anymore, Romeo is 18 years old and sharing sweet pictures on his Instagram account cosied up to girlfriend, Mia Regan.
Cruz Beckham
Two and a half years after Romeo was born, Victoria and David welcomed their third baby, born on 20 February 2005, Cruz entered the world at 7lbs 2oz by a planned c-section.
As Posh and Becks had moved to Spain in 2003 due to David's transfer from Man U to Real Madrid, Cruz was born in Ruber Internacional Hospital.
A statement released by the couple, at the time, said: "David and Victoria Beckham are delighted to announce the birth of their baby boy Cruz Beckham, born today at 10.40am (Spanish time) at the Hospital Ruber Internacional, Madrid.
"The baby's weight is 3 kilos, 200 grams. (7 lbs 2 oz).
"Both mother and baby are well and the family would like to thank Dr Vidal, Dr Gillard and all the medical team for their help and support."
Speaking on the birth, Dr Vidal Pelaez, head of the obstetrics and gynaecology department at the Ruber International Hospital said, "At 10.40am today Victoria Beckham had a caesarean, which had been planned, giving birth to a boy.
"Medical intervention lasted 30 minutes with no complications whatsoever. Mother and child are in perfect health."
All the Beckham boys have flourished through various hobbies over the years, Brooklyn with photography, Romeo's dabbled in a bit of modelling and Cruz made his musical debut in 2016 when he released a single - If Every Day Was Christmas.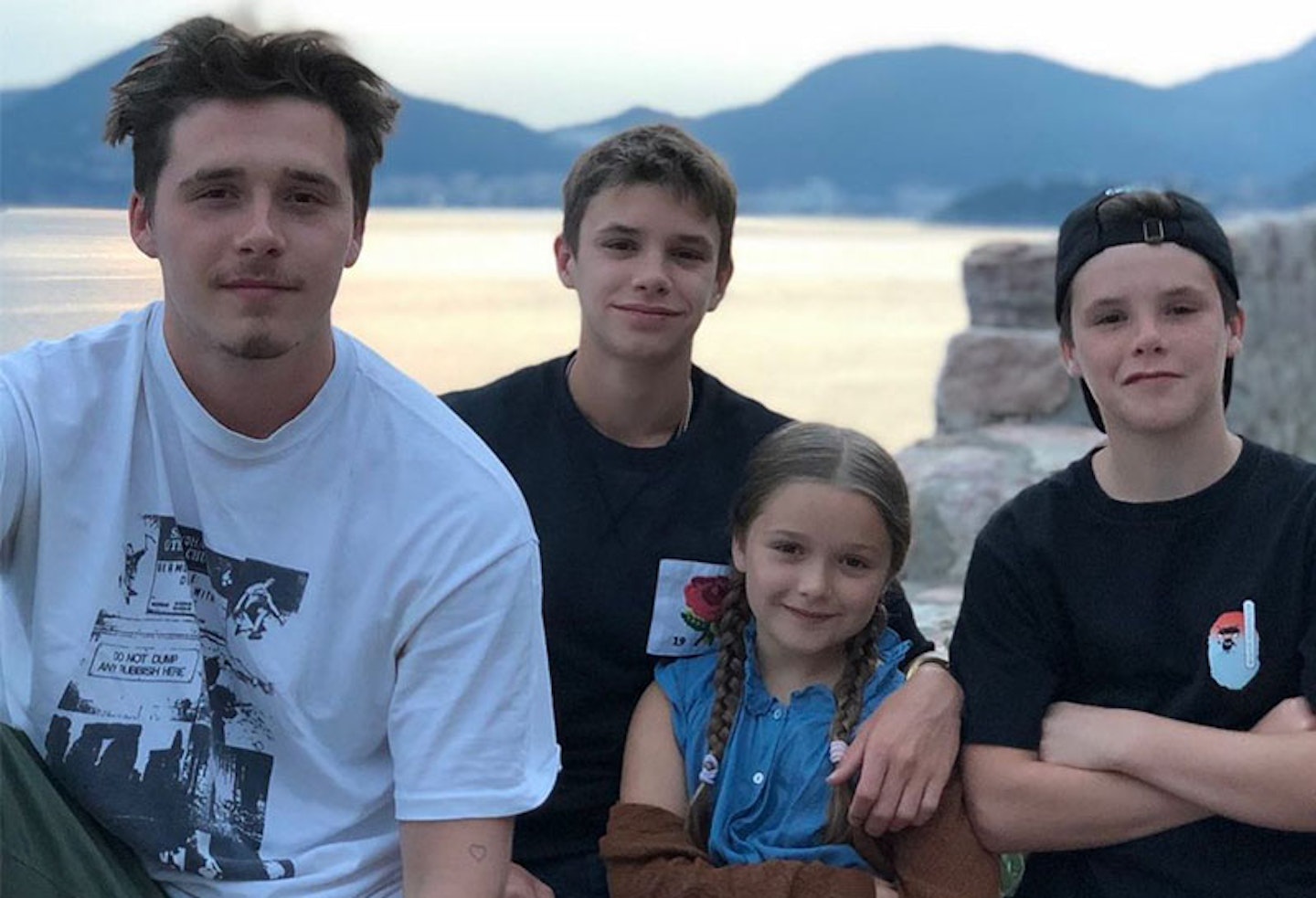 Harper Seven Beckham
Over the years Victoria has also spoken about how she enjoyed her pregnancies and 'loved giving birth' so there had always been speculation whether the then family-of-four would welcome another baby in the future.
Speaking on having more children, Victoria said in 2010 Victoria, "I think one day, if we're blessed to have more children, it would be amazing. It's a lot having three boys. So, we're just enjoying the boys at the moment. But who knows, one day?"
And as we can imagine after having three boys, Victoria also became less hopeful of having a girl one day. "Maybe one day another baby, but at this stage I think the chances of a girl are quite slim," she told Vogue.
It's a girl!
After four seasons with Real Madrid, David announced he had signed a five-year deal to play for the LA Galaxy in July 2007, where the family of five spent almost 7 years calling California home before moving back to the UK in 2014.
And on 10 July 2011 Harper Seven Beckham was born by elected c-section.
Confirming the news on his Facebook page, David said: "I am so proud and excited to announce the birth of our daughter Harper Seven Beckham. She weighed a healthy 7lbs 10oz and arrived at 7.55 this morning, here in LA. Victoria is doing really well and her brothers are delighted to have a baby sister xx."
It was David who also confirmed the reasoning behind Harper's name: "Victoria's favourite book is To Kill A Mockingbird, it's a very strong, passionate book and the author was Harper Lee, and that is where Harper came from."
While most people believe the 'Seven' part in Harper's name is linked to his historical time at Man U where he sported the number 7 on his shirt, David said this was only part of the reason.
"The main reason behind Seven was it symbolises spiritual perfection – the seven wonders of the world, the seven colours of the rainbow – and in many cultures, it is a lucky number. We love the name and we love Harper Seven. We are very happy to have her in our lives and in our family, and it is an amazing time for our family right now."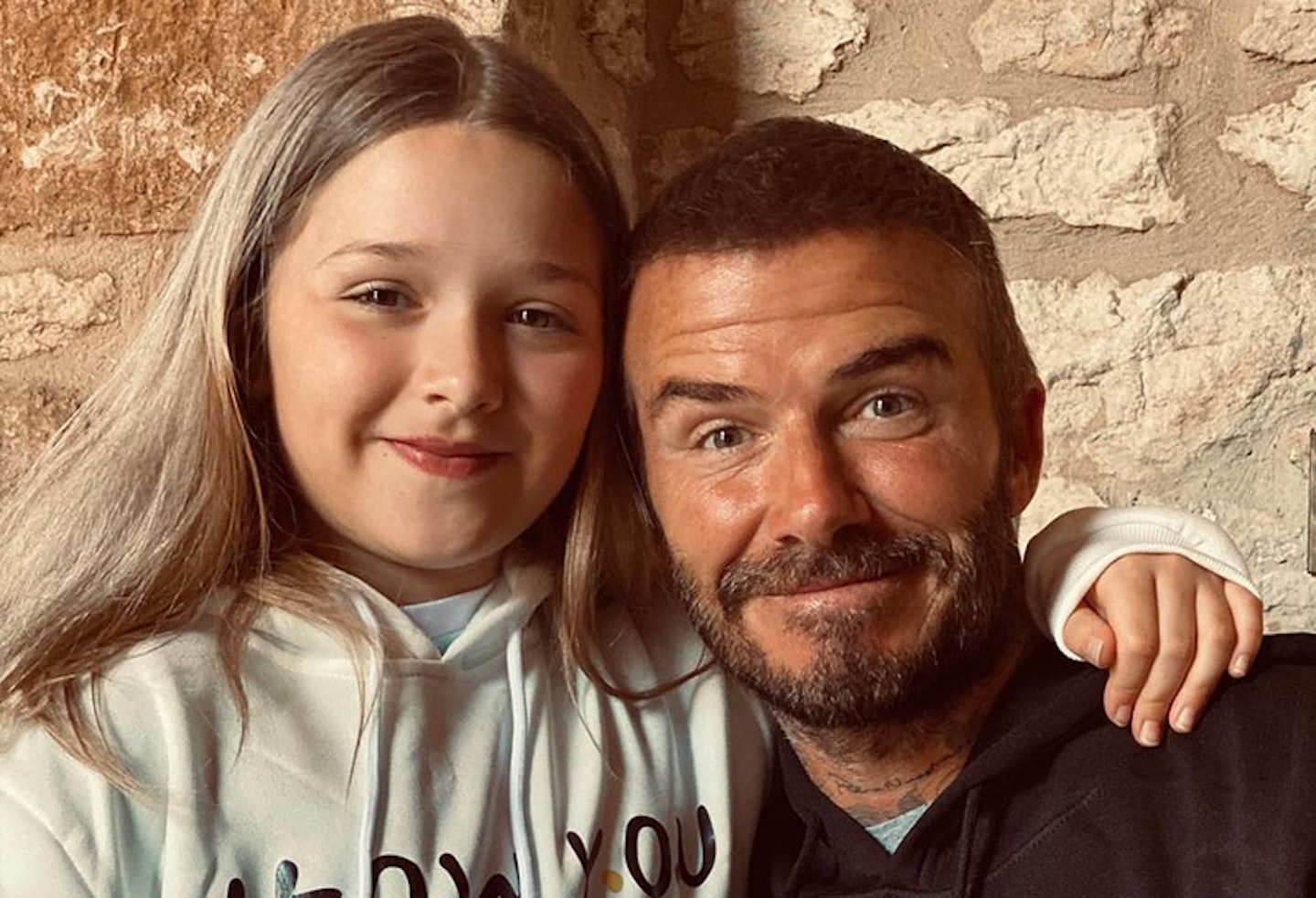 Now Harper is 9 years old and even we're sitting here thinking where has the time gone? We mainly see the youngest of the Beckham family through shares on Victoria and David's Instagram profiles and it's no doubt Harper seems like a sweet, fashionable and badass footballer taking traits from both her parents.
We love seeing the Beckham's family life on social media, it's a real pleasure. Next we'll be waiting for the appearance of grandchildren in the future!
Read more popular articles