Whether you're getting your Halloween ready or dressing up for a party, the key is to plan ahead. So, if you're searching for Halloween face paint ideas, what better than some vampire face paint for a spooktacular look? Not only will your child love seeing themselves transformed but you'll get some incredible photos out of it too.
Take a look at this brilliant vampire face paint idea and don't forget your Halloween costume!
Vampire face paint tutorial
In this video, YouTuber and Professional Make-up Artist Shonagh Scott shows you how to transform your little one into a very ghoulish vampire using just face paint, some make-up and a few brushes. We've broken down Shonagh's tutorial into easy to follow steps.
How to do vampire face paint
Equipment:
•White, black and red face paint
•Brown eyeshadow or cream product
•Black lipstick
•Make-up or face-painting brushes
Step 1
Using either white face paint (or by mixing together white and beige face paint for an off white), apply a base face layer using a large brush which will help you cover more surface area. Take this right up to the hairline and over and in the ears as well as down the neck. As brushes can leave brush stroke marks, it's a good idea to go back over for another layer with a sponge.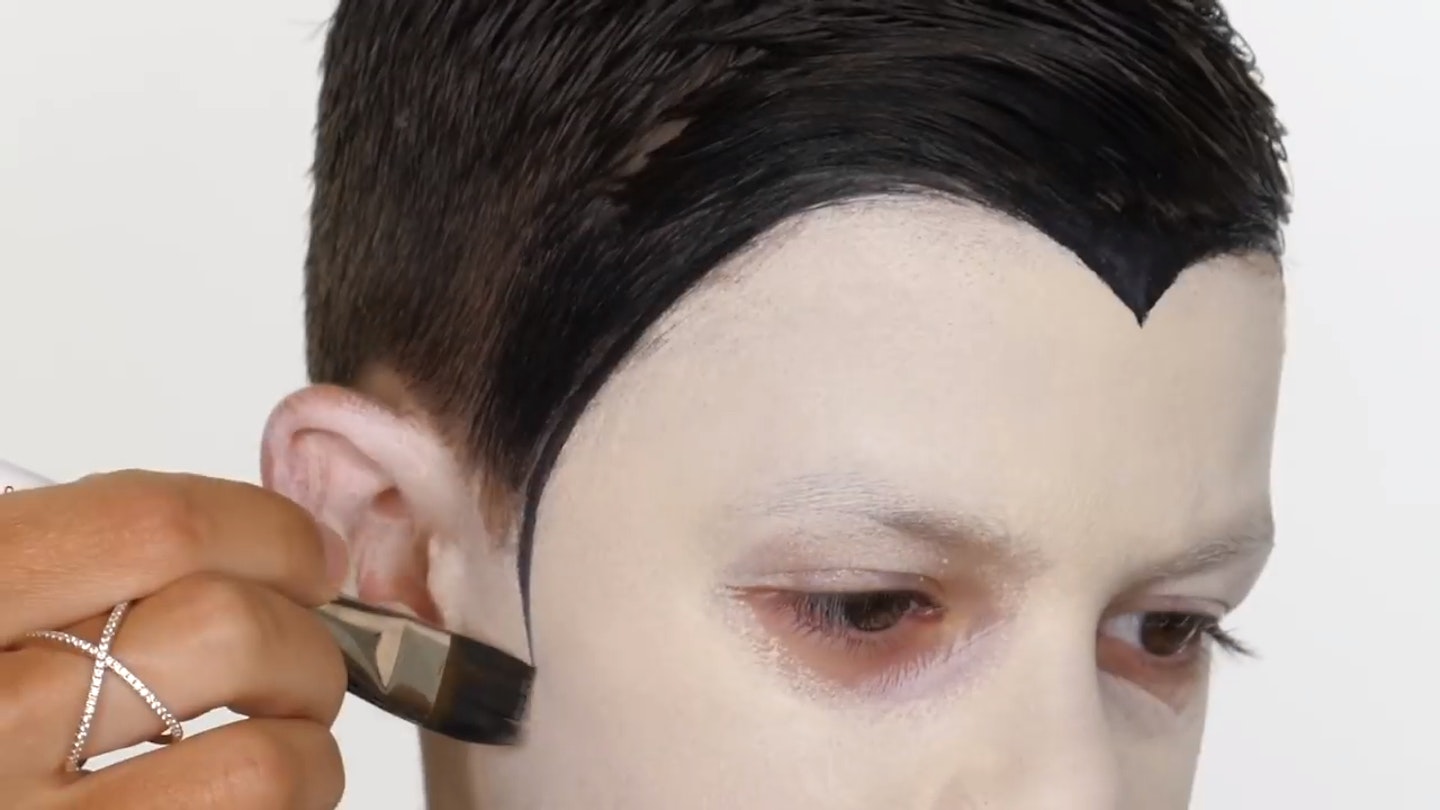 Step 2
Using black face paint, use a flat brush to apply a small straight line at the centre of the forehead. Then create two humps around the hairline down towards the ears, creating an m shape. Fill this gap between the lines and the hairline with the black facepaint, fading it into the hair. Along the sideburn area, create a sharp v-shape.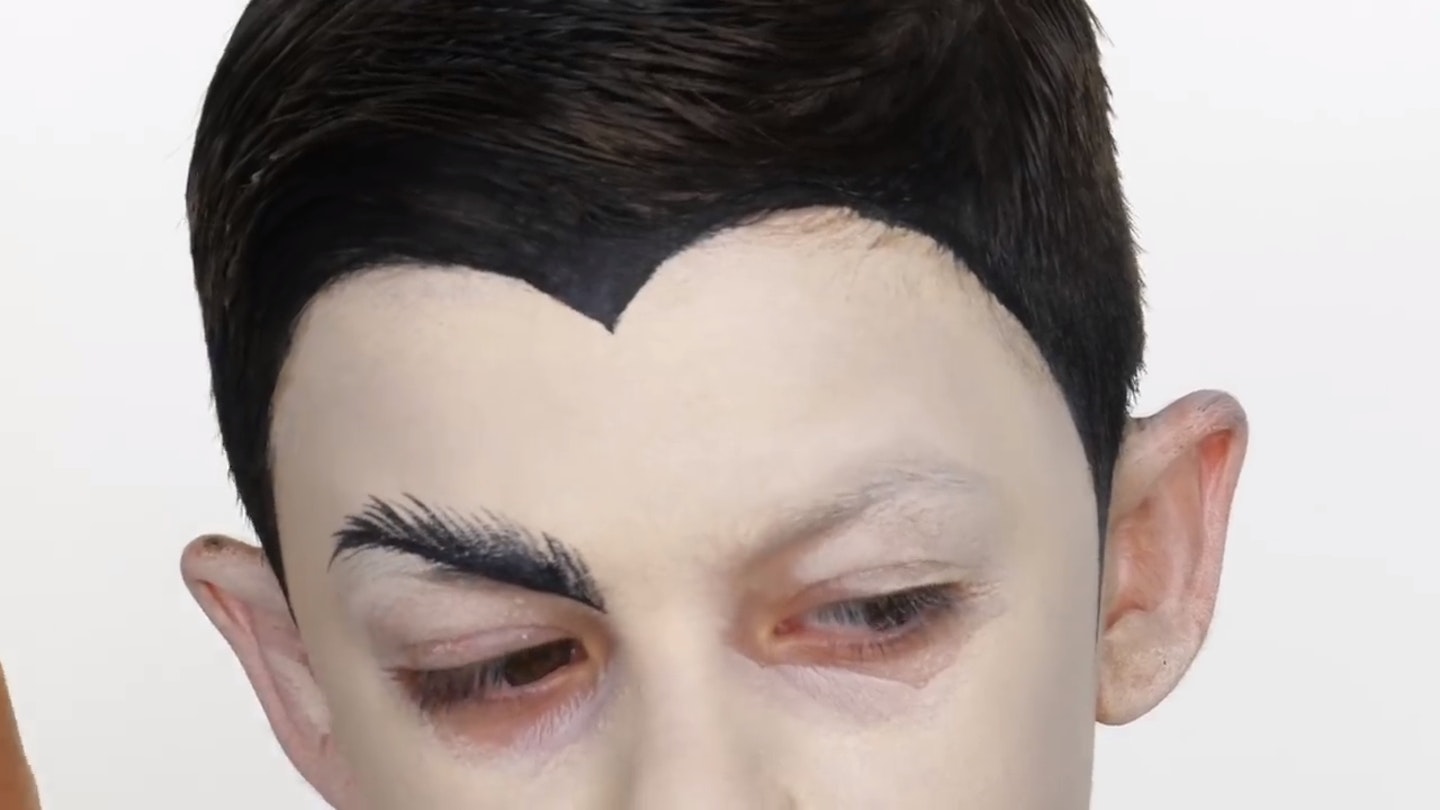 Step 3
Taking the black face paint again, create eyebrows by drawing a straight line up at an angle with a small arch at the edge. Then use your brush to flick hair like marks through the eyebrows so they are quite big and bushy.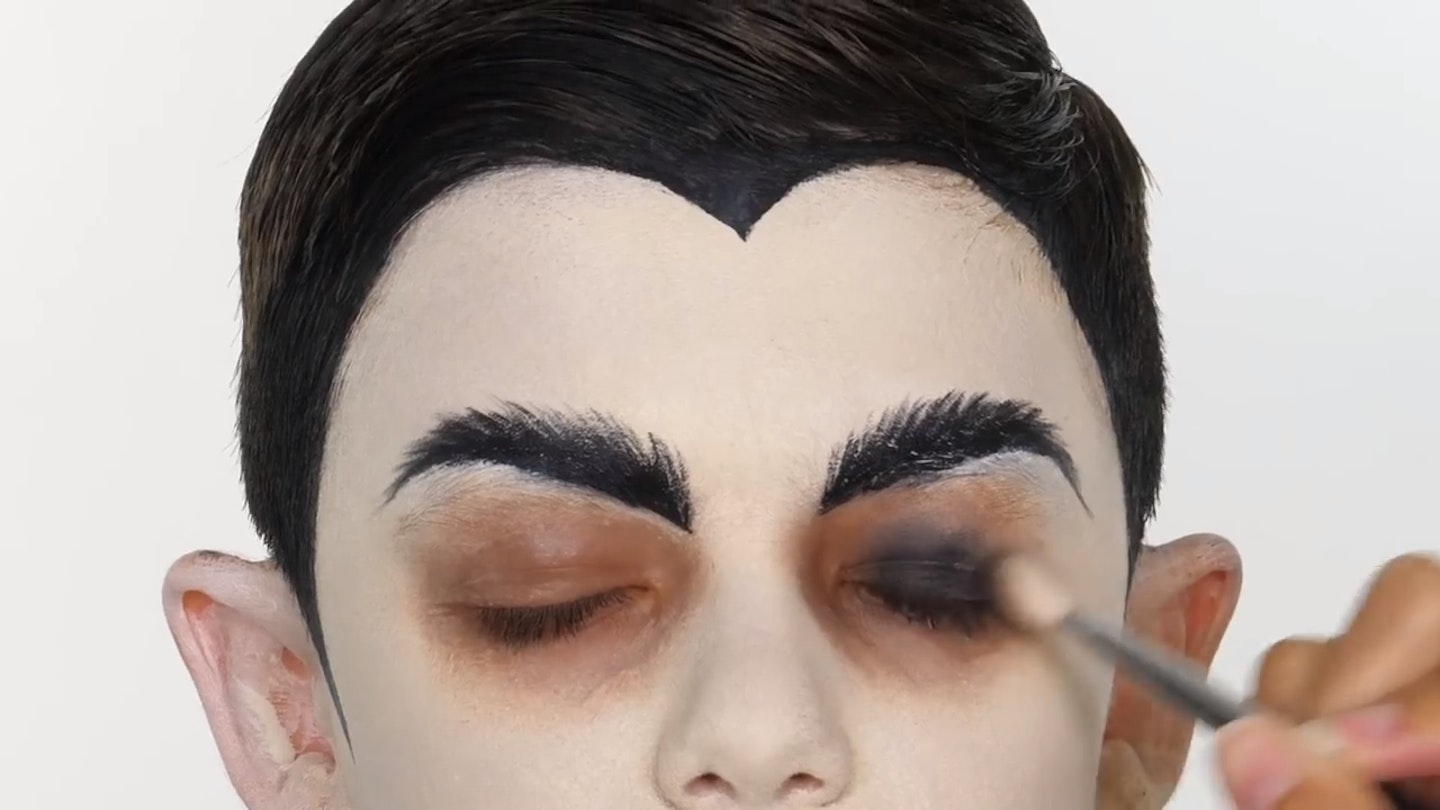 Step 4
Using a brown cream-based product or brown eyeshadow, buffer this int around the eye sockets to create a sunken eye look. Apply a black eye shadow on the eyelids and take this beneath the eyes too to create a depth.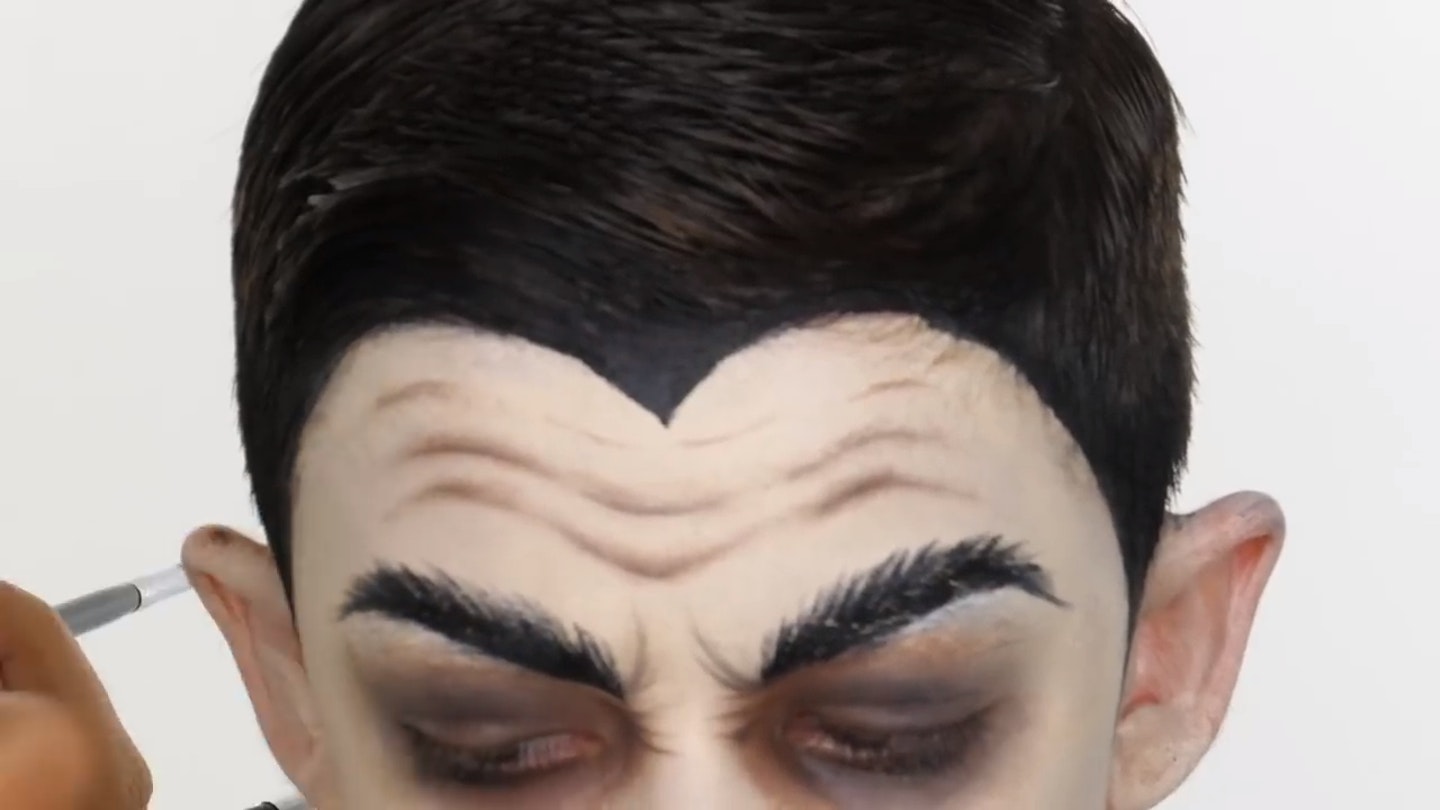 Step 5
Once again using an angled brush, flick in some furrow lines around the bridge of the nose between the eyes. Draw some wrinkles to the forehead with wavy lines, loosely following the shape of the widow's peak. Take a clean brush and run this backwards and forwards over the wrinkle lines to create a blurry effect.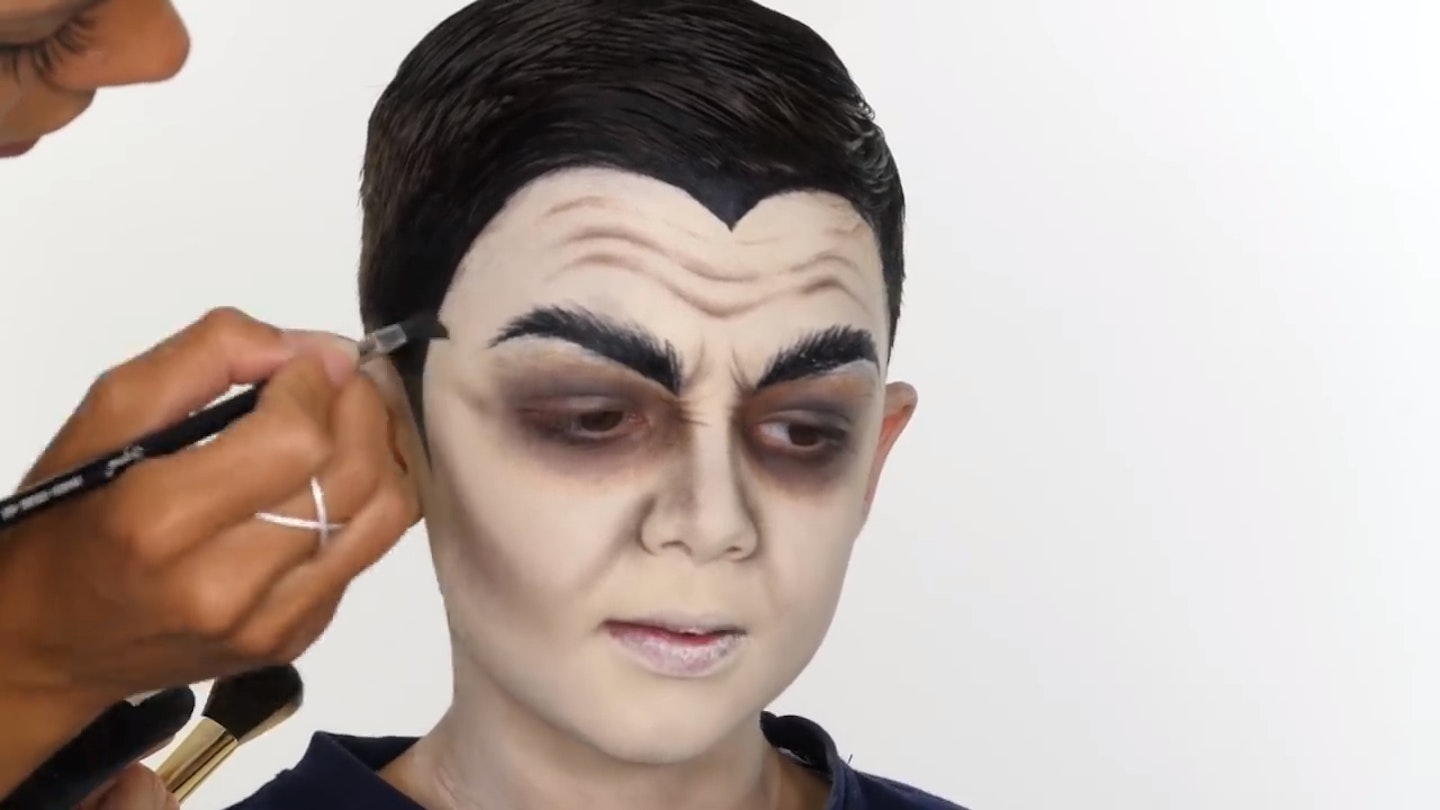 Step 6
For extra detail, add some shading around the nose, underneath the jawline and into the hollows of the cheeks, taking this around the temple area to create a strong look.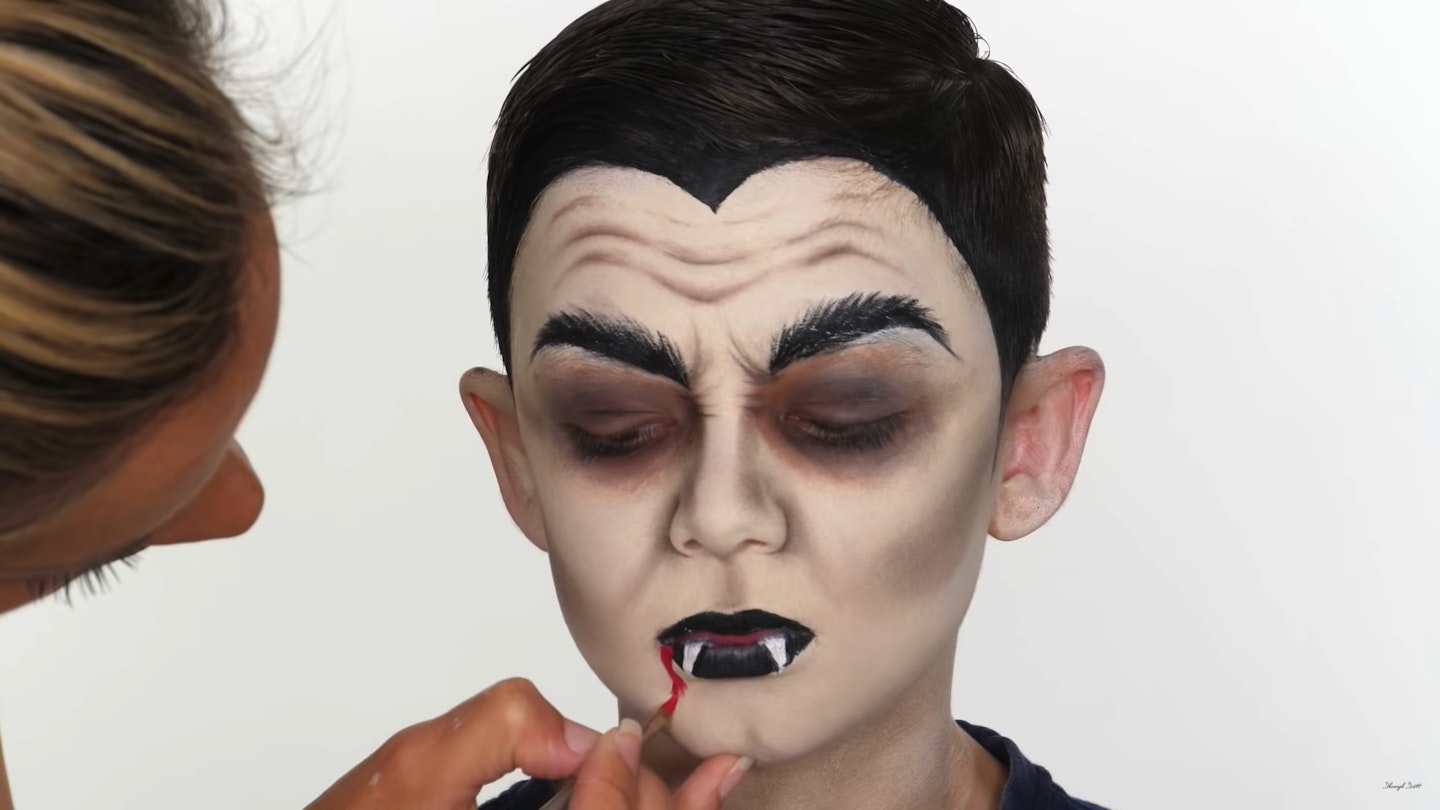 Step 7:
Fill in the lips with black face paint or alternatively a cream or black lipstick. Paint on some small triangle shape fangs in white face paint on both sides of the bottom lip. Apply two layers if you need the white to be bolder. Finish off with some red face paint to create drip marks on both corners of the mouth and a small white flick in the centre for some fake shine.
Halloween face paint to buy
Description
Suitable for sensitive skin, Snazaroo face paints have all been reviewed by an independent
Description
Although you certainly won't need all of these make-up brushes, it's a handy kit to have for
Face paint top tips
•Use brushes - They will help to give you more control over the shapes you are making, where you put the product and how much you use.
•Purchase quality equipment - Whether you're creating a face painting a witch for Halloween or an animal at a kid's birthday party, good quality tools will create professional looking results.
•Less is more - Whether you're a beginner or not, sometimes the most simplest designs can be the most effective, so aim for using 2 to 3 colours maximum.
•Coconut oil - Oil sticks to oil, so it will work well when removing the paint. Mix it with some warm soapy water and gently wipe at their face.
Arabella Horspool is a Commercial Content Writer for Mother&Baby at Bauer Media. She's a bookworm who enjoys cooking and spending time with her many pets.