When it comes to creating the best sleep environment for your baby and ensuring they get a good night's sleep, a baby sleeping bag is essential. They can help your baby get to sleep and drift off quickly but finding the right one can be tricky which is where our baby sleeping bag guide comes in handy.
Not only are baby sleeping bags great for keeping your helping baby comfortable and happy through the night, but according to the Lullaby Trust, a baby sleeping bag is amongst the essentials for a safe night's sleep for your baby as they can reduce the chance of sudden infant death syndrome (SIDS).
What is a baby sleeping bag?
Essentially, they're a wearable blanket for your baby to cocoon themselves inside of and there are loads of benefits to using them instead of traditional duvets and blankets.
Much like sleeping bags for adults, a baby sleeping bag is an all-in-one comfort option that your baby can sleep inside of. As your little one twists and turns in the night, a baby sleeping bag ensures your baby won't get tangled up in sheets or blankets and their head will remain safely uncovered.
But how should they fit and what tog should you buy? Our handy baby sleeping bag guide should help you find the right one for your baby.
What are the benefits to baby sleeping bags?
When adjusted correctly – fitting snugly but comfortably around the neck – a sleeping bag will ensure baby's head is kept uncovered. There's also the added benefit of keeping your little one at the correct temperature through the night, and not overheating, which could mean fewer instances of waking up (hopefully)!
They're great for travelling too as no additional blankets are needed. Also, if your baby is prone to a feed during the night they're brilliant, as you don't need to remove them from the sleeping bag.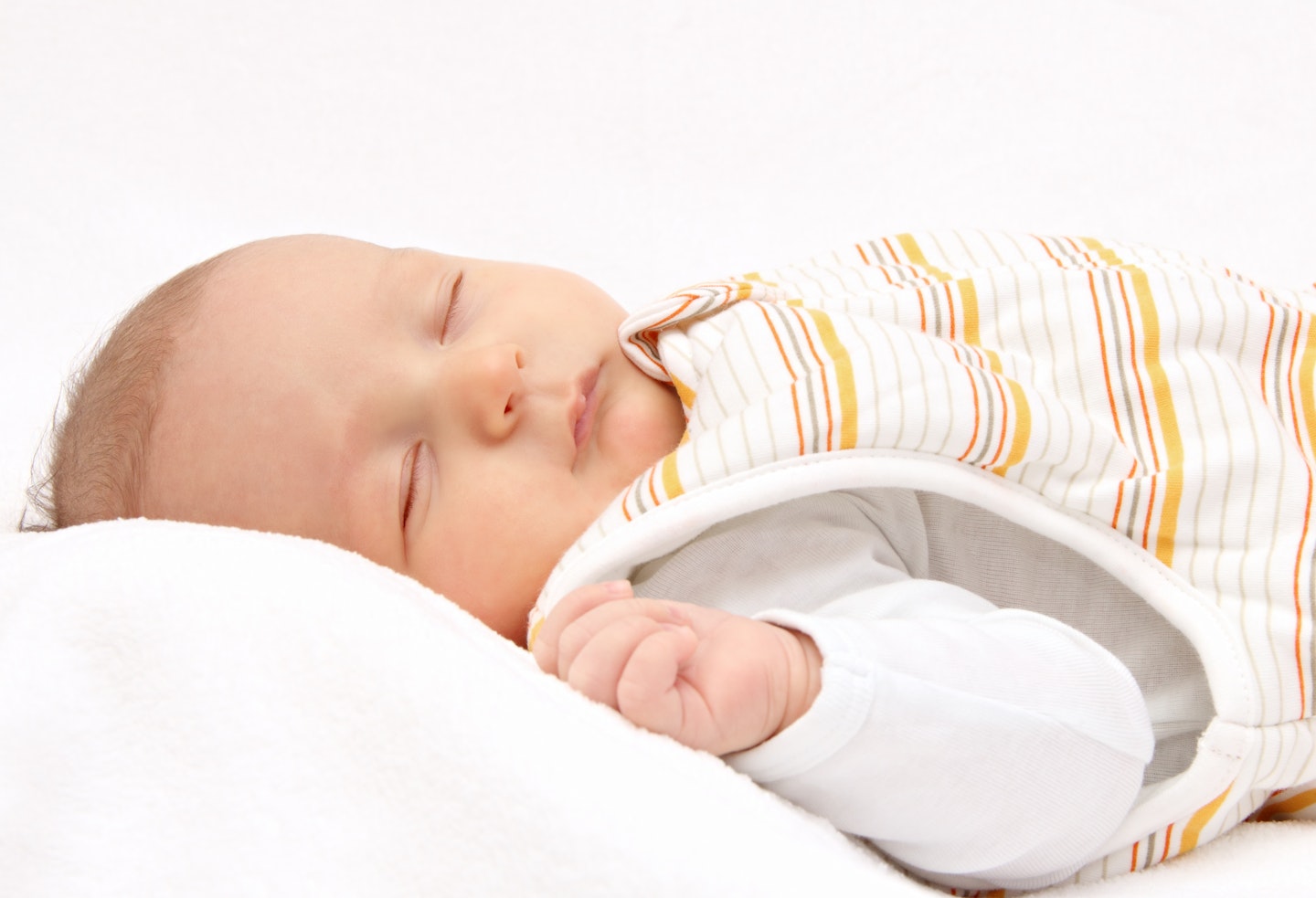 What tog sleeping bag for baby?
The tog rating on a sleeping bag determines how heavy the fabric is, just like grown-up sleeping bags. But unlike grown-up sleeping bags, your baby is unable to adjust themselves to a comfortable temperature so choosing the right tog is important.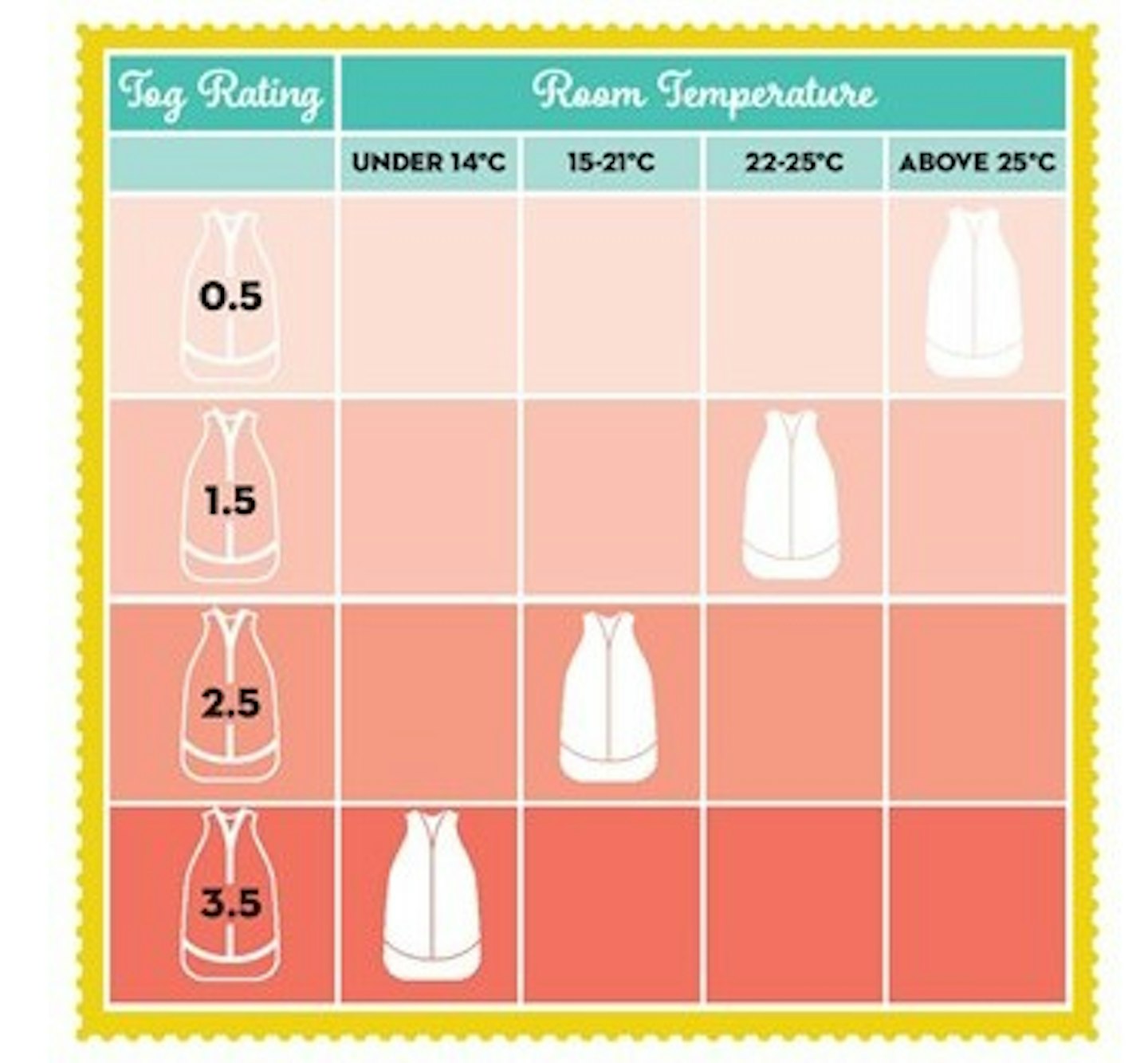 As a general rule, the warmer the room, the lower the tog should be and the colder the room, the higher the tog.
For under 14 degrees Celsius, pick a tog of 3.5, and for sleeping in a room above 25 degrees Celsius, a maximum tog of 0.5 will be enough.
A 2.5 tog is perfect for 17–21 degrees, and between 22–25 degrees pick a lightweight 1.5 tog count.
If you're not sure what temperature your baby's room is, we suggest investing in a baby room thermometer to give you an accurate temperature reading.
What should my baby wear for bed?
Working out what your baby should wear to bed can be confusing. Depending on what the temperature is like, your baby can wear a variety of things underneath their sleeping bag. We've created this visual guide to help you work out what to dress your baby in when they're sleeping.
0.5 tog baby sleeping bag
This one is ideal for the summer months when your baby's room temperature varies from around 21-27 degrees Celsius. You can also buy a 0.2 tog if your baby's room ever gets over 27 degrees Celsius on those very hot and sticky nights, or if you're abroad somewhere warm.
What should my baby wear inside the 0.5 tog baby sleeping bag?
If it's over 27 degrees Celsius, dress your baby in a vest for bed. They can also wear a vest between 21-27 degrees Celsius, but you may choose to dress them in a vest with short sleeves and short legs depending on how you think the temperature will change during the night.
During very hot spells of weather, it's important you know the signs of dehydration in babies as they're at much higher risk of dehydration.
1 tog baby sleeping bag
A one tog sleeping bag is made for when temperatures are between 21 and 24 degrees Celsius, making it ideal for most of the British spring and summer seasons (apart from those scorching hot days).
What should my baby wear inside the 1 tog baby sleeping bag?
On the warmer nights when it's between 21-24 degrees Celsius, they should be fine in a vest with short sleeves. When it's a cooler 18-21 degrees Celsius, they can wear a vest with short sleeves and short legs or a baby grow with feet.
1.5 tog baby sleeping bag
A 1.5 tog is a lightweight sleeping bag, ideal for daytime naps and the summer.
What should my baby wear inside the 1.5 tog baby sleeping bag?
Most babies would sleep comfortably in a short-sleeved baby grow in this sleeping bag.
2.5 tog baby sleeping bag
These thicker sleeping bags are made for when the temperature is cooler at 15-21 degrees Celsius, making them ideal for the autumn/winter months in the UK
What should my baby wear inside the 2.5 tog baby sleeping bag?
When it's 18-21 degrees Celsius, pop your baby in a vest with short sleeves or a vest with long arms. For the colder nights, when it's around 15-18 degrees Celsius pop them in a vest and baby grow to keep them nice and cosy.
How should my baby fit inside their sleeping bag?
Usually, baby sleeping bags come in three different sizes; 0-6 months, 6-18 months and 18-36 months. Firstly, it's important your baby is wearing a sleeping bag suitable for their size.
Like the neck hole, baby's arms should fit snugly through the armholes, so that they can't pull them back inside the bag. Sleeping bags are normally designed with poppers so that size can be adjusted for smaller babies, and to make changing nappies and feeding easier. All bags should conform to the new British standard for baby sleeping bags .
Choosing a baby sleeping bag
For safer sleep, opt for a baby sleeping bag that doesn't have unnecessary extras like sleeves or hoods as these can cause your baby to overheat, increasing the risk of SIDS.
The sleeping bag will need to fit baby well, so you might want to go for one which is adjustable in size so that it fits your little one well. You should also ensure baby has enough leg room for healthy hip development.
It's also important to make sure all seams are soft against baby's skin and that there are no exposed zips or or tags that could irritate or scratch them. Things like drawstrings are also a big no no as they could be a strangulation hazard.