As well as finding the best potty for your tot, a potty training reward chart is a great way to encourage your little one during the potty/toilet training process.
While there's no set time to potty train, it's recommended by the NHS that you should start introducing the potty when they're around the age of 2 to get them used to sitting on it. When toilet training, take the potty with you whenever you leave the house with your child so they understand that they need to use it every time they need a wee or a poo.
Many potty training experts hail the use of a reward chart as the key to a successful transition away from pull-ups and nappies. It acts a great incentive to keep them on track and you can even take it with you on the go (along with your travel potty of course).
The best at a glance:
We spoke to potty training expert, Amanda Jenner who told us that every child learns differently, so we've put together a list of the very best toilet training charts for you to peruse, including jars with tokens, sticker charts with different tasks on them and multipacks that come with rewards such as badges and certificates. Check them out below.
The best potty training reward charts
Best for popular characters
Description
Designed to support parents with potty training and toilet training, it will encourage little
Pros
Budget-friendly
Board is wipe-clean
Cons
Stickers can be tricky to reuse
Best for interactivity
Description
This magnetic reward chart comes with 3 stickers that can be placed in the bathroom to remind them
Pros
Magnets come in different colours
Ideal size for small hands
Cons
Some reviewers say that it's easy to bend
Best for personalisation
Description
Featuring the much-loved Gruffalo from the famous Julia Donaldson books, this wonderful chart and
Pros
Available in different pack sizes
Space to write in your own tasks
Cons
Some of the boxes are quite small
Best for reusability
Description
We love this chic potty training chart. Your child can enjoy placing their earned brightly
Pros
Can be hung up
Choose from 10 or 20 stars
Cons
Not specifically for potty training
Best for lots of stickers
Description
This set has everything you need to make potty training a complete success. Ideal for both potty
Pros
130 stickers in total
Comes with a hints and tips sheet
Cons
Some report that the paper isn't the best quality
Best for being handmade
Description
We absolutely love this cheeky handmade potty training and toilet training chart. Your child can
Pros
Durable wooden material
Easy to use
Best for a colourful option
Description
The perfect way to encourage your child to potty train. A bright and colourful A4 glossy chart
Pros
Space to write their name
Each task has an illustration
Cons
Lots of boxes but they are quite small
Best for easy usage
Description
Encourage your child to grasp the idea of potty training with this colourful and engaging potty
Pros
Badge is child-safe

Large collection of stickers
Cons
Some stickers are a bit tiny
Best for a multipack
Description
Sprinkle a little bit of magic on their toilet experience thanks to this reward product. This
Pros
Great for parents of twins
Laminate so it's reusable
Best for gifting
Description
As well as the reward chart, this handy kit from My Carry Potty also includes George & Hollie &
Pros
Informative instructions for parents/carers
Educational book for children
Cons
No varying designs to choose from
When to buy a potty
Every child learns at a different pace and most little ones should be able to control their bowels and bladder by the age of 3. However, you should introduce a potty earlier to get them familiar with how the potty works and when they should use it.
Many parents suggest starting in the warmer months as there are less layers of clothing to take off and any soiled clothes from accidents can be washed and dried quicker as the temperature is higher than the winter months. Plus, if they need to use the potty when they're outside, they can do so without getting cold.
Try not to begin the toilet training when there are major events happening (such as the introduction of a new baby or a house move) as this can already be a confusing time for your little one and they may regress.
If you feel like you have tried everything but they are not wanting to use the potty at all, don't force them - they'll learn when they're ready and as they start to get older most children won't want to wear nappies all of the time.
What to look for when buying a potty
According to our expert, Amanda Jenner, "Getting the right equipment for potty training is always a good start. A child-sized potty, a carry potty or a special seat to attach to your regular toilet is a must. Whichever you choose, make sure your child can sit comfortably."
Benefits of using a potty training chart
There are four main benefits of using potty training charts both for you and for your little one:
• The stickers could help your tot to get a bit more excited about the potty training process.
• A visual reward system motivates the trainee.
• It makes it easier for you to keep track of when your child last used the potty (therefore when they might be needing to go again).
•No dirty nappies to clean, even in the morning (a toilet night light is perfect for helping them to locate the potty at night time).
• It makes it more fun - who doesn't love an excuse to buy stickers!
Potty training expert Amanda Jenner says, "Every toddler loves to feel special and to please mummy and daddy, especially when it comes to potty training. Using rewards is a great way to encourage your toddler to sit on the potty or the toilet, this can be through a reward chart and stickers or even a magical star box. It is important to reward even if they try and do not perform, sometimes it can be difficult to get them sitting on the potty or the toilet and this needs a little extra encouragement. Make sure you reward them immediately so they get the instant gratification."
Downloadable Potty Training Chart
Here's our very own potty training chart for you to use with your tot. Just click on the chart to save and print out.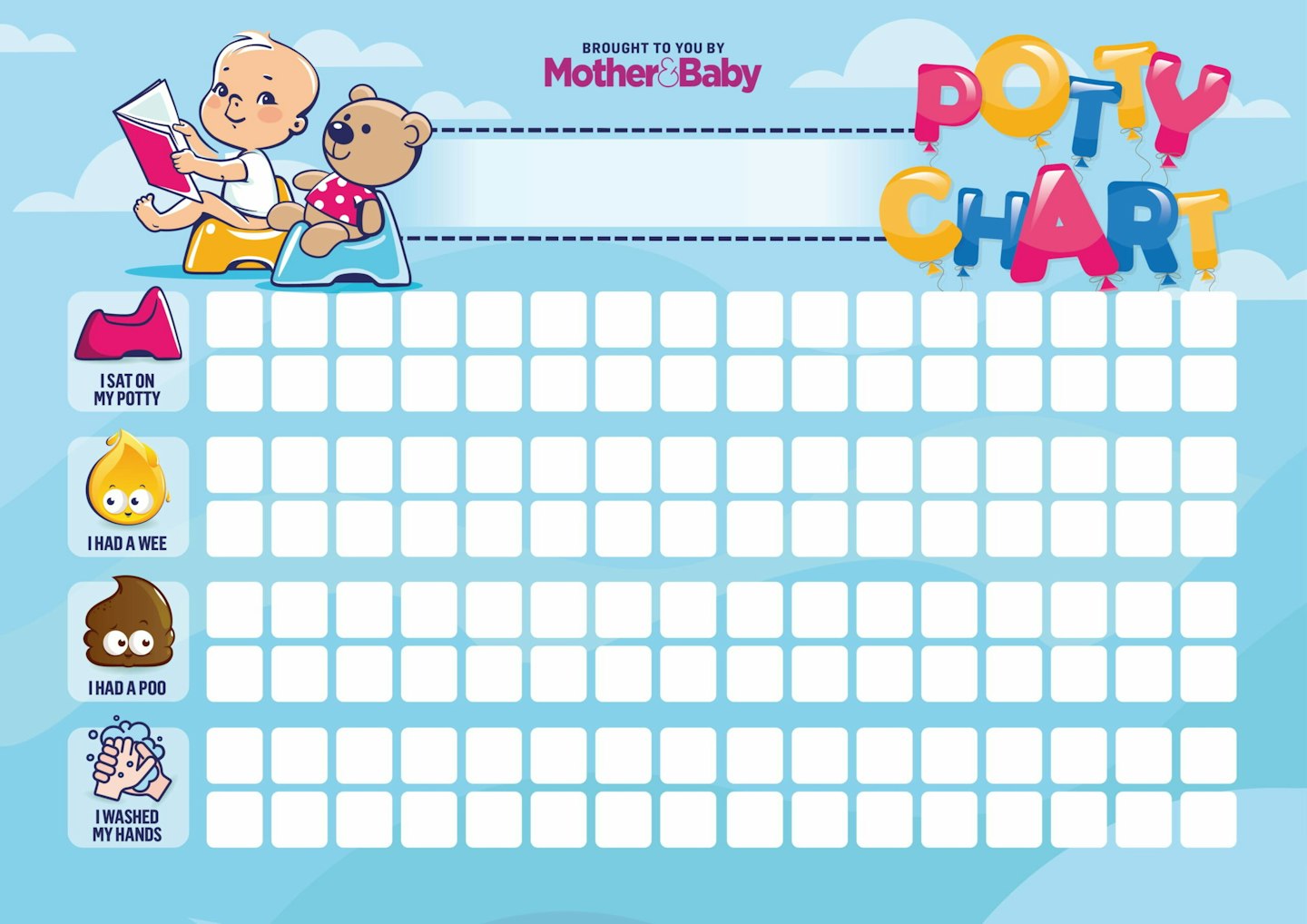 It's easy to implement into your potty training routine - simply add a sticker to the chart each time your child uses the potty.
The actions rewarded in most potty training charts are these:
• Doing a poo
• Doing a wee
• Washing their hands
• Wiping correctly
• Sitting in their potty for a bit
• Not having accidents at night
• Pulling their pants up and down themselves
Whether you decide to DIY or buy a ready-made chart, you can pick and choose from lots of different designs, whether your little one is into princesses, fairies, spaceships or pirates.
Potty training expert, Amanda Jenner, answers your potty training questions
Louella Berryman now works in Audience Development across Bauer's lifestyle brands after training as a journalist at Cardiff University.