Okay, so introducing a spoon or fork probably won't mean the end of spaghetti up the walls. But get started now and your baby will soon get the hang of using cutlery. Whether you decide to wean your baby with purees or go down the baby-led route, they'll come a time when you'll want to introduce cutlery. As you can imagine using adult-sized forks isn't the best idea. But fear not, you can get toddler cutlery that your little one will love using.
Top tips for getting your baby to use toddler cutlery
Start with a spoon
'Introducing a spoon to your little one as early as possible will help him understand that cutlery is a part of mealtimes,' says Fi Star-Stone, a baby expert and author of The Baby Bedtime Book (G2 Entertainment, £9.99). 'Do this by offering your baby a spoon to hold right from the start of weaning – usually six months.'
Encouraging your baby to use cutlery is usually a three-stage process. First you introduce a spoon, then a spoon and fork, then finally a fork and knife. 'As your baby moves onto lumpier foods and has mastered independent (if somewhat messy) feeding – usually somewhere between 10-14 months – introduce a fork and spoon together,' says Fi.
Don't stress about mess
'First off, don't worry about mess. There will be lots when your little one is learning to use cutlery,' says Fi. Remember, moving from fingers to forks is a gradual process. So, don't worry too much if your toddler is still scooping up food with his hands as well as a spoon.
Get the right kit
'Bright colours or even favourite characters can encourage your little one to use cutlery,' says Fi. 'Plastic, special-shaped cutlery that he can grip it easily is a good idea.' And make sure he's comfy. Buy a child's booster seat that keeps him strapped in as he'll be fidgety if he's uncomfortable or too low this can put them off trying to manage his cutlery.
Practice during playtime
Host a tea party and pretend to feed dolls and teddy bears. 'You could use dry pasta or rice to 'feed' his toys as it's good developing hand-eye coordination,' says Fi. 'You could also get lumps of Play-Doh and encourage your toddler to cut it up using plastic cutlery.'
Accept a mix of fingers and forks
And if he prefers fingers, don't worry. 'The important thing is he tries a variety of foods rather than have fantastic table manners so early on,' says Fi.
Get your toddler involved
Encourage your toddler to set the table with you so they become used to cutlery being part of meal times. 'Talk about what each item is used for – the knife is for cutting, spoon is for puddings, breakfast or soups – as even very young children will quickly pick up the concept of cutlery,' says Fi.
Lead by example
'Slice up your child's food into bite-size chunks and show him how to spear a piece on his fork,' says Fi. 'Make sure you sit down to eat with your baby so he can watch you eating with your knife and fork. Your baby will love copying what you do.' Experiment with lots of textures and techniques. Mashed potato is great for practising cutting and scooping.
Introducing a knife
'As your little one grows into a toddler (around two years old) and starts eating meals that are more or less the same as yours, you can introduce a knife,' says Fi. They may not hold the knife and fork together or in the right hands, but let them work it out their own way - soon be using them properly. The general idea is that by the time they are starting at school, they should be able to use a fork all the time and a knife at least some of the time.
Best toddler cutlery sets
We have found the best sets start your bubba on their culinary journey. These sets will make eating more fun and overtime a little less messy.
Description
This set has been hailed by the parenting community. The Doddl Cutlery set has been designed
Best cutlery for traveling
Description
When you're eating out it can be difficult to find appropriate utensils for your little one. We
Best stainless steel set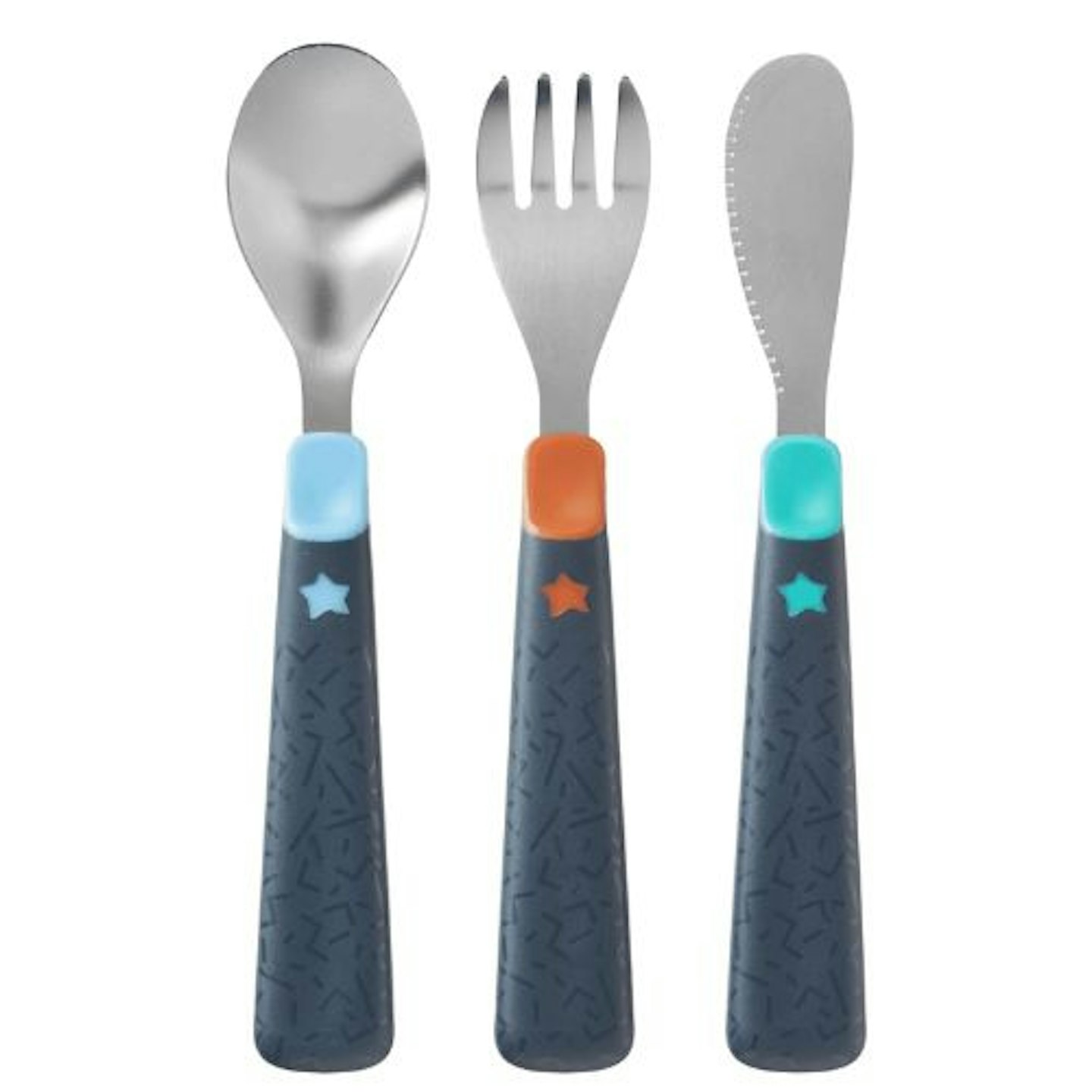 Tommee Tippee
Description
Starting your weaning with metal cutlery is a good idea as it allows your child to get used to the
Best silicone set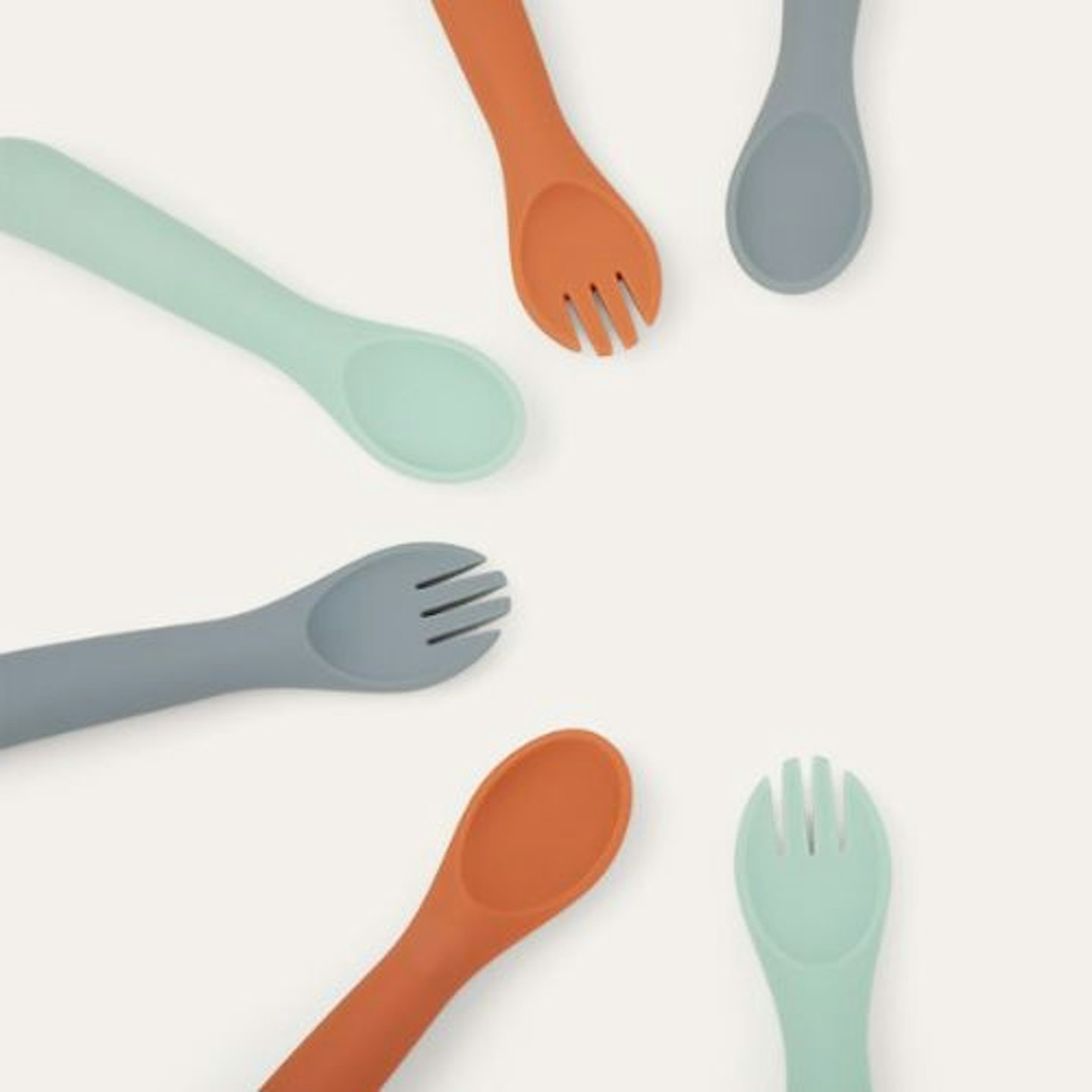 Kidly
Description
Silicone cutlery is very popular as it is soft on your little ones gums. This can make the weaning
Description
Cutlery can make a fantastic practical gift for a christening, naming ceremony or first birthday.
Description
Cutlery does not have to cost a lot. If you have multiple children this is a great set for you.
Description
This set is the sweetest. We are obsessed with how cute this spoon and fork set is. It is
Description
Bamboo plates, bowls and cutlery have grown in popularity. This is because they hold high