Designed as an alternative 'open-plate' version of EasyTots award-winning weaning product suction mat, The EasyMat Mini divided happy face plate. The EasyMat MiniMax suction plate has the strongest suction power on the market, retaining all the great features of the EasyMat Mini but with the addition of an extra-strong large central suction base, meaning that even if your baby beats the corner suckers they will not move this plate! Made to fit most high chairs it also doubles up as a lunchbox, perfect for at home and feeding on the go.
Overview of the EasyMat MiniMax
Pros
• Comes with a lid
• No more mess
• Microwave and dishwasher safe
Cons
• Price
Awards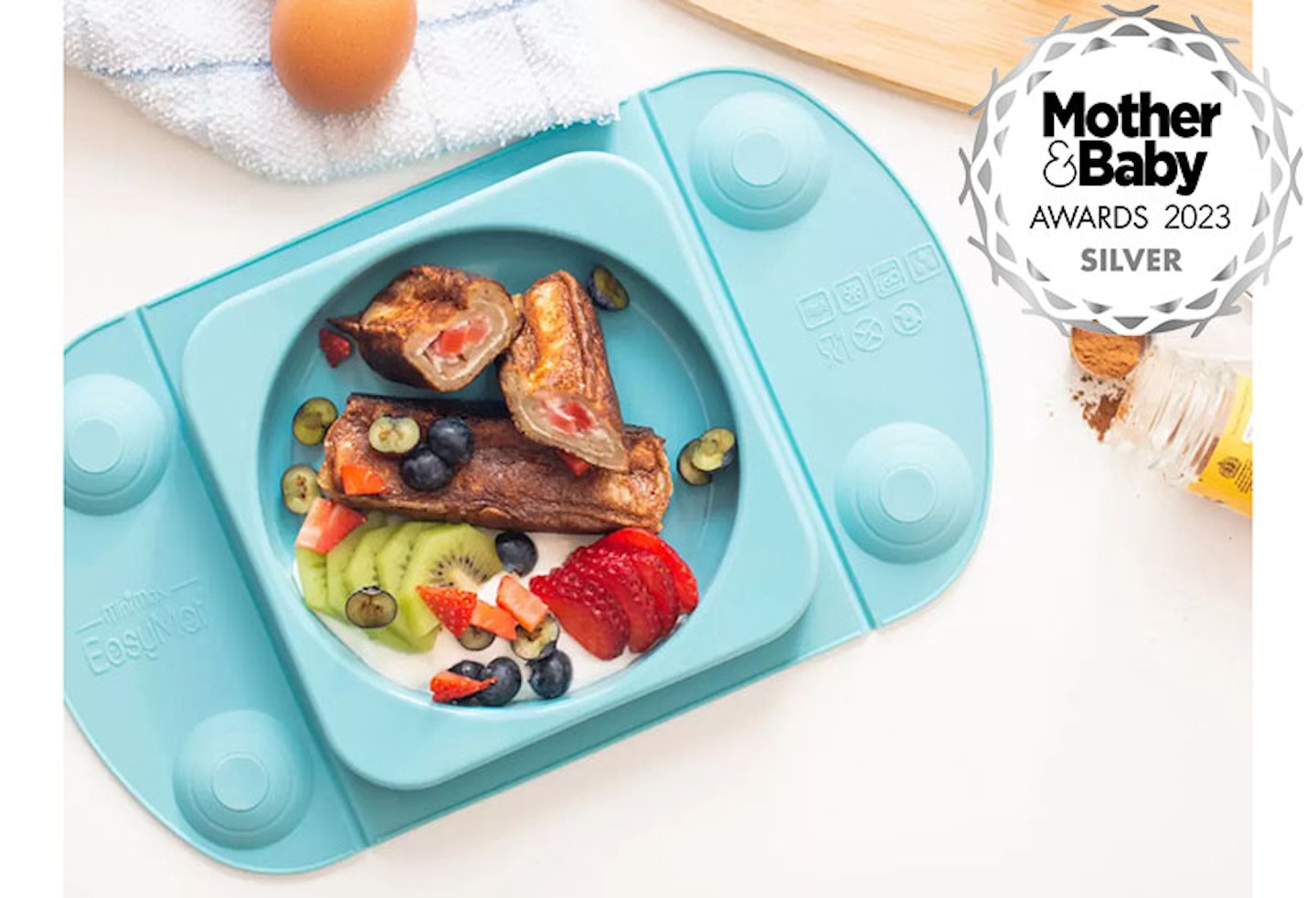 The EasyMat MiniMax won Silver in the Mother&Baby awards 2023 for Best Feeding Product for Weaning.
Testing the EasyMat MiniMax
No more wiping tables and high chairs, the EasyMat MiniMax solves the problem most parents face when your child has to eat off a communal surface. The EasyMat MiniMax comes with a lid so you can prepare food before you leave and carry it with you. Simply press it onto a surface and the clever suction ensures baby can't throw it!
One mum tester said: "I love this product! My little boy is a messy eater and likes to throw everything off his highchair. We've tried lots of different suction plates and bowls but he's managed to unstick all except the EasyMat MiniMax. We've used it for breakfast cereal, pasta dinners and loads more."
A great choice for weaning, it 'fits' on most hard surfaces very securely with good suction. Plus, many parents report it is easy to clean!
"We use our EasyMat MiniMax all of the time, a big feature which was super handy for me is that I could put it in the microwave, oven and dishwasher meaning I didn't need to transfer food from one dish to another. With the plate being lovely and bright it really helped my son eat as he was fascinated by it."
"It was very easy to clean and no staining yet, despite copious amounts of pasta sauce! Cleaning after dinner is definitely quicker. It also comes with a lid and bag so is very portable and the lid can keep any mess in until I wash it at home. My daughter enjoys eating from it using her fingers, fork or spoon.
Portability was a favourite feature, with the lid and bag also available to buy separately so you can have multiples if needed - or replace any that get lost!
"I am always on the lookout for products that help families on the go. The travel-sized suction mat means I can prep a meal at home and know that my daughter has a healthy meal on offer that we can clip onto her high chair without fuss. This is a quality product."
"This product stands out to me as it has made eating out less stressful and much easier. With the easy mat you don't have to spend ages wiping down high chair tables and hoping plates don't get thrown! Instead you simply push the mat onto the table and your ready!"
Final thoughts
Some testers commented that the sides are a little shallow so their child had difficulty scooping with a spoon when using it, so food can spill out. On the other hand this can help fine motor skills improve, and as they grow there is less spillage.
If you'd prefer something with dividers then the EasyTots EasyMat Mini fits the bill - however this is great for older tots who've got a little too good at pulling the suckers off their plates!
The only suggestions our testers had were adding clips to the lid (although no spillages were reported) and the addition of a cup holder.
Full product spec
Dimensions: 29x21x4cm
Colours/patterns available: Blue, Buttercup, Dino, Grey, Lilac, Mauve, Olive, Pearl, Ridge Grey, Teal, Unicorn, Zebra.