If you have a large family, you will know how difficult it is to get out and about. The Wonderfold W4 Luxe Stroller Wagon makes outdoor adventures, quite literally, a walk in the park. Finding the best pram and pushchair makes travelling much easier, but this is no small task if you have more than two children. This four-seater stroller is perfect for parents who have three or four tots. In this Wonderfold review, we tested the stroller for a month to see if it lived up to the online hype.
 If you haven't heard of Wonderfold, then you haven't been spending much time on online parenting forums. Mums and dads cannot get enough of this child-friendly wagon. Designed for outdoor adventures, this pram has four raised five-point harness seats and ample storage spaces. The W4 Luxe Stroller Wagon even has a detachable UV sun canopy - take about a stroller doing it all. All-terrain prams and pushchairs like this are essential for off-road adventures because they have durable big tyres which can ride over different terrains.
Already a household name in the U.S, and used by the likes of Kylie Jenner and Chrissy Teigen, the Wonderfold has room for multiple children, as well as their luggage, plus the easy to fold mechanism means it packs up small enough to fit in the boot of your car.
Fun festivals, beautiful beach days, wilderness walks. Nothing beats family adventures. But with luggage, pushchairs and snacks galore, getting out and about with your little ones can be easier said than done! Enter a brand new product to the UK, the Wonderfold wagon, ready to transform family trips in every way.
Pros
Fits up to four children plus luggage
A range of products at different price ranges, from £595 to £1999
Sturdy design with wheels that can handle adventure across sand and difficult terrains
Easy to fold and unfold mechanism
Easy to put together
Simple instructions
Lots of storage
Easy to manoeuvre
Cons
Heavy
Takes up lots of space in a boot
Not suitable for children under six months
Key features:
Ready for adventure
The removable and slidable UV canopy will protect little ones from sun. All-terrain EVA tyres with easy one-step foot brake, bearings and suspensions will ensure a comfy ride.
Plenty of storage
As well as capacity underneath the removable seats, most models come with a removable rear storage basket, storage pouches on both sides of the stroller wagon and rear storage pocket.
Stylish & practical accessories
A range of accessories can also be added, including snack trays and rain covers, from £60.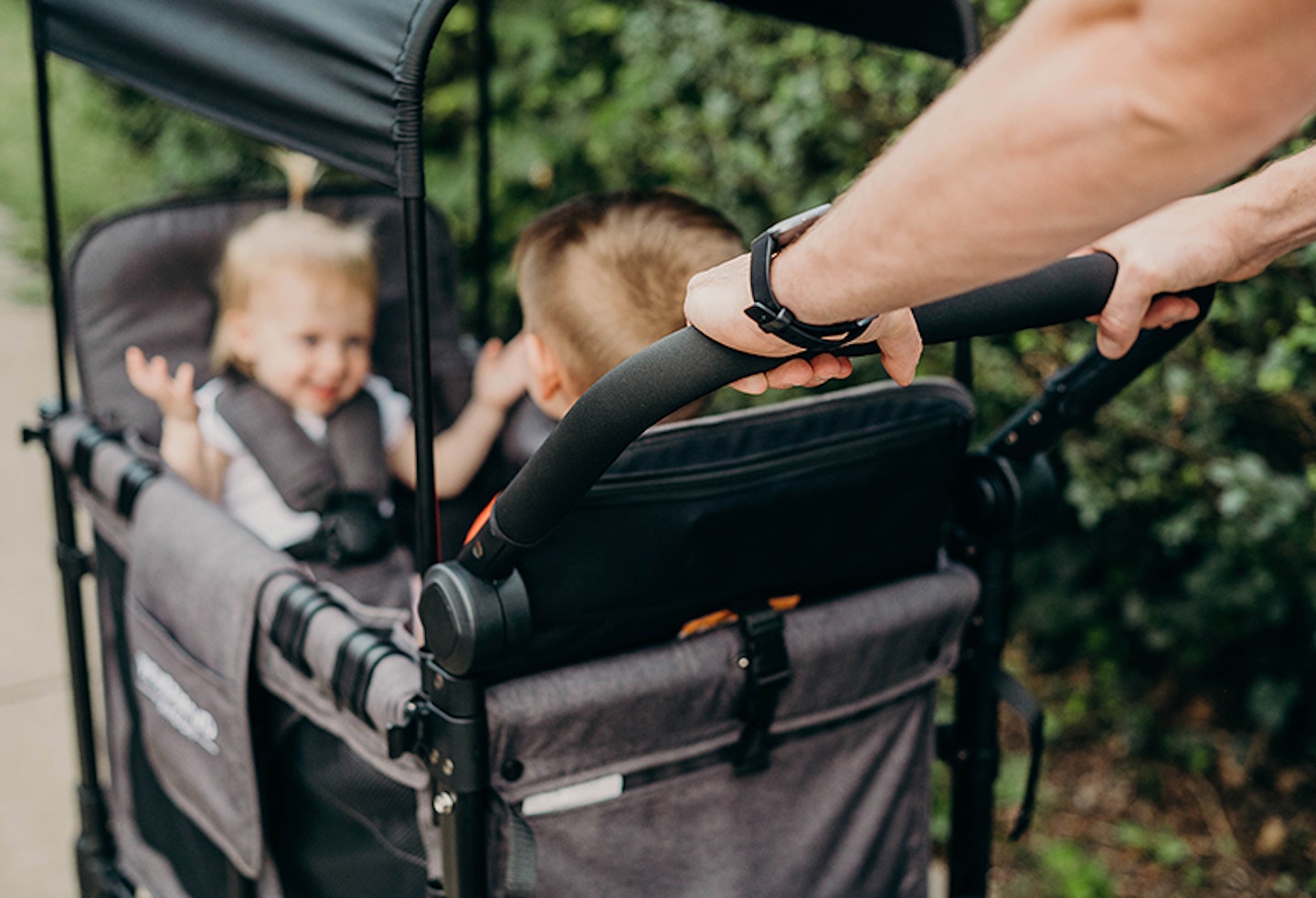 Seats four children comfortably
The wagon has four removable seats that all have five-point harnesses. The harnesses are magnetic making it easy to strap in wriggling tots. Each side of the wagon seats two children with space in the middle.
Design
This is a very eye-catching stroller. Not only because it has a very unique design compared to other strollers on the market but also because it looks sleek.
Testing the W4 Luxe Stroller Wagon
Mother&Baby product writer, Hannah James tested the Wonderfold W4 Luxe Stroller Wagon for a month with her three children aged 18 months, three and five years old. The stroller was tested at the beach, parks and the supermarket to see how the stroller performed.
Setting up the wagon
When the wagon arrived, I was shocked at just how heavy it was. I feared that it would require a lot of tools and patience. But to my delight, once I opened the box and read the instructions, I was blown away at just how simple it was to install. Although, I would recommend doing this when you aren't in a hurry. The instructions were simple to follow and had useful illustrations for visual learners. Most of the elements can be simply clicked into place.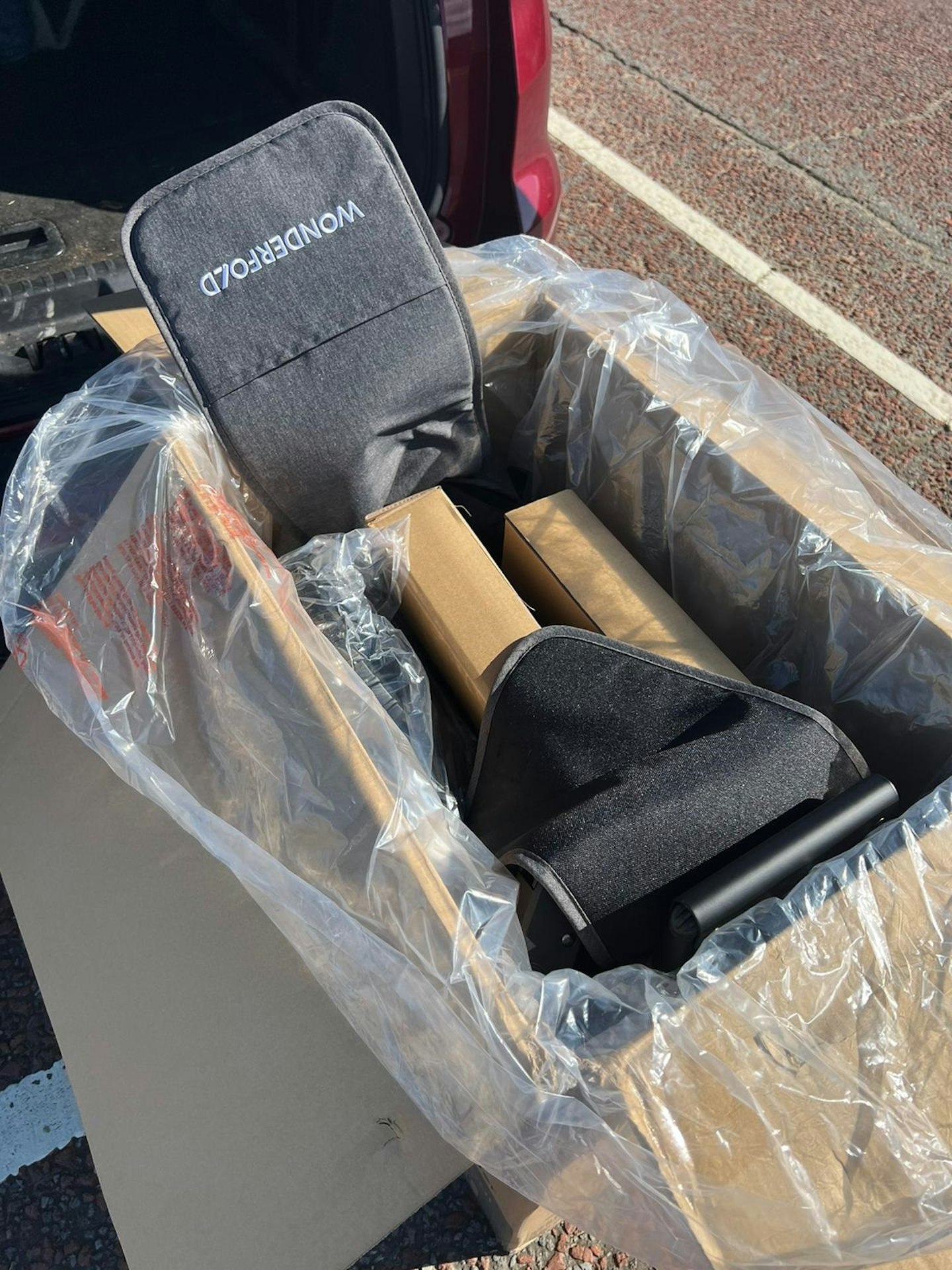 Usability
One of my favourite features is the sun canopy. When we initially took the W4 Luxe Stroller Wagon out, it was a very warm spring day. The sun canopy was great as it offered the children protection from the sun's UV rays and offered a shaded area for my youngest child to sleep. It drew a lot of attention with parents we saw commenting on how great it was.
My only criticism is the sun canopy was hard to lock into position and would move if the children pulled on it.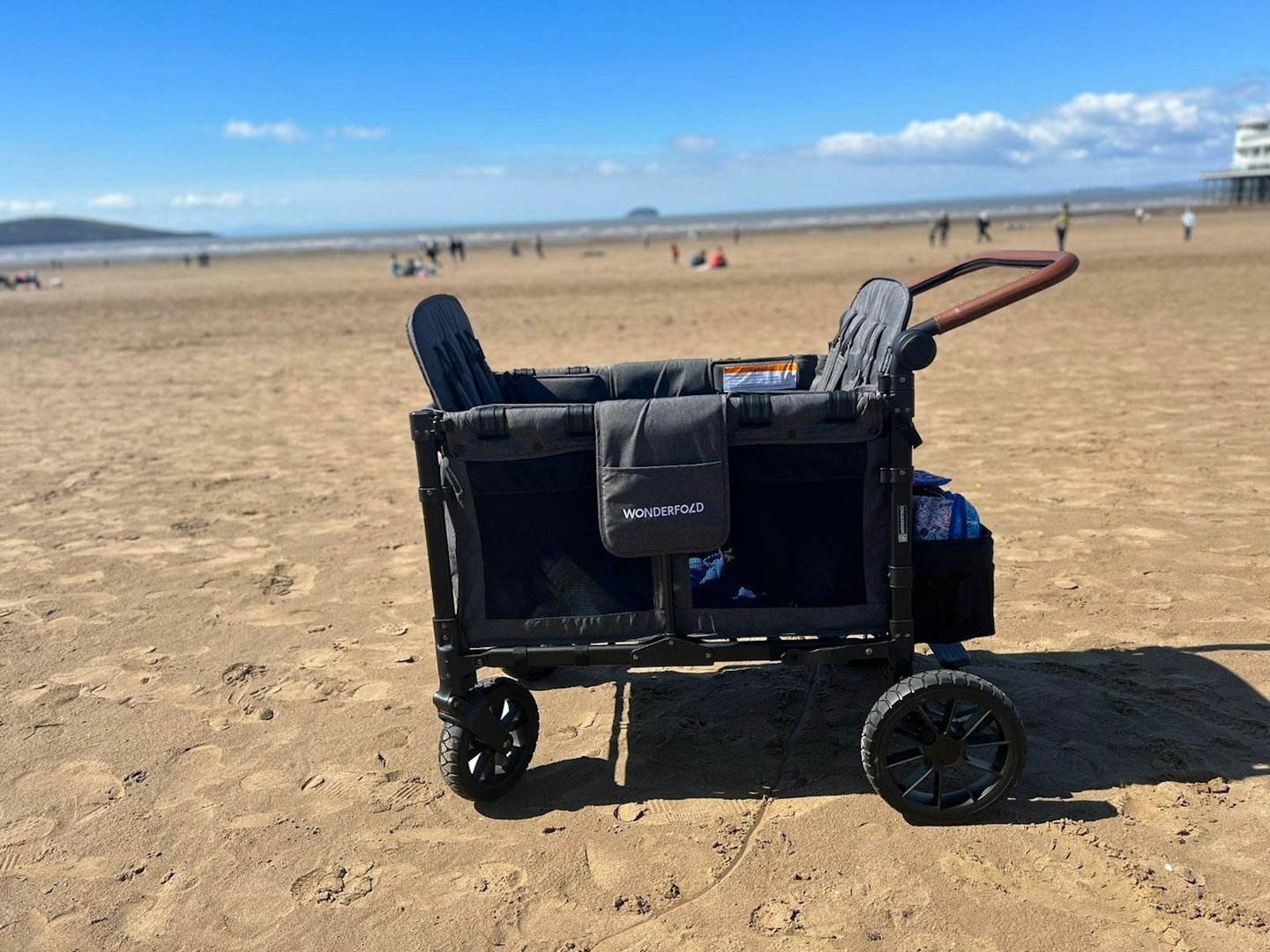 Performance
To say that this large wagon glides, seems like a bit of an oxymoron, but it is true. It is ridiculously easy and enjoyable to push, even with three children in it. The handles can be raised or lowered for the parent's comfort. The large break peddle is both secure and easy to use.
All of my children could sit comfortably in the wagon with more than enough storage space for everything we needed for a day trip to the beach, including a picnic, buckets, towels, spades and a changing bag. This was a huge win for me as I am often left lugging bags as well as pushing the pram.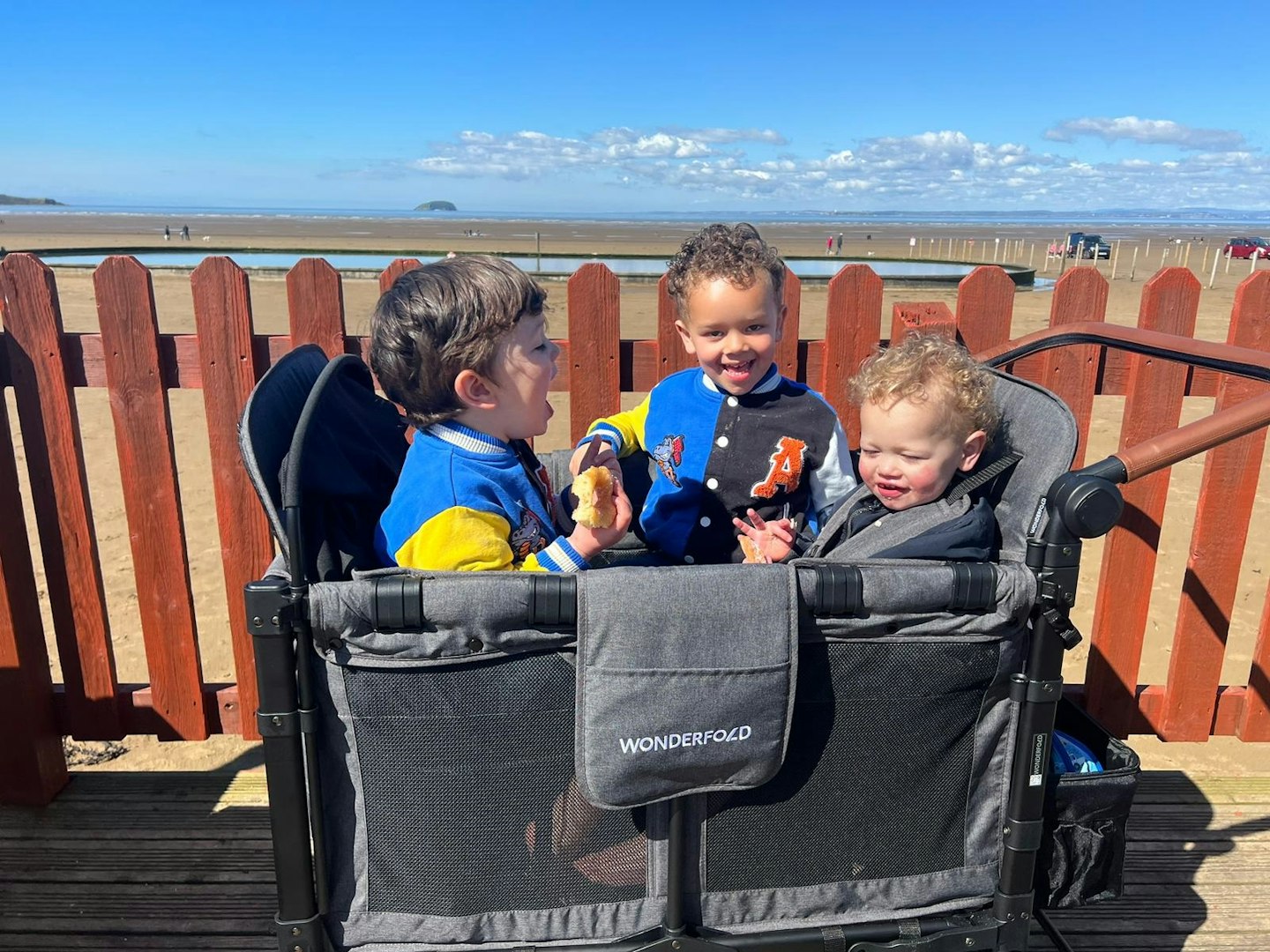 Price
Although I believe the price is justified, this is not a cheap option. The W4 Luxe Stroller Wagon is crafted to an impeccably high standard and this is evident in every aspect of the pram from the design to the drive. If your budget allows you won't regret buying this pram. It makes travelling with young children very easy and if your family like to be outdoors a lot this is a great investment.
What's in the box
The W4 Luxe Stroller Wagon
Rear storage basket with extra pouches
Removable and slidable UV Protection canopy
Instructions
Final thoughts
I have wanted to try this pram since I found out I have three children under the age of six. I had previously seen it online, however, at the time it was only available to an American market. So, when I had the chance to test it, I already had high expectations. I can say this wagon did not disappoint. Not only did it make a trip to the beach enjoyable, but it also made life much easier. Usually, with three young children, a trip to the beach is a headache. But everything we needed could be chucked in the stroller - including the children.
This wagon is stunning and I spent the whole day thanking people for their kind compliments.
The vast amount of storage went above my expectations. Most importantly, everything was still easy to access, even with all of the children in the stroller.
One thing I would change is the weight of the wagon. It is heavy and this may put some people off. Similarly, it takes up a lot of space in the car. However, If you have a large family, you will likely have a large vehicle. The wagon fit in my Ford S-Max boot and things could be piled on top of it as it lays relatively flat.
I would wholeheartedly recommend this to any parents who have three or more young children. It makes day trips all the more enjoyable.
FAQs
Can you get a Wonderfold wagon in the UK?
We are absolutely delighted that you can now get Wonderfold prams in the UK. Baby Central is the UK's sole distributor of the Wonderfold. Alternatively, you can buy from Wonderfold directly.
What age is Wonderfold for?
Child under six months should not use a Wonderfold.
Hannah James is a Parenting, Lifestyle and Home Product writer for Mother&Baby, specialising in product testing and reviews. With three children, Hannah loves testing the latest industry products on her own family.