Advertisement feature
Dedicated to providing stylish and functional products that stand the test of time, it's no surprise Nuna earned top marks in four competitive categories at the Mother&Baby awards 2023.
With high-performance baby gear that's in it for the long haul, Nuna is proud to craft inventive solutions that will save you time and energy, so parents can focus on what matters most. Nuna's premium baby gear is designed around your life, so you have more time to enjoy with your family.
From two wins in best pushchair categories to best carrier and best multi stage car seat, here are the Nuna products that excelled according to our real parent testers.
TODL™ next and BASE™ next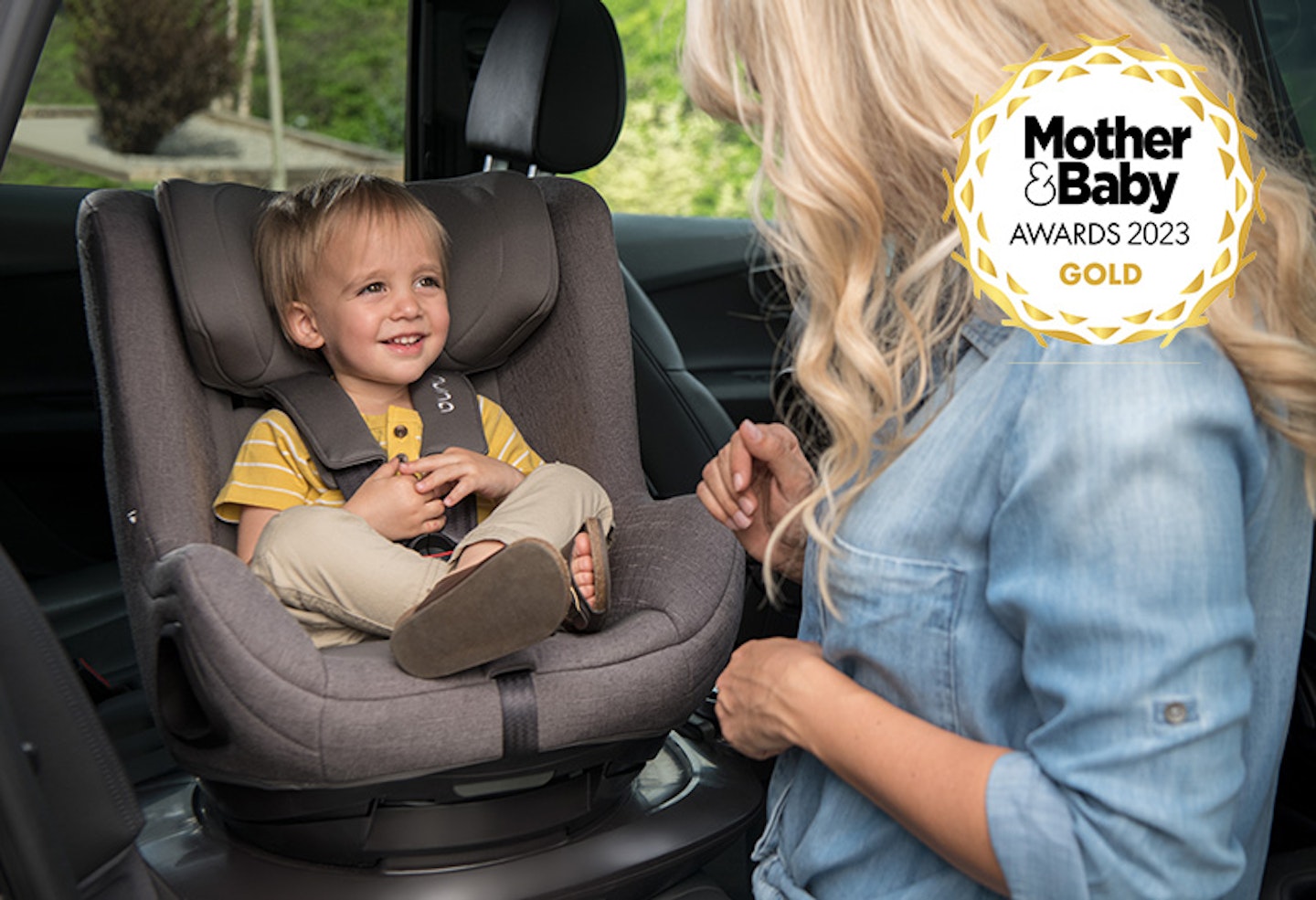 The Nuna TODL NEXT won Gold in the Mother&Baby awards 2023 for Best Multi Stage Car Seat.
Relax riding and a secure fit. The TODL™ next and BASE™ next car seat is perfect from birth to toddlerhood, with five recline positions and a shoulder harness that expands with each of the six headrest positions.
• Choose from five recline positions no matter which way they're facing
• Attaching the side impact protection pod creates an additional safety zone to protect your child
• No-rethread five point harness
• One hand, height-adjustable head support sports six different positions
• 360° rotation for easy harnessing and NEXT™ system car seat installation with just one click
• Available in Caviar.
One of our tester parents said: "I have loved using the TODL car seat and base from Nuna – what a fantastic product! It is the best multistage car seat I've used and scores 10/10 in my opinion on all fronts. This is the first 360 car seat we've had – making life so much easier getting our son in and out without one of us banging our heads on the roof! The isofix base, whilst heavy, offers such a stable fixture that I feel the seat is safe on its axis. The design is sleek yet practical – the cushioning feels comfortable and I love the ability to recline slightly for longer car journeys, helping our little one to nod off."
CUDL™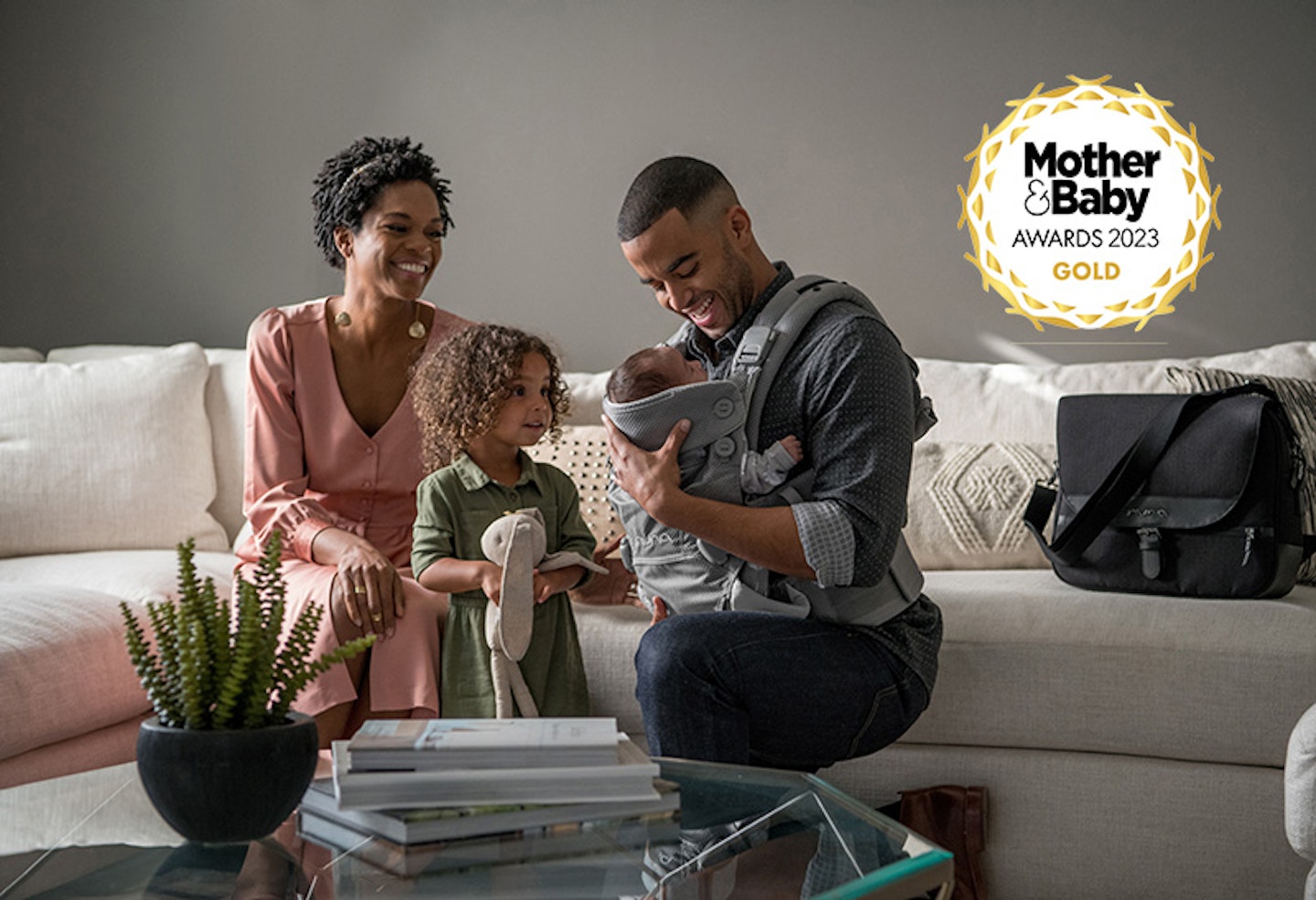 Gold winner for Best Baby Carrier/ Sling or Back Carrier in our 2023 Mother&Baby Awards
When on-the-go, a wearable carrier keeps baby close and safe whilst having your hands free. The CUDL™ baby carrier provides four carry positions for optimal support as your child grows. Four ergonomic magnetic buckles, ensure an easy and secure attachment for your little one.
The carrier is warm weather-ready, with mesh fabrics to keep baby cool and a hood to protect them from the sun. With comfort in mind, the adjustable padded shoulder straps and waist belt provide all over comfort. The carrier can carry your child facing parent or facing out, or on the back as they get older.
• Four ergonomic magnetic buckles ensure an easy and secure attachment
• Comfortable 145 cm adjustable hook and loop waistband
• Locking zippers are covered to add security as well as ensure no contact with baby's skin
• Four carry positions provide optimal support as your child grows—for healthy body positioning necessary in spine and hip development
• Includes two GOTS™-certified organic cotton bibs
• Available in Night, Softened Thunder or Softened Denim.
"It makes long walks a lot easier as it is so comfortable for me and my daughter, she really felt supported and so did I!" tester Georgia told us. "It feels very secure and is easy to use and adjust to different sizes and age ranges."
TRIV™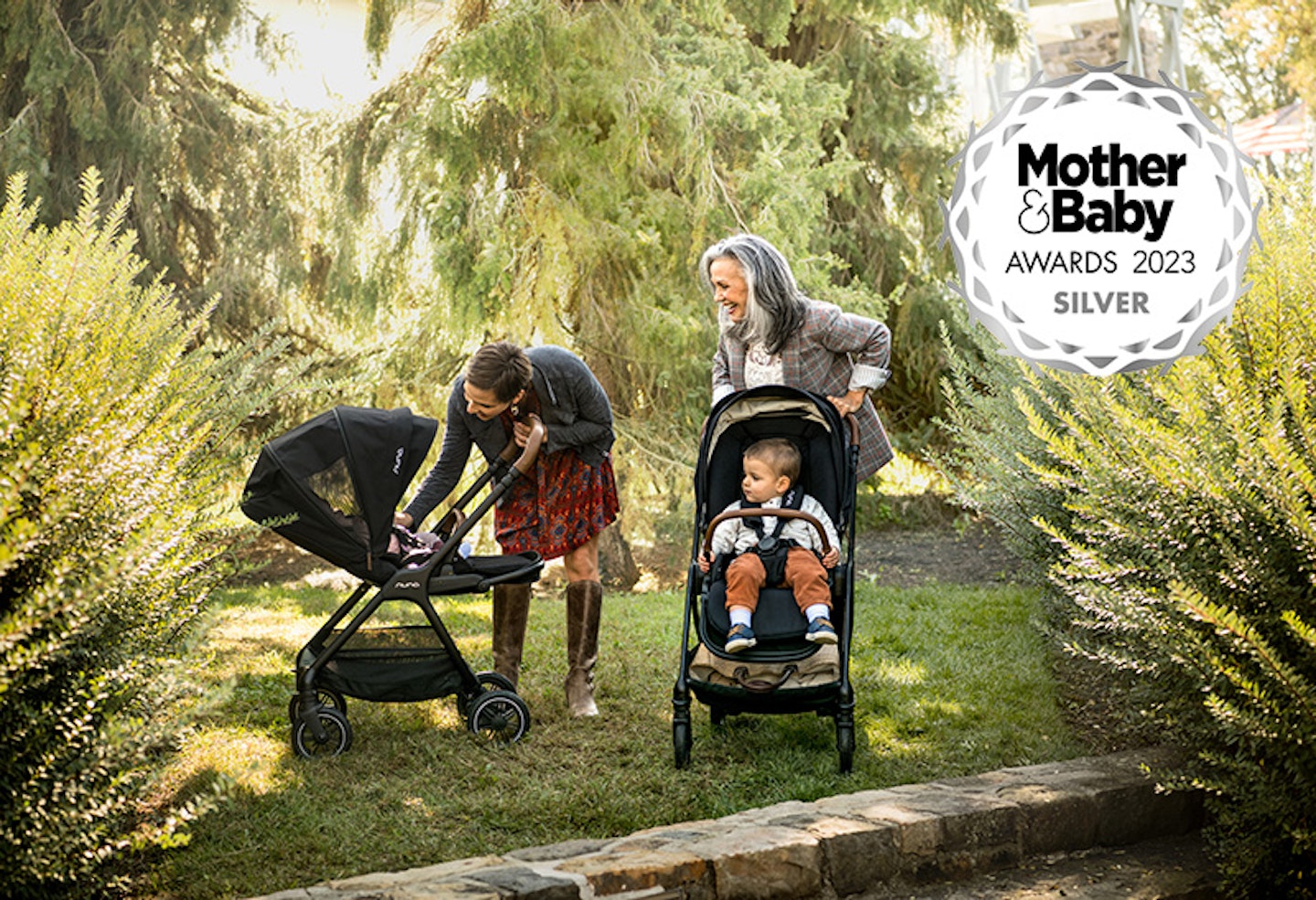 The Nuna TRIV won silver in our 2023 Mother and Baby Awards in the Best Pushchair category.
The TRIV™ is your trusty travel companion to enjoy those everyday adventures. It is cleverly designed with a seat that can face both ways, and can easily convert to a travel system. For a quick trip to the shops or getting across town, the TRIV™ packs up quickly and stands on its own, keeping your hands free.
• Water repellent UPF 50+ canopy is extendable and features a flip out eyeshade and window
• Quick-release, five point no-rethread harness converts to a three point harness
• All wheel suspension, one-touch brake and front swivel wheel locks
• Rain cover protects your child from the elements as you make your way around
• Handy storage pocket and oversized storage basket
• One-hand on-the-go recline and height adjustable pushbar
• Available in Caviar, Timber, Granite or Riveted.
One of our reviewers said: "It is so easy to fold down and pop back up. I love the spaciousness of the basket. The leather handle is really lovely quality. I also love that it extends so much as I'm a tall mama! The pushchair looks and feels quite expensive. The fact it lies flat back and turns both ways is a lovely feature."
Now available
Introducing your new favourite companion TRIV™ next. From its multi-way usage to its one-hand fold, the TRIV™ next is brilliantly designed to tackle city living effortlessly.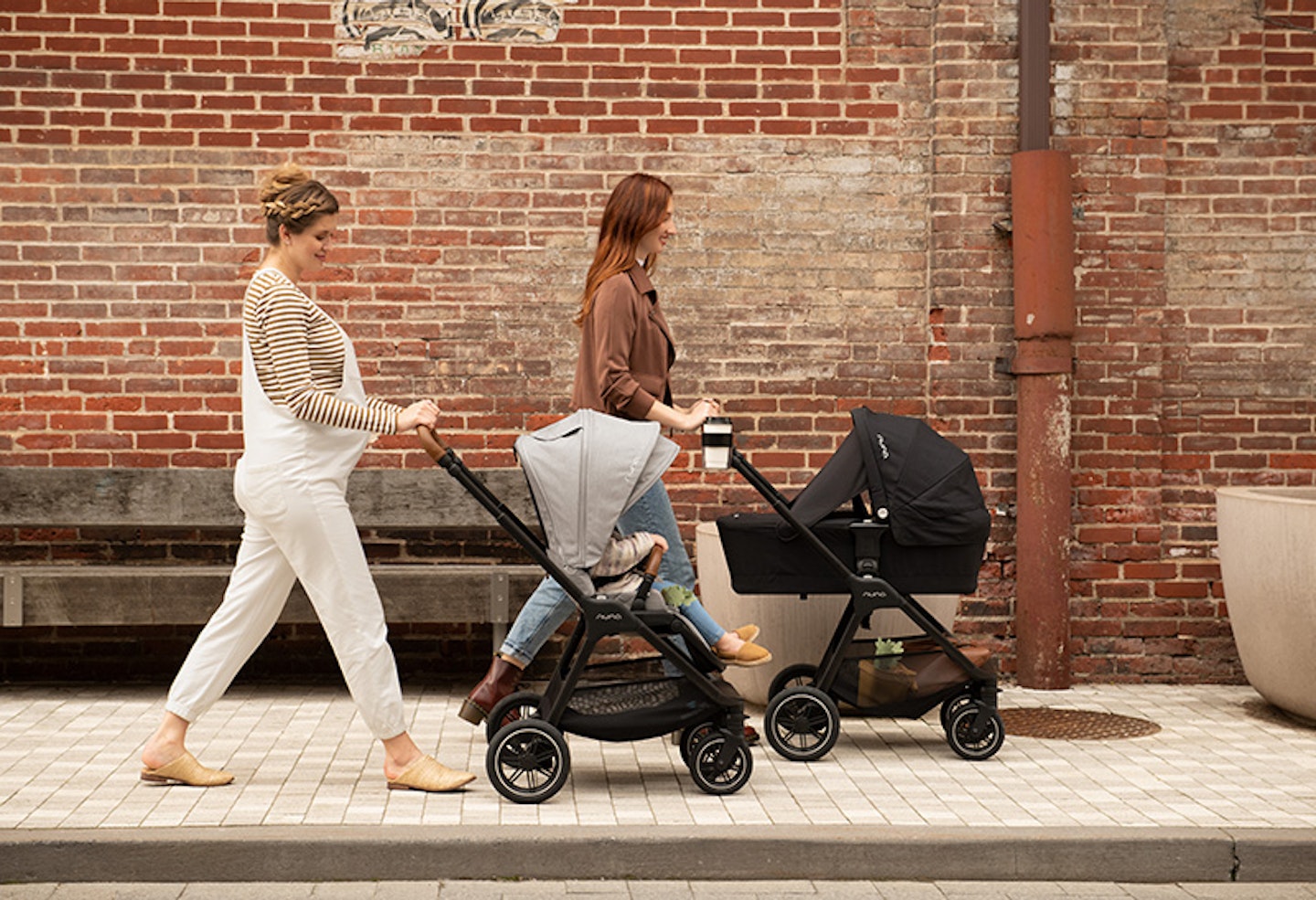 • Large rear wheels to tackle any terrain
• Compact and lightweight
• Four modes
• Smooth and easy manoeuvrability
• Red Dot Product Design Winner 2022
• Available in Caviar or Hazelwood.
TRVL™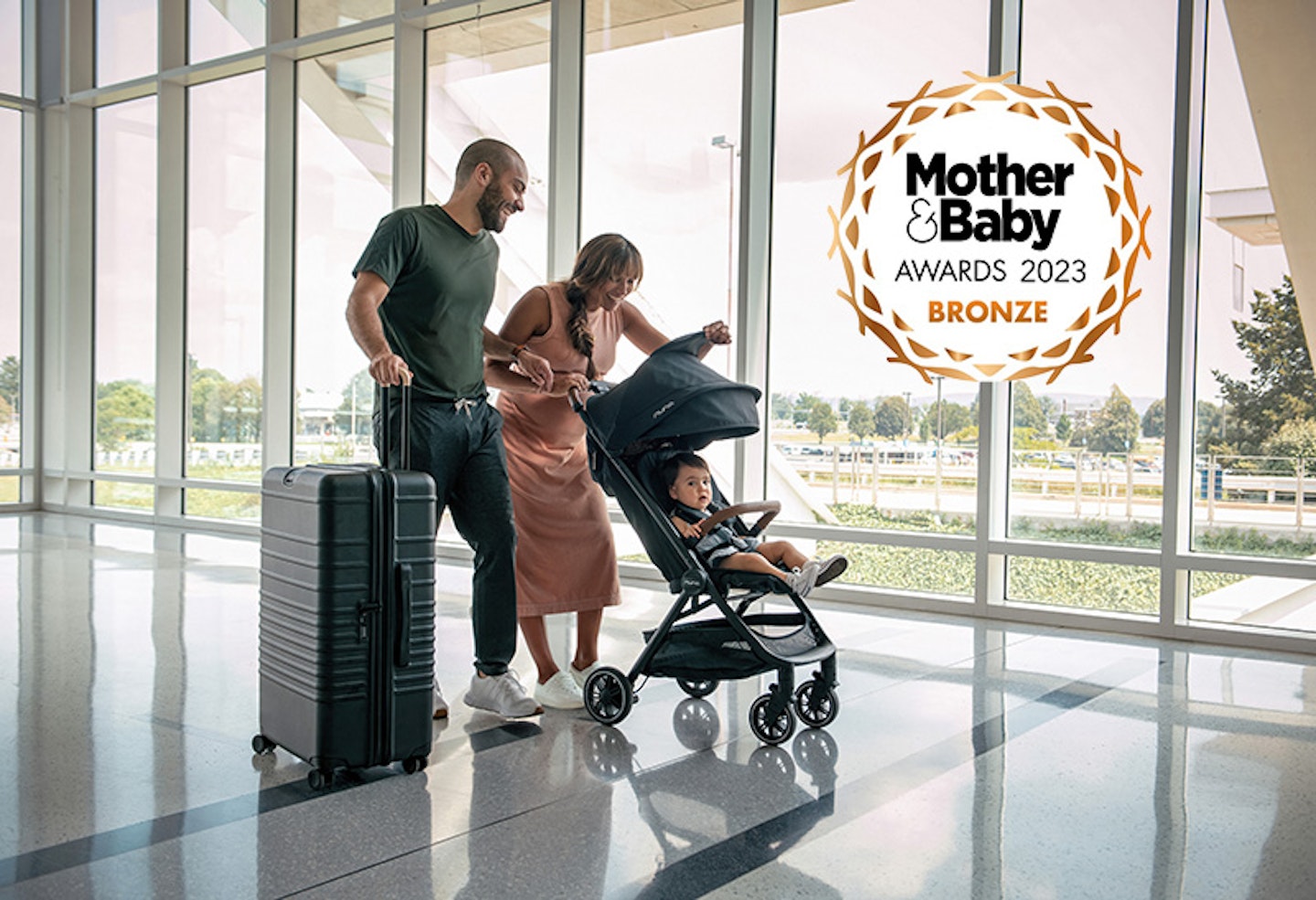 The Nuna TRVL won Bronze in the Mother&Baby awards 2023 for Best Lightweight Buggy/Stroller.
A lightweight stroller that self-folds and is easy to carry is ideal for airports, hotels and city breaks.  The TRVL™stroller can be easily folded into a compact pushchair with the touch of a button. It comes with a carry strap for easy portability, a peek-a-book window in the canopy and a strap-recline feature for adjusting the recline position.
• With the tall seat height, it allows plenty of storage space underneath for travelling. The basket has easy access and is removable for storing those on-the-go essentials. Let's go on an adventure!
• Travel system ready, simply attach a Nuna PIPA™ series infant car seats to the armbar with one click - no adaptors needed
• One-hand self-collapsing fold keeps your transitions simple and struggle-free
• Stands on its own when folded
• All wheel suspension
• Simple one-touch rear-wheel braking system
• MagneTech secure snap™ is a self-guiding magnetic buckle that automatically locks into place
• Available in Caviar or Hazelwood.
Our tester mum said: "We used this buggy both at home as part of our regular day to day walks to the park and nursery and for a trip abroad. This is a great travel pushchair that is comfortable for every day use, whilst lightweight and compact enough to be great for travel. Its easy to collapse and handle - more so than other brands I've tried before."