Advertisement feature
Joie is a family-first kind of company, driven by the simple joys of childhood and spending time with our families – no wonder then that their products proved so popular in our Mother&Baby awards 2023, with three golds, a silver and a bronze win – including taking the top spot in the Innovation of the Year category.
The products stand up to the company's ethos, surpassing safety standards, with practical designs that are all about being together, whether out and about on the road, or cosy at home around the table. Here are the products, tried, tested and chosen by our awards reviewers.
Joie i-Snug 2 with i-Base Encore
GOLD, Best Newborn Car Seat (Stage 0/0+)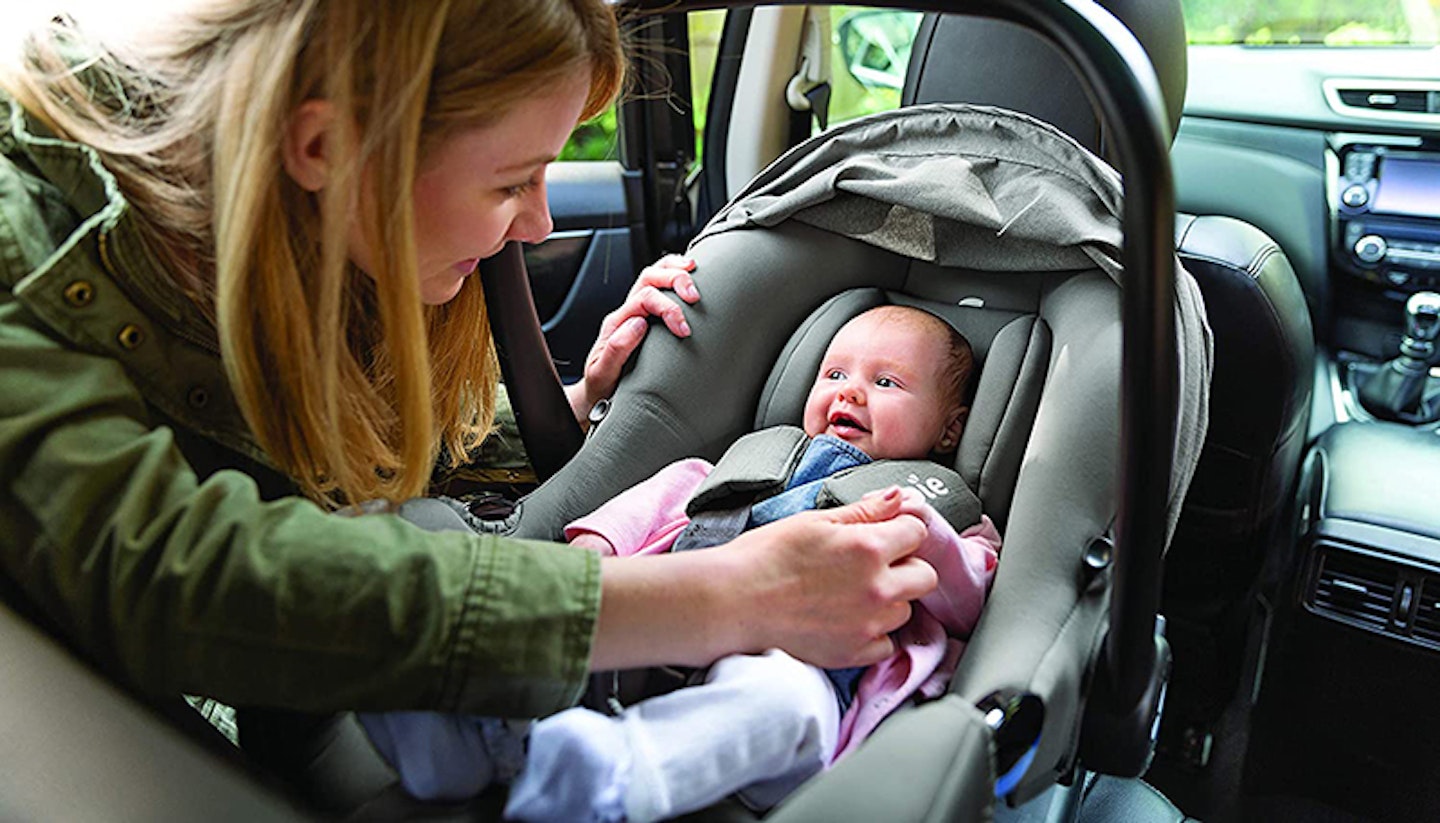 Weighing in at 3.2kg, the Joie i-Snug™ 2  is a lightweight i-Size certified infant carrier.
Featuring Joie's exclusive Tri-Protect headrest, this car seat offers security in the form of three layers of protection inside the side wings and Joie's patented Intelli-Fit memory foam in the infant pillow, keeping baby snug and protected at all times.
Travel system ready, the i-Snug 2 pairs perfectly with select Joie pushchairs and features a multi-position, ergonomic carry handle and a curved base for rocking and relaxing when out and about.
Our parent testers said: "Firstly can I just say how thankful I am for a lightweight car seat to finally be available on the market. I think having to carry a baby in a car seat is one of the biggest challenges post birth as it is heavy - however this product has solved that problem. We loved using this product and it made everything easier and quicker when using this out and about."
• Meets the highest ECE R129/03 safety standard, plus side impact testing
• i-Size certification for a perfect fit in i-Size approved vehicles
• Suitable rearward facing from birth to 75cm, approximately 12 months
• Pairs with the i-Base™ Encore to add a 90º spin
The i-Base™ Encore is part of the Encore Spinning System that grows with your child from birth to 4 years, so as well as pairing with the i-Snug 2 it's also compatible with calmi™ R129 car cot, i-Level™ Recline, i-Harbour™, i-Juva™ and i-Gemm™ 3. Its one-hand swivel base spins compatible baby car seats 90º, and compatible toddler seats 360º for easier loading and unloading. The easy one-time ISOFIX install comes with 10 positions to perfectly fit into any i-Size vehicle, and for even easier install there's an indicator located on top of the load leg ensures you're properly connected. A low rebound bar allows for maximum legroom for growing children.
"The Isofix and car seat fitted effortlessly into my vehicle, and other vehicles I have since used it in, and was very user-friendly to fit. I found the product easy to use and my child fit into it perfectly, with the seat straps adjusting with ease and the seat turning to be effortless," said one mum.
Joie i-Harbour with i-Base Encore
SILVER, Best Baby/Toddler Car Seat (Stage 1/2)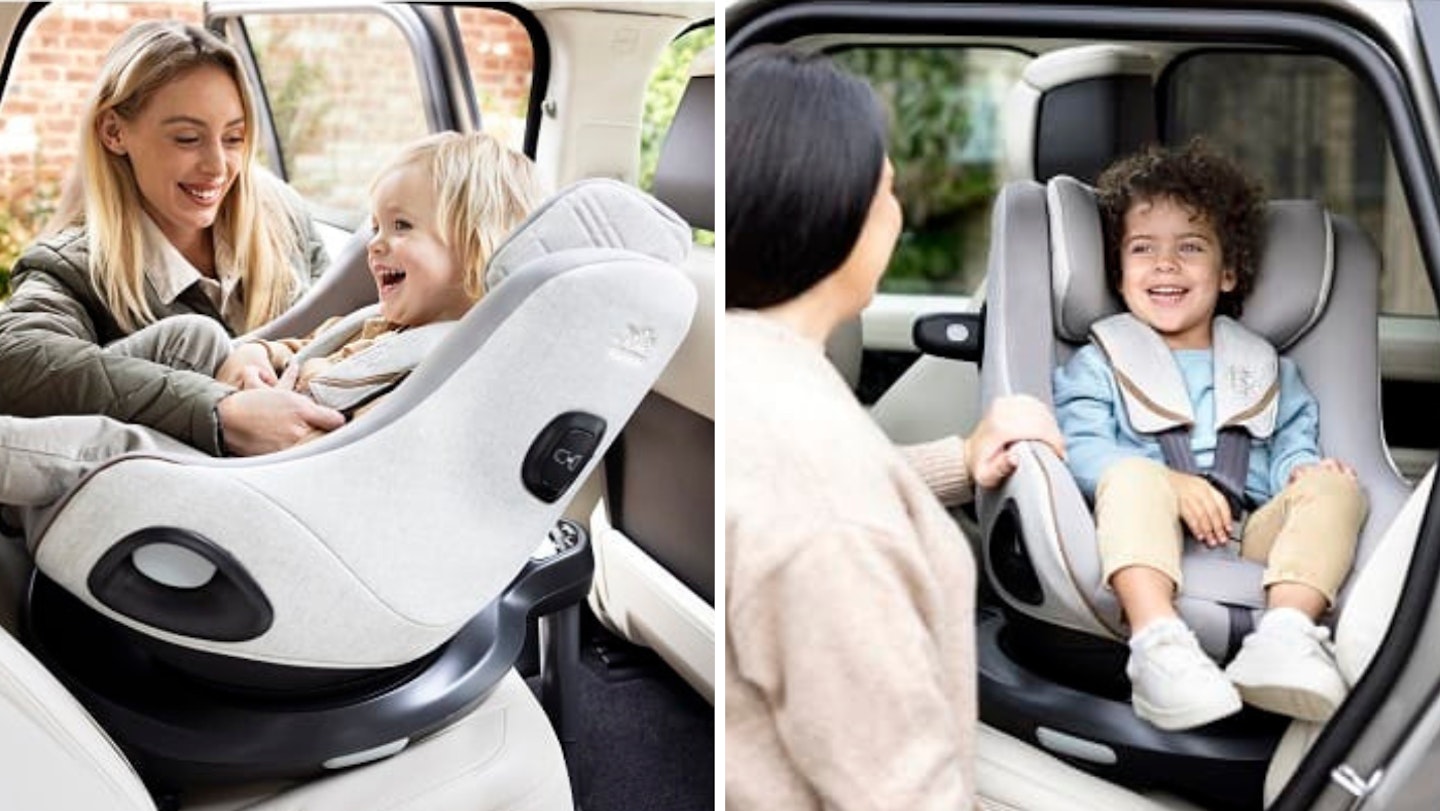 The Joie i-Harbour™ has a one-hand turning activator that simplifies the 360º spin – making getting your child in and out of the car hassle-free. It's part of Joie's Encore spinning system™ like the i-Base™ Encore which has a clear install indicator located on top of the load leg to ensure you're properly connected and your baby is secure.
The 360-degree turning was a definite highlight for parents, with testers applauding this feature and how easy it made getting their child in and out of the car.
The headrest and harness of the i-Harbour adjust simultaneously so alterations are as simple as possible and are ready for those surprise growth spurts.
This parent reviewer said: "The 360 rotate feature is excellent as I was easily able to get my daughter out the other side of the car when a van parked extremely close to my car door at the side of the car seat. The recline is also a really good feature to have for combining long journeys with nap time."
• Meets the highest R129 safety standard and is i-Size certified for a secure fit in your vehicle
• Pairs with i-Base Encore as part of the Encore Spinning System
• 360° rotation on the spinning base for ease of loading and unloading Simple Swivel™ turning activators on both sides of the seat, positioned where you naturally reach for an effortless spin
• Tri-Protect™ headrest offers security with three layers of protection inside the headrest, including patented Intelli-Fit™ memory foam
Joie finiti with calmi
GOLD, Best Travel System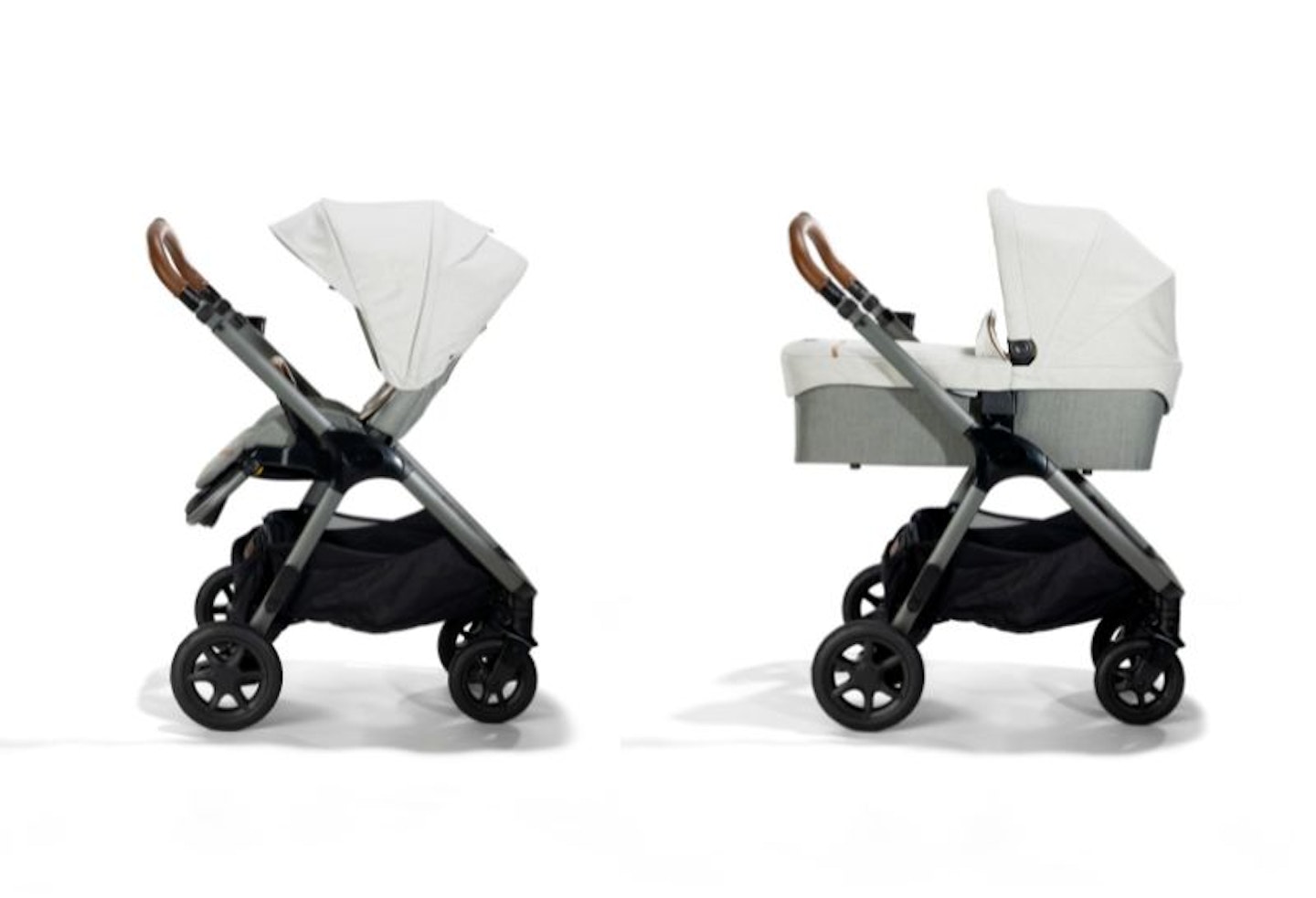 The Joie Finiti™ pushchair with calmi R129™ car seat is an ideal combination for parents with newborns. The calmi R129 car seat is compatible with most cars and makes it really convenient to switch baby from lie flat in the Finiti pushchair to lie flat directly in the car.
Once your little one is ready, you can then transform the Finiti into a pushchair to use for up to four years old or 22kg, whichever comes first.
Mum Rachel said: "From the minute the Joie Finiti travel system and Calmi arrived, I was impressed, arriving in just one box each. Quick and easy to build with informative manuals the included accessories (a cup holder, rain cover and detachable pram organiser) were a nice surprise to have included as standard. It folds flat with the seat attachment making it quick and easy to put up/pack away even when in a rush or juggling kids. The harness is really easy to use on both items and the four various modes this system caters for meant that we could choose the best combination for us. The clever storage pockets built into the Calmi carrycot meant that I could easily and quickly find the items rather than having to rummage in a changing bag."
Finiti specs:
• 4in1 multitasker cleverly combines carry cot, infant carrier and forward or rearward facing seat all in one (carry cot and infant carrier sold separately)
• Whether the seat is fastened forward or rearward, this pushchair tucks closed and stands ready to store with a quick tug
• Handy quick release right on the back of the seat allows for easy fold up
• Lightweight at just 11.21 kg
Calmi specs:
• R129 certified
• Suitable lateral facing from 40-70 cm, up to 9 kg ( approx. 6 months)
• Pairs with i-Base™ lx 2 and i-Base™ Encore
• 180º lie flat car cot doubles as a car seat and carrycot
Joie finiti with ramble and i-Level Recline
BRONZE, Best Travel System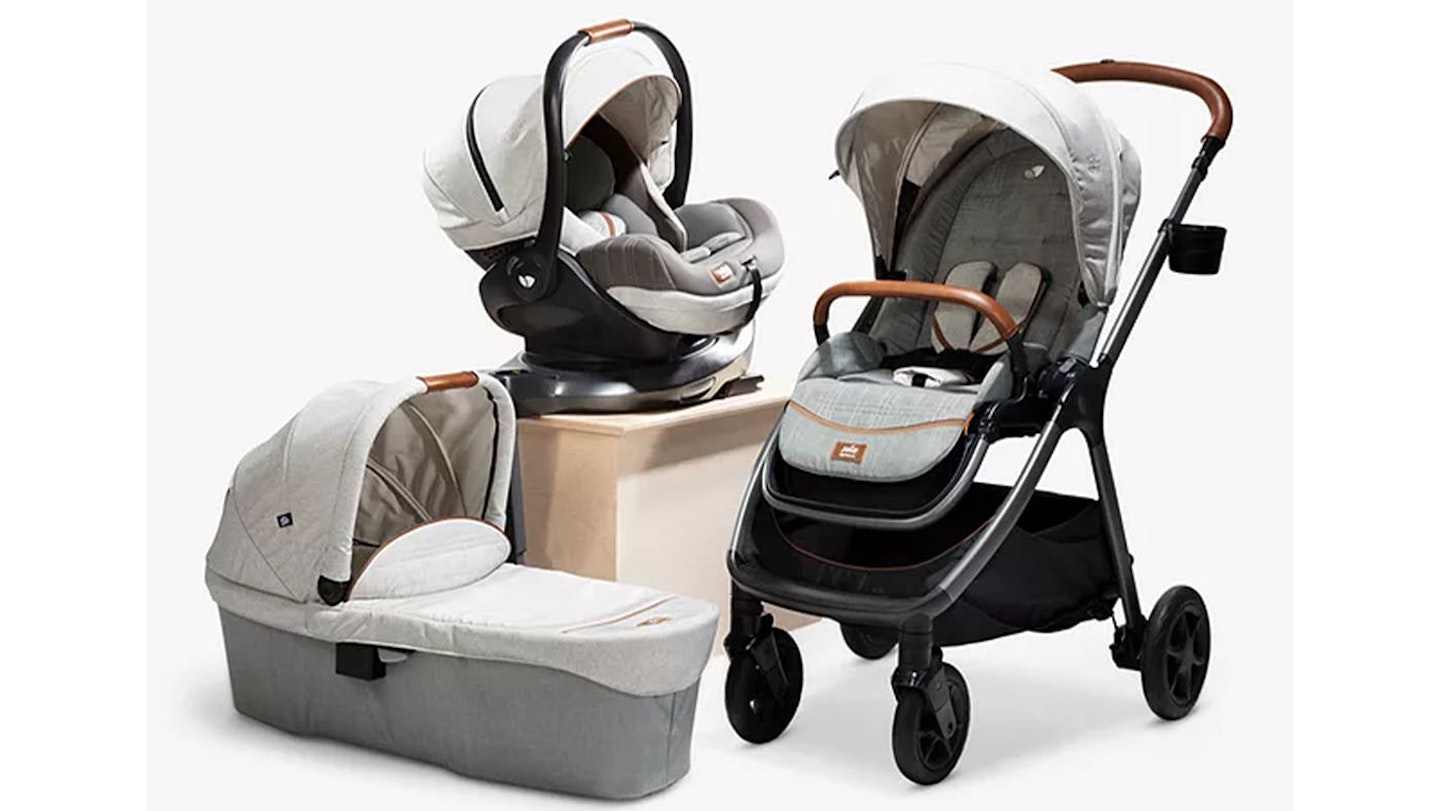 Made to brighten busy days with baby, this travel team features the style you love and smart solutions that make parenting easier, so you'll feel equally confident both tackling everyday outings and when traveling further afield. The bundle comes with the finiti™ pushchair, the ramble™ carrycot, the i-Level Recline™ car seat and the i-Base™ Encore base.
The biggest highlights from our testers were how lightweight it was, that it was easy to steer and how compactly it folded. They also thought this system was very good value for money.
One mum tester said, "It's very lightweight and easy to steer, the wheels feel very robust and go smoothly over rough and bumpy pavements. The front wheels lock into place also if you choose to. I used the carry cot for my baby which I found the material soft and comfortable my little one was not shy in napping whilst out in the cot. The car seat I also loved, it was very soft material and my little one looked comfy and safe."
Ramble specs:
• Suitable from birth to 9kg
• Deluxe canopy retracts for easy access to baby
• Cool weather apron snaps on and off in an instant
• Fully lined and cushioned for ultimate comfort
i-Level Recline specs:
• Meets the new i-Size ECE R129/03 standard
• Suitable rearward facing from birth to 85 cm, and less than 13 kg
• Converts to a deep reclining seat usable in the vehicle or on a pushchair
• Exclusive Tri-Protect™ headrest offers 3 layers of security featuring patented Intelli-Fit™ foam for ultimate side impact protection
• Grow Together™ multi-height headrest and harness system adjusts simultaneously and requires no rethreading of the harness
Joie Encore Spinning System
GOLD, Innovation of the Year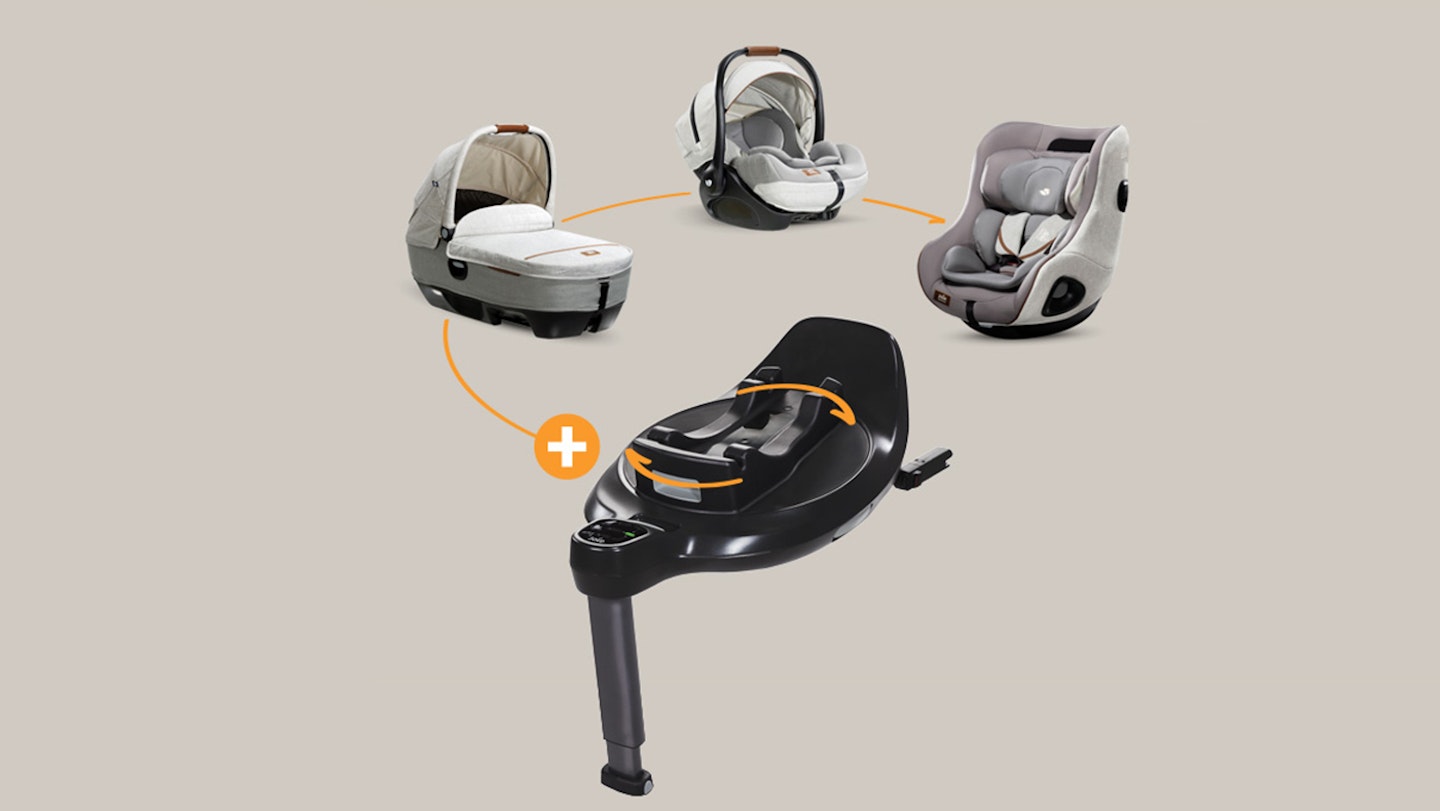 Suitable from birth to 4 years, the revolutionary Joie Encore Spinning System gives you total flexibility to create a custom and convenient back seat experience as your child grows from birth to big kid, by using the same spinning base for both your baby car seat and your next-stage toddler car seat.
Starting with the base, the i-base Encore provides all the practicality of a 360º spin with easy ISOFIX install and a load leg for rebound support.
If you're starting a new journey with a baby, you can begin your selection with one of Joie's two from-birth solutions; calmi™ R129 lie flat car cot or i-Level™ Recline baby car seat. If you're ready to upgrade your baby seat, continue your journey with i-Harbour™.
The calmi is perfect for the parents who want baby to sleep longer and safer during the first six months while traveling by car, pushchair, and everywhere in-between. For something that will last a bit longer the i-Level Recline will see your baby through until 12 months, or for a luxurious and full-featured baby car seat, without the premium price tag, the i-Jemini™ is ideal. If you're after something that will take your little one from birth to big kid, the i-Harbour is a one car seat solution that conveniently grows through the first four years.
One parent tester said: "The spinning system with such a large variety of different seats available to attach is different and really impressive. It allows the spinning base to move with you through your babies growth. The seats were so easy and fast to interchange, making it simple and quick to size up. The calmi lie flat car seat carry cot is a really exciting product and the first I've seen in the UK. It is suitable from birth, and fits really well for small babies. It appeared to be comfy for my little one, both whilst awake and asleep. As it keeps them flat, it's more comfortable for young babies in the car, without the concerns associated with the positioning of traditional infant car seats. We really liked the i-Harbour seat, which can be used from birth up to four years. As my daughter grows the spinning system allows us to get her in and out of the car with ease, and being able to spin to face the door allows me to check her fastening properly and comfortably. Using the same base as the previous seat is really helpful."