As a parent, you will know the pain of unpackaging your child's new must-have toy only to be left with a mountain of packaging which is non-recyclable. Not only is it detrimental to our planet but it's an absolute headache. As your child grows, you may feel like you are swimming in garish plastic toys that all come in tonnes of plastic packaging. And as tempting as it can be to ban toys entirely, they do serve a purpose. Toys aid every aspect of your child's development, from emotional to cognitive skills. But the great news is now more than ever we can choose toys which are sustainable and eco-friendly.
One of the biggest trends in the toy industry this year is sustainability and eco-friendly toys and we couldn't be happier. More and more manufacturers are opting for recyclable packaging, minimal packaging or incorporating the packaging as part of the play.
Iconic French toy brand Janod has recently teamed up with The World Wide Fund for Nature (WWF) to create a new sustainable line. A spokesperson for the Janod explained; "We recognise that our most basic needs are dependent on a healthy natural world, which is currently under threat so, inspiring the youngest members of our society to care about the flora and fauna is essential. The protection of the planet is key. What we produce today will affect our children's tomorrow so let's act together!"
Sensory toys are designed to stimulate a child's five senses: sight, sound, touch, smell and taste. However, many of the brightly coloured toys are made from plastic materials. We have scoured the internet to find the best sustainable and eco-friendly toys which will aid development, fulfil your little one's sensory needs and help to save the planet too.
Best sustainable toys 2023:
Description
This toy is brand new to the market and it ticks so many of our eco-friendly boxes. We cannot get
Pros
Comes with a fact booklet
Educational
Practical
Made with 100 per cent recycled plastics
Cons
Not suitable for all ages
Best overall sustainable toy
Description
PLAYMOBIL Family Tree House is our favourite sustainable toy as it is not only made with
Pros
Engaging web app
Promotes creativity and role paly
High quality toys and figures
Cons
Parents need to assemble the toy
Best eco friendly bath toy
Description
If you are looking for an eco-friendly bath toy, look no further. This robust colourful toy is
Pros
Easy to clean
Non toxic
Can even go in the dishwasher
Best sustainable toy for emotional development
Description
Toys are a fantastic way for children to express how they are feeling and process situations have
Pros
Encourages conversation
Helps a child identify facial expressions 
Comes with a cotton drawstring storage bag
Suitable for all ages
Best sustainable toys for role play
Description
These stacking and balancing wooden animal toys can great for helping to develop fine motor
Pros
Great for hand-eye coordination
Help develop fine motor skills
Wipe clean
Cons
Animals are a little small
Best sustainable toy vehicle
Description
This dump truck has been made from recycled plastic milk containers. We love that this toy truck
Pros
Robust
No small bits
Two colour options
Cons
Hard to get items in and out of the window
Description
Older children can enjoy bonding with their parents whilst creating these unique animal figures.
Pros
Creative
Made from biodegradable card
Easy instructions
Cons
Not suitable for all ages
Best sustainable stacking toy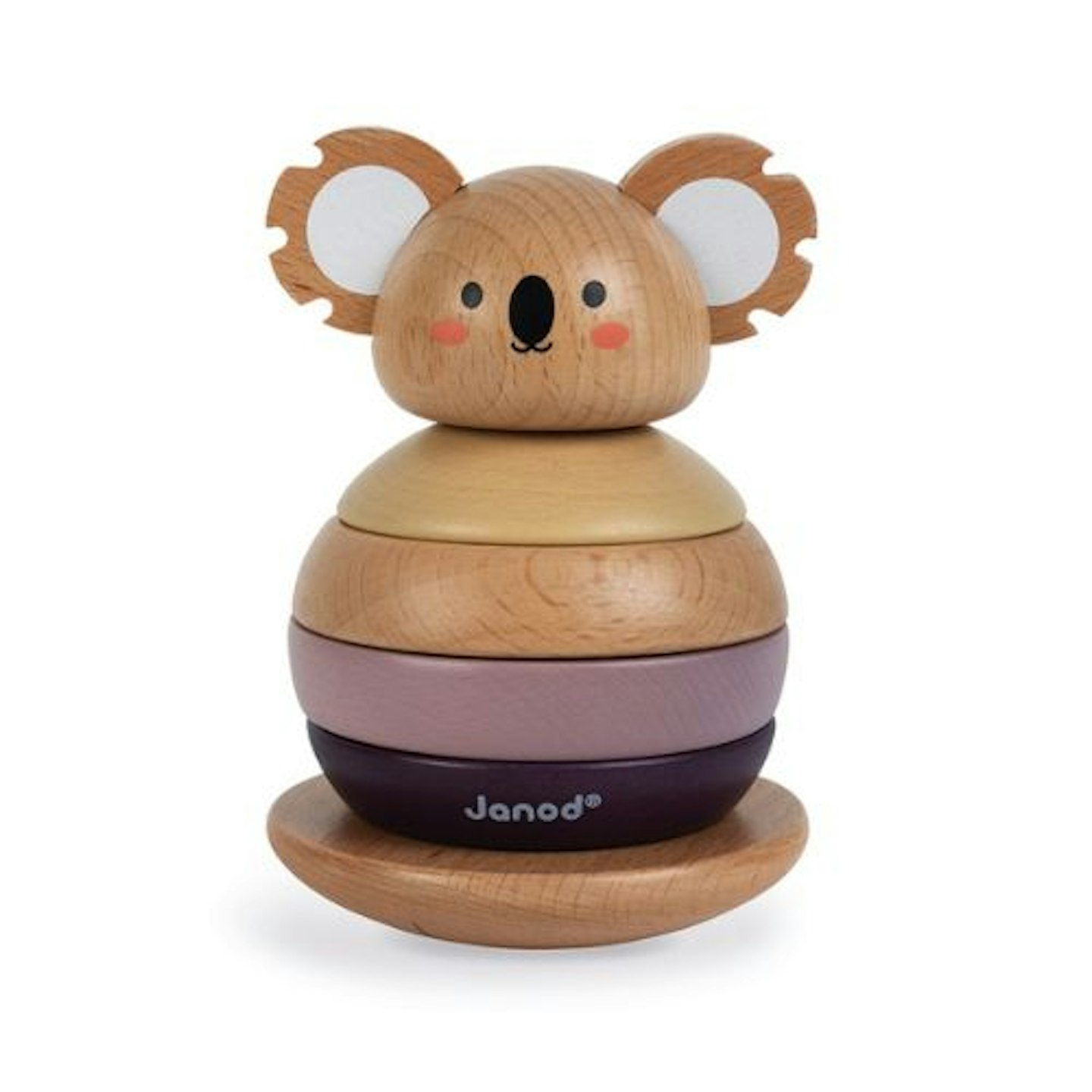 Janod
Description
This stacking Koala has been created by Janod and WWF. Babies can learn to stack the different
Pros
Develops hand eye co-ordination
Great design
Wip clean
Best sustainable packaging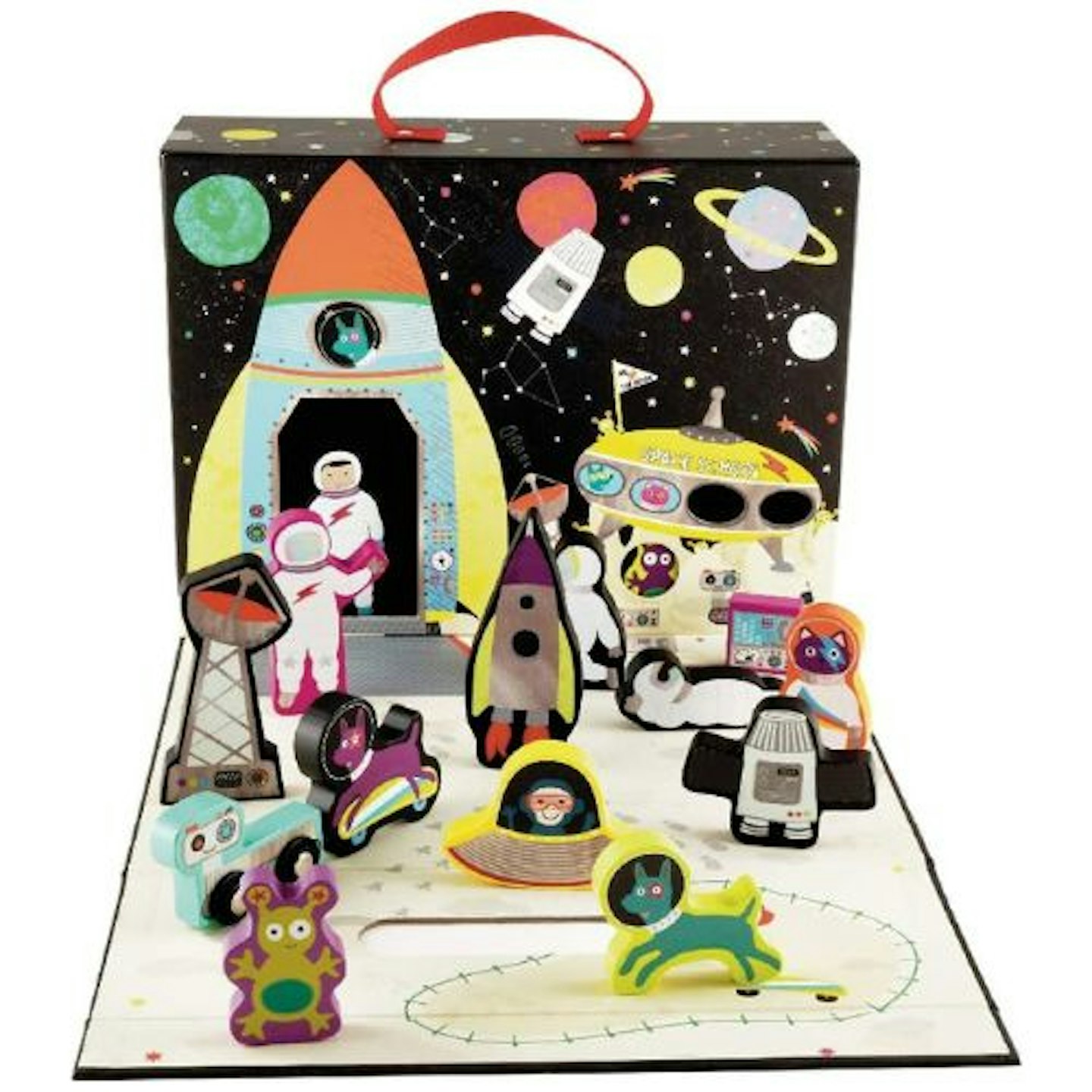 Floss & Rock
Description
We cannot get enough of this toy because there is no waste. The box is part of the toy, so nothing
Pros
No waste
Wooden pieces
Easily stored
Cons
Not made from sustainable wood
Best sustainable toy for promoting a healthy lifestyle
Description
Kids love scooting around the streets and we love that it's made using discarded fishing nets. The
Pros
Made from recycled discarded fishing nets
Light up LED wheels
Easy to ride
Description
We cannot get enough of this super sweet dog teddy which has been made from recycled bottles. Your
Pros
Comes with an educational tag
Realistic dog plush
Made from two recycled plastic bottles
Best sustainable subscription toys
Description
Lovevery Play Kits are made with sustainably harvested wood, organic cotton, nontoxic paint, and
Pros
Premium toys
Selected by experts
Tailored to your child's age
Sustainable materials
FAQs
What makes a toy sustainable?
We have defined a toy sustainable if it is made of biodegradable natural material like wood, cotton of metal. As well as this, we have also considered toys which utilise packaging so that there is little or no waste. As well as including toys which are actively created in an eco-friendly way.
What are sustainable toys made out of?
Sustainable toys are created from materials that do not have a negative effect on the planet. The most popular materials are :
Wood - renewable is best

Cotton

Metals

Recycled paper

Stainless steel

Bamboo
Why shouldn't kids play with plastic toys?
According to recent studies, 90 per cent of toys are made out of plastic. So realistically, some of your children's toys will be made out of the material and we aren't encouraging you to dash them all. However, a lot of plastic toys do not have the durability that their wooden or steel counterparts do. This means they are more likely to break or lose bits which means they are likely to be chucked in the landfill only a few months after being purchased. Plastic toys can take anywhere between 20 to 500 years to decompose. So basically, that toy that was enjoyed for just a month can harm the planet for centuries.