This powerful 10.1" full HD display kids' tablet is ideal for school-age children. It has a one-year subscription to Amazon Kids+ that unlocks thousands of apps, games, books, videos, songs and Audible audiobooks plus a 2-year worry-free guarantee and a slim Kid-Friendly Case. The web browser comes with built-in controls designed to help filter out inappropriate sites and let parents add or block specific websites at any time.
Here's what our tester Gabby, mum to Ava, seven, thought of the Amazon Fire HD 10 Kids Pro tablet.
How did this product make your life easier?
Having previously had the original Amazon Fire Kids tablet for a few years, my 7-year-old was looking for a well-deserved upgrade. It was a simple setup and by signing into my previously registered Amazon account all of her apps and games from the old tablet were restored with room for lots more.
I love how simple the kid's mode is for her to be able to use and also how easily she can switch between this and the normal mode making her feel more grown-up.. The 10.1inch screen and the 32Gb of memory was a massive improvement from her previous 7in 16GB Fire kids tablet which has become sluggish and was always out of memory – very frustrating for a child to understand.
I like how she can easily access all her favourite streaming apps and there is plenty of space for her to quickly download her favourite shows on the go. We were also so impressed that a 2-hour movie downloaded in just a few minutes. The 2-year worry-free guarantee and a slim Kid-Friendly Case help to give peace of mind from any drops or bumps and the adjustable stand which her previous fire didn't have helps make it hands-free. Amazon also includes a 1-year free subscription to Amazon kids + which allows them access to hundreds of games, videos and books both fun and educational.
My daughter loves that this version had a dual camera and she could switch from normal to selfie mode even using funny selfies of herself and her sister in one of the games where they could do silly hairstyles on each other. She also cannot wait to try out the video call function where she can video chat with friends and family. If you have kids that love new music like mine – a new music page makes 10 ad-free radio stations from Fun Kids more easily accessible, including Fun Kids Non-stop, Fun Kids Party and Fun Kids Pop Hits which she loves having all her favourite songs at the ready.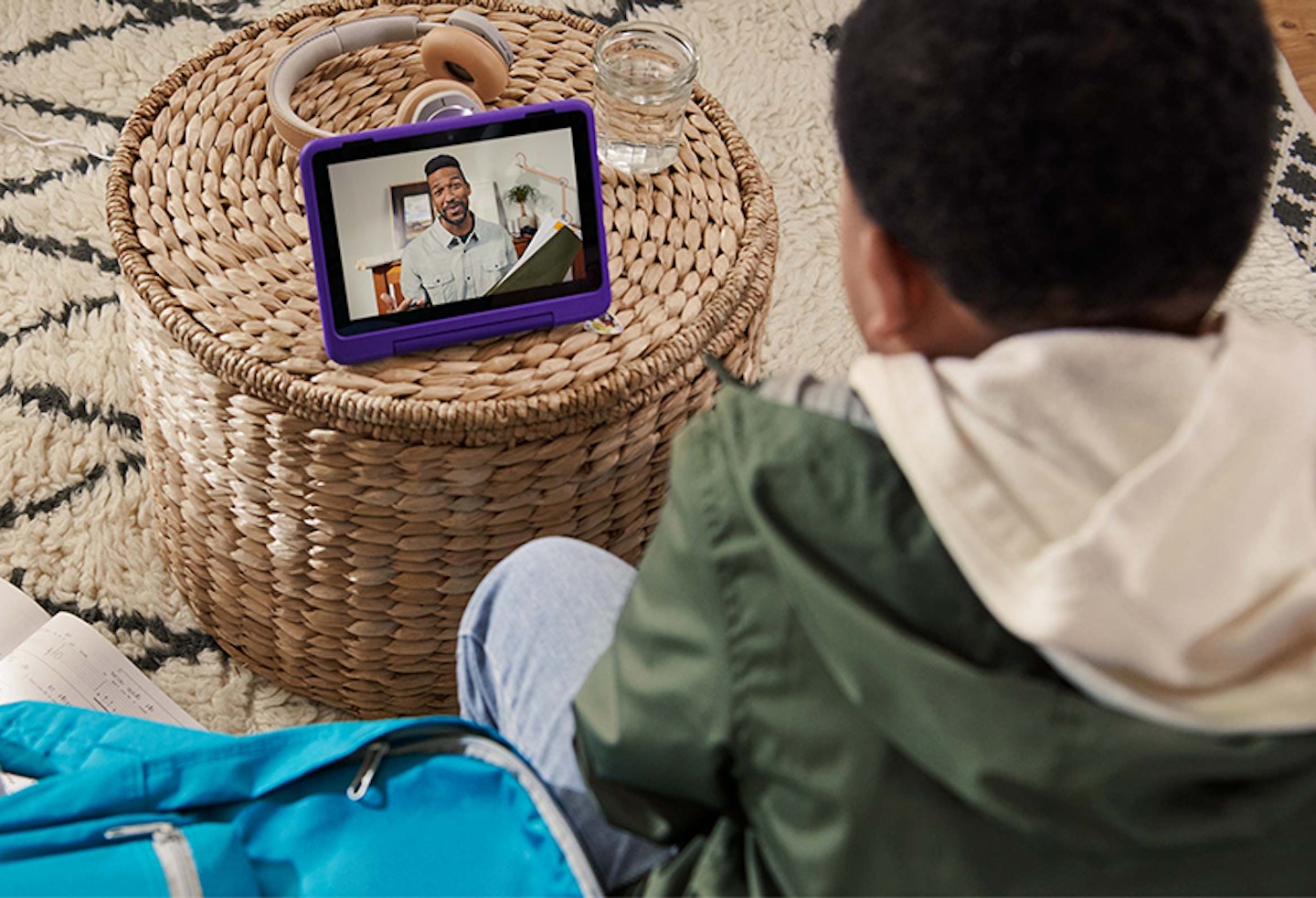 Would you recommend this to other parents?
Yes absolutely, the larger screen is great for games and watching their favourite shows. The bright and colourful case makes it fun and keeps the tablet protected without being too bulky. The tablet claims to have 12 hours battery life and in the 2 weeks we have had it I think I have only charged it twice, even after a 2 and a half-hour car journey where my daughter had it on constantly there was hardly any movement on the battery life. I really liked that I could download the Amazon kids app on my phone where I could add time limits to enable and disable specific features like web browsers where certain websites can be blocked. The time limits work wonders on school nights when trying to negotiate a balance of screen time and school work.
Would you choose this product above all others on the market?
Out of all the other products on the market, I feel this is the best option for older children. The Amazon Fire Pro 10 easily replaces my daughter's original fire tablet hands down. It has a bigger screen, more capacity and a bigger screen than the basic Amazon tablets. £200 may seem expensive for a child's tablet but I would say it was on par with the higher end tablets such as the Apple iPad but half the price tag with added kids features and the 2-year worry-free guarantee. It's fast enough for them to run games, watch movies and browse the internet.
What changes would you make to this product?
The protective case is much slimmer than before  - I'm guessing this is due to the product being aimed at older children who would be less likely to drop it,  but with a very clumsy 7 year old it would have been nice if it protected the screen slightly more like the younger version does as I fear if dropped on a hard surface the screen will take the impact although we are yet to see this. The Fire Kids Pro comes with a slim case in cool colours and fun prints that protects against drops and bumps. You can choose from Sky Blue, Black, Doodle, and Intergalactic but a few more colour options would have been nice.
Amazon has annoyingly now changed the charger port. It is larger than before and having had multiple Amazon products before, this means many of our chargers are now obsolete so scrambling around for a charger becomes frustrating.  My daughter does find turning the Amazon Fire Pro 10 harder to turn on than her previous one – it takes a good hold on the button to power it on and usually has to be done by me.
Looking for a tablet for younger children? Why not try the Amazon Fire HD 10 Kids tablet?
Product Information
Display: Brilliant 10.1″ 1080p display (1920 x 1200) with over 2 million pixels (224 ppi), for bright, vivid image quality. Screen made with strengthened aluminium silicate glass.

Size: 190 x 256 x 17 mm

Storage: 32 GB (24.2 GB available to user) of internal storage. Add microSD card for up to 1 TB of additional storage. Some apps may require that they are installed on internal storage. App or feature updates may impact available storage.

Battery life: Up to 12 hours of reading, browsing the web, watching video and listening to music. Battery life will vary based on device settings, usage and other factors, such as web browsing and downloading content. Certain software features or apps may reduce battery life.

Charge time: Fully charges from 0 to 100% in approximately 4 hours while connected to the provided (9 W) adaptor, while device is in standby.