A comfortable bed for your baby and toddler is extremely important for helping them to sleep soundly through the night, but it's also important that they are safe when they're sleeping too, which is where the Silver Cross Westport Cot Bed ticks all the boxes. Not only does it look beautiful in a nursery, but it is designed to make sure that your baby is safe and comfortable when they sleep too.
With three heights to set your little ones bed, as well as the option to convert it into a toddler bed, the Silver Cross Westport grows with your child, looks stylish and is safe and sturdy.
I tested the cot bed with my 17 month old daughter, and also used the Silver Cross True Fit toddler mattress. This review will be updated once the toddler-bed has been tested.
Pros
Grows with your baby
Easy to build
Sturdy
Key features
Solid oak feet and finishes: the cot beds feet stick out at a slight angle for a more contemporary look to other cot beds, but it also makes the bed feel more secure. Whilst they also look small compared to the size of the bed, they are extremely sturdy and when my daughter bounced in the bed it didn't move.
The solid oak frame also adds a scandi-design to it and makes it look and feel more sturdy than all-white cot beds.
Three base heights: suitable for newborns until the age of at least four, the Westport cot bed has an adjustable height setting. With three slots in the headboard and baseboard, the base of the bed can be unscrewed and move up and down to the appropriate height, and then screwed back in.
As my daughter can stand up, we tested the cot bed on its lowest height setting and the top of the bed comes just below her shoulders. In her last cot bed on the lowest setting, she could easily tilt herself over the side of the bed, whereas in this one she can't.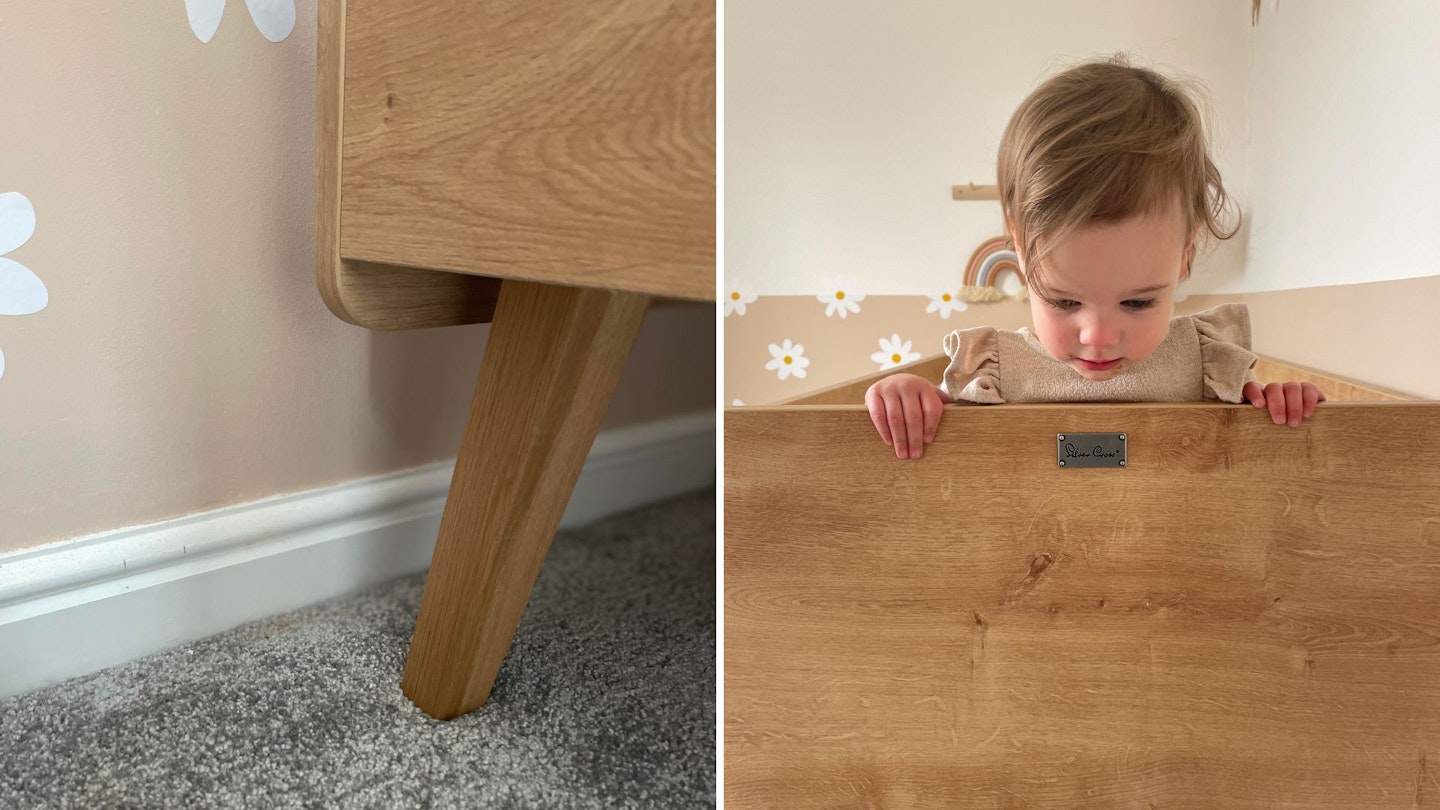 Converts to toddler bed: the Westport Cot Bed comes with a smaller head board and base board, so that when your little one is ready to move into their big, you can remove the sides and ends to make it look a more stylish toddler bed. This is one feature that sets it apart from other cot beds, as often the ends remain higher and the bed feels more enclosed, and doesn't look as good.
Testing the Silver Cross Westport Cot Bed
Performance
One thing that has always worried me about cot beds and when my children can stand is them climbing out. With her last cot, my daughter figured out pretty early on that if she leaned over the side enough, she could climb out and that is exactly what she has done for a few months when she's woken from a nap.
That can be pretty scary as a parent and we've had to move quicker than her when she wakes up so that she's safe, however with the West Port Cot Bed, we haven't had any issues with her trying to climb out. The sides of the cot are high enough that they come up to her armpits, not her waist, so when she leans on the side she isn't at risk of falling out.
The height can be a little bit restrictive while on the lowest setting and laying her down when she's asleep and I have to lean over a little bit more than the previous cot we had, but it's an incredibly small problem compared to knowing my daughter is extremely safe in her bed even when she's awake.
It lives up to every expectation of a cot bed. It didn't move when attempting to wobble and the sides wouldn't rattle when my daughter would hold onto them in a morning. She could sleep comfortably on a mattress that fit the cot bed, rather than having gaps down the side.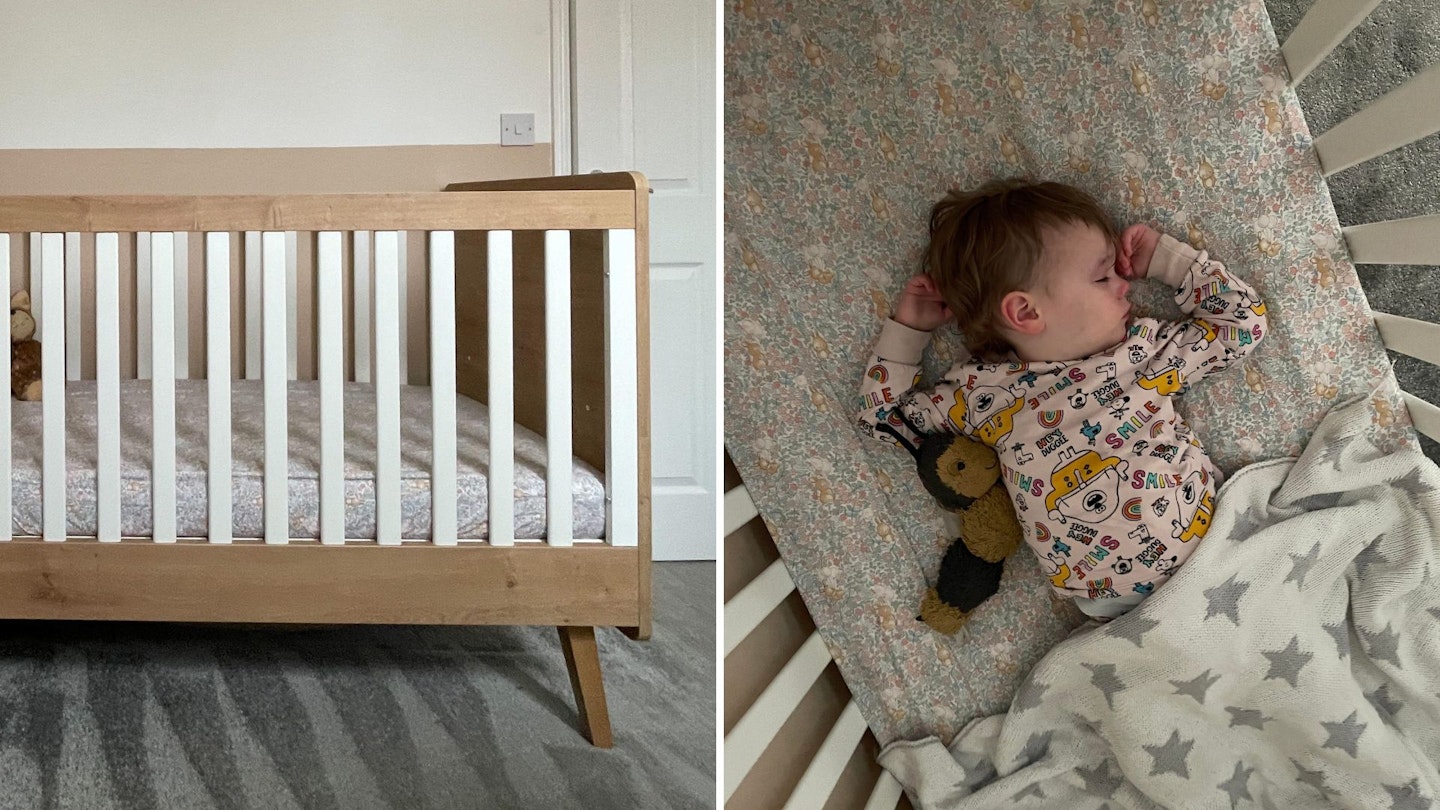 Usability
Using the bed itself, once my partner helped me to move it, we found that it did everything that a cot bed should. It provided a safe sleeping space for our daughter, with high sides to help prevent her being able to climb out.
When my daughter does shuffle around the cot, I've noticed that it doesn't move with her whereas our last one would rock slightly and occasionally knock against the wall. I think this reinforces the fact that the bed is extremely sturdy and I wasn't worried that the screws would loosen and make the support of them bed weak.
The base of the cot bed is really supportive too, and I have sat inside the cot to test it's strength and it didn't creak or give any impression that I was testing the limit of the cot bed even when climbing in and out. It also felt supportive for myself.
Build
The Westport Cot Bed was easy to build, with clear instructions to follow.
I found when building the cot bed everything slotted together perfectly, making the process a lot quicker. The sides were also easy to attach, however connecting the last side to the rest of the bed is definitely a two person job, as the cot bed is heavy.
I timed myself to see how long it would take to build the cot bed, and it took 45 minutes to build it up until the last step of connecting the side, which took an extra 30 minutes by myself. This would definitely have been quicker with someone helping me.
The bed itself is also really heavy once built, and I wouldn't recommend attempting to move, or help to move it when pregnant.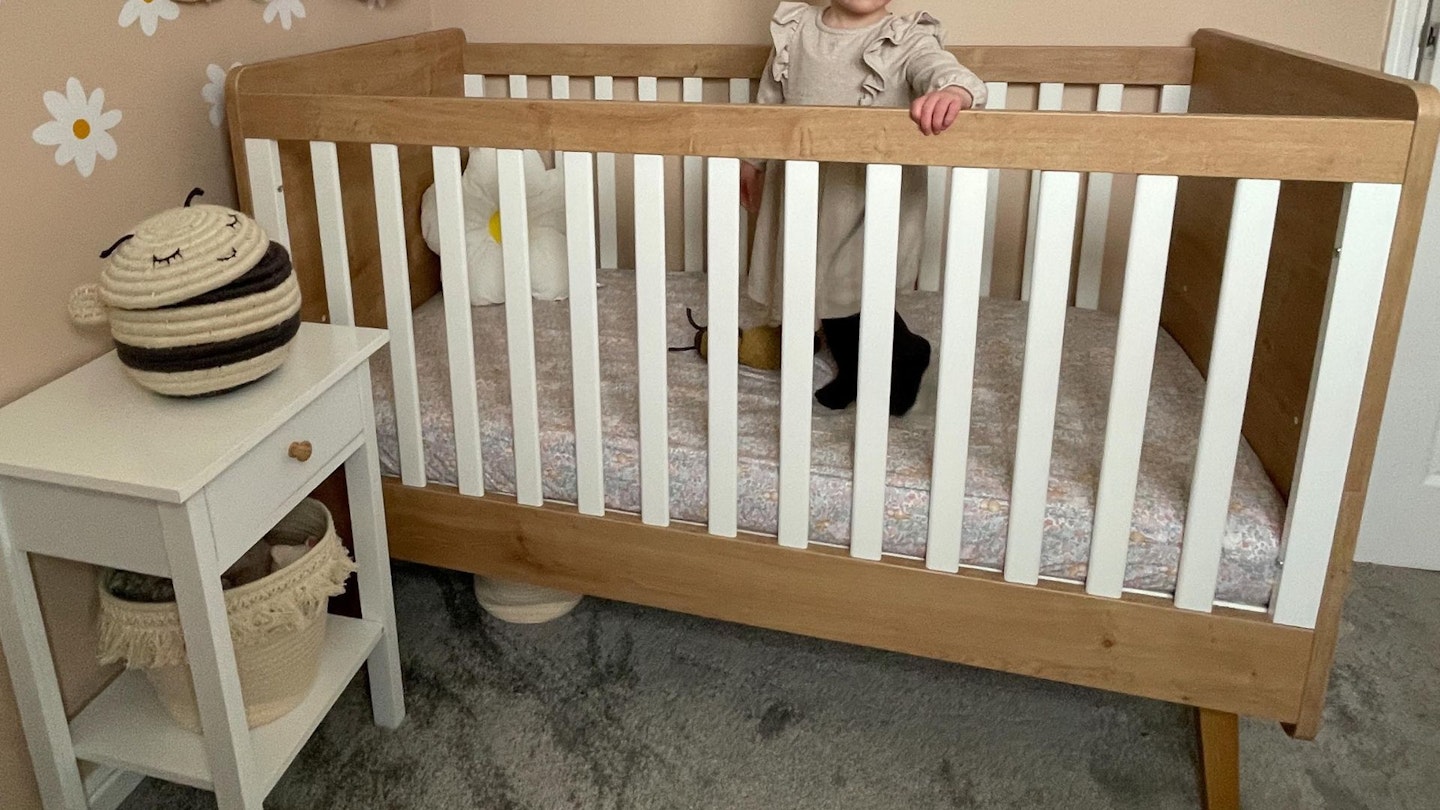 Final Verdict
Overall, I think the Silver Cross Westport is a great choice for a cot bed. In terms of design, the bed itself is extremely is eye catching and would suit most nursery styles. I love that even with the bold solid oak features, the bed has a lovely scandi-design to it.
As mentioned previously, I wouldn't build the bed by myself again and would wait for my partner to help put it together, or at least get help for the final steps when the bed is heavier.
If I'm being extremely critical, while I love the height of the bed for my daughter too, it could be a struggle for people laying their baby down. I am 5ft 7 and have to stretch a little bit to lean over the sides, so some people might need a little stool to support them with laying their baby down. However, I would definitely prefer the height knowing that my daughter is safe!
The Silver Cross Westport Cot Bed is gorgeous and sturdy and I believe is the perfect bed for my daughter and personal style preference. I think it will be really hard to find another bed that I genuinely love as much.
FAQs
What mattress do I need?
As the cot bed dimensions at 140 X 70cm, you will need a baby or toddler mattress of the same size to fit the bed. Along with the Westport Cot Bed, I tested the TrueFit Superior Mattress.
Description
The TrueFit Superior mattress is designed to fit perfectly in the cot bed, ensuring that no gaps
Pros
Comfortable
Distributes weight evenly
Breathable and hypo-allergenic
Dual-sided
TrueFit design
Removable washable cover
The mattress itself felt really firm when it arrived, however my daughter finds it extremely comfortable and I've also noticed that she fidgets a lot less in her sleep. It fits really snug into the cot, with no gaps around the edges which makes me feel reassured that she's safe when sleeping and if she does wriggle around.
When should you adjust the cot height?
Your cot will remain on the highest setting up until when your baby starts to roll, which typically happens from the earliest of four months, up to six months old.
Then once they start pushing themselves onto their hands and knees and trying to hold onto the side, you would lower the bed to its lowest setting.
Samantha Ball is a Product & Lifestyle Writer for Mother&Baby and freelanced for the website for two years before joining the team full time. She's a mum of two and loves browsing for the best products and cute outfits.