Introducing Misty the smart cloud, a clever connected 4 in 1 sleep aid for your baby: Nursery thermometer, sleep inducing light show, sleep trainer and personal assistant, all combined into one super cute and super smart product. Misty links to a mobile phone app meaning you can easily monitor your baby's sleep environment, together with controlling her functions wherever you may be!
Pros
Multiple functions, versatile product that will last from baby to toddler and beyond
Baby diary helps keep track of feeds etc
Easy to use app
Cons
Light show doesn't automatically turn off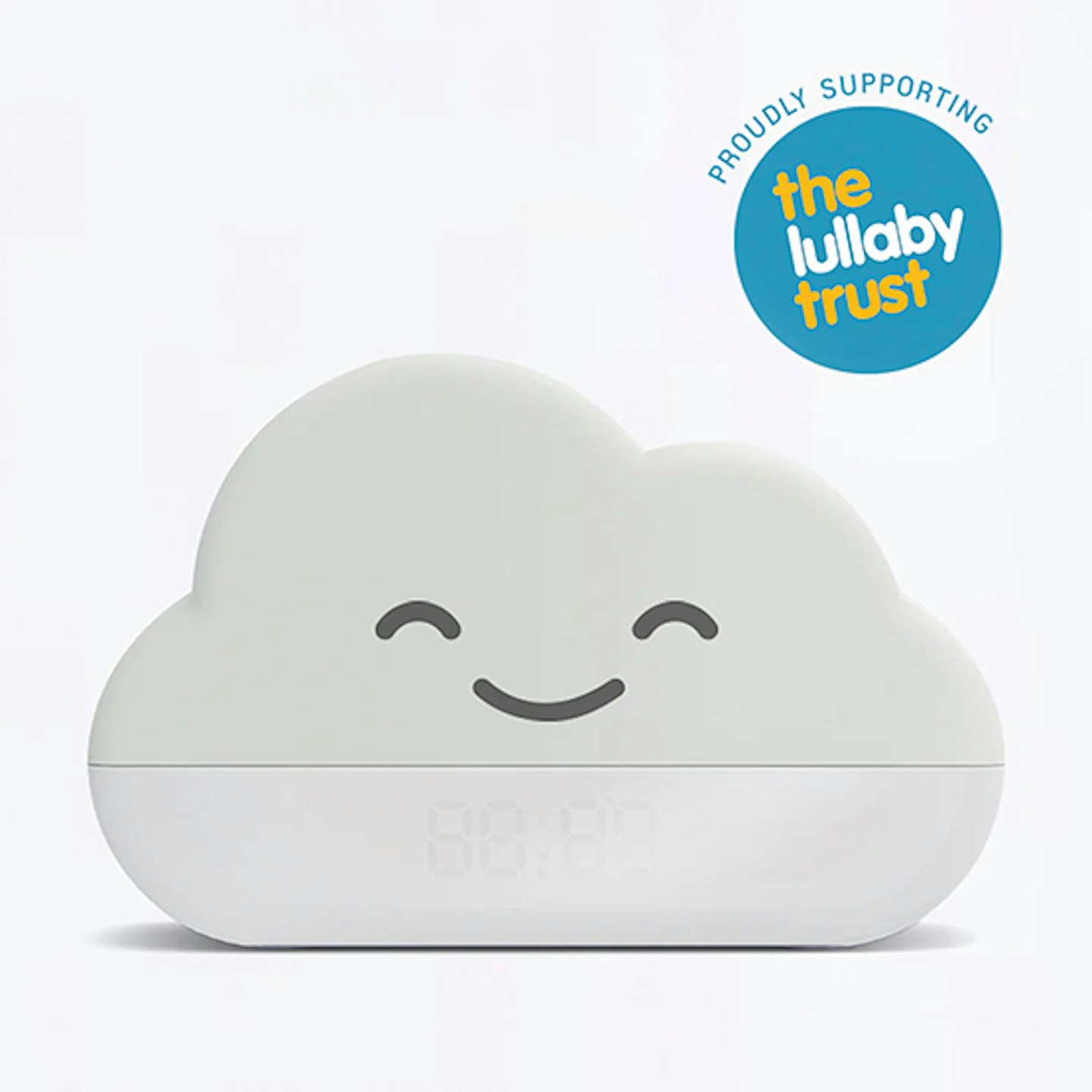 Testing the Misty smart cloud
Firstly, this was so easy to set up with the app. It came with a QR code, you download the app and set up your account, then you simply connect Misty to the WIFI and you're off. The app is so user friendly it doesn't take long to figure out at all.
Misty is a cute cloud design, it's gender neutral and would fit in with any nursery decor. The light up part of the cloud is quite soft plastic, kind of bendy when you hold it and I imagine not something you'd want a child to play around with too much so when little ones get older I'd probably be tempted to put it on a higher shelf, still visible but not in their reach. It's perhaps sturdier than it seems, but it was something I'd be concerned about little ones breaking!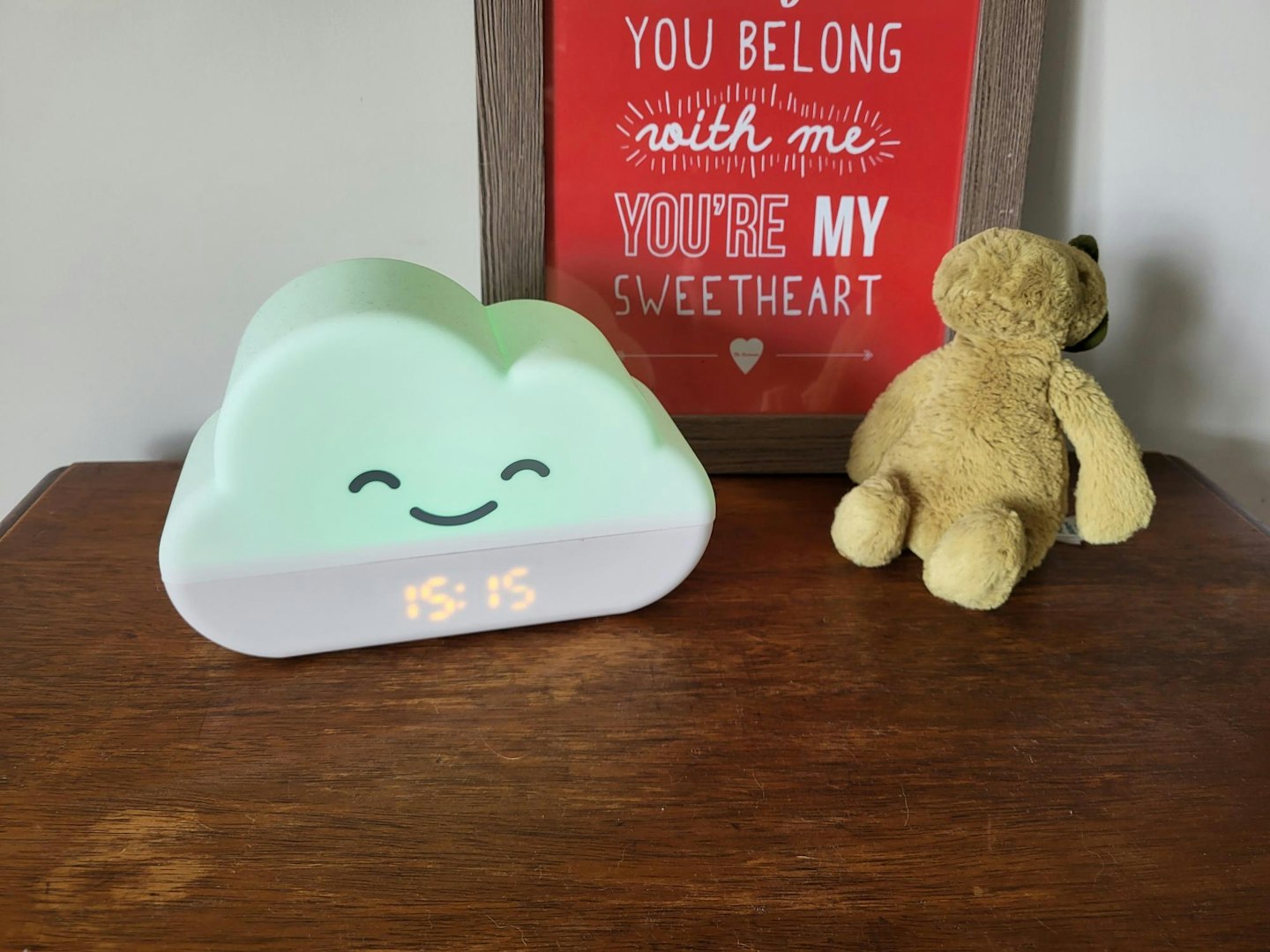 From the main homepage you can control the sleep/awake settings, light show and check the temperate. Plus it takes the time from your phone which is useful because even if there's been a power cut you don't have to reset the time all over again, the app just sorts it out.
You can also connect via Alexa, but we don't have one so we just use the app. Or, if you'd rather use it manually there are also controls on the side. I like that there are lots of options and it's not a one-size fits all kind of device. Smart solutions are great, but not everyone has the connectivity for this so to have the choice is ideal.
Other areas of the app include the baby diary or personal assistant. There is a calendar area and also a place to make entries such as feeding times, nappy changes etc which is brilliant for a new parent trying to get their head around everything – if you do want to try to keep track it's on your phone and its quick and easy. The app keeps track of these entries, plus you can make diary entries in a calendar, and securely share these with other caregivers which is great for blended families or if their grandparents are looking after them for the night, as they'll be up to speed on what is 'normal' for baby at the moment!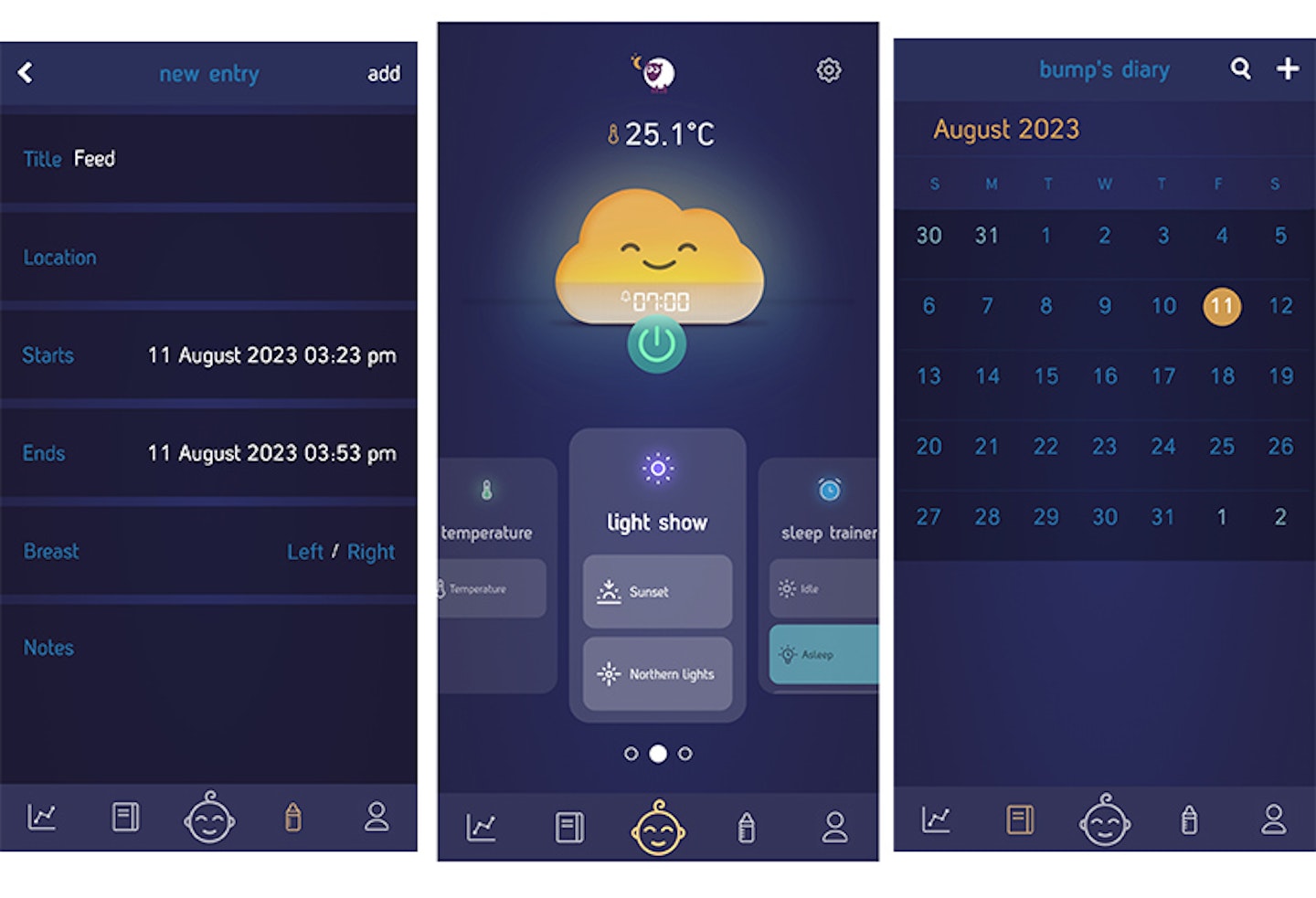 The sleep trainer is a great feature as you can introduce the idea of awake/night times when baby is still quite young, and as they get older they'll understand what the different colours mean. You can also adjust the brightness of the light from the app so can make it brighter when you need it, for feeding for example, then lower it down again. The light doesn't go off unless you set it to idle, or you turn the brightness right down.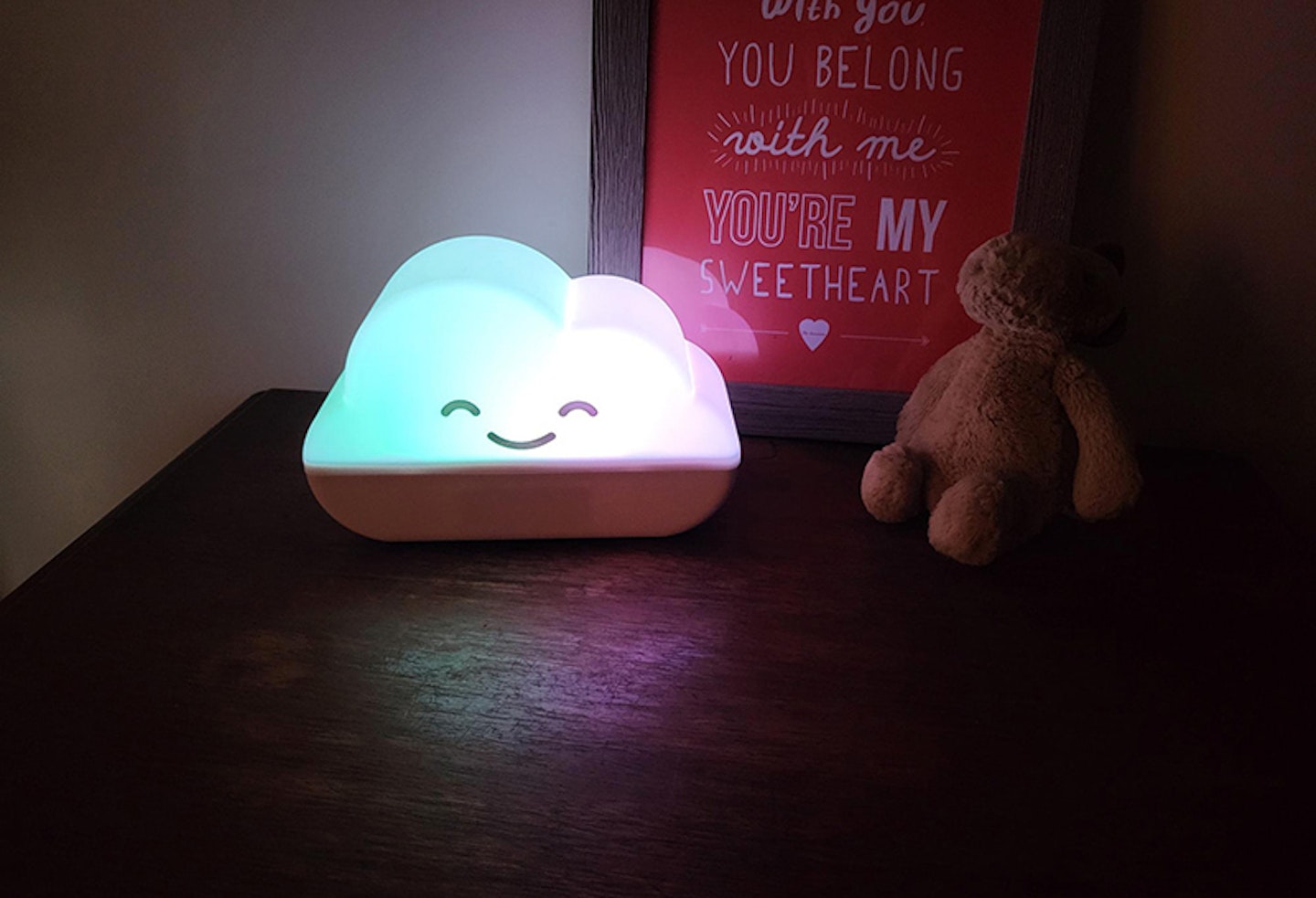 The light show is very relaxing, and I like that there are two different colour themes. The Northern Lights option is shown above which is purples, blues and greens. Then there's a Sunset option which is oranges and reds. I can imagine when baby gets older too that this will be lovely when reading a bedtime story and having a bit of downtime. Again, being able to introduce it early on I think will help to establish a bedtime routine.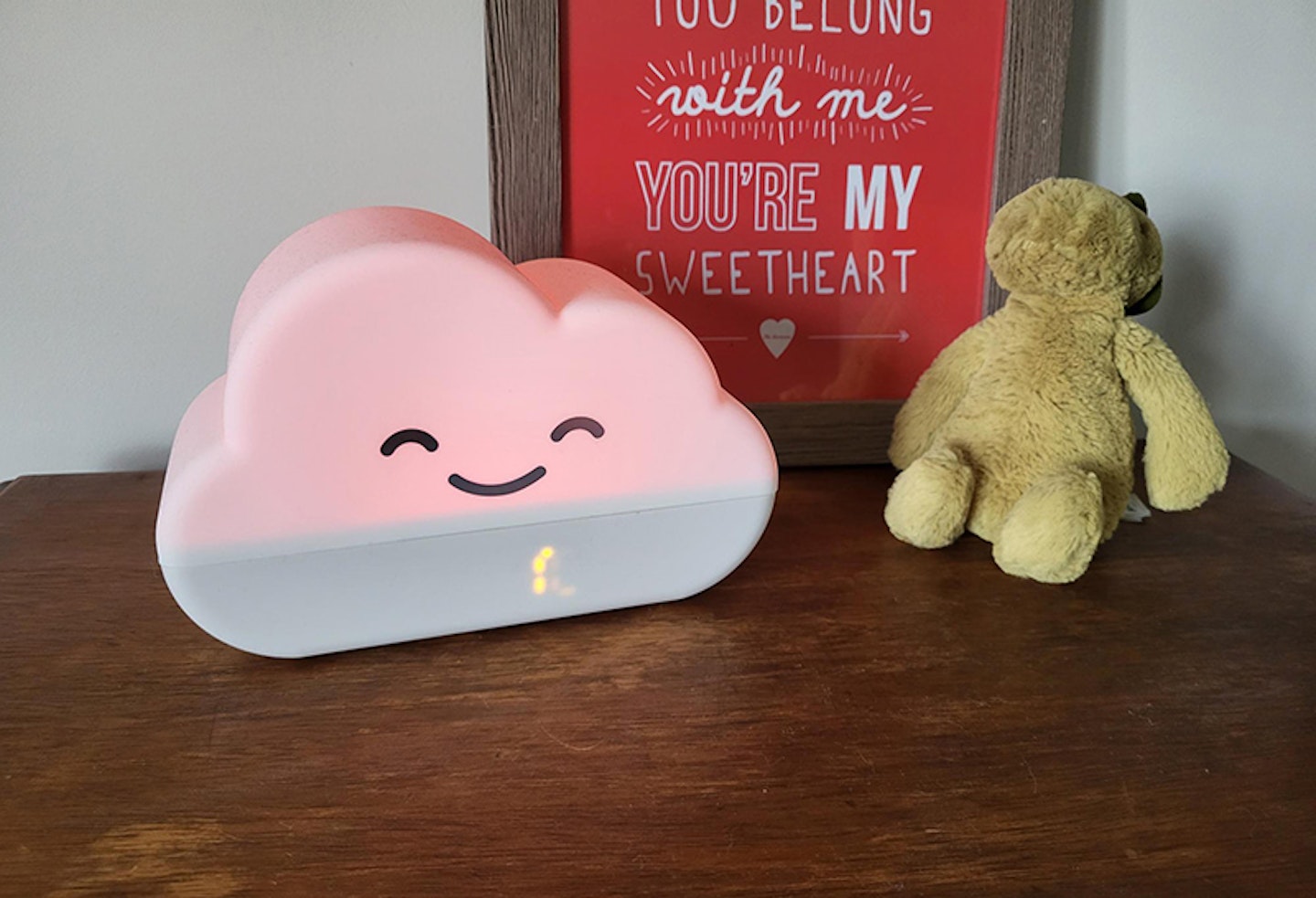 I like that I can check the room temperature on my phone, so don't have to go upstairs to check, plus our house gets very warm so it's reassuring to monitor this. When the room is too hot the cloud actually goes red so there's a nice visual indicator as well. You can see in the picture above it's gone red, although the camera wouldn't pick up the screen on this picture. The app keeps track of the average temperature of the room throughout the day and night so you can see when it starts cooling down/heating up and you might need to change the tog of sleeping bag. The light goes red if the room is too hot for baby too.
Final thoughts
It's great that Misty can last from the newborn stages, helping new parents with the baby diary and as a feeding light, and then transition into sleep trainer and day/night indicator as well as a light show into toddlerhood and even for older children as a nightlight and clock. There's a real longevity with this product as it's not just a room thermometer, or a nightlight. It's multifunctional.
My only suggestion to improve it would be adding an automatic timer, for example on the light show, so it turns itself off and goes back to sleep mode, say after an hour or so - it doesn't go off unless you turn it off and it's a bit annoying having to remember. Also, while you can set an awake time, unless Misty is in sleep mode, this won't come on. We've sometimes put it on idle as it's quite bright anyway in our room and have noticed it won't 'wake up' at the time we've set in these instances. It would also be good if it automatically went idle after a certain amount of time being awake, to save energy, and if you could set a 'bedtime' for it to come on again in sleep mode.
Saying this, everything is very easy to control from the app so these would just be additional features that I think would make it even better and user friendly. Overall I've been really impressed with the functionality of this product and it's definitely helping us all sleep better too!