Shopping for a pushchair for your child can be tricky, especially if you're looking for a double stroller. Ideal for parents with twins, or those who have a newborn and toddler, the lightweight and nimble Venus Double Stroller from Ickle Bubba boasts two independent seats (each suitable from birth to 15kg per seat) that are both large and promise a super comfy ride for your precious cargo. Not only does each seat offer multiple reclining positions, including a lie-flat option, but there are also adjustable leg rests, as well as two opening bumper bars, that release from either side, ensuring parents can have easy access in and out of the stroller.
Product specification:
Light and compact aluminium chassis

Adjustable leg rests

Soft leatherette handle and bumper bars – easy to wipe clean

Gate opening bumper bars which release from either side for easy access in and out of the stroller

Large quilted seats with easy recline functions from upright to lie flat beds which work independent of one another

Extra-large easy access shopping basket

2 x UPF 50+ extendable canopy hoods to protect from harmful rays

Hood viewing windows – great for keeping an eye on your little ones without any disturbance

Lockable 360-degree swivel front wheels to use on bumpy terrain

Front and rear suspension for a smoother ride

5 Point Harness

Hands-free, one-tap foot brake

Ventilated roll up fabrics to help keep cool in warm weather

Full length protective rain cover included to keep dry in the rain

Compact one-step fold technology making it easy for storage and transportation.
Here's what our tester Julia thought of the Venus Double Stroller...
How did this product make your life easier?
As a mum of almost 2-year-old twin girls, I've used a fair few other double pushchairs now and I have to say, the Ickle Bubba Venus double stroller was a pleasant surprise! I think when it comes to any baby/toddler products, price is always an indication as to quality however the lower price point of the Ickle Bubba Venus certainly didn't equal low quality.
It was quick and easy to assemble and the foldaway method is by far the easiest I've experienced with a double. The single click of a button on the top of the handlebar made it a really swift movement to fold away into the car or store in the house. The assembly of double pushchairs has always been a gripe of mine, especially when out and about but the Venus has certainly nailed it for ease and because of that, makes my life a lot easier when out and about!
Also, once it's folded, it takes up very little space when storing in the house so I found my porch to be a lot less cluttered in comparison to other doubles I've used before. It's obviously a side-by-side model so the width will always be a bit of an issue when transporting in the car but to be expected for an alternative product to the tandem.
Would you recommend this to other parents?
I would definitely recommend this product to other parents, especially to those who have children of different ages. I did find that I had to put some elbow grease into pushing the stroller on more difficult surfaces as the weight of two toddlers was quite trying. However, for anyone with an infant and a toddler, this would be an ideal product to use.
The price is also a fantastic feature especially with what you get for that price. A lot of double version pushchairs are more expensive just because there are two seats, however, the Ickle Bubba Venus is an absolute steal for what you get. Plus, the shopping basket underneath is so roomy! I've also used the Bugaboo Donkey (a much higher price point) and a big grievance for me was the shopping basket below as I could barely fit my changing bag underneath, let alone anything else. With the Venus, I can fit my changing bag comfortably and so much more.
It's also really easy to clean which is a plus for any parent! The material is good quality and comfortable for both of my girls to sit in. The hood is also a great feature as it extends so far down. Previous issues with hoods on seats is that they don't reach far down enough shielding my daughters' faces from the sun. The Ickle Bubba definitely doesn't suffer from this problem though, it was great to pull it far down enough so that the girls weren't squinting and trying to look away from the sun.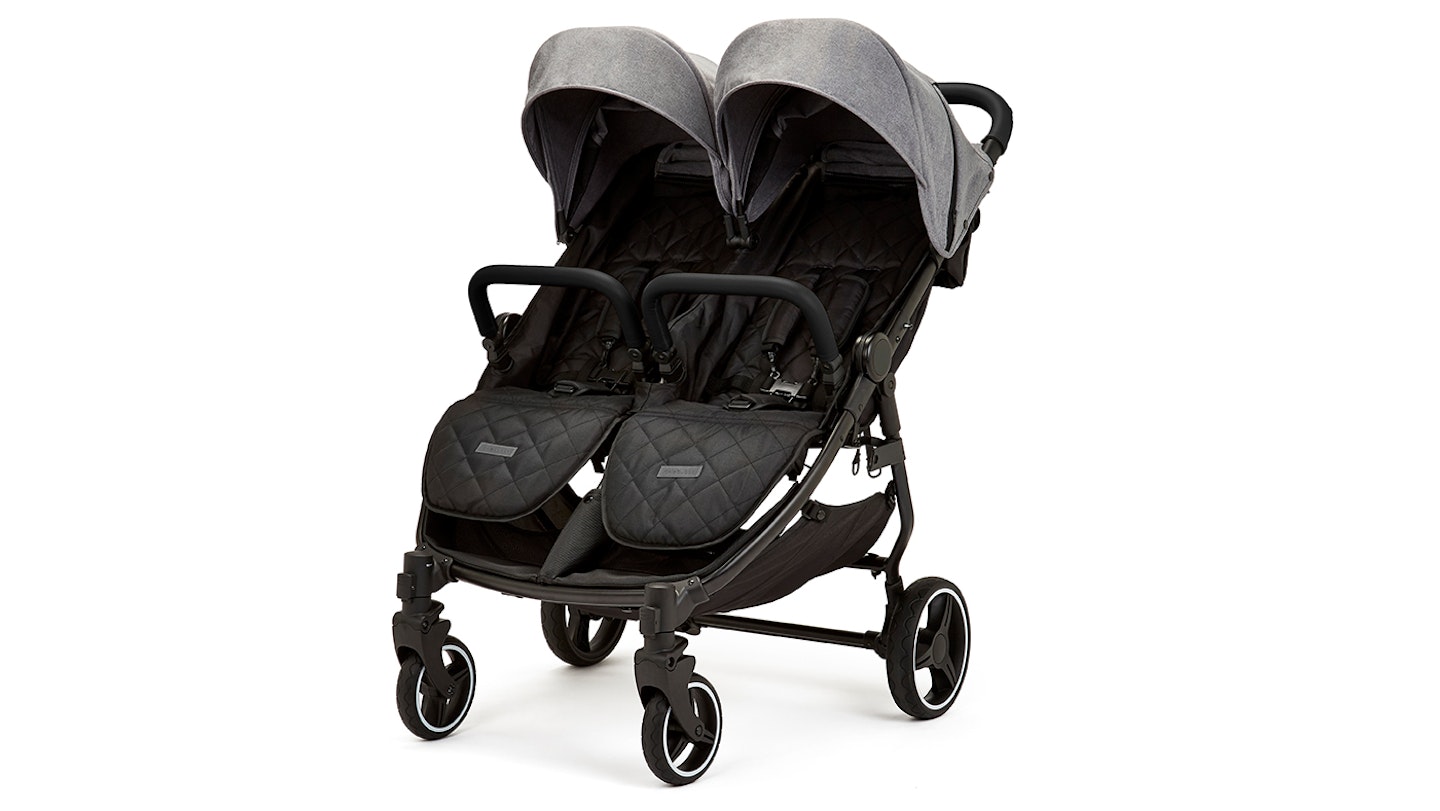 Would you choose this product above all others on the market?
This would definitely be top of my list compared to others on the market. It's practical, easy to use, stylish and great value for money. Aesthetics are also important when it comes to buying a double stroller and this one certainly ticked the box for me. It came in grey which I was happy with as it's a neutral colour but also stylish at the same time.
I also liked the fact it's a side-by-side stroller. I've used a lot of tandem pushchairs and whilst they are more practical for getting into doors etc, I've always found them more difficult to manoeuvre, especially around corners when you've got the weight of two toddlers in it. The Ickle Bubba Venus felt much more stable and had sturdy wheels, with an option to lock the front wheels off to make rougher terrains easier with the click of a button. My twin girls are also quite tall for their age so tandem pushchairs in the past have always been a little cramped for them but the side-by-side version from Ickle Bubba offers lots of room with a great seat length and adjustable calf rests.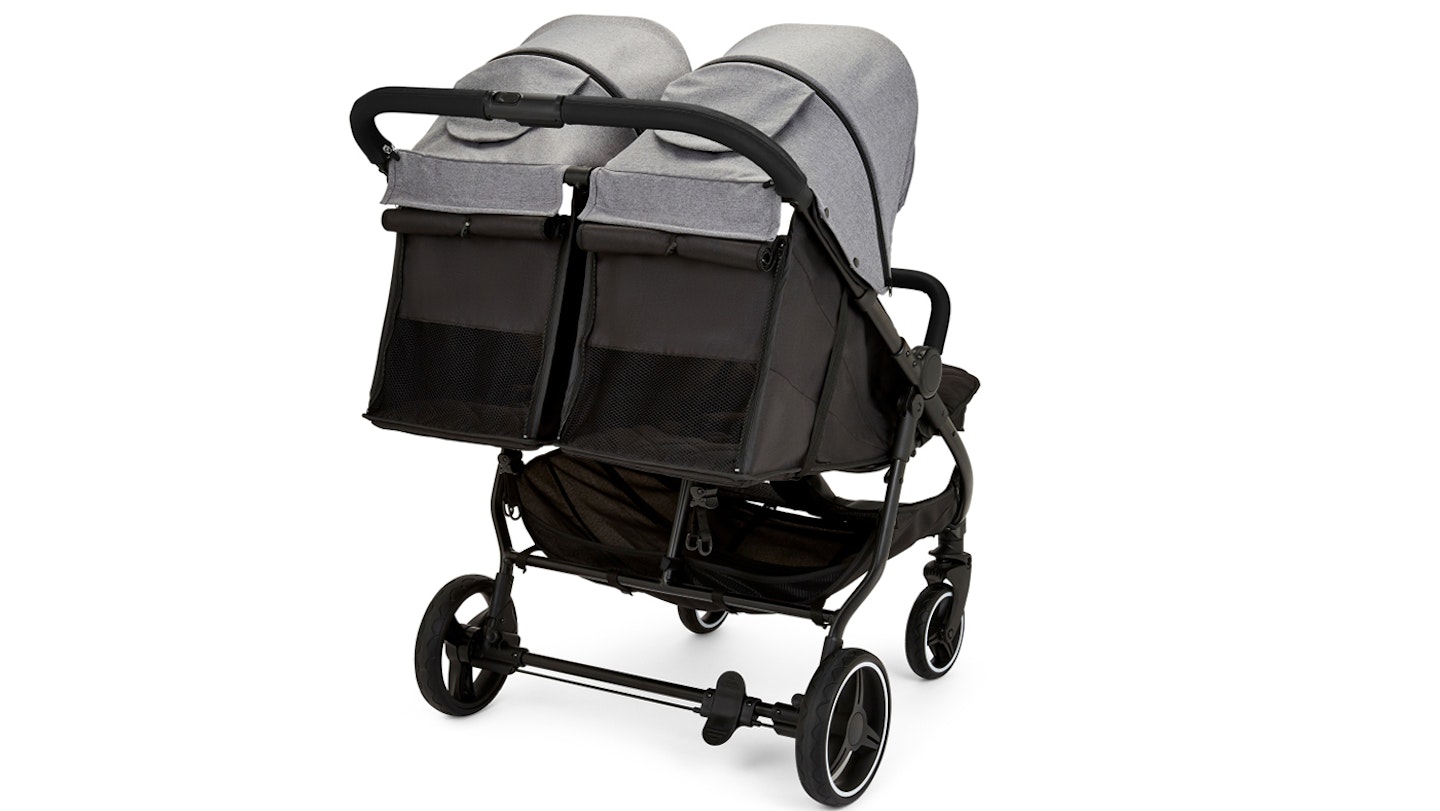 What changes would you make to this product?
The only change that I would make to this pushchair is the height of the handlebar. It's a fixed height which was fine for me, but my husband did find it uncomfortable when using it out and about with them in it as it's definitely not designed for someone who's taller than the average! This is a shame, as he often likes to take them out to the park or for walks and for him, it just wasn't a comfortable height. Having an adjustable height option for the handlebar would certainly make this the perfect product.