This special edition of the popular Silver Cross' travel system is aimed at urban families, with many useful extras included. Key features include a bamboo-lined carrycot, new Genius™ harness system with magnetic buckle and a multi-recline, reversible seat unit.
Product specification:
Aluminium chassis
Carrycot with apron
Forward- and rear-facing pushchair seat
Genius harness system
i-Size infant carrier adaptors, footmuff, seat liner, changing bag, rain cover and cup holder included
Chassis 7kg/Carrycot 2.7kg/Pushchair Seat 3kg
L82cm, W54cm, H93-107cm
L85cm W54cm, H32cm (folded)
Sponge clean only
Three-year warranty
Suitable from birth to 22kg or four years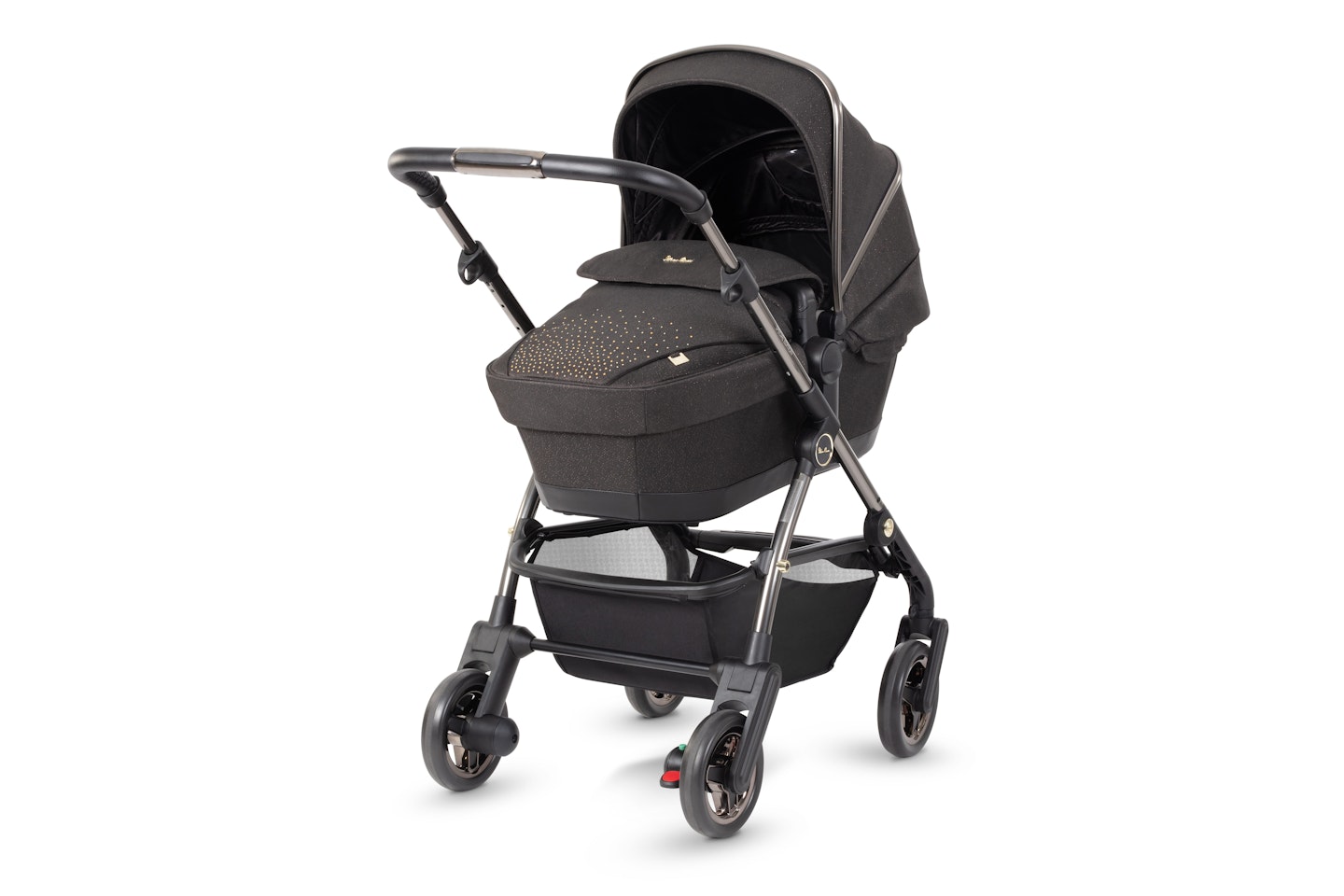 Here's what our tester Chris, dad to son Dominic, thought of the Silver Cross Wayfarer Constellation...
How did this product make your life easier?
As this travel system was tested primarily as a pushchair, its stand-out feature is the Genius harness system with a magnetic buckle, trademarked by Silver Cross. It made securing our son in the pushchair straightforward, the five-point fastenings fitting together in three clicks while the buckle itself has a childproof release for peace of mind.
The chassis has been designed with in-line wheels, making it narrower than other pushchairs and more manoeuvrable on tight town centre pavements and in crowded shops as a result. It offers minimal rolling resistance, so is near effortless to push in a straight line, regardless of whether you're on a flat stretch or facing an incline. Over pavements at least it also feels smooth, with our little one able to fall asleep within the pushchair on more than one occasion. Even on cobbled streets, there wasn't excessive vibration felt through the handle. The Wayfarer though is explicitly marketed as being an urban travel system, and while it copes admirably on short strolls on grassy surfaces, we wouldn't want to venture too deep into the countryside with this pushchair.
Aged 15 months, our son was too old to use the carrycot but were he younger it would've presented a very attractive feature. It has soft bamboo fabric with a thick padded mattress and can be used as an overnight sleeping carrycot.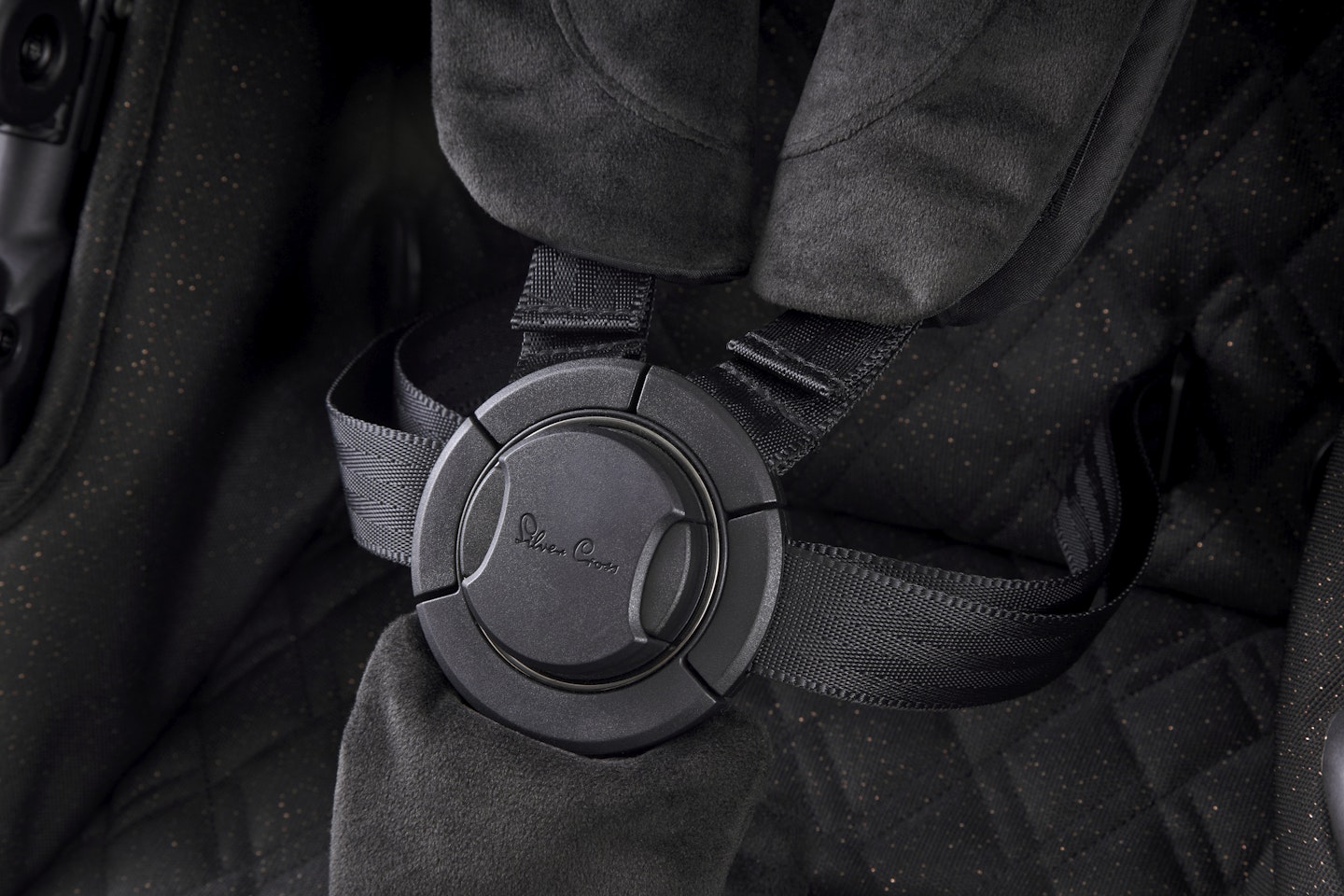 Would you recommend this to other parents?
There's much we liked about this special edition of the Silver Cross Wayfarer that's certainly worthy praise, most relating to the quality of the materials used throughout and its many thoughtful details.
From how the fabrics look and feel to the use of faux leather over inferior rubber for touchpoints (the handle, bumper barn and pulls for the zips) it gives the impression of being a premium product. What's more, all of the features that comprise the Wayfarer Constellation (from the footmuff to rucksack changing bag) are nicely coordinated.
Other details that are nonetheless appreciated are that the rain cover comes with its own storage pouch, which should prolong its life, while the UPF 50+ hood includes a Perspex viewing window rather than a mesh one.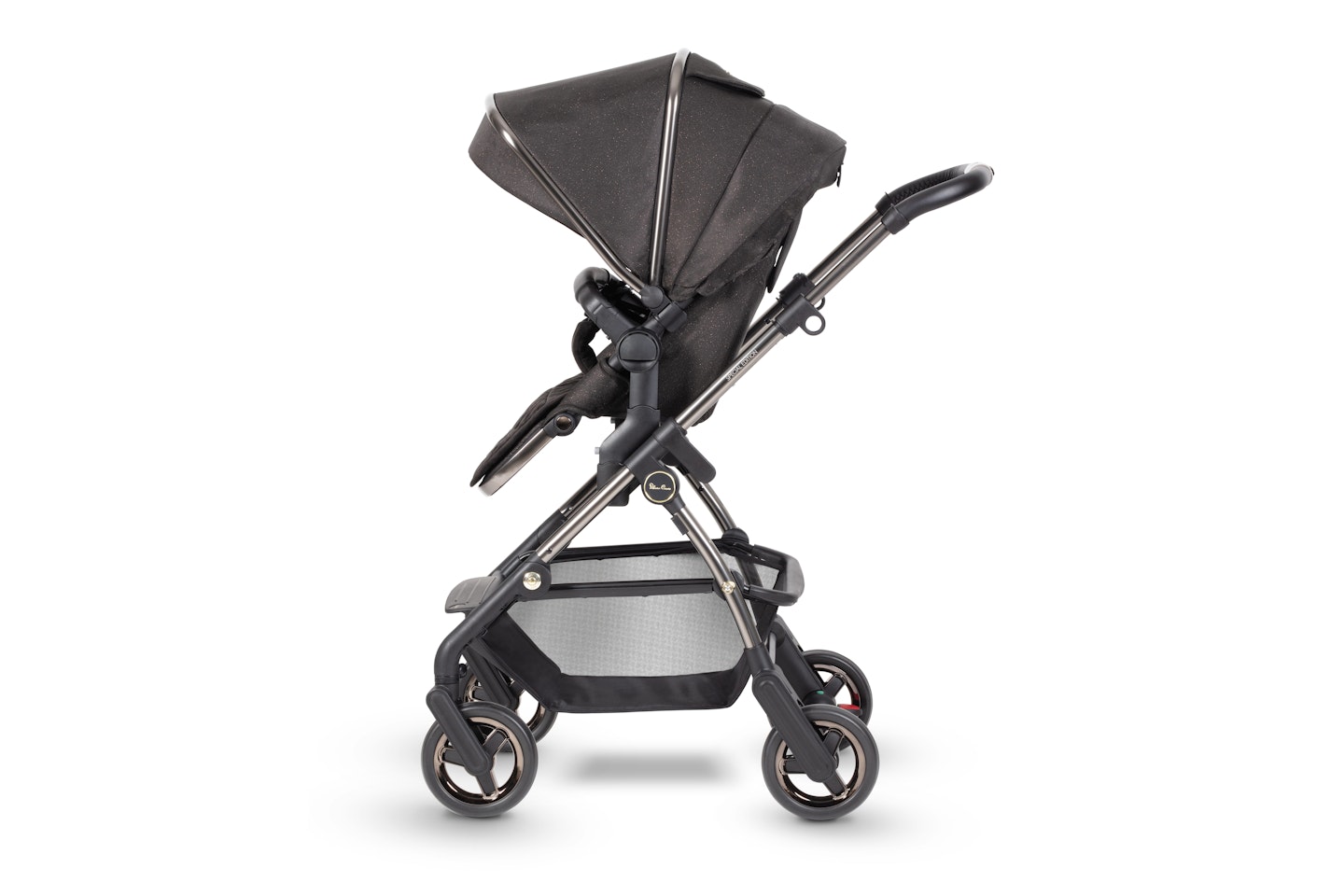 It being winter, we opted to fit the footmuff and were very impressed with it. It's soft and padded, and also has additional zips allowing it to be secured above the child's shoulders, so on especially cold days arms can be kept inside to keep little ones toasty. Likewise, the fleece lining doesn't extend to the bottom edge, with an easier to wipe clean material used where muddy shoes would rest – another nice touch.
We also really like the changing bag. It's a good size for multiple essentials and has several zipped compartments. Our only complaint was that the supplied changing mat is small – arguably too small for our one-year-old.
It has a large basket – it certainly fares well against rival pushchairs in this regard – and is easy to access with the pushchair seat attached (especially in the upright reclined position). There are also straps so the rucksack can be securely attached to the handle, freeing up space within the basket.
It's simple to fold but does require two hands to do so, and can be folded with the pushchair seat attached in its forward-facing position (the seat can also be parent facing). However, the chassis and pushchair are bulky when folded and in order to fit in the boot of our supermini, they needed to be separated.
Assembly was simple with the instructions required only for specific reference points, most notably on how to fit the hood to the pushchair.
Would you choose this product above all others on the market?
Personally no, but this has more to do with the fact that this is a special edition of an existing pushchair rather than any deal-breaking issues relating to the Wayfarer as a model.
The design is undoubtedly attractive and both parents are unaware of another travel system that mirrors this pushchair's styling – the fabrics are black with flecks of silver, bronze and gold to mimic the night sky. All of this is enhanced by a polished bronze chassis and wheels. It's smart and not gender-specific, with perhaps the exception of the pram apron, which features small studs arranged in a splash effect pattern design that mum felt was a bit too 'bingy' and feminine.
However, as appealing as the design undoubtedly is, we felt the price (£1045) was on the steep side, even taking into account all the extras, which as we've already mentioned many of which both parents really like, in addition to the Genius harness system that's new to the Constellation. For those parents who prioritise a stand-out design more so than ourselves though, we can completely understand why they would opt for the Wayfarer Constellation over other urban travel systems.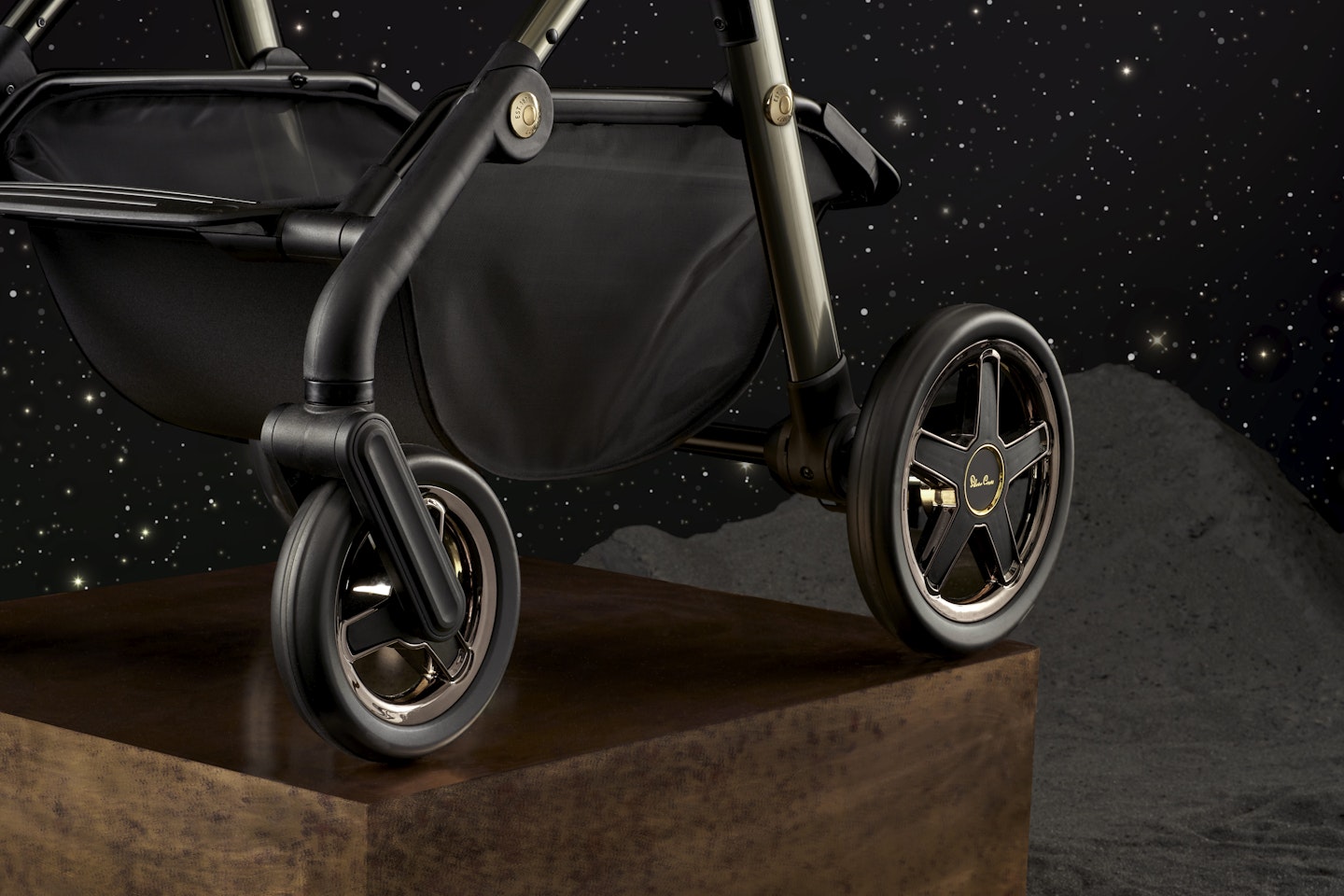 What changes would you make to this product?
The handle has four height positions, but as both parents are around six-foot tall we found ourselves using its second-highest setting. Extended in this position, there was a notable degree of flex that was most apparent when applying downward pressure so the front of the chassis can be lifted to mount a kerb. It resulted in the otherwise smooth-riding Wayfarer jerking when attempting to clear a kerb – a means of eliminating this flex would certainly be appreciated.
Manoeuvrability can also at times feel inconsistent, with the Wayfarer being in most instances easy to steer but on other occasions heavy and difficult steer, with neither parent able to discern the circumstances why. Also, because of the aforementioned flex in the handle, there's a tendency on sharp corners for the front wheel on the opposite side to the direction being turned to lift off the ground.
Both parents also found removing the over the shoulder harness straps from their lowest setting to reaffix them at a higher position on the pushchair back challenging. We both felt the holes through which the straps need to be fed are too small. The plus side is they feel very secure once they are correctly fitted and unlikely to be unseated should our son lean forward.