On the hunt for a baby pushchair? Junior Jones is a well-known high street brand with years of experience of what makes a great stroller. The Junior Jones Aylo stroller is a sleek and compact system designed to take you from birth to 4 years.
While you can purchase the stroller on its own, the Aylo is also available as a luxury stroller bundle that covers all the everyday essentials for your baby but also remains sleek, lightweight, and compact enough to go from city walks, brunches and to rural parks dealing with each terrain with ease.
Scroll down to find out how mum-of-one Ria got on with the Junior Jones Aylo Stroller.
Pros
Reasonably lightweight and compact to get in and out without help
Able to fit in the boot with space
Comes with rain covers and adapters
Freestanding when folded
Good suspension
Sleek and modern look
Cons
Under storage basket is not the largest or deepest
Wheels are on the smaller side
Footmuff/bag not included
Testing the Junior Jones Aylo Stroller
"I'm a new mum of a one-month-old who has been testing the Junior Jones Aylo stroller from the birth of our baby. We even used it to bring our baby home from the hospital.
Thanks to its amazing versatility, the Junior Jones Aylo stroller is also compatible with several other car seats - which I prefer as this gives you choice to see what works best for your car and situation. To begin with, we have been using the Aylo with our car seat as well and it has been really easy to attach to the chassis and the whole assembly from delivery of the box has been really straightforward.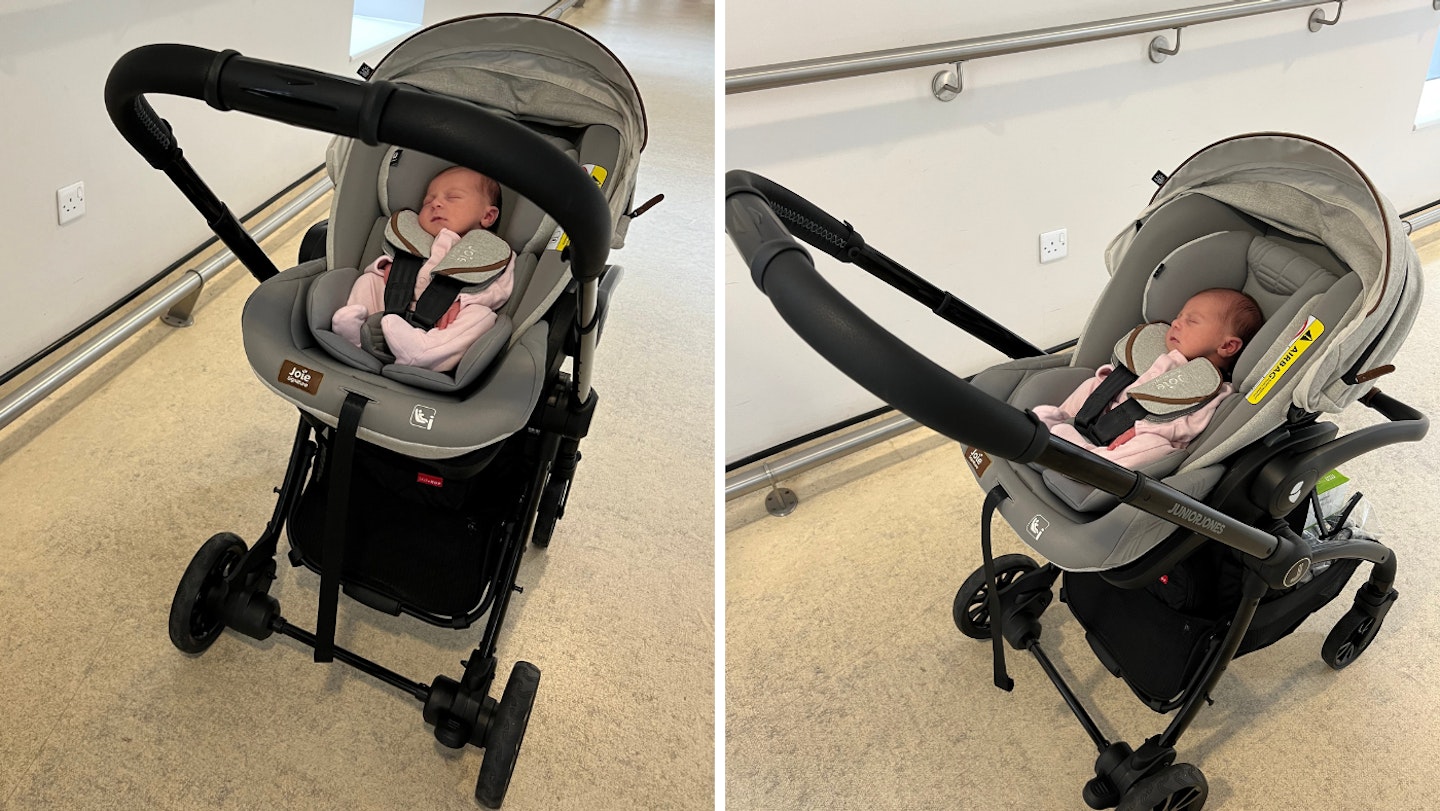 Unlike some other bundles on the market, the adapters are included for the car seat and the bassinet attachment. This multi-use attachment has been vital for the first month as we have been able to switch seamlessly between the bassinet and car seat with ease depending on where we are going. Having this option means once our baby was settled we weren't worried about taking her out of the car seat.
The chassis of the Aylo is on the lightweight side compared to other strollers we have tried but this does not compromise its sturdiness and folding ability. Although it is not a one-hand fold, it does fold very easily and with wheels on remains compact. This has been very helpful postpartum not having to rely on anyone else to help me lift the chassis into the car or out.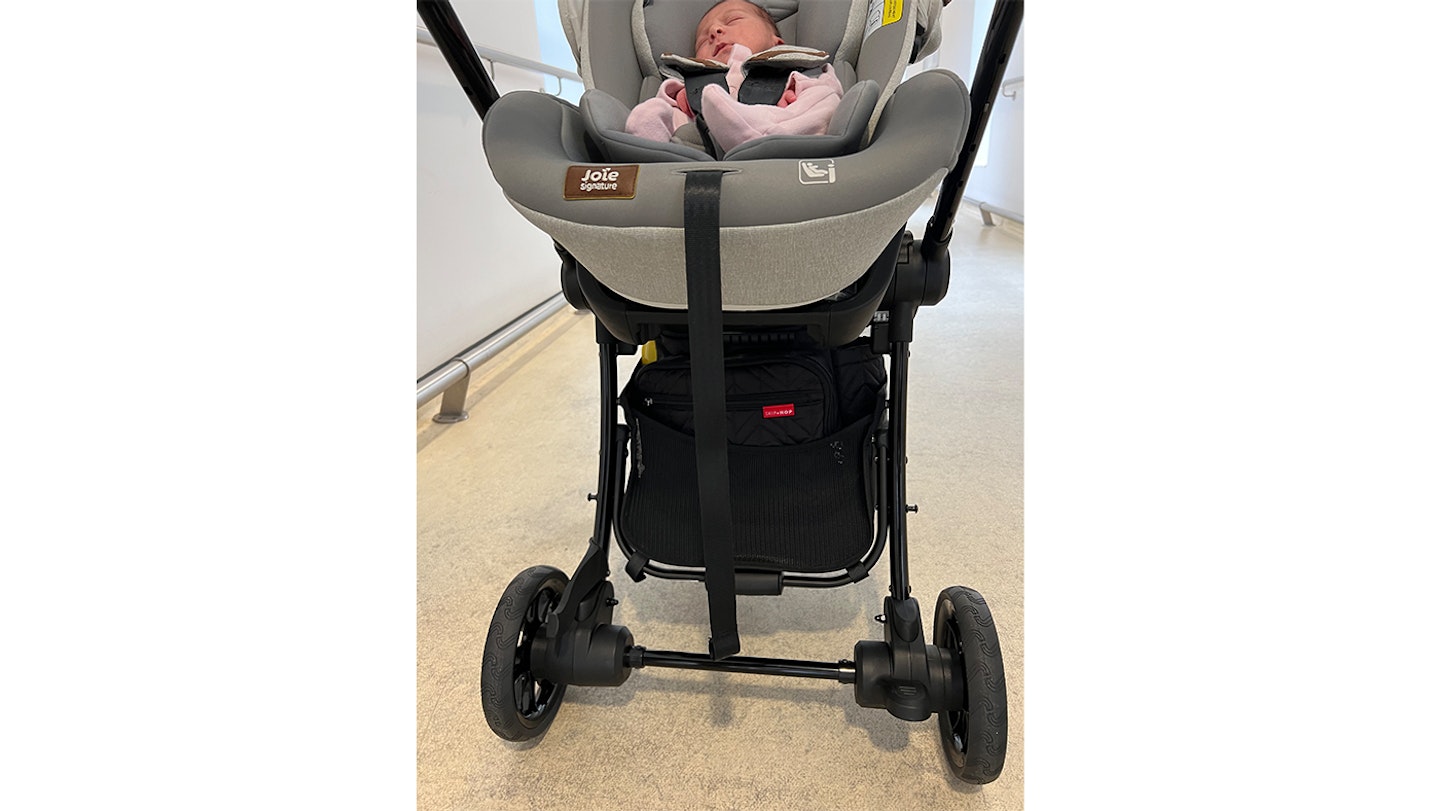 The under-storage basket on the stroller has also been large enough to carry my big baby bag as well as rain covers (that are included). I would say that it is not the largest under buggy storage but has plenty for everyday use and not sure it could have been as compact if it was any bigger.
The stroller is so easy to manoeuvre and I have been pleasantly surprised with how agile and comfortable it is to push as with some other lightweight strollers they tend to wobble but I would say the Aylo holds up quite well going over the bumps and cracks of the pavements. My baby has fallen asleep on every walk and that is a credit to the sturdiness being good enough not to startle her as we manoeuvre over wonky London suburb pavement, park pathways or grass when walking our dog.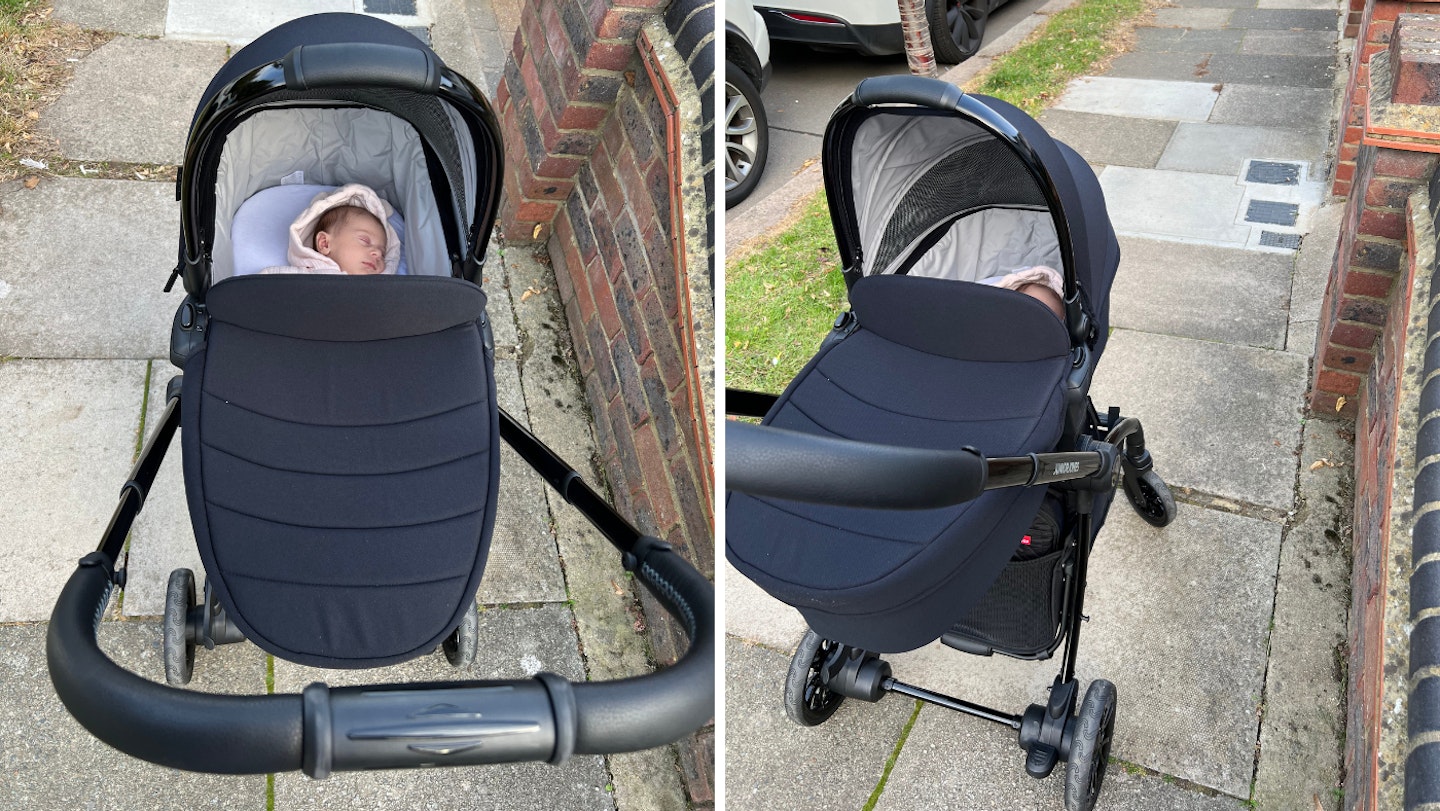 The adjustable handle height means we can adapt between my husband and I, and the brake is on the right bottom side rather than the middle, which really suited me as it was easy to lock quickly and unlock with light pressure.
As you can see the photo below, the compact fold means it fits into our Nissan Juke boot with space for a few shopping bags. It can also be stored compactly behind our house door without taking up the whole hallway. The bassinet also folds down slightly which again helps with general storage but also for getting it into the boot.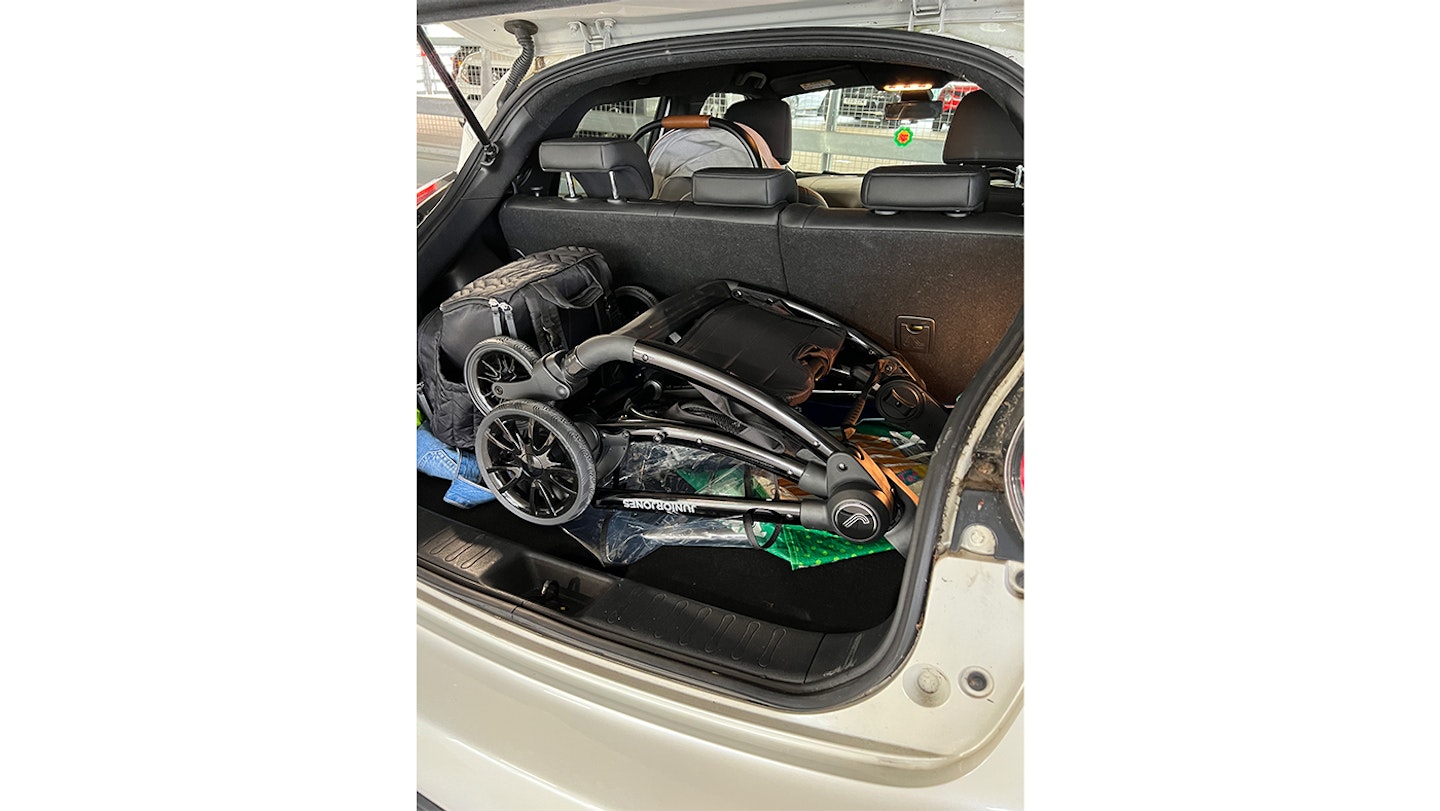 There are Velcro attachments to the lid of the bassinet to protect baby too from the wind. I was surprised to see the bassinet fold down so well but look so sturdy and sleek. I do think the Aylo stroller has a modern, chic design and even with the loading it in and out of the car, has remained scratch and stain resistant thus far."
Final verdict
"Overall - I have really enjoyed the ease of use and versatility of the Junior Jones Aylo stroller. Going from hospital appointments postpartum to dog walks being able to switch between car seat and bassinet so easily has been a lifesaver. Nissan Jukes do not have the largest boot so its lightweight and compactness have been a joy to use for the past month. I am excited to switch to the pushchair attachment and continue to use the Aylo for all our adventures."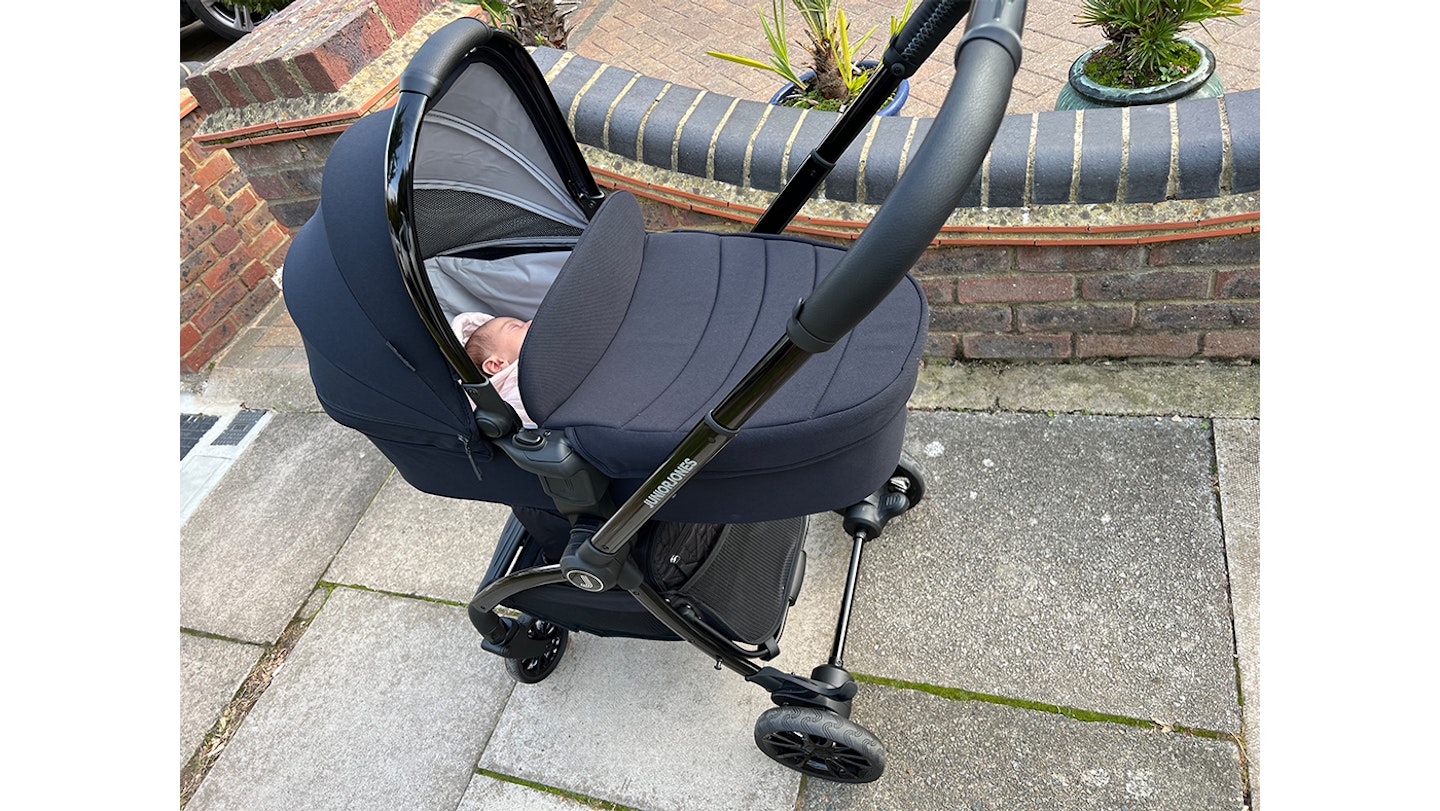 Junior Jones Aylo Stroller FAQ
Can the Junior Jones Aylo Stroller be converted into a travel system?
Yes, it can! The Aylo converts to a full travel system when using the included car seat and carrycot adaptors. It can be used with numerous compatible Group 0+ car seat brands including Maxi Cosi, Joie, Cybex, Nuna, BeSafe and Recaro. Visit their website for more information.
What colours is the Aylo stroller available in?
You can purchase the Aylo Stroller in four different colours: rich black, dark slate, pebble grey and grey marl.
Emily Gilbert is the Features & Reviews Editor for Mother&Baby and has written for the website and previously the magazine for six years. Specialising in product reviews, Emily is the first to know about all the exciting new releases in the parenting industry.