Finding out you're having twins can be a surprise - a happy one, and a shocking one. There are lots to consider, including the pram, which makes an interesting question of whether the iCandy Orange Twin lives up to the brand's prominent reputation.
The iCandy Orange 3 is the ultimate companion when it comes to parenthood and the beautiful, multi-functional pushchair is ready for the adventure, every step of the way. Functionality modifications, softer suspension and an optimised tyre tread enhance day-to-day life and comfort for both parent and child. An ingenious integrated Ride-on Board, lightweight and streamlined chassis, super spacious basket, as well as a changing bag and Duo Pod included, mean the iCandy Orange is ready from the get-go.
When my wife and I first discovered we were having twins, our first thoughts turned to the pram. Do we go for a side-by-side pram? Or, do we plumb for another option, one on top of the other? This can be a conundrum for many soon-to-be twin parents or parents who have siblings very close together. Both have their pros and cons, but on review, here is the iCandy Orange Twin.
Pros
Easy to use
Intuitive construction
Reputable brand, so you know you'll be able to sort out any problems
Cons
Very stiff and rigid
You need two hands to collapse the pram, unlike the iCandy Peach
Testing the iCandy Orange 3
This product has been tested on newborn twins up to three months and tested by Myles Warwood, a father of four who used an iCandy Peach for his first two children.
Opening the box and construction
Opening the box might seem daunting as you build the pram you will be pushing around for the next few years of your life. However, it was intuitive to put together and all done in around 30 minutes, for what I assume is a cost-saving exercise so the product can be sold worldwide; the instructions have no words, which can be slightly confusing.
All in all, having a Peach for my first two children went together well. But it might be harder to put together for some, with the need for words on the instructions.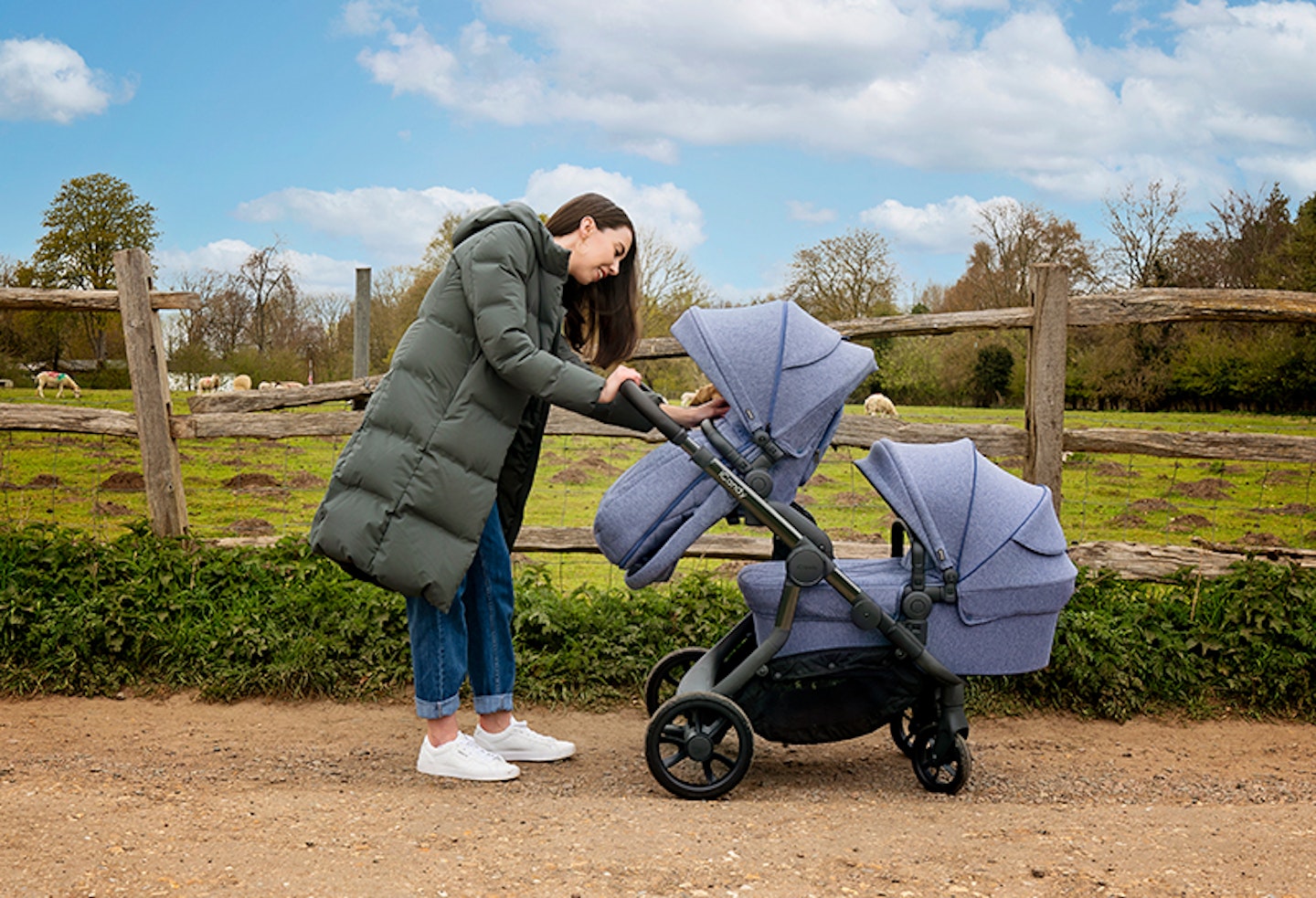 The ride
Once together, though, you can see how sturdy the pram is. When using the iCandy carry cots and seats, it's held together somewhat too well. The carry cots and seats make the chassis very stiff. This is very good for handling and going up and down kerbs. However, it's not so great for comfort over slightly uneven ground, and the mildly apologetic suspension on the rear wheels doesn't do a lot to help. We found that when using Maxi-Cosi car seats, the chassis wasn't as rigid and while handling was affected, the ride was much smoother.
If the pavement is slightly rough or you're going over a grassy play park, it can be very bumpy for those in the carry cots.
The wheels and tires handled different terrains well. The rear wheels are big but thin, which you would think would sink into soft surfaces but coped well. And mentioning handling, it will spin on itself easily and roll well, too. Considering its size, weight, and double occupants, it doesn't take much to push and get going.
Getting it in and out of the car
The carry cots come off quickly, as do Maxi-Cosi car seats with the adaptors, which can then go in your boot. Handy tip - to store the carry cots on top of each other, you can take the handle off of one side and fold it over – this makes it much easier to stack one carry cot on top of the other.
To collapse down entirely, though, you need two hands. Slightly annoying when you have two kids. You pull each tab down, and it folds pretty easily. You can collapse it down with car seat adaptors, saving time and effort if your kids are crying or it's raining.
To erect the chassis again, there is a slightly fiddly tab which you can use with your thumb. However, it would be best if you gave it a firm push, which means that some might need to use a hand to open the chassis out. And here's another slightly annoying thing, because of the weight of the pram, I found it best doing this with the pram standing up, which means the pram's handle is either on the ground or balancing on your foot so you don't scuff it.
The different configurations
While it's nice to have 30 different ways to have your kids as you push them along, you'll likely find one that suits you. We didn't spend a long time figuring out which one we liked. Having both carry cots on can make the pram very long, so we focused on making it shorter and found a combination that worked.
What I found helpful is that, no matter the combination, it was easy to sort out either child if they were fussing or just not sitting right. This was down to the ease of use of the carry cots and how the carry cots were placed, no matter the configuration.
No matter what configuration, though, if you use the carry cots, you can kiss goodbye to under-cot storage and the integrated ride on board.
Final verdict
All-round, the iCandy Orange Twin, is a solid pram. It handles well, rolls well and is easy to use no matter the configuration. There were some mildly annoying things in the folding and unfolding of the pram, but its biggest drawback is the stiffness.
The ride can be firm if the pavement isn't smooth; you can see and feel it. However, with car seats, this isn't an issue. So weigh how often you assume you'll use the carry cots and travel system car seats.
iCandy Orange 3 FAQ
How does the Orange compare to the Peach?
The Orange is bigger than the iCandy Peach 7. It has more room underneath, and the collapse and unfold system is different too.
Can I convert my original iCandy to a twin?
Yes, you can buy conversion kits to convert your pram, but you'll need to buy the additional carry cots.
iCandy or a Bugaboo Donkey?
It depends on your individual needs. Some people like their kids side by side, and others one on top of the other. Getting in and out of doorways was high on our priority list. So we plummed for one on top of the other.