Currently on the hunt for the best pushchair for your little one? The Graco EeZeFold is a lightweight, compact pushchair designed for families on the go. Its main selling point is its "one-second one-hand fold" alongside its portability, but there are many other features which make this pushchair so appealing.
Here's how mum-of-one Georgi got on when testing the pushchair with her daughter April.
Pros
Extremely easy to fold
Compact
Stands upright and easy to store
Not too heavy
Simple assembly
Good size shopping basket
Cons
Handlebar non-adjustable
Shoulder pads lack in comfort and easily slide down
Doesn't come with a footmuff
Key features
One-second one-hand fold
The Graco EeZeFold can be folded easily with one hand in one smooth motion. Music to the ears of any busy caregiver.
Perfectly compact
Folds down into a very reasonable size which fits into a car boot or small hallway with ease.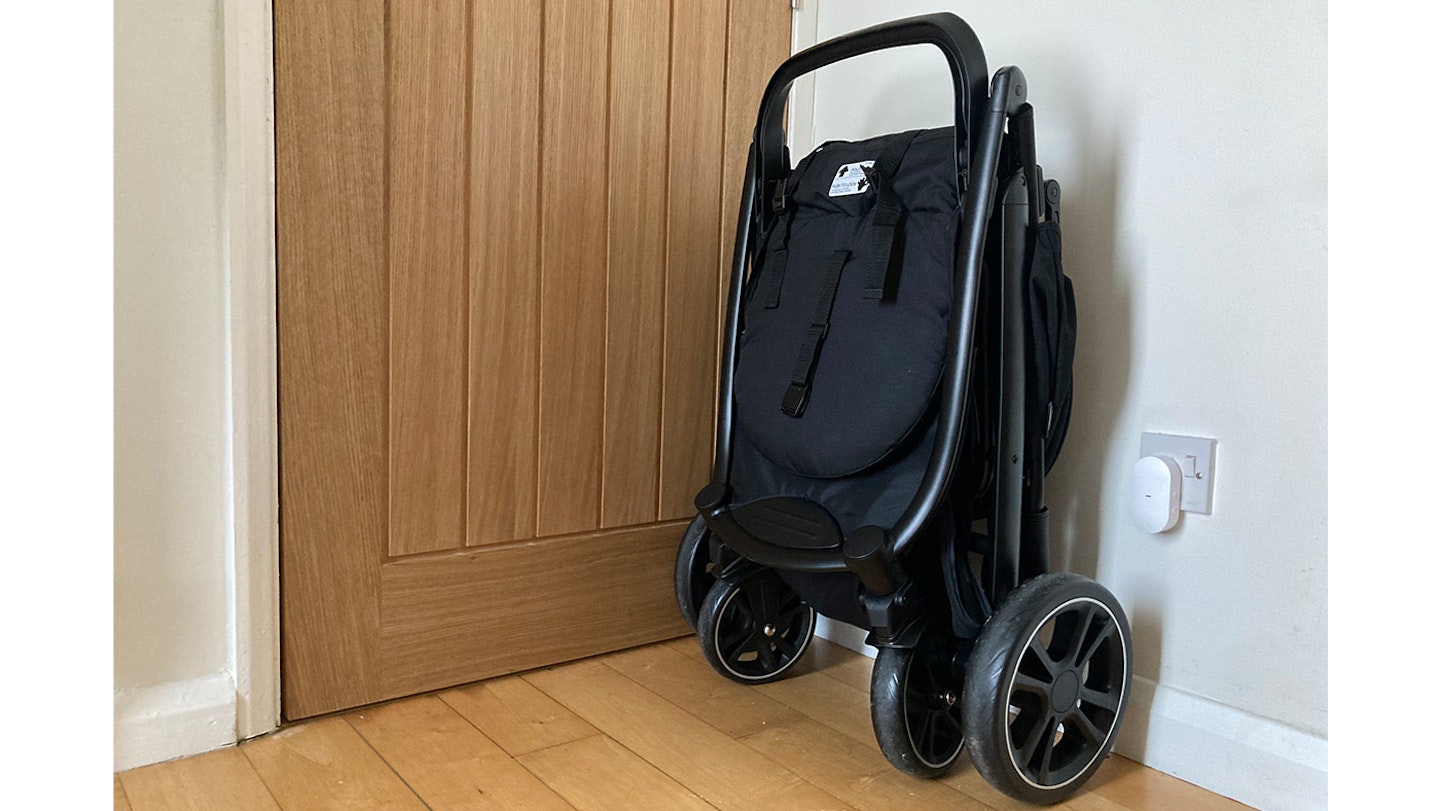 Multi-position recline
The pushchair can be reclined into several positions allowing your child to sit upright for a good look around or recline for a snooze.
UPF 50+ canopy
Protects from the sun and also has a handy mesh window to see what your little one is up to.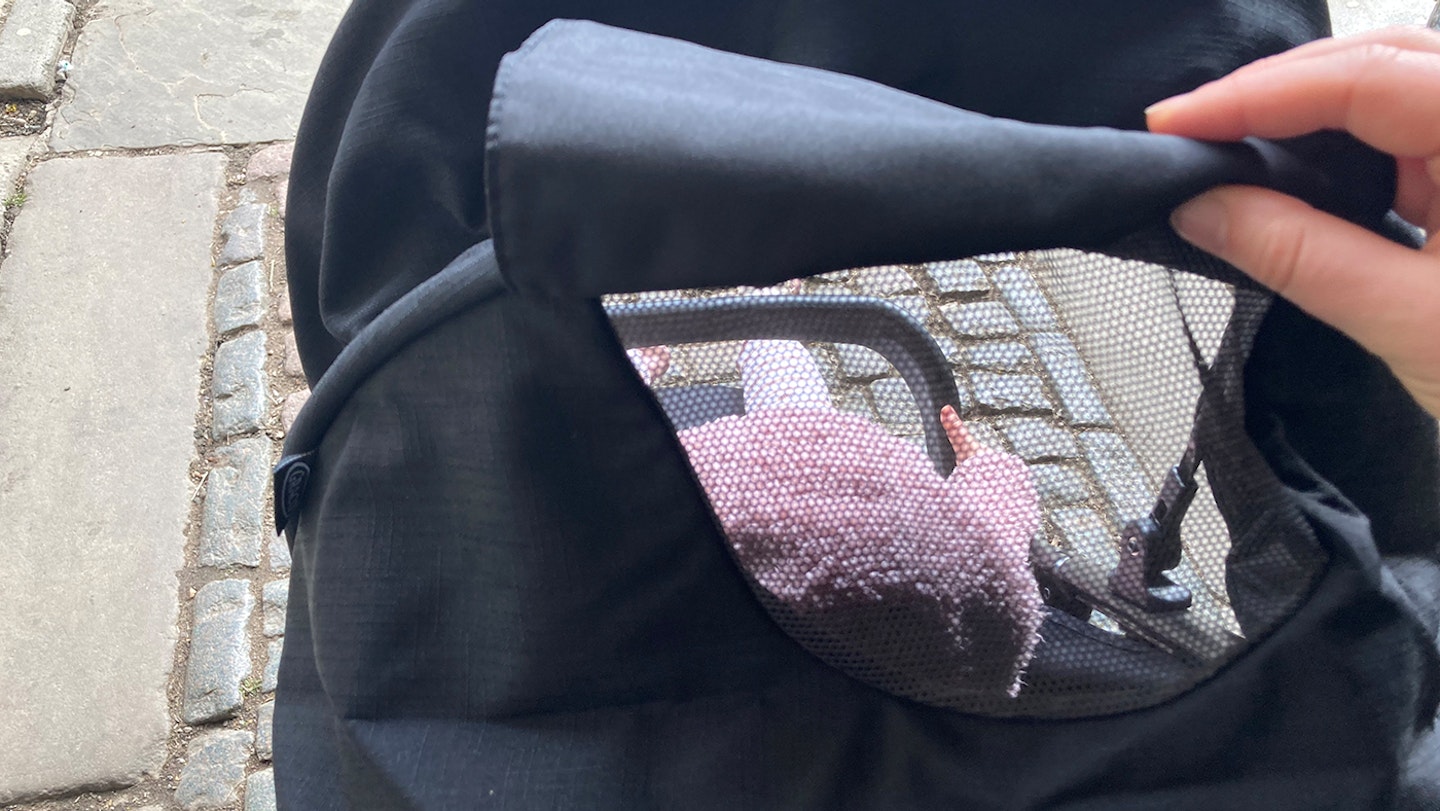 Testing the Graco EeZeFold
We realised we were in the market for a new pushchair when our 15-month-old daughter started looking a bit cramped in her previous buggy, the IckleBubba Stomp 4. We had been using the pushchair conversion of the same pram she'd had since birth, but gradually found its bulk and two-step assembly were becoming more irritating in our daily lives. As a busy family living in a small rural town, it's really important to have a pushchair that can easily be popped in the car for day trips or stashed in the corner when out at a restaurant, so when we found out about the Graco Eezefold it was a no brainer. We simply had to try it!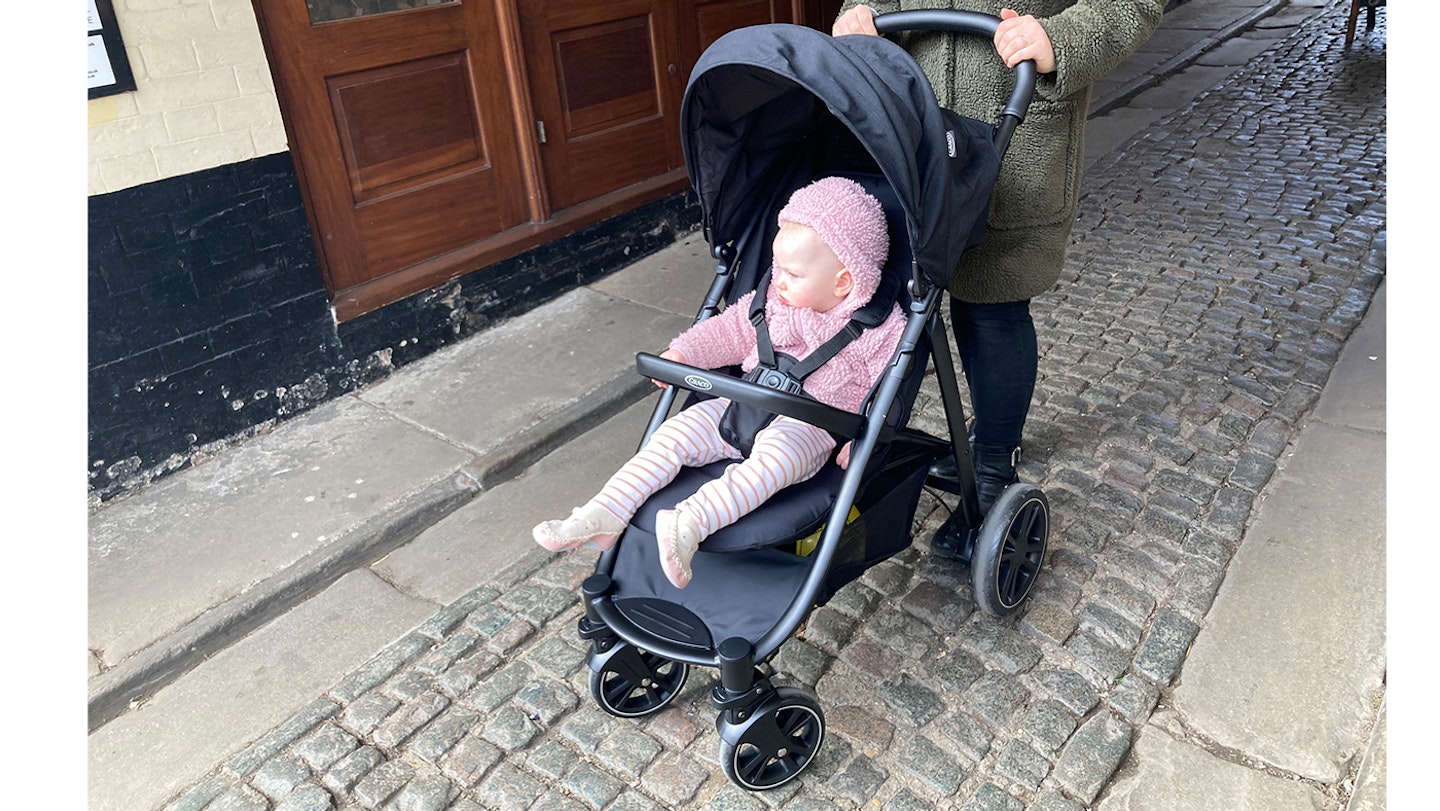 For a small pushchair, the Graco EeZeFold arrived in a sizeable box which surprised me at first, but once unpacked I was relieved to find the pushchair lived up to its compact description. I still remember the frustration of assembling our child's first pram and was braced for a battle, however, I was pleasantly surprised by how simple and fast the EezeFold was to put together all by myself. The process was very intuitive and the pushchair was fully assembled within 10 minutes, which is a testament to its design given the difficulty I usually find with this kind of thing.
I found it easy to attach the wheels, hood and bumper bar but I have to say I found adjusting the harness straps quite frustrating. This process won't come as a surprise for those in the know about pushchairs, but as a first-time mother, I'd have valued larger diagrams in the manual to figure it out. I had to call on a friend to show me what to do.
Once assembled, I immediately wanted to see if the "one-second one-hand fold" lived up to its name. After only one or two tries, I got the knack for it and felt overjoyed at finally being able to fold a pushchair without the frustration I was used to with our previous buggy. I must say that I personally found it more intuitive to use two hands when folding, but it was nice to know I could do it single-handed if needed.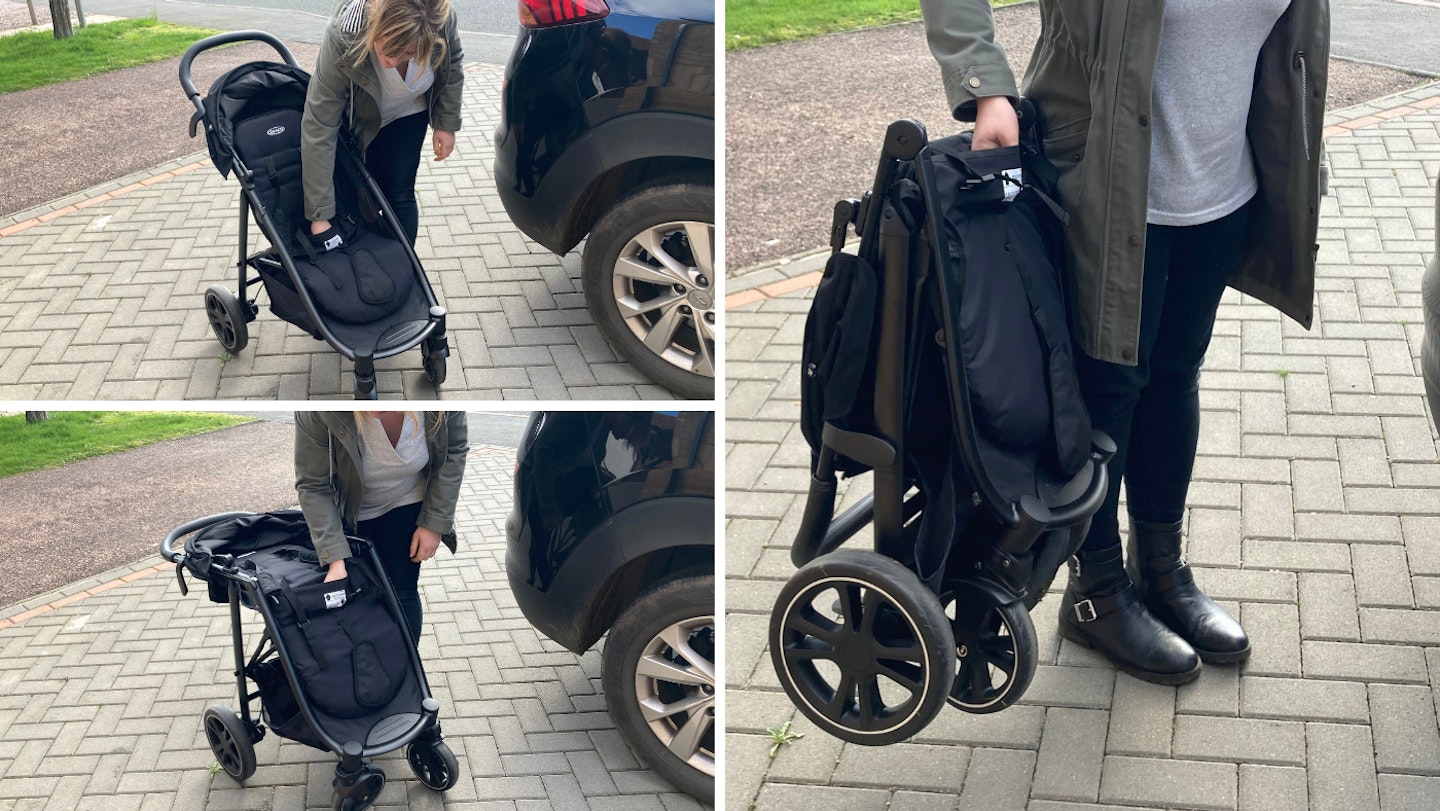 The Graco EeZeFold also markets itself as being a lightweight pushchair and while it certainly isn't as heavy as our previous pram, as a small female of 5ft 3" I still found the 9.5kg a fairly substantial lift. I didn't find it quite as easy to stand upright as the manual suggests, but it can certainly be done with a little bit of shuffling around.
After a quick test on our driveway to ensure the pushchair was safe and securely put together, it was time to strap in our 15-month-old toddler and take her for a ride. Like most toddlers, our daughter can be quite particular about what she likes and is suspicious of change, so trying her in a new pushchair was no mean feat. I was relieved to find how quickly she took to the EeZeFold, fitting snugly into the seat which we'd set in a near upright position so she could enjoy the views on our walk.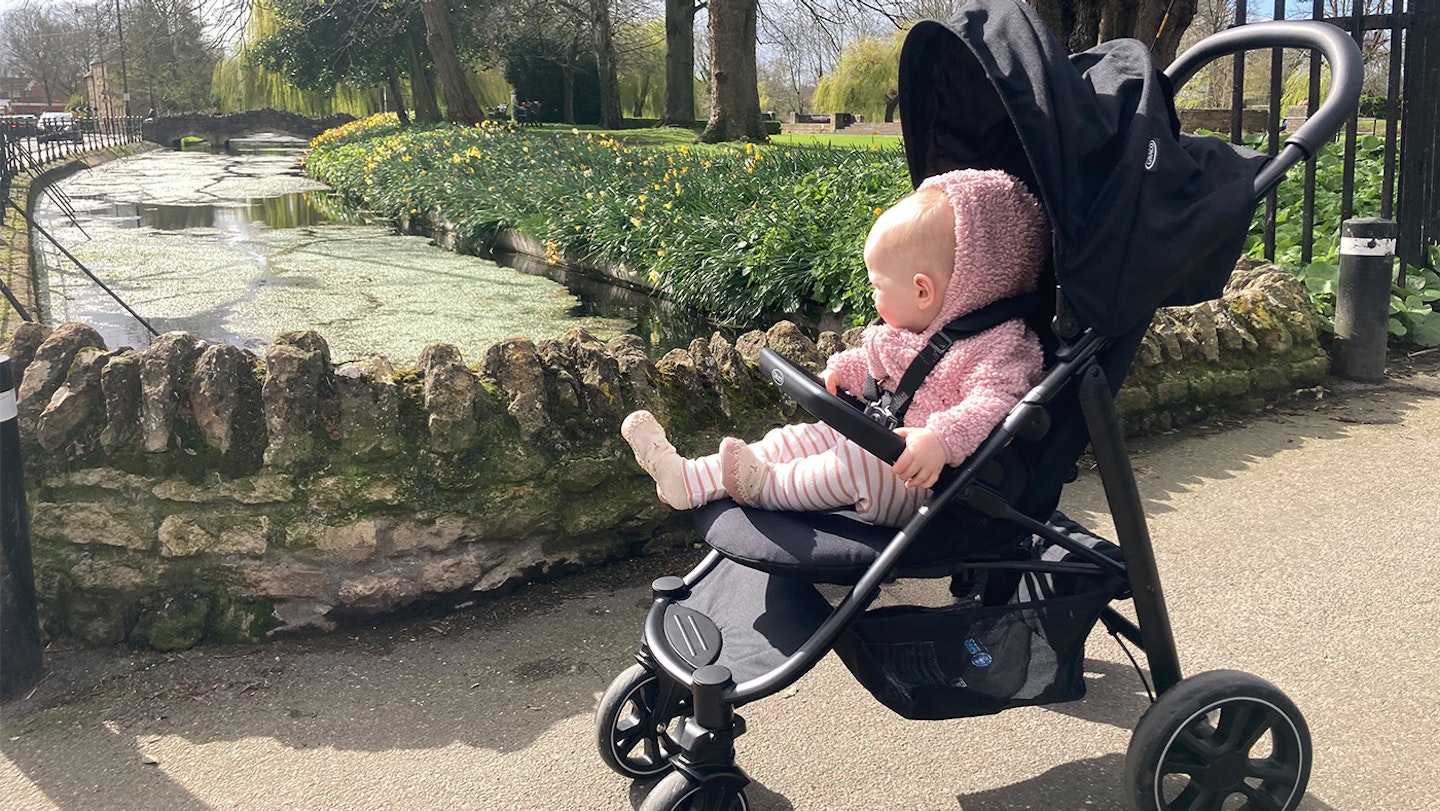 We tried a few options with the calf rest to see what she preferred and found it very easy to adjust. The buckle is a little fiddly but simple enough to fasten and the bumper bar clicks into place with ease. I do feel the shoulder pads on the harness are a little lacking in grip and comfort, so will probably swap these out for another brand in due course.
Our first walk was a stroll around the local town and park, and I was very happy with how smoothly the pushchair went over pavement, cobbles and grass with its wheel lock function tested both on and off. The 4-wheel suspension gave a smooth ride for most of our journey and the pushchair felt very sturdy and secure overall. I was also a fan of the brake which was very easy to click with just the tip of my shoe. The weather was quite sunny so we used the hood for part of our walk and it is definitely an improvement on the one from our previous pram which was far more flimsy. My only complaint would be that I wish there were a little more of it, as it would have been handy to shield our little girl's eyes from the low-angled sun.
We stopped by the local toy shop to buy our child a new ball and found the pushchair fitted nicely through the narrow doorway and that we could stash the football inside its shopping basket with ease.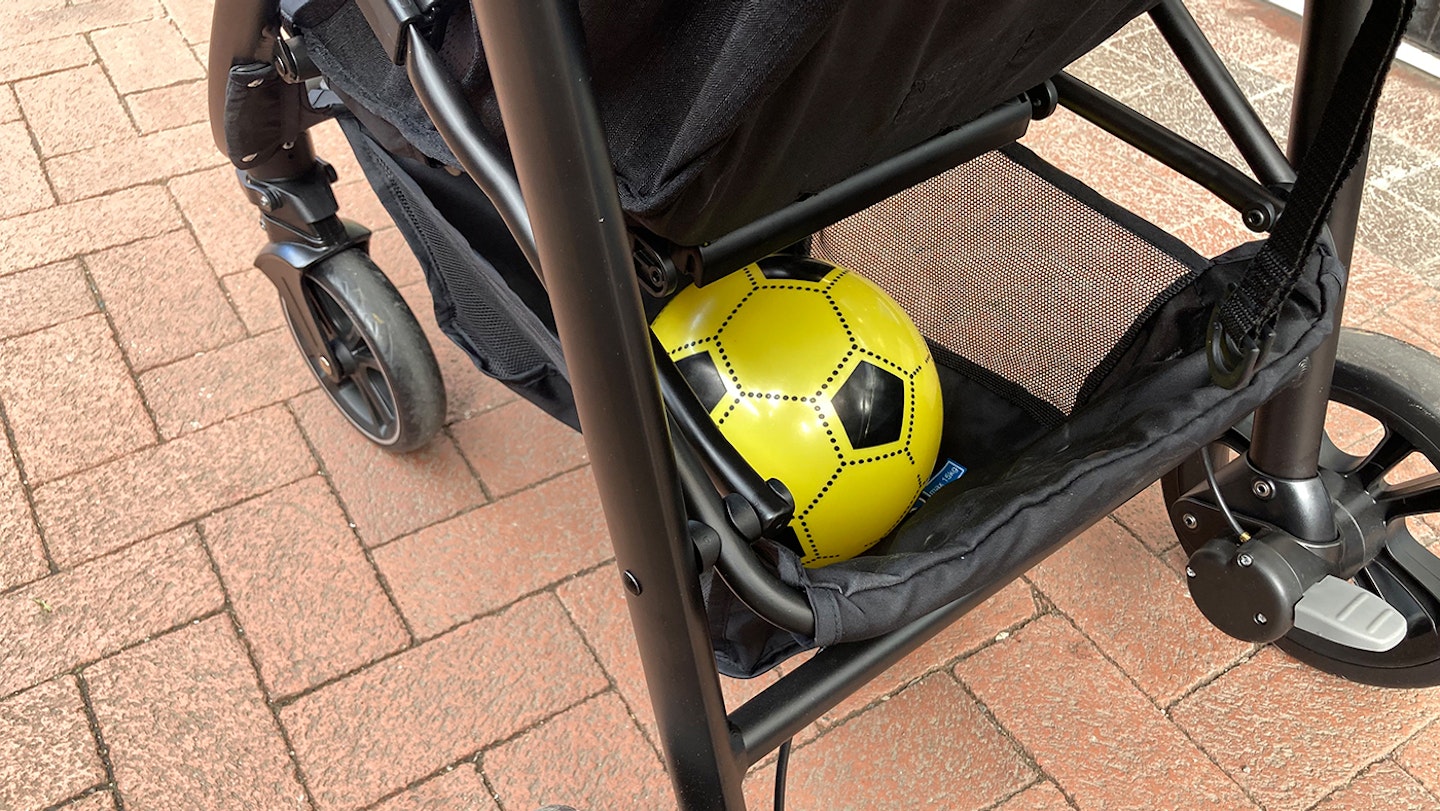 After a while, my husband took over the pushchair duties so I could browse the shops and he was also impressed by its manoeuvrability. His only complaint was that the EeZefold's handlebar isn't adjustable, and he felt he had to hunch down a little to get the best grip.
The true test to see if the EeZeFold lived up to being perfect for "families on the go" came after a road trip to the grandparents. My daughter was teething, tired and hungry when I realised we needed to nip to the supermarket on our way home, but with the EeZeFold already in the car boot, the mission didn't seem impossible. Even with a tetchy toddler testing my nerves I managed to pop up the pushchair within seconds, whizz around the shop and pack it away again without either of us having a meltdown. I would never have attempted this last-minute trolley dash with our previous pram which was much more fiddly to get in and out of the car.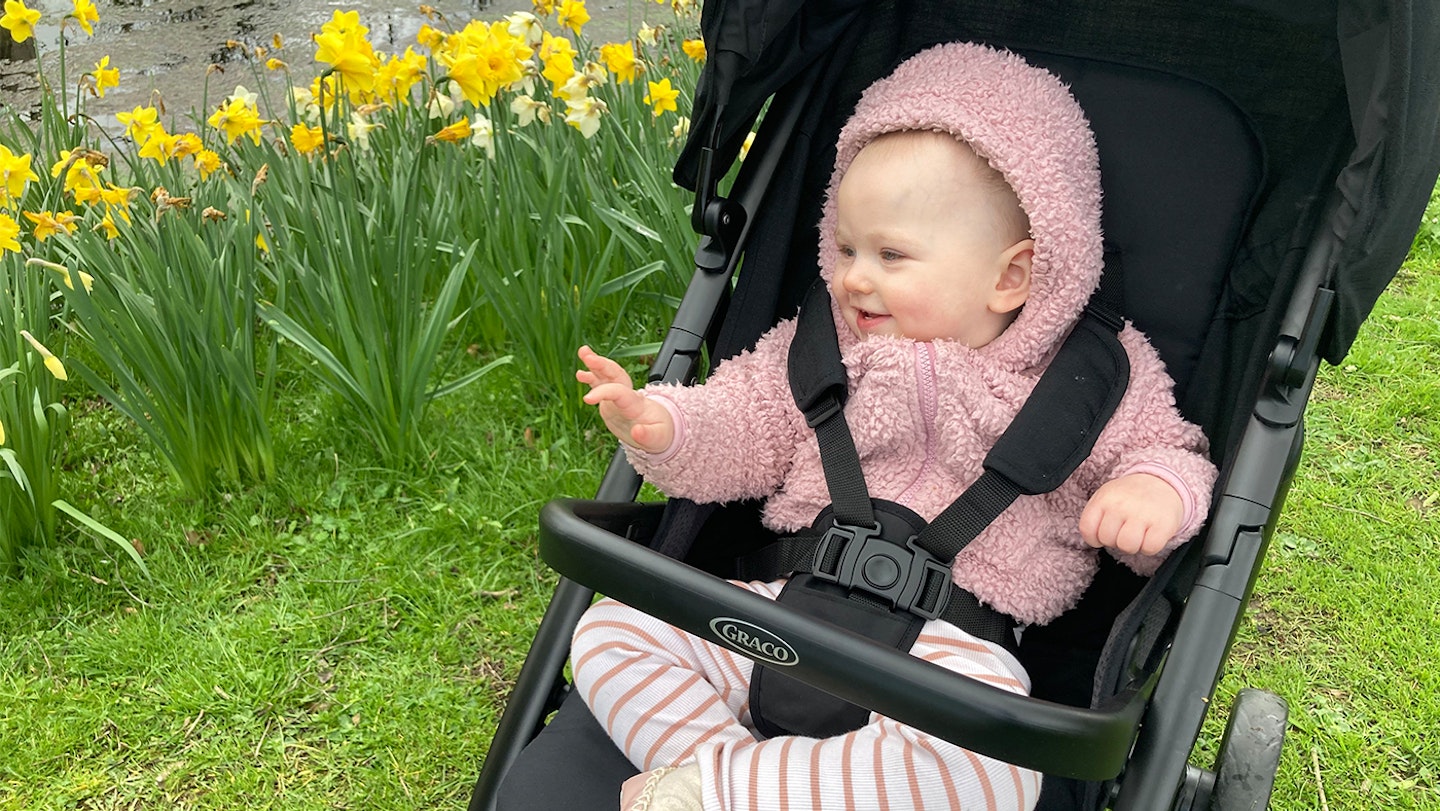 Final verdict
After a few weeks of using the Graco EeZefold, I am very impressed with this pushchair's overall quality and enjoy showing off its folding function to my friends. Its promise of being perfect for "families on the go" certainly rings true for our lifestyle as it's so portable and easy to integrate into everyday chores and outings. Its generous size shopping basket has proven a big bonus for our trips to the shops and our daughter certainly looks very comfortable in it too.
For me, the only downside is that the handlebar isn't adjustable and the harness fittings are a little basic and fiddly. However, for the price tag, I believe this is a marvellous pushchair which helps make trips out with a toddler just that little bit more manageable, even on a tough day.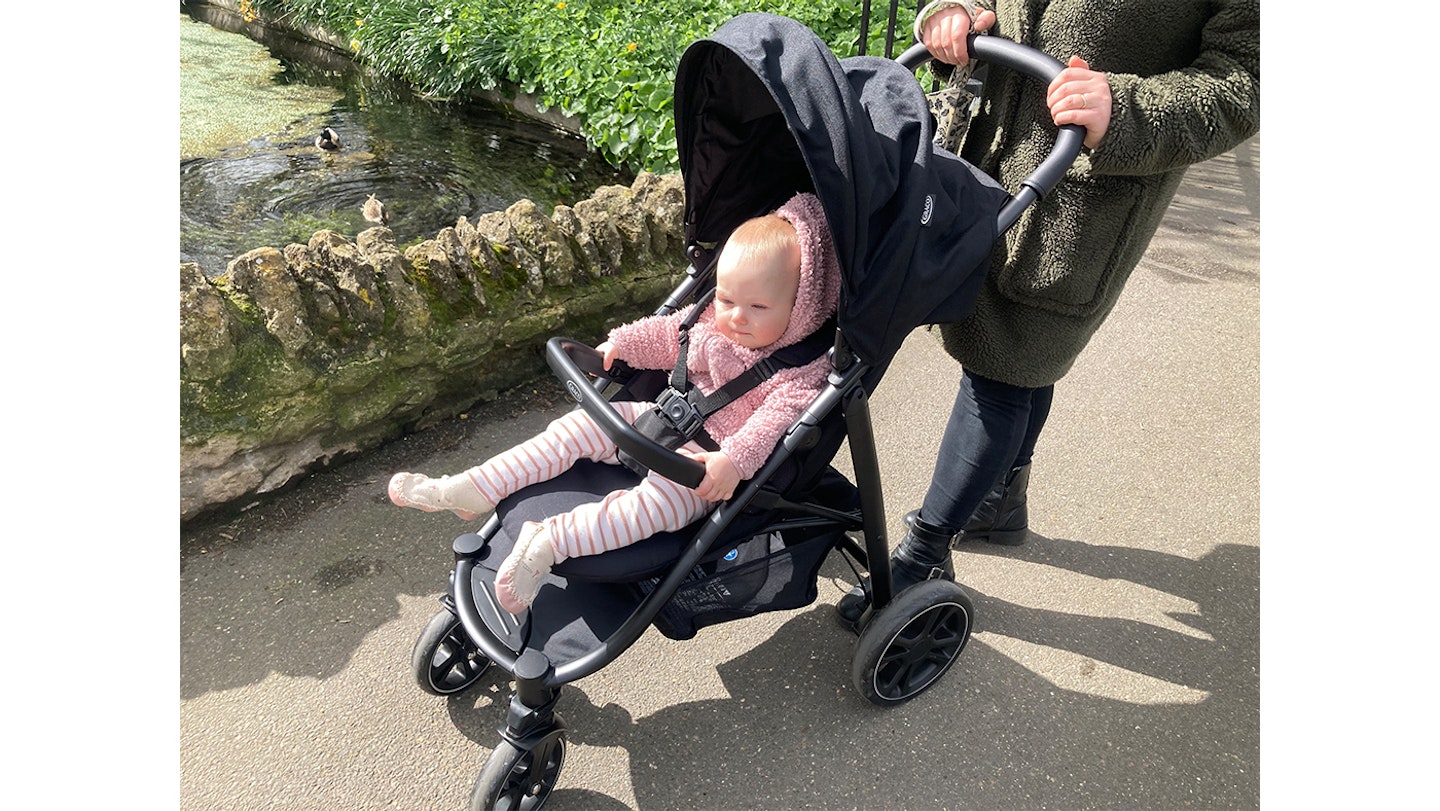 Graco EeZeFold FAQs
How do you unfold EeZeFold?
When unfolding the pushchair, just locate and release the folding lock, open the stroller and then gently push on the seat until you hear the click. This means it is now locked and ready to go.
How do you fold EeZeFold?
Once you're done using it, fold the EeZeFold by simply pushing the button and pulling.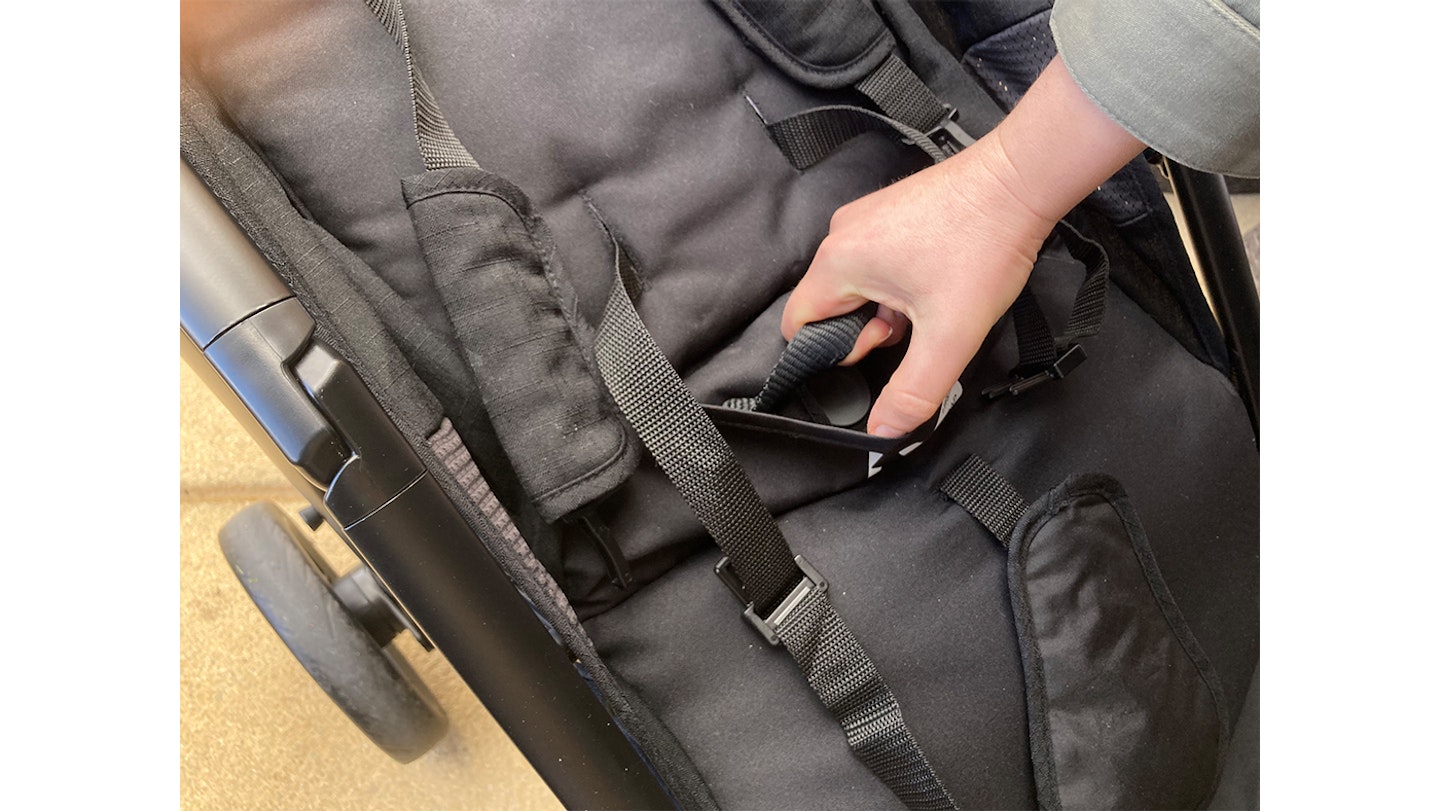 How much does the Graco EeZeFold weigh?
Although it's not the lightest pushchair on the market, the EeZeFold weighs 9.5kg. It also folds to the following dimensions: L31.5 x W59.4 x H82cm.