With spring (finally!) on the horizon, it's almost time to step out and enjoy the warmer weather with your family.  And mom-founded stroller wagon brand, Gladly Family, is making getting out the door even easier thanks to its Anthem All-Terrain Stroller Wagon Adventure Bundle which has everything you need to make your outings smoother.
You can choose from the award-winning Anthem 2 All-Terrain Stroller Wagon which has harnessed seats for two passengers and holds up to 140lbs in total, or the Anthem 4 All-Terrain which has harnessed seats for up to four passengers, and holds up to 250lbs in total. Designed with the intention that you shouldn't have to sacrifice function and safety for value, the strollers are made with a sturdy, welded aluminum frame and rugged all-terrain tires that are virtually puncture-proof. Both strollers also have smooth steering, an adjustable handle making for easy maneuvering, and a one-touch, easy-to-use brake that allows for more control.
Plus, there's no shortage of handy extras included in the bundle to suit your adventures (and the weather).
If the rain or wind is out in full force, you can ensure your kids are getting the protection from the elements they need with the stroller's rain-resistant, extra-large canopies. Breathable mesh inserts allow them to be covered but still see, and also help to keep bugs at bay.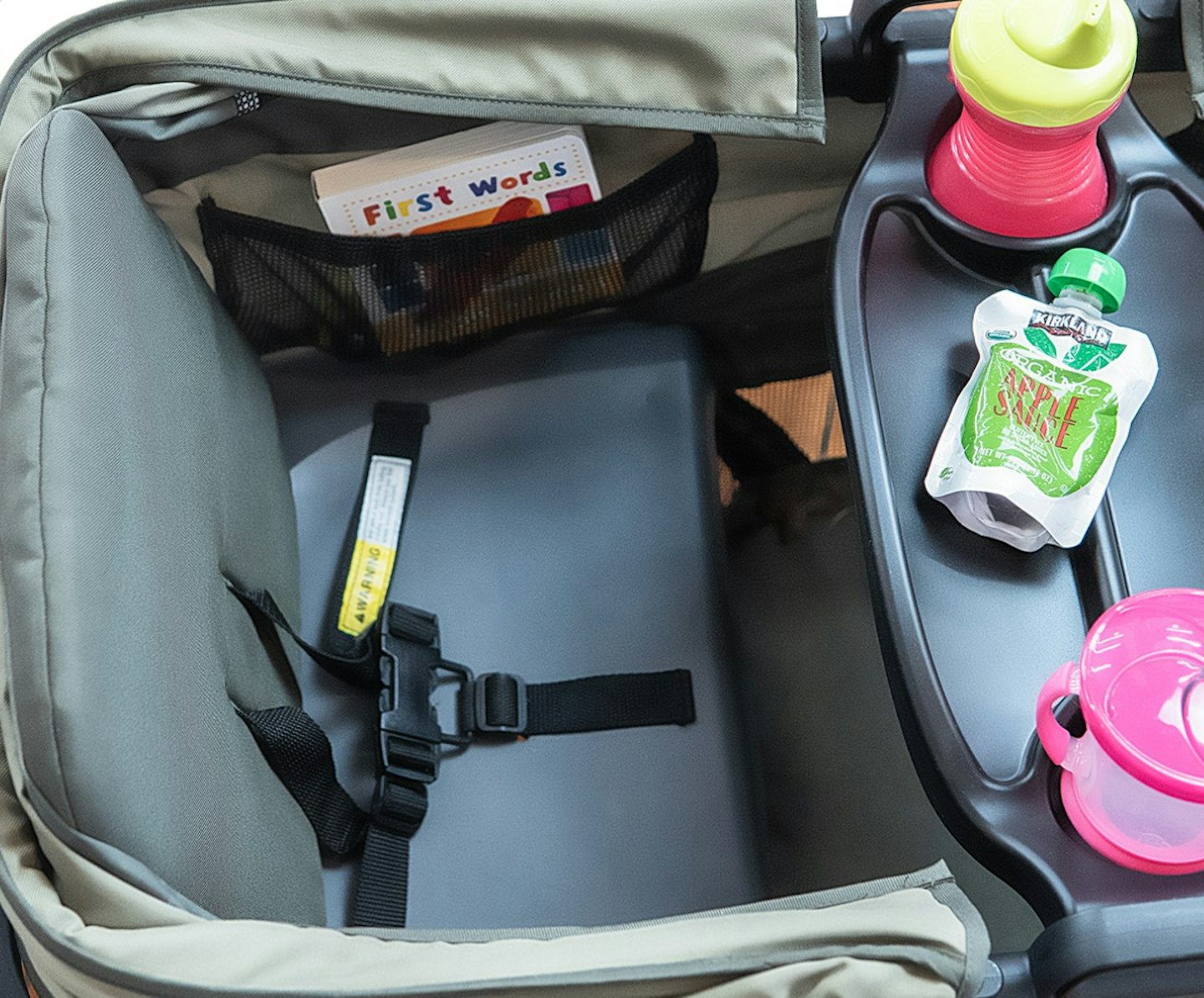 Nappy bags can be stored in the removable storage basket, the additional travel bag can be used for carrying handy extras, and there's also a cooler bag with a padded shoulder strap for when you're picnicking.
Speaking of eating, if it's snack time, the kids can munch on the go as the Anthem 2 has an inbuilt snack tray, while the Anthem 4 has four child cupholders to help keep them hydrated. And when nap time rolls around, both strollers also convert into a comfy space for them to lay their head with a stowaway nap mattress included.
For parents, there's an all-important cup holder to hold your coffee(s) during your stroll, too.
The ability to customize the bundle to suit your needs is what co-founder and mom, Jen Johnson-Latulippe says is at the heart of the brand. "The Anthem Adventure Bundle gives families so many options to enjoy time outside together," she says. "Our philosophy is to ask parents what they need, then give it to them with high-quality products that last."
And reviews of the Adventure Bundle show they're delivering exactly what parents need.  One reviewer wrote that it not only made their family outings easier but storage and assembly of the stroller were effortless, too: "This wagon is phenomenal! My daughter loves to sit and play in the wagon even within our home. Assembly was a breeze with detailed instructions that anyone in the house can do… Collapses easily for storage when not in use. I truly do not think I could recommend this wagon anymore!"
Right now, you can get 30 per cent off the Anthem 2 Adventure Bundle (normally $649), and Anthem 4 Adventure Bundle (normally $799) by using the code ADVENTURE30 at checkout. Happy strolling!
Save 30% with code ADVENTURE30