This compact, easy-to-use pushchair can be folded with one hand into a small bundle. With plenty of storage and great for city life, Woosh is ultra-lightweight and ready for anything at just 6kg. With lockable front-swivel wheels, all-around suspension and a new and removable bumper bar for extra support, nothing's getting in your way.
Here's what Gemma, mum to Beatrice one, thought of the Cosatto Woosh 2...
How did this product make your life easier?
With a compact size when folded and a lightweight frame, the Cosatto Woosh 2 stored really easily in the boot of my small hatchback car, with space left over for other bags. I was even able to stand it in the footwell of the car when my boot was full which is a big plus.
The handy storage compartment for the rain cover is an excellent addition which I haven't seen on other prams and meant we never forgot it and had it to hand in case of an unexpected shower. The one-handed fold was easy to use, saving time when needing to pack up the car quickly or store it away when home even while still holding a baby or hand of a child.
The seat was easy to adjust and crucially could be done smoothly so that the seat could be fully reclined without waking the sleeping child. There is also a handy key clasp in the back pocket.
Would you recommend this to other parents?
I would recommend the Cosatto Woosh 2 to other parents but probably only to those with children aged 18 months plus (confident walkers) or as a 2nd buggy to use for holidays/days out where space is at a premium. It would be great as an option for an older toddler who needed it for a rest in between walking but I personally wouldn't find it supportive/comfortable for young babies.
Would you choose this product above all others on the market?
Plus points over others buggy include:
The seat is very upright (many competitor models do not allow the child to sit completely upright)

One-handed fold/compact/lightweight

Storage underneath is better or comparable to competitors

Raincover storage
Negative over others:
Not easy to steer one-handed

Couldn't unfold completely with one hand

Brake position

No zip on the back compartment and not very deep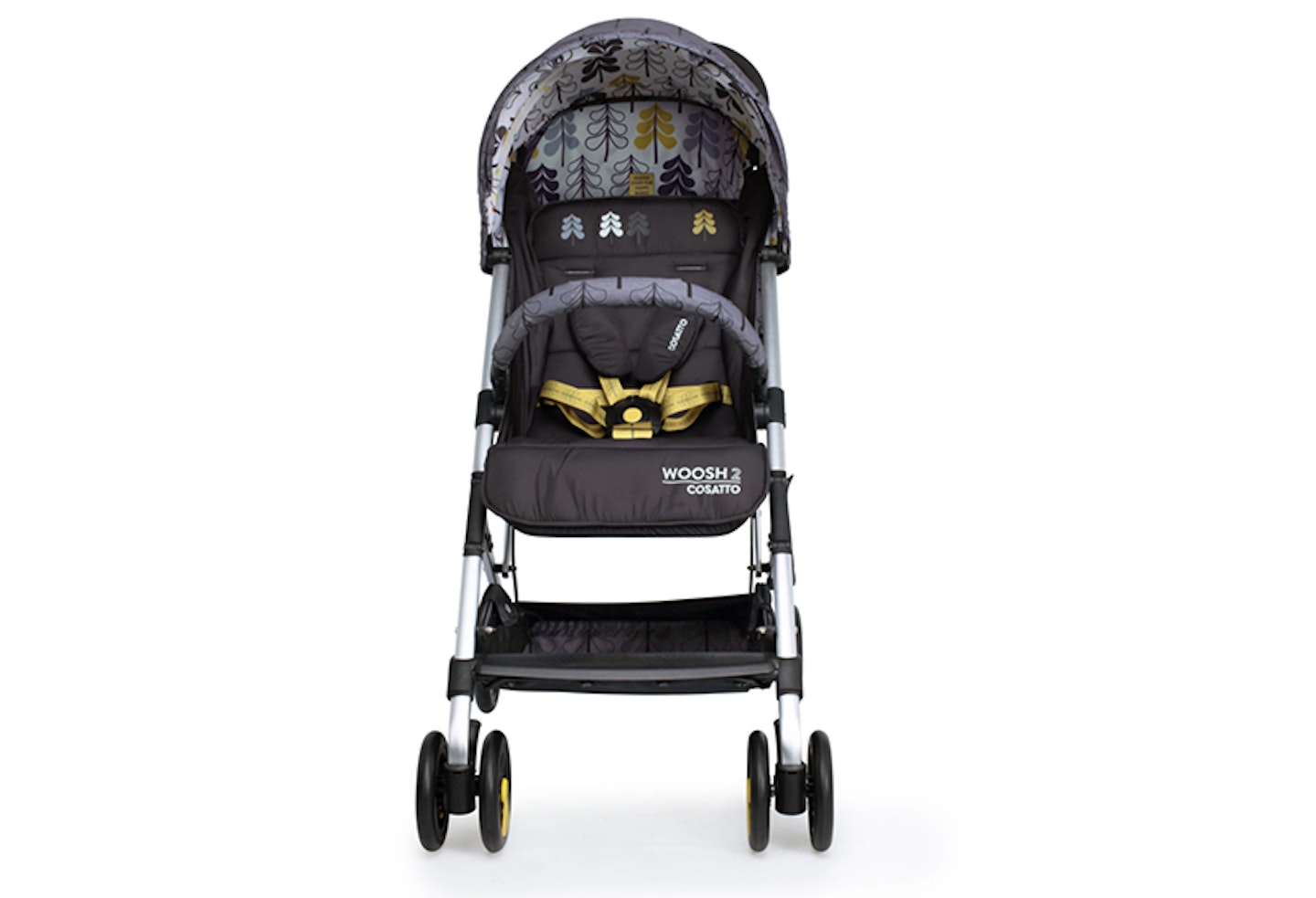 What changes would you make to this product?
The Bell - I would remove this and leave it as an extra in the box to be added if needed. It is very tightly attached so removing it leaves a big dent in the handle. The bell would sound if you went over bumpy ground or if you caught it with your hand. I personally would feel rude ringing a bell when using it.
The Brake - While I really liked that you could operate it by pressing the top (saving your toes when wearing sandals) it really needs to be moved to one side. I am fairly short and even I kept catching it when walking which meant having to keep a shorter stride than is natural for me. For my taller husband, the position of the brake combined with a non-adjustable handle meant that he couldn't really push it comfortably at all.
Design/Colour Ways - This is a matter of personal preference but I would prefer a plain colour option rather than heavily patterned/brightly coloured options only.
Newborn insert - I didn't use it for a newborn, however, I wouldn't feel it would be comfortable/supportive enough for a newborn without perhaps an insert.
Product Information
Suitable from birth to max weight of 25kg. Lets your toddler use it for even longer.

Lightweight, sturdy aluminium frame.

Newborn recline.

Woosh 2 is compact with a free-standing fold allowing for easy transportation.

Lockable swivel front wheels for quick manoeuvres.

Roomy seat for extra comfort.

Removable seat cover.

Removable bumper bar for extra support.