This reusable night-time system comprises two parts. The Bamboozle Nappy Wrap and Bamboozle Stretch. Use the Bamboozle Stretch Nappy inside a waterproof Bamboozle Wrap for 12 hours of no leaks. The ultimate reusable bamboo nappy for comfort, fit, and overnight dryness which is why it won silver in our Mother and Baby Awards in the Best Reusable Nappy category.
Overview of the TotsBots Bamboozle Night - Two Part Nappy System
Pros
Easy to get on
Highly absorbent
Quick drying
Cons
Testing the
Overview of the TotsBots Bamboozle Night - Two Part Nappy System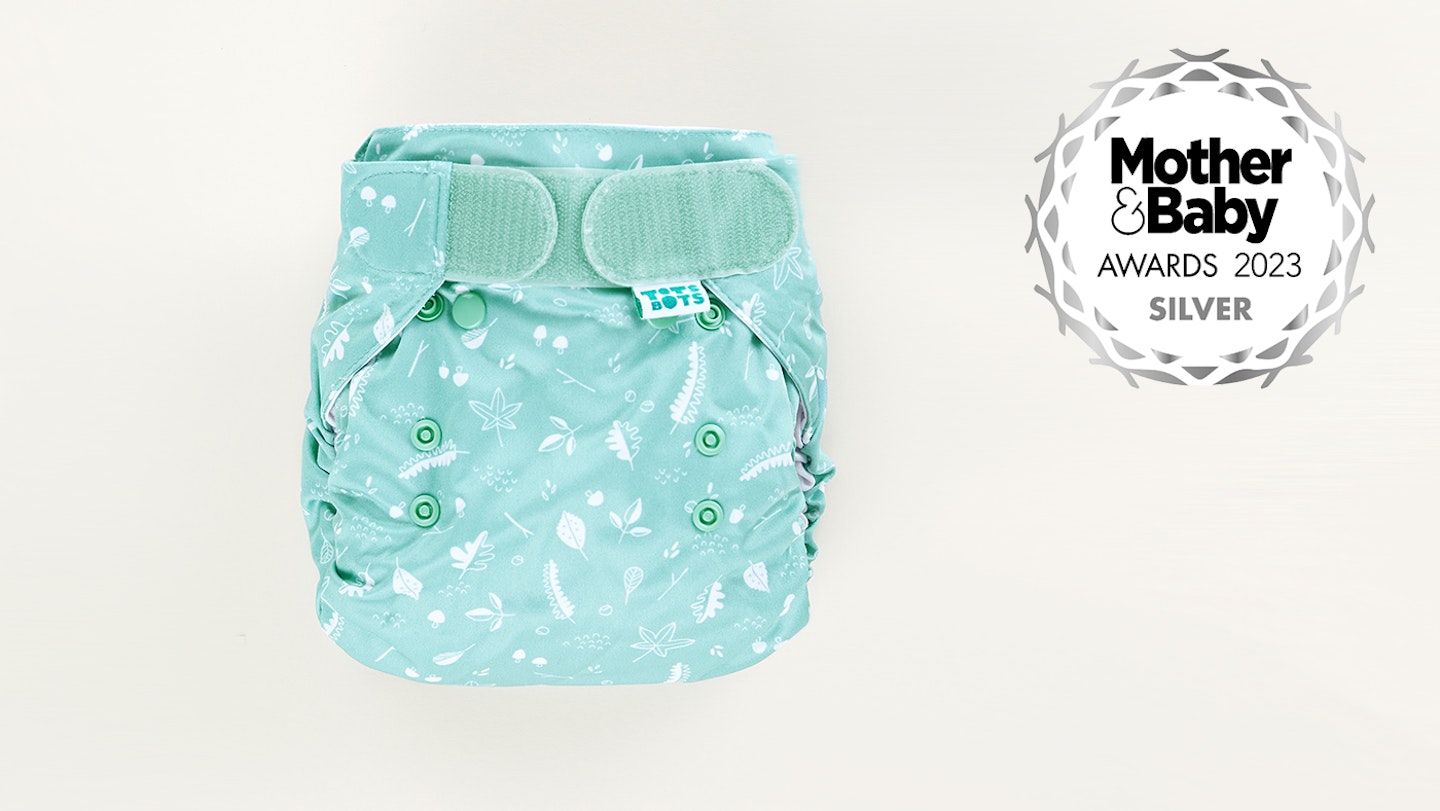 Once parents got the hang of these nappies, they found it to be great for the night time to avoid any leaks.
One mum said, "It took a few reads of the leaflet and watching some YouTube videos to understand how the nappies go together but once we understood how the different layers and cover worked they worked well. We used these for nighttime with the extra absorbent layer and we didn't have any issues with leaking after a full nights sleep which is exactly what it says they should do so they have delivered on this."
We're all becoming increasingly conscious of our carbon footprint which is why reusable nappies have been growing in popularity in recent years. While some of our testers were used to reusables, others were new to them, but it didn't take them long to get used to them and learn what all the fuss is about.
A mum tester said, "After previously having leaks with other reusable nappies at night we were resorting to disposables which wasn't what we wanted. Therefore we were excited to try the Bamboozle system. It was self-explanatory of how to fit the nappies there is an inner absorbent nappy with a wrap. There were also boosters which I found we needed overnight. They fit quite bulky so we needed to use a size up for vest to sleep in. I loved them overnight – super absorbent and no more leaks. They lasted for up to 10 hours. I now feel less guilty about the number of disposable nappies we were having to use."
One thing that our testers weren't so keen on was the fact that they need to be pre-washed a few times before using which our testers found quite time consuming and a bit of a waste of energy.
"When first reviving the items you have to wash them 8 times before use. This feels like a waste of energy and time and surely would be better if this step was done in manufacturing before going out to customers. Trying to find the time to wash them over and over with a newborn and all the extra washing this brings was difficult. Other than that I don't really have any other issues."
The biggest reason our testers loved this nappy was because of how absorbent and reliable it was at night. "It is the best reusable nappy that we have used for overnight - it keeps the twins dry for 12 hours, which is exactly what it claims to do. You can't really ask for more than that in my opinion."
Final thoughts
If you're keen to make some eco-friendly swaps and give reusable nappies a go, then we can highly recommend the Bamboozle system. Especially if you're worried about nighttime leaks. Our mum found them to be reliable and leak free for their little ones, lasting through the night.
There were a few aspects they would like to see changed, such as the excessive pre-washing and lack of different designs, but once the nappies were on their tots, they worked just as they needed them to which meant some very happy parent testers.
Full product spec
Adjustable poppers allow the nappy to grow with your baby
Oeko-Tex 100-certified means no harmful chemicals next to baby's skin
Pre-wash nappy before use. Bamboo will need approximately 10 washes to reach full absorbency.
Slim-fitting and stretchy
Easy hook and loop fastenings
Pair with the waterproof Bamboozle Nappy wrap which gets reused 3-5 times before washing