With so many celebs choosing to show off their baby bumps with their choice of maternity clothes instead of hiding them, maternity bodycon dresses have become a staple piece in any pregnancy-friendly wardrobe. When you're pregnant, maternity dresses and fashion options in general can seem more flowy and modest, which is absolutely fine for some, but if that's not your style, then you deserve to wear what you want mama.
Maternity bodycon dresses combine a stylish and trendy look, with design elements that will accommodate to your bump and keep you comfortable. They're perfect for any event or date night, and having a selection of maternity bodycon dresses in your closet will make you feel prepared for important milestones, like your baby shower or a gender reveal.
Similar to when picking items like maternity jeans, when you're looking through all the maternity bodycon dresses, you'll want to pick out options that suit your personal sense of style, plus dresses that will fit you in all the right places. This can feel a little overwhelming when you're confronted with so many designs, but luckily, we're here to help.
Editor's Choice
• Best budget maternity bodycon dress: New Look Maternity Pink Ribbed Racer Midi Bodycon Dress
• Best nursing and maternity bodycon dress: Seraphine Short Sleeve Ribbed Maternity and Nursing Midi Dress
• Best maternity bodycon dress for parties: Dorothy Perkins Maternity Blue Puff Sleeve Midi Dress
Down below is a list of our favourite maternity bodycon dresses. We've picked a fabulous selection, taking into consideration size range, styles, materials, and prices. Keep reading to see what we picked.
The best maternity bodycon dresses 2023
Best budget maternity bodycon dress
Description
Coming in a selection of wearable colours (we're loving the vibrant pink option), this New Look
Pros
Soft ribbed jersey
Amazing value
Cons
It's hard to find any at that price!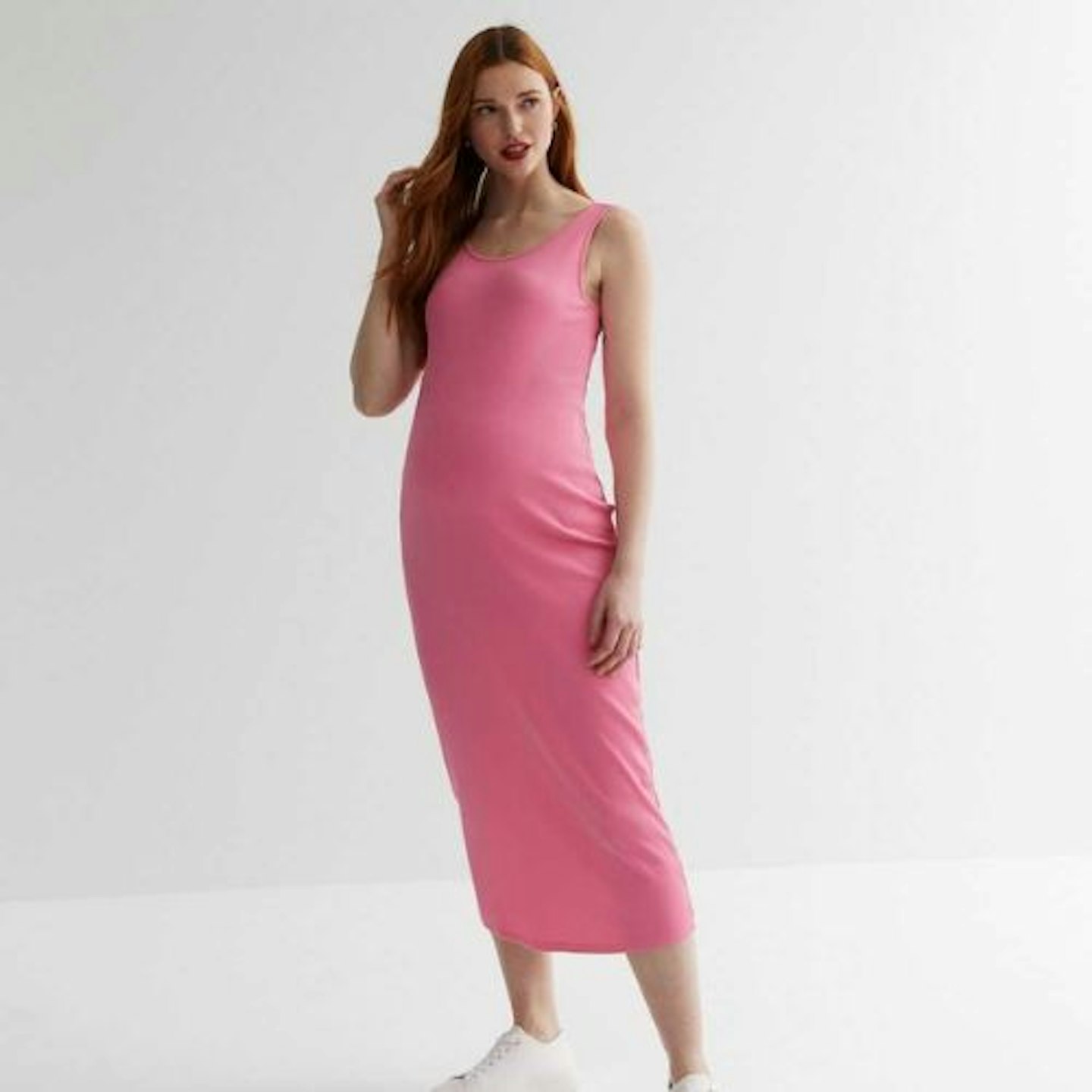 Best multicoloured maternity bodycon dress
Description
With a unique but trendy look, this Frugi Kori Knitted Maternity Dress is perfect for when it's a
Pros
Ethically sourced materials
Soft and stretchy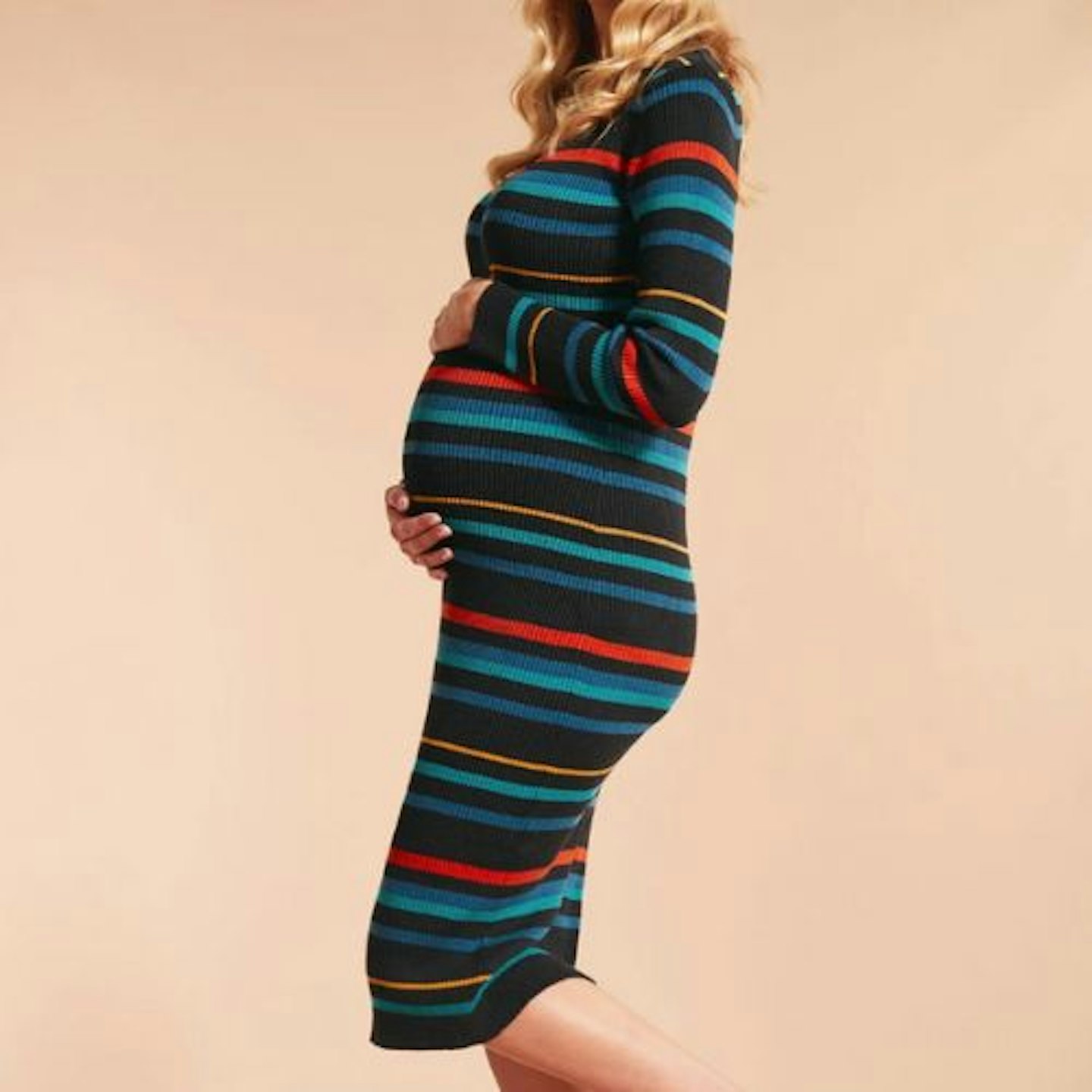 Best nursing and maternity bodycon dress
Description
For a classic and elegant look, we're loving this stunning Seraphine Short Sleeve Ribbed Maternity
Pros
Lift up nursing access
Easy to wear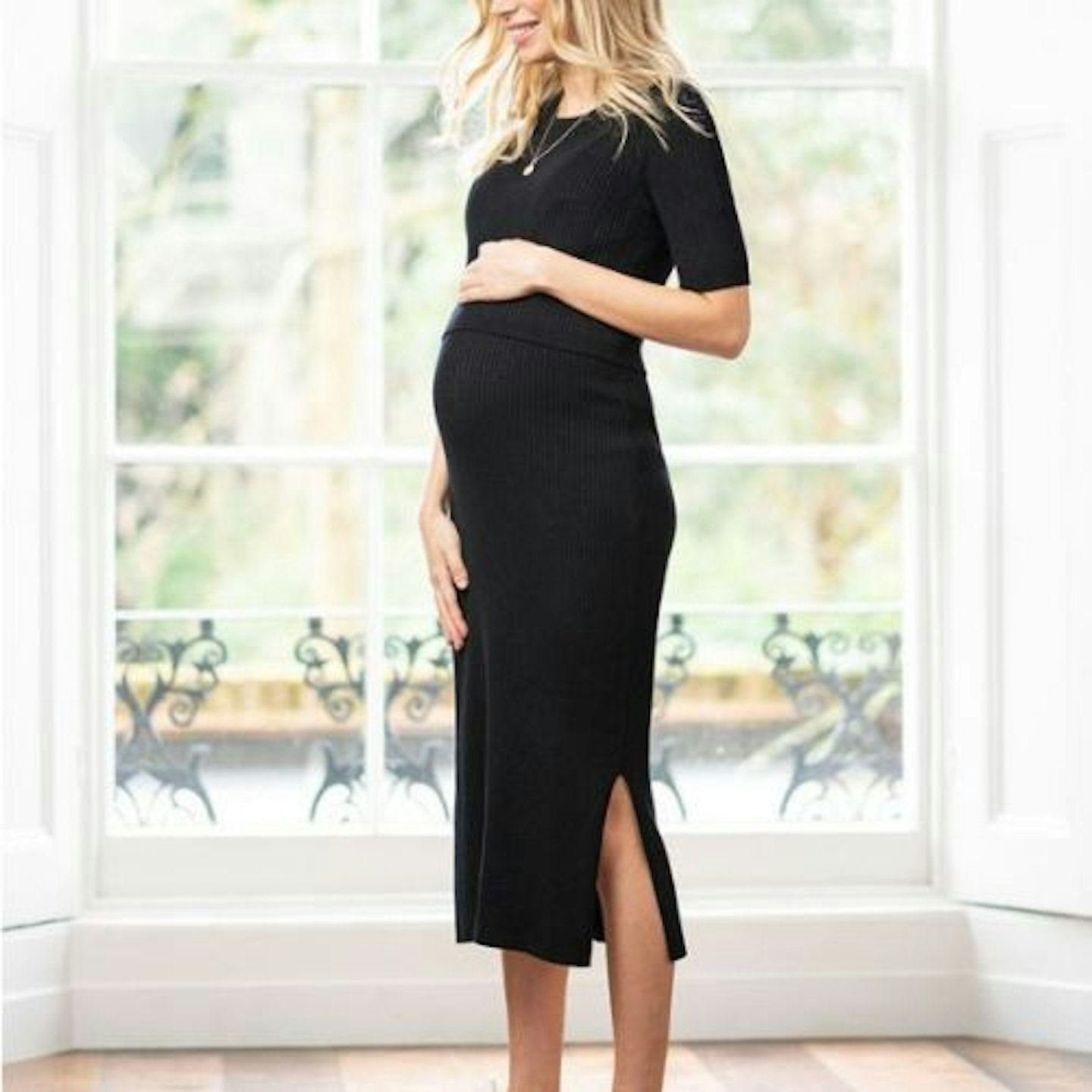 Best casual maternity bodycon dress
Description
Made from a soft-knit and stretchy material, this casual-chic dress would be perfect with a jacket
Pros
Super soft
Machine washable
Cons
Maternity styles cannot be returned in store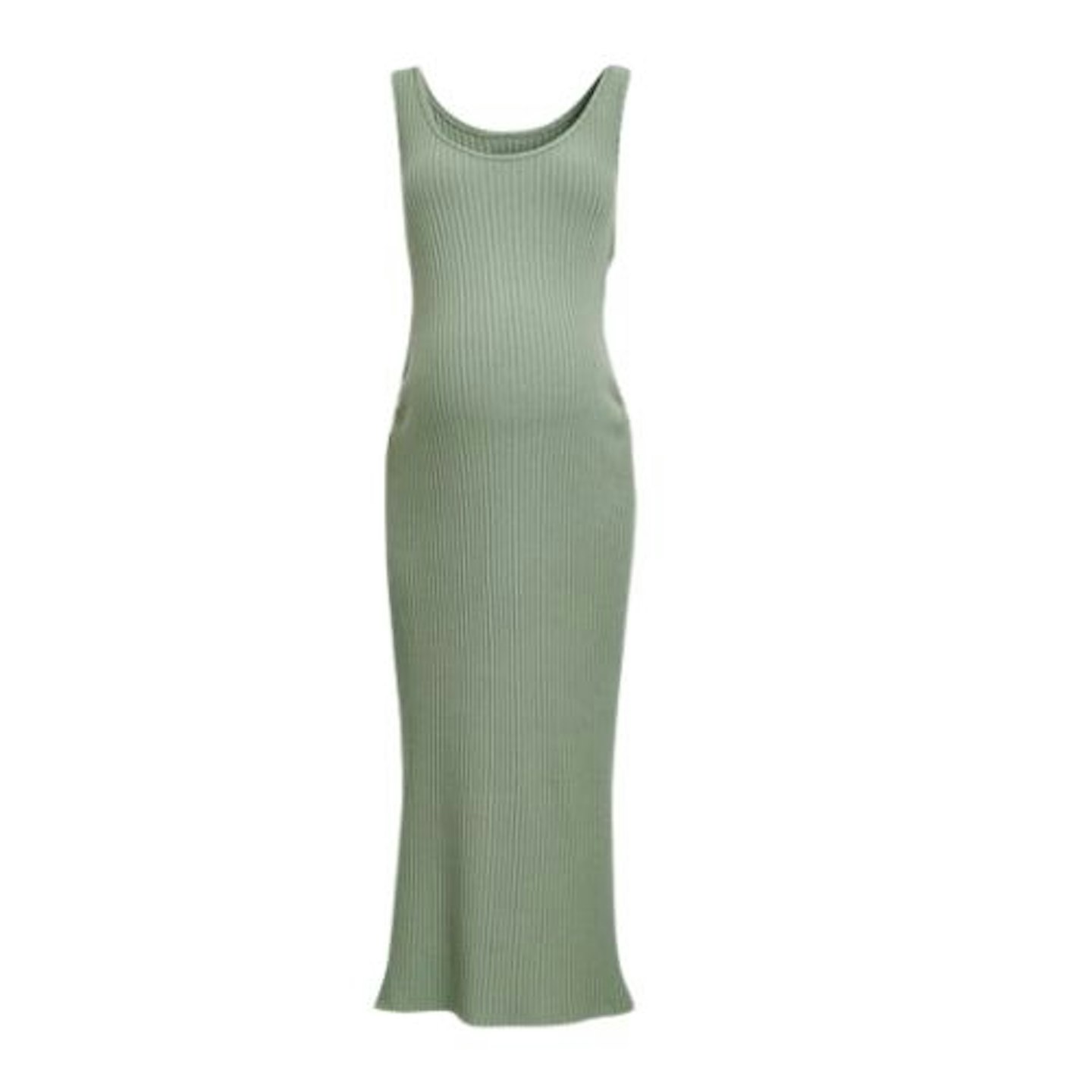 Best mini maternity bodycon dress
Description
With a crew neck and sleeveless design, this New Look Maternity bodycon mini dress in black is
Pros
Designed for throughout pregnancy
Stretchy and soft
Cons
Some reviewers suggested sizing up with this one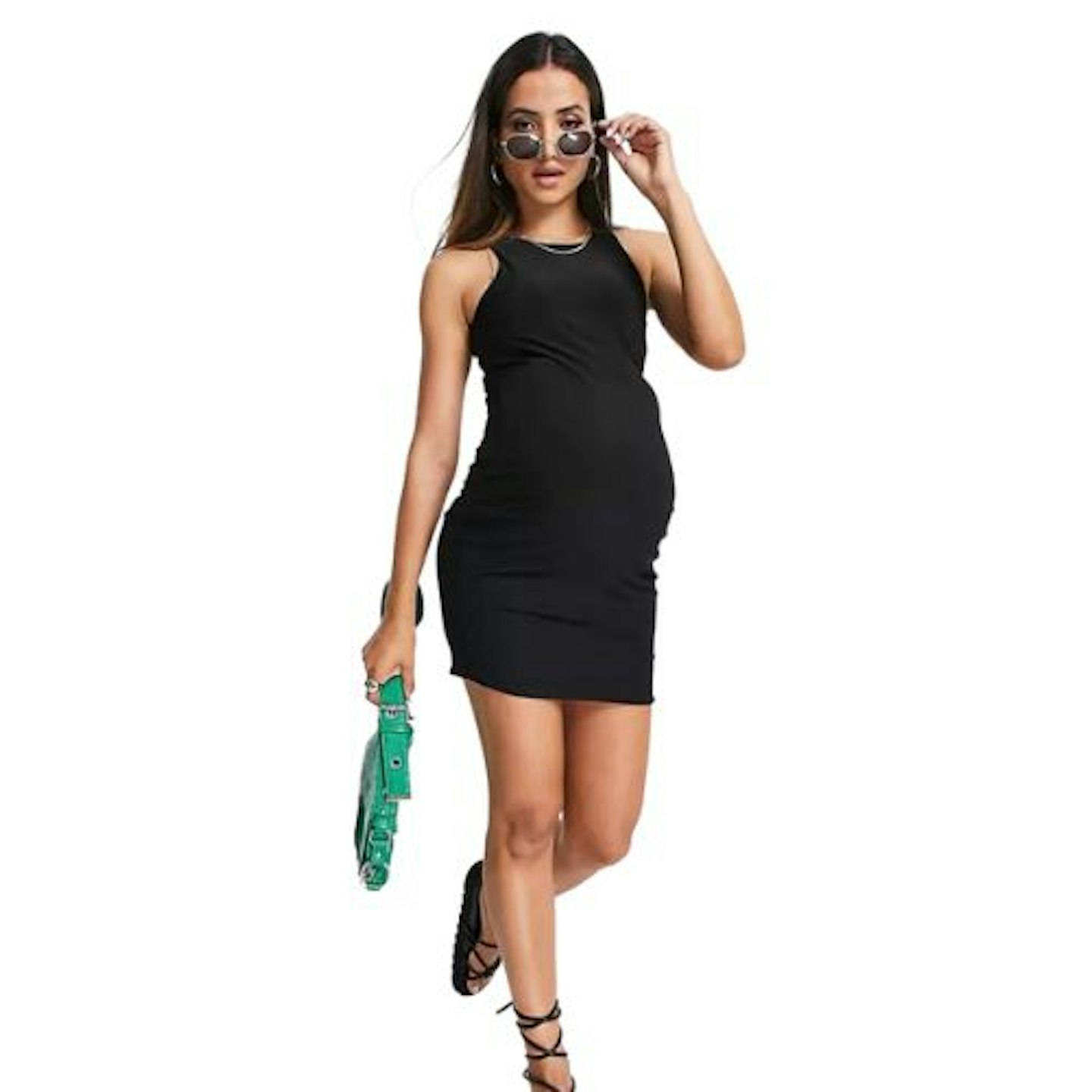 Best maternity bodycon dress for parties
Description
Perfect for a party or formal event, this beautiful blue dress fits flatteringly around your bump,
Pros
Great size range
Fitted but stretchy
Cons
Won't be to everyone's taste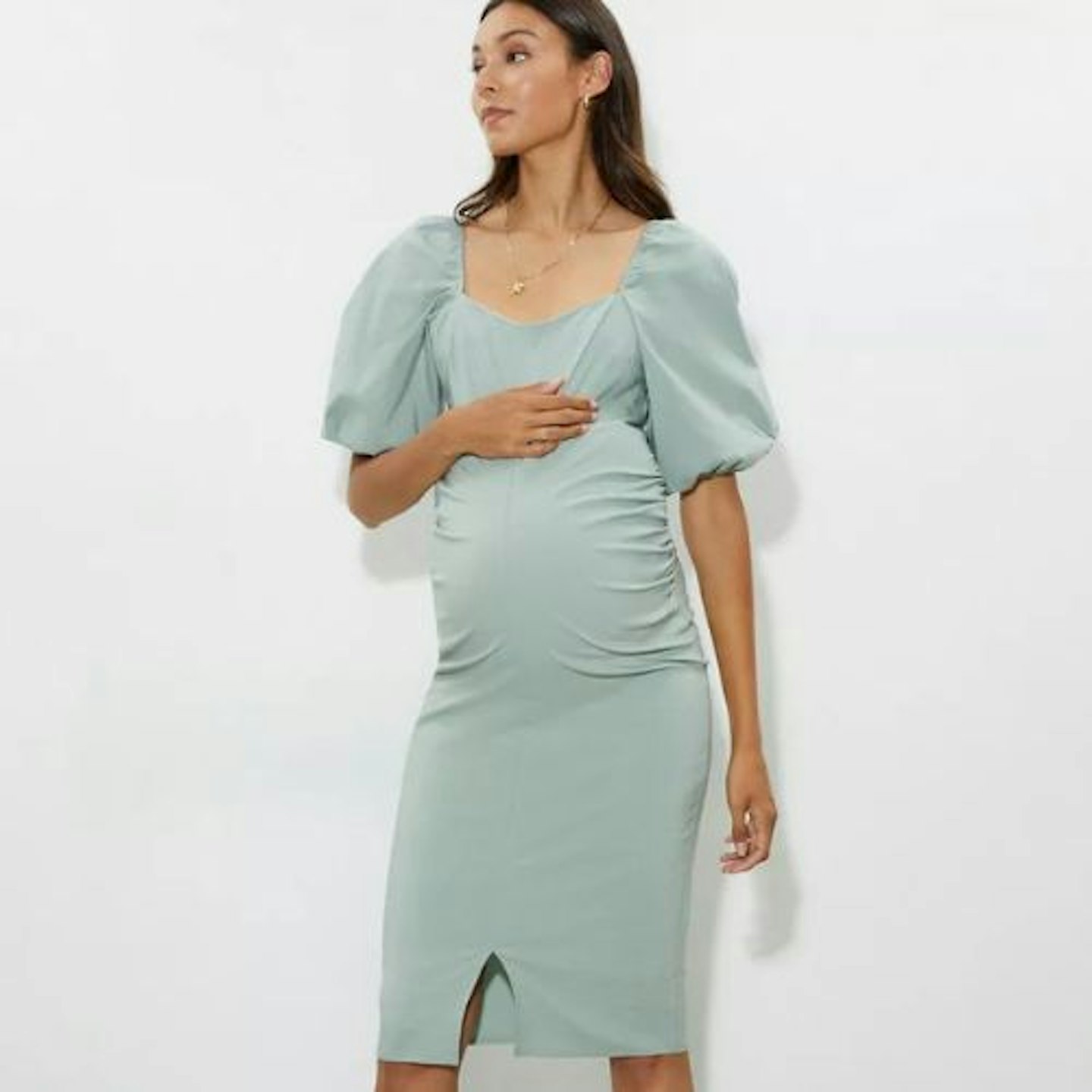 Best maternity bodycon dress for work
Description
We love that this River Island black maternity bodycon midi dress comes in such a versatile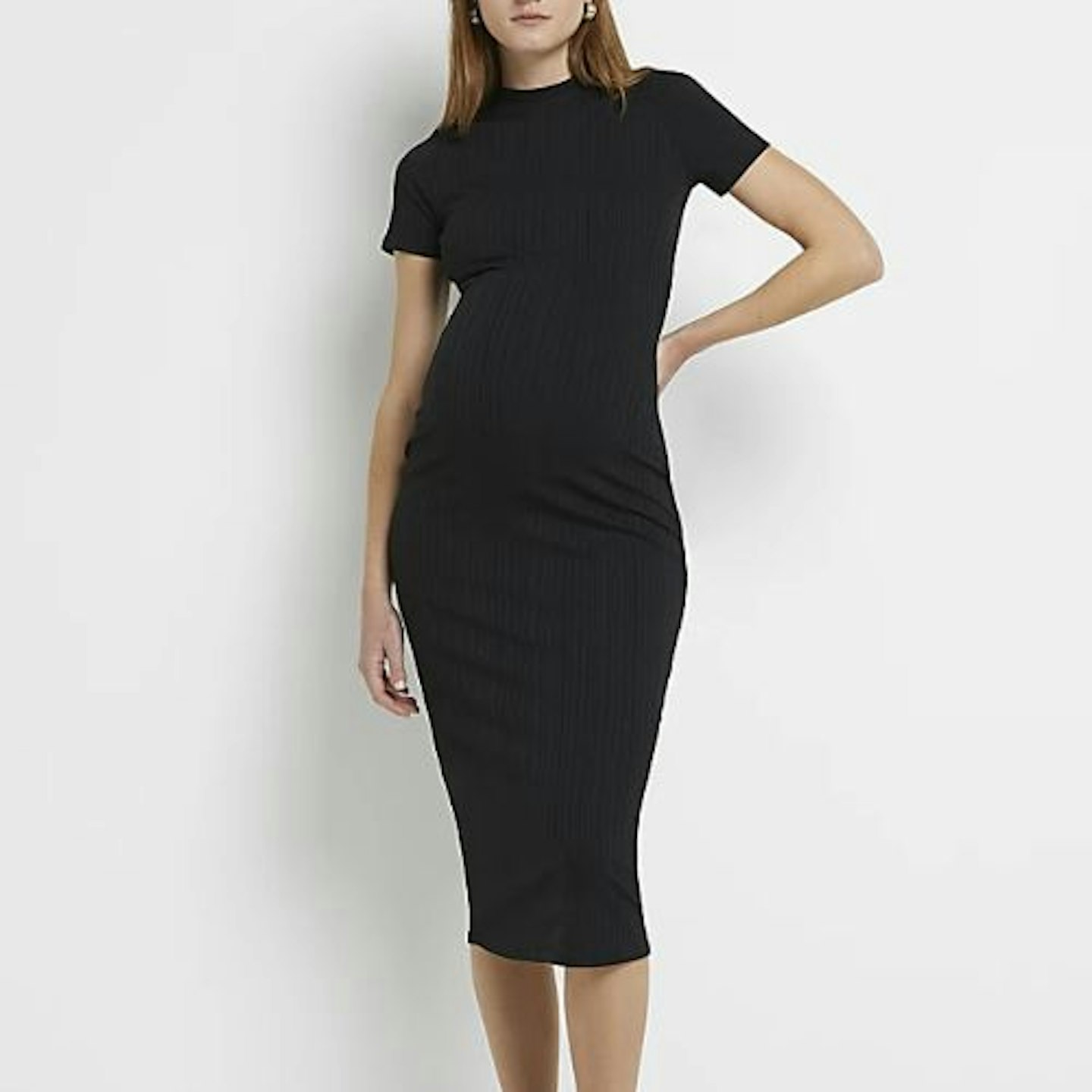 Description
Keep your off-duty look fresh with this maternity moss sand ribbed longsleeve midi dress. This
Pros
Range of neutral colours available
Comfortable stretchy fabric will grow with bump
Cons
Currently not available over size 12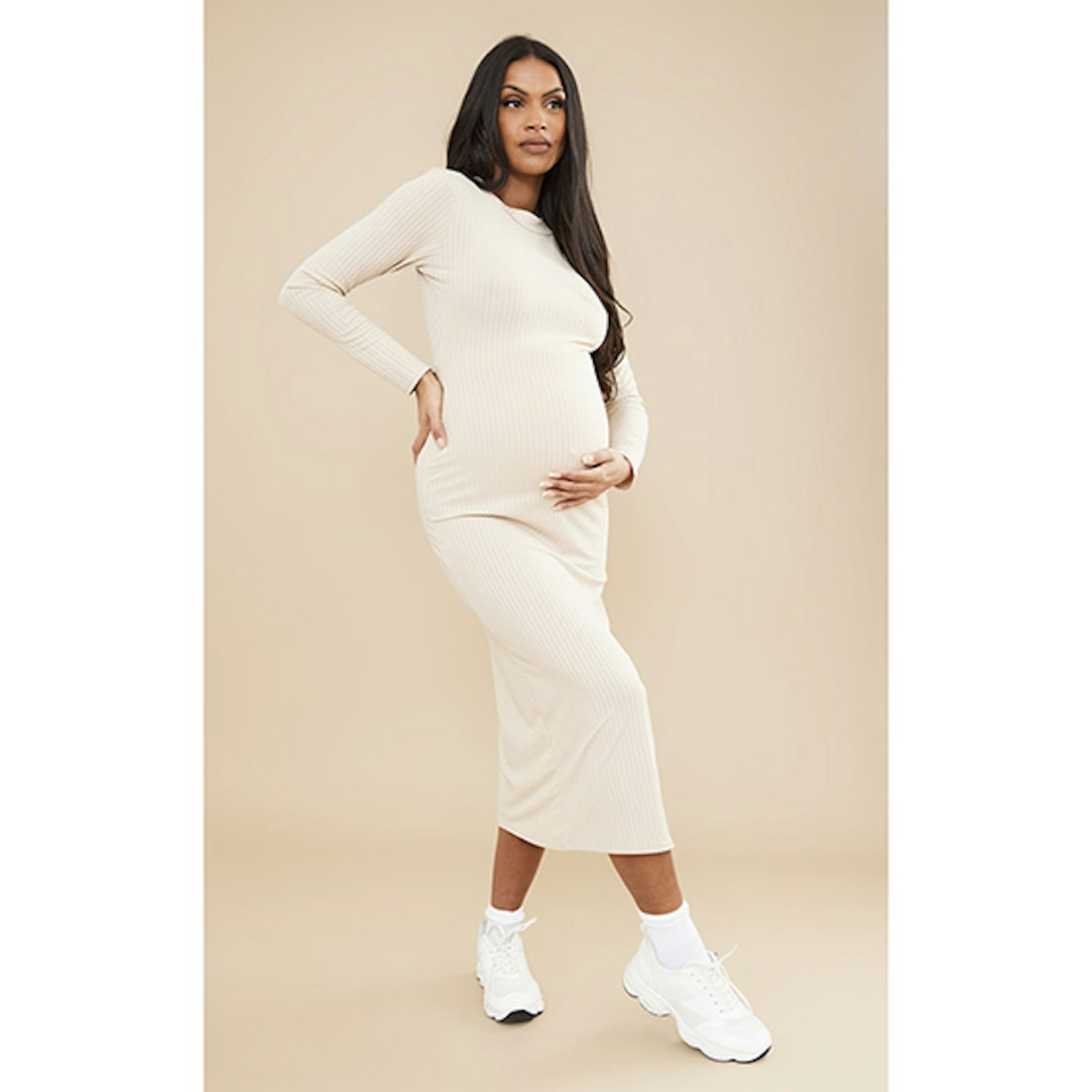 What should you consider when choosing a maternity bodycon dress?
Design - Is the dress stretchy while still being fitted? Is it made from breathable material for summer or warmer fabrics for winter? Does it accommodate to a growing bump? Can you breastfeeding easily while wearing it?
Size - A good maternity dress should fit your regular dress size, but your body will be changing a lot, so be open-minded to sizing up for certain styles of maternity bodycon dresses.
Budget - Finding the perfect bodycon dress doesn't have to break the bank. If you have a budget, stick to it as affordable maternity clothes are a lot easier to find these days. Some of the dresses in our list above are great value and absolutely stunning, so you don't need to overspend.
Style - What is your personal sense of style and will that dress work with the rest of your wardrobe? Do you need a formal maternity dress or something more casual? Is the colour wearable?
How do you wear a bodycon dress when pregnant?
It can be really frustrating when others expect you to alter your personal style and recommend more 'frumpy' clothes when you're pregnant. Maternity fashion can be whatever you heart desires in the end of the day, it just accommodates to your growing bump and is designed to keep you comfortable.
Maternity bodycon dresses are no different to the dresses you wore before pregnancy when it comes to style, so wear them how you want to. Just pop on your favourite maternity coat on top and go enjoy yourself.
Eve Miller is a Commercial Content Writer for Mother&Baby, working for Bauer Media for over two years. She is passionate about beauty, creative writing, and women's healthcare.