Trying to find the best hair dryers for curly hair or the best productscan be daunting. Necessities for the best hair dryers generally focus on things like quickness, sway, and heat, while curls have a distinctive set of needs.
Unlike straight hair, curly hair tends to lack oils and easily dries out, making it harder for it to be looked after. Therefore, you'll want to centre your attention on products that help increase moisture to the hair and avoid the ones that are going to dry or weigh it down.
If you want or decide to use one, it's important you use heat-protecting spray or opt for a treatment before you choose to do so. Investing in products like Childs Farm coco-nourish hair care range or looking for a spray containing silicone or keratin to help make it more resistant to heat damage will help do your hair justice.
• Best overall hair dryer for curly hair: Beautyshow - buy from Amazon
• Best for design: Lily England Rose Gold - buy from Amazon
• Best for protection: Professional - buy from Amazon
It is safe and harmless to blow dry your child's hair, only if you protect and prepare the hair for blow drying. This means ensuring the hair is thoroughly washed, sprayed with a detangler, conditioned and wrapped with a heat protectant to help decrease the chances of damage. Make sure that the hairdryer remains about 7 inches away from your child's head being used, as this stops the heat from producing any harm to the hair or scalp.
If you still can't find the one that is perfect for your little one's curly hair, don't stress. We have made life so much easier for you, by selecting our top 15 below.
Best for strength
Description
Is your little one late for her playdate? Well, rush no more, as this is designed for fast drying.
Pros
Nanoe Technology: Panasonic's innovative Nanoe tech is proven to give a healthy flawless shine.
Easy-to-clean, removable filter. 
Cons
May be heavy and uncomfortable to hold
Best for moisture
Description
If you lack moisture, then this must-have product is very powerful and promises long-lasting shiny
Pros
Flawless drying that leaves hair visibly smoother and shinier.
Minimizes drying time while reducing static and frizz 
Cons
Diffuser may be a bit bulky
Best for speed
Description
Investing in this product means that your hair will do the talking. It has a unique feature that
Pros
Provides a fast and efficient drying experience. 
The airflow speed of 23m/s, combined with 3 times the air pressure of normal hair dryers
Best for control
Description
Whatever style you desire, Remington will help protect your hair with its advanced coconut therapy
Pros
Its Advanced Conditioning Ring contains Micro-Conditioners infused with coconut and UV Filters.
The concentrator blasts your hair quickly and the Diffuser helps enhance natural curls and waves
Cons
Not many colours to choose from.
Best for mobility
Description
Say bye-bye to volumeless and frizzy hair with ghd hair drying kit because this award-winning
Pros
Its powerful 2,100W professional-strength motor and patented removable air filter deliver high-pressure air flow for super-fast drying.
Professional hair dryer with a salon-strength motor for super-fast drying and ionic technology.
Cons
The placement position of control buttons is not easy to use
Best for travel
Description
Going anywhere nice this Christmas? if yes, meet your ultimate travel friend because you are going
Pros
Dries hair fast and delivers smooth results.
You can use a cool shot to set the style.
Cons
A little heavy, but folds down neatly.
Best for extra curls
Description
A hairdryer with powerful speed and airflow which can give your hair extra fast drying, saving
Pros
Weighs only 340g and is less than 20cm long.
The diffuser and nozzle have magnetic suction technology and can be rotated 360 degrees.
Cons
The on/off switch in positioned in an odd place: opposite side to the controls.
Best for colour
Description
Achieve a flawless and smooth hair blowout in minutes with this smart and reliable dryer, which
Pros
Foldable stand for hair dryer.
Powerful, fast-drying hair dryer for straight, wavy, curly, and coily hair.
Cons
Gets very hot quite quickly.
Best for style
Description
This professional ionic dryer has the power to form a protective film on the surface of each hair,
Pros
Thermostat Technology combines high-velocity heated air and ionized air for fast drying with no heat damage.
Provides salon-grade strong wind to dry your short, long, thick or curly hair in 2-6 mins and reduce the frizzy.
Best for faster hair drying
Description
Who says you can't create a mini hair salon in your own home? Drybar's beloved Buttercup
Pros
Lightweight design (0.51 kg).
Wave heater allows for uniform heat distribution for faster and more even drying.
Cons
Diffuser is not included.
Best for texture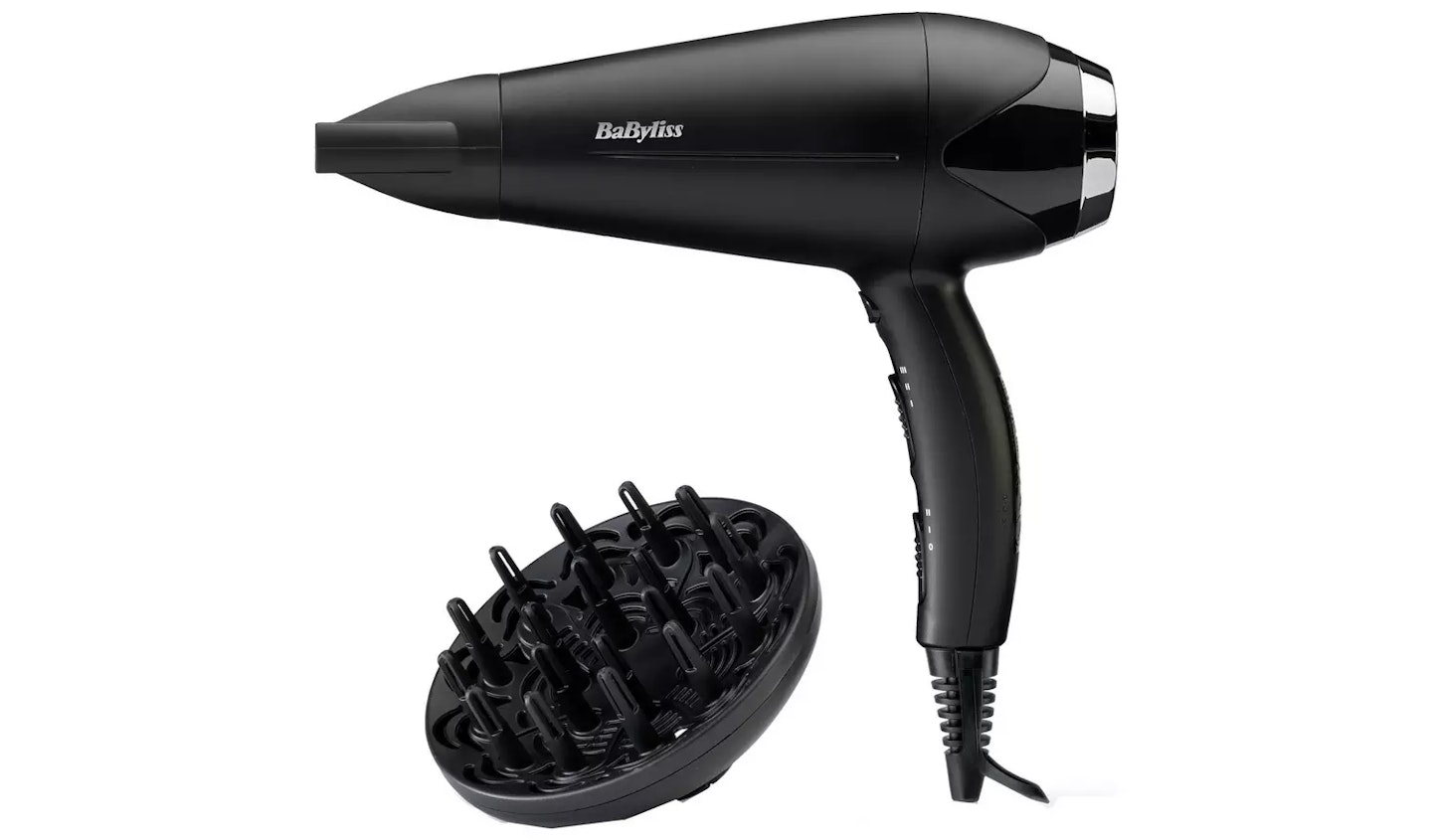 Argos
Description
The BaByliss turbo smooth 2200 is lightweight and knows how to comfortably control dried-out hair.
Pros
2 speed and 3 temperature settings, including a cool shot to set your style.
Diffuser attachment included - adds volume and defines curls and waves.
Cons
The nozzle may refuse to stay on and fall off.
Best for uniqueness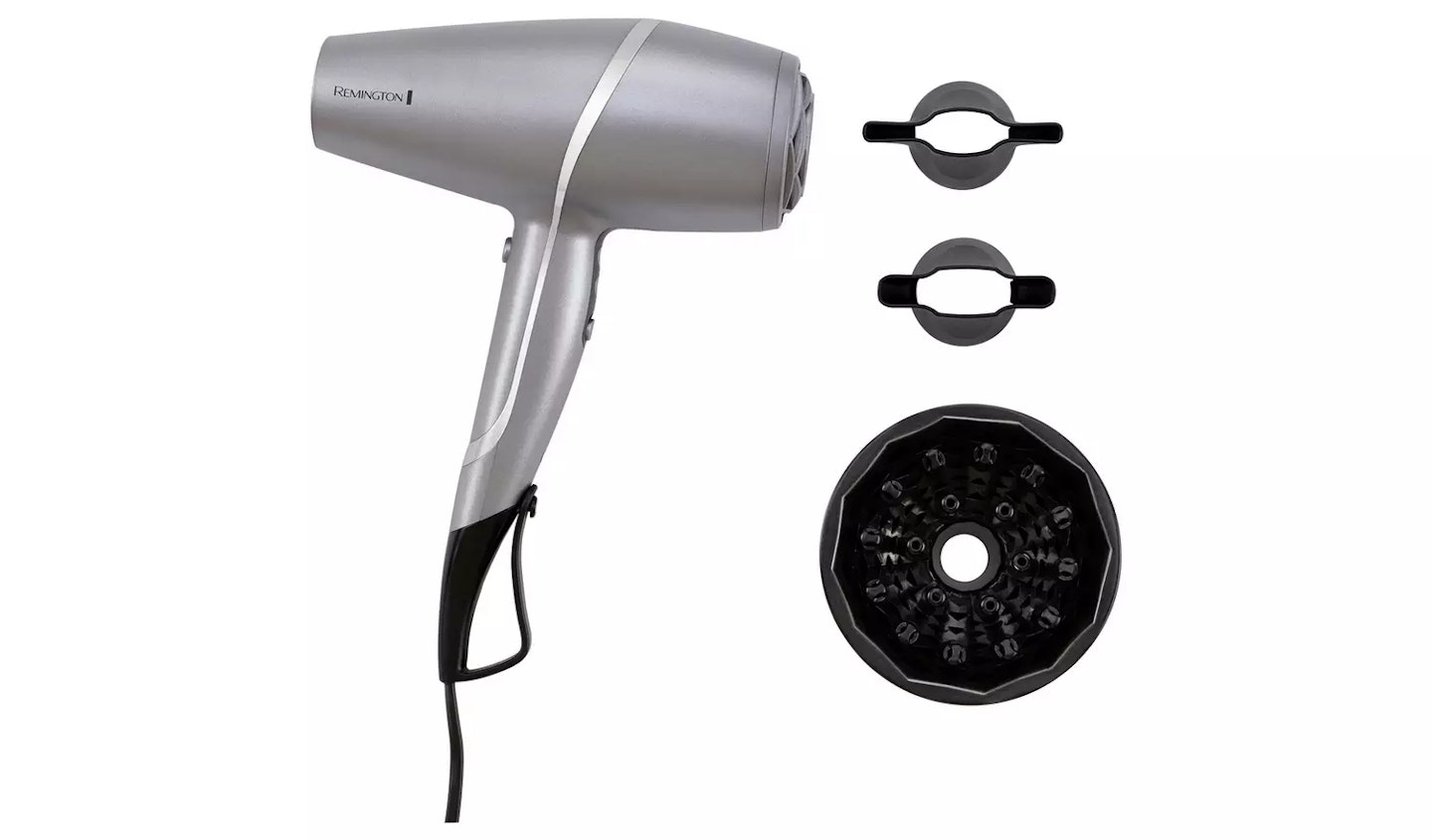 Argos
Description
Your hair is stunning, and so should your styling products, which is why PROluxe is meant to be.
Pros
Removable and rotatable Concentrator nozzle for controlled styling. 
Diffuser attachment included - adds volume and defines curls and waves.
Cons
Very heavy and sturdy to hold in the hand.
Best for kinky hair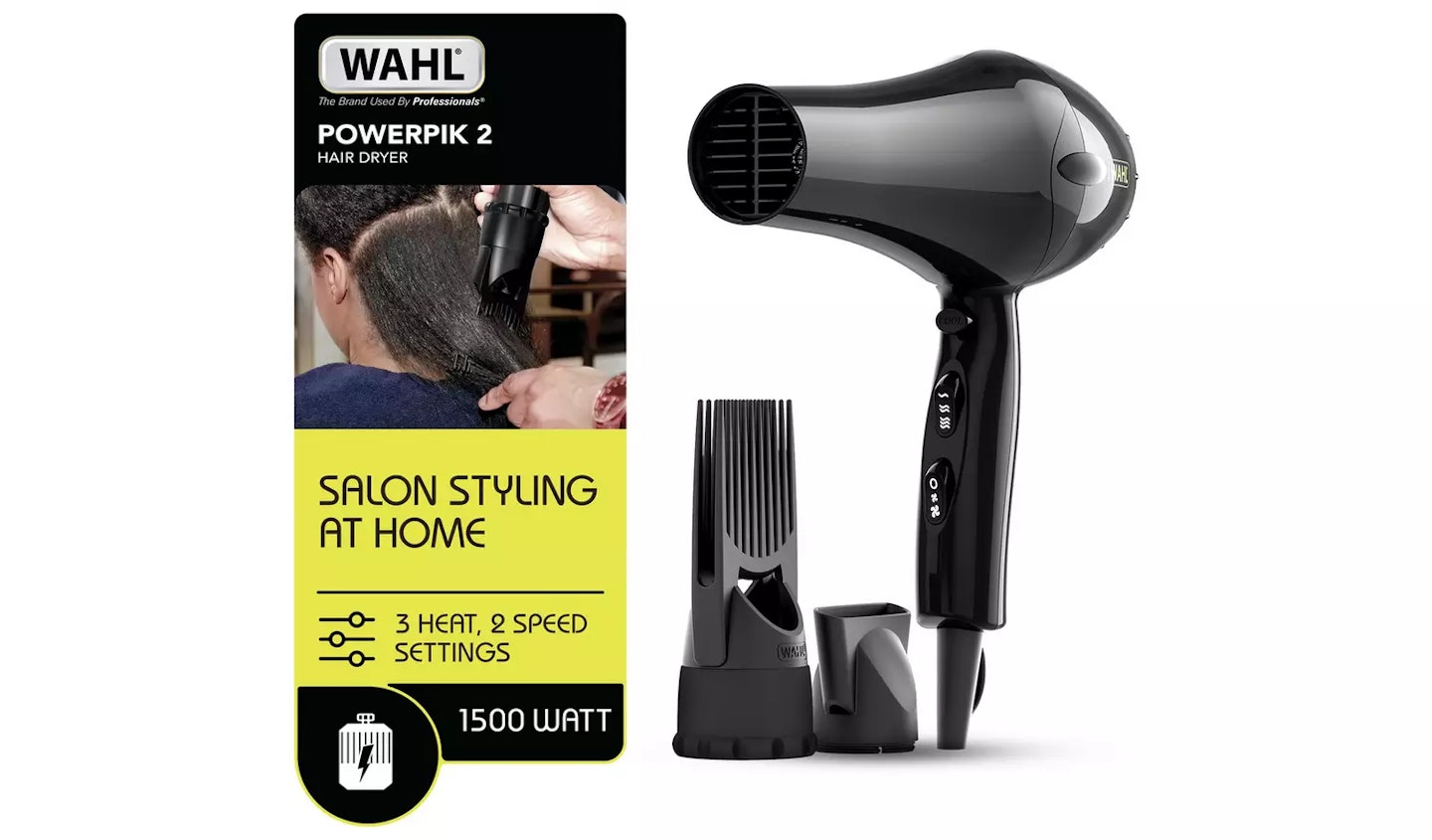 Argos
Description
Ideal for drying Afro-Caribbean hair types, the pik attachment allows the hot air to speedily dry
Pros
2 speed and 3 temperature settings, including a cool shot to set your style. 
Optimum temperature control.
Cons
Comb may slip off when blow drying.
Best for speed
Description
A dryer with a name that says it all! This professional hairdryer from Red Hot is the perfect
Pros
This striking red-coloured professional-style hair dryer will deliver you fast and efficient hair styling in 2 different styles.
Features a diffuser nozzle which is perfect for providing volume-enhancing curls.
Cons
Gets very hot and cannot be touched.
FAQ's
Is it safe to blow dry my child's hair?
It most certainly is, but prepare the hair for blow drying, making sure it has been washed, detangled, conditioned, and sealed with a heat protectant to prevent hair damage.
At what age can I start blow-drying my child's hair?
Four years old is a good age to start with. Although there are kids who are terrified of loud noises, take it one step at a time. The decision is really up to you. Some parents would say that they prefer blow drying because it makes styling and looking after their child's hair easier. While others would prefer not to because of possible heat damage.
Mummy to a little girl, Adejumoke Ilori is Commercial Content Writer for Mother&Baby. With a BA hon in Creative Writing, she has worked for digital platforms, where she has empowered women from the inside and out, by sharing real life stories based on relationships, loving yourself and mummyhood.