Combining skandi style with functionality, Stokke produces timeless designs that can grow with your child. Covering a range of categories including car seats, bathtime and nursery furniture.
Stokke™ are offering one lucky winner the chance to win all three of their award-winning highchairs; Tripp Trapp®, Stokke CLIKK® and Stokke Steps™.
With safety and child development at the forefront of their design, each high chair seamlessly combines timeless and stylish Scandi design with features that ensure the healthy development of babies and young children.
Whether you're looking for a classical design icon, the perfect feeding chair or the complete and modern seating system, Stokke has the right chair to suit you and your family's needs and requirements.
Here's what some real parent testers thought of Stokke's three high chair products:
What were your first impressions of each of the highchairs when you received them?
Laura: I thought the Clikk looked very small and compact, I received it in white so it looked quite basic once set up. Both the Steps and Tripp Trapp took some time to set up as assembly was more complex but both looked very impressive once completed. All three fitted easily within my kitchen and didn't take up a lot of space so that was a great first impression!
What did you like most about the Steps, CLIKK and Tripp Trapp highchairs?
Faye: The adaptability of the Tripp Trapp chair is excellent and I have to admit, I am really impressed with it. We love the way the highchair can be adapted, not only with the different accessories, but changing the height of the seat and footrest is brilliant. Our toddler told me that she "loves it" and to be honest, its very difficult to get her out of the chair now. We love that she is sat correctly and its really helping her posture. The curved style of the Steps chair is a good next step from a traditional high chair, as she feels safe in it. This chair lives at her grandparent's house, she calls it her "big girls" chair. The ability to take the Clikk high chair with you is excellent and we love the way it collapses and can fit in the carry bag. We also love that it can be popped in the dishwasher.
Is there a feature you would like to see on Steps, CLIKK and Tripp Trapp in the future?
Laura: For the Clikk, I understand there are 2 positions for the foot rest however it would be good if different levels were available so you could move the foot rest up or down as your baby grows. It would be great if there could be easier assembly for both the Steps and Tripp Trapp; due to some of the positions it was very difficult to use the Allen key to secure the screws, this made set up quite time-consuming for both.
Would you use the any of the highchairs again? If so, which and why?
Faye: Yes we will be using them all for a variety of reasons but our favourite by far is the Tripp Trapp. In fact I think we are going to buy another of these so our children have one each. We were blown away by the flexibility of the high chair, including the brilliant newborn attachment which means our 4-month-old boy can be part of meal times, and the ability to change it into a chair for an adult is perfect. Its provided us with an additional chair!
Would you recommend the Steps, CLIKK and Tripp Trapp to others?
Laura: Yes I would definitely recommend all three of these high chairs. I would recommend the Steps or Tripp Trapp to first time parents as it's such an important purchase and Stokke have really thought of all your needs when it comes to a high chair so that stress is taken away.
Which of the three highchairs would you purchase and why?
Faye: The Tripp Trapp and we may purchase another! We absolutely love the way it adapts according to the height of your child. We do love the newborn seat too. Our baby can comfortably be a part of family meal times which is excellent. The only thing is I wish the cushions were waterproof/wipeable as we are potty training!
More about the products
The Classical Design Icon, Tripp Trapp®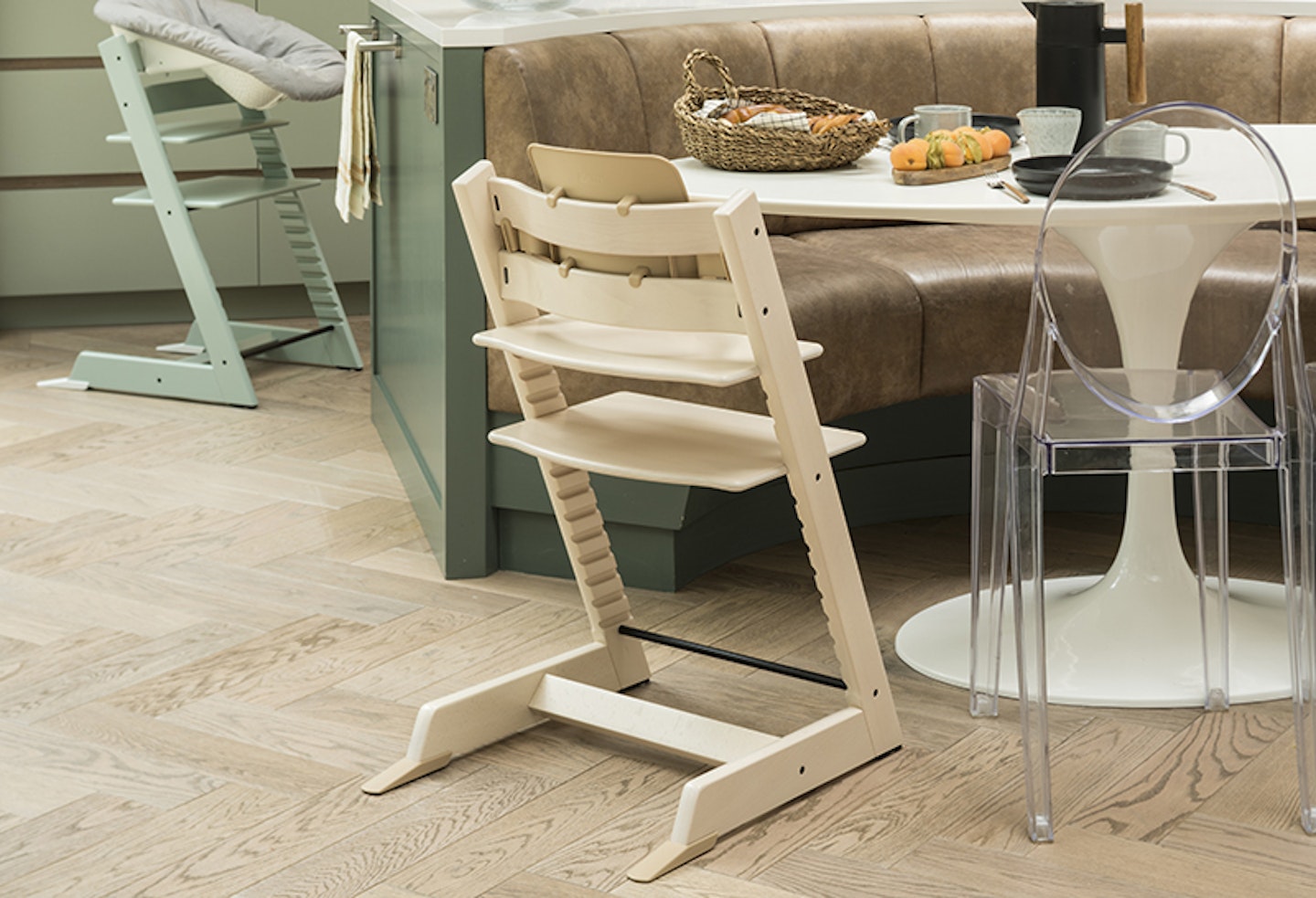 The Chair That Grows With The Child™, Tripp Trapp® is as iconic in design as it is in status. With an array of colours to choose from, perfect for matching at home interiors, Tripp Trapp brings your baby to the dining table and at the heart of the family to learn and develop with you. Made entirely from wood and with the possibility to be used from newborn to adult, not only is it sustainable, but it's also perfect for passing on from generation to generation. For an added touch of personalisation, Tripp Trapp can also be engraved with your choice of name or initials, making it extra special for little ones.
The Perfect Feeding Chair, Stokke™ CLIKK®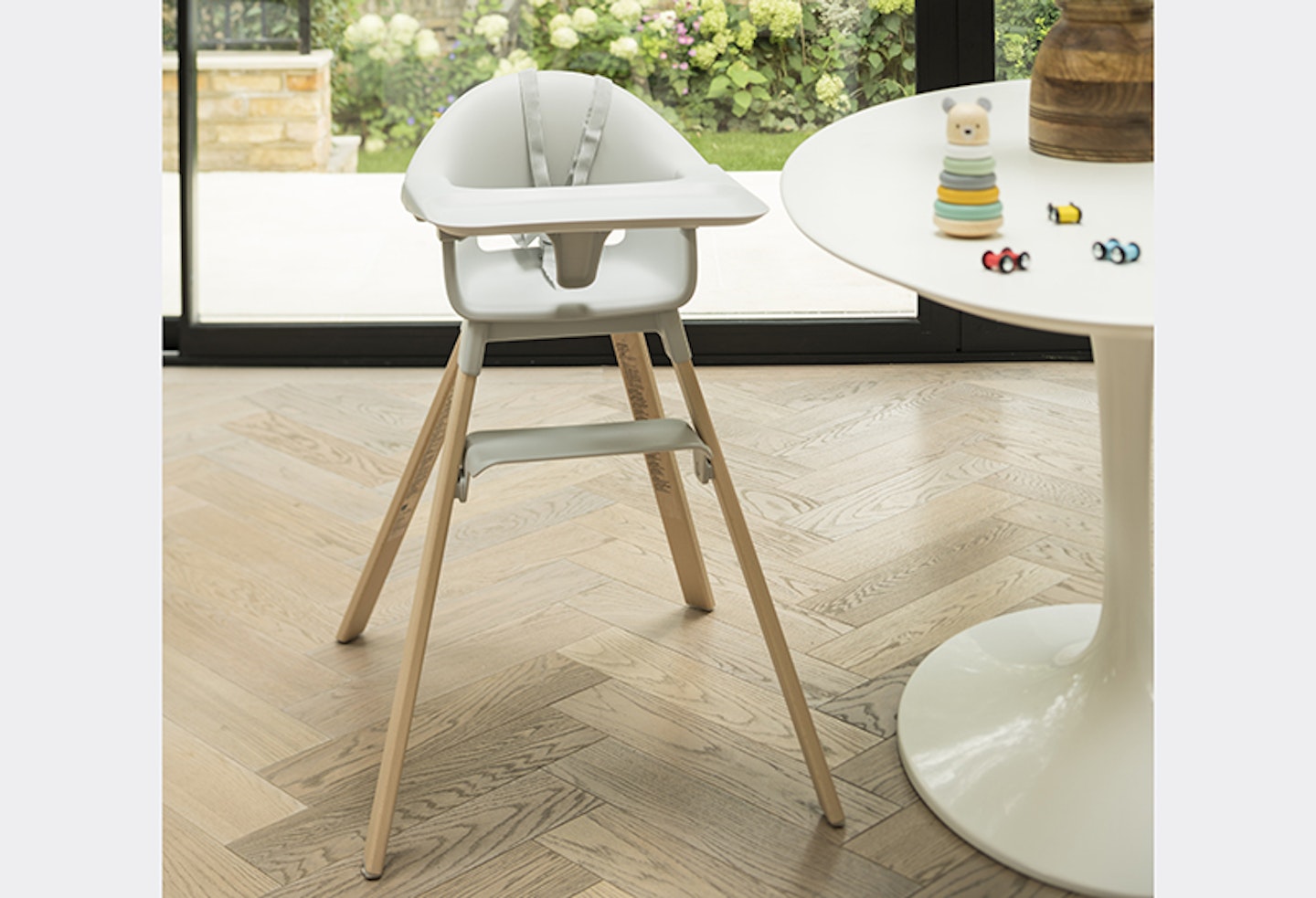 Designed for easy mealtimes, the Stokke™ CLIKK® high chair can be assembled in 1 minute, tool-free. With detachable legs, it can conveniently be packed away as and when needed and with an additional travel bag, transportation is a breeze. Sleek and timeless in design, without any nooks or crannies for crumbs or germs, the tray is detachable and dishwasher safe and the chair can simply be wiped clean. Available in four colours to suit all tastes, CLIKK can be enjoyed from 6 months to 3 years with an adjustable footrest to provide comfort at each age.
The Complete & Modern Seating System, Stokke™ Steps™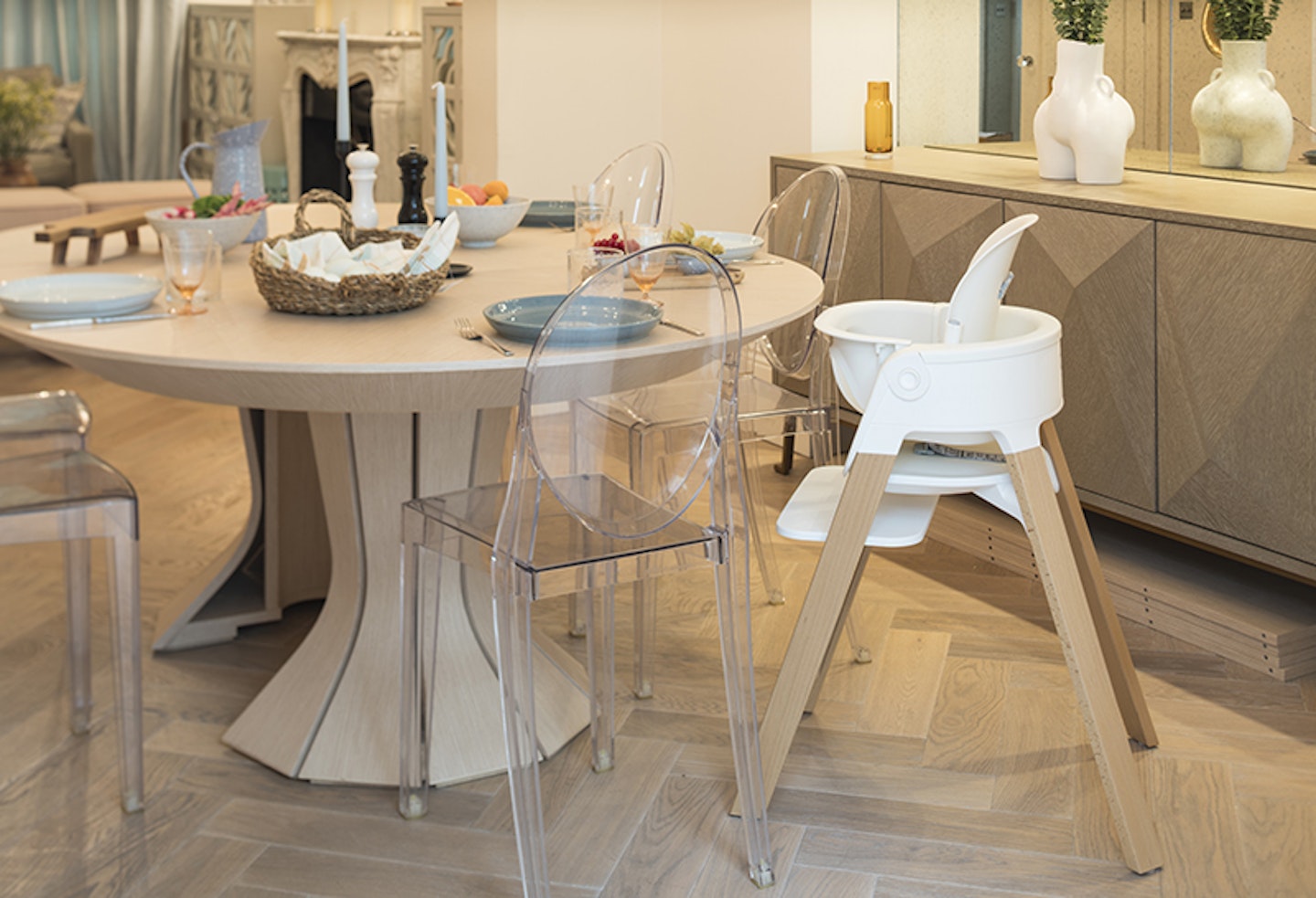 The Stokke™ Steps™ 5-in-1 seating system with Bouncer gives comfort and support to the child for all of childhood and beyond with a modern-design seating system. With the Stokke Steps designed to be used together with the Stokke Steps Bouncer bringing your newborn to the table and with the Stokke Steps Baby Set to create the highchair, Stokke Steps is the complete childhood seating system. The Stokke Steps Bouncer can be used alone on the floor, thanks to the sturdy base which avoids sliding, or easily clipped onto the chair. It folds flat for easy storage and travel and with a unique cradling movement that mimics the feeling of being cradled in mothers arms.
For your chance to win all three Stokke high chairs, answer the question below. The prize draw opens on the 29th November 2021 and closes on the 31st December 2021 at 11:59pm.
T&Cs
1. The prize draw opens on the 29th November 2021 and closes on the 31st December 2021 at 11:59pm, any entries submitted after this time will not be valid or counted.
2. This competition is open to UK residents aged 18 and over.
3. The prize is Stokke® CLIKK™, Stokke® Steps™, Stokke® Steps™ Bouncer, Stokke® Steps™ Baby Set, Tripp Trapp®, Tripp Trapp® Baby Set
4. One winner will be picked randomly from all valid correctly answered entries who have answered during the prize date. The winner will be contacted shortly after the closing date and notified by email and have 7 days to respond before an alternative winner is chosen.
5. This prize may be offered in a limited number of other promotions.
6. Only one entry per person will be counted.
7. No purchase is necessary. To enter for free visit, https://www.motherandbaby.com/first-year/products/stokke-tester-reviews
8. Full terms and conditions can be found at www.bauerlegal.co.uk/competition-terms.html
9. The prize is provided by Stokke We are not responsible for any aspect of the prize, including unsatisfactory quality or late delivery or a prize winner being unable to take up any aspect, or the entirety of the prize due to their own circumstances or restrictions. Prizes are non-transferable, non-refundable and no cash alternative will be offered.