A steriliser for bottles is an essential for any new arrival, and the Baby Brezza Steriliser and Dryer Advanced offers the most advanced way to sterilise and dry bottles and pump parts using natural steam, killing 99.9% of germs in the process. With 4 clear functions available on the LCD screen, the clever device also includes an automatic timer to keep things simple.
The modular system can be used in 4 different ways to work with all bottle designs/brands, the easy to use Steriliser-Dyer has a large capacity, holding 8 bottles and 2 pump parts, so is ideal for regular use in busy households. Additionally, the innovation boasts a 33% faster drying time using 95% germ-free air, thanks to its replaceable HEPA filter, with the bonus of items staying sterile for 24 hours when left unopened.
Baby Brezza Steriliser and Dryer Advanced overview
Pros
Dryer cycle takes only 30 minutes
Can be used to store products and keep them sterile
Large capacity
Cons
Replacement filters must be purchased separately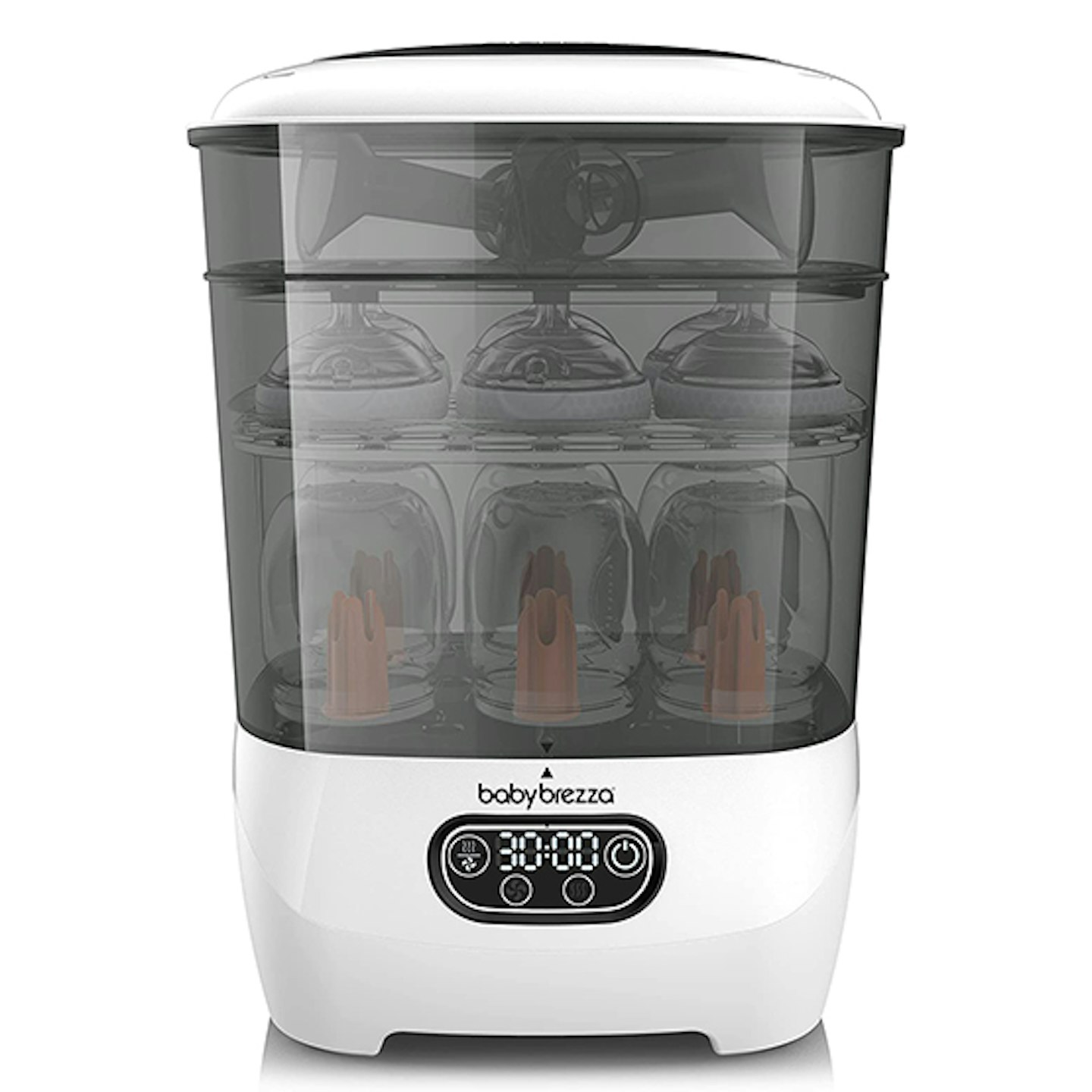 Testing the Baby Brezza Steriliser and Dryer Advanced
We put the Baby Brezza Steriliser and dryer to the test with new parents Jordan and Tamsin, here's how they got on: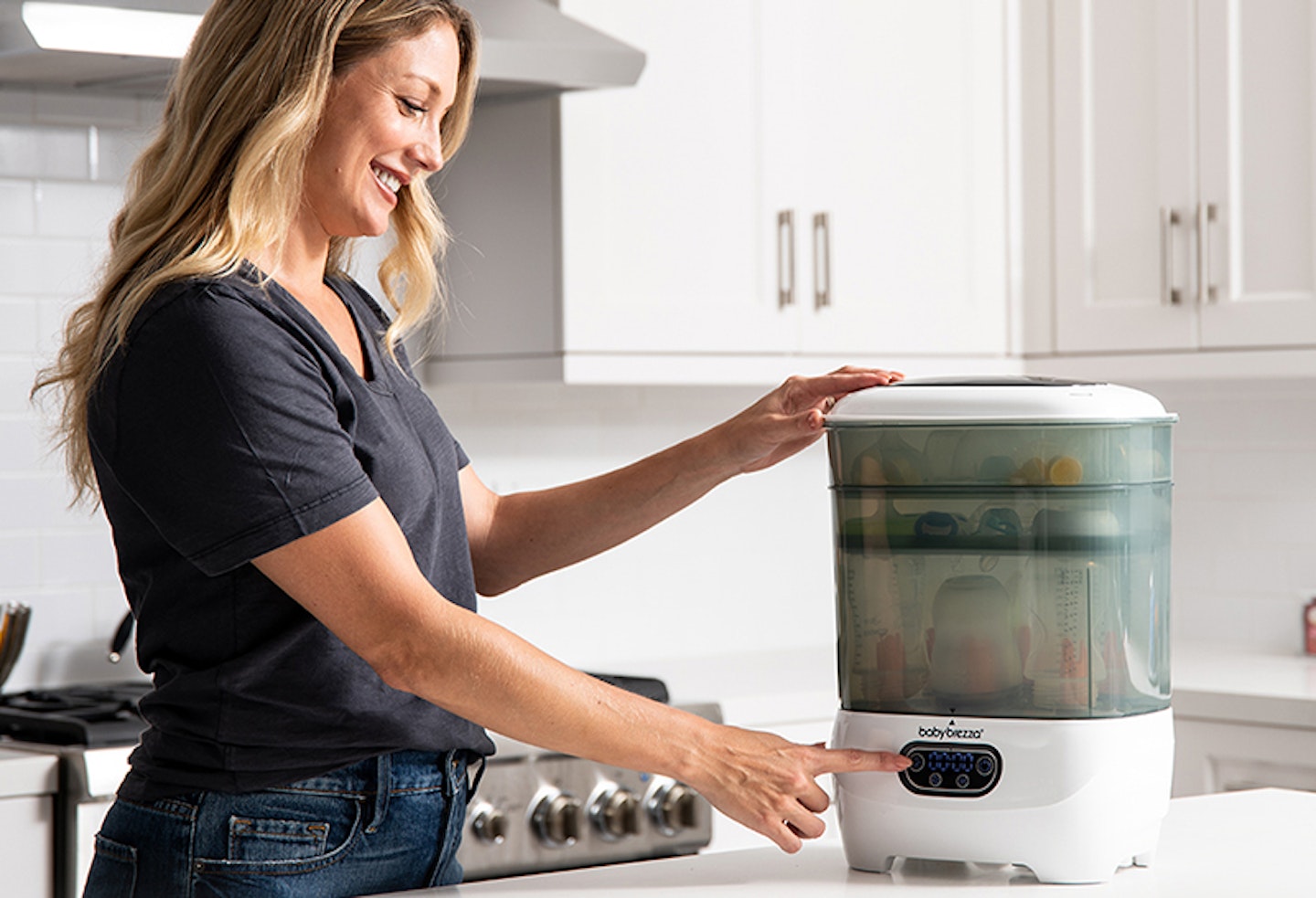 Final thoughts
FAQs
What temperature does the water reach during sterilisation?
The Baby Brezza Steriliser Dryer Advanced boils water to produce steam (100C) to naturally sterilise your baby products, then dries contents with hot air (55C).
What type of water is recommended for use?
We recommend using distilled water to avoid any mineral scale build-up. However, you can also use tap water or spring water, but more frequent cleaning of the heating plate will be required.
How often does the water need to be changed?
Because the Baby Brezza Steriliser Dryer Advanced dries contents with each cycle, you will need to add 120ml of water before each use.
How do I keep my Baby Brezza Steriliser Dryer Advanced clean?
Before placing items in the appliance for sterilisation it is important that all bottles, pump parts and accessories must be empty, clean & fully rinsed before use in this steriliser dryer.
Simply use a soft damp cloth to clean the base and control console, and clean the lid, accessory rack in hot soapy water. We do not recommend the use abrasives or solvents for cleaning as they may damage the appliance and the surface of the heating plate. If you are struggling to clean the heating plate it may need to be descaled.
How do I descale my Baby Brezza Steriliser Dryer Advanced?
It is recommended to do a very simple weekly descale of the heating plate. This is because mineral residue within tap water, particularly in hard water areas, may deposit on the heating plate after the sterilisation cycle.
To avoid scale build up, simply wipe the surfaces with a soft moist cloth after each operation. If you can see mineral deposits, these can be removed with descaling solution or by leaving 60ml/2oz white vinegar on the heating plate for approximately 30 minutes. The plate should then be rinsed and wiped with a clean, dry cloth.